< Return to Product Page
Customer Reviews
6-Compartment Canvas Hanging Sweater Organizer
Overall Rating:
Customer Reviews
Rated

4.7

out of

5

 by

90

reviewers.
Rated

5

out of

5
 by
Blyrad
Best Construction
This organizer is the best one I have found in 20 years. The more structured shelving helps to keep it from sagging and my clothes stay folded and organized. With others the sagging shelves would cause one cube to sag into the one below. It would look very unorganized. I am very happy with this purchase.
March 12, 2015
Rated

5

out of

5
 by
squeaky77
Great item with many uses
I love this product as I have used it in many different ways. I have several of them in the house. One of my sons uses it for his shirts. My husband has one in his closet and uses it in the same way. I have one in my closet and I use it for my handbags. I am thinking of getting another for my summer tee shirts. I find it is stronger than some of the other ones on the market. Love it and highly recommend it!!!
April 26, 2014
Rated

5

out of

5
 by
organizinggirl
School clothes for the week!
These hanging sweater bags help me organize my kids school clothes for the week. I made days-of-the-week tags and pinned them to each opening. Each weekend, after doing laundry, we look at the week ahead for the weather and special clothing needs (i.e. non-uniform day) and put clothes for each day in the slots. No rushing in the morning to get dressed!
April 2, 2013
Rated

5

out of

5
 by
Momo1010
Nice quality
Very nice quality. Perfect size. I've only had it for a few weeks. No problems. I only have lightweight clothing but lots of them on each shelf.
July 2, 2016
Rated

4

out of

5
 by
iLoVeShOeS
Great storage unit for sweaters
I have owned a few of these...had to buy a new one because my mom took my other one! They are great for folded up sweaters (so they don't get those horrible "Hanger shoulders."), heavy winter scarves, hats, gloves, socks, you name it! I absolutely love this and it actually saves space because you are stacking and not taking up so many hangers. In my future home I will own one in each closet!
April 15, 2014
Rated

3

out of

5
 by
DCPT
A Good Compromise
This is a good, cheap way to add shelves to your closet. If you don't mind losing 12 inches of hanging space, then just hang it up and you've got shelves that will fit sox, underwear, t-shirts, etc. You have to accept that it's not very sturdy and the individual shelves will sag (they are cardboard covered by cloth). But for $20, it's a great stop-gap measure until you can buy more substantial and robust shelves!
March 19, 2014
Rated

5

out of

5
 by
KayKissme
Absolutely Excellent
I originally bought this product to act as a substitute dresser (I just moved into the city on a very small budget, and have decent closet space). I installed it immediately after I returned home, and was very pleased. The following day I ran an errand to a similar store, and saw the hanging storage shelf product I had just bought at The Container Store, for $5 less. I couldn't be sure that it was the exact same, but it looked like it could do the same job (and obviously I thought I was getting the best deal: saving $5 and a trip). BUT I WAS WRONG. When I returned home and hung up my new hanging shelf (from this other store) I regretted my purchase. The fabric was thin, and the levels of the shelves were not reinforced. Placing anything on this new hanging shelf made it sag down, and decreased the visibility of what was on that shelf. Once I saw the two shelves hanging side by side, it was clear- I packed back up the newer (inadequate) shelf that I had saved $5 on, and returned it to the store. I then went Back to The Container Store and purchased the original hanging shelf, (telling the cashier all about it). No regrets since. My closet looks great, and the quality of these hanging shelves are excellent. Truly one of the best investments I've made in organization (and they were only $20 each!)
March 17, 2014
Rated

5

out of

5
 by
sherriandbuddy
just what I was looking for!
Instead of having an expensive closet organizer 'build' a sweater cabinet, I tried this hanging sweater bag. And I am very pleased.
March 13, 2014
Rated

4

out of

5
 by
LalaBelle
Good price for the quality
I was previously storing my sweaters on a bulky wire shelf, I purchased the sweater bag to not only create more room, but add sophistication to my closet. For the price I expected this item to be floppier but the quality seems to be working for its purpose.
March 10, 2014
Rated

4

out of

5
 by
Samms
does what it's suppposed to do
I bought two of these so I could store sweaters and similar items in a space where I had plenty of closet rods but no shelves. Would have gone with actual shelves if I had found something with the right dimensions and at the right price, but these are a good alternative. Nothing fancy but does the trick. Haven't had any problems with bowing; that may depend on what kind of closet rod you put this product on (I have a traditional closet rod)
February 25, 2014
Rated

4

out of

5
 by
oragnizer
Reasonable Price and Useful
This is a nice size canvas hanging sweater bag with reasonable price. One drawback is I want it to be more sturdy so I can put more heavier clothes.
February 12, 2014
Rated

4

out of

5
 by
Sophia
Very Sturdy
I used this in a storage closet to store supplies vertically like toilet paper, tissues, toothpaste, and some cleaning supplies. The item is very sturdy and held all the supplies really well.
December 28, 2013
Rated

5

out of

5
 by
homehelper
Made a difference in overstuffed closet
I am helping a senior declutter her bedroom to reduce fall risks. These sweater organizers work great for allowing her to get at them easily while keeping closet neat
October 2, 2013
Rated

4

out of

5
 by
Michal
It does what it's supposed to do
If I had the cash flow to invest in another Elfa closet drawer dresser, I would've done that. If you put too much weight on these shevles (notice how there's only a few sweaters here and there in the photos) the top will bow. It drives me insane. I have the matching hanging shoe bag and it's great. I bought the shoe bag first, and wanted things to match so I didn't go for the hanging bags with hooks on top instead of velcro. Other than that, it's a great product at a great price. Side note, It would be awesome if there were matching bins for this to put in the cubbies. There's options out there, but the colors and measurements don't match exactly.
September 29, 2013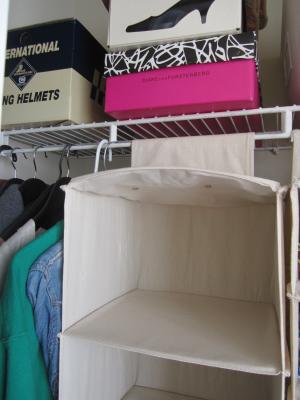 Rated

5

out of

5
 by
BB12
Fits like a charm
Love the 6 compartment hanging bag. Using it for purses and other accessories.
September 19, 2013
Rated

5

out of

5
 by
sewist
great product
This is a great way to maximize space and organize a closet, large or small. I cleaned out my small clothes closet and used it for hats, wraps, and purses. I am very happy with the quality. Got it on sale.
August 31, 2013
Rated

4

out of

5
 by
Mmbanks70
Great for making use of kids closets
I didn't want to spend a fortune on a custom closet for my kids and their rooms just aren't big enough for larger dressers. So this solution is turning out to be terrific for their extra clothes. Put all their winter stuff in these and kept summer stuff in dressers we had. While the cubbies aren't super big (fits two folded sweatshirts or maybe three pairs of folded jeans), it does make use of the closet space--as we don't hang the kids clothes-and their dressers are no longer overflowing.
August 27, 2013
Rated

5

out of

5
 by
baohst
Great for cleaning up my closet floor!
I use this to hang my shoes in my closet. I find this easier than shoe racks, and I am able to organize things more efficiently that way. It has decluttered my closet so well, I am going to be getting a second to hold my larger accessories and handbags.
August 11, 2013
Rated

3

out of

5
 by
chemwife
Check your closet before purchasing!
Our closet had dividers that made this difficult to install. It isn't flat against the rail due to the wide top that needs to fold over onto the bar. Good Velcro. Works well in small closets. Got this one on sale to replace one that was bigger and had two Velcro flaps which worked well in our closet. I imagine this one will last a couple years. Too far of a drive to return it.
August 8, 2013
Rated

5

out of

5
 by
knitsforpits
hanging sweater storage- FAB
Sturdy and well made with adequate support at the top. Helps to open up drawer space!
August 1, 2013
Rated

4

out of

5
 by
Hell0Kitty
Keeps my little closet organized
I live in military barracks and have a tiny closet so I got this to have some vertical storage. I keep clothes on 2 shelves, a blanket on one, towels on one, and food/food stuff on the other 2. The large flat rate boxes from USPS fit nicely in the shelves like little drawers and I keep food, paper plates, plastic forks, stuff like that in them. I've had this for about 3 weeks now and it's holding up alright. I think my food might be a little heavy for it because the top panel that has the velcro strip sewn onto it has taken on a dome shape and sometimes I feel like the bag is leaning forward. It swings around a bit when moving stuff in & out but that can't really be helped. It hasn't fallen down or torn yet so I give it a thumbs up :)
July 27, 2013
Rated

3

out of

5
 by
Sandymamma
Convenient, but average quality
I love how the organizer added useful space instantly to my baby's closet. A great alternative to installing melamine or wire shelving, and easy to move. The disadvantage is that it looks more temporary and supports less weight than built-in shelves. I found some fabric storage boxes at another store that fit perfectly into the shelving, so now I have "drawers," which hide any mess from imperfectly folded clothing. I am giving this product 3 stars instead of 5 because it seems about average for this type of product.
July 11, 2013
Rated

5

out of

5
 by
Fletchycat
Great closet organizer
Well-made, very functional and easy to use! Also a great size for T-shirts and sweaters.
July 8, 2013
Rated

5

out of

5
 by
acs238
Perfect.
I use this for my locker at work and it works perfectly. I especially appreciate the reinforced shelves. They don't sag when you place heavier items on the shelves. This was well worth the price.
May 9, 2013
Rated

5

out of

5
 by
Licenidae
It is a must!
The closets in my new apartment don't have any shelves so I bought one of these. They are super useful and they actually look nice. When I go to the Container Store again I will get a new one for my sweaters. Recommend it to everyone!
May 4, 2013
Rated

5

out of

5
 by
midwestkate
Perfect for Sweater Storage
I bought this so we could keep all of our sweaters in our cedar closet. Before, we were keeping all of our sweaters in under-bed storage bins. Now we can actually see all of our sweaters at once, which makes it easier to keep them organized and it looks great in the closet. It holds my 6'4" husband's sweaters and my small sweaters as well. I would definitely buy this again.
May 1, 2013
Rated

5

out of

5
 by
meganjoel
Great space saver
This product saves so much space in my closet. I use it for t-shirts, tank tops, long sleeve shirts, and scarves. I have had this for almost 2 years now, and it is still going strong. I highly recommend this!
April 26, 2013
Rated

5

out of

5
 by
erwil
Just what I wanted/needed. I'm actually using it for layering tanks and tees - it's easier to see what I have and keep them organized than keeping them in a dresser drawer or stacked on top of the closet shelf - they always seem to end up a jumbled mess. I also put little handbags/purses in it. Perfect! Would definitely buy it again.
March 18, 2013
Rated

5

out of

5
 by
TriggerCF
Nice, Simple, Works
This is a nice, simple sweater bag that works just as you need it to. Has the support at the bottom of each compartment so it doesn't sag.
March 18, 2013
Rated

5

out of

5
 by
whiteviolet
great staple in a closet.
i got this for organizing our guest room/office closet, and it's been great. it neatly stores my husband's music recording accessories, as well as our computer accessories. super great and good quality.
March 15, 2013