< Return to Product Page
Customer Reviews
Basic Walnut Wooden Hangers
Overall Rating:
Customer Reviews
Rated

4.8

out of

5

 by

58

reviewers.
Rated

5

out of

5
 by
OganizationIsLife
Never would have thought...
I bought these hangers because I finally got fed up with my department store plastic hangers breaking on me. I never would have thought I would change the whole feeling of my closet with just buying these hangers. My clothing looks even more in order and the hangers gave my closet a cleaner, more uniformed feeling. I love the fact that they are wooden hangers, because I know they will not break as easily and they have ribbed bars on them that make them perfect for hanging pants without them slipping off. Overall, these hangers were a great investment!
September 27, 2016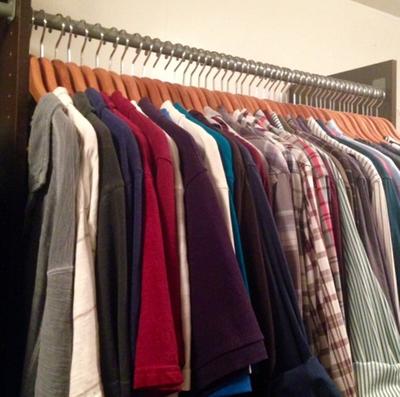 Rated

5

out of

5
 by
zjazja
Love these hangers
My fiance and I have been redoing our entire closet with these walnut hangers. Being able to purchase them in bulk was fantastic and knocked out a large portion at once. We'll keep buying them until out entire closet is done.
August 12, 2014
Rated

5

out of

5
 by
Kelly789
Love!!
Love these hangers!! Sturdy and look beautiful all uniform. The blouse hangers are great with the ribbing and notches, perfect for camisoles/spaghetti strapped dresses. In Store pick-up was easy!
January 9, 2017
Rated

5

out of

5
 by
Lynnpta
Wooden hangers
Am so pleased with these hangers! Was sick and tired of always finding clothes on the floor that fell off the cheap plastic hangers.
January 4, 2017
Rated

5

out of

5
 by
p77gg
Solid Construction and Beautiful
I remodeled all my closets with Elfa and decided all those old wire hangers had to go. This wooden hanger is solid and looks great in my new closet. My closet has never looked better.
December 31, 2016
Rated

1

out of

5
 by
uofmn23
So upset that the color changed!
LOVED these hangers until they changed the color! So, now instead of the dark walnut, it's more of a red wood!
July 25, 2016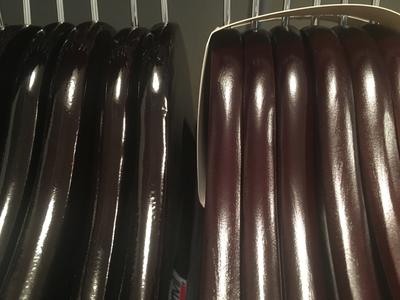 Rated

5

out of

5
 by
Girlgenius67
Love Them
It took me sometime to decide to purchase these hangers. I glad I did. They look amazing and are extremely functional. I will be ordering more in the future.
January 18, 2016
Rated

3

out of

5
 by
Danza1
Ok hangers
These wood hangers are allright for the money. They are a decent alternative to plastic, but not as smooth as expected--clothing snagged a couple of times. They have held up well though to wear and tear and look nice.
March 28, 2015
Rated

5

out of

5
 by
Cinderelli
Exceeded my expectations
These hangers are much nicer than I was expecting. The description does not state that they have rubber grips on the shoulders which is what I had been searching for, I thought I was settling for just notches. To my surprise notches and rubber grips, fantastic!
March 24, 2015
Rated

2

out of

5
 by
AC192
Inconsistent Quality
I purchased these hangers but found the quality to be inconsistent. You'll notice by the picture that the sanding is not done to the entire hanger and that the middle portion is left rough. Unfortunately, I hold on to the middle portion of the hanger when adding my clothing and have gotten a few scratches from using these hangers. I will not be purchasing them again.
March 21, 2015
Rated

5

out of

5
 by
Quilther
Best Hanger
Blouses do not slip with these hangers. Really! Perfect for soft garments that seem to slip off all the other hangers. Flat hangers will leave indentations on the shoulders of my cotton blouses, these are thicker, more support for the blouse and no tell tale hanger crease to steam out. A good investment for my wardrobe.
February 15, 2015
Rated

5

out of

5
 by
renochicken
Great Hangers
These hangers are great, great price as well. Recently re stocked my closet with these hangers and they are great.
February 10, 2015
Rated

5

out of

5
 by
Lwnoble
Happy, Happy, Happy!
Love these wooden coat hangers. My favorite is the Basic Blouse Hanger. We have just moved and had my 15 year old daughters closet built out and she has all these tank tops with tiny spaghetti straps. The notch and the rubber textured strips keep the straps on the coat hanger so they don't fall to the bottom of her closet and lie in a wad of mess. We also use the Basic Pant Hanger for her jeans, the Basic Shirt hanger for her cute short and long sleeve tops and the wooden skirt hangers for her cute skirts and cheer uniforms. Just opening her closet makes this mom happy! She loves the way it all looks, so she keeps her room neat and.... She hangs up her clothes! Miracle!
April 25, 2014
Rated

5

out of

5
 by
kfleig
LOVE
I use these hangers for my husband's dress clothes. I love them! They are gorgeous too!
April 25, 2014
Rated

5

out of

5
 by
BeverlyBL
Great Hangers
I love these hangers. Looks great to have all matching hangers, and I love them for guests, some for shirts and some for pants.
April 23, 2014
Rated

4

out of

5
 by
StPeteRob
Solid product
These hangers are all made and look nice. I like that they are not curved at the ends because I have limited space and these flat hangers provide me more room. If you buy 6 packs you get $1 off each pack, but I wish they would allow you to combine them with other style hangers to get to your 6 (e.g. 3 packs of shirt hangers and 3 packs of pants hangers) - otherwise I would give them 5 stars.
April 22, 2014
Rated

5

out of

5
 by
DolphinWatcher
Make my closet beautiful
These aren't cheap, but they're well made, and my closet looks so much better without all the wire hangers, plastic hangers, etc. I bought the ones with the bars on the bottom so that I can use them either for shirts or for folded items.
April 21, 2014
Rated

5

out of

5
 by
Debbie111
Great hangers for Elfa closet with wood facia
We bought these hangers to use in my husband's new Elfa closet with the dark wood facia. They look great - really make it look like a finished product with the Elfa system - and are sturdy while not too bulky. No complaints.
March 21, 2014
Rated

5

out of

5
 by
Hudos
Great Hanger
Great and nice Hanger, looks nice in our closet...
March 19, 2014
Rated

5

out of

5
 by
Barhami
good quality, decent price
I bought these hangers because they were rated as the best hangers by the Sweethome reviewing website. They are neat-looking, sturdy-looking, and reasonably priced. I expect to have clothes hanging on them for a long time.
March 14, 2014
Rated

5

out of

5
 by
preston
Does exactly what it needs to do
Terrific hangars, sturdy, doesn't leave stretches in your shirts.
March 12, 2014
Rated

5

out of

5
 by
Gatsby1
Sharp looking hangers
I purchased these hangers after having Elfa walnut custom closets. They look amazing.
March 9, 2014
Rated

5

out of

5
 by
MurphyandGusGus
great hangers
I love these hangers and have them hanging in all of my closets - truly believe that they keep my clothes better and let me have them much, MUCH longer.
March 7, 2014
Rated

5

out of

5
 by
VThome
Beautiful, affordable hangers
I am in the process of making my closet neater and more polished looking, and I decided to go from the clear acrylic hangers to all wood, as much as possible. I bought a case of these hangers -- great price. It immediately created a more polished look, because the hangers separate the clothes more than with thinner hangers -- so it actually started to look like a closet in an ad! Without things all jammed up. AND, it made me think harder about what is hanging up -- I would like the nicest things hanging, and I can fold and put in drawers or on shelves the things that aren't so necessary, like sweatshirts or old cardigans for cold days. My closet is a giant walk-in, and I want to feel encouraged and pleased when I go in, not get that sinking feeling of "it looks messy and unorganized". Success!
March 4, 2014
Rated

5

out of

5
 by
Spaceman
Best hangers
These hangers instantly straighten up any closet, giving a very clean and evenly spaced look. The quickest and easiest way to start improving a closet.
March 2, 2014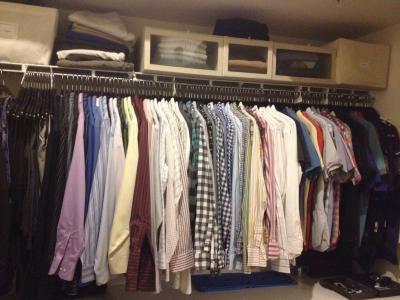 Rated

5

out of

5
 by
MissA
Love the blouse hangers
The blouse hangers are amazing. I've been using them for years and not one has broken on me. Wooden hangers from other stores always seem to break in a few years, but I have had my oldest wooden hangers from The Container Store for almost 10 years. I love the little rubber grips, the shirts don't fall off, and the little groove is great for anything with straps, even some skirts!
March 1, 2014
Rated

5

out of

5
 by
happynewhouse
great hanger
These are great hangers. They are smooth and good quality. They do not snag clothing. I also really like the way they look.
February 14, 2014
Rated

5

out of

5
 by
Closets
Best finds ever
Found every thing I need to get my closet organized
February 12, 2014
Rated

5

out of

5
 by
Aurora13
Good basic hanger
These hangers are nice and smooth under suit jackets and also sturdy enough for winter coats.
January 10, 2014
Rated

5

out of

5
 by
NatoDC
Great product/price
Sereves perfectly to its purpose, looks nice, and has the right price.
December 14, 2013