< Return to Product Page
Customer Reviews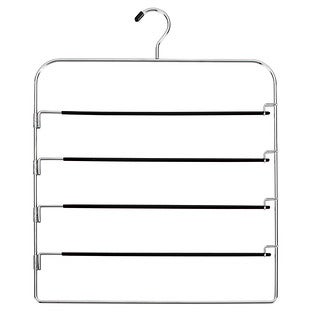 Chrome Metal 4-Tier Swing-Arm Pant Hanger
Overall Rating:
Customer Reviews
Rated

4.7

out of

5

 by

36

reviewers.
Rated

5

out of

5
 by
Dee8
The hangers are nice and sturdy. I have will order some more.
May 5, 2015
Rated

5

out of

5
 by
Spanishbelle
Best Ever!
Absolutely love these hangers. Have had some for years and glad I ordered more and will be ordering them again. Perfect for trousers, jeans and I also use them for scarves. It's great not to find items on the floor anymore. Excellent space saver too!
January 17, 2015
Rated

5

out of

5
 by
dmstarr
Perfect!
I love this, I have several pairs of dress pants and it always seemed to take up so much space in my closet and this was a perfect fit for me!! It hangs all my dress pants up neatly and keeps them looking nice in a fraction of the space that it took up before. The swing arm makes it easy to take off and rehang with simplicity!!
November 19, 2014
Rated

5

out of

5
 by
orgdiva
great for organization
I needed to organize a prop closet, and this was the best way to organize pants in different sizes. It's very easy to remove one pair without disturbing all of the others (and I used another reviewer's advice to put a 5th pair on the bottom bar to get even more pairs per hanger).
November 3, 2014
Rated

5

out of

5
 by
Iteachurkid
My favorite pants hanger ever
I love these pants hangers. I have 5 already! My closets are small and everyone in the family hangs their pants on these. Easy to rehang pants, get to them and take up very little space.
August 31, 2014
Rated

5

out of

5
 by
chigal
Great orgainizer for scarves
Though this is marketed as a pant hanger, I purchased it and use it for scarves. It is large enough to hold multiple scarves on each rod and they can be organized by color and/or length. The swing arm makes it easy to remove a scarf and not disrupt the others.
August 29, 2014
Rated

5

out of

5
 by
Beans26
Great space-saver
Love the swing-arm on this hanger. It's non-slip and very convenient for keeping pants organized without sacrificing too much space.
May 11, 2014
Rated

4

out of

5
 by
dceleste
great design
I bought these as a temporary solution to increase my working closet space, as I don't have the money to buy a closet system right now. I'm pretty happy with these. I actually hang a 5th pair of pants on the very bottom chrome bar too.
May 2, 2014
Rated

4

out of

5
 by
orgnzme
More room in the closet
I moved into a very small closet and need to maximize space. This is a life savor with my pants.
April 28, 2014
Rated

4

out of

5
 by
Suji
Not so bad item
This item requires some amount of patience to hang the pants in orderly fashion esp for pants you use on a daily basis but once you are used to it , it's pretty great.
April 28, 2014
Rated

5

out of

5
 by
dbstets
Great basic for closet organization
Pants stay put! Great quality hanger. Bought two to replace cheap, poor quality pant-hangers purchased from a discount store.
April 26, 2014
Rated

5

out of

5
 by
2joyful
Lots of space
I have a small closet and I had been using clips you put on hangers for my pants and it just wasn't working for me so I saw these hangers and now I have more space and I even categorize by putting all my jeans on one and work pants on the other and so forth. If you are needing to free up some space this is a great way to do it.
April 26, 2014
Rated

5

out of

5
 by
Julie13
Handy helper!
Moving into my new home with my significant other it was going to be a battle who got the big beautiful closet! ... we compromised. These hangers are helpful in more ways than one. All is now right in the world.
April 25, 2014
Rated

5

out of

5
 by
lwaomlbf
Great, lasted years
I use mine for skirts and slips and it works great! My boyfriend uses his for pants and has bought a 2nd one recently.
April 25, 2014
Rated

5

out of

5
 by
Davslv
Love it
Got this for my husband & he is using it - a plus in itself. He likes how the arms swing out for easy placement of jeans & the cradle to hold the arm.
April 25, 2014
Rated

5

out of

5
 by
orchidflame
Perfect for my many pair s of skinny jeans.
This little wonder has given my closet a second life. I store my many pairs of skinny jeans on them and they are great. Everything is in a nice, neat, compact space. Definitely a closet organizing must have.
April 15, 2014
Rated

5

out of

5
 by
SarahKay09
Great for more than pants
I bought this 4-tier pant hanger to hang small yard flags on for storing when they are not in use. I love that the arms swing and lock into place so that the flags can't fall off. It would work wonders for pants as well! I like that it doesn't take up the room 4 regular pants hangers would in a closet. Great item!!
April 1, 2014
Rated

5

out of

5
 by
SFGal415
Excellent Space Saver
The 4-tier swing-arm pant hanger is a nice space saver if you're short on closet space. The advantage of this product is its space-saving ability. The disadvantage to using this product is that it requires patience to place and retrieve items. I recommend removing the item of interest the night before you plan to wear it so as to avoid unnecessary tangling and untangling with the product.
March 25, 2014
Rated

5

out of

5
 by
Organizedtothemax
Use it for scarves
This works great to hang scarves without bunching and wrinkling them. Like that the bar swings out to easily remove and replace scarves
March 16, 2014
Rated

4

out of

5
 by
mhdold
New York, NY
perfect addition to any closet. I plan on heading back to the store to buy more.
March 10, 2014
Rated

5

out of

5
 by
LauraDW
Love!
Purchased a couple of these and it literally cut my hanging space in half! It's exactly what I needed :)
March 2, 2014
Rated

5

out of

5
 by
sewingmomma
Great Organizer
I purchased 2 chrome 4-tier swing-arm pant hangers to use in my sewing room. I now neatly have my spools of ribbon arranged by color on them! So much easier than the dowel rods I was using!
February 25, 2014
Rated

5

out of

5
 by
annipianni
Wonderful space saver!
The only problem with this is that I have to 'hide' them, because my husband has been known to claim my own newly purchased pants hangers before I even get to use them! I love them - my pants stay secure and straight, easy to take off and put back on again, and saves SO much space in my closet. Also helps organize pants of the same color group - and to keep them where they belong. Great product!
February 25, 2014
Rated

5

out of

5
 by
ljjmv
Great addition to reduce clutter in closet
I had bought one 4 tier swing arm hanger to see how it would work in the closet. It took out several hangers for my closet. So, I bought 2 more. It has been a good addition to closet space.
January 23, 2014
Rated

4

out of

5
 by
koozl19
I bought one to try out as I have quite a few pairs of jeans taking up a lot of space in my closet. The swing arm is convenient and makes it easy to see and select the item you want. I need a few more of these!
January 20, 2014
Rated

1

out of

5
 by
Millersk
theory is different from reality
I bought this 4-pant hanger to save closet rod space; however, when you fold the pants in half on each arm you effectively double their width. This means that even though you've maximized the 4-tier Swing-Arm Pant Hanger, the amount of rod space used is the same! The hangers are just farther apart. I do not recommend putting up with the inconvenience of dealing with this item.
September 29, 2013
Rated

5

out of

5
 by
MaryinDCArea
Favorite closet space-saver
These multi-pants hangers are the most space-efficient and usable I have found. I keep buying more. They hold all but my most elegant trousers, opening up space in my closet for the first time in decades. I rarely use the swing-arm feature----it's quicker to tilt the hanger 90 degrees and slide the pants over the bars. The bottom bar is the easiest to load, so it is reserved for heavier/thicker pants that would be harder to slide between arms.. These hangers are best suited to average-width and average-weight pants. They would work less well for wide or thick trousers. Like any hanging bars, these leave a minor crease in pants. I can also recommend these hangers for storing wide, long scarves and table runners virtually wrinkle-free.
May 6, 2013
Rated

5

out of

5
 by
Oliveoyl4
Great space saver
Easy to use and saves a ton of space in small nyc apartment closets.
April 16, 2013
Rated

5

out of

5
 by
mbrodeur
Great Hangers
I'm so glad I got a pair of these hangers. I definitely will be buying a few more in the future. They are great for pants, but what I mainly use them for is scarf organization. The hangers are sturdy and the arms are easy to use.
April 2, 2013
Rated

5

out of

5
 by
ContainerKris
Great Space Saver
There's never enough room in my closet - so these are great to save space. Actually can be used for 5 pairs of pants - I usually hang one on the bottom rung even though it doesn't swing out.
March 25, 2013