< Return to Product Page
Customer Reviews
Natural Canvas Padded Hanger
Overall Rating:
Customer Reviews
Rated

4.7

out of

5

 by

13

reviewers.
Rated

5

out of

5
 by
1AU43N
Great Product
I purchased these hangers for my good/delicate dresses to help them hang nicely and keep their shape. Its like my dresses are sitting on a cloud. :)
December 23, 2015
Rated

5

out of

5
 by
XOwanderlustXO
Beautiful hangers
I purchased these hangers for my nice dresses. They look gorgeous in my closet and the length fits all of my dresses perfectly. The padding is excellent. I will definitely be purchasing more as I collect more nice dresses.
December 11, 2015
Rated

5

out of

5
 by
Athene
Excellent product!
These are very gentle on clothing shoulders, even knit sweaters. Clothing doesn't slide off the hangar and end up on the floor, yet there are no cutouts to catch on clothing when you try to slide an item off the hangar in the closet. The hangars do not tangle up with each other on the closet rod. Plus, these give a finished look to the closet. Well made and attractive.
February 9, 2014
Rated

5

out of

5
 by
Sonocontento
No SLIPS off the hanger
I love padded hangers and have the satin variety but in fact, larger necked sweaters and shirts slip off. The texture of the canvas has just enough 'grip' to address that issue. Hooray. Love the little bow, too
April 20, 2013
Rated

5

out of

5
 by
42nut1
Ultimate Hanger
A hanger is a hanger is a hanger⿦not really. Like Joan Crawford, I gave up on those wire things decades ago. They are great for clearing out obstructions in your drainpipe and for breaking & entering but they don⿿t add much ambience to your closet. Plastic is not much better. Since I discovered these Natural Canvas Padded Hangers, I am spoiled for anything else. They are of excellent quality, but not so precious you dare not use them. Garments do not slip off (the fabric provides a little catch), shoulders are protected and cushioned, and even everyday clothes look special hung up. This is the ultimate hanger.
March 19, 2013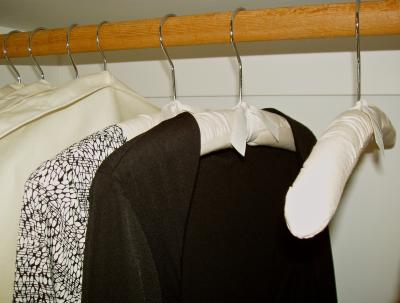 Rated

5

out of

5
 by
FayM
Padded cotton hanger
No lumps No bumps No pointy shoulders These extra thick hangers are simply wonderful for sweaters, knits, and other stretchable fabrics. Plus they let the air circulate freely which helps extends the life of natural products that need to breathe. I wouldn't be without them!
February 24, 2013
Rated

5

out of

5
 by
waxart
Great hangers
These are wonderful hangers. They are perfect for sweaters, blouses and dresses.
November 5, 2012
Rated

5

out of

5
 by
faithintaos
Top notch!
These hangers are beautifully made, using fine quailty materials. An excellent choice for your closet or for display purposes!
June 14, 2012
Rated

5

out of

5
 by
mommafern
Sweater Relief
These hangers are great to hang sweaters without ruining them, while at the same time keeping them neat and in shape. I had been looking all over for something like this....they are perfect for what I wanted.
October 14, 2011
Rated

3

out of

5
 by
Tomasina
Could Be Better
The idea is right, they look & hold clothes well, but my hooks keep coming out. Not ready to recommend until quality is improved.
February 15, 2011
Rated

5

out of

5
 by
Twonail
I've converted mostly to padded hangers...
...as I was tired of pulling some items out after a few months and having shoulder dents, so I still couldn't finally wear the item. I think many people have discovered this, as the natural padded hangers were out of stock in the store and on-line over Christmas. I was happy to get the order in January, about a month after placing it.
February 15, 2011
Rated

4

out of

5
 by
Lorilinda
for vintage textiles
Unique to Container Store, and just the thing for vintage textiles, such as cotton, silk, or leather . The fifth star would be if the foam were also a natural fiber.
February 14, 2011
Rated

4

out of

5
 by
gardenmolly
pretty closet
I bought the padded hangers with hooks to hang my pretty lingerie in my closet, instead of leaving it stuffed in a drawer. Not only does my closet look better, but I'm reminded to use the good stuff, and not just save it for special occasions!
January 14, 2011