< Return to Product Page
Customer Reviews
Joy Mangano Black Huggable Hangers
Overall Rating:
Customer Reviews
Rated

4.8

out of

5

 by

611

reviewers.
Rated

5

out of

5
 by
TXnCutie82
splurge well worth it
I got aggravated with my tiny closet and set out to redo it as best I could. The first change was getting rid of all of my thick plastic hangers (that were in numerous colors). I was SHOCKED how much space was created just by switching to these hangers. They really do hold a good amount of weight (one hanger will support my heavy winter coat), and the non-slip feature exceeded my expectations. That being said, they really are non-slip... I can no longer grab something by the sleeve and pull it off the hanger.
December 7, 2015
Rated

5

out of

5
 by
carli
Huggable Hangers
The huggable hangers are the best on the market. You can find others in the marketplace that are similar but these quality hangers are stronger and made better than the other ones. I have two large closets and I switched over to these quite some time ago. They are sturdy and I hang my jeans to my dresses on these attractive black hangers. I love the slimness of the hangers and the way it looks good in my closet. I keep buying more hangers as I acquire new clothes
May 5, 2014
Rated

5

out of

5
 by
lynnikins
Love these!
These hangers are simply the best! I have been replacing my old hangers with these for the past several years and I am finally complete! They take up less space, hold things securely and look pretty and uniform. You will love your closet!
April 27, 2012
Rated

5

out of

5
 by
AuntieJulie
Space Savers!
These hangers really do save closet space. I was surprised by how much room my closet had when I switched my clothes to the Huggable Hangers. I started with 2 boxes of 40, and went back for 2 more and switched out all of my clothes and everything in the coat closet too.
January 22, 2017
Rated

5

out of

5
 by
saragold
I have bought these before and will do again!
They are strong, anti-slip, spaces saving and visually blend in well with closet space. You can't ask for more!
January 15, 2017
Rated

5

out of

5
 by
SP04
No more fallen clothes
One of the best purchases for my open closet: all clothes stay on the hanger in view, which makes the closet look neat. I was considering adding doors or curtains, but the look with the baskets is so neat, there is no need.
January 9, 2017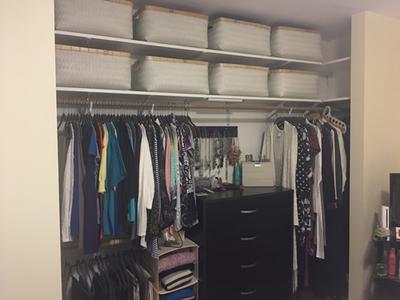 Rated

5

out of

5
 by
UnorganizedMom
Actually Added Space
As advertised, these hangers actually made me feel like I gained room back in my tiny closet! Way more hanging than what there was prior and I don't have to worry about by pants getting creases in them now like I did with my prior pants hangers! They hold even my silkiest shirts in place and don't let them shift. So glad I purchased these hangers!
January 8, 2017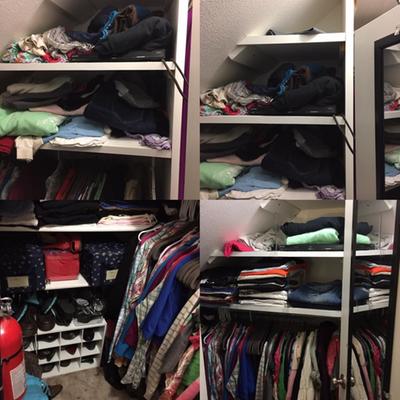 Rated

5

out of

5
 by
justwhelmed2
huggable hangers
these are great for smaller closets with limited space. they are sturdy for winter coats
December 13, 2016
Rated

5

out of

5
 by
BagLady27
No slip hangers
These are great! No slipping and if you are a clothes horse and have a full closet with plastic hangers, these take way less space. I have converted all of our clothing and it looks very tidy.
November 20, 2016
Rated

5

out of

5
 by
cstein0884
My Closet Looks SO Much Tidier!
My husband and I reorganized our closet using these hangers. The space saving, non slip design makes everything fit so much better in such a small space. No more clothes on the floor after they fell off a hanger. No more bulky plastic hangers. The 40pk bulk option was also great for a one-stop purchase. My only "complaint" was that the 40pk has 20 "shirt" hangers and 20 "pants" hangers. I don't own 20 pairs of pants that need to be hung in my closet, so I ended up using them for normal shirts. Not a huge deal and definitely not something that would stop me from buying them again! Highly recommended if you're looking to update and better organize your space!
October 27, 2016
Rated

5

out of

5
 by
luckymom555
Great hangers
I would recommend these hangers. The grippy material helps keep your clothes and outerwear on the hanger. They're also thin so they don't take up a lot of space in your closet.
October 16, 2016
Rated

5

out of

5
 by
robyn531
I recently reorganized my bedroom closets & swapped all of my bulky plastic hangers for these. Best decision ever! They take up a fraction of the space & I am able to more them back & forth on the rack easier. Next up: my husband's closet!
October 13, 2016
Rated

5

out of

5
 by
DesignerMother
Great hangers
Really saves space and keeps your closet tidy. Love them!
September 26, 2016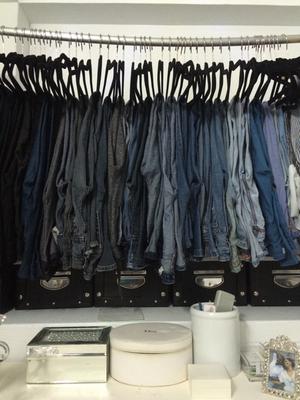 Rated

1

out of

5
 by
wynnie591
Flimsy
These hangers are flimsy to say the least. The hooks are constantly breaking off the hangers. The worst purchase ever.
August 14, 2016
Rated

2

out of

5
 by
Ajah
Not very strong
I bought these for my husband and he is in the Navy and these hangers can not withstand the weight of the Navy BDU's. They just snap I bought the pant hangers and the shirt hangers and the little hooks to hook them together and it can't withstand the weight. So I'll have to find something sturdier.
June 22, 2016
Rated

5

out of

5
 by
kjhop
Organized closet!
My closet was a mess before I went to the container store. I bought huggable hangers which gave me so much more space, shelf dividers, racks, a rollable hamper, bins to replace worn boxes and bags, baskets from the kitchen department for purses and shoes. Unfortunately, I didn't take a before picture because I didn't realize how awesome my closet was going to look afterward. Next project is organizing my jewelry!
June 12, 2016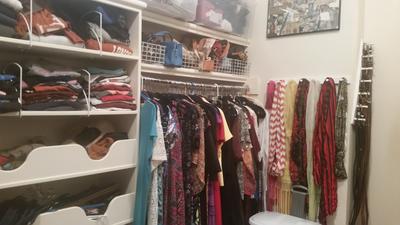 Rated

5

out of

5
 by
Sing77
They really work!
The Joy huggable hangers are wonderful. They hang clothes so that there are a minimum of strange wrinkles or shoulder bulges, and they greatly reduce the space the clothes take up in my closet.
June 9, 2016
Rated

5

out of

5
 by
Lily326
Space saving hangers!
These hangers are great for making the most of your hanging space, especially in a small closet. They are very durable, and do not break easily, like some of the other brands I've tried.
June 8, 2016
Rated

5

out of

5
 by
GBears
Awesome!
These hangers are really great! I am a plus size girl and a lot of my tops have a larger neck openings so they were constantly falling off the plastic hangers and driving me crazy. My clothes never fall off these hangers and they are nice and sturdy. Also, now my closet looks very organized and pretty, not an assortment of every different hanger/color under the sun. Love them!!!
May 19, 2016
Rated

4

out of

5
 by
AllieNM
Still Deciding
I'm still on the fence about these hangers. They are definitely more slim than my plastic hangers, but also seem pretty flimsy. Time will tell if they stand up to daily use. I'm not sure if I like them more because all of my hangers are finally the same color or if the product itself is that much better.
May 15, 2016
Rated

5

out of

5
 by
Carabalda
Love them
Really nice, strong, sturdy-yet-thin hangers... and in a box of 40. Perfect. Replaced every hanger in my many closets, with a few left over. Perfect.
May 14, 2016
Rated

2

out of

5
 by
Poncho22
Good at first, but...
I bought several packs of these a couple of years ago and initially loved them. No hanger marks on knits and they do save a great deal of space in a closet. However, now I have noticed several of the hangers are breaking. The metal hooks are popping out and in some cases, the plastic around the hooks is breaking off. I have only hung lightweight clothing on these hangers, so don't know why all of a sudden they are breaking. I purchased the Huggable Hangers brand because I thought it would be better than the knockoffs in other stores, but now I am not so sure. I will not be buying these again, as it seems they will need replaced every couple of years.
April 29, 2016
Rated

5

out of

5
 by
okiteekay
Black Huggable Hangers Case of 40
I am a LuLaRoe Fashion Consultant and I move my clothing inventory alot for in home pop up shows and the clothes stay on the hangers and I will be buying more.
April 29, 2016
Rated

5

out of

5
 by
NicoleH423
Great hangers
I love these and am going to buy more. My closet was full of bulky clear plastic store hangers and ones from the dry cleaners. They looked horrible and took up so much room. These are worth the investment!
April 2, 2016
Rated

5

out of

5
 by
HennyPennyBeck
great hangers
Also got the child size ones-good for knit items to drape through opening or garments with smaller neck openings
March 26, 2016
Rated

5

out of

5
 by
aaeadena
LOVE THEM
I purchased these to organize and make room in my closet. They are great. My closet now looks nice and neat
March 14, 2016
Rated

5

out of

5
 by
Bunches
Good Decision
I have been trying to find hangars in retail stores for too long. I discovered when I found some that I liked, they were either discontinued or unavailable. So, I decided to look online. that was a Good Decision! I really love the set I purchased and will definitely be a return customer.
February 6, 2016
Rated

5

out of

5
 by
Hoppy1913
Best Hangers EVER
I am a plus size lady and have been so frustrated with normal hangers. My shirts would start to slip off and fall on the floor due to the size of the shirt vs. size of the hanger. Then I found these! No matter what size shirt you wear, the soft finish holds your shirt securely. I bought a bunch for my clothes and now my husband *who is not plus size* is stealing them for his work shirts so I'm back to buy more. These do not leave bumps or marks in the shirt as some hangers do and they are just about perfect.
January 30, 2016
Rated

5

out of

5
 by
teachertofours
Love them
So far so good, I love these hangers. They don't shed and they don't leave marks on my clothing!! If they weren't so expensive I would buy a ton more for every closet in my house. I wish they sold a big box of just the shirt hangers NOT the combo of suits and shirts.
January 29, 2016
Rated

5

out of

5
 by
Babs222
Love these hangers!
I'm replacing all old plastic, wire, etc hangers with these. No "shoulder bumps" in knits, Camis and tanks don't slide off, slacks don't crease -- these are the perfect space saving, garment hanging solution for your closets
January 28, 2016