< Return to Product Page
Customer Reviews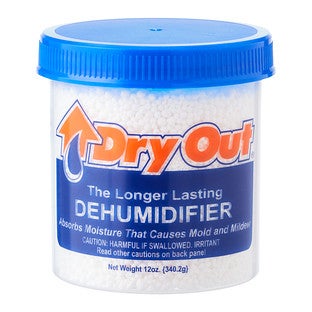 Dry Out Dehumidifier
Overall Rating:
Customer Reviews
Rated

5

out of

5

 by

14

reviewers.
Rated

5

out of

5
 by
Anonymous15
I love this product! I use the packets in all my storage containers.
March 21, 2015
Rated

5

out of

5
 by
JustJudith
Amazing product
We recently purchased a condo with an electric dryer that is vented with a bucket. The first time we dried clothes the room was extremely humid. Dry out has made a huge difference; and it's so easy to use!
April 27, 2013
Rated

5

out of

5
 by
rorox
Couldn't Survive Without It!
San Francisco Bay fog can make our downhill townhouse a bit dank at times and I rely on DryOut to keep cupboards and closets fresh and dry. I've used other products but prefer DryOut because there is no odor. It absorbs moisture like a charm!
April 26, 2013
Rated

5

out of

5
 by
KimAnn
Great Product!
I use this dehumidifier in my laundry closet and storage room because they are both damp spaces. It works great!
April 26, 2013
Rated

5

out of

5
 by
Ayshford
You Cannot Do Without This
You may think you can, but you cannot do without this little dehumidifier. Tuck it into your closet and be amazed at how much water has collected every time you check. Everything smells fresher! I keep it in year round so I don't have to remember when the weather gets warmer -- and in case something leaks -- it's there.
April 11, 2013
Rated

5

out of

5
 by
NYCChick
The Greatest Invention!
I recently had an issue with mildew and was frantically trying to find a solution to prevent moisture in my closet. Dry Out was that solution! Easy to use, lasts a long time and does the job fantastically. I highly recommend it!
March 18, 2013
Rated

5

out of

5
 by
Mariposa4
Great Product
I've been a fan of Dry Out for the past few years. I now order 20 at a time to last me an entire year. Our house is large and was built on a slope with a huge deck off the top floor which makes the downstairs quite dark. Dry Out has stopped the mold, mildew and damp smell that used to build up during the winter months. During hot, humid days like we had this past summer, it also does its job and absorbs excess moisture. I place the jars on saucers in closets, under furniture and away from children and pets. You don't want to knock them over as they'll make a mess but if you handle them right, you'll be glad you bought them.
November 10, 2012
Rated

5

out of

5
 by
snoopy1
Great product
I have bought this for the past year and have seen how well it works. I buy 3-4 for the whole house and place in the bathrooms. We have seen and felt a difference.
April 27, 2012
Rated

5

out of

5
 by
Flamboer
Great for bathrooms!
Purchased this as a way to reduce the moisture in our master bathroom since we had seen some silverfish and didn't want to get mold. All I needed to do was open the container and let it sit and it's slowly but surely helped reduce the moisture after showers. Must be careful in opening packages as I had bought two and one of the dehumidifiers had burst open but customer service was excellent and sent me a new one along with new products that were damaged immediately!
April 26, 2012
Rated

5

out of

5
 by
mermom
works like a charm
am using these in bath and laundry and they work great
April 17, 2012
Rated

5

out of

5
 by
TxMusicGal
Really Works!!
I've tried other "dehumidifier " products and this one beats them all! I really like it because it lasts a long time. I've noticed less mold in my bathroom since I've used this.
January 21, 2011
Rated

5

out of

5
 by
bhen
great product: no mess, no fuss, no mildew. i use in the kitchen and the bathroom and have zero complaints.
December 4, 2010
Rated

5

out of

5
 by
mingo
Dry Out
I swear by these. Great in closets and corners. Makes a HUGE difference in a condo that tends toward humidity.
August 25, 2010
Rated

5

out of

5
 by
BeachBumette
Works like a charm
The Dry Out Dehumidifier works great. I live near the beach so I get excess moisture in my home (that can lead to mold - yuck!) and this stuff is a fantastic remedy.
May 10, 2010