< Return to Product Page
Customer Reviews
Umbra Dublet Adjustable Closet Rod Expander
Overall Rating:
Customer Reviews
Rated

4.6

out of

5

 by

92

reviewers.
Rated

1

out of

5
 by
Rockstar0702
Sinks
I bought this a few years ago and I've adjusted it many times and it sinks and I don't have that many articles of clothing on it, just workout clothes. Very disappointed. Need to find something more sturdy.
November 22, 2016
Rated

5

out of

5
 by
Mana
Great for small spaces
I have a super small closet at my college home and this product helped expand the space I have. The design is also incredibly sleek and clean.
August 23, 2016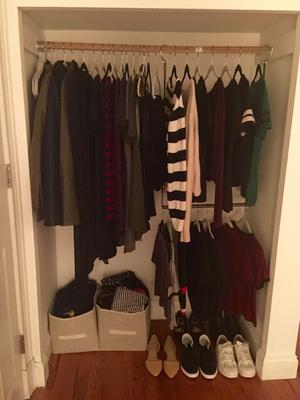 Rated

5

out of

5
 by
JKCONNER
Great for kids' rooms
I bought 2 of these for my boys. They held all of their clothes without having to be adjusted. I put the season's clothes on these - making It was easy for my boys to reach their clothes.
August 19, 2016
Rated

5

out of

5
 by
fiesty
Great
Love that the drop length is adjustable. Very sturdy.
April 24, 2016
Rated

1

out of

5
 by
AptDwr
Looks great installed keeps sinking
I bought this for my daughter so she could hang her own clothes. Easy to install. I placed summer clothes on it and winter on higher rod. Looked great at beginning but, by end of summer with only about 6 outfits on it the rod has now sunk to about 24" from the floor. The strings are still set at the highest setting but have stretched out. Also, one side stretched more than the other so all clothes slid to that side. Will be returning.
October 19, 2015
Rated

5

out of

5
 by
gailforces
My clothes are now all visible
Love this double bar. I was able to organize my closet and double my space. Make sure your closet bar is high enough to accomodate the double level. Mine barely made it and I had to plan on the longer shirts to be on the upper level. The closet bar may be slightly lower since I live in a manufactured home.
July 30, 2015
Rated

5

out of

5
 by
Accessoreyes
More space for it all
My daughter needed to hang her tops and blouses in her small closet so I ordered these to double her space. Perfect.
June 14, 2015
Rated

5

out of

5
 by
Patski44
Just what I wanted!
This is the only rod I found that is adjustable for width and length, so it fits my space perfectly. It also seems to be sturdy enough, tho I haven't loaded it up yet. So far I am using it on the shortest width, so I don't expect weight to be a problem. I found that the adjustable rod seemed to slip a bit, so I added a short piece of duct tape to keep it at the width I wanted.
May 29, 2015
Rated

5

out of

5
 by
BPS59
Makes my Closet so much better
My badly installed closet rods and shelf recently collapsed. I decided to rebuild it myself and the crowning piece was the addition of the Dublet Adjustable Closet Rod. It perfected my re-organization.
April 19, 2015
Rated

5

out of

5
 by
McConnon
Think out of the box
I needed a place to hang a damp bath mat. This was the perfect solution. It is functional and decorative. Thank you Umbra for solving my problem.
March 20, 2015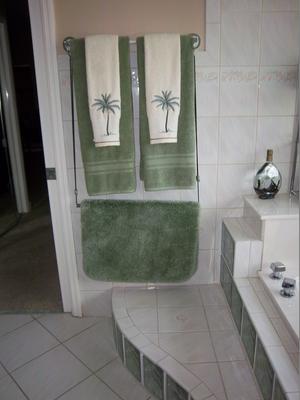 Rated

5

out of

5
 by
scb555
Simple yet effective!
Incredibly simple design, yet strong and durable. This wasn't the first double hang rod I purchased. I actually passed on this one because it didn't appear sturdy enough. But after the first one didn't work out I went ahead and bought it. Good decision! The thin, yet strong cording "hides" among your clothes so you don't even see it. Easy to adjust both height-wise and width-wise. I now own two of them!
March 16, 2015
Rated

4

out of

5
 by
Monique26
Best tool for a college renter
Quick delivery and easy to install. Since I rent this was a great way to organize my closet without putting wholes in the wall, and adjustable to any width or height. I won't have to worry about my next closet.
October 23, 2014
Rated

1

out of

5
 by
alona
broken from store?
There is no way for the length of the bottom rod to remain steady (tubes keep sliding around, no way to keep them in place). Is this a defective product, or just the way the product is made. If it is made that way, then I think it is made very poorly.
October 9, 2014
Rated

5

out of

5
 by
EMLG
No more Frustration
I don't use this to hang twice as many clothes since on the bottom they need to be available to go to the floor. The floor is used for other items like shoes, totes and laundry basket to name a few. However by shortening the top strings (tying a knot and looping hook through) I can hang empty hangers separately. No more searching for an empty hanger or empty hangers getting tangled in the way of the clothes my search to find something to wear in the morning. Alternatively you can hang clothes on top rod and hangers on the bottom. I am also transitioning to Huggables. These are great for those of us who "drip dry".
July 10, 2014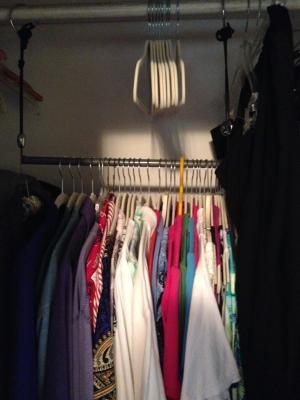 Rated

1

out of

5
 by
chicagoapt
Disappointed
We were excited to think we had found a solution for a too-small closet in a first apartment. While the product is flexible, it is not sturdy enough to hold hanging clothes in a stable way. First, the two sides are not level; in order for the rod to be level, the adjustable rope on one side has to be shorter than the other. And once clothes are hung, they shift to the end of the rod. We placed only light-weight clothes on it, but it didn't help. Perhaps the positive reviews about baby rooms' closets was the tip-off - it just doesn't work for adult clothes.
July 5, 2014
Rated

4

out of

5
 by
BevG
More clothes? Bring it on!
All of a sudden I have two tiers of clothes space in my closet.. this is a great product. Unbelievably strong, versatile and flexible. You can move it up, down and side-side. The wires are pretty strong and hold a lot of clothes.
June 21, 2014
Rated

5

out of

5
 by
Verified Reviewer
Perfect Purchase!
It helped get the job done of organizing my closet and it looks great too!
June 9, 2014
Rated

5

out of

5
 by
SShopper
Perfect
This is exactly what I needed. I like that it is adjustable in length and in the height of the bar. The bar is not quite as sturdy as I expected, but I have it loaded with clothes and it seems to be find. I am happy with the purchase.
April 7, 2014
Rated

5

out of

5
 by
Run4Fun
Umbra to the Rescue
After a recent move, I realized I had downsized from a walk-in closet to a closet 1/2 the size of what I was use to. I suppose back in the 1920's women didn't have as many clothes as they do these days. What's a girl going to do? Well the first thing this girl did was to click on containerstore.com and that's where I found my closet rod expander in shining chrome. I doubled my closet hanging space and because it expands in length and width I can make adjustments to meet every seasons needs. Thank you Umbra, you are my hero!
April 5, 2014
Rated

5

out of

5
 by
Skinny64
Great Purchase
This expander has DOUBLE my closet space. Love it.
April 1, 2014
Rated

5

out of

5
 by
lea123
Great versatile solution for your closet!
I just downsized dramatically and I was really getting stressed over the lack of closet space in my new condo. "To The Container Store!!" I shouted! The Dublet was the first thing I purchased and the angels sang! Everything fits...with room to spare. I bought three more doublets. The best thing about them is the versatility...they adjust from side to side as well as up and down...so clothes don't need to drag on the floor which has been a problem with other organizers I have tried in the past. I'm thrilled with the Dublet...Kudos to the inventor and THANKS to The Container Store!!
March 28, 2014
Rated

5

out of

5
 by
TCfromCali
Life Saver
This product is a life (or clothes) saver! I just moved from a house with a large walk-in closet in my room into a room with a tiny closet. I seriously had nowhere to put my clothes! It's adjustable, so I was able to make it the right height for my clothes. Love it!
March 26, 2014
Rated

4

out of

5
 by
BakersDozen
Great Buy
I bought this for my son's dorm in college 2 years ago. They have limited space in every room including one rod in the closet. For boys, all their clothes only occupy the top part of the closet leaving the lower section open. The extra rod was a big help. It kept his clothes all neatly organize and double the usable space. Still have room for 2 shoe racks on the bottom of the closet!
March 14, 2014
Rated

5

out of

5
 by
MoVa
Pleased
I have tiny closets and am very happy that I purchased this. It practically doubles my space and I was also able to add the hanging sweater bag. I can see my wardrobe now and it makes getting myself together in the morning so much easier.
February 7, 2014
Rated

5

out of

5
 by
info1039
Inexpensive Closet Organizer!
This is a fabulous solution for those of us with limited funds for closet system. Moving from a house to apartment was challenging. Small closets were made more than functional with this item and Best part is no drilling or holes to repair!
November 17, 2013
Rated

5

out of

5
 by
USNChiefRetiredWife
Great Product at a Great Price
After looking at similar products that had bad reviews and costs double the money I was thrilled to find this item and took a big leap of faith that it would meet my needs. It definitely did. Doubled our closet space with no tools or directions needed to install. Easy to adjust to the height wanted and able to hold all the items I need the extra space for. I couldn't be more happy and will definitely recommend this product to anyone needing this type of solution.
November 1, 2013
Rated

4

out of

5
 by
kimbakat
Good
This item did save me a lot of space!!!!!!!!!!!!!!
October 28, 2013
Rated

5

out of

5
 by
SeattleMomma
Very flexible option
I was looking for a closet rod doubler to hand in my 5 year old's closet that would allow her to access her dresses and skirts independently, but all of the available choices online had a minimum width of 30 inches and rigid sides. We had a custom closet with a space of 17 inches so that wouldn't work for us. This doubler has been just right - the hooks can fit on the bar and the ropes that hang down have enough give to conform to the narrow space so that it works. The rod does swing a bit when you are placing hangers on or taking them off, but that is not much of a problem. Overall, for the price, I am very pleased with this flexible rod doubler, and so is my daughter
October 19, 2013
Rated

4

out of

5
 by
Tommy1743
Another great product
This allows you to separate items and easily retrieve them. Easy product to use.
September 23, 2013
Rated

5

out of

5
 by
Rona
adjustable closet rod by Umbra
For anyone who has a small closet but you want to expand your space, this works great. The product is easy to use, very sturdy, and holds a lot of clothes. My best closet organizer purchase ever made.
September 14, 2013