< Return to Product Page
Customer Reviews
Chrome Metal Classico Horizontal Tie & Belt Rack
Overall Rating:
Customer Reviews
Rated

4.8

out of

5

 by

17

reviewers.
Rated

5

out of

5
 by
Lovie39
Great purchase
Simple yet does the trick. I now have an empty drawer that needs to be filled up.
March 12, 2015
Rated

5

out of

5
 by
JennaL
Perfect!
Love this for my scarves! Saves a lot of space in my closet and it looks nice. Bought one for me, my brother, and my mom! They all love them!
May 3, 2014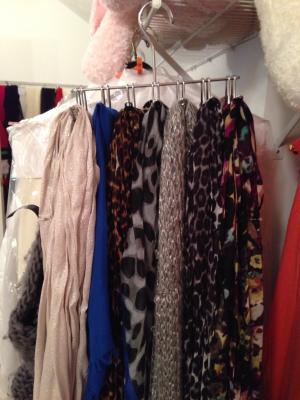 Rated

5

out of

5
 by
Harpo2
Perect organizing tool
purchased this to hang my husband's belts on in his closet. He's been keeping all his belts in a dresser drawer so now I have an extra drawer to use!!! perfect for keeping every belt in its place.
March 18, 2014
Rated

4

out of

5
 by
Ajant
Great space saver!
I used to keep all my tank tops on a hanger with shower curtain hooks to minimize the amount of hangers in my small closet. It was a great space saver but it wasn't sturdy and that bothered me. But I saw this tie/belt rack and thought it would be the perfect replacement. Which it was! Works great and I love it.
March 5, 2014
Rated

5

out of

5
 by
midwestkate
Great for Belts
I bought this to store my belts in our closet. It holds a ton of belts -- I have a few on each individual hook. The belts do hang quite long so if you have half-height storage, you may find it annoying. We do, so I have hung it on a hook in the front of our closet instead. The hooks are deep enough that the belts don't fall off easily at all. I definitely like this.
May 1, 2013
Rated

5

out of

5
 by
OrganizedTeacher28
Awesome organizer!
This is a great way to hang my belts so they are no longer all on one hanger and I can easily access them all.
February 15, 2013
Rated

5

out of

5
 by
Bertpoint
Bra Rack!
Ordered it to hang bras from and it's perfect! More organized and easier to select the one I'm looking for.
February 4, 2013
Rated

4

out of

5
 by
SamanthaS
Good for ties and belts
I loved the look of this item and it takes very little room and is ideal for tie/belt storage but nothing else that may be bulky (i.e. no scarves, etc.)
May 2, 2012
Rated

5

out of

5
 by
Julie3
Belt Rack
This works great for holding belts, necklaces and some skinny scarves. It is so much easier to use than the circle type I had before. It is heavy enough that removing a belt from one end doesn't set the entire hanger off kilter. I'm very happy with it.
March 29, 2012
Rated

5

out of

5
 by
cocobeans88
Great purchase!
I love belts but it was a pain to organize them in my closet. I love this product and the price is right!
March 19, 2012
Rated

5

out of

5
 by
Makis
I use it for scarfs
I love it, now I can see all my scarfs at the same time and I don't have to take them all out of were they are and make a mess to take only one.
October 28, 2011
Rated

5

out of

5
 by
seakingorganization
multi purpose
I bought this for my son going to college. By the time we had his room in order he had belts, hats and ties hanging from it in his closet. It's great and compact.
August 23, 2011
Rated

4

out of

5
 by
Mommagarbs
Sturdy - Great for hanging belts and necklaces and for use in small dorm closets
March 24, 2011
Rated

5

out of

5
 by
Puma
Good deal
This belt organizer is such a good deal. You can hang up to 14 belts (7 on each side) and it doesn't take much room in the closet. Will definitely get another one for my scarves.
February 8, 2011
Rated

4

out of

5
 by
Rachelle
Good for organizing my belts. It's double-sided with a total of 14 hooks (the picture doesn't show that). I have a circular hook belt hanger next to it and they get tangled to each other if I'm not careful.
August 23, 2010
Rated

5

out of

5
 by
oldgold
MULTIPLE USES
I have found several uses for this product in addition to organizing my belts. One holds my bras and scarves so I didn't need to get something different for them. My only caveat is the photo does not indicate this product is two-sided (14 hooks per piece) so I ended up with probably more than I needed.
June 7, 2010
Rated

5

out of

5
 by
Nece
Classico Horizontal Tie & Belt Rack
Love this hanger/rack Keeps my belts so organized and separated with out taking up too much room in my closet. I am buying one for my husbands closet too! Very happy with this inexpensive organizer
April 5, 2010