< Return to Product Page
Customer Reviews
Forma Bath Tissue Canister
Overall Rating:
Customer Reviews
Rated

4.6

out of

5

 by

12

reviewers.
Rated

5

out of

5
 by
JackNYC
Simple & Perfect
perfection. It's attractive. It's simple. It's well-constructed. Fits oversized rolls.
May 2, 2012
Rated

4

out of

5
 by
OMABear
Good Product but Bad Sticker
Good product that will look great in the bathroom. Would have given five stars except for the difficulty in removing the product tag from the front. Took me 30 minutes of elbow grease and Goo Gone before it finally came off. Lots of TINY pieces. Anyone who will spend $35 to hide toilet paper sure doesn't want a giant sticker on one side of the can!
January 4, 2017
Rated

3

out of

5
 by
Ace1
Nice, but too small
I bought 2 of these for bathrooms in my house but the canister was too small for the size of the toilet paper roll. I had to return for that reason.
September 18, 2016
Rated

4

out of

5
 by
kaabrah1
Practical Dispenser
I think that this is a good dispenser. If helps to organize toilet paper and declutter the bathroom. My only complaint is that the metal smudges quite a bit and it is difficult to clean. I think I would opt for a different dispenser in the future. But for the meantime I think it looks nice.
April 12, 2014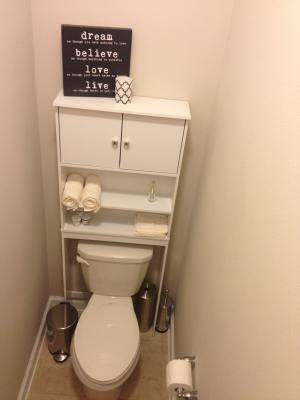 Rated

5

out of

5
 by
KBBH
Silver Bath Tissue Containers
These are great! I have two at home, and they look stylish and do not get in the way, even though they are in a smaller bathroom without a lot of room.
March 27, 2014
Rated

5

out of

5
 by
Decor
Perfect Storage Solution
Perfect solution to keeping multiple rolls of toilet tissue stored in an attractive container. Doesn't take up much space and works great just sitting on floor. Using 3 of them in 3 office bathrooms to help keep all 3 organized and looking good.
April 23, 2013
Rated

5

out of

5
 by
meche
so stylish and chic
this is an amazing canister that brings out chic color to an average bathroom, it looks clean and fresh on the side of the toilet or closer out -you wont be embarrassed to show this piece off
March 18, 2013
Rated

5

out of

5
 by
Verified Reviewer
Clean and space saving
In my teeny apartment space is golden. I searched high and low for TP storage that held more than a single roll, that was fully covered to keep it from getting wet or dirty and stainless or chrome. Voilà ! Perfect! The ONLY drawback is a little finger hole in the lid to open it. Problem it that lets in dust and humidity. The very thing you want to keep away from virgin TP! It's stored behind the toilet so I attached clear plastic on the underside and it works fine (designers- listen up and re-design the lid to correct that problem.)
April 27, 2012
Rated

5

out of

5
 by
meow
Forma® Bath Tissue Canister
A marriage of design & function. Works perfectly in my bathroom, per its function and per aesthetics.
April 11, 2012
Rated

5

out of

5
 by
laineypoo
Very Discreet!
This is a sleek, discreet way to keep your toliet paper handy and dry, while keeping the bathroom neat and uncluttered. I was very happy with this purchase.
March 26, 2012
Rated

4

out of

5
 by
Lilpooh
TP Container
A Concealed way to store toilet paper without looking messy..
March 19, 2012
Rated

5

out of

5
 by
Alemana
Attractive and useful
This canister solved my small bathroom problem I also like the one that can be attached to the toilet tank, but couldn't use it because I don't have enough room on that side of my toilet.
April 9, 2011