< Return to Product Page
Customer Reviews
Acrylic Lipstick & Pencil Cube
Overall Rating:
Customer Reviews
Rated

4.9

out of

5

 by

34

reviewers.
Rated

5

out of

5
 by
lah113
Loved it immediately
I bought this organizer to hold small things on my dresser and hopefully keep everything neater - I wanted it specifically for lipsticks, perfume bottles, deodorant, etc. I got it all set up the moment it arrived and I immediately loved it! There's a place for everything I needed to store and so far (about a week of use) it's really helping keep me organized in the morning. This was my first purchase from The Container Store but it won't be the last!
March 3, 2016
Rated

4

out of

5
 by
kljmnd81
Good organizer
I needed something in the cabinet for loose items, and this size definitely helped me out. It organized the items I needed, and then some - so I could get rid of something else for space. The only thing I don't like is some wasted space in the two tall portions; not much fits in them. At least for me anyway. I found things to put in them, but it would have been nicer to have the whole bigger section to put taller items that aren't so skinny. I managed to fill the organizer, which was the purpose.
January 18, 2016
Rated

5

out of

5
 by
containercollector
Great makeup brush holder
I use this for my makeup brushes. It is amazing how many will fit. They are all together in a contained space, yet still separated so that you can see the individual brushes, unlike in a cup where they are all clumped together. I actually use two for this. Love it.
March 11, 2015
Rated

4

out of

5
 by
Sandge
Multi-functional cosmetic organizer
This cosmetic organizer is super multi-functional. While searching for an organizer for my vanity table I came across several that would only hold similar products, like lipstick holders that could also hold mascaras, but couldn't hold foundation or powders, and I really wanted something that could hold all of my day to day, always out makeup. This cosmetic organizer is perfect because it has space for lipstick and mascaras, as well as foundations and powders, while still being compact enough to not eat up all of the room on my vanity table. My only complaint is that the two shelves are not tall enough for some of the powders, but maybe that's more of a complaint about bulky makeup packaging.
May 4, 2014
Rated

5

out of

5
 by
alice88keys
Perfect purchase - looks great, saves time daily!
There is no substitute for this makeup organizer when it comes to managing the right amount of makeup and brushes and knowing where each piece is right at your fingertips. This has saved me time during my daily post-shower regimen and discourages over-buying of makeup and accessories. My bureau has far more available space, and the organizer is so easy to clean! Love it!
April 19, 2014
Rated

5

out of

5
 by
Lydeeah
Beautiful
This cosmetic organizer is very cute and displays my make up products nicely. It is great quality as well.
March 24, 2014
Rated

5

out of

5
 by
Lisa319
beautifully functional!
I have recommended this product to 2 friends and we all went back for more. Excellent space saver that adds a classic clean look....especially next to mirrors.
March 8, 2014
Rated

5

out of

5
 by
ElainePG
Just The Right Size!
I am very fussy about the way my medicine cabinet is organized, and this pretty lucite organizer is exactly right for keeping all my beauty products in one place. Everything I need is easy to reach and, because the organizer is lucite, easy to see as well. I bought this one to replace an identical one that I purchased about ten years ago, that had finally become so scratched and scuffed that washing no longer helped. But ten years is a long time for lucite to last, so I did not at all mind spending the money to replace such a perfect product!
February 15, 2014
Rated

5

out of

5
 by
PinataParty
Nice Cosmetics Organizer
I don't have a lot of cosmetics, so this cosmetics organizer holds all my stuff with extra space leftover. The flat shelves aren't high enough to hold my foundation powder, so it has to go in a vertical slot. I would recommend this for anyone with a small/medium supply of cosmetics. Otherwise, you may need to purchase supplemental organizers. The acrylic is thick and durable. It is nice enough for a countertop.
May 1, 2013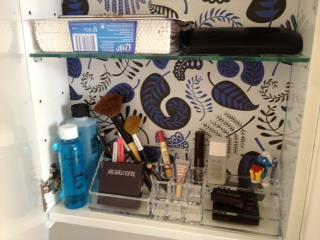 Rated

5

out of

5
 by
GMshoelover
Convenient
I like these types of organizers. They make things easy to access and they fit nicely in cabinets. It helps keep all my cosmetics organized.
April 27, 2013
Rated

5

out of

5
 by
LoisB
Perfect
This holder is exactly what I had been looking for. It fits neatly into a larger tray and is easy to clean.
April 18, 2013
Rated

5

out of

5
 by
CGriffin
Organizing My Vaping Supplies - Perfect!
I've been looking for a way to better organize my vaping supplies. This lipstick/pencil holder holds my ego batteries perfectly. I purchased this along with 2 of the 24-section acrylic lipstick risers which accommodates the 15ml plastic dropper bottles perfectly. These units are very sturdy and look great.
April 12, 2013
Rated

5

out of

5
 by
vivared
Need more!
Love this lipstick holder. Have one but am ordering two more for all the 'stick' shaped makeup and tools. Looks clean and neat. Would be nice if they would make one that was equal to two together.
March 25, 2013
Rated

5

out of

5
 by
Lilly1205
Excellent for make up
This works very well. Nice and heavy. Need to combine with a couple other pieces for enough space
March 19, 2013
Rated

5

out of

5
 by
lina82
Stylish, practical, multi-purpose
The different storage areas are perfect not only for makeup but for skincare products. It is exactly what I was looking for to organize my bathroom cabinets and to easily find my skincare products.
March 18, 2013
Rated

5

out of

5
 by
LivingSimple
I like it !
Its total worth the money. takes litte space and accommodates a lot of my cosmetics. I really like its simple, neat design. Nice product.
March 10, 2013
Rated

5

out of

5
 by
Verified Reviewer
Perfect for Airbrush Make-up
All of the little bottle from Luminess Airbrush Make-up fit perfectly into the organizer. I can have a seperate row or shelf for different eyeshadows, blushed, foundation, bronzer, et. I love it!
February 16, 2013
Rated

5

out of

5
 by
Jorjagal
Ideal for organizing make up brushes, etc.
Large enough to put lipstick in front, followed by eyeliner pencils and make up brushes in back. Everything easy to find.
August 21, 2012
Rated

5

out of

5
 by
jessi439
Great space saver, for more than just lipstick
I love this. It fits in my medicine cabinet and I put lipstick, blistex, eye cream tubes, and a brow brush in there. All of those little things used to get in the way, and now they don't! There are tiny holes for little brushes too. Smart. Kind of elegant looking. It sparkles.
April 27, 2012
Rated

4

out of

5
 by
Dezi
Counter Storage
These different containers are great to hold your brushes/pencils etc. and your everyday makeup or for some it holds all their makeup and it leaves everything right there in reach for you. Great thing about these is if you want to take them from your bedroom to your bathroom and back and forth they make it easy. Your not holding products in your hand and your not having to worry about juggling alot either. Just grab this and go to it.
April 24, 2012
Rated

5

out of

5
 by
Teaches490
Great for small spaces
Check the measurements. These will fit in most bathroom medicine cabinets eliminating clutter on those shelves.
March 19, 2012
Rated

5

out of

5
 by
tinaangel22
Only way to store brushes!
This organizer fits all sizes and lengths of brushes. You can easily see what you have.
March 19, 2012
Rated

4

out of

5
 by
VeroveeNYC
Attractive and Functional
Sturdy and helping me keep my mess of a medicine cabinet in order. The only (small) problem is the are on the far right with three little "shelves". The one that is like a deep slot- I'm not sure what to keep in there. I've tried floss but it slides too far in; most other things don't fit at all. And the little shelves are nice but things keep falling off of them. I think I just need to find the right narrow items so it's not necessarily a design flaw. In general I am happy with this item.
November 22, 2011
Rated

5

out of

5
 by
otto
great for organization
Helping me with my goal to have a well organized medicine cabinet!
August 5, 2011
Rated

5

out of

5
 by
MHNYC
Perfect for 3" depth medicine cabinet
I used to have a deeper medicine cabinet but when I moved, alas, I had to deal with a 3" depth medicine cabinet. Needed a cosmetic organizer and this works perfectly.
May 16, 2011
Rated

5

out of

5
 by
LipstickQueen
Lasts a long time--still the best
This organizer is identical to the one I bought from The Container Store back in 1992. Yes, it lasted that long--and would still be in use if I hadn't put it in the dishwasher, which caused all kinds of little cracks that made it too ugly to display. There's room for all my everyday cosmetics, from mascara to lipsticks to eyeshadow. It's attractive, goes with any decor, and easy to keep clean. By keeping this out of the dishwasher, I am sure this organizer will look good for another 20 years.
March 31, 2011
Rated

5

out of

5
 by
momshealed
Nice Organizer for a Small Space
This is a great little organizer for someone with only a few cosmetics. It looks clean and keeps everything in its place.
March 8, 2011
Rated

5

out of

5
 by
GrannyJ
Outstanding Purchase
I would have paid double the price if I would have known what this organizer would do for me! My make-up drawer is now organized and I can actually find at a glance what I need. It has saved me countless hours of searching for a brush I just know I had somewhere----well, now I know exactly where it is everyday when I need it!
January 21, 2011
Rated

5

out of

5
 by
Ksrb
My favorite ever!!!
Ok, so I had new shelving put up in my makeup/vanity area so I just had to get new organizers. I was actually already shopping in the container store for another purpose. I asked a sales woman about makeup organizers and I bought both items pictured above. I liked the cube so much I went back and got a second one! They are both great, but the cube is the best thing ever! I use it to hold the items I use daily & most frequently. Lipgloss, mascara, blush brush, eyeliner,etc. The best part are the 4 tiny holes near the center. I did not notice them til I was home. I have tweezers in one, nail scissors in another, an eyebrow brush in the third and a thin eyeshadow brush in the last one. It holds everything & looks neat.
December 29, 2010
Rated

5

out of

5
 by
terrimerry
great quality
I'm about to order my 2nd acrylic lipstick organizer. This helps tremendously in keeping your cosmetics neat and organized. This is not just for lipsticks, I also put concealers, lipliners, eye pencils, brushes and so much more. They are all standing so neatly, ready to be quickly found.....as opposed to rummaging thru a bunch of stuff all thrown together in a drawer. I'll probably even get a third! It is well made...not flimsy at all.
June 27, 2010