Start Your Makeover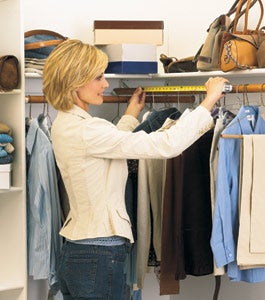 A quick survey of your closet's contents can reveal thousands of dollars worth of clothing, shoes and accessories. Given the time and money spent accumulating a personal wardrobe, taking time to store clothing properly, both to protect and prolong the life of your clothing, is a wise investment.

Whether for storing clothing, linens, food or utilities, virtually every closet – regardless of its size – can be better designed to make maximum use of available space, particularly above and beneath hanging rods and shelving, and along empty supporting walls.

Fortunately, redesigning closets to increase much-needed storage space can be a very simple process and usually does not take longer than a weekend day or several weekday nights. By using a custom designed storage and organization system like elfa, closets can be transformed into multi-purpose areas, yielding up to 50 percent more usable space for a fraction of the cost of custom built-ins.

At first glance, organizing a closet may seem like a monumental task, but it actually can be done in a few easy steps, beginning with some quick planning:

Take Inventory.

Begin by noting everything you would like to store in a particular closet. This includes hanging and folded clothing, shoes, accessories, linens and miscellaneous items, such as sporting equipment, luggage, gift-wrap, etc.

Clean House.

Donate or hold a garage sale for anything you don't or can't wear or use any more. Use the two-year rule – if you haven't worn it in two years, it's time to say goodbye to it. These items take up valuable space and probably won't be missed.

Remove Barriers.

If you have one lone closet rod at the top of your closet to hang your clothes on – remove it. One rod severely limits your ability to visualize available space and does not allow you to double-hang clothing. Measure your entire closet space from front to back, side to side and floor to ceiling. Note the height and width of doors and door frames, as well as the location of built-in shelves, fuse boxes, cables, ducts and other obstruct ions.

Use all of the Available Space.

Select a closet system and completion products that maximize all of the available space, including vertical space from floor to ceiling and the often-wasted space behind the door.

Our closet designers are available in-store and online to create a free, customized space plan for your closet with elfa, the premier shelving and drawer system and our best-selling product.