Work happy! We're always down with that at The Container Store. And our friends at Poppin - the folks who are creating some of the most colorful and clever solutions for the workspace - definitely believe everyone, everywhere deserves to work happy.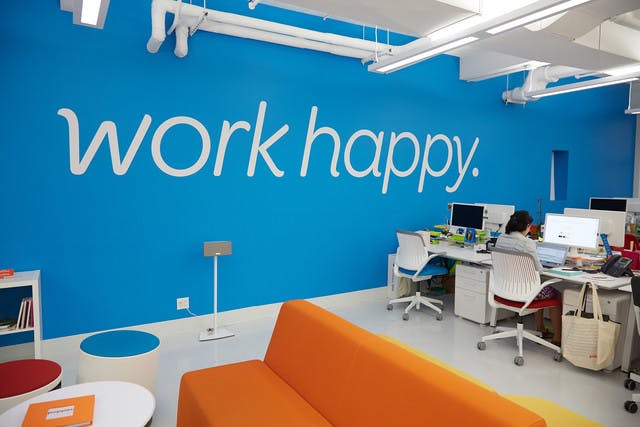 I mean, one peek into their headquarters and you'll see they practice what they preach. The company's fun, vibrant culture shines through everywhere you look. About 120 employees make up the team that collaborates in the open concept offices in the Flatiron District of Manhattan.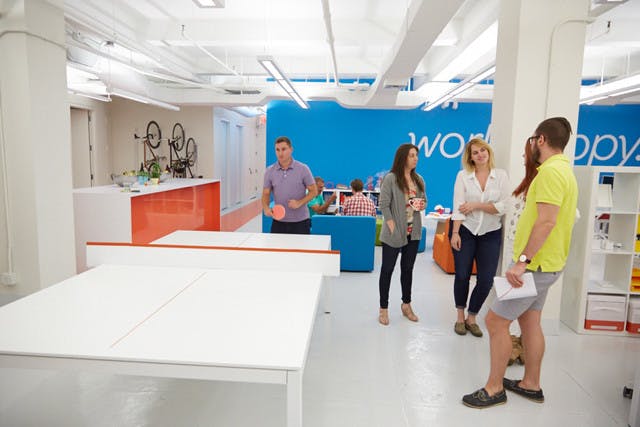 A conference table doubles as a ping pong table and is often a place to blow off steam or to be the official judge on who wins a friendly disagreement. Their cool workplace environment promotes colleague appreciation and teamwork.
Every month each employee is given $50, which has been, coined "Nifty Fifty." It's an incentive that encourages employees to go out and spend time with another colleague to get to know each other - a concert, a nail salon, a cocktail. They also have a Customer Hero breakfast (one of their Core Values) every Monday morning where each department takes the time to share their wins from the previous week.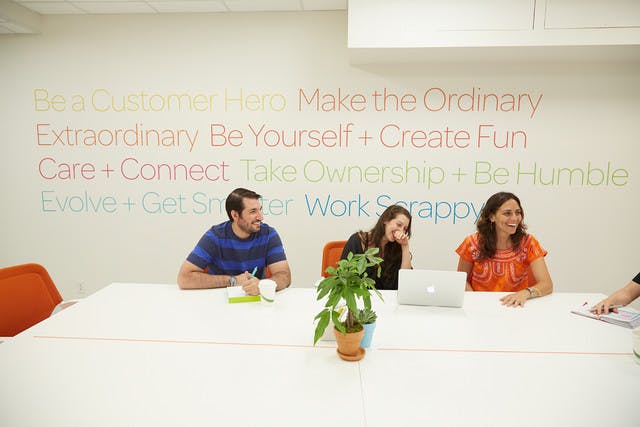 Poppin's six core values that are colorfully displayed on the wall, are a reminder of the spirit of the employee base and the kind of people they want to bring to the company to work with them and thrive. In addition to Work Happy, we love the value Work Scrappy. It's a nod to Poppin's roots as a start up company and a reminder to be efficient whenever possible with every action they take.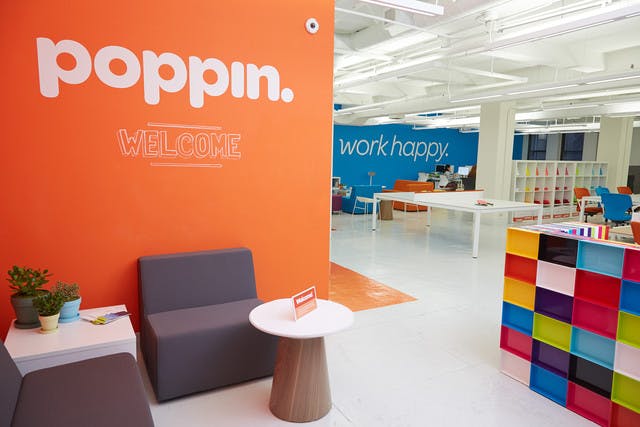 The reception desk in Poppin's lobby is a great example of that Work Scrappy mantra as it's built out of the company's colorful desktop accessory trays.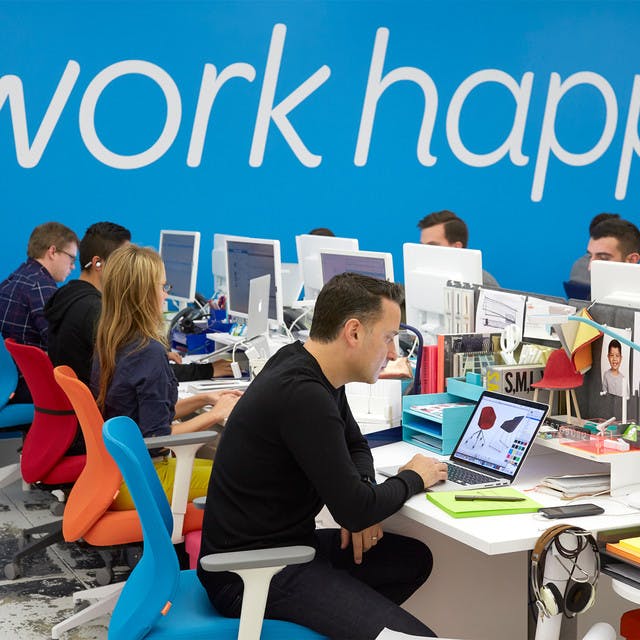 One of the cool things you'll see in the Poppin open-concept space is that every single person - no matter their title or tenure - works at the same type of workspace. The individual spaces are narrow - about 47 inches of desk area, which is pretty prevalent in these urban office environments. They get to personalize their desk space with any type of Poppin products they choose, which gives it a punch of personality.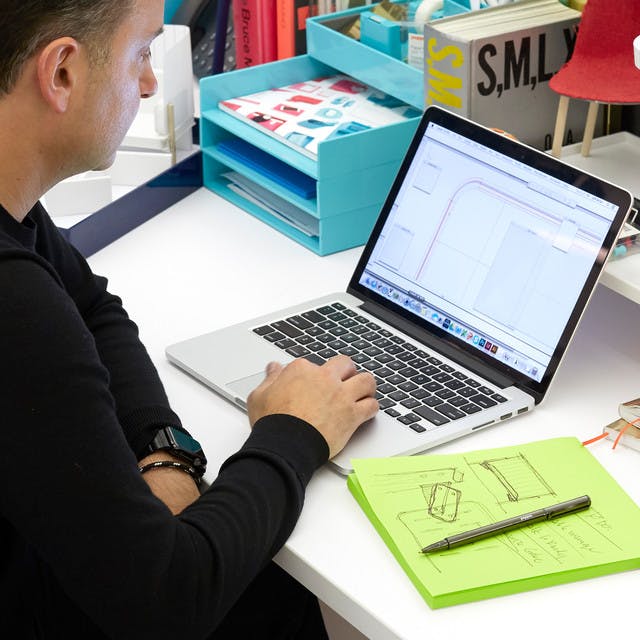 Jeff Miller, Poppin's Vice President of Product Design, is in the mix collaborating every day with every area of the company. He's been part of the company since it began about five years ago, with a mission to find a new take on what was considered a bit of, in Jeff's words, a "dull" category - office products.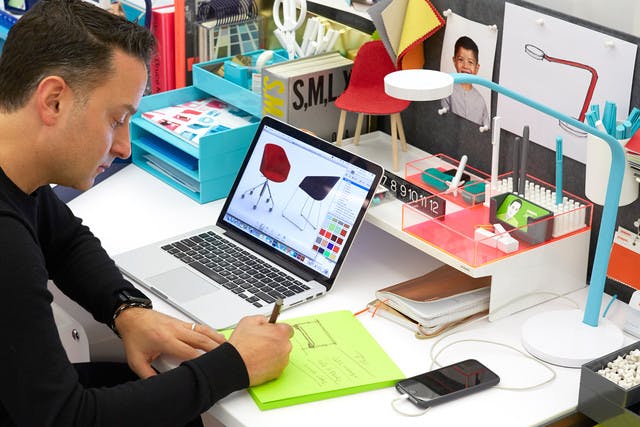 He's often multitasking and looking at several things at once - such as computer renderings, sketches, swatches and small models of his designs. He says he works on many things at one time and unlike most other people in this office, he doesn't have a lot of files or other paperwork he keeps on his desk saying he likes to keep that real estate free. A photo of his seven-year-old son Loewy (named after industrial designer Raymond Loewy) is a source of inspiration, along with "built world" items around him on his desk space.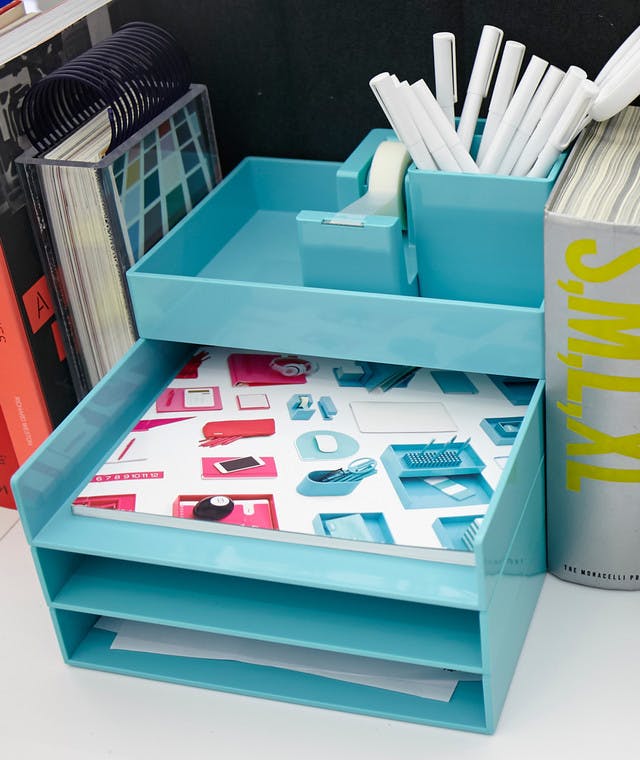 Poppin is famous for its collection of products that mix, match, stack, and scale to create a custom system based on your changing needs.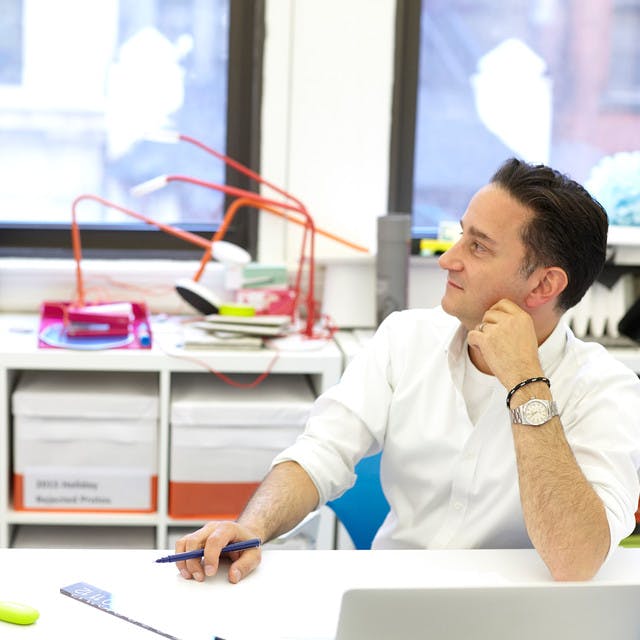 "We build our collection like a family, with a common elemental aesthetic. We design quintessential products that perform and feel at home in any environment," says Jeff.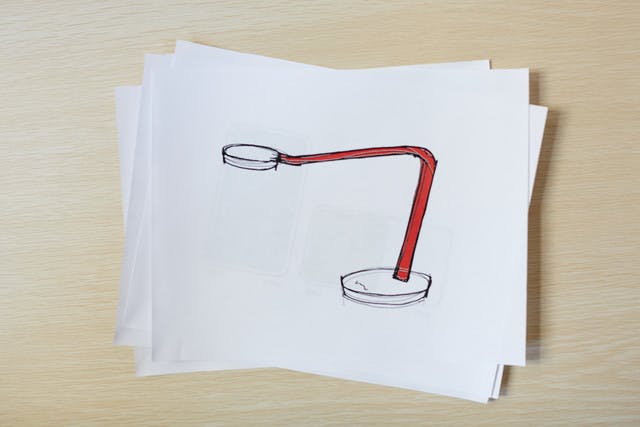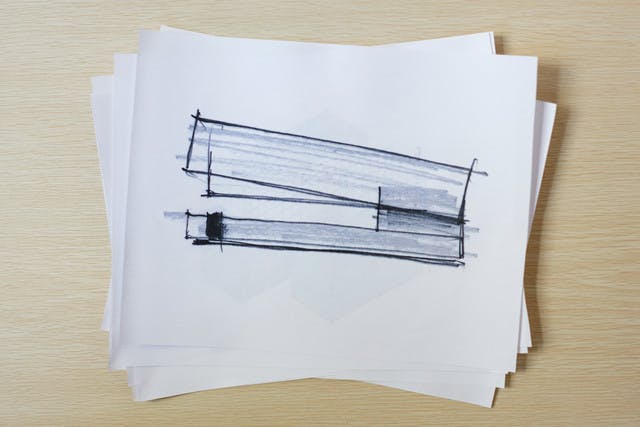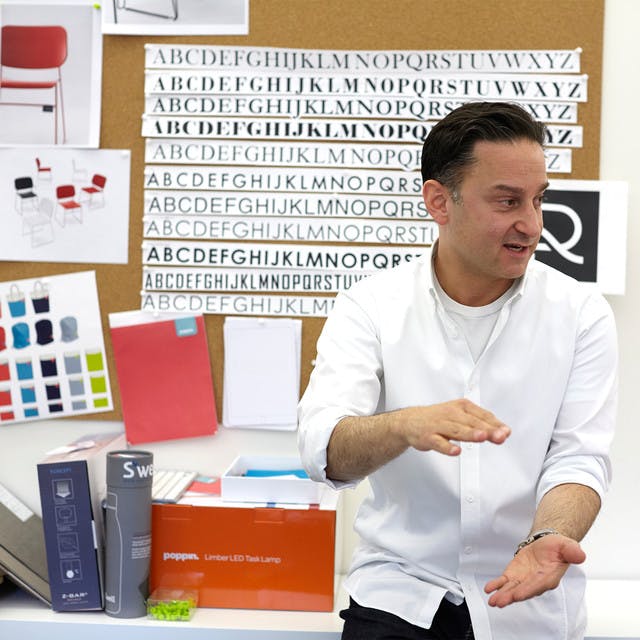 Which product is Jeff most proud of that he's designed in that fun workspace? He chuckles as it's a question he gets quite often.
"It's the one I'm currently working on because there's the opportunity to turn it into something that's never been done before," he says.
Well, we can't wait to see it. In the meantime, we'll be right here at our desks - working happily!
Inspired by Poppin's office and story? Let us know why in the comments section below and you'll be automatically entered to win a $2,000 office makeover and your very own office story in our Be Inspired. Comment. WIN! contest.