Normal has taken on new meaning. Working from home, limiting contact, homeschooling and creating new routines are all hard changes. We all like to feel in control, and in these uncertain times, that's especially difficult. But, doing what you can to make things work, helping others and taking care of yourself and your family - feeling productive - can lift your spirits and the spirits of those around you.
For many, the need to "do something positive" may mean cleaning, organizing and creating relaxing spaces at home for you and your family. As the heart of the home, the kitchen is a great place to start. From drawers, cabinets and pantries to your refrigerator, freezer and under the sink, we can help.
Make food storage and meal prep easier by organizing your pantry. Whether you have a walk-in space or a cabinet pantry, grouping items together in clear pantry bins will make it easy to see what you have - and prevent you from buying what you don't need. Labeling them makes finding what you're looking for even easier. You may also want to consider adding color or texture to your pantry by using hand-woven bins or canisters with wooden lids. And when you can, use stackable bins to make the most of vertical space.
For bulk items like dry beans, rice, pasta, flour and sugar, canisters with an airtight silicone seal are must-haves. As are tiered organizers for canned goods and spices. And don't forget Lazy Susans. They are a great way to make use of space in corners or deep shelves. Use larger ones to give yourself easy access to snacks, sauces, condiments and more.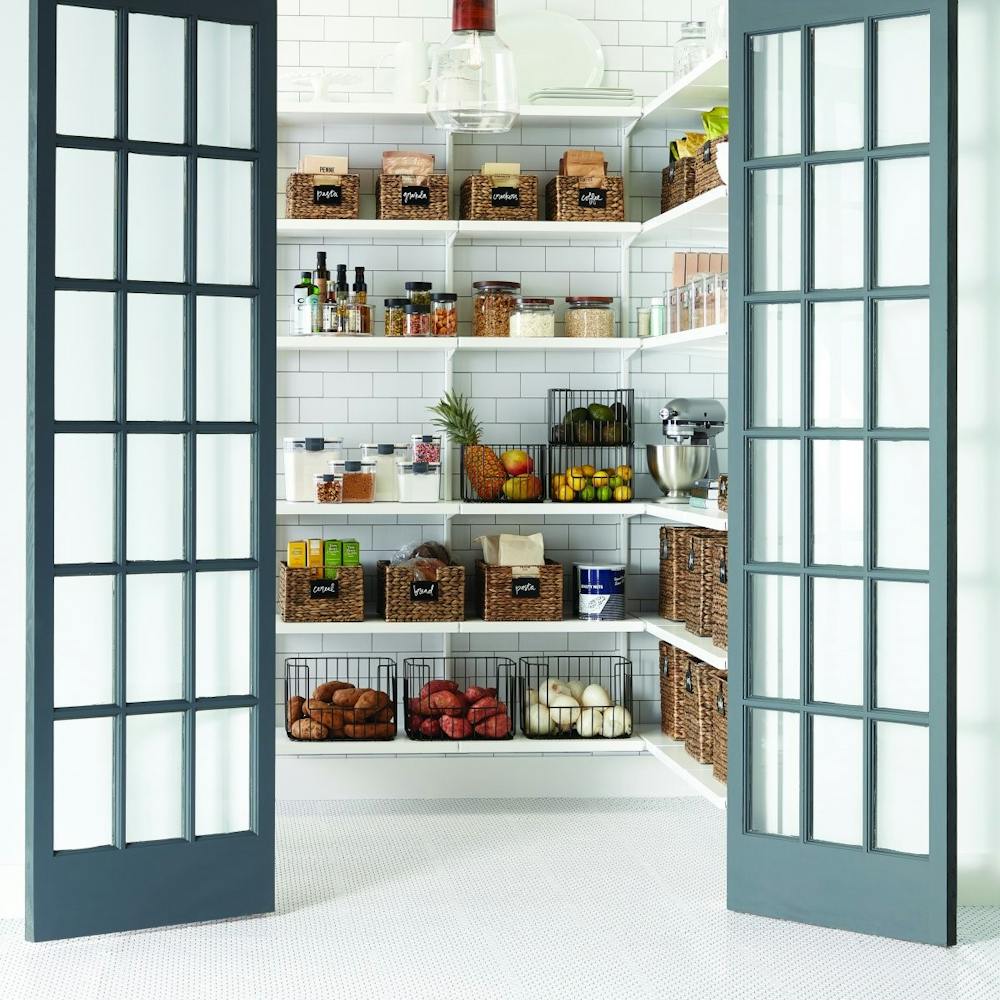 From storing left-overs to freezing meals and organizing bags of frozen produce, we can help you make the most of the space in your refrigerator and freezer. Look for stackable Fridge Bins for snacks and specialized containers that help keep produce fresh longer like the OXO greensaver Produce Keepers. Another tip is to use a space-saving beverage dispenser for cans. And as you will be cooking more, food storage containers are more important than ever. Look for ones with leak-proof seals and consider Borosilicate Glass containers that can go from the freezer to the oven or microwave and back to the refrigerator. In the freezer, storage bins can help keep boxes of frozen dinners and bags of veggies and fruit neatly contained.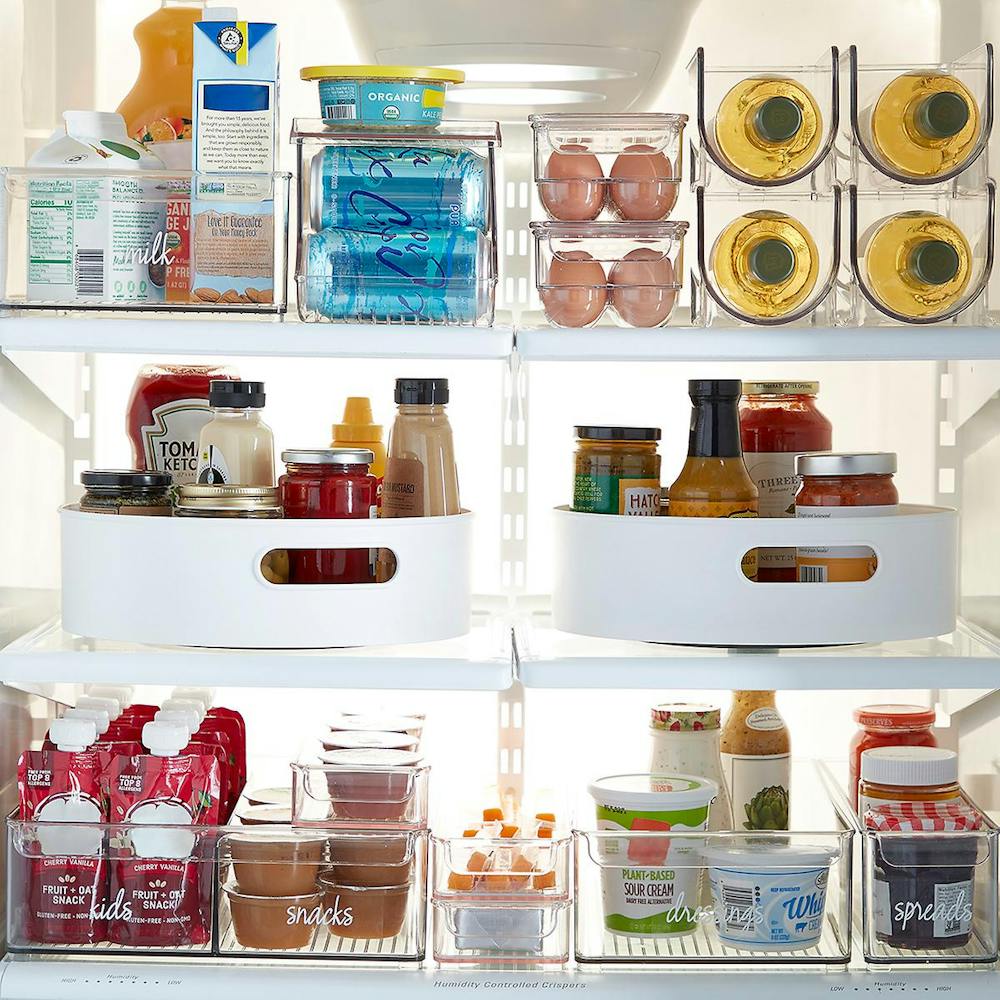 Organizing your drawers is a quick project that gives almost instant satisfaction. Expandable Silverware or Utensil Trays are some of the easiest solutions. For a custom solution, consider modular drawer organizers, they are perfect for kitchen tools and gadgets.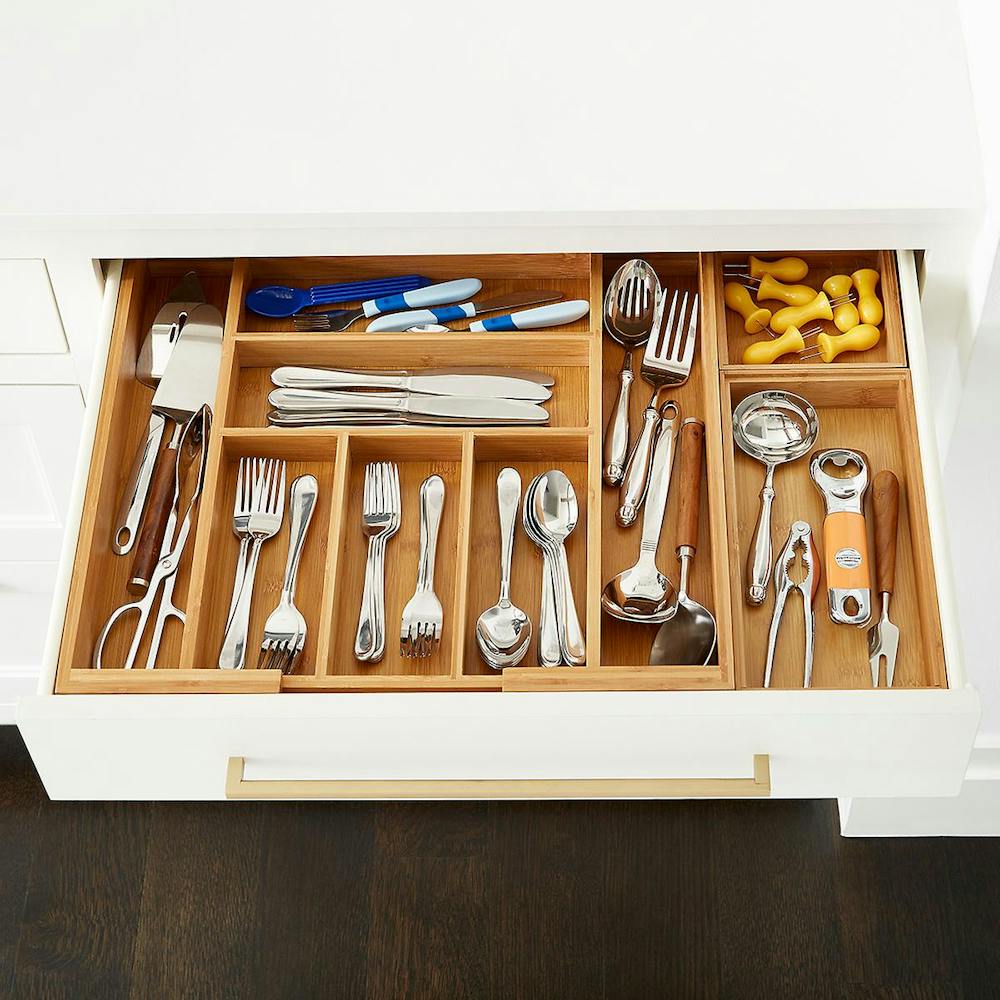 The goal of organizing upper and lower cabinets is to make everything visible and accessible while maximizing the vertical space. Stacking Cabinet Organizers and Bins are essential. They allow you to separate plates, cups and bowls. In lower cabinets, Pull-Out Cabinet Organizers are ideal for making it easy to access everything from appliances to cookware.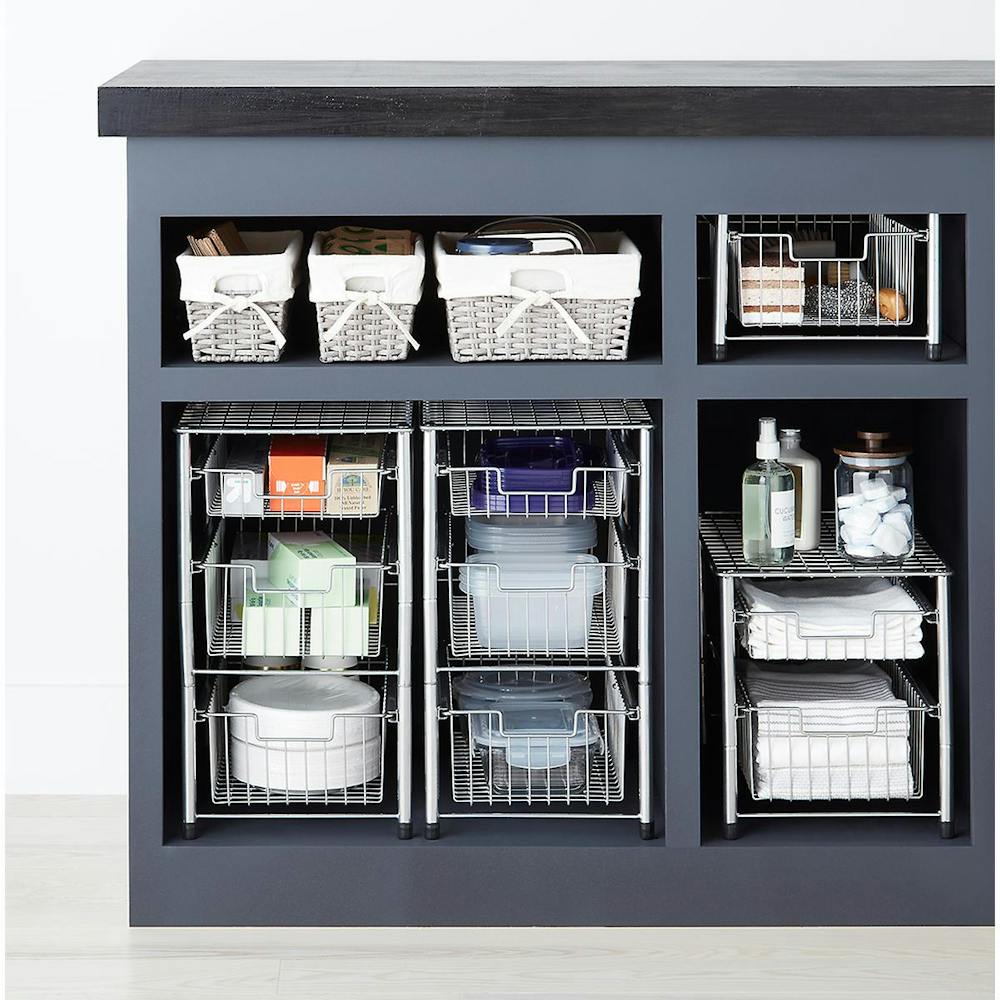 Keep counter tops clear and clean is easier when the space under your sink is organized. While similar to other cabinets, pipes and the sink bowl itself can may present extra challenges. Organizers specifically designed to fit around obstructions as well as stacking drawers and turntables are all good options for organizing cleaning supplies. And don't forget the space on the cabinet door. It's ideal for storing bags, rolls of wrap, towels and sponges.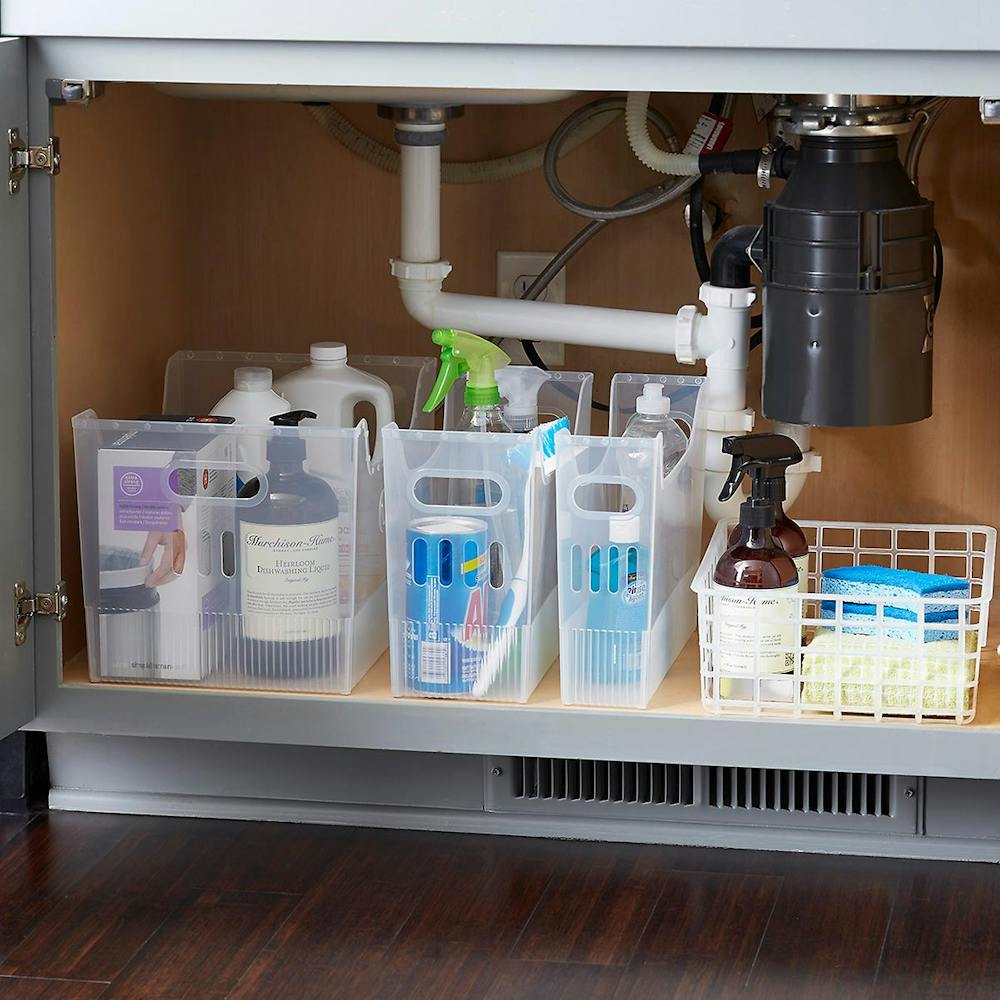 And of course, with so many working from home, having a productive office space is more important than ever. Here are a few key things to keep in mind when setting up your home office. You'll need a quiet place, away from household distractions, adequate storage for files and supplies, a comfortable desk and chair, and access to the internet and power. The good news is this doesn't have to be a large space. If you don't have a separate office, you can set something up in a bedroom, living room or even transform a small closet.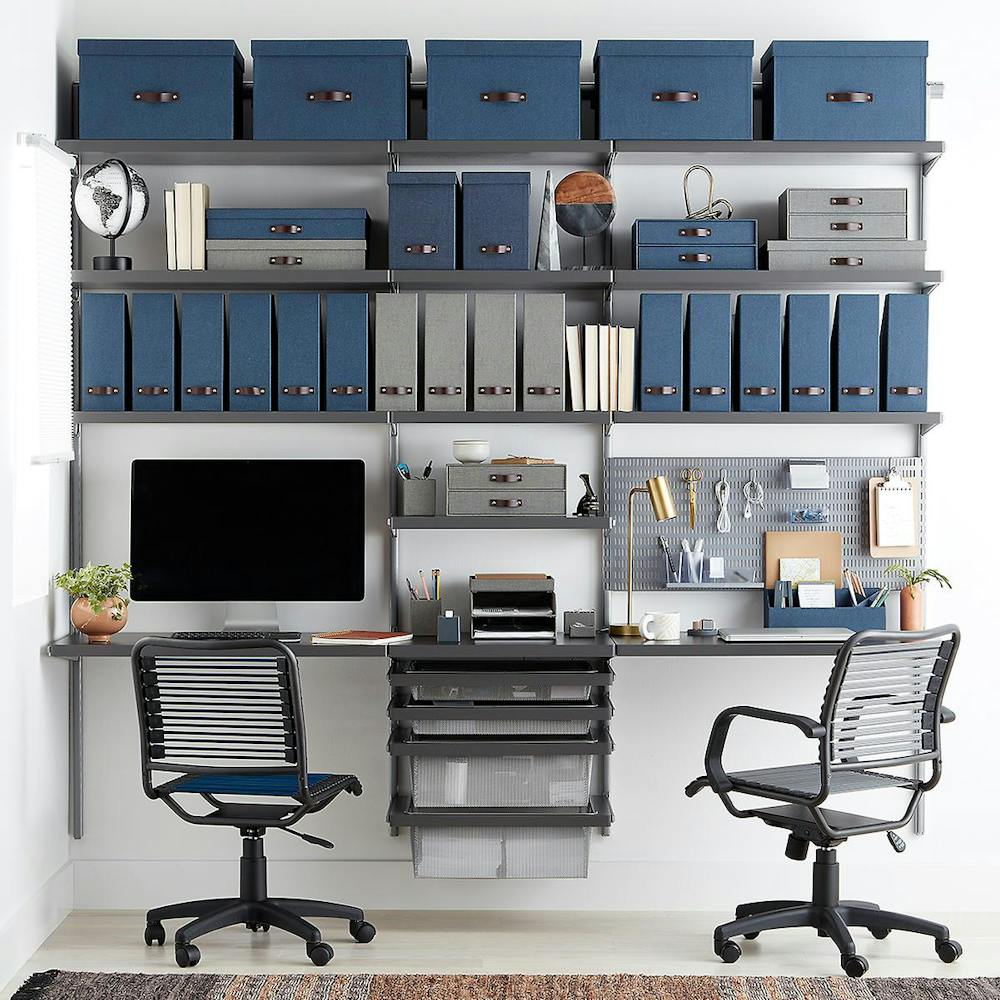 DESK BASICS
A simple desk combined with an Elfa File Cart is a good place to start. Be sure to include a comfortable desk chair, or you may want to consider a standing desk. Either way, you'll want to ensure you can view your laptop or monitor comfortably. From there, cord control, desktop organization and file storage are essential.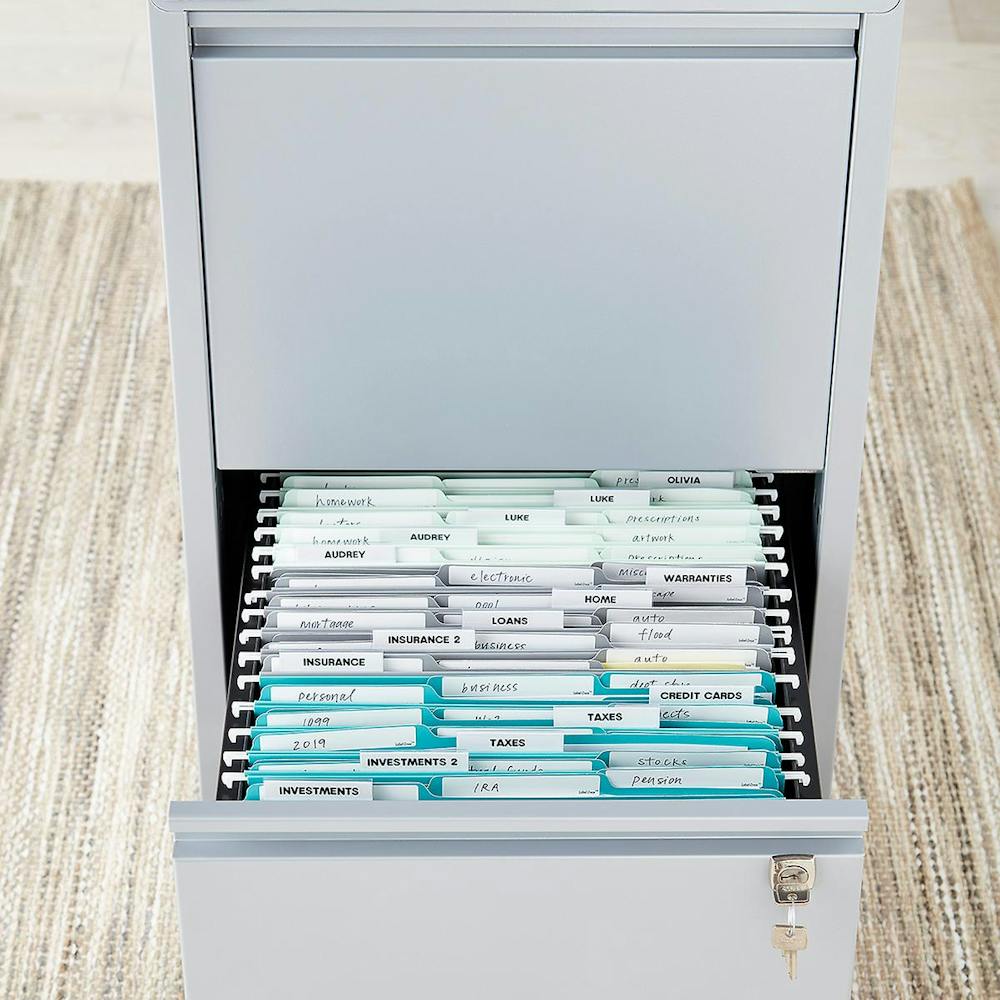 A good power strip and charging station will help keep you connected. Look for charging stations that can quickly charge multiple devices at the same time. Extra-long charging cords can also come in handy if you have to set up a desk away from an outlet. Keep cords tangle-free and out of the way with products like Cable Drops and Cable Wraps. And finally, keep keyboards and monitor screens clean with microfiber cloths and Cyber Clean.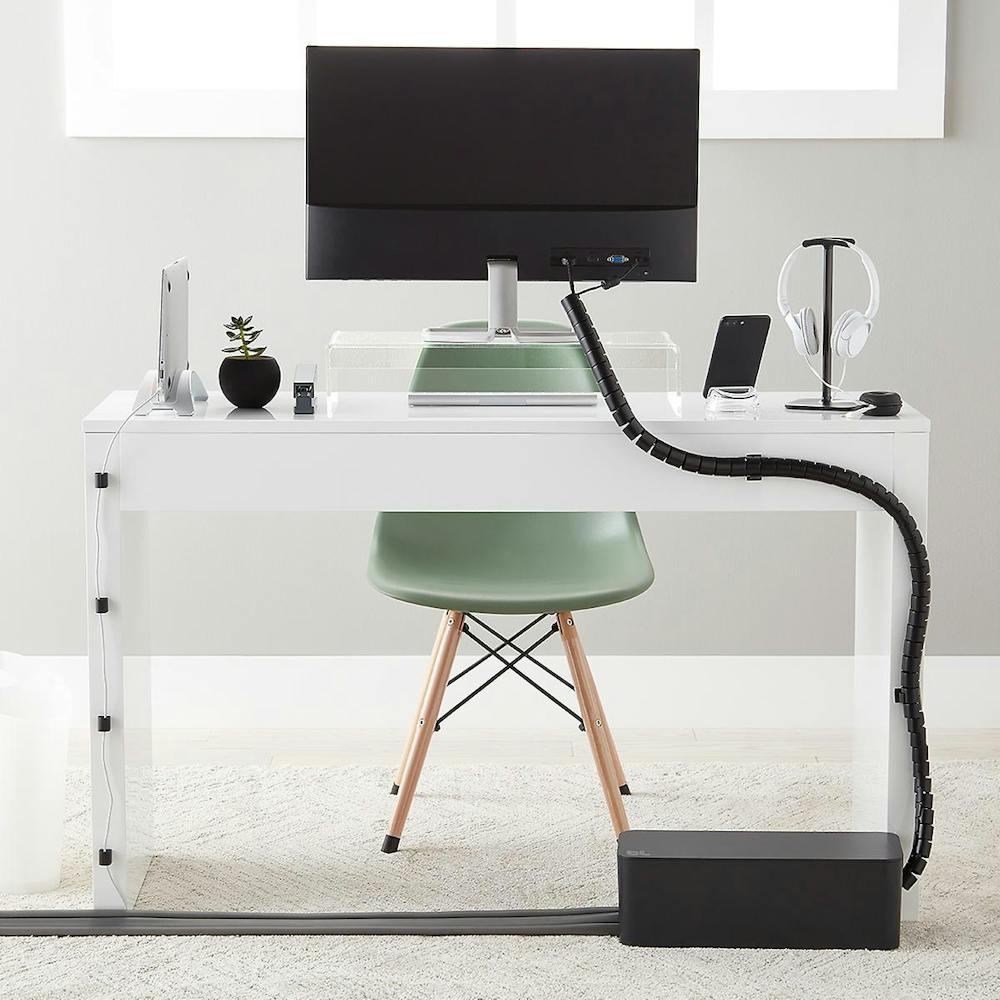 DESKTOP, DRAWERS & WALLS
Add color and texture to your space with Desktop Collections and Drawer Organizers. Mix and match colors and textures to suit your style. From clear acrylic and metallic to brightly colored plastic and fabric in a variety of patterns, there are plenty of options to choose from. 
Wall-mounted communication boards and organizers are another great way to keep your desk top clear of clutter. And again, there are a variety of styles to choose from.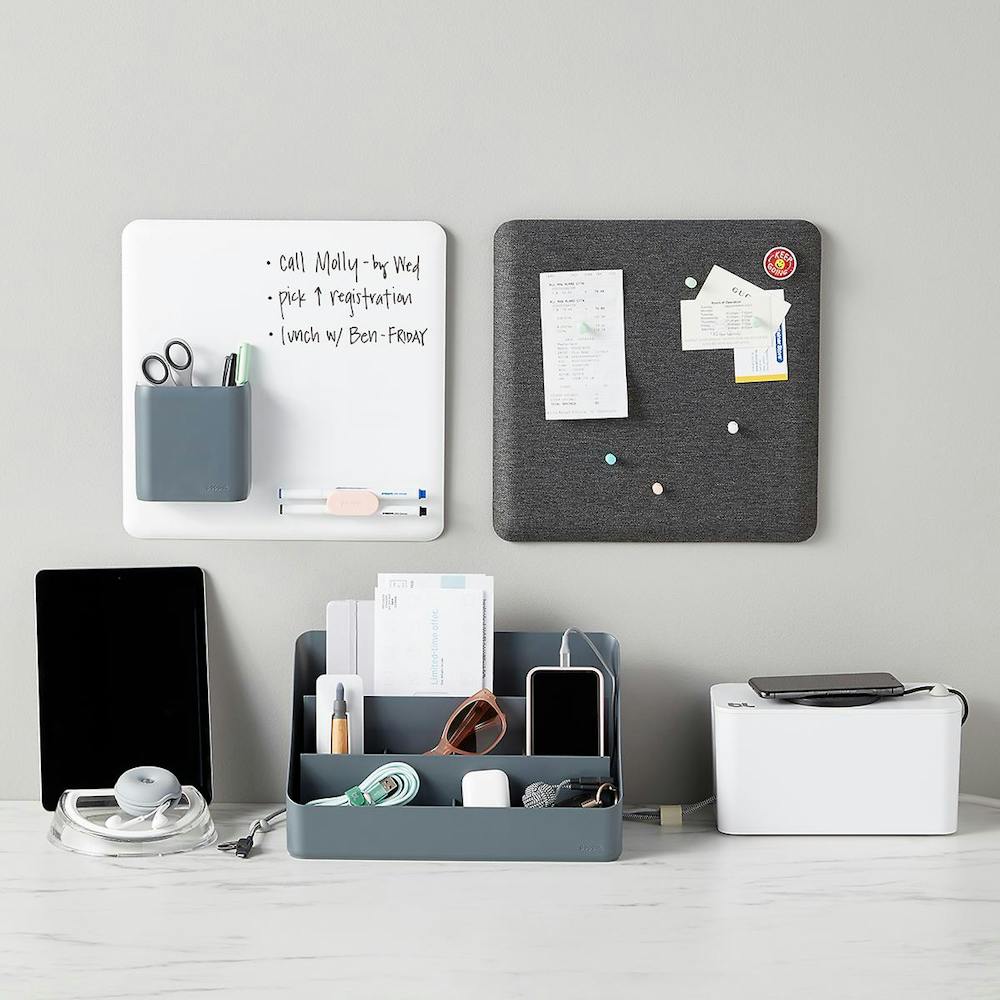 For more organization inspiration, check out our Projects & Inspiration page.