All photos courtesy of Sara Ligorria-Tramp
Since moving into her house in 2018, interior designer and photographer Sara Ligorria-Tramp has made major renovations to both the decor and the floor plan. One of the changes that she made was the location of her closet space. "Originally, the area that is now the primary closet was just a pass-through room," she wrote on the Emily Henderson blog. "Early on in the reno process, I knew I wanted to figure out a better floor plan for the back part of the house. And that included turning this awkward space into the primary closet." And when the time came to take on this area of her home, Sara knew exactly who to call! [Spoiler alert: us!]
After walling off the section of the pass-through area that led to her kitchen, Sara applied some bold paint to the doors and trim, updated the light fixtures, and lined the walls with colorful wallpaper. Then, she contacted us for a custom Elfa design. "Instead of designing the closet myself, we used The Container Store's Virtual In-Home Design Service, which paired us with Barb, who is possibly the best closet designer in all of Cleveland--and possibly in the whole world," she raves. "It took Barb all of about 45 minutes, via a Zoom call with both [my fiancée] Mac and I, to create our dream closet. And because she knew what she was doing, I knew that it was going to work. She screen-shared with us, and I watched her build our closet in real-time, taking into consideration all our different needs."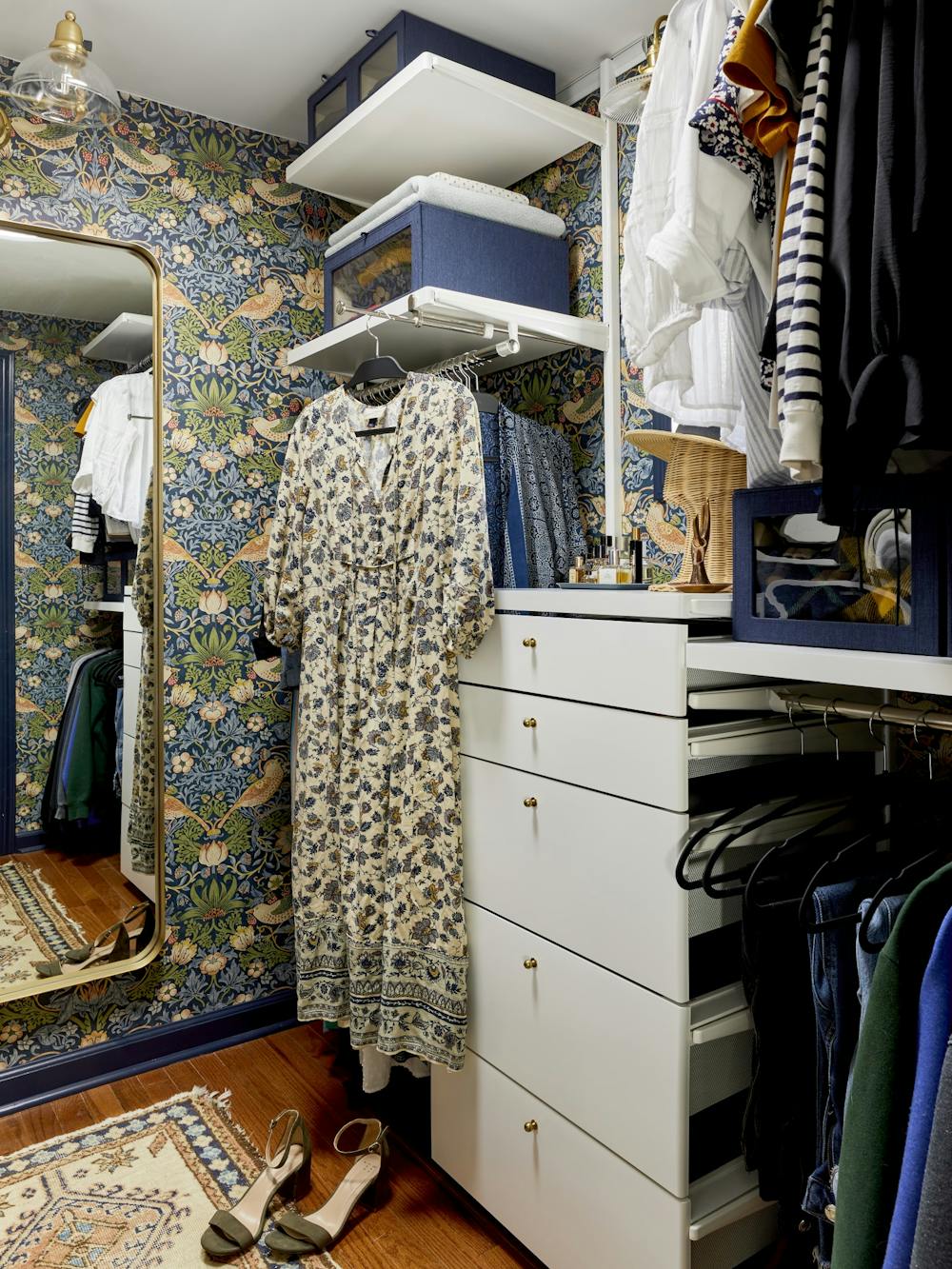 Sara's long hang space for dresses includes an Expandable Valet Rod to help her put together outfits, or even steam them while they're on the hanger!
Sara chose White Elfa Décor, and once the design was completed, she had the components delivered and installed. "The Elfa Décor line has all the functionality of the Elfa Classic line, but with the beauty of wood shelves, drawers, and trim--and in a variety of finishes," she says. "It's got taller hanging storage for Mac, a section of full-length hanging for my dresses, just enough shoe storage, and Barb was even able to design something that included my idea for custom vanity area!"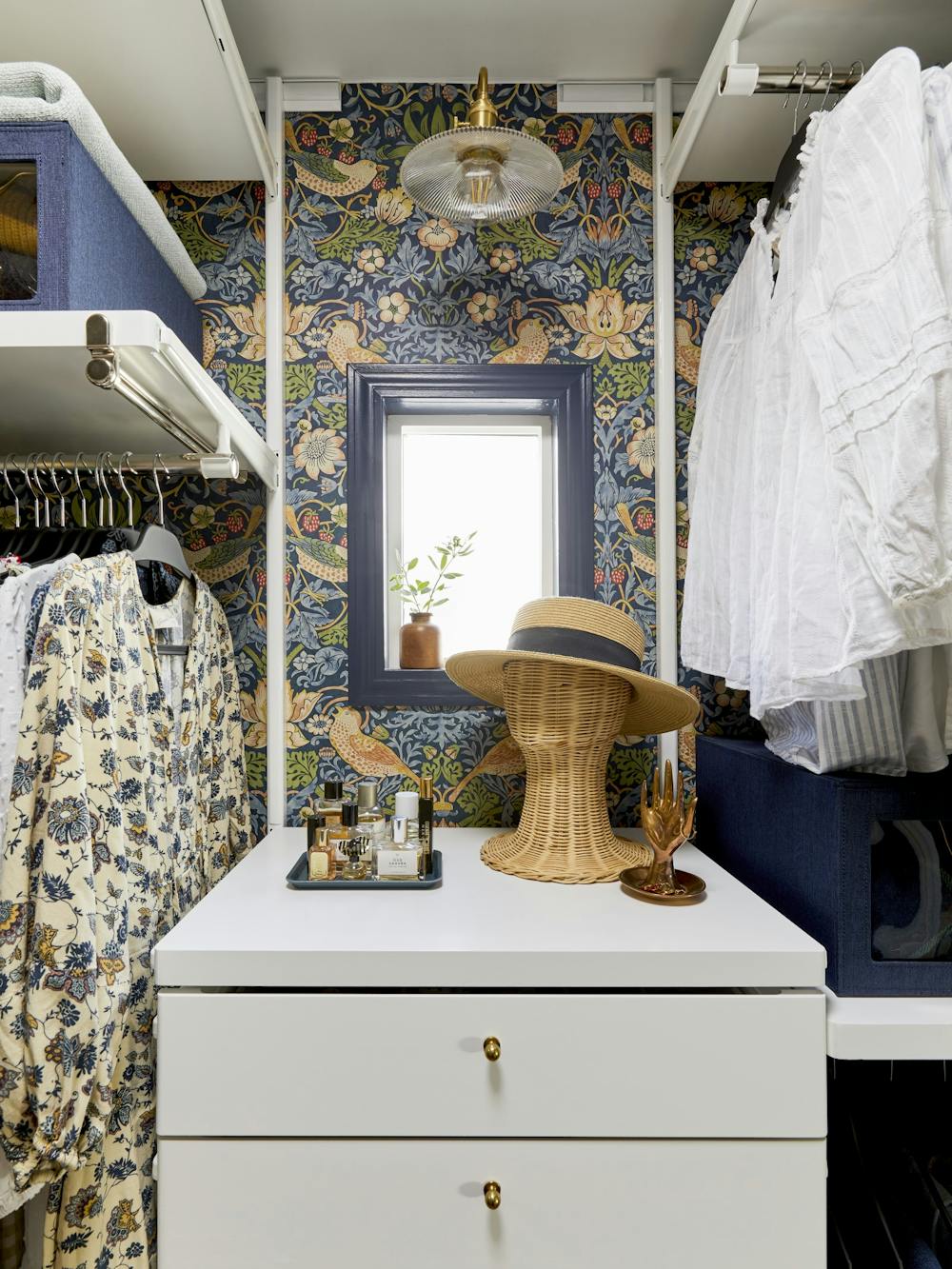 Sara's vanity area was designed around a small window, and is great for storing her perfumes and other small items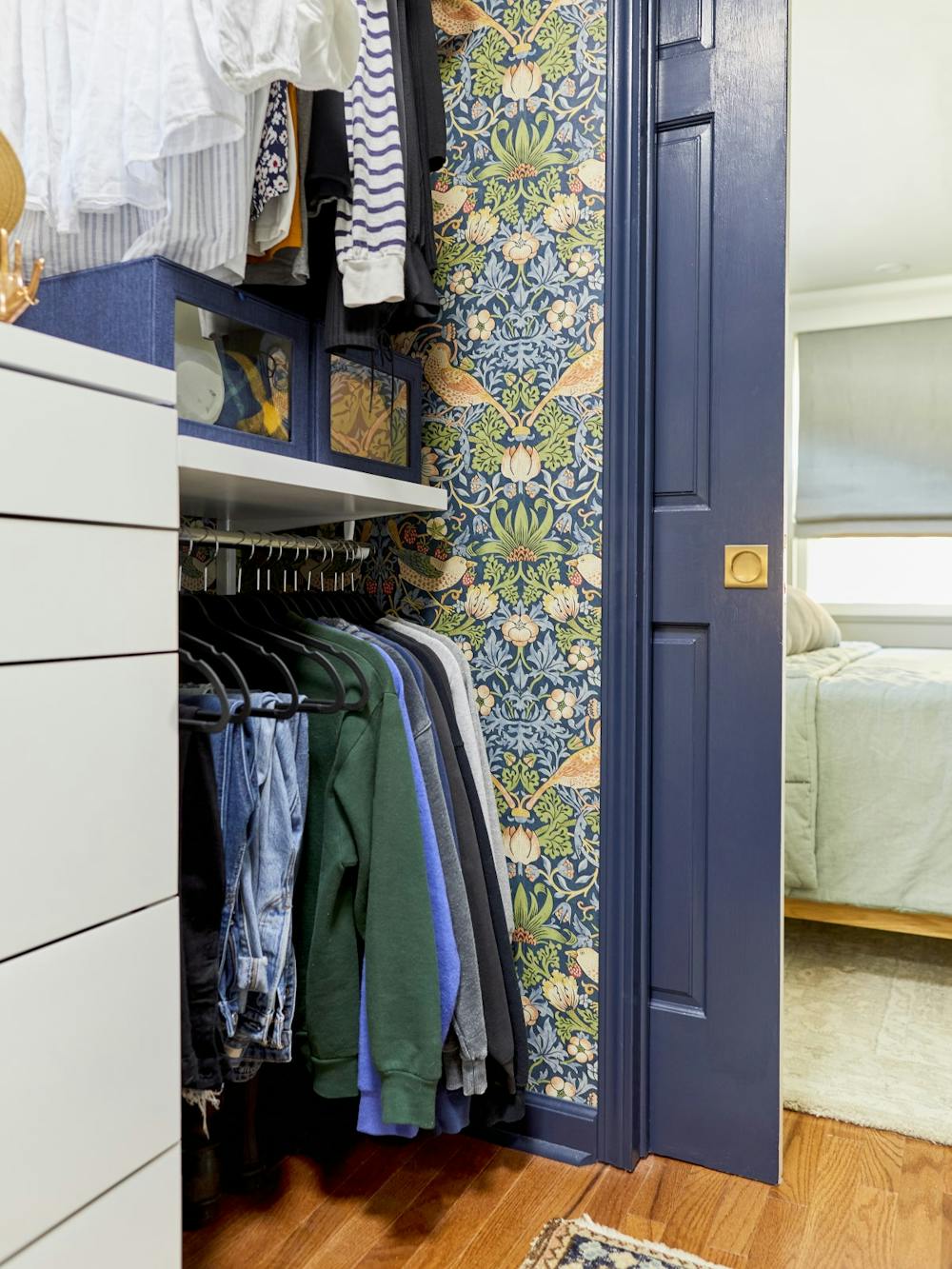 To help conserve hanging space, Sara opted for our slim Black Non-Slip Rubberized Suit Hangers. She also uses our Navy Cambridge Drop-Front Shirt Boxes for larger accessories such as hats and handbags.
Below the vanity are Sara's drawers, which she uses for folded clothes and accessories. And for complete organization efficiency, she added our Elfa Décor Accessory Trays and Mesh Drawer Dividers.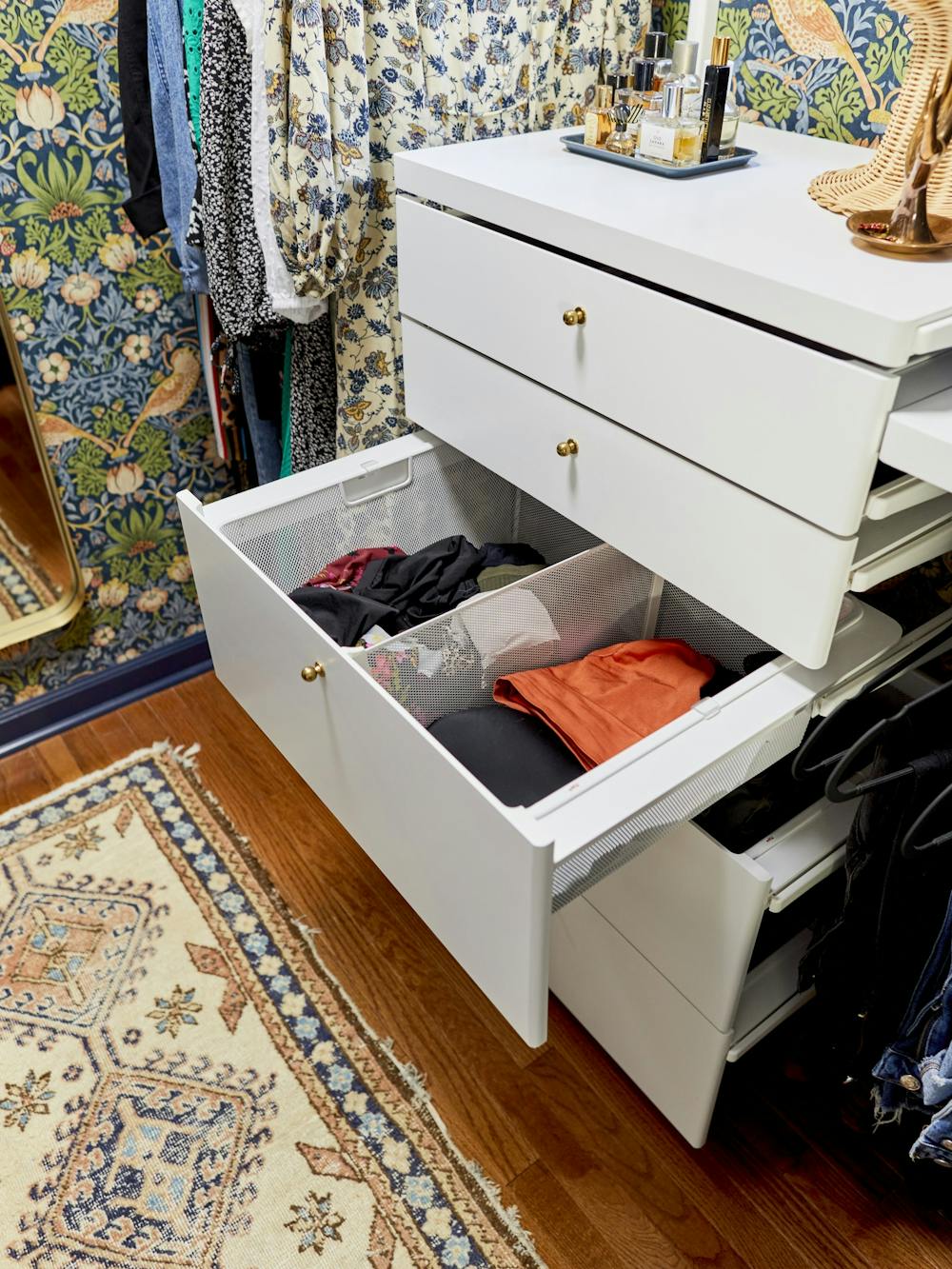 The opposite side of the closet houses Mac's hanging clothes and drawers. It also includes his Gliding Tie & Belt Rack, as well as a shoe space that both of them share.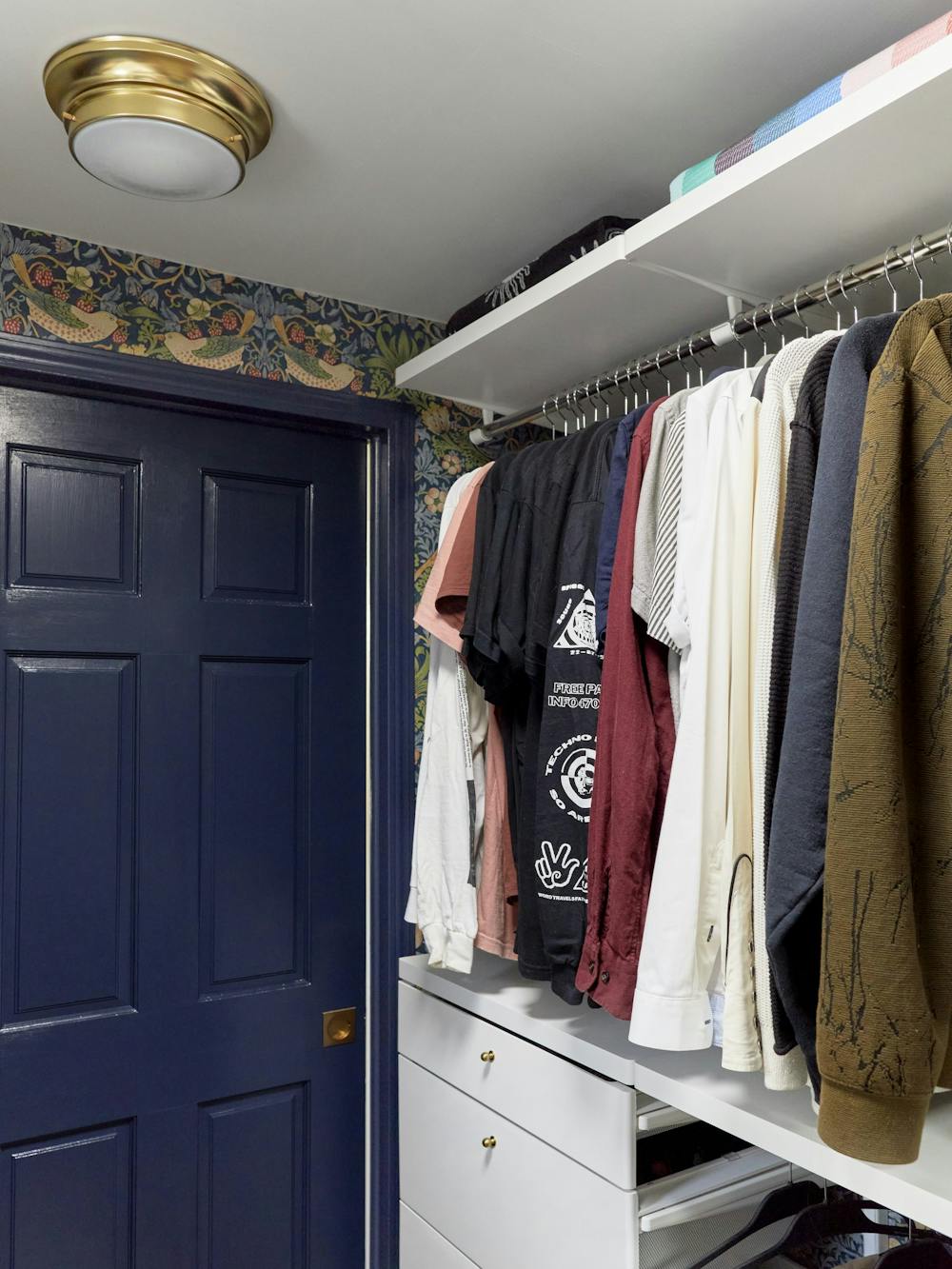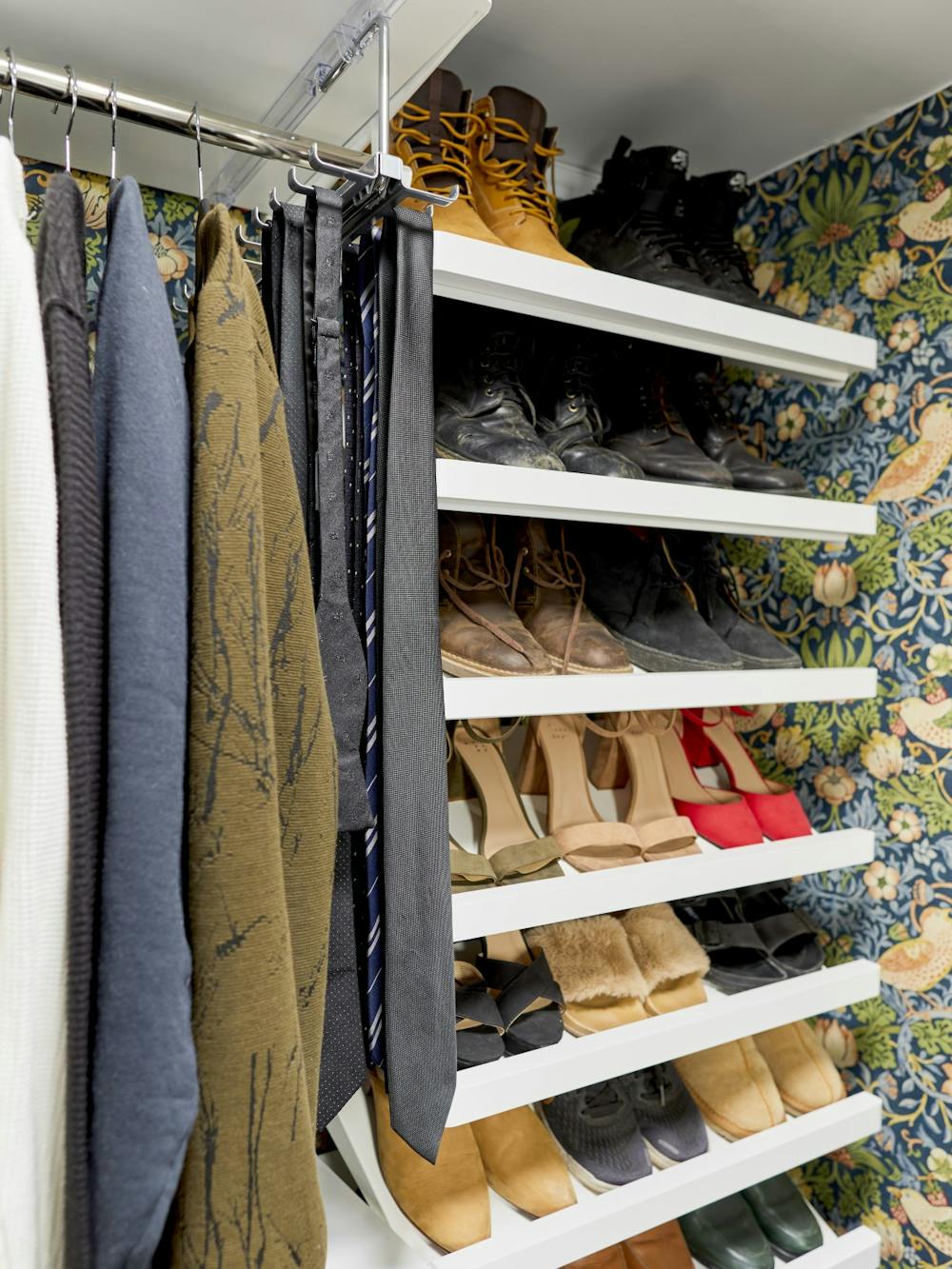 The shared shoe space consists of rows of Angled Solid Metal Shelves, with White Décor Fascia for a more decorative touch.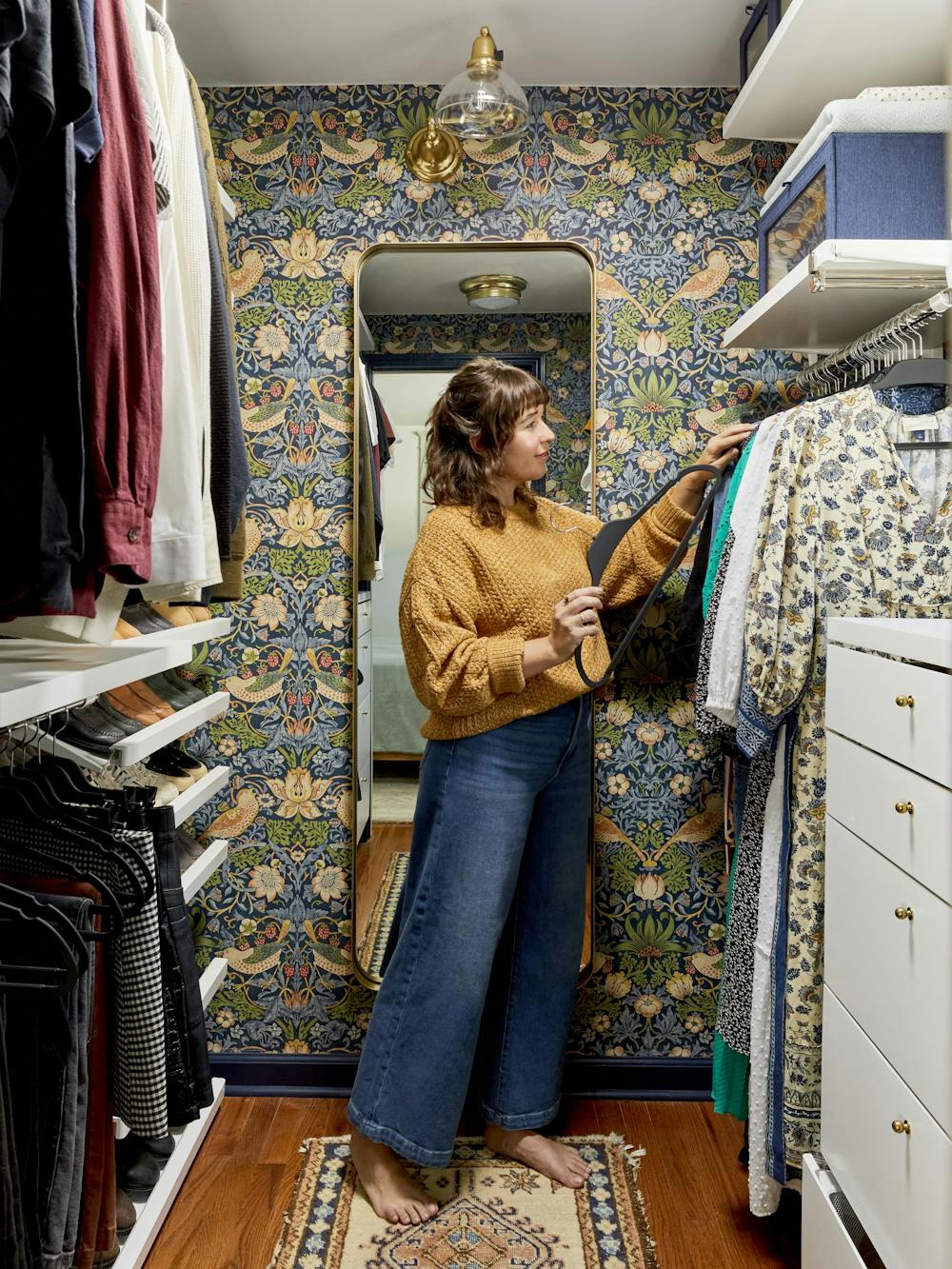 With the closet fully renovated and every article of clothing stored in its proper place, Sara couldn't be happier with the end result. "The closet turned out to be a little bit of a passion project for me, and I really feel like I found MY style and design voice pulling it together," she says proudly. "This closet is SO functional...Let me tell you, the process was AMAZING. Truly. THANK YOU BARB!"
(For more beautiful design inspiration, you can follow Sara Ligorria-Tramp on Instagram here. And if you'd like to get to work on your own new custom closet, you can contact us here for a free consultation.)