Guest blogger Eileen is a home decor expert at Sweet Pembroke Home.
I can't believe that I am starting to plan out my son's dorm room. It has been touch and go with lots of anxiety wondering if colleges and universities would reopen in this fall, but we got word that his university will open, and it's a GO for this mama to plan his dorm! I can't tell you how excited I am.  
I immediately jumped on Pinterest and found out that girl dorms are way cuter than boys. (HA! ) I then proceeded to ask him what he envisioned, and of course, like all boys, he answered, "I don't really care; just don't make it girly and keep it practical." I knew then that instead of trying to find all the fun decor, what I really needed to do was try to make the dorm more practical and organized!  
Cue The Container Store: I jumped on their website and found a whole section for college dorms, making shopping so much easier. Their website also includes a list of all the college dorm organization must-haves, breaking down everything you need to maximize the small living space in dorms. (You can find that list here.)
Luckily, my son's university was great about providing information about the dorms, including room dimensions. (If you're about to send someone off to college, try checking the housing section of the school's website for that info.) Keep in mind that dorms are tiny--like living in a small studio apartment and then sharing it. Because of that, optimizing each nook and cranny is essential. Plus, this coming school year will also be a little different from others because many students will have to participate in both in-person and online classes, meaning that the desk in their rooms will get a lot more use too.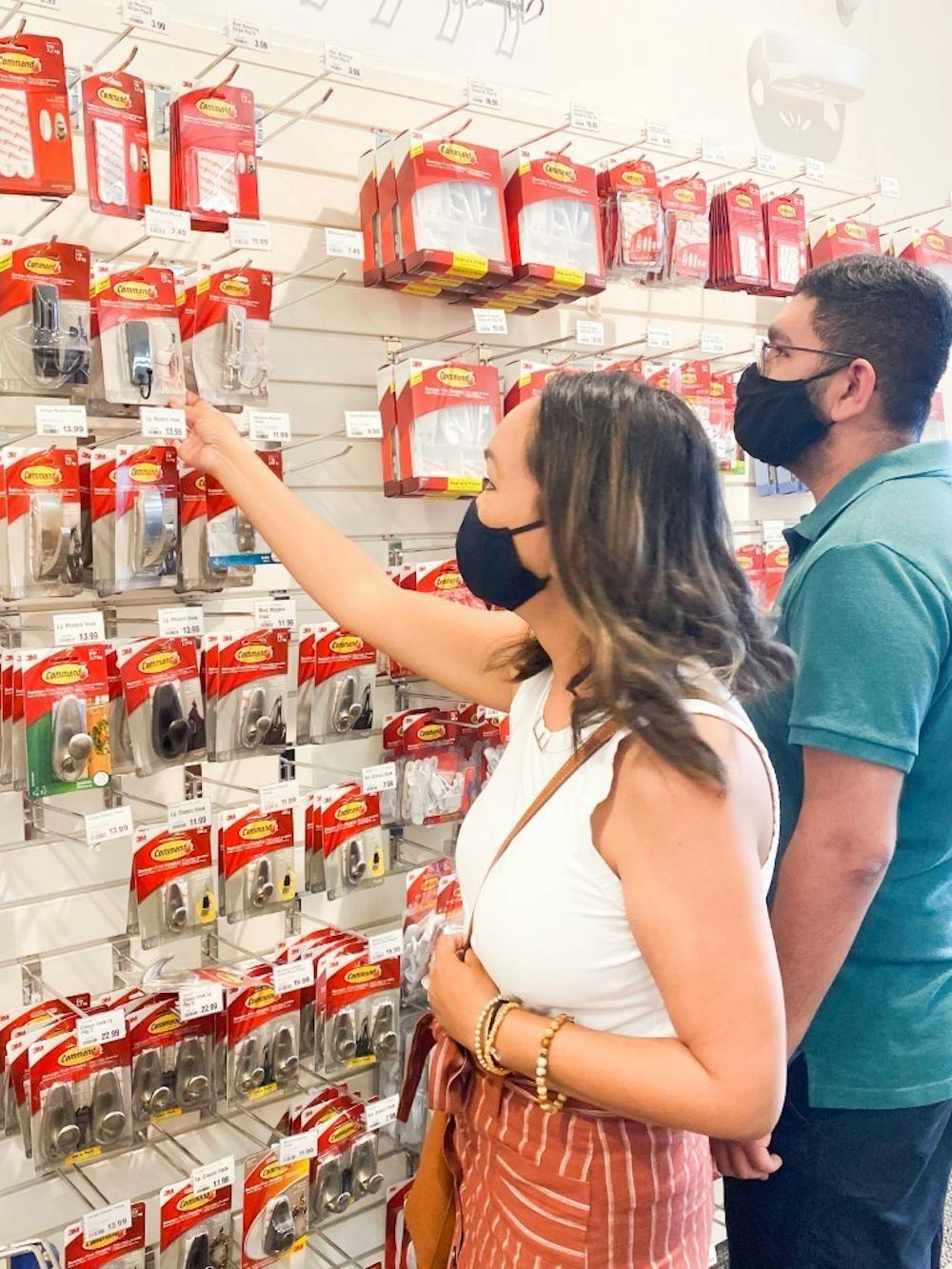 We combined all the information that the school provided--as well as what The Container Store's website and other parents recommended--and after a fun visit to the store, here is what we ended up with...
Under Bed Storage
Many schools--my son's school included--give students the option of "lofting" their bed. (That means raising it up to bunk bed height to make space for a desk underneath.) There are pros and cons to doing it, and while my son opted not to do this, we did get bed risers still give him a little bit of storage space underneath it. Putting drawers under the bed can store bulky items that he won't need daily (such as winter clothes and extra linens) but still keep them accessible when he needs them. And because we are trying to optimize every inch of available space, a Bedside Pocket can help store things like his phone, phone charger, earbuds, and glasses.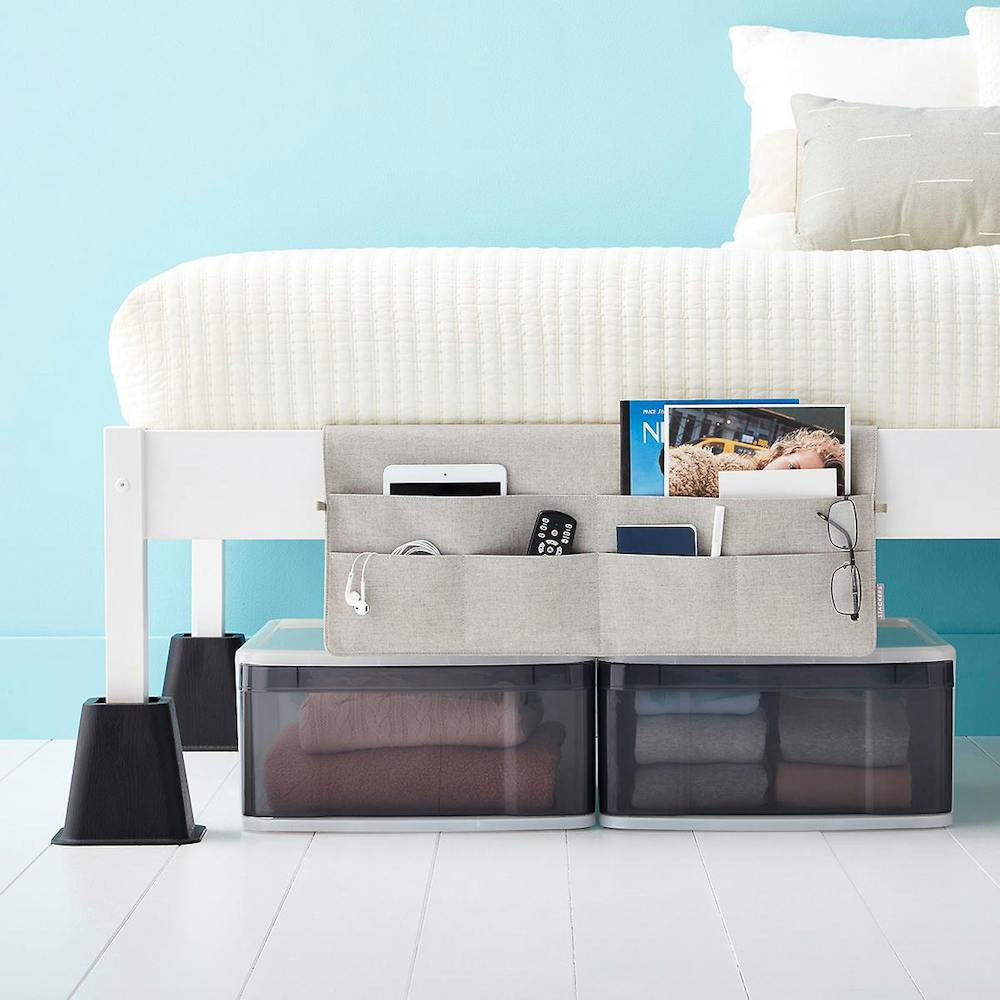 Snack Storage
Like any other teen boy, snack storage is the most important part of dorm planning for him. The Elfa Rolling Cart with Drawers has been recommended by every single person we've talked to about dorm planning. (It also transitions well to apartment living in the future!) It's perfect for a snack area to hold the fridge and microwave (if allowed) and any additional healthy snacks mom and dad want to leave behind. The cart is also great for coffee drinkers or to use as a printer stand. We plan on using it to house his microwave and fridge, and the drawers will act as his pantry.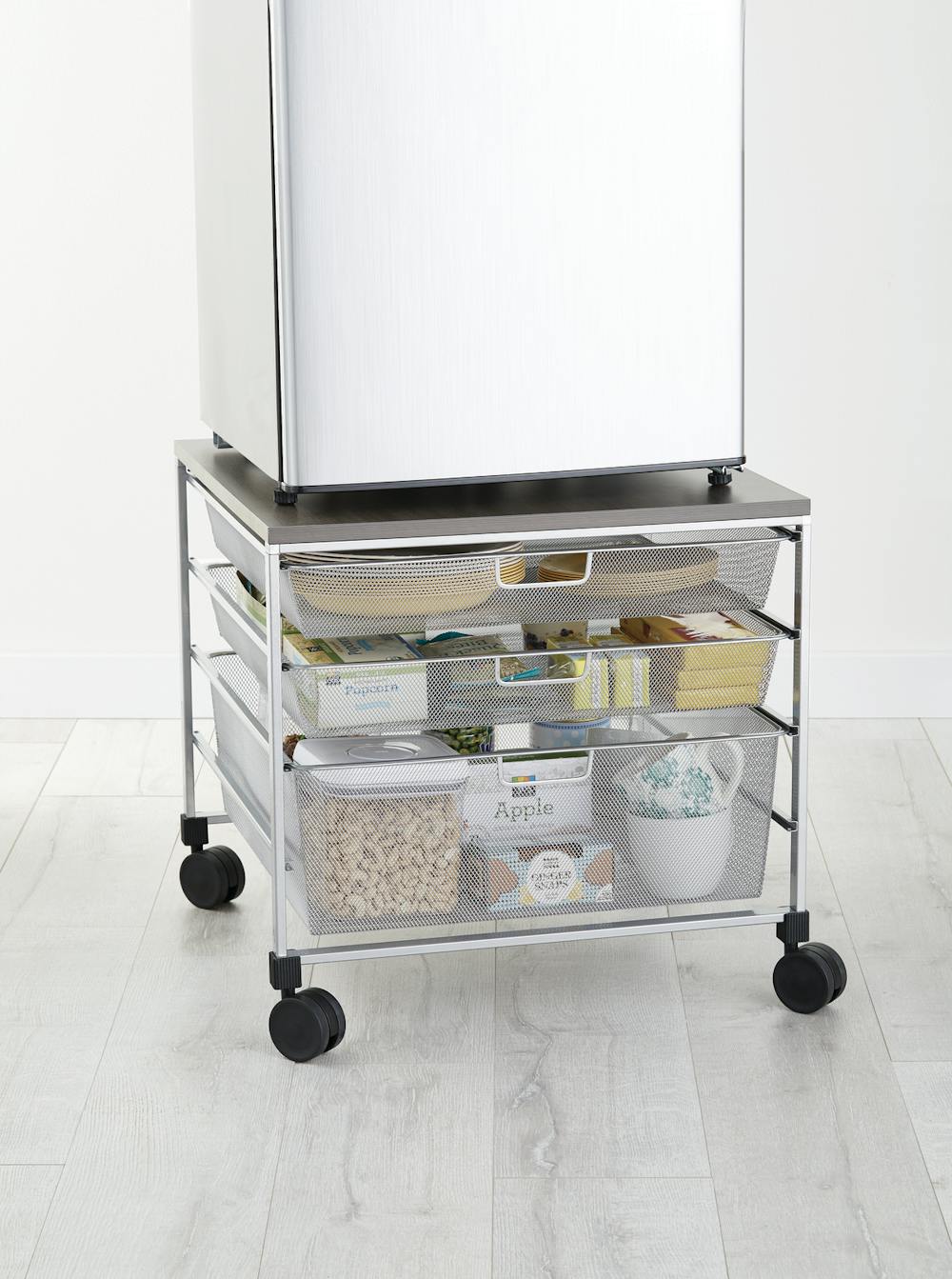 Closet Organization
Like everything else in a dorm, dorm closets are small, so it can be a challenge to find space to store every type of clothing he'll need while away (seasonal clothing, professional attire for school presentations, etc.) Thankfully, the Umbra Dublet Closet Rod Expander is an easy and inexpensive way to double your closet space instantly! Another great space saver is the Premium Non-Slip Velvet Hanger, which has a slim design that allows you to maximize closet space. You can get way more clothes in the closet with these hangers, and they're very durable. I also recommend the Chrome Metal 4-Tier Swing-Arm Pant Hanger, which is a smart way to utilize vertical space.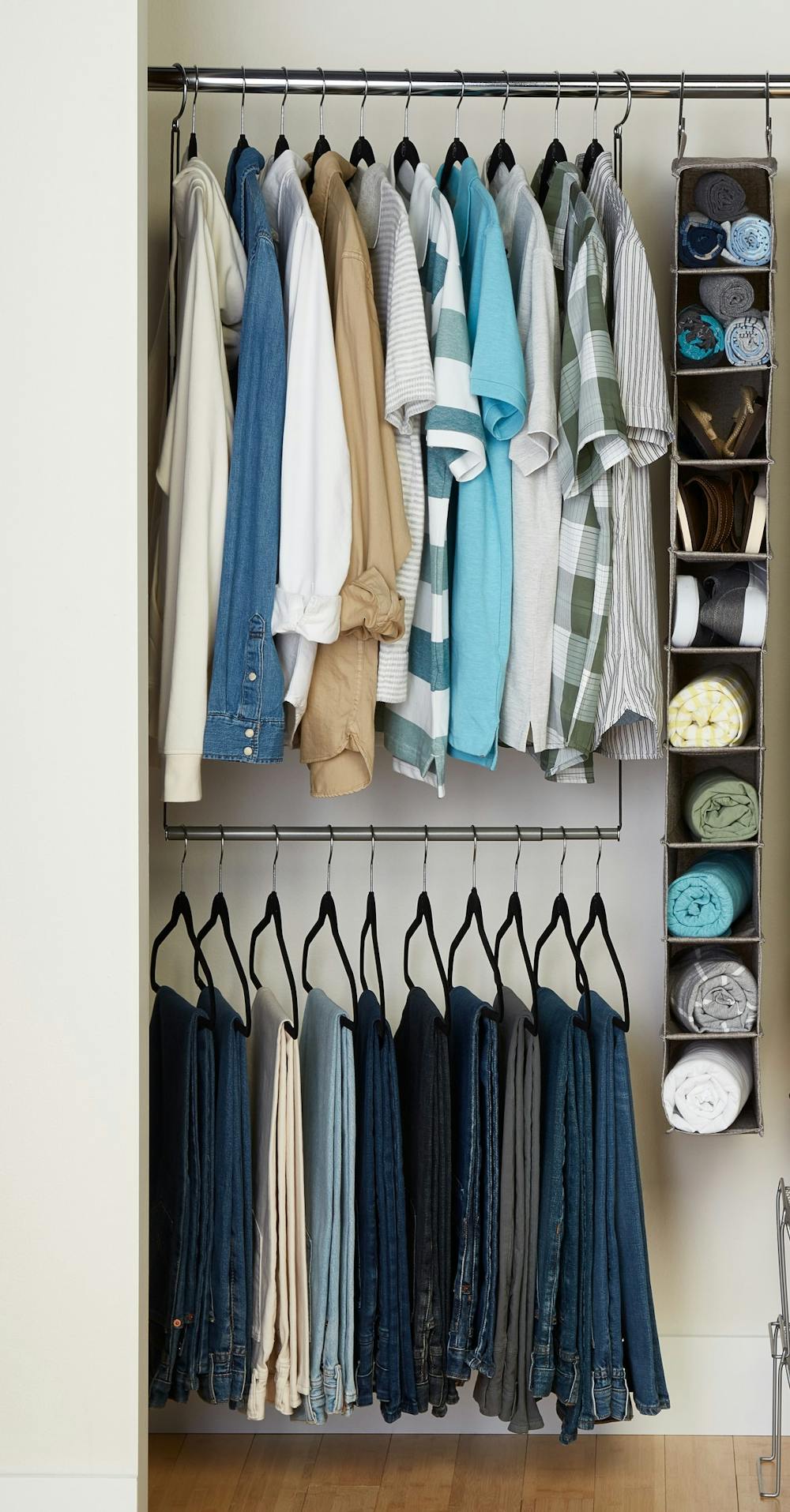 For shoes, The Container Store offers many different options, depending on how the dorm closet space will be used. While an over-door or hanging shoe storage solution is best for some, we opted for a stackable shoe shelf in his case. For storage of additional items (personal hygiene, a first aid kit, etc.), we chose the Nordic Baskets and Lids. I own these already in my home in various places and love them--they are strong and durable, and will keep his closet from looking a mess!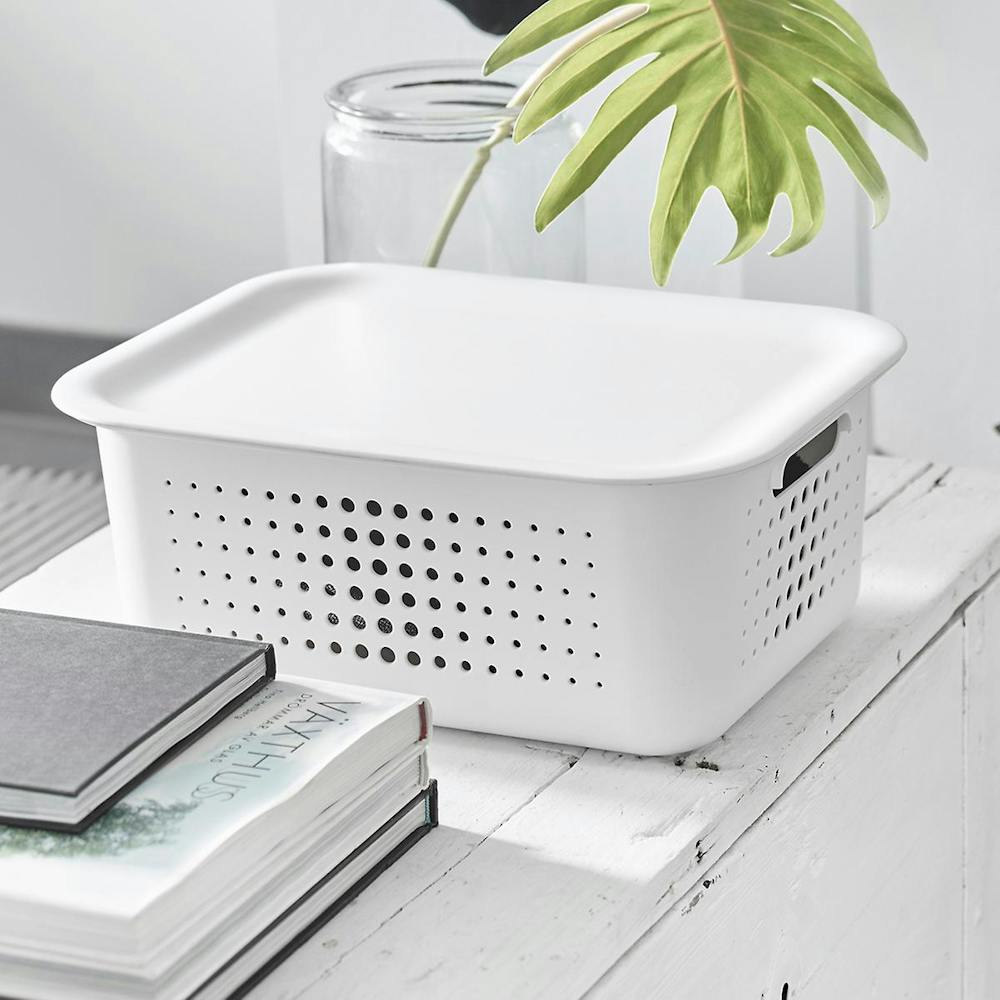 Office and Cord Control 
Besides snacks, the other part of the dorm that is important to my son is cord organization. He wanted to make sure he had enough power strips for all his electronics, but he didn't want to look all messy (at least he's trying!). The university's dorm room information let us know how many electrical outlets would be in his room, which allowed us to plan for how many power strips he would need. (As it turns out, there weren't many, so we had to get creative with cord and outlet usage!) One product we chose was the Director Surge Protector, which not only keeps the cords organized, but also well-protected from power surges. It has ten electrical outlets and an additional four USB ports, which is plenty for a college student. The Cable Box and Cable Zipper keep all the cords concealed and from getting snagged or tripped upon.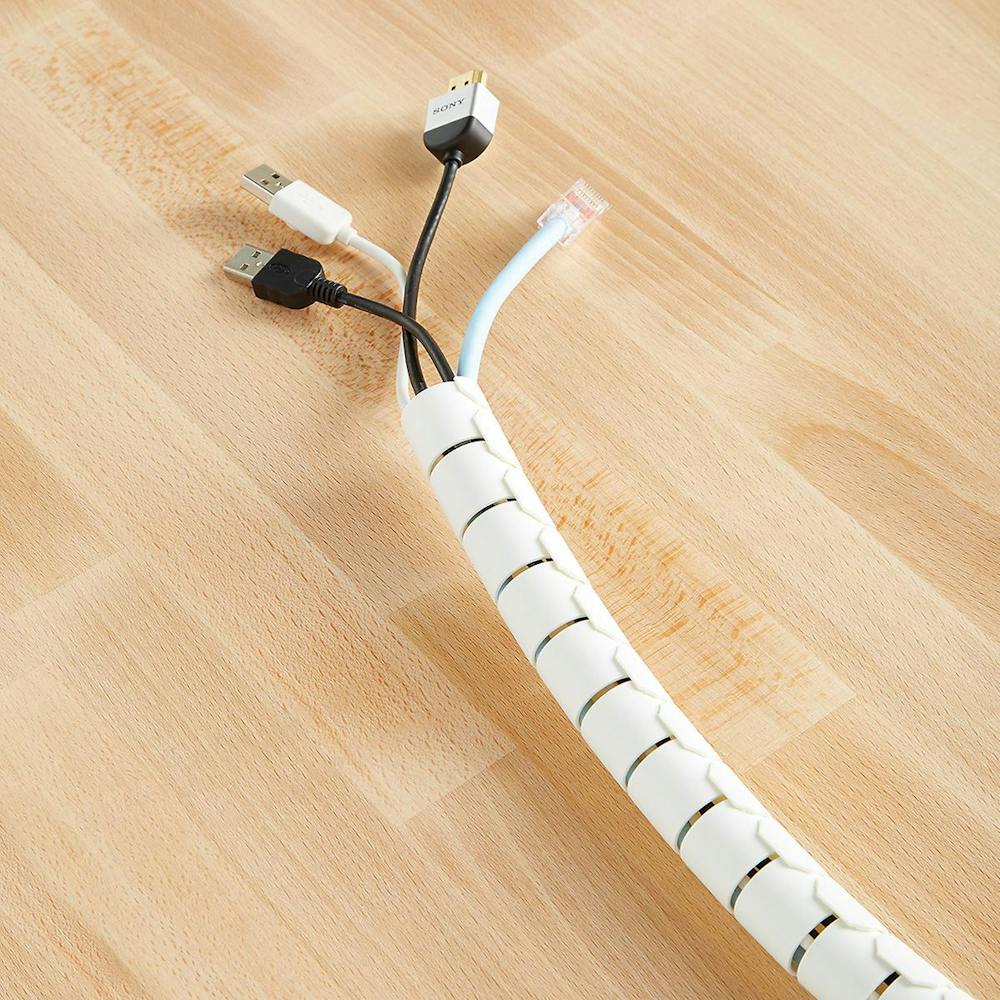 Dorm Room Décor
(Okay, this part is all me--ha!) Although my son didn't want any specific theme for his room, his sister and I have made one for him. While shopping at The Container Store we fell in love with this one particular shelf (the Wall-Mounted Double Bin) that we think will go nicely above his vanity. It also set the tone for the rest of his room, so we decided to go with a more masculine look--metal and wood, navy blue and grays. We found Command Hooks in black metal that will match perfectly for hanging his towels, shower caddy, and book bag. (He's also taking his posters with him, and they can be attached to those bare brick walls with regular Command Strips.) And because dorm rooms don't come with curtain rods, a good hack is to place two jumbo utility-sized hooks to hang a blackout curtains. Hopefully he won't miss any classes!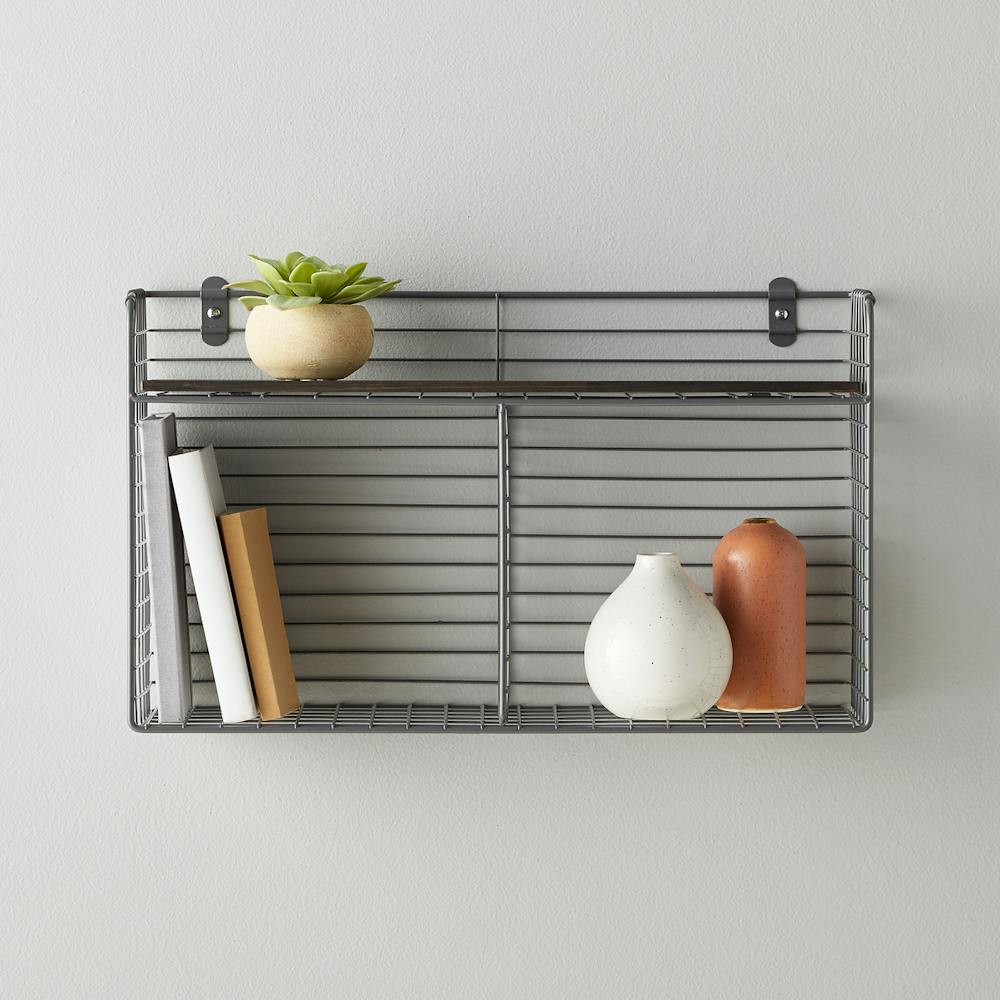 Desk Space 
Since online courses will be a significant portion of my son's upcoming semester, having a functional study space is crucial.  In keeping with the theme that we established, he chose the Dark Grey Poppin Collection for his desktop organizers. The organizers are made of durable silicone and easy to wipe clean, but also very sleek and modern. (He actually enjoyed picking out these fun little things.) He also added the matching stapler and tape dispenser to make it more functional. Combined with all the cord organization, his study area is all set up!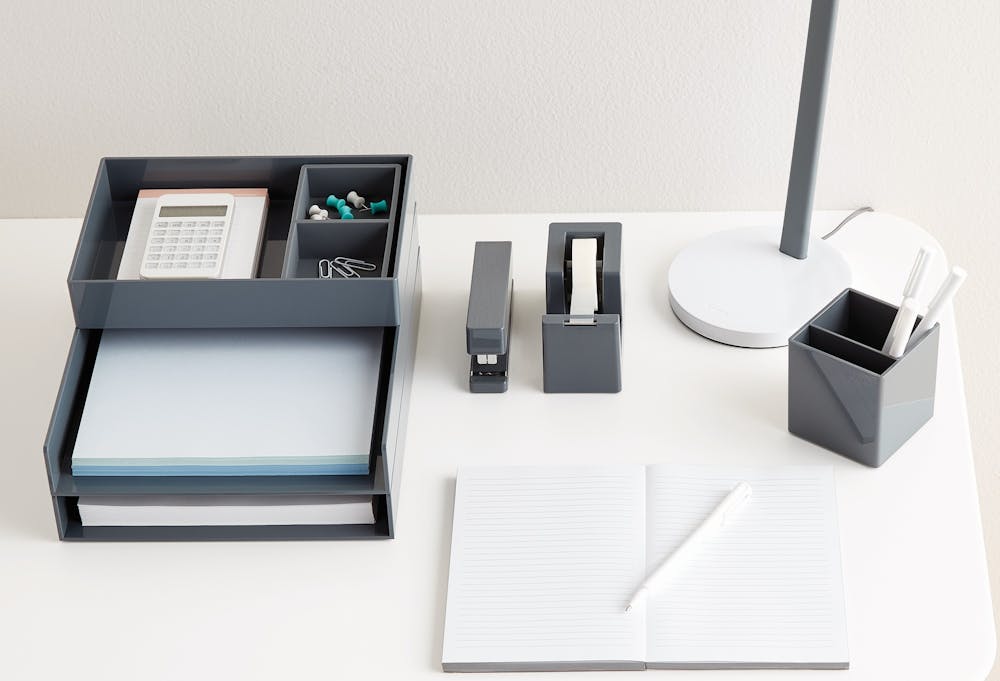 A few other things we picked out include:
College dorm planning can be daunting and overwhelming, but it doesn't have to be. I promise you that your college students will be just fine, even in these uncertain times. These young adults have already demonstrated how strong they are, and with help from amazing companies like The Container Store, big life achievements like transitioning to college can be much less stressful. I can't wait to show you how his dorm room turns out!