I don't know about you, but I love the romance of seeing roadside fruit and produce stands during the summer. And even better, I love the thought of visiting a farmers market to collect local wares for the perfect dinner party. It's just the taking time to make the stop to pick up those glorious goods that's sometimes the tough part. Well, one person who has got us inspired and ready to take that moment this summer is Jackie, our wonderful Special Events Director. She's one of many foodies at The Container Store and definitely someone who practices mixing work and play on the job and at home. We followed her on a Saturday trip to the farmers market, watched her prep and put a new product into action and then effortlessly delight a group of cherished friends during an evening get-together under the stars.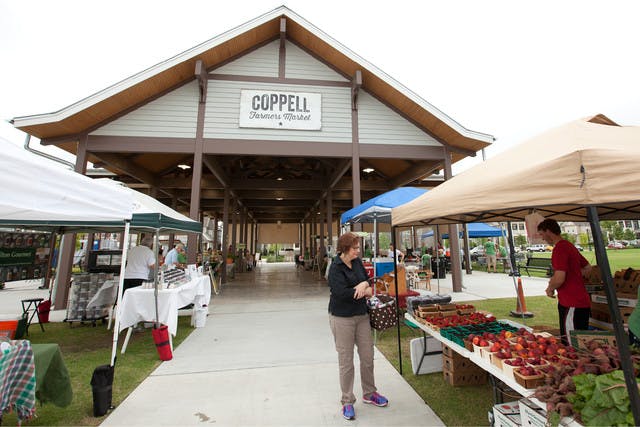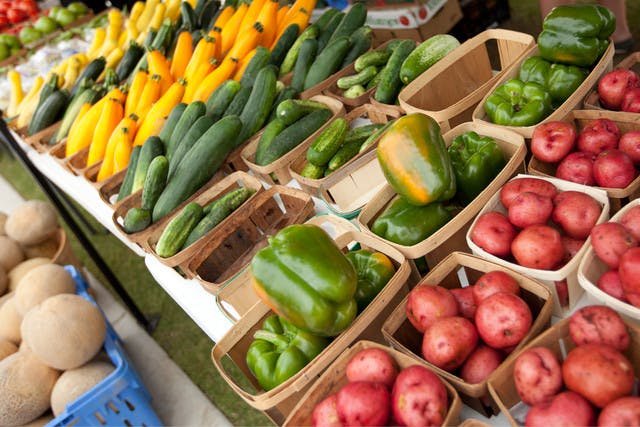 Jackie says her entertaining planning always starts with the food and guests - then she builds the rest around it. This particular evening she was heading to Fort Worth's Concert in the Garden with a group of beloved friends made up of couples and their children who have been like family for more than 15 years. It's a group of pretty adventurous eaters and everyone brings a little something to enjoy. Before heading out to the Coppell Farmers Market, which is few minutes from our Dallas-area headquarters, Jackie pulled out her recipes to a make a list of what she would need.
A tip from Jackie is to always check the Farmers Market website or sign-up for its regular newsletter to confirm what produce they expect to have that week. With tomatoes, onions, peppers, cucumbers, herbs and peaches at their peak - Gazpacho, Sparkling Peach Sangria and Peaches & Cream made up her menu.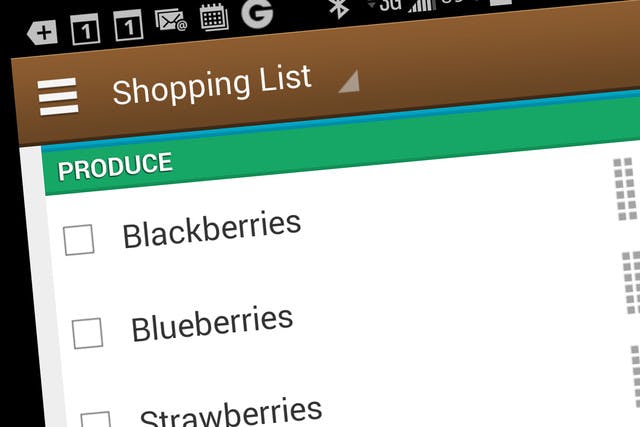 Jackie uses an app called Out of Milk to help create and categorize her shopping list. She says she oftentimes will make adjustments to the recipes based on what she finds at the market. For example, her traditional gazpacho recipes calls for cilantro, but the basil looked better at the market so she switched it up.
"The other cool thing about the Farmers Market that you may or may not know is that they sell more than veggies! Meat, eggs, olive oil, bread, honey and baked goods abound!" says Jackie.
"The farmers and vendors are there in person and can really talk to you about the food, the specifics behind how it's grown or made, and can share recipes and preparation tips," Jackie added.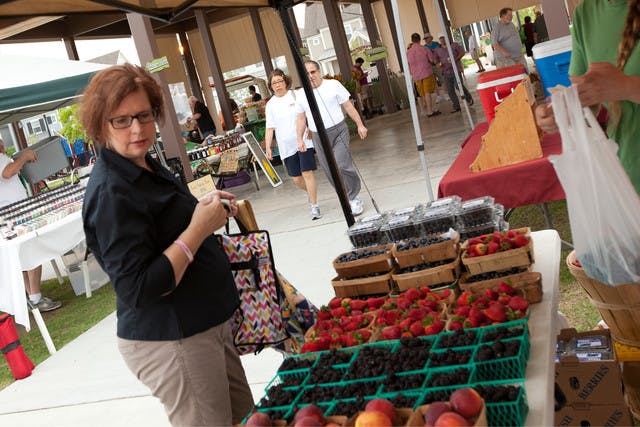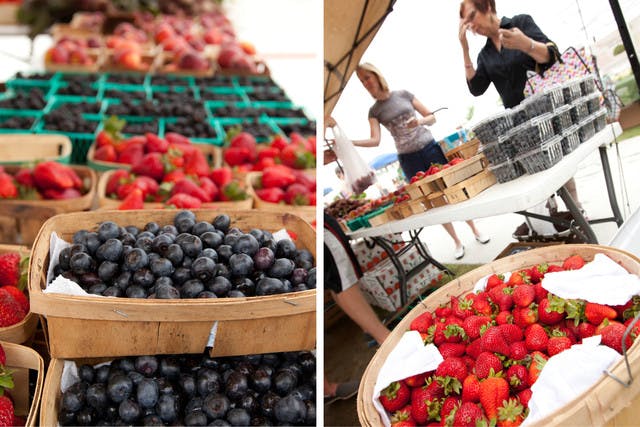 After returning home, Jackie begins her prep. With all of the fresh produce for the evening and a bit more to enjoy later, she unloaded and organized using our new OXO Greensaver Produce Keepers. The line consists of a variety of innovative containers in different sizes, featuring replaceable activated-carbon filters that absorb ethylene gas, a vent to control humidity levels and a basket to promote airflow.
In addition to the properties of the baskets that keep your produce fresh longer - there's no wasted food and no extra trips to the grocery to replace produce that's gone bad!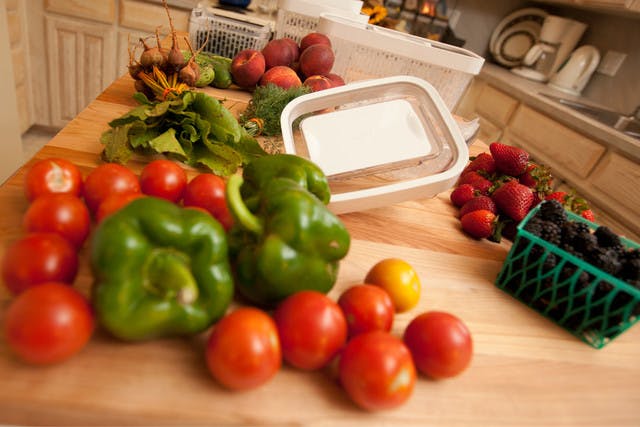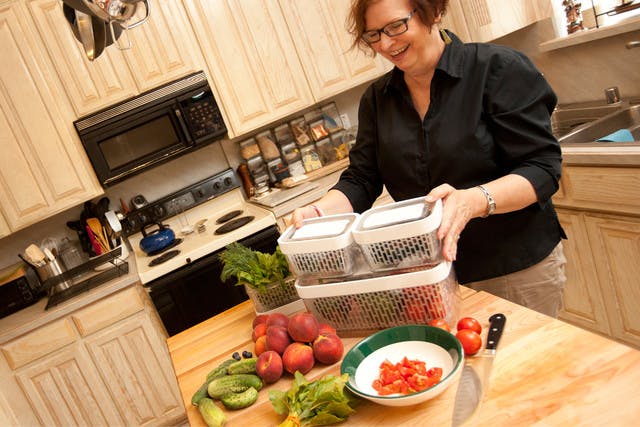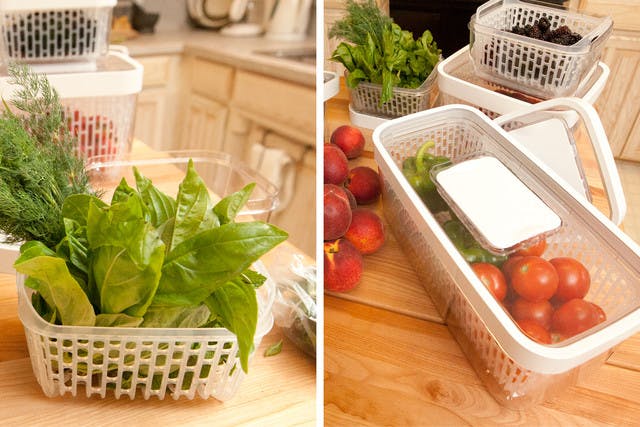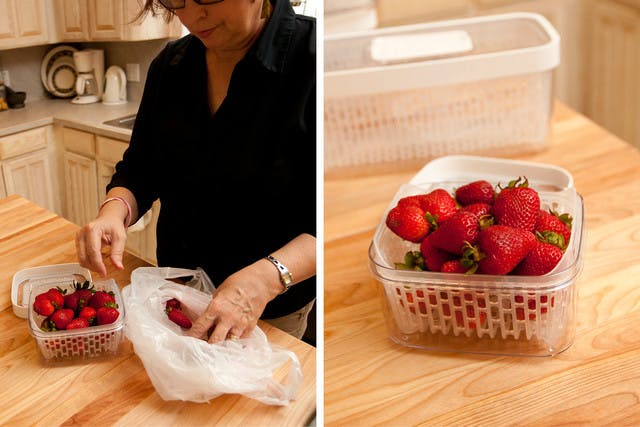 "The baskets can also work like a colander. For most fresh produce, especially tender varieties like berries; it's best to store them unwashed to not add moisture. The Greensavers make it easy - just toss the fruit into the container when you get home and then when you're ready to use it, pull the basket out of the container and rinse the fruit under the faucet," Jackie says.
She also loves the individual Greensaver insert that you can pop onto the side of your crisper drawer with the included suction cups or mounting strips.
"They work great as well, and they take up nearly zero food storage space. It's a good solution for those who don't have enough space for the containers and those times when you've stocked up for entertaining."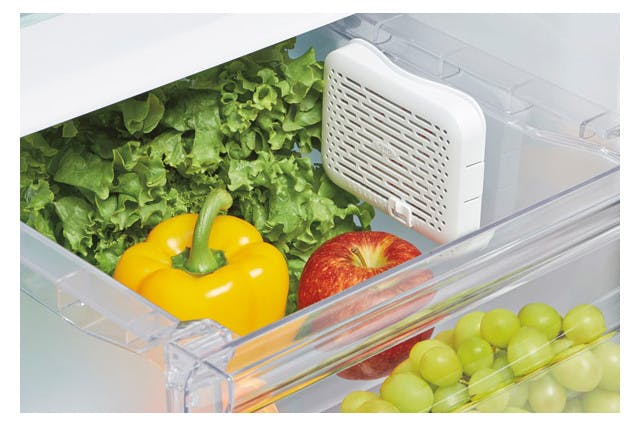 "Gazpacho is one of the dishes that defines summer for me - it's so simple, refreshing, loaded with the flavors of the season and doesn't require heat to prepare! And don't let all of the ingredients intimidate you - they are all pretty basic. The key to fabulous gazpacho is using super fresh ingredients at their peak, plus a few pantry staples to build depth of flavor. Gazpacho is traditionally served with the chopped veggies as a garnish but I just mix everything together," Jackie said.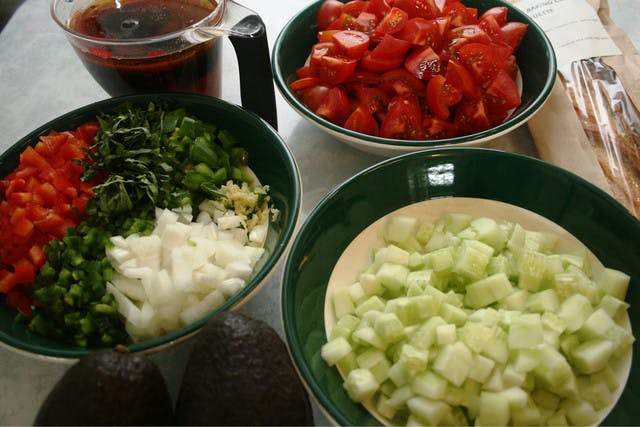 Farmers Market Gazpacho

Makes about 10, 8-ounce servings
1½ pounds fresh tomatoes, stemmed and coarsely chopped
1½ cups canned tomato puree
¼ cup extra virgin olive oil
Juice of 1 lime
2 tablespoons granulated sugar, optional (to balance the acidity of the tomatoes)
4 teaspoons balsamic vinegar
4 teaspoons Worcestershire sauce
1 teaspoon Tabasco sauce
½ teaspoon toasted ground cumin (to toast, heat in a dry skillet until fragrant)
1 teaspoon smoked Spanish paprika
1 teaspoon kosher salt
½ teaspoon freshly ground black pepper
1 cup peeled, seeded and chopped cucumber (you don't need to seed small cucumbers)
1 red bell pepper, stemmed, seeded and chopped
1 green bell pepper, stemmed, seeded and chopped
1 small sweet onion, chopped
2 avocados, peeled and chopped
1 jalapeño, seeded, ribs removed and minced
1 medium clove garlic, minced
2 tablespoons fresh basil leaves, thinly sliced (or you can use cilantro)
Place the tomatoes in the blender or food processor and puree until smooth. Pour into a large bowl and whisk in the next 11 ingredients. Add the remaining ingredients and stir to combine. Cover and chill for two hours or overnight.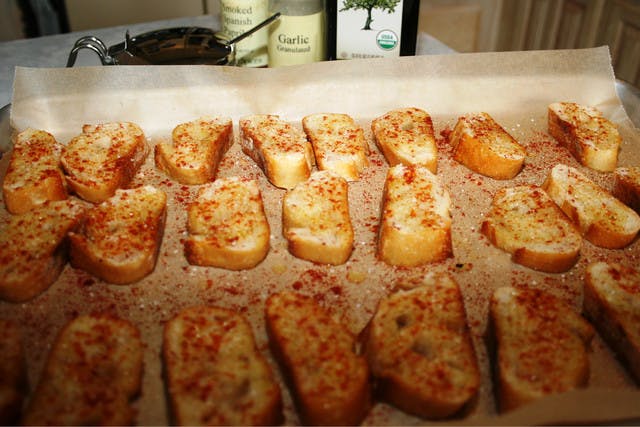 Garnish: When ready to serve, top gazpacho with a crostini or two (thinly slice a baguette and place in a single layer on a baking sheet; brush with a combination of melted butter and olive oil, then sprinkle with kosher salt, garlic powder and regular or smoked paprika; bake in a 400° oven until golden and crispy). Take it up a notch by adding a couple of boiled shrimp on a skewer as an additional garnish option.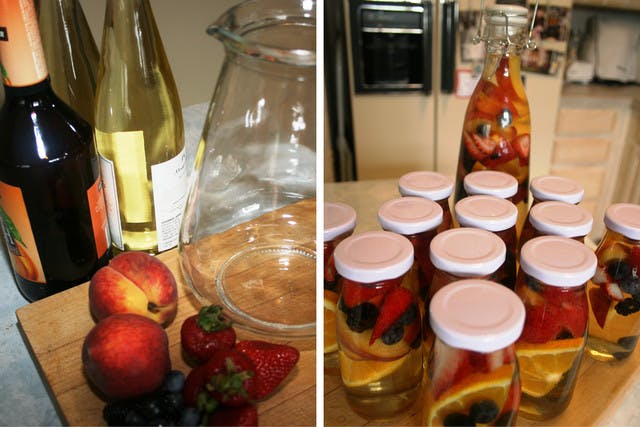 Sparkling Peach Sangria
Makes about 12, 8-ounce servings
This lightly sweet cocktail of fresh seasonal fruit and wine is the perfect refresher for warm summer evenings.
2 750-ml bottles moscato or sauvignon blanc, chilled
1 liter sparkling water, chilled
½ cup peach brandy
½ cup simple syrup (boil together equal parts granulated sugar and water for 2 minutes; let cool)
2 peaches, thinly sliced
1 naval orange, quartered and sliced
1 cup fresh strawberries, quartered
½ cup fresh blueberries
½ cup fresh blackberries
In a gallon sized pitcher, stir together wine, sparkling water, brandy and simple syrup. If making up individual drinks, place a portion of each fruit in the empty bottles and then top with wine mixture and cover with lids. Alternatively, you can add the fruit to the pitcher and pour into glasses, reserving some of the fruit as garnish.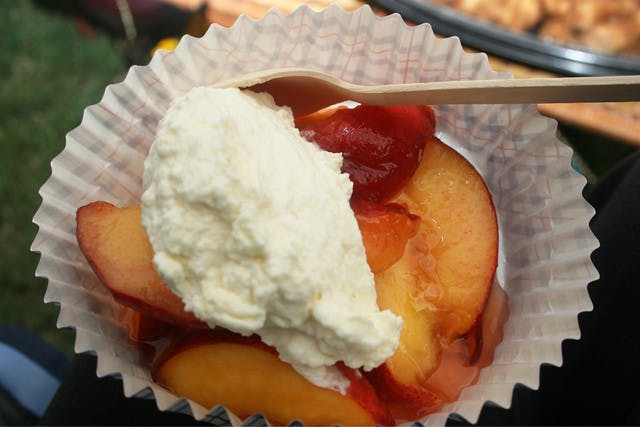 Peaches & Cream
8 servings
8 fresh peaches, pitted and cut into eighths
½ cup granulated sugar, or to taste depending on the sweetness of the peaches
Juice of half a lime
1 cup heavy cream (or whipping cream)
¼ cup powdered sugar
½ teaspoon vanilla extract
Place peaches in a bowl and toss with sugar and lime juice. Set aside for 20 to 30 minutes until the sugar dissolves and the peaches release their juice.
Using an electric mixer, whip the cream until thick and then add the powdered sugar and vanilla. Continue to whip to desired consistency.
Jackie loves the presentation part of entertaining and she says she believes it makes the food taste better! She likes to keep it simple and, in this case, had to transport everything to the outdoors venue. Our Marche Baskets lined with tissue paper, Quattro Stagioni Jars, wooden cutlery and paper straws made for a lovely picnic feel. Fresh flowers from the farmer's market added to the sunny, happy tone of the evening with her beloved friends and family.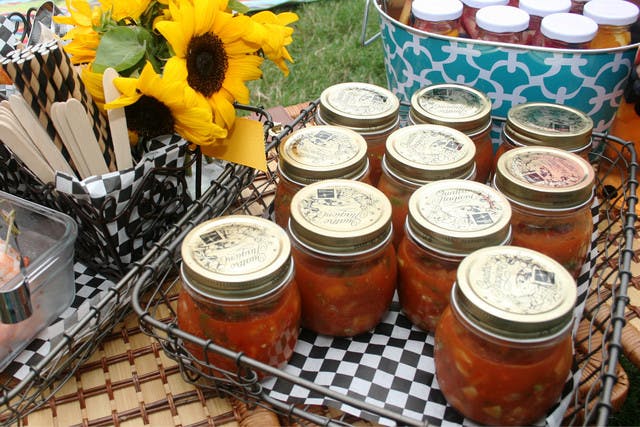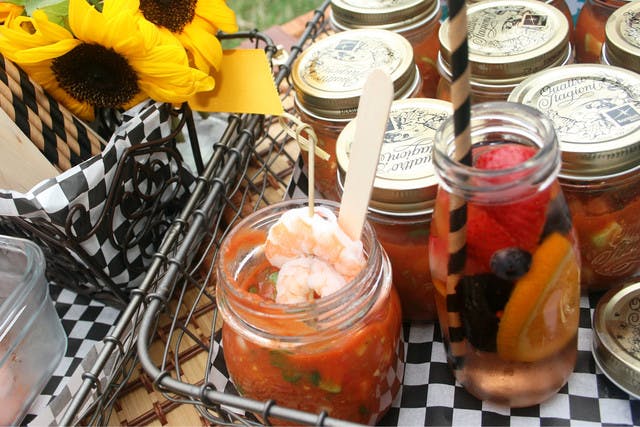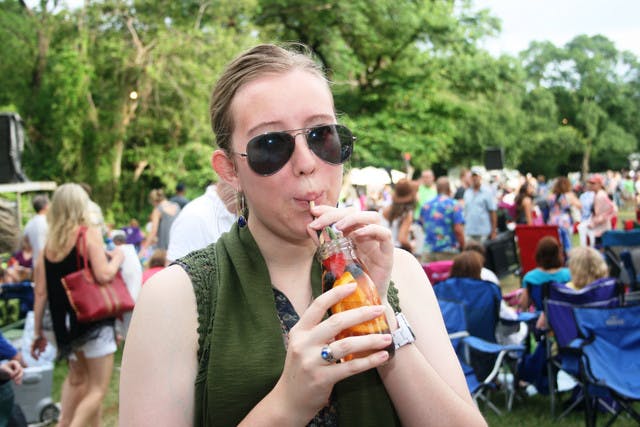 Have some favorite Farmers Market finds? Tell us! Here are a few of the local providers from Jackie's visit.
Farmers Market Photos taken by Miette Photography