We were summertime swooning and ready for an invite when we saw Holly Chamness' charming vintage sailboat! The 1965 Pearson Commander 26 came into her life when she met a sailor in San Francisco and they bought it for $350. The sailor has long set sail, but Holly's Golightly has stayed in her tender loving care, as she has totally refurbished it into a fabulous living and entertaining vessel.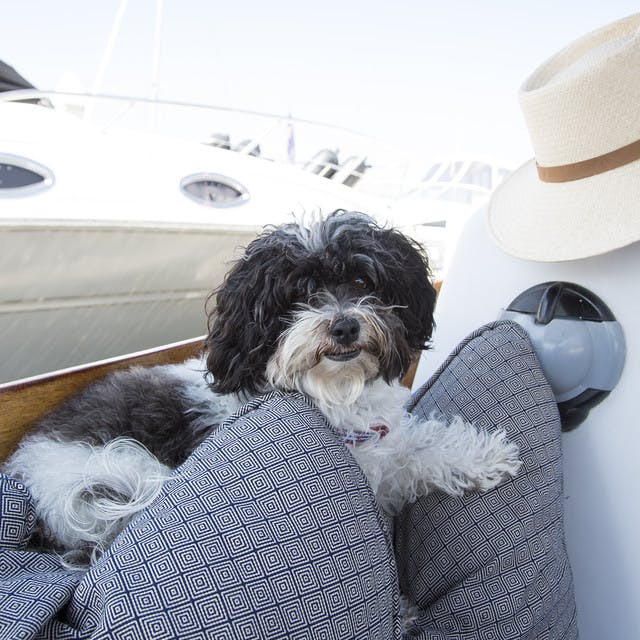 Holly - Golightly. I mean. How cute is the Breakfast at Tiffany's reference? The name stuck after people called her Miss Golighty through the years. There's no Orangey tabby cat on board, instead, first mate of the ship is Olive, Holly's two-year-old Havanese pup. Holly and Olive host friends for frequent sails out of Marina Harbor in Marina Del Rey.

"We motor to the breakwater, then point her into the wind to put the sails up, tack a couple of times and we are out, finally turning the motor off, so all we hear is the wind and the water. We sail up and down Santa Monica Bay. A sail to Malibu is in the near future," says Holly, who also is a great cook and entertainer. (We'll get to that yummy part in a bit!) Holly is, in her words, "boat proud" of her beauty and tells me "Pearson's are great boats - solid full keel blue water boats" (Means you can go out in the ocean).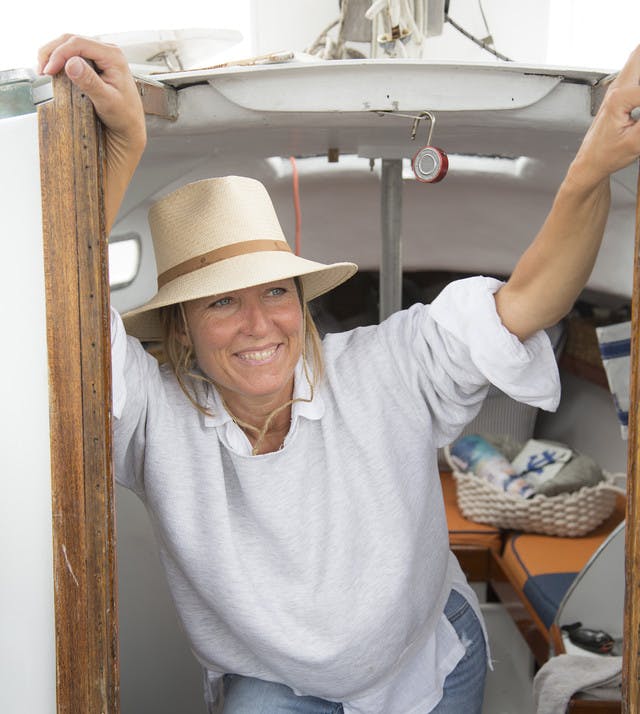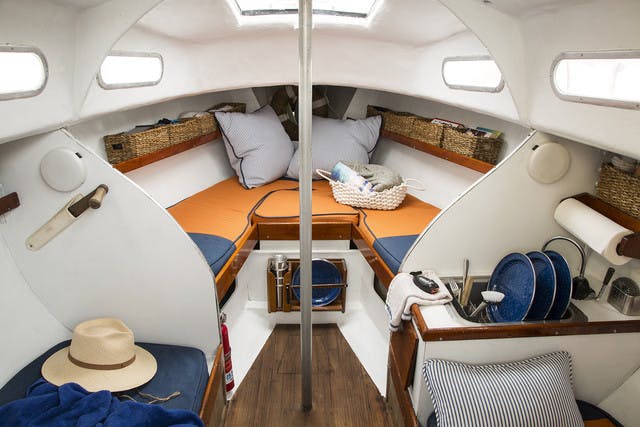 Holly has spiffed up Golightly in lovely fashion, with a completely new paint job inside and out - beautiful bamboo floors and weatherproof cushions handmade by the professional seamstress herself! All that was left was a little storage and organization. With the help of stylist (and lucky frequent guest) Gena Sigala, the boat's every nook and cranny is now an efficient, seaworthy and stylish use of space.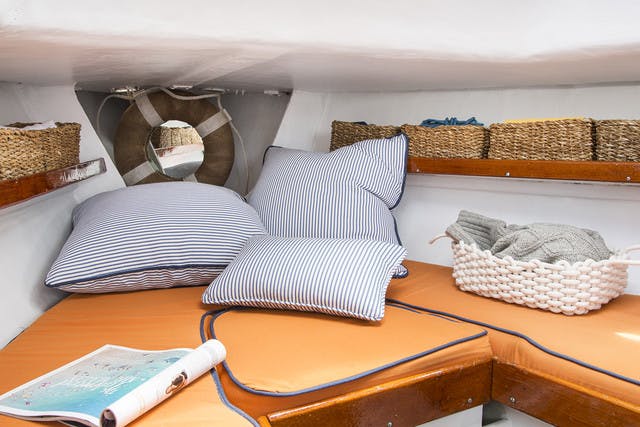 Our Cotton Cable Knit Bins perched on the boat's sitting/sleeping area are as huggable as a sweater but are as durable as sailor's rope! The tight nature of the weave gives the bin structure while the handles allow for carrying with ease.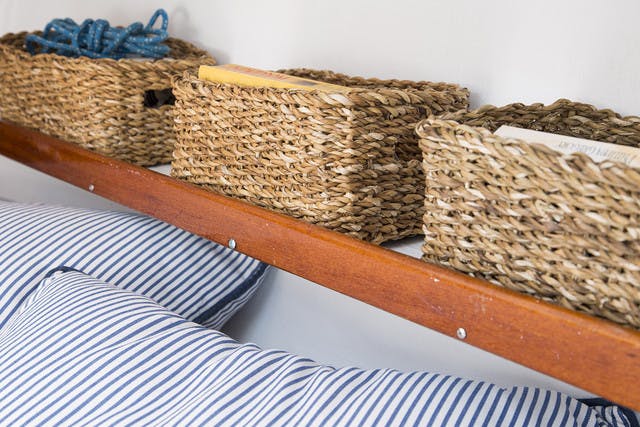 The original ledge shelves on the boat are the perfect place for our hand-woven Rectangular Hogla Bins which fit snuggly across the perimeter of the interior space. The natural fibers add an earthy touch to the living area and keep things contained and corralled even when the waters get a little rough.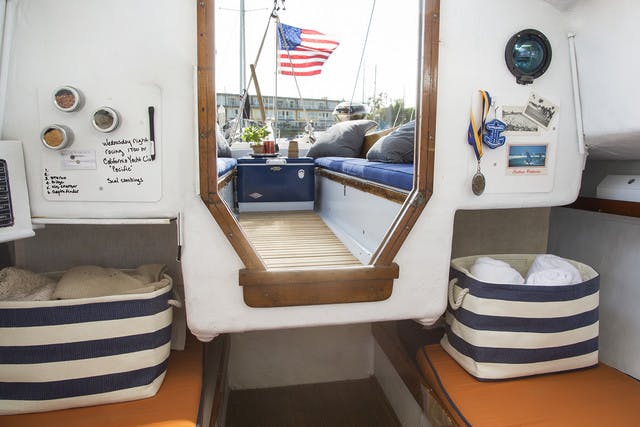 Gena ingeniously turned the limited wall space into functional storage space, using Square Magnetic Dry Erase Boards for hanging mementos and for jotting down notes about the boat's electrical equipment like its radio, pump and charger. The addition of Magnetic Spice Tins add a great design element while also providing storage for spices, but also things like nails, paper clips or other supplies that Holly needs when out at sea.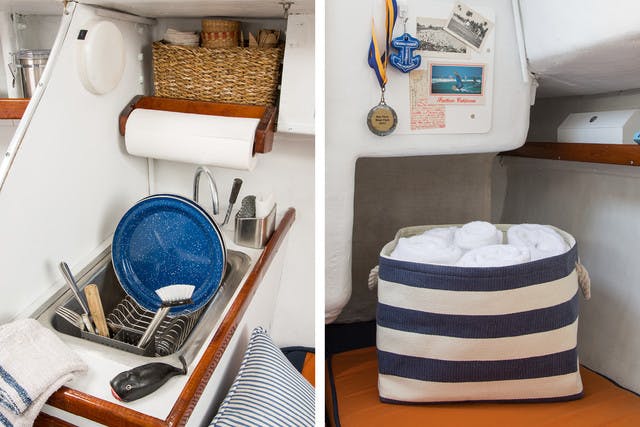 The precious sink area is made even more functional with the addition of a Stainless Steel Compact Dish Rack and Stainless Steel Scrubby Caddy. Another Hogla Bin rests perfectly above to hold supplies. Navy & Ivory Rugby Stripe Bins were the perfect nautical compliment to Holly's cushion handiwork. A Prescription Security Cabinet is also used overhead to corral cords in the boat.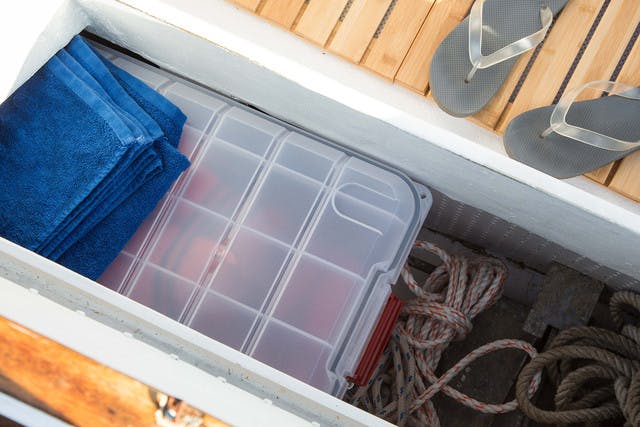 Holly says Clear Watertight Trunks are key, and used to store her boat battery and other safety equipment. (Note: even if you don't have a fabulous boat, you need these watertight trunks and totes at home for storage in your garage and other places that could be susceptible to flooding! Trust us, you'll thank us later)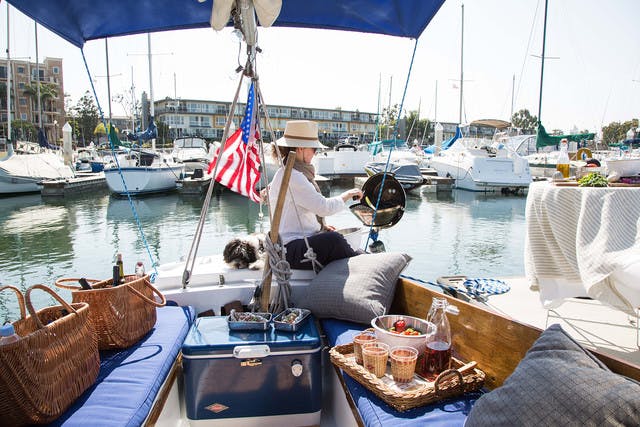 Holly told us her perfect day on the boat involves making a trip to the store to purchase food and doing all the prep work either at home or on the boat. It continues with a a sail out of the harbor and then coming back to dock and cook for a lovely sundown barbeque with her guests.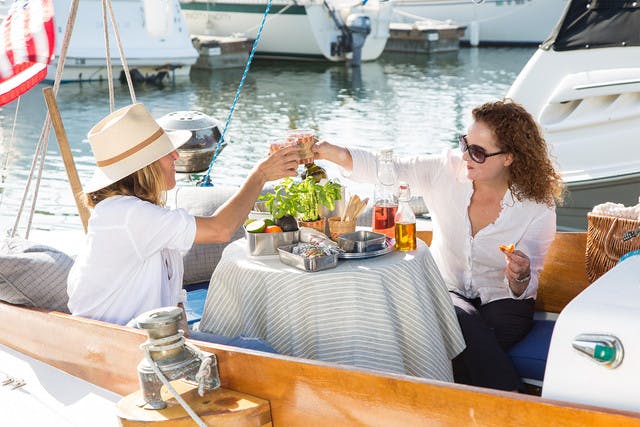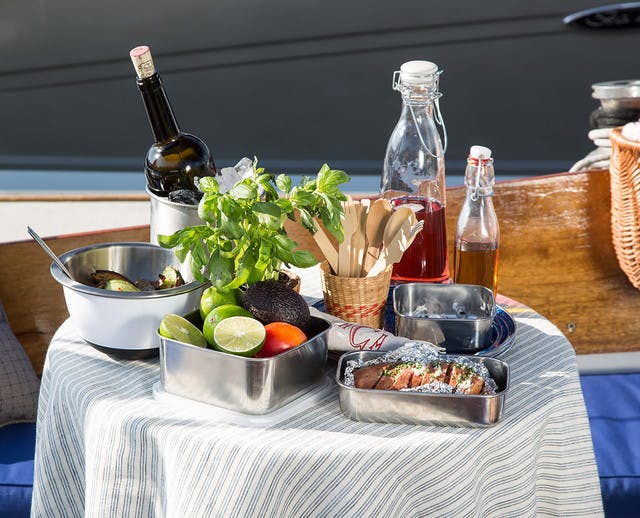 Featured Products: Stainless Steel Mixing Bowl Set by OXO // Stainless Steel Square-to-Go Containers // Stainless Steel Divided-to-Go Container // Wooden Cutlery // Vintage Glass Milk Bottles // Square Hermetic Glass Bottles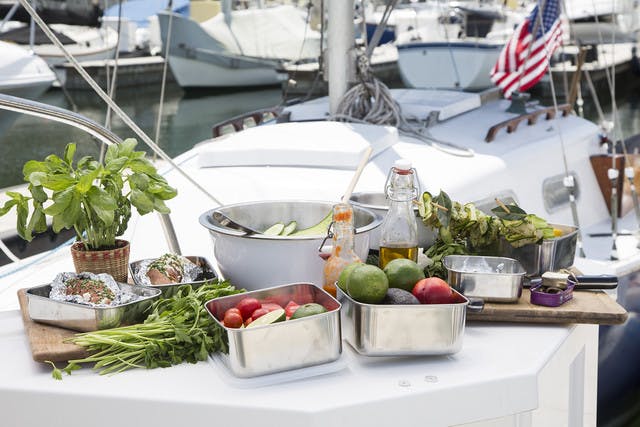 Stainless Steel Square-to-Go Containers and stainless Mixing Bowls are great for meal prep and storage. Vintage Glass Milk Bottles and Square Hermetic Bottles serve as beautiful vessels for vinaigrettes, dressings and oils. Stainless Steel Utensil Holders are large-capacity and look stylish on a countertop while keeping even bulky kitchen utensils neat and within reach. They're multifunctional too and work well in a bathroom or office space.

As I mentioned earlier I'm sure an invite for a sunset dinner cruise is on its way. But just in case you don't have your own water ride but do have a backyard grill, Holly shared some delicious recipes that are fabulous for an evening with friends no matter where you are this summer!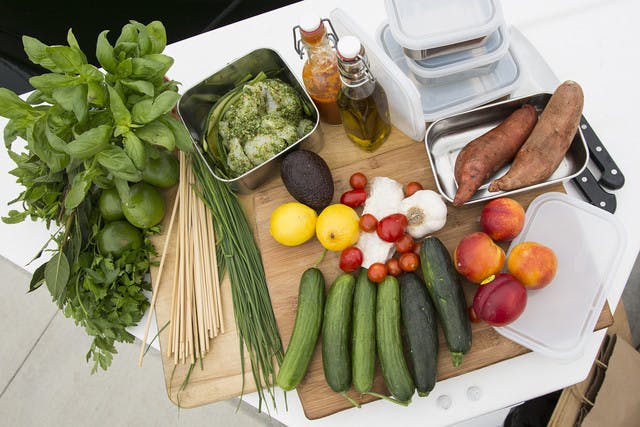 Grill-Baked Sweet Potatoes with Chive Butter:
Serves 4
1 stick of butter
3/4 cup chives + extra for garnish
1/2 cup sour cream + extra for serving
1 1/2 tsp. of kosher salt
1 tsp. ground pepper
4-10 oz. sweet potatoes
Combine first 3 ingredients together, form a log and refrigerate until firm
Slice potatoes at 1/3" intervals but not all the way through
Cut the chive butter into slices and tuck it in between the potato slices
Wrap each potato with foil
Grill the potatoes on the grill over low heat, cook until tender, around 45-50 minutes
Open packages and serve with sour cream and chives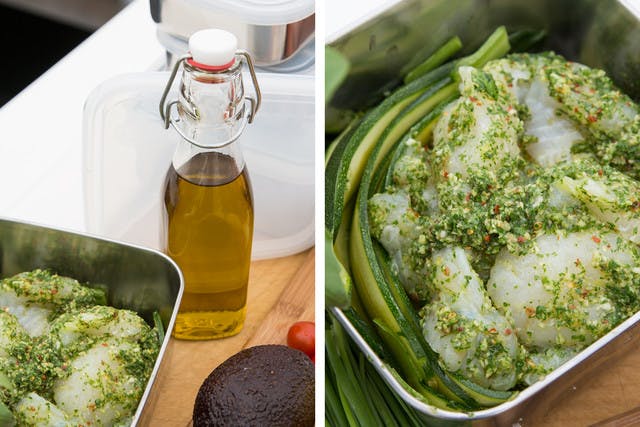 Salsa Verde Halibut Skewers:
Serves 4
1 cup of flat leaf parsley
10 garlic cloves
1 tsp. crushed red peppers
Salt and pepper
28 bay leaves
1 1/2 lbs. of halibut, cut into 1 1/2" pieces
1 med zucchini, sliced thin on a mandolin
2 lemons - halved
Blend the first 4 ingredients in a blender or food processor
On to each 4 skewers, thread 1 piece of bay leaf, in between zucchini and fish (bay, zucchini, bay, fish, bay, zucchini...x 4 of each fish and zucchini)
Season with salt and pepper, brush with parsley sauce
Place in the fridge for 1 hour
Grill fish and lemons on moderate heat for 6 minutes, turning until brown
Serve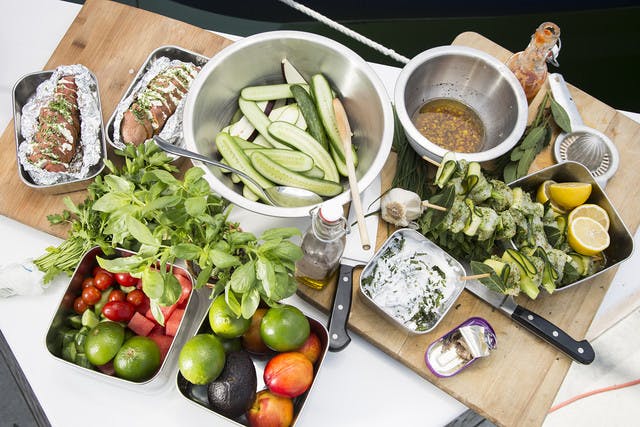 Grilled Marinated Cucumbers and Eggplant with Basil
Serves 4
1/2 cup extra virgin olive oil + more for brushing
1/4 cup red wine vinegar
5 garlic cloves, minced
5 anchovy fillets, minced
Salt and pepper
4 Persian cucumbers quartered lengthwise
1 small eggplant cut in half and wedges
Bunch of basil leaves
Whisk together first 5 ingredients
Grill eggplant and cucumbers (eggplant will take a little longer)
Toss together in a beautiful Container Store bowl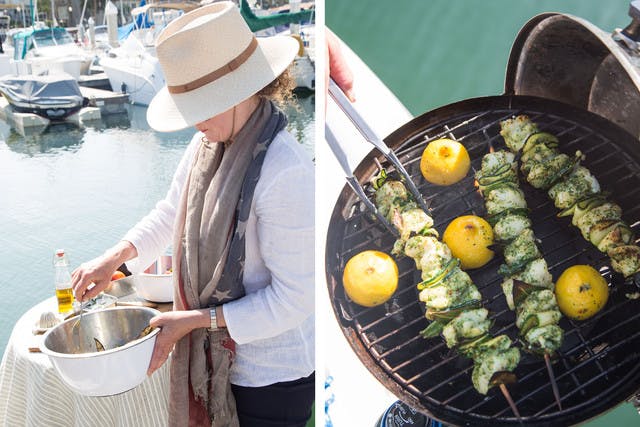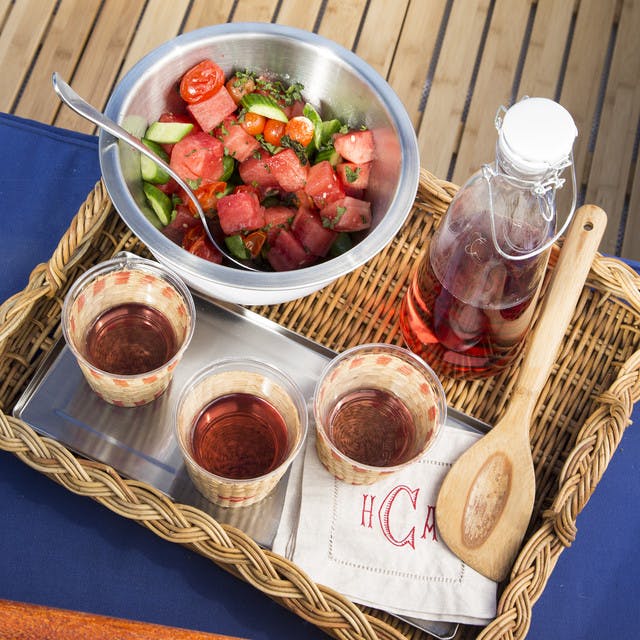 Watermelon, Cucumbers & Heirloom Tomato Salad:
Slice watermelon in 1" chunks
Slice cucumbers 1" chunks
Toss with olive oil, lime, salt and pepper
Top with crushed red peppers and cilantro
Photos taken by Meghan Beierle