When Katie McBreen began planning the room for her baby girl, she knew she wanted something that didn't look like a traditional baby's room, but rather one that could transition and grow with her daughter. Katie, who is the Vice President of Communications & Public Affairs for the National Retail Federation, lives in a 1937 colonial home in the Chevy Chase neighborhood of Washington, DC. The couple's style is somewhat transitional - they like traditional things but Katie also keeps up with design trends and loves color but in a classic and sophisticated way. To help them achieve the look they wanted, they worked with Katie's friend and designer, Kate Collins. With the charm of the vintage home, also brought with it storage challenges - our in-home professional organizer, Beth Burgstaller, from our Contained Home service, helped Katie organize every inch of the former guest room.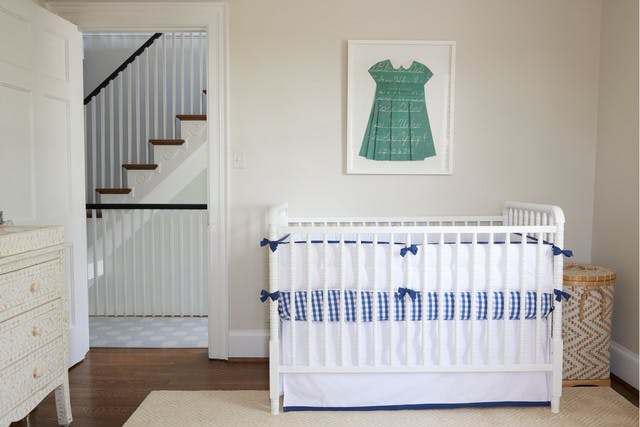 Katie says the two inspirations for the room were the classic gingham crib bedding and the origami dress art that hangs over it by artist Dawn Wolfe. The dress is a nod to Katie's self-professed trait of being a stickler for penmanship.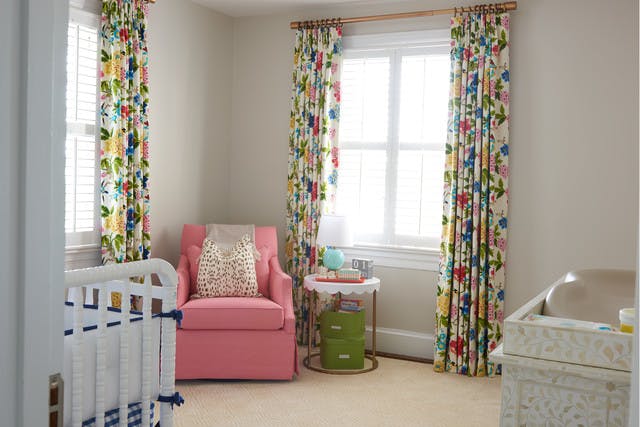 The lovely window treatments made from Waverly fabric's "Candid Moment Gardenia" makes a bold graphic statement in the room while still being feminine and working beautifully with the other soft pops of color in the room. Those colors balance nicely with the neutral furniture against the backdrop of the walls painted in Benjamin Moore's "Moonshine."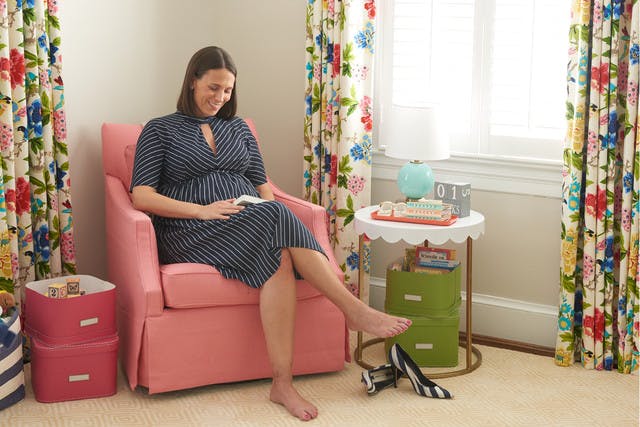 Beth added our Navy and Ivory Rugby Stripe Bin for stuffed animals. Look closely at Katie's shoes above. They are the shoes she wore in her wedding.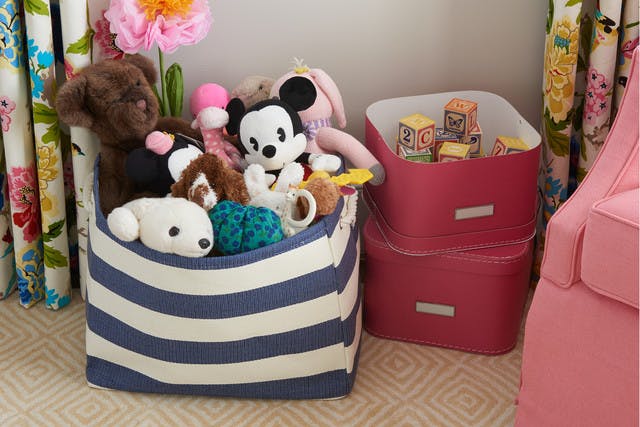 The bin is not only super cute and functional, but also a sweet reminder of those shoes Katie wore on that special day with Brian.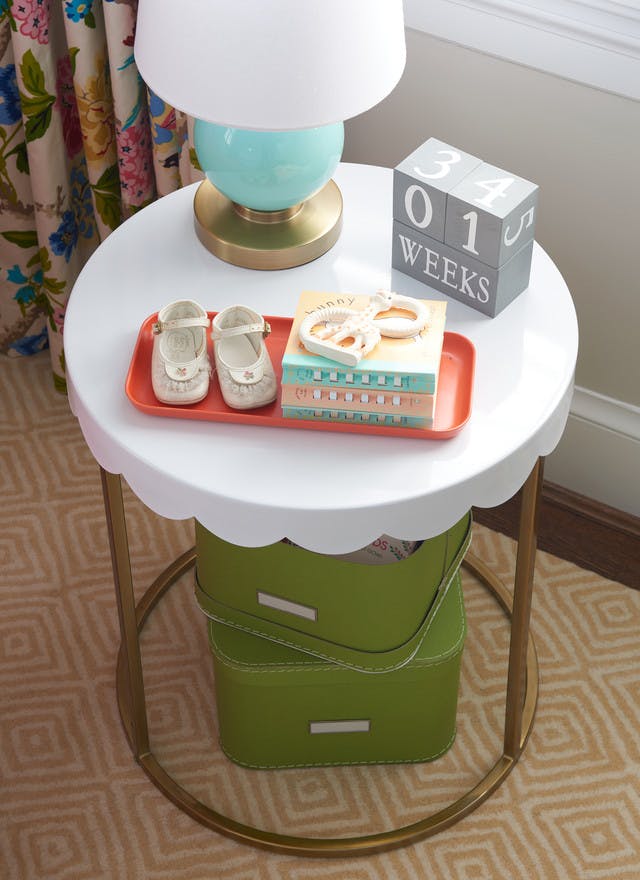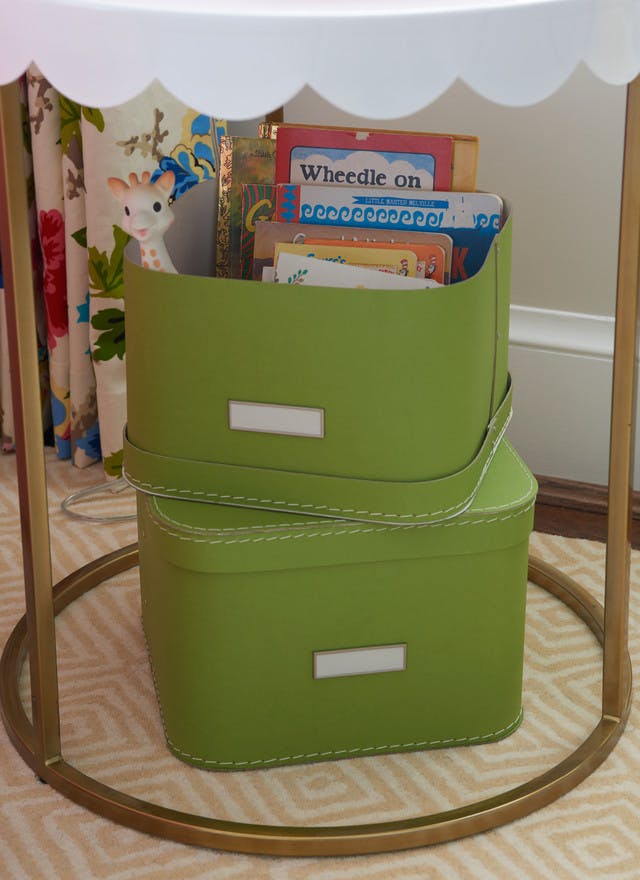 Beth used our Oskar Boxes in strategic areas around Katie's glider, which will become the favorite place for bedtime rituals. The boxes are beautiful enough to use as decor and sturdy enough to hold books and toys.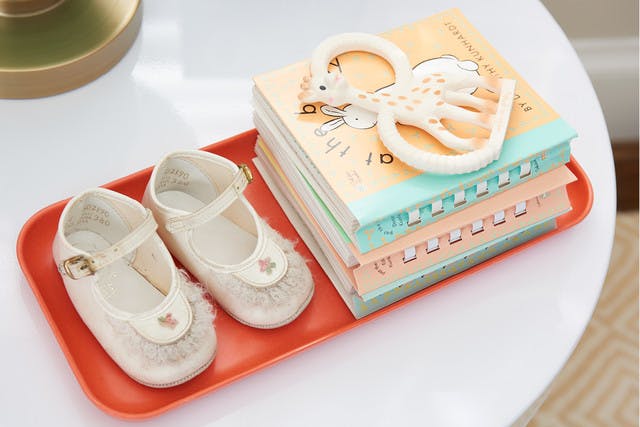 The shoes that sit on our Orange Multi Bamboo Tray are those from Katie's childhood. She can't remember if they were hers or her sister's, but never the less they are a darling addition to the room.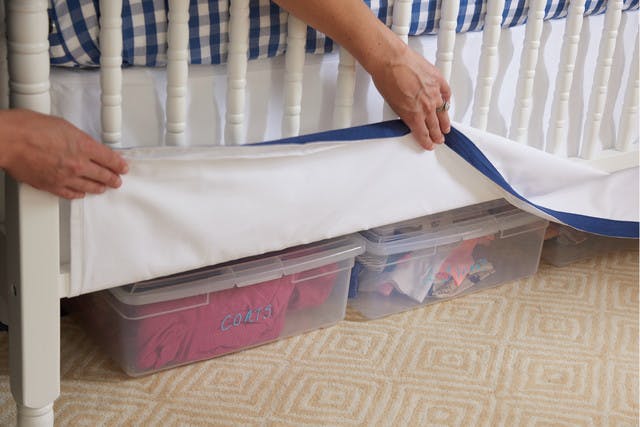 We love Beth's tip of using the space under the crib for storage. Here you see Our Boot Boxes labeled with clothes to be used as the baby gets older. Katie says that, thanks to her niece, she has clothes up to four years old waiting for her baby girl.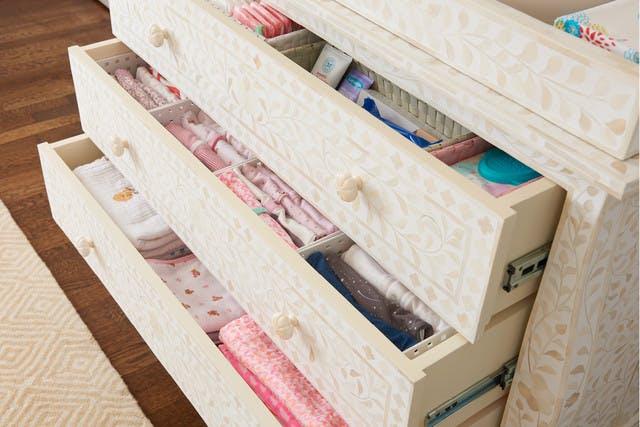 The drawers of Katie's changing table are compartmentalized using our Color Block Bins and hold pacifier clips, socks, diapers and tiny clothes and blankets.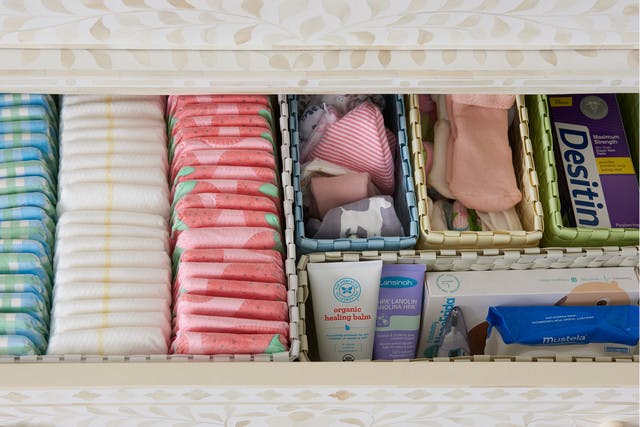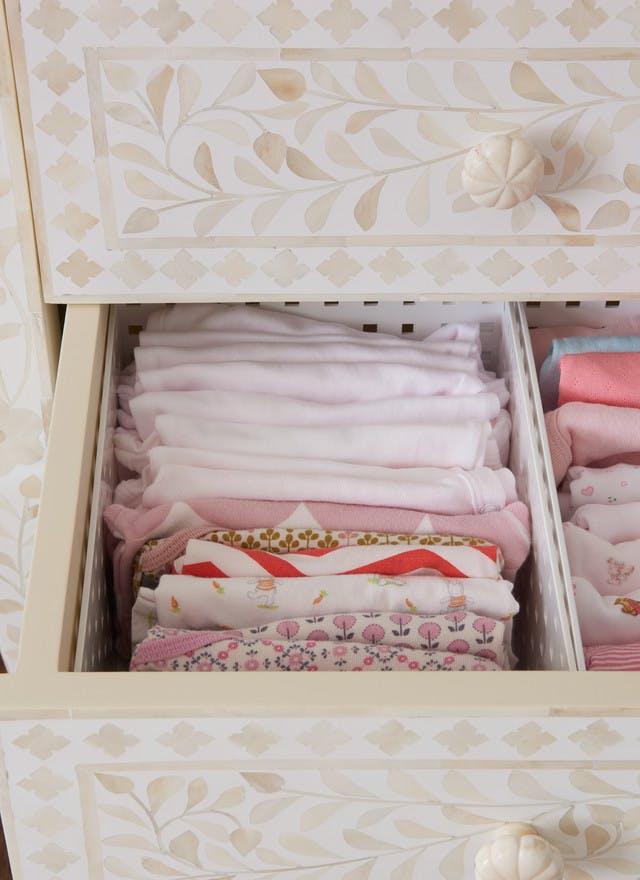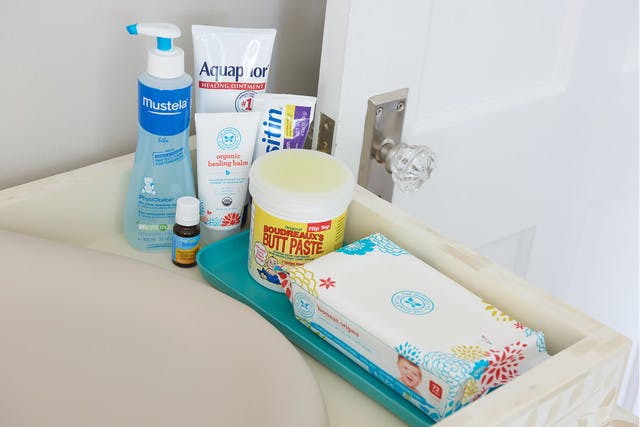 On top of the changing table, our Aqua Bamboo Tray helps corral wipes and other supplies.
But it's the baby closet that Beth worked extra magic - a space that Katie says she is in love with and admits she just goes into the room and stares at with awe.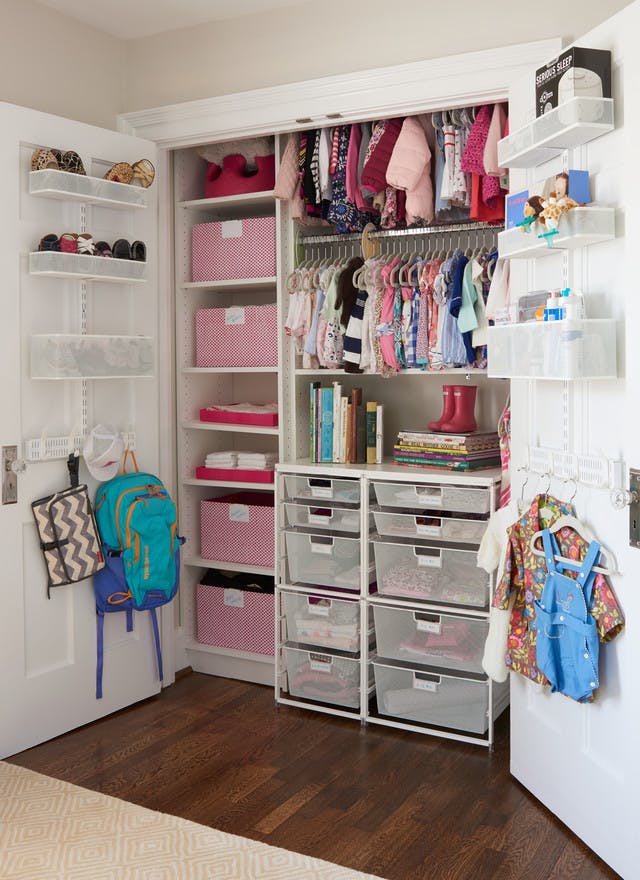 "Katie was so fun to work with! She was open to all my ideas on how to maximize storage in the nursery. She craves organization in her own life, so it was very rewarding to create a solution that I knew would be appreciated and maintained by its user. Katie wanted to have access to at least a year of clothing for her daughter, with accessible storage for the next sizes up of gifts and hand-me-downs she had received. She also wanted to keep the existing closet system that was in place. An adult sized double hang is not ideal for baby's clothing, but by moving the lower rod up top, I was able to create a better proportioned double hang system for baby dresses while adding drawer storage below. With elfa drawer labels, each size of clothing is separated and easy to identify," said Beth.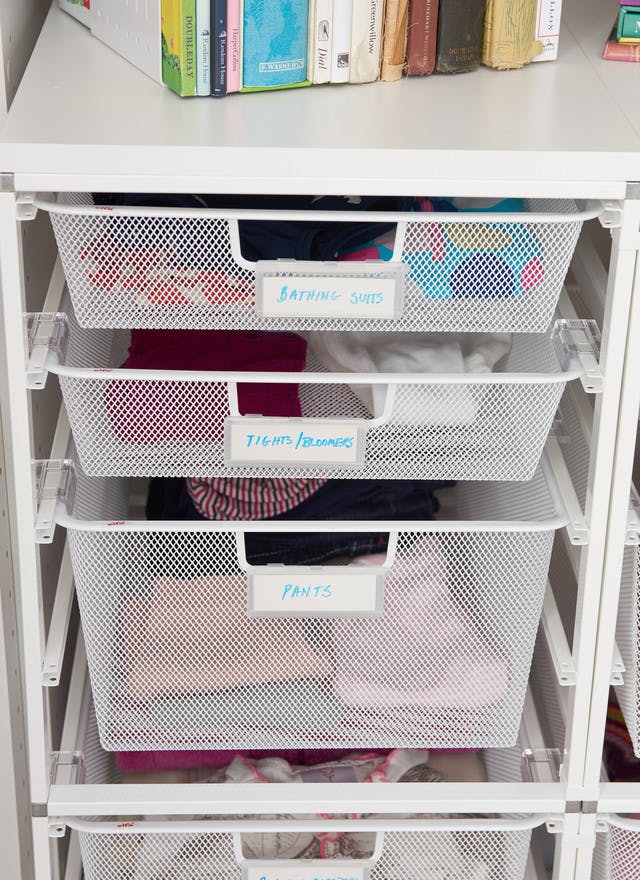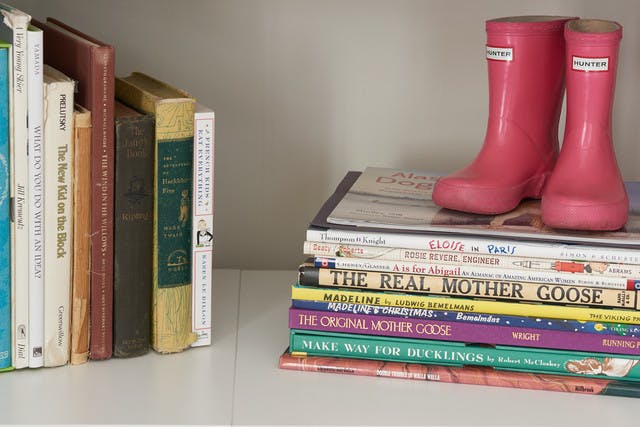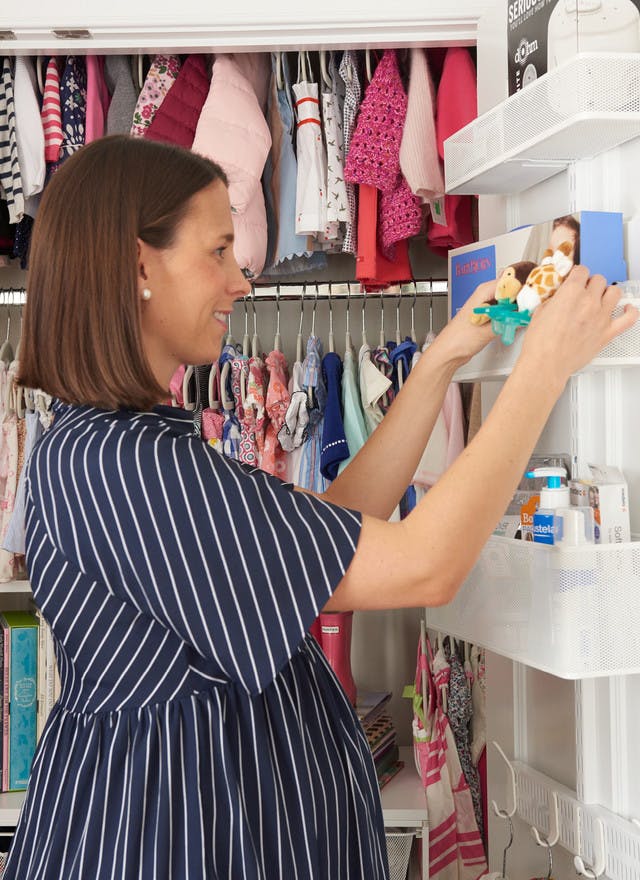 Katie says she is obsessed with the elfa door and wall rack in the baby closet.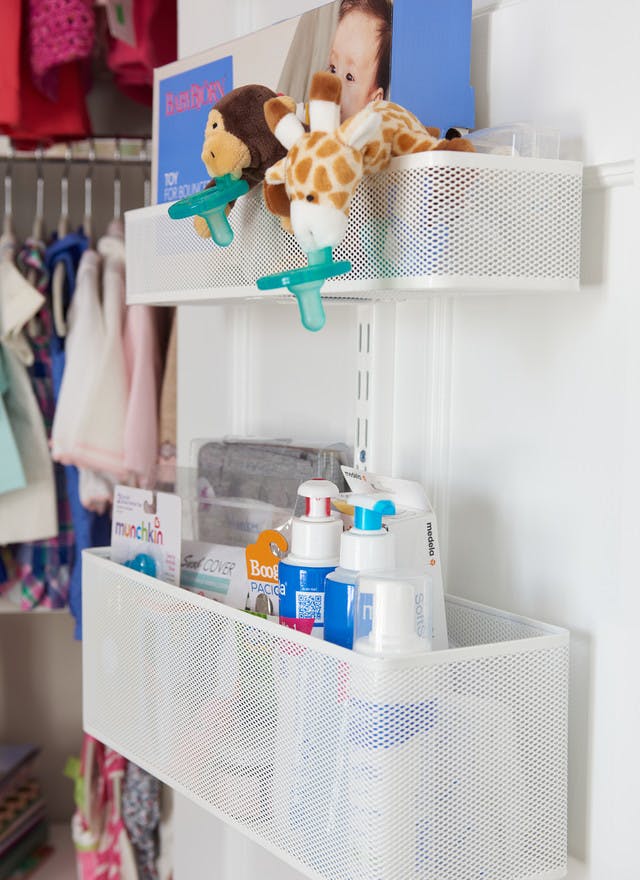 The adjustable elfa door and wall rack gives Katie a lot of flexibility to store everything from supplies to small toys.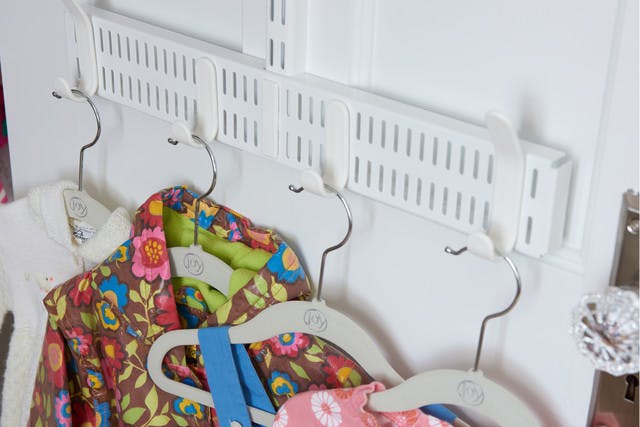 The elfa system also allowed Katie to use hooks to display vintage baby clothes of hers and her sisters - and even a pair of blue overalls that were her father's. That area will later become a great way to stage daily outfits for baby McBreen.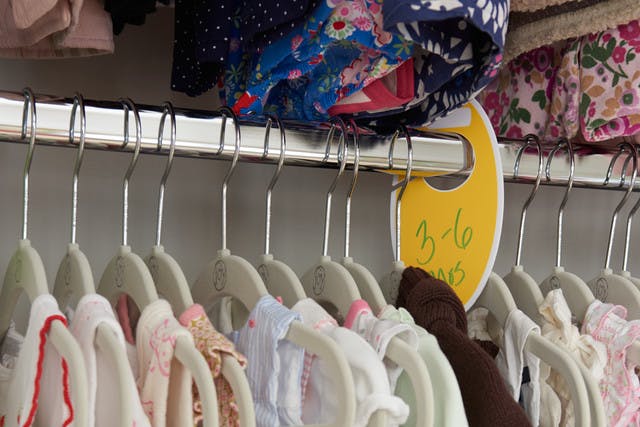 "Beth and The Contained Home service was so affordable which is just amazing! To have someone come in is wonderful. I even shared details about the service with my neighbor! Beth came in and helped me understand how to better utilize the space I had available whereas oftentimes people just use the space as it is and don't think to reconfigure it. Using the elfa Door & Wall Rack is great for utilizing dead space! Beth was so knowledgeable on the products and offered suggestions and ideas for things I hadn't even imagined were available. It's a very overwhelming time, especially for people who aren't already organized. Overall, it was AWESOME," said Katie.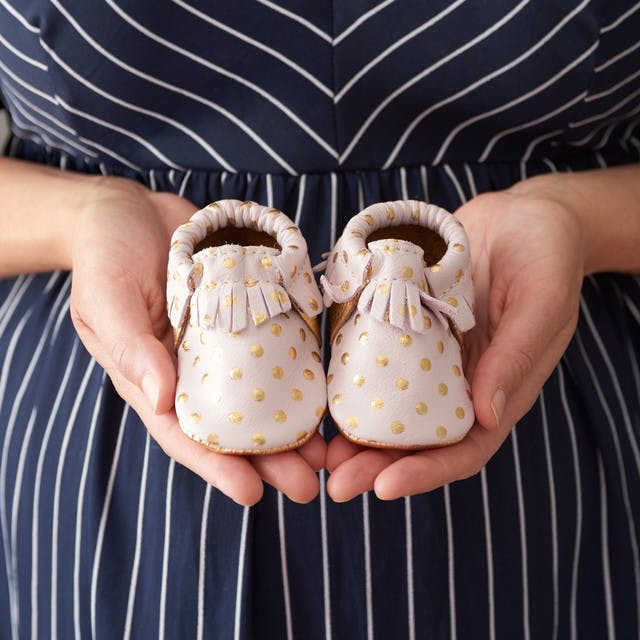 Well we think the room turned out just awesome too! And we can't wait to meet the baby girl who will enjoy it! Congrats Katie and Brian!