We are crushing on this one, and the women behind it! When we heard that Liz Macpherson and Ami Murphy - the owners of Mac & Murphy - were looking to give their charming Charleston paper boutique an organizational makeover, we said we're there!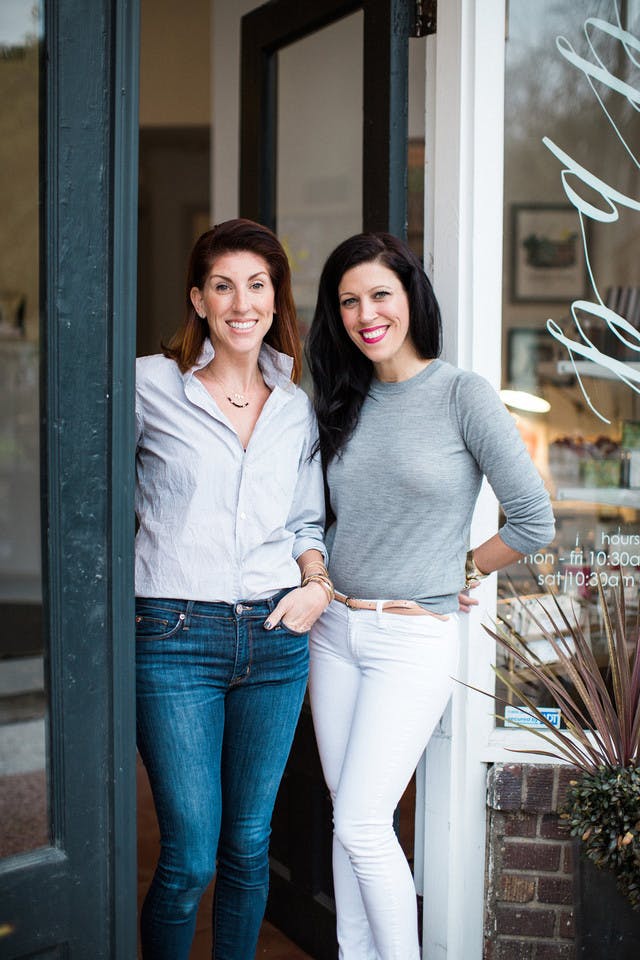 Ami and Liz started Mac & Murphy in 2009 with a shared love of paper and pretty things, and seeing that a store devoted to it was missing in Charleston.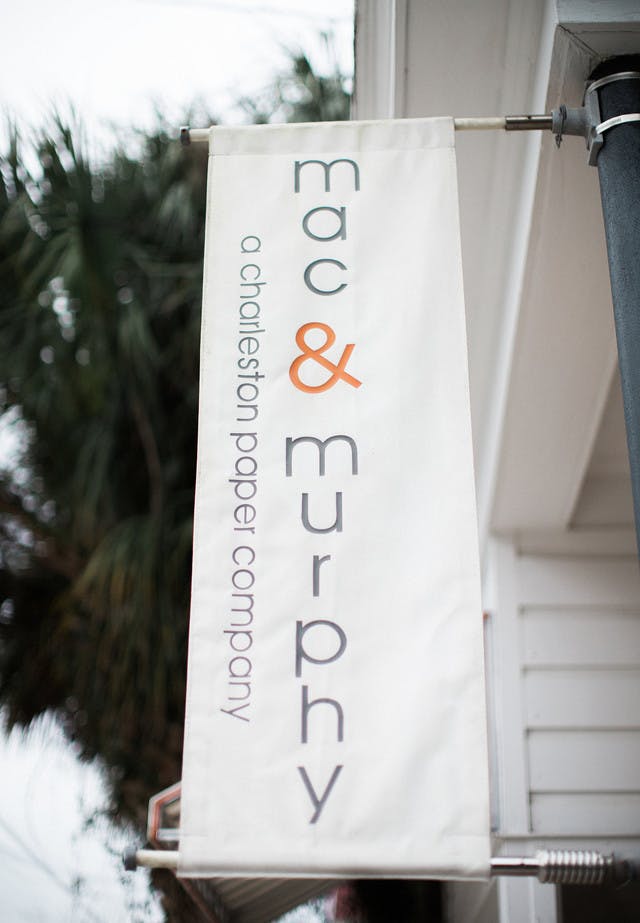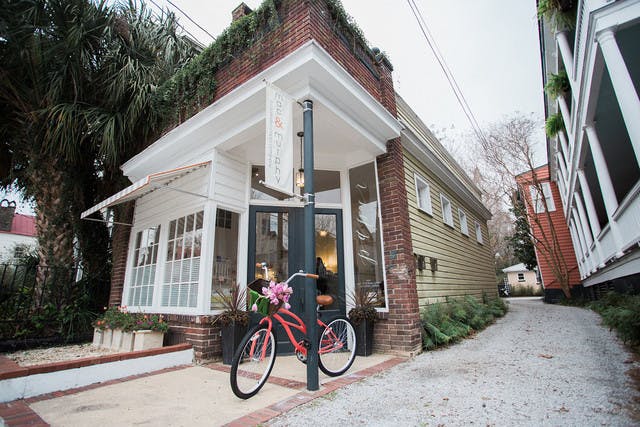 Located in a century old home on Cannon Street, Liz and Ami have put together a sweet specialty store full of sophistication and southern charm. The space encompasses about 350 square feet of retail space, with the rest devoted to office space where they meet with brides and other clients to create their special custom invitations, stationery and paper creations.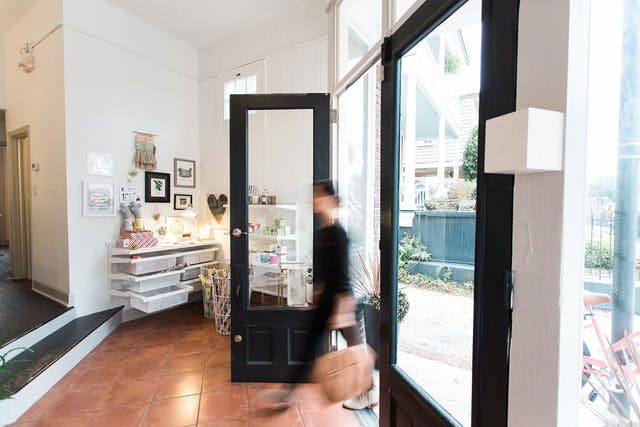 While the space was always welcoming, Liz and Ami felt it was time to refresh, remerchandise and rework their back-of-house space with an organization system.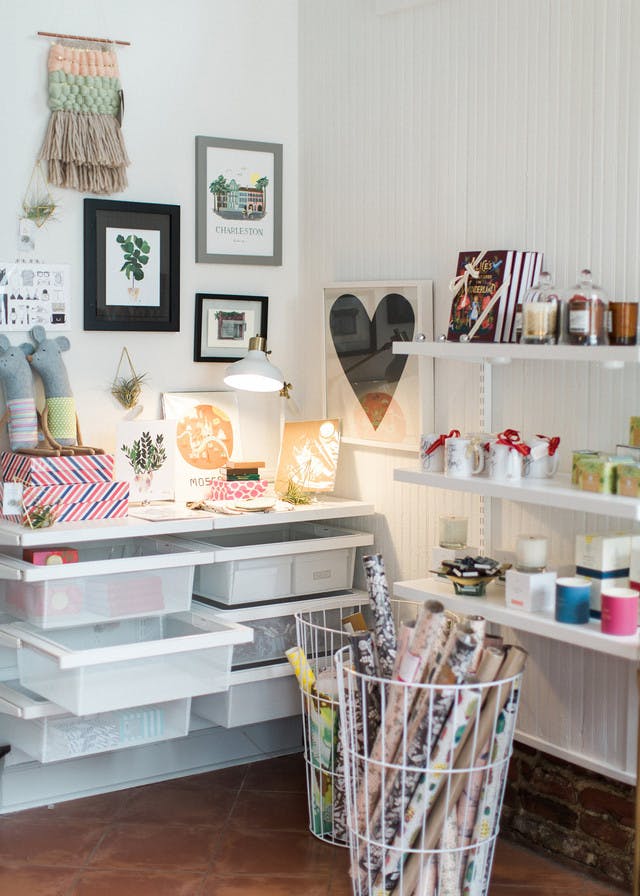 Our elfa now provides clean, functional and flexible storage - and creates a display space for the lovely goods for sale. Mac & Murphy has a host of cards, stationery, pens, calendars and journals and, as Ami says, "Everything you could need to write with or on and everything you need to make your life a little bit prettier." Our wire toy barrels serve as the perfect vessel to store decorative gift wrap.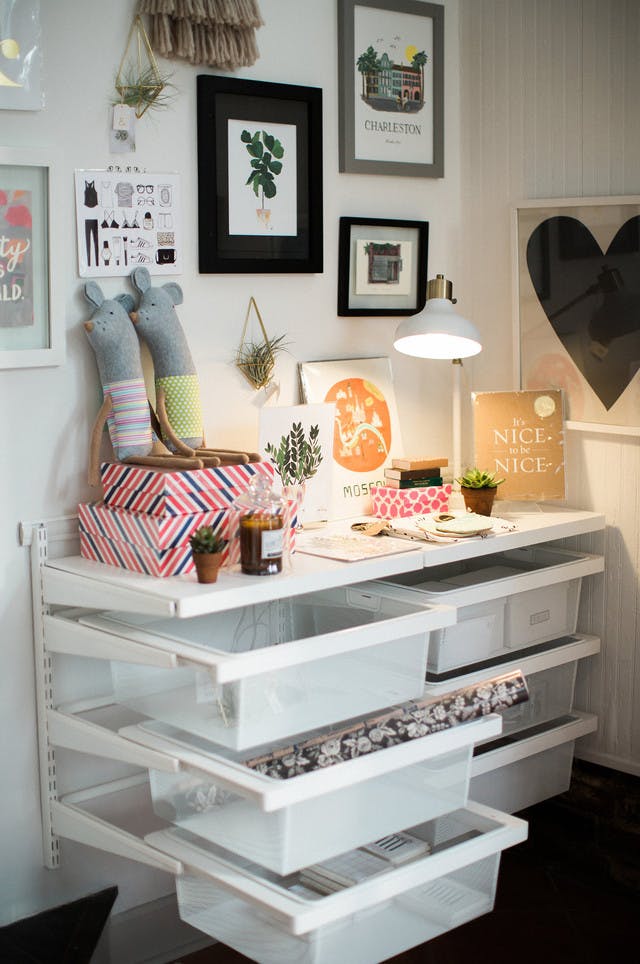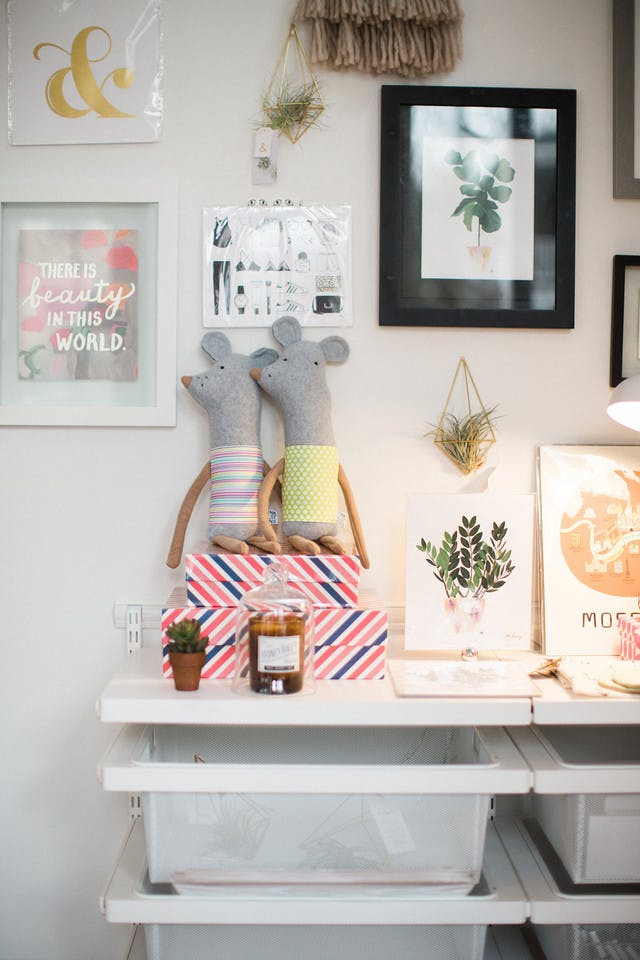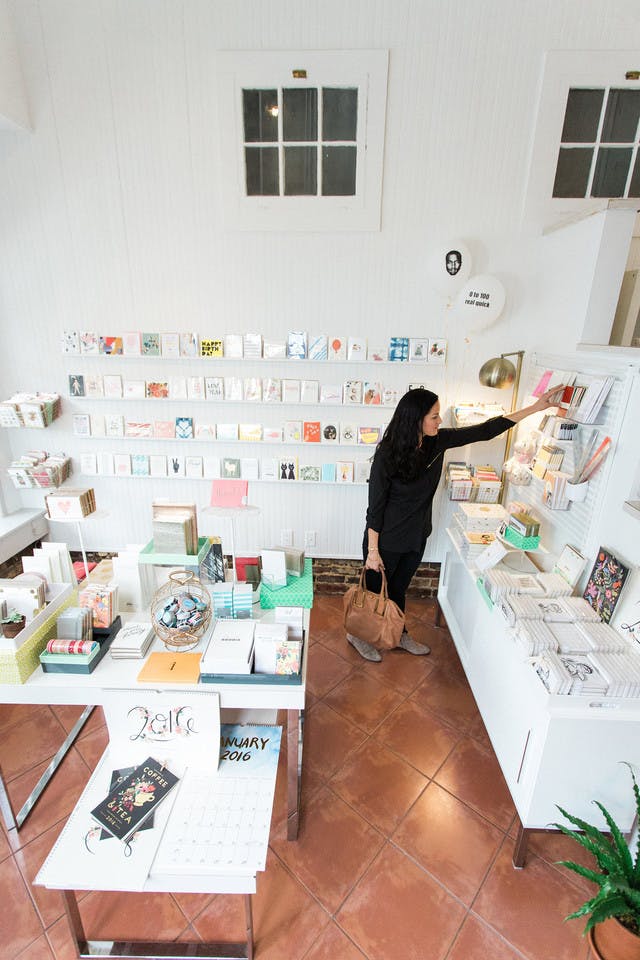 Ami and Liz put a lot of love into curating the shop with one-of-a-kind items made up of hundreds of different product lines, hand-selected by the dynamic duo.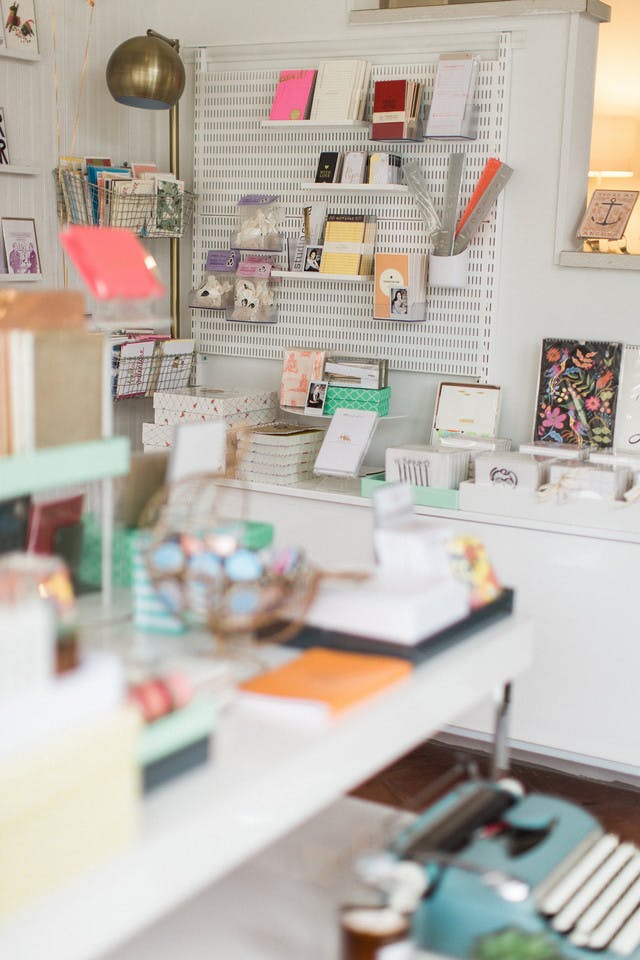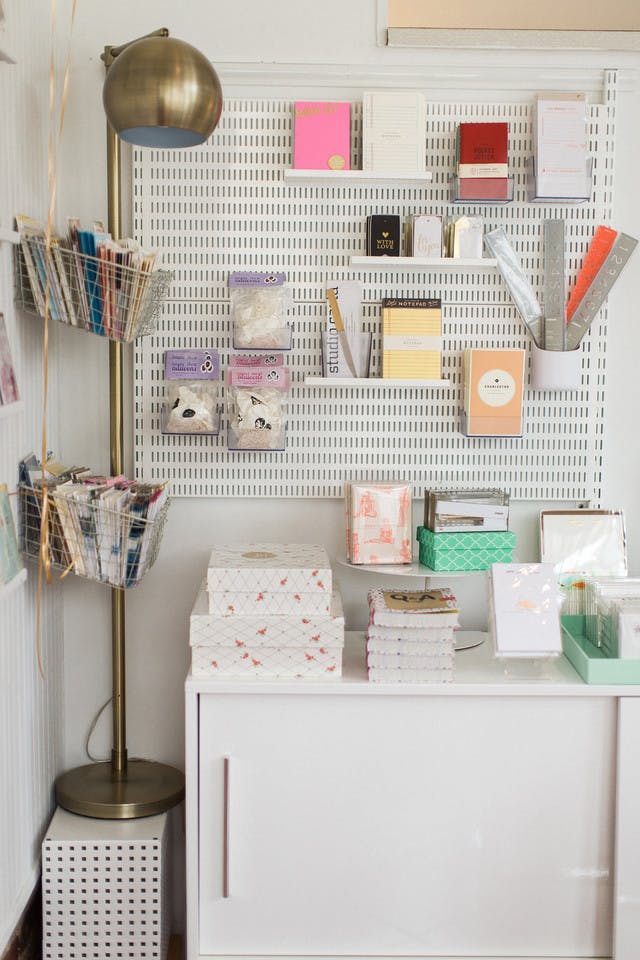 They say that the elfa utility boards added to the revamped space are a "game changer."
"It's really a brilliant solution. It makes the area more visually interesting and a lot easier to shop for customers. The boards maximize vertical space instead of making everything lateral. We're now able to now play with colors, shapes and sizes in a way we weren't before," Liz says.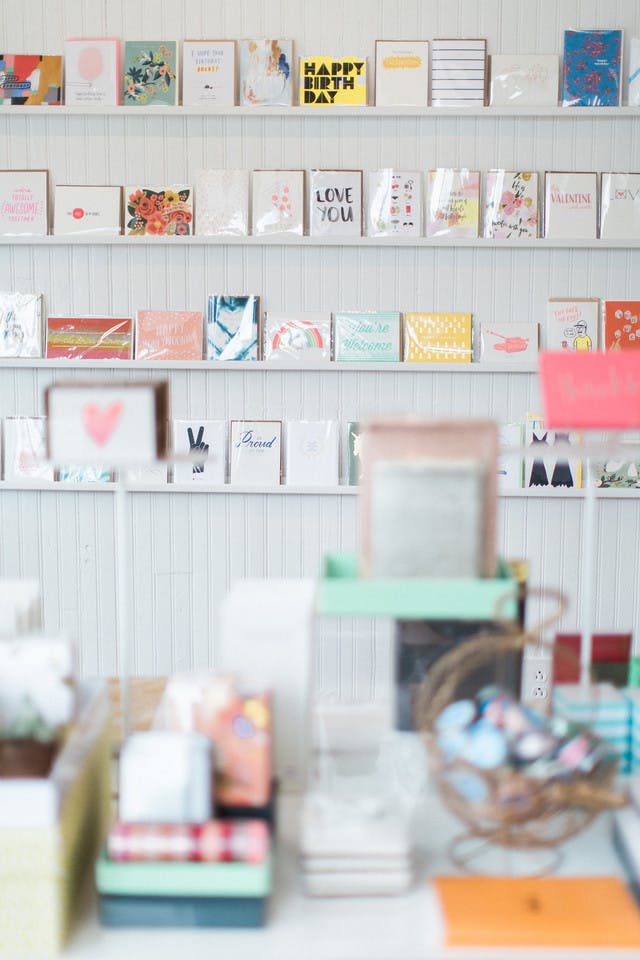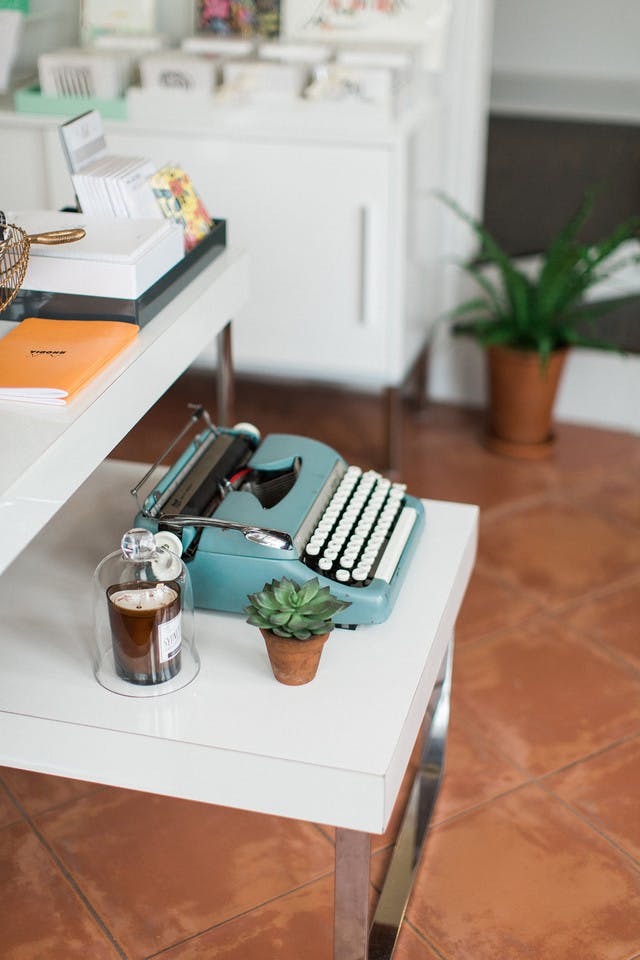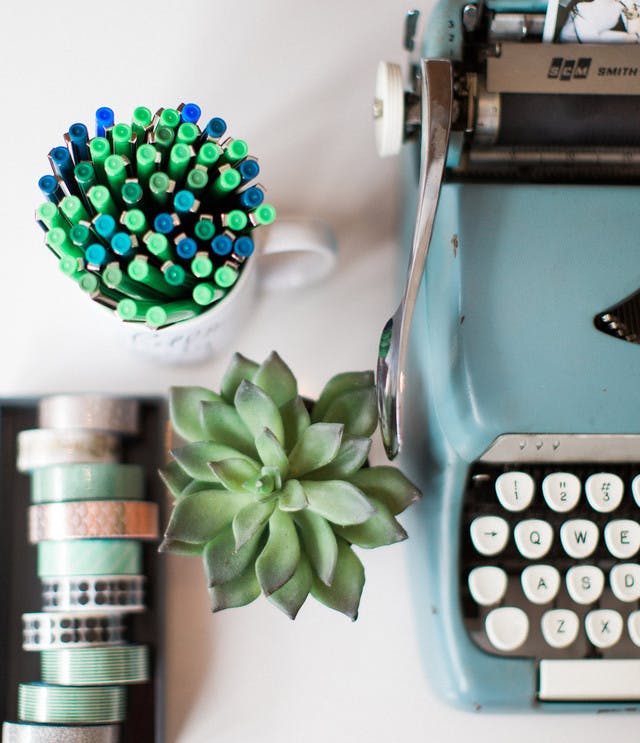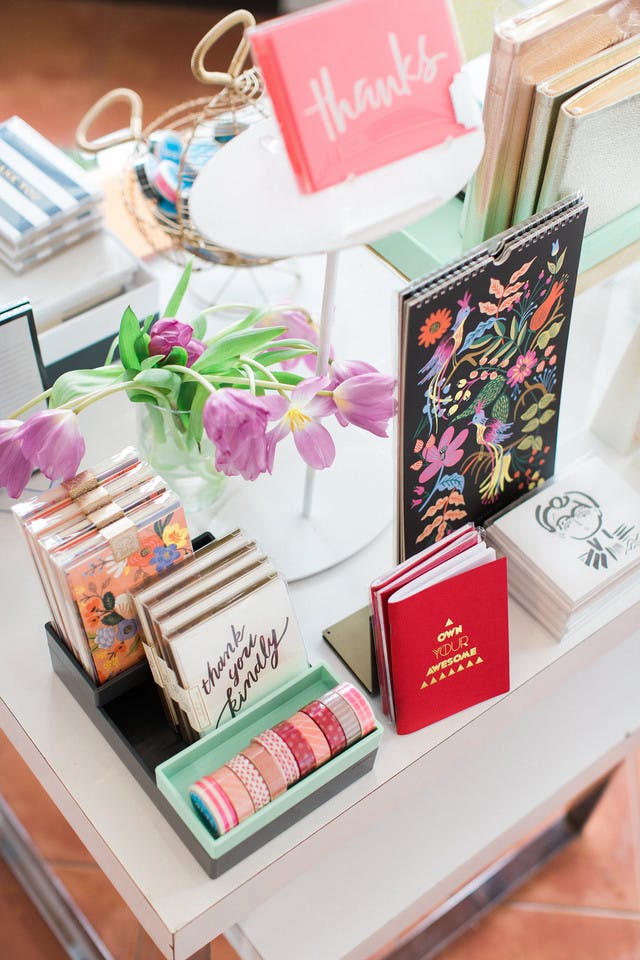 They have so much fun with the retail side of the business on a personal level and say they pride themselves on having people get back to the personal touch of letter writing - sending a funny note to a friend having a rough week, a note of encouragement or congratulations. Through their work, they are always looking for ways to preserve and celebrate the relationships in their customers' lives and how to express that. It's no surprise that "spreading the love" has become a company tagline.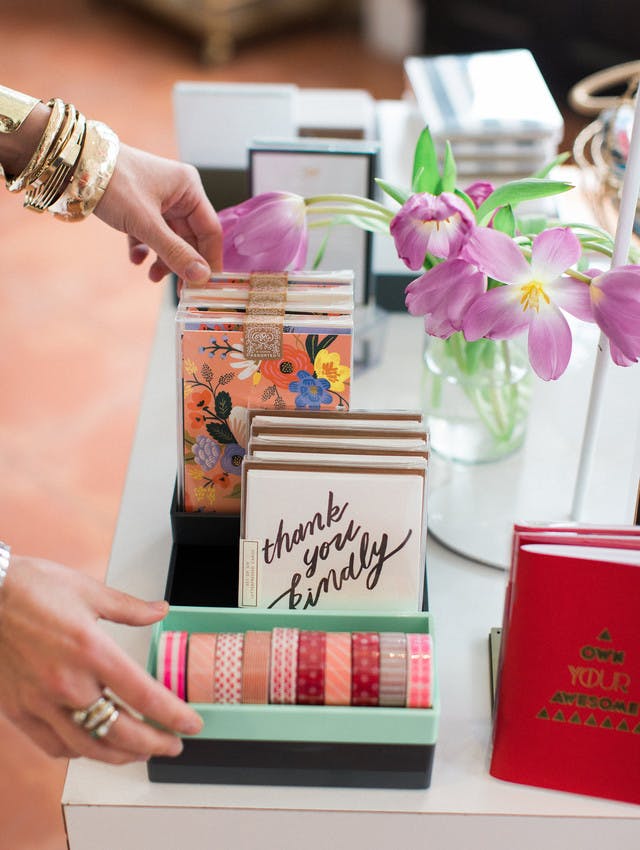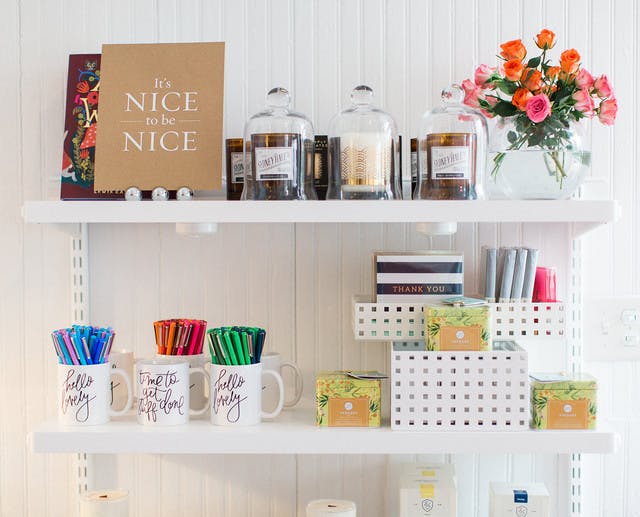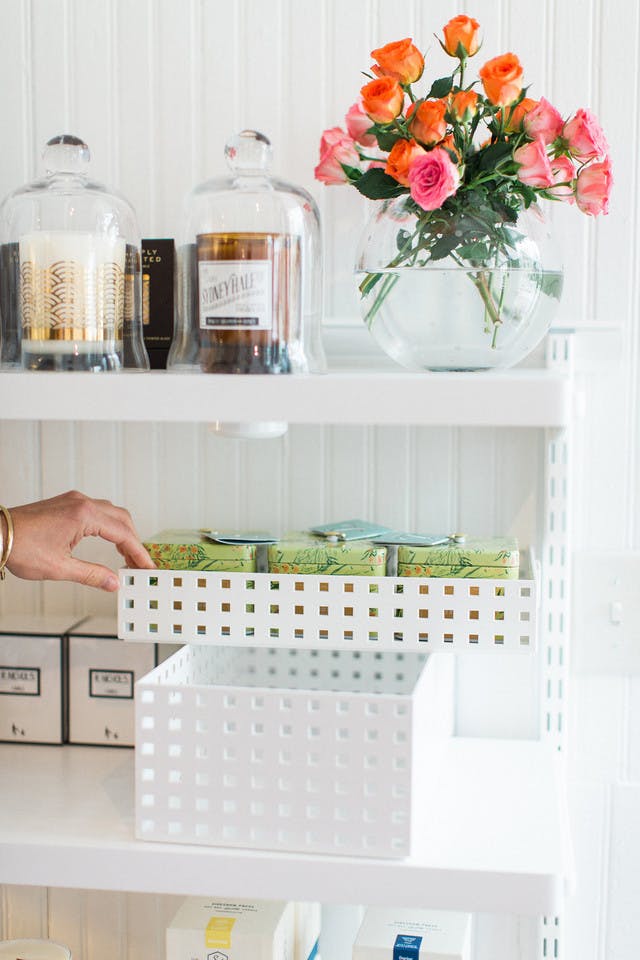 Modular Like-it Bricks add some great visual interest on the elfa shelves while providing flexible and creative merchandising opportunities.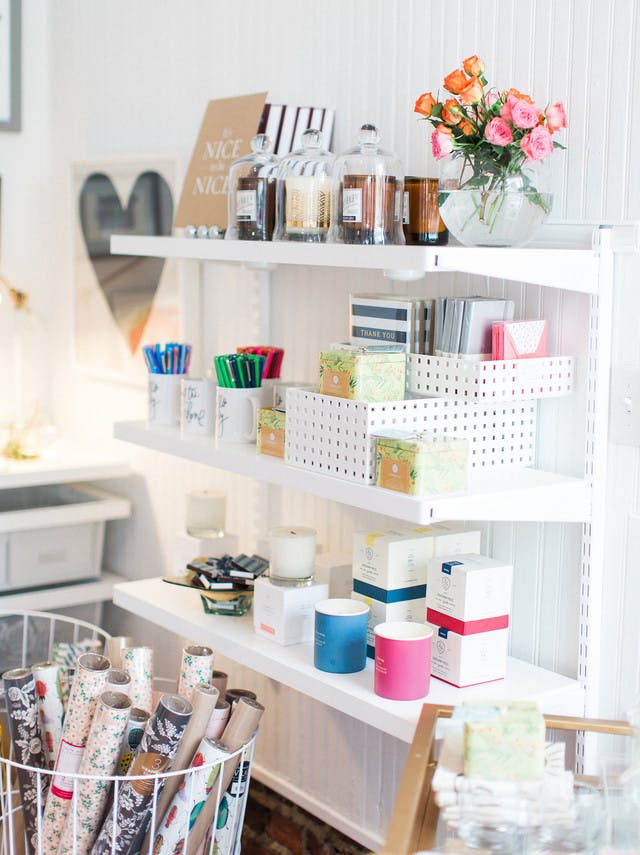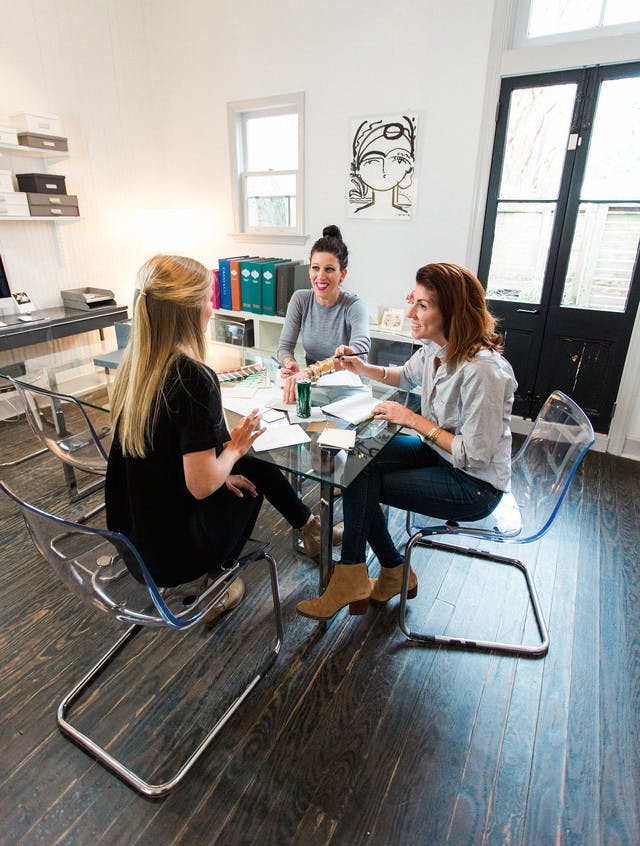 And while they love the new feel and aesthetic of the front part of the shop, it's the backroom area that is making their hearts go pitter-patter even more. They often spend two hours with a bride helping her imagine her dream suite of paper goods that will reflect her big day, so it was important for the space to feel comfortable with no hints of clutter or stress. It's now a place they are proud to bring their customers - a cool, calm space that matches their professional approach to customer service and hospitality.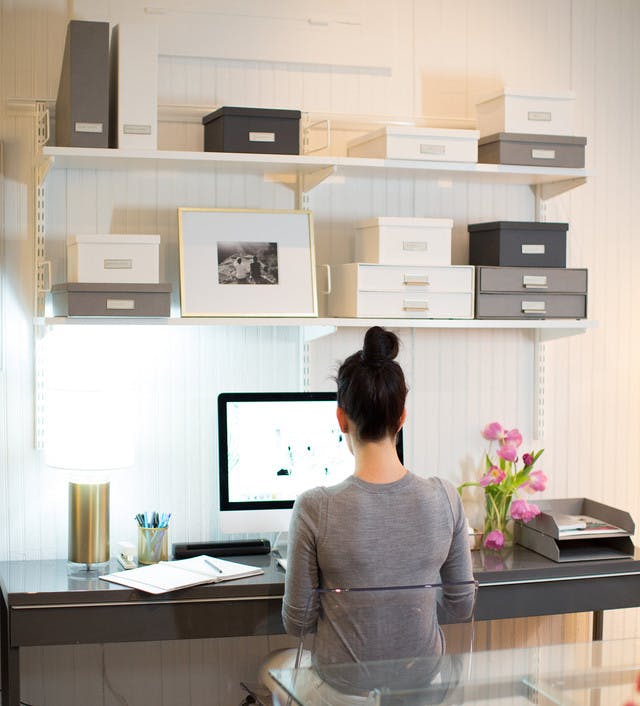 The elfa shelving and the storage boxes and bins stored over the desk provide a place for all of the work orders, receipts and "to-do's" versus piles and stacks of paper.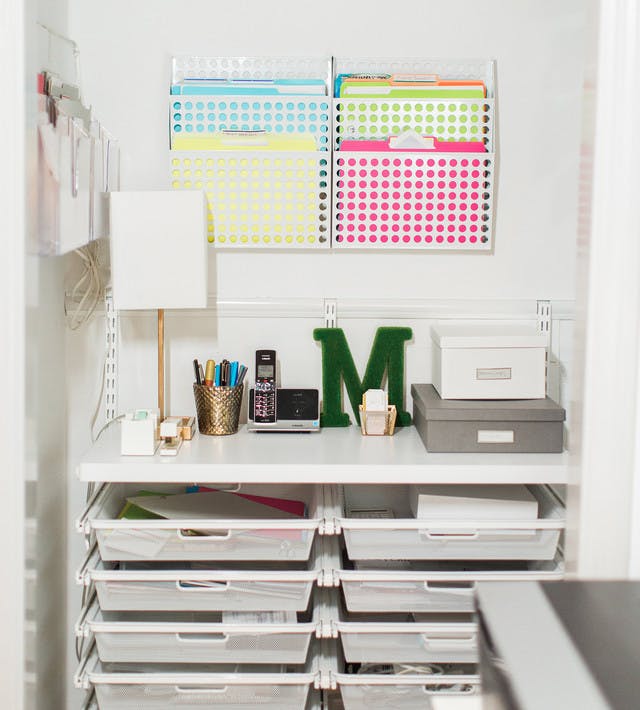 Prior to the rework, the closets in their meeting space were always a place of embarrassment for them - always hidden behind a curtain. They lovingly called it their "Monica Closets" - a reference to that obsessive-compulsive Monica on the TV show Friends, that she kept locked because of its chaotic contents. With elfa, the closets are now just the opposite - beautiful and organized with intent and purpose.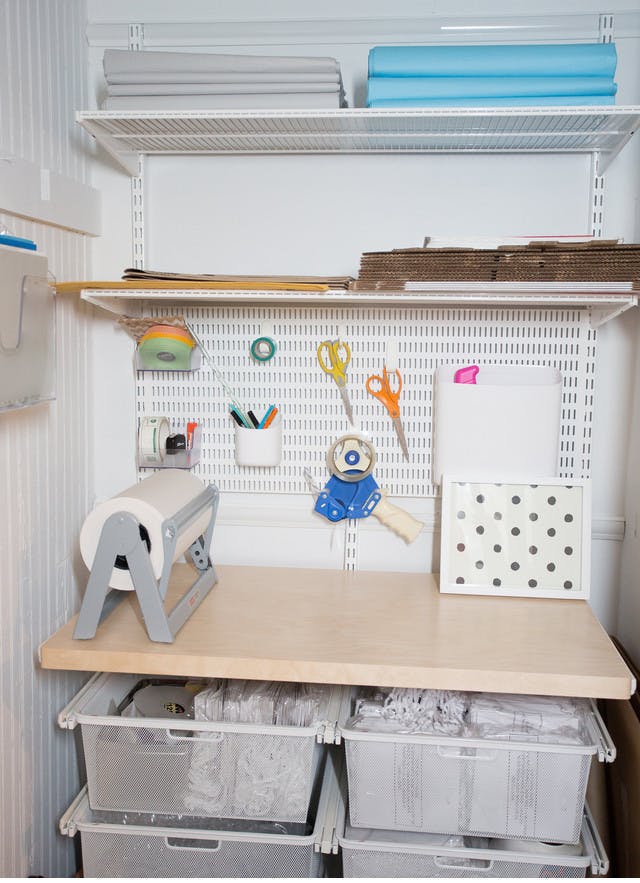 elfa shelving and drawers command the back room, making the space highly productive and efficient.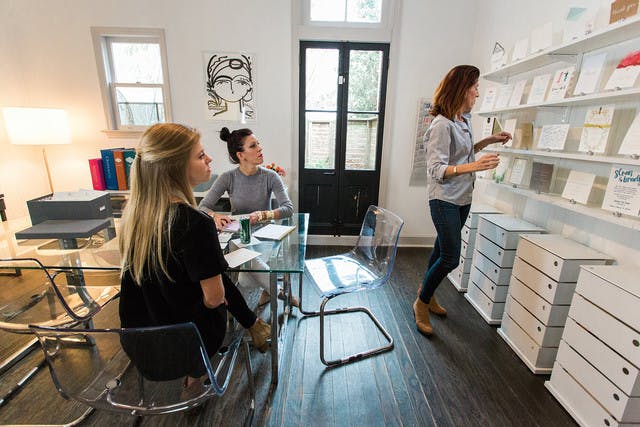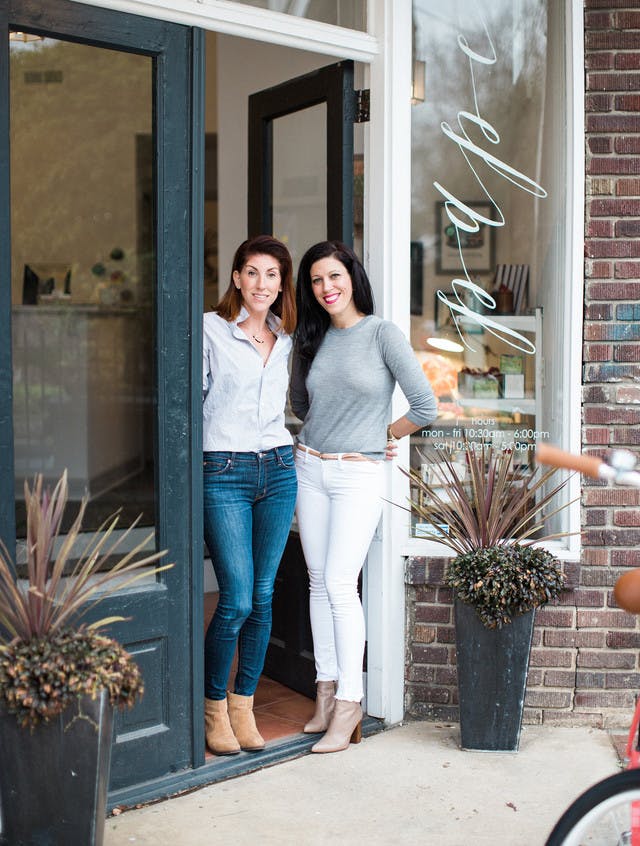 Well, we're ready to schedule a trip to Charleston stat! But in the meantime, we can check out the special shopping experience that is Mac & Murphy via their online store http://www.macandmurphy.com/.
Dear Ami & Liz - thank you for spreading the love through paper and personal touches (now perfectly organized).
xoxo - everyone at The Container Store
Contained Home Organizers: Sherri Hopper & Tori Jenkins, Control Freaks