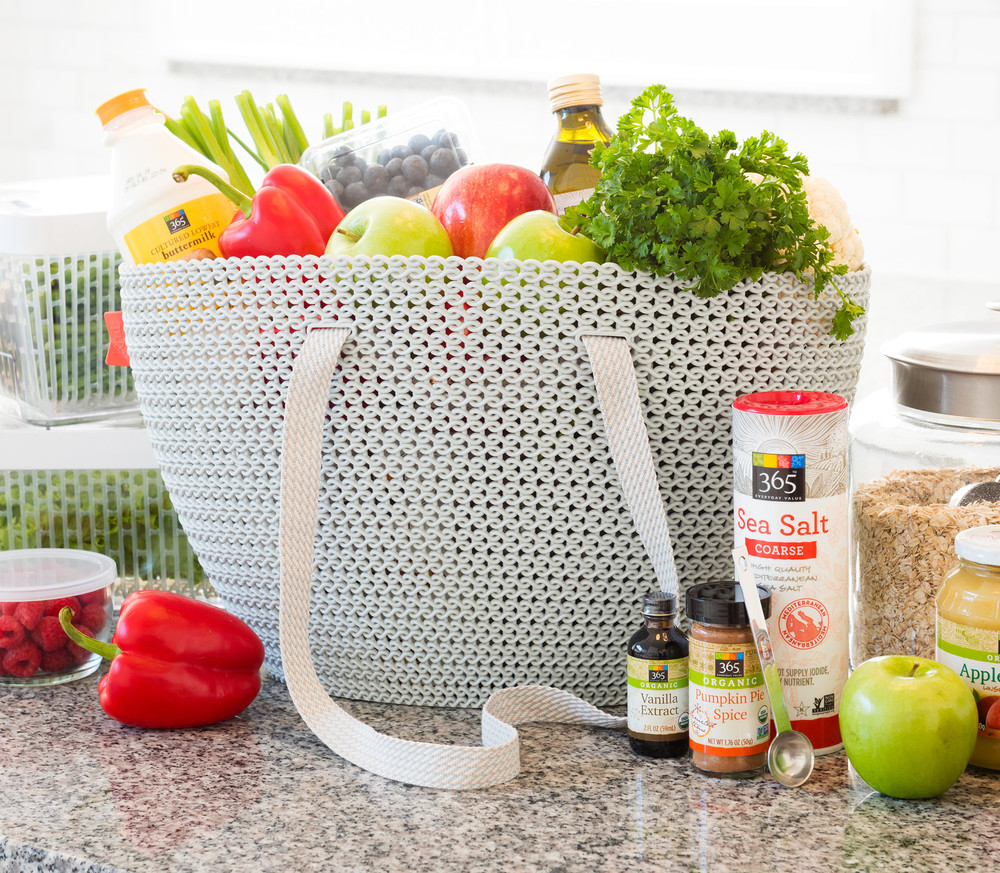 Family, friends and food. For most of us, the holidays are a time to enjoy our favorite things with our favorite people. And this year, we've teamed up with our friends from Whole Foods Market to make creating those dishes quick and easy - giving you more time to eat, drink and be merry with family and friends.
First things first. We went shopping at Whole Foods Market. Our Curver Knit Market Tote was just the thing to bring home all our fresh produce and ingredients for our favorite dishes and Whole Foods Market stepped in to hook us up with awesome recipes.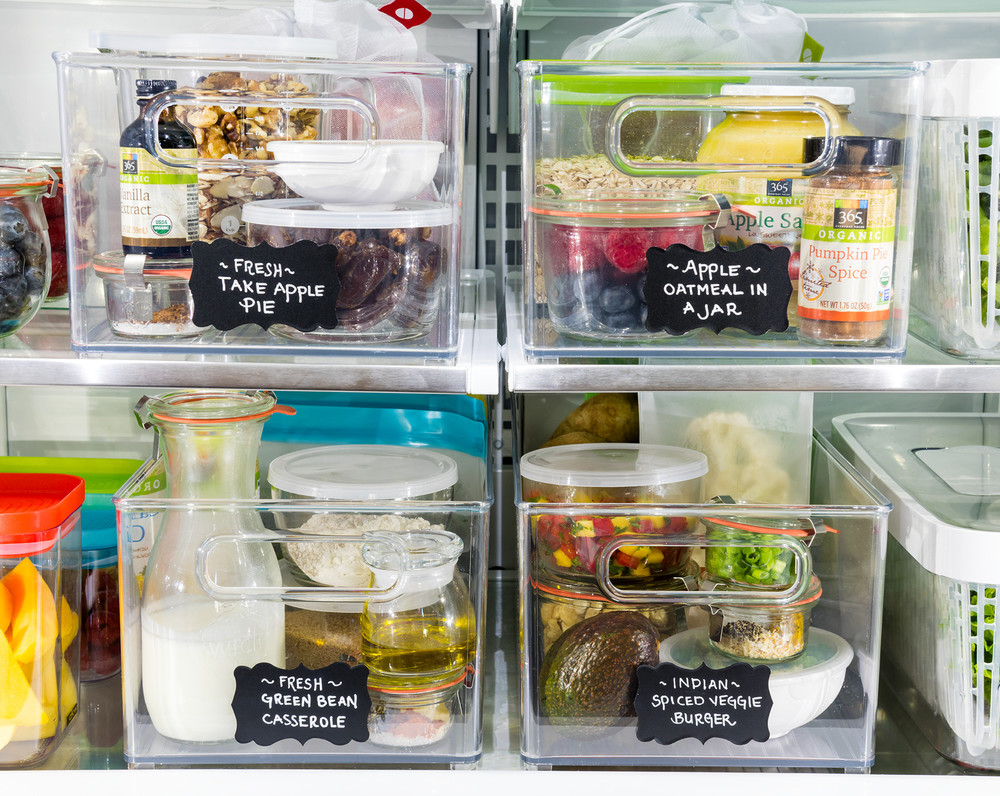 Once home, we stole a page from the cooking shows and measured out all our ingredients for each dish, organizing them in our Linus Deep Drawer Binz. Doing all the prep work ahead of time also makes it a snap for little ones to lend a helping hand when it comes time to make each dish.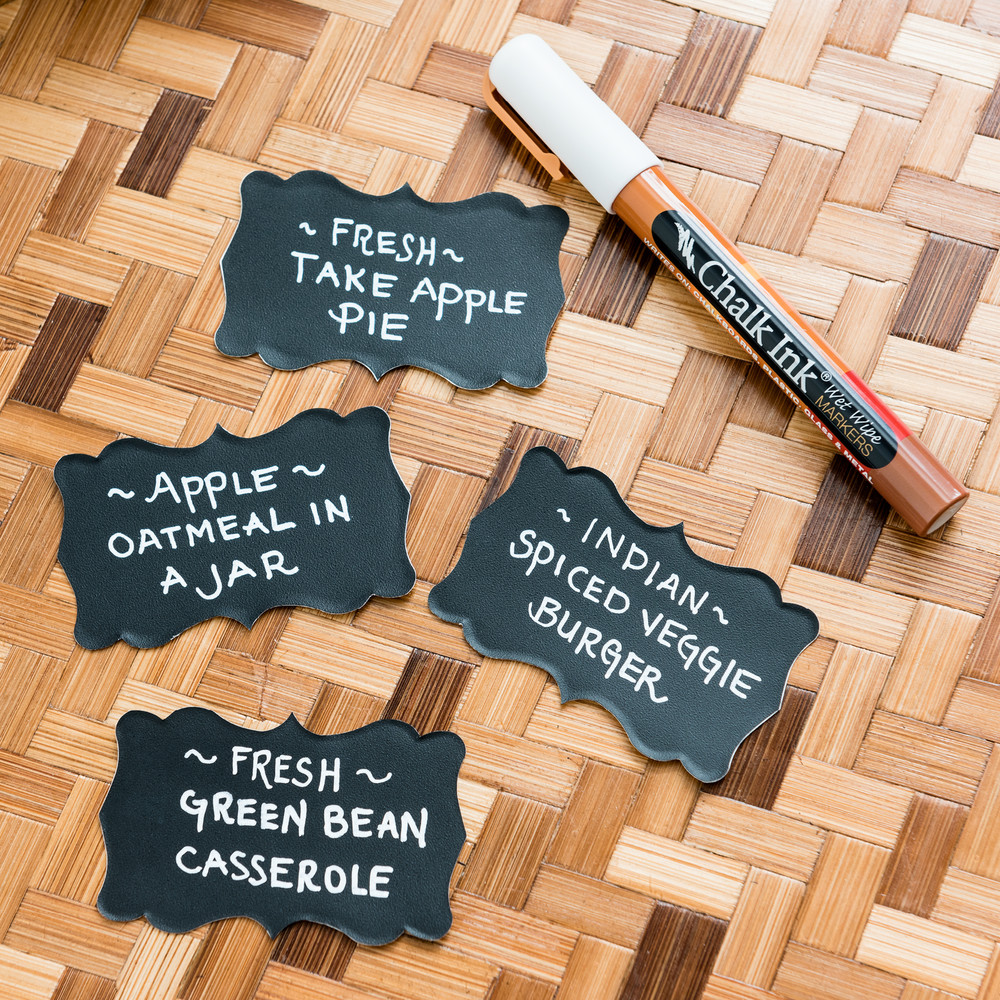 Our Chisel Tip Chalk Markers and Scalloped Chalkboard Adhesive Labels make the contents easy to identify.
Fresh Green Bean Casserole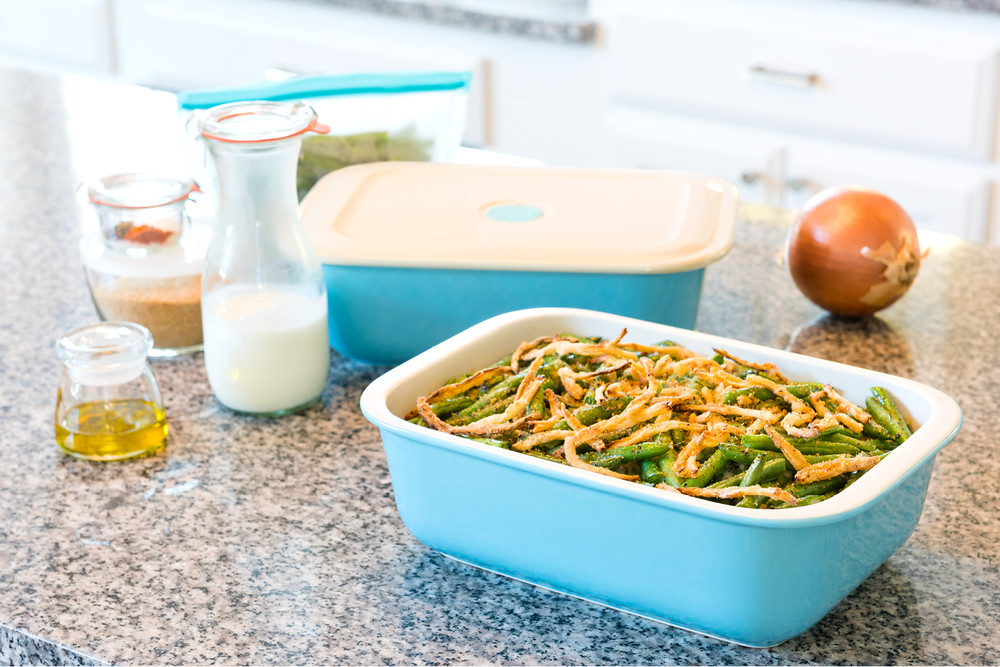 In our opinion, the holidays aren't the holidays without the all-important Green Bean Casserole. And wait until you try this one with made-from-scratch onion crisps and fresh green beans! Sauced with creamy mushroom soup, it's irresistible. We baked ours in our Thermostone Realseal Ceramic Baker, making it easy to take to the party.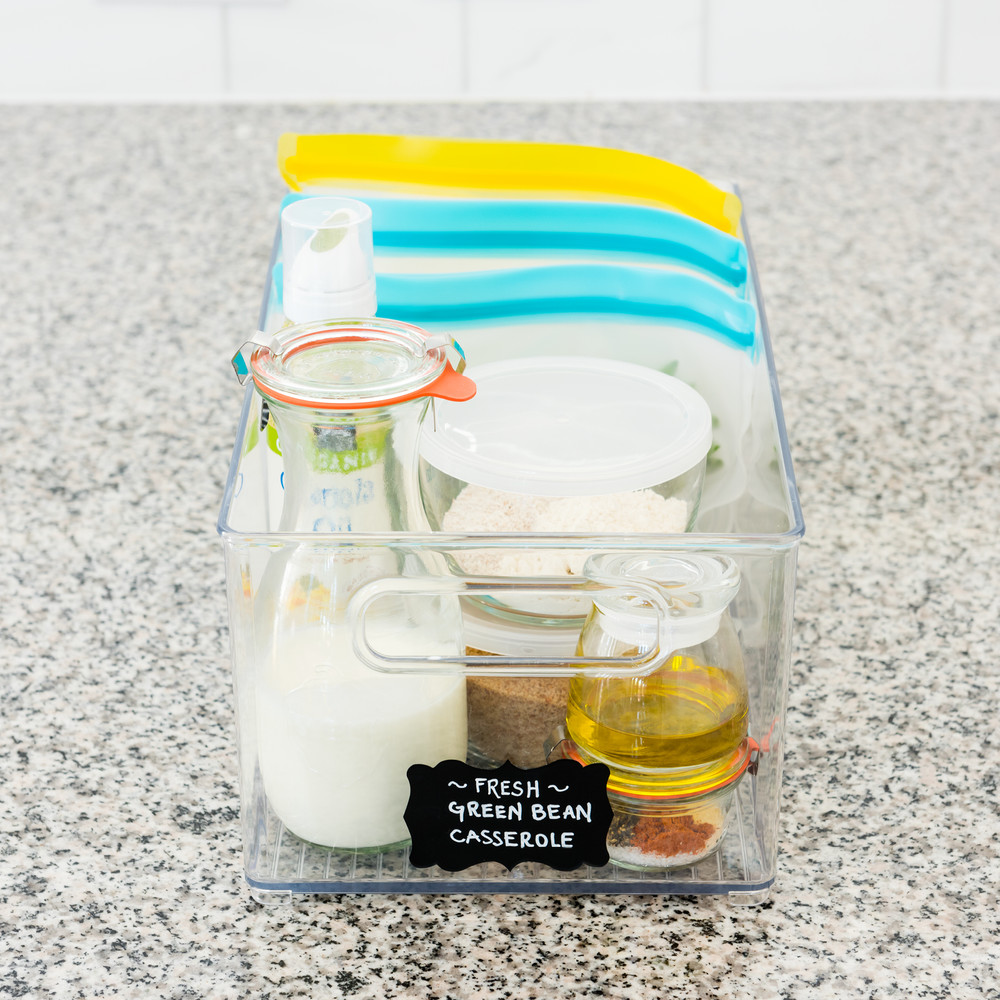 Ingredients
Natural cooking spray
1/4 cup whole wheat flour
1/4 cup all-purpose flour
1/4 teaspoon garlic powder
1/2 teaspoon fine sea salt, divided
1/2 teaspoon ground black pepper, divided
1/8 teaspoon cayenne
2 large yellow onions, thinly sliced
1/2 cup buttermilk
1 cup whole wheat breadcrumbs
2 tablespoons extra-virgin olive oil
1 pound green beans, cut into (2-inch) pieces
1 (14.5-ounce) can cream of mushroom soup (not condensed)
Instructions
Preheat the oven to 425°F. Spray a large baking sheet and a 9x13-inch casserole dish with cooking spray; set both aside.
In a large bowl, combine flours, garlic powder, 1/4 teaspoon of the salt, 1/4 teaspoon of the pepper and cayenne. Add onions and toss to coat. Pour buttermilk over onions and toss again to coat. In a second large bowl, combine breadcrumbs and oil then add onions and toss gently to coat. Transfer to the prepared baking sheet and spread out in a single layer. Bake, gently tossing halfway through, until golden brown and crisp, about 30 minutes. Reduce the oven temperature to 350°F.
Meanwhile, bring a large pot of salted water to a boil. Add green beans and cook until just tender, 2 to 3 minutes; drain well and transfer to a large bowl.
Add soup, half of the onion rings, remaining salt and remaining pepper to the bowl with green beans and toss gently. Transfer to the prepared baking dish, top with remaining onion rings and bake until hot and bubbly, about 30 minutes.
Nutritional Info: Per Serving: 340 calories (60 from fat), 6g total fat, 2g saturated fat, 5mg cholesterol, 290mg sodium, 55g carbohydrates, (12 g dietary fiber, 7g sugar), 17g protein.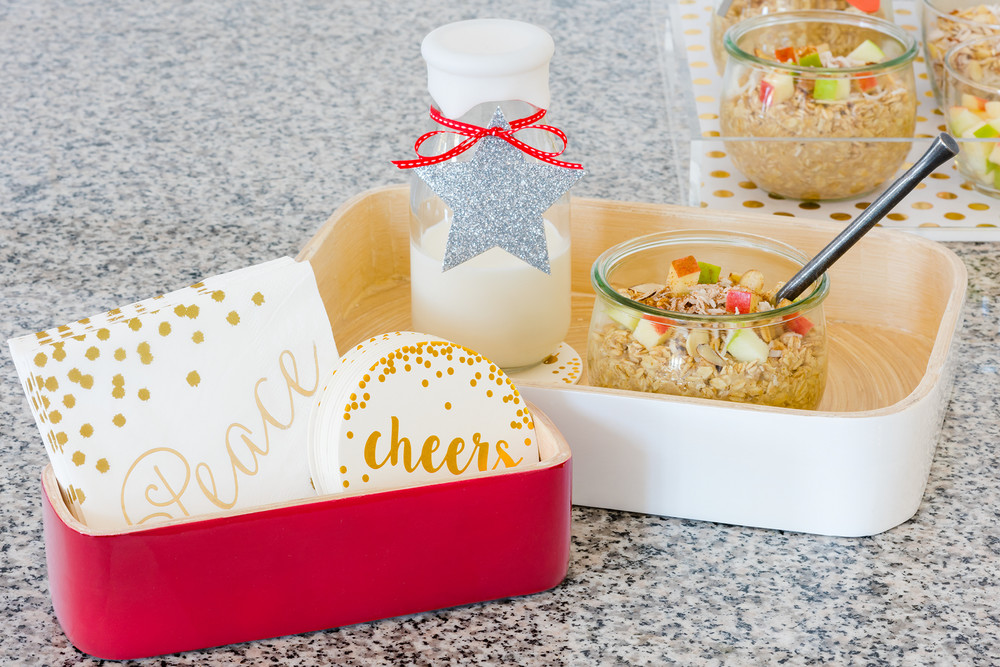 There's nothing like warm oatmeal topped with fresh apple pieces, almonds and coconut to get you fueled up for those busy holiday mornings. And these tasty jars are delicious even when cold. Make a big batch of them on Sunday night to have on-the-go breakfasts for the whole week! For a presentation fit for company, we served ours in our Lacquered Bamboo Bins along with individual Glass Milk Bottles, White and Gold Peace Napkins and Gold Cheers Coasters.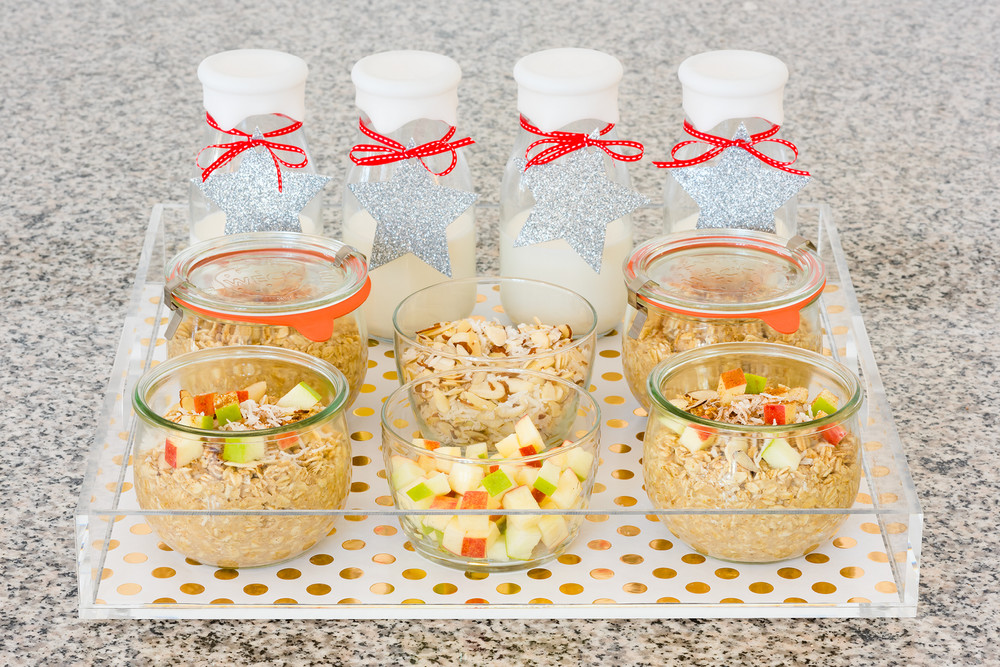 Don't forget to set out Weck Jars filled with apple cubes, almonds, coconut, granola or other toppings.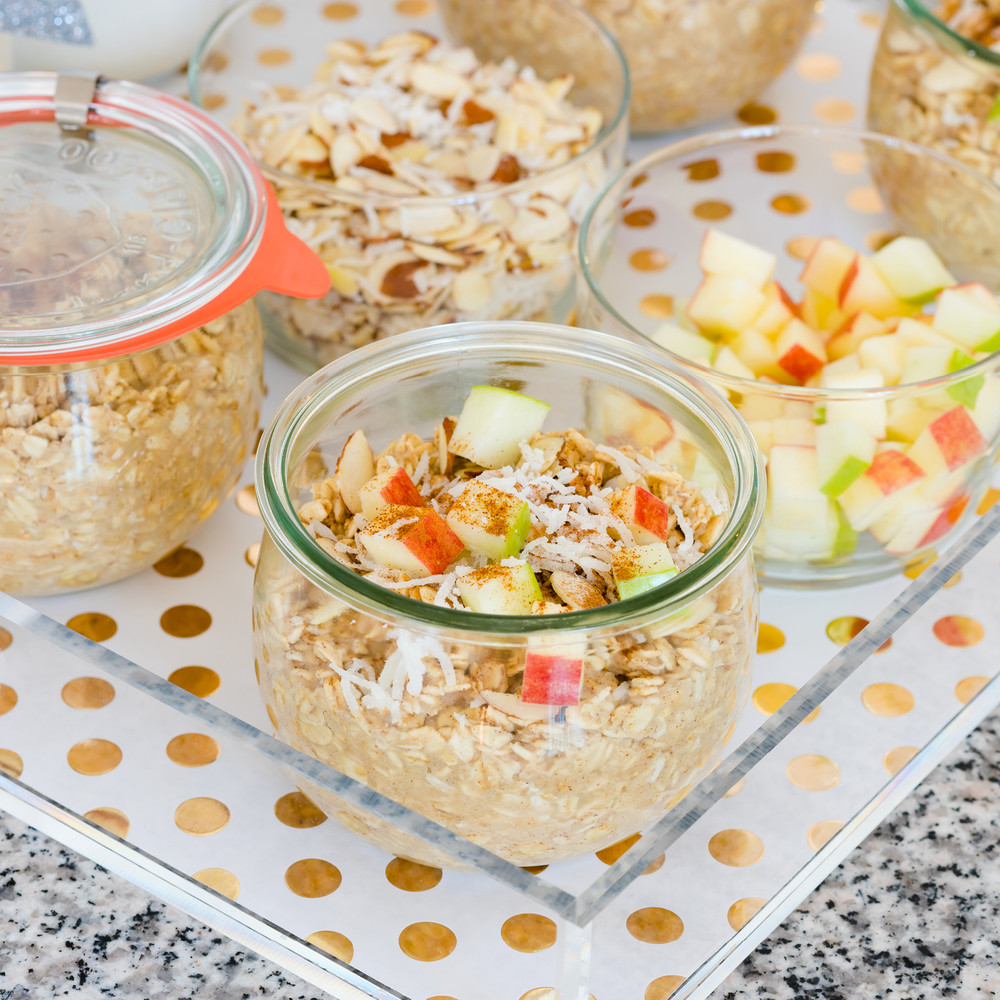 One of our Acrylic Trays lined with festive paper makes a stunning serving piece.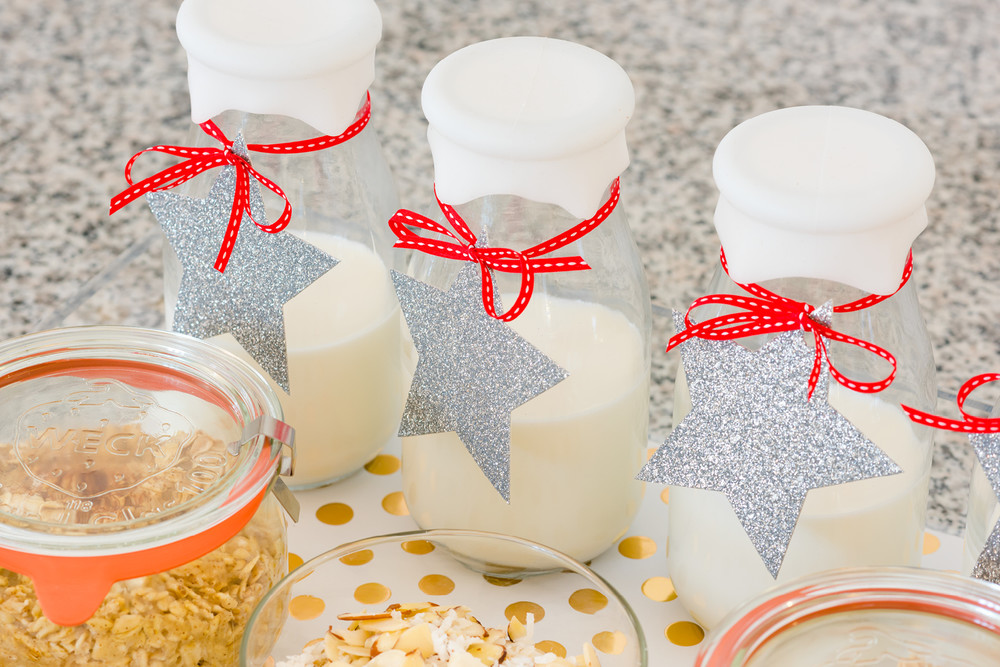 Our 16-ounce Glass Milk Bottles will make each guest feel special. A silicone lid keeps the milk fresh, while a bit of ribbon and a Silver Glitter Star Gift Tag makes an adorable name tag.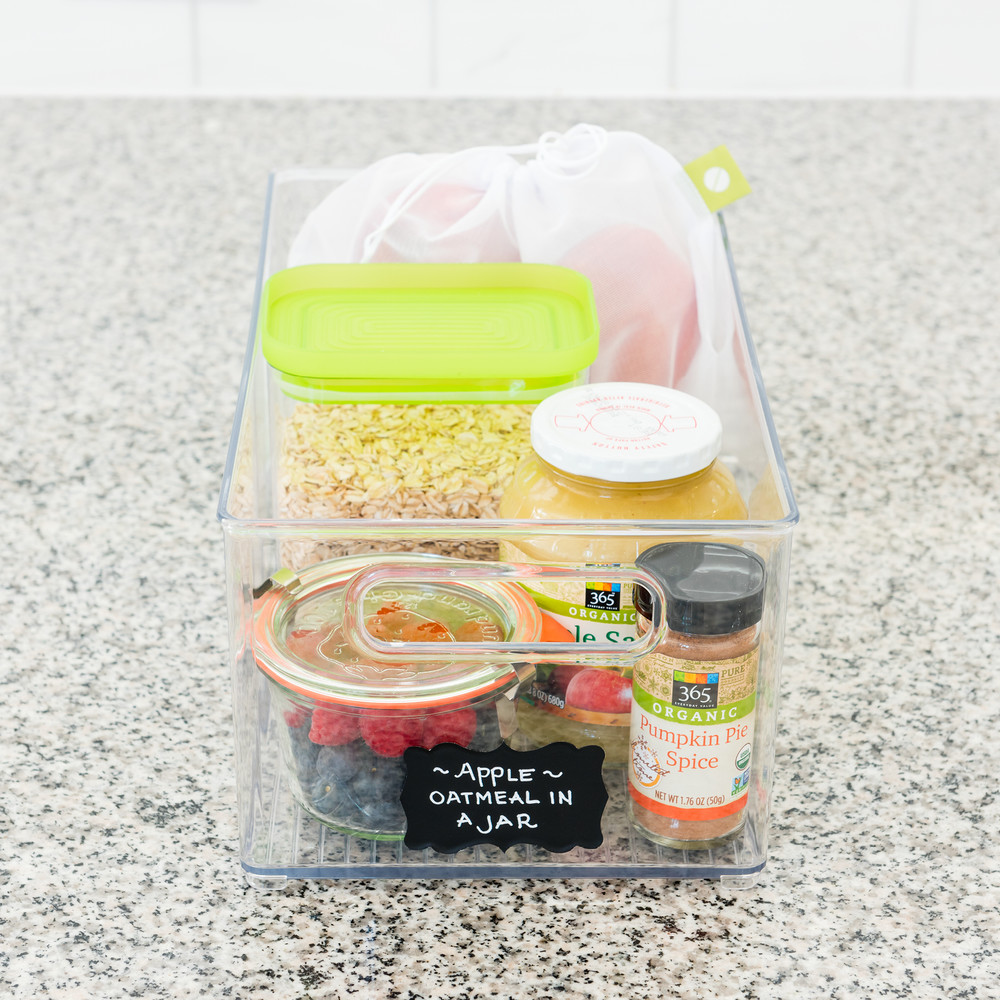 Ingredients
3 cups rolled oats
1 tablespoon pumpkin pie spice
3 cups unsweetened applesauce
Instructions
In a medium bowl, combine oats and pumpkin pie spice, then stir in applesauce. Evenly distribute oat mixture among 6 lidded jars (or other containers) and top each with 1/2 cup water. Cover the jars and place in the refrigerator overnight. (Oatmeal will keep up to 5 days.) When ready to serve, heat the prepared oatmeal or enjoy it cold.
Nutritional Info: Per Serving: 190 calories (25 from fat), 2.5g total fat, 34g carbohydrates, (5 g dietary fiber, 12g sugar), 7g protein.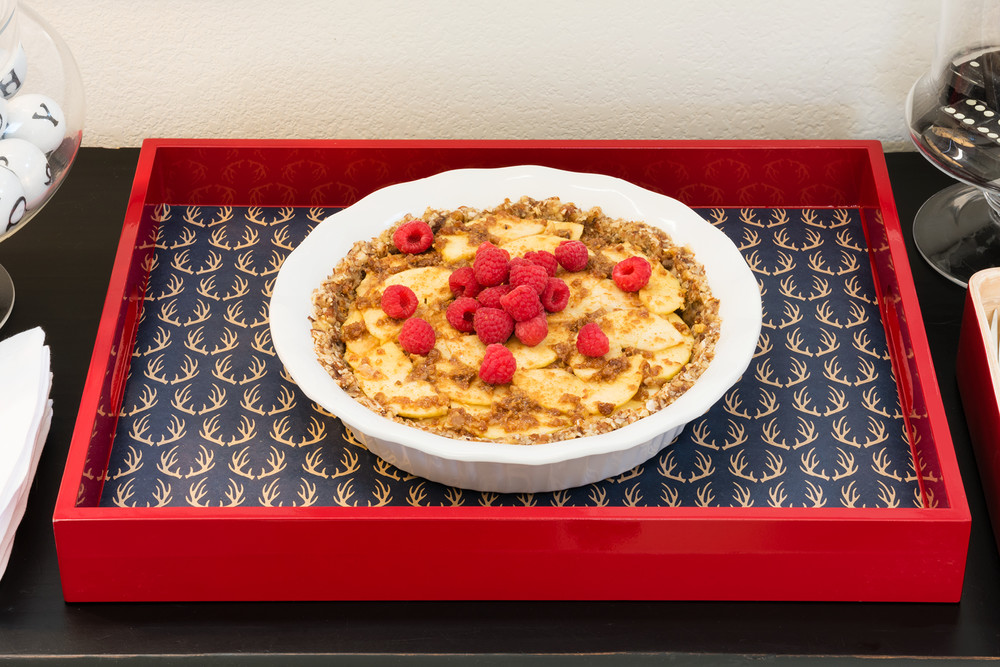 For those looking for an easy, gluten-free dessert, try this no-bake apple pie! Instead of tart baking apples and sugar, it derives its sweetness from Gala or Fuji apples, raisins and orange. Fresh ginger, ground cinnamon and vanilla add a spicy warmth to the flavors.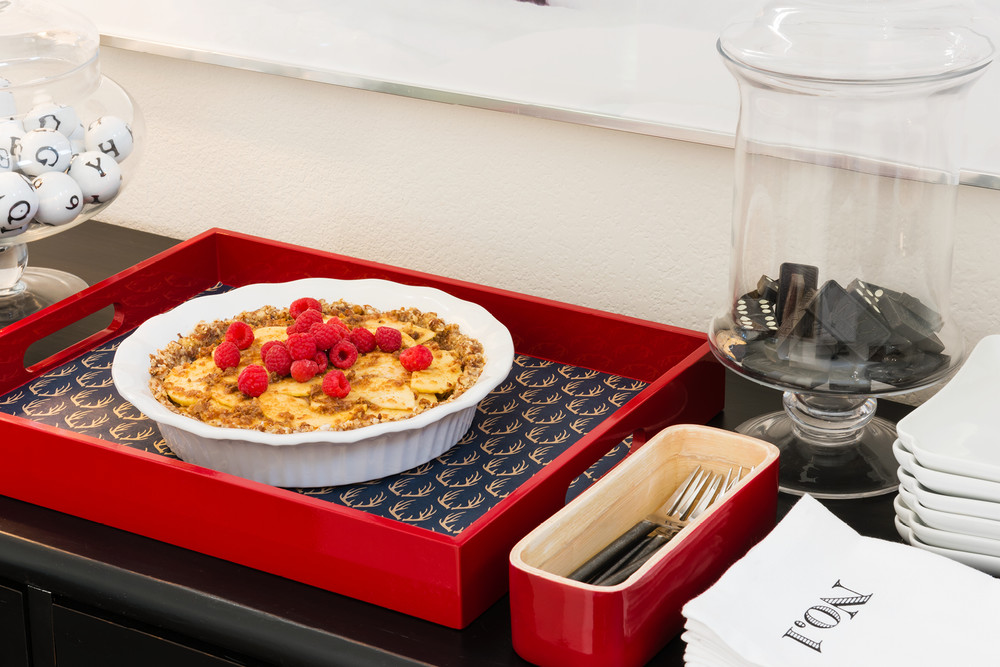 Guests won't want to wait to dig in when you serve up this treat in one of our Lacquered Trays lined with festive wrapping paper.
Crust
8 ounces pitted dates
2 cups sliced almonds
1 cup chopped walnuts
1/2 teaspoon ground cinnamon
1/4 teaspoon fine sea salt
Filling
1 whole orange, peeled and sectioned
1/4 cup raisins
2 teaspoons finely chopped peeled ginger root
1-1/2 teaspoons ground cinnamon
1/2 teaspoon pure vanilla extract
3 large Fuji or Gala apples, peeled, cored and thinly sliced
1/4 cup toasted unsweetened shredded coconut (optional)
Instructions
For the crust, bring 1 cup water to a boil. Place boiling water and dates in a small bowl and let soak for 10 minutes. Drain and reserve soaking liquid. Place dates, almonds, walnuts, cinnamon and salt in the bowl of a food processor; blend to form a sticky paste. (There will be larger pieces of nuts.) If needed, thin with a couple of tablespoons or more of reserved soaking liquid to help the blending process. Spoon the mixture into 9-inch pie plate; press over the bottom and up the sides to form the crust. Set aside.
For the filling, place orange, raisins, ginger, cinnamon and vanilla in the bowl of a food processor. Pulse for a few seconds to finely chop the fruit and make some juice. Place sliced apples in a medium bowl and add orange-raisin mixture. Toss to coat completely. Transfer apple-mixture to prepared crust. Cover and refrigerate for at least 2 hours. Sprinkle with coconut before serving.
Nutritional Info: Per Serving: 260 calories (140 from fat), 15g total fat, 2g saturated fat, 50mg sodium, 28g carbohydrates, (5 g dietary fiber, 20g sugar), 7g protein.
Indian-Spiced Veggie Burgers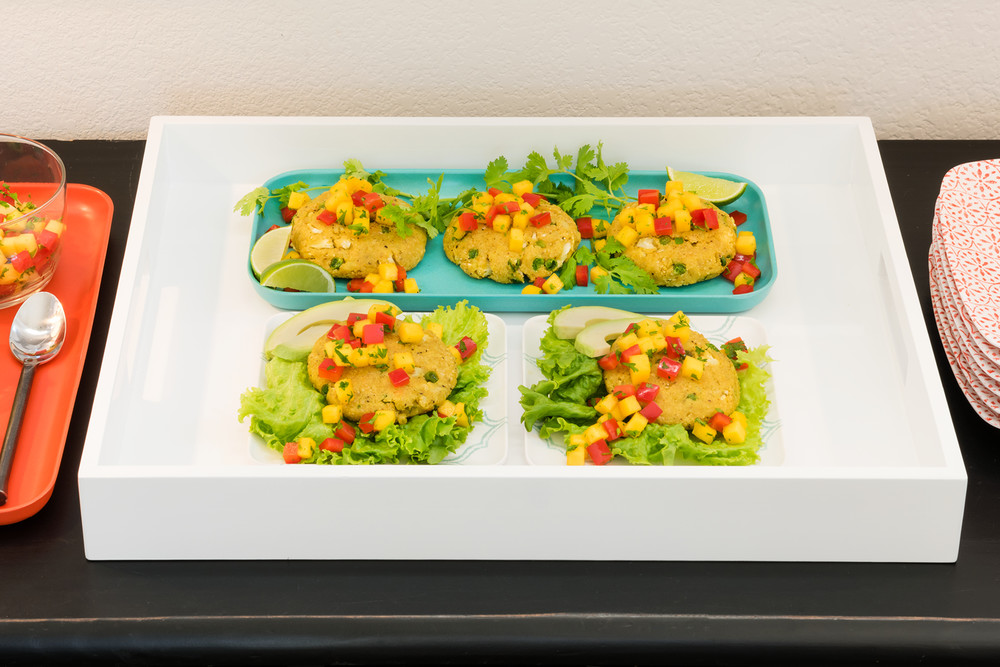 You won't mind taking a break from heavier dishes when you try these Indian-Spiced Veggie Burgers. Made with potatoes, cauliflower, cashews and plenty of spice, these tasty burgers will make you forget they're gluten-free and vegetarian!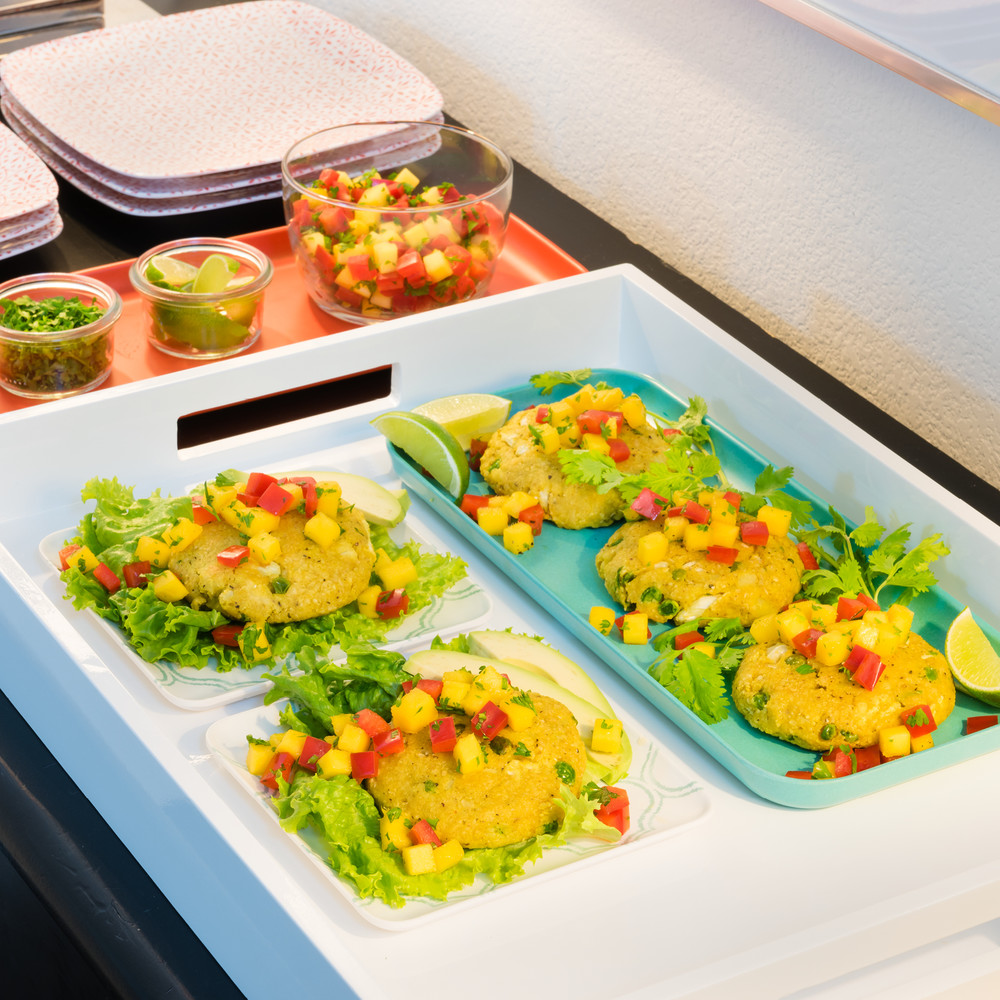 Mango salsa, sliced avocado and cilantro add color while packing a flavor punch! Serving the burgers on our Multi-Color Bamboo Serving Trays and White & Aqua Quatrefoil Melamine Plates make for a feast for the eyes.
Ingredients
1 cup peeled and diced potato (from an 8-ounce russet potato)
1/2 cup small cauliflower florets
1-1/2 cups raw unsalted cashews
1/2 cup thawed frozen peas
1/3 cup diced green onions
2 teaspoons curry powder
1-1/2 teaspoons onion granules
1/4 teaspoon fine sea salt
1/4 teaspoon ground black pepper
Instructions
Cook potato in boiling water until very soft, about 15 minutes. Drain and cool slightly. Cook cauliflower in boiling water until very soft, about 6 minutes. Drain and cool slightly.
Preheat the oven to 400°F. Place cashews in a food processor and pulse until finely ground. In a large bowl, combine potato, cauliflower, cashews and remaining ingredients. Use your hands to break up chunks of potato and cauliflower, and press the ingredients until they hold together. With damp hands, form into patties* about 4 inches in diameter and 3/4-inch thick. Place on a parchment paper-lined baking sheet. Bake 15 minutes, then flip burgers and continue to bake until lightly browned on the other side, about 15 minutes longer.
Forming neat veggie burgers: Dampen the inside of a 1/2-cup measuring cup and pack it with the burger mixture, pressing down firmly. Turn the cup over and shake it gently to release the mixture into the palm of your hand, then press down with your other hand until the patty is about 3/4-inch thick.
Freezing veggie burgers: Cool cooked burgers and wrap individually in plastic wrap and then foil, or place them in individual resealable plastic bags, and freeze up to 6 months. To reheat, unwrap the burgers, place on a parchment paper-lined baking sheet and bake at 300°F until heated through, 20 to 25 minutes.
Nutritional Info:  Per Serving: Serving size: 1 burger, 340 calories (210 from fat), 23g total fat, 4g saturated fat, 180mg sodium, 26g carbohydrates, (4 g dietary fiber, 5g sugar), 11g protein.