Check out the video to see the complete transformation!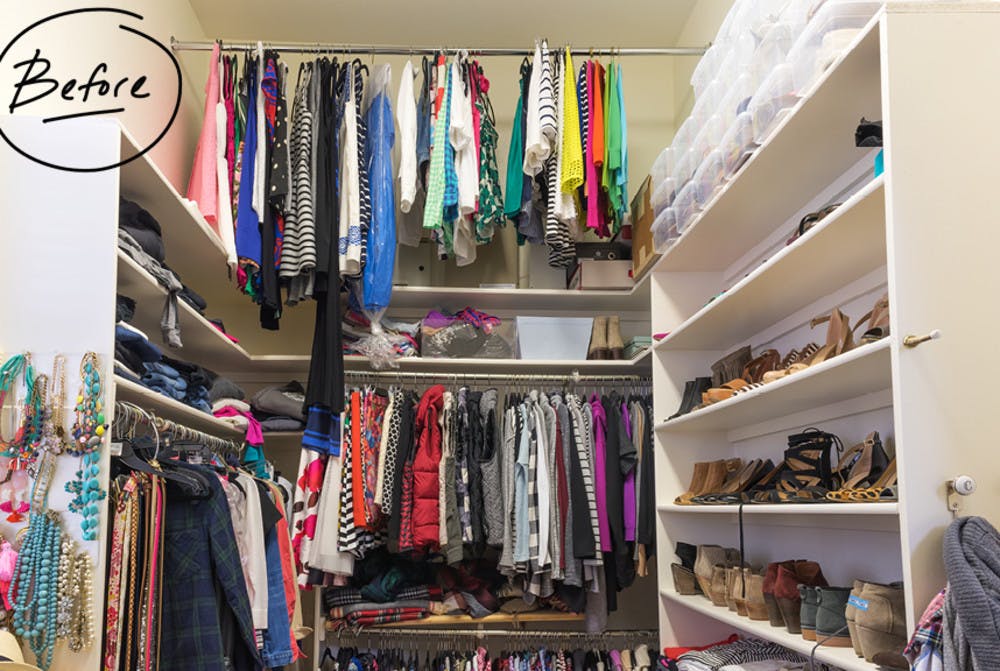 Shoes, purses, jewelry and clothes, Oh MY! Hi Sugarplum blogger, Cassie Freeman, and her husband, John, were tired of dealing with a maxed-out master closet. As a fashion blogger, Cassie's passion had simply taken over! The couple was in desperate need of a space that could contain her wardrobe and accessories while leaving room for John's clothes and shoes. Thankfully, it was our elfa custom closet system and Contained Home Organizer, Alison Thompson, to the rescue.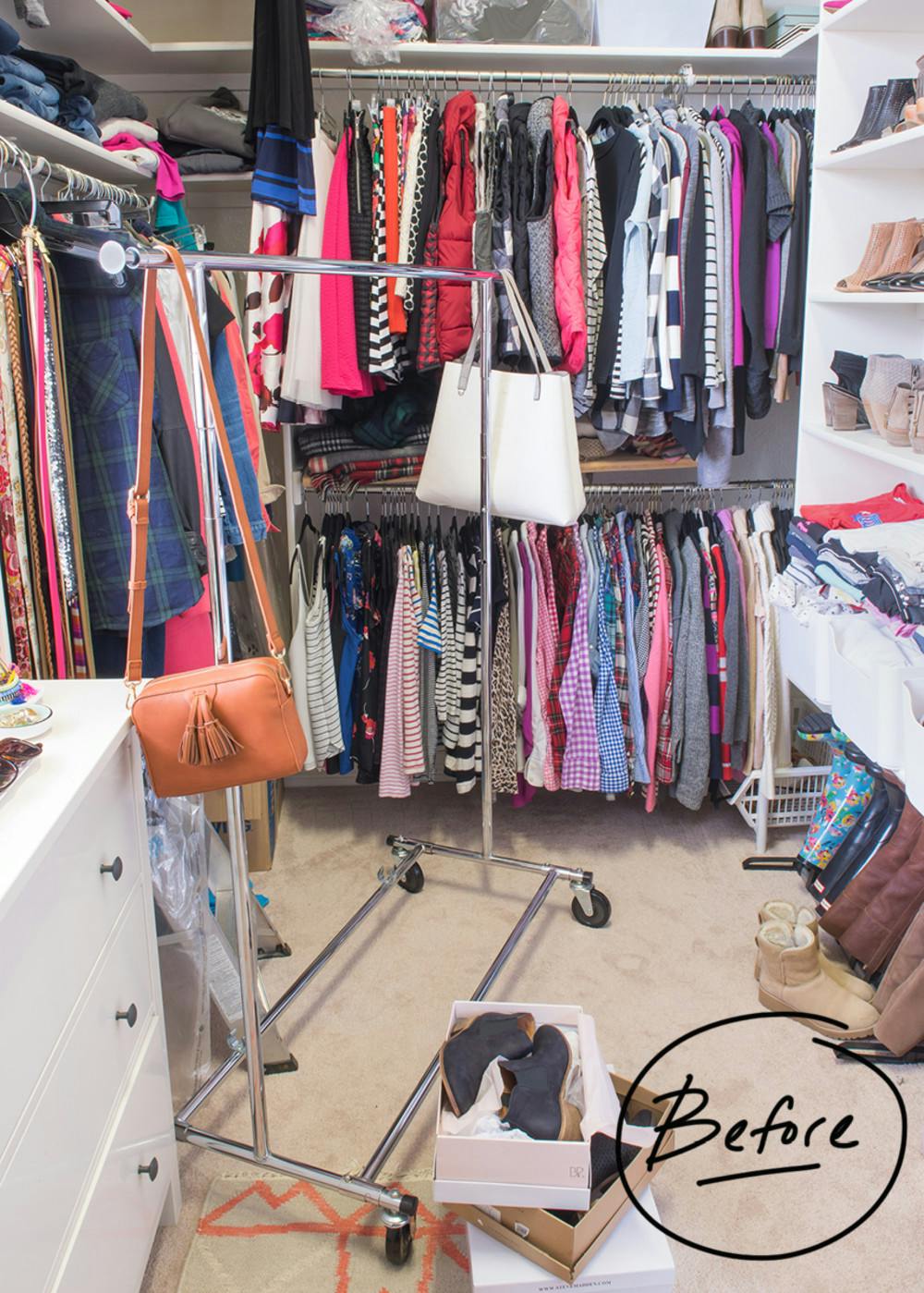 Before, fixed shelves meant a lot of wasted space and haphazardly piled clothes. And in order to stage outfits for her blog stories, Cassie had to squeeze a rolling rack into the already crowded space. "I think John's nemesis is the rolling rack! He fights with it every morning," said Cassie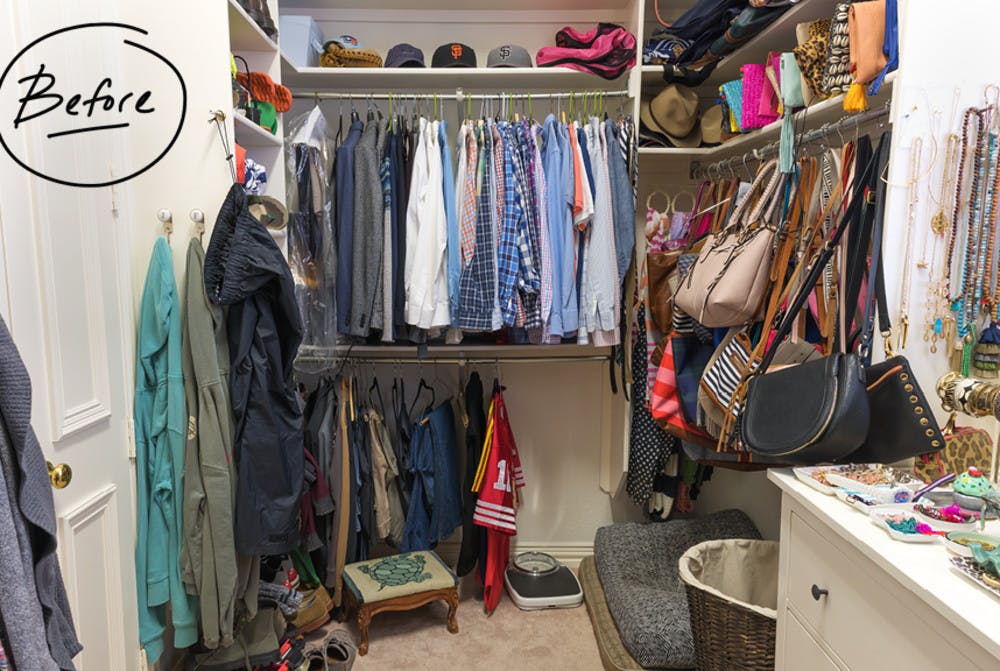 Faced with a lack of drawers and shelves, Cassie resorted to hanging purses from shower hooks. Unfortunately, the hangers and hooks were causing damage to the purse straps, not to mention the tangled jumble meant finding the one she wanted was next to impossible.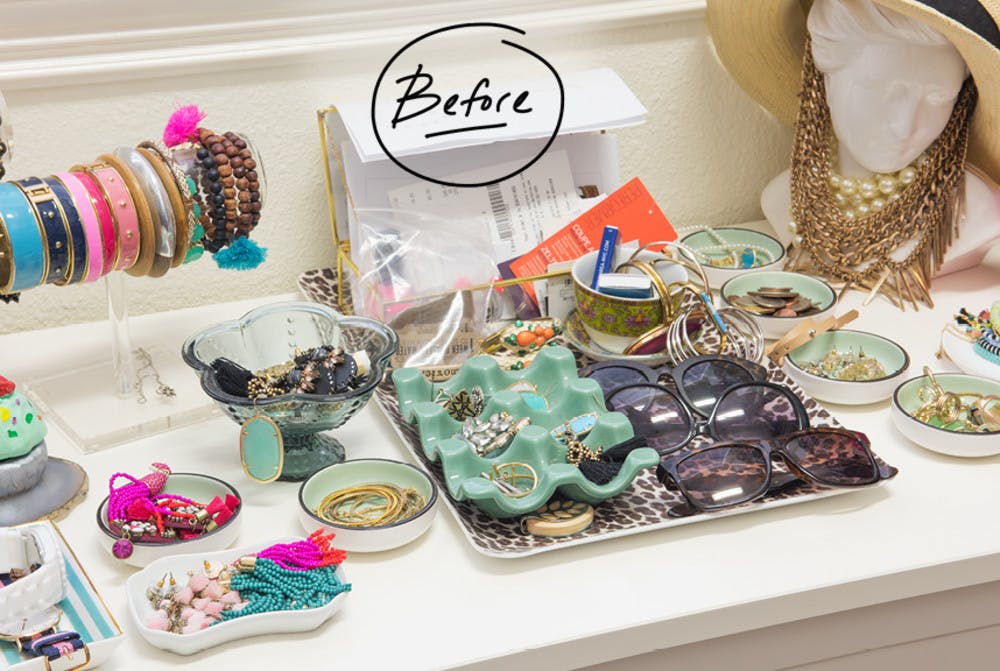 Before, Cassie tried to contain her jewelry collection in a wide assortment of trays and dishes. And while everything was out on the counter top or hanging from a hook, she still had problems finding what she was looking for.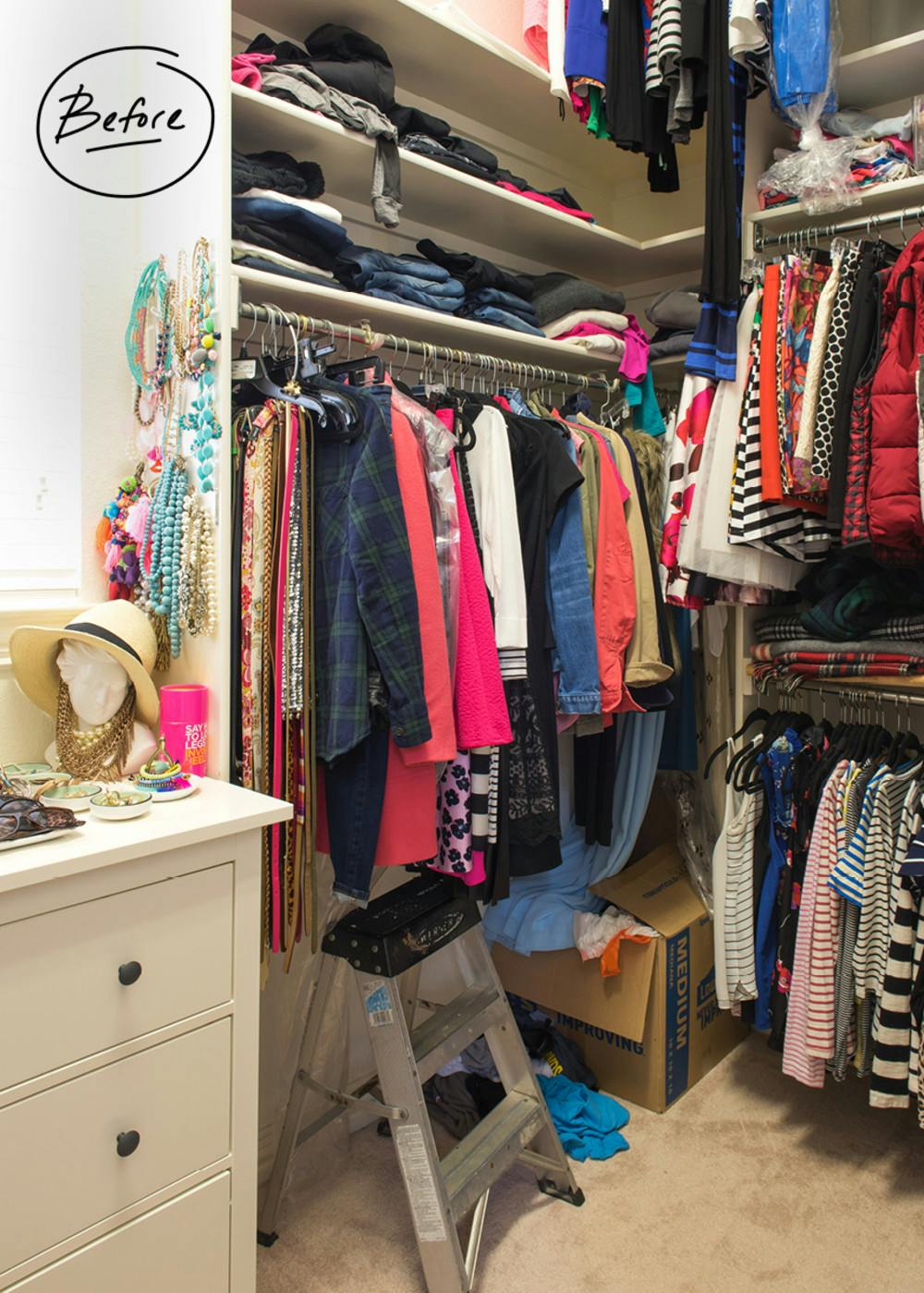 Cassie hung long necklaces from a few hooks, but they still tended to get tangled. Fortunately, Alison knew just what to do.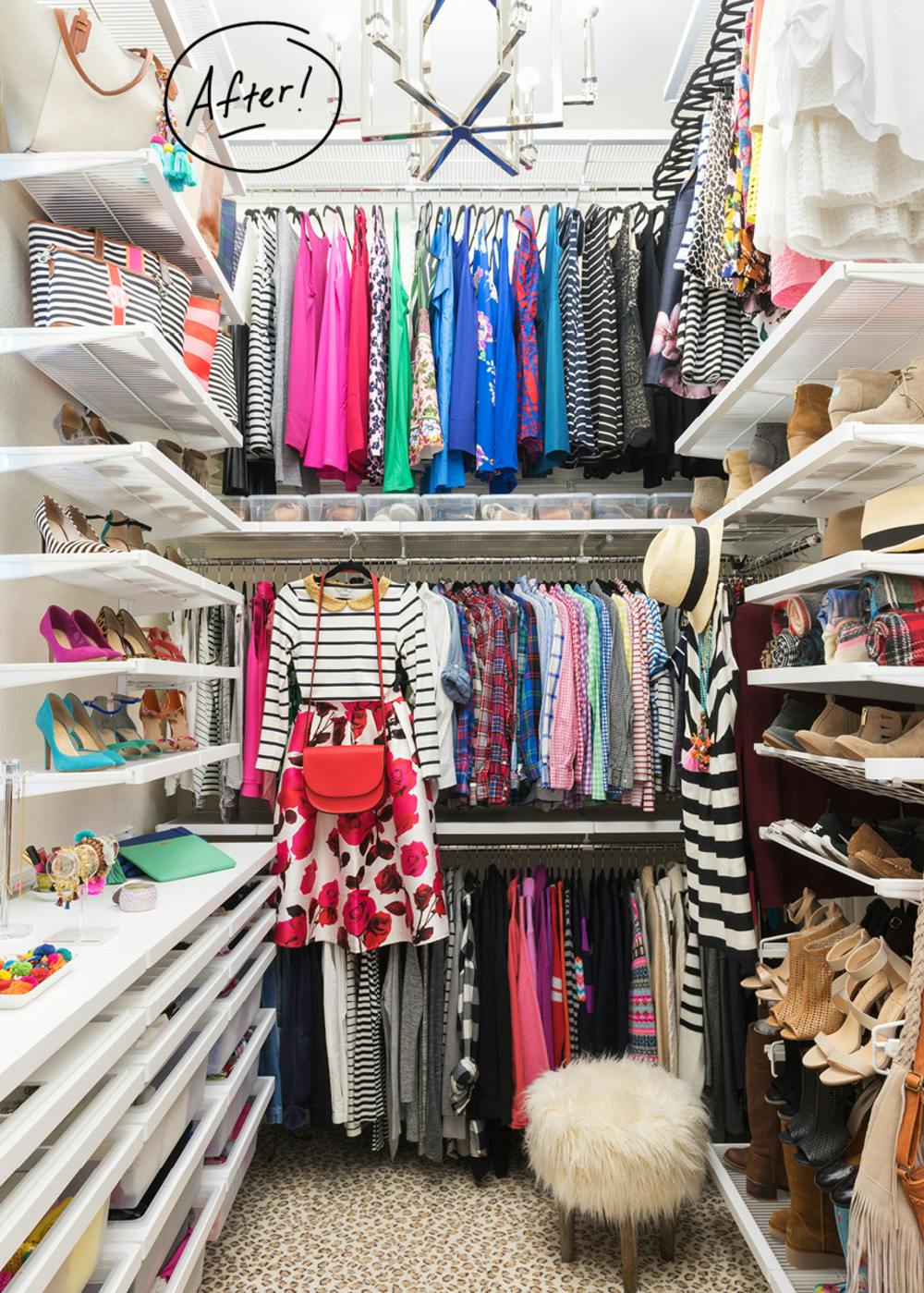 The new elfa closet is hardly recognizable as the same space. "I had grown up with elfa in our closets, so I knew it could really help, but even I was blown away by what a difference it made," said Cassie.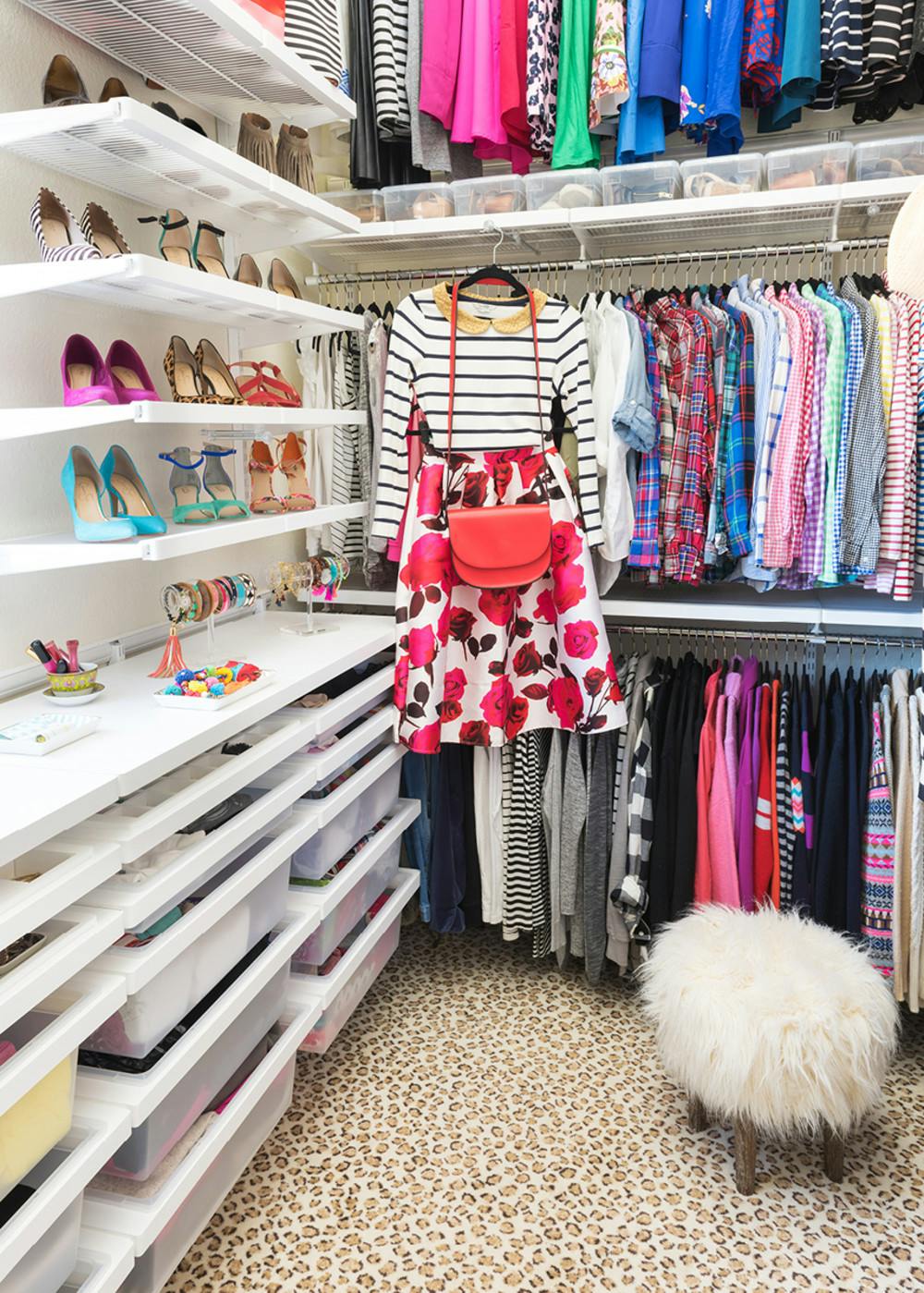 Expandable Valet Rods were a lifesaver. Alison outfitted Cassie's closet with a total of six!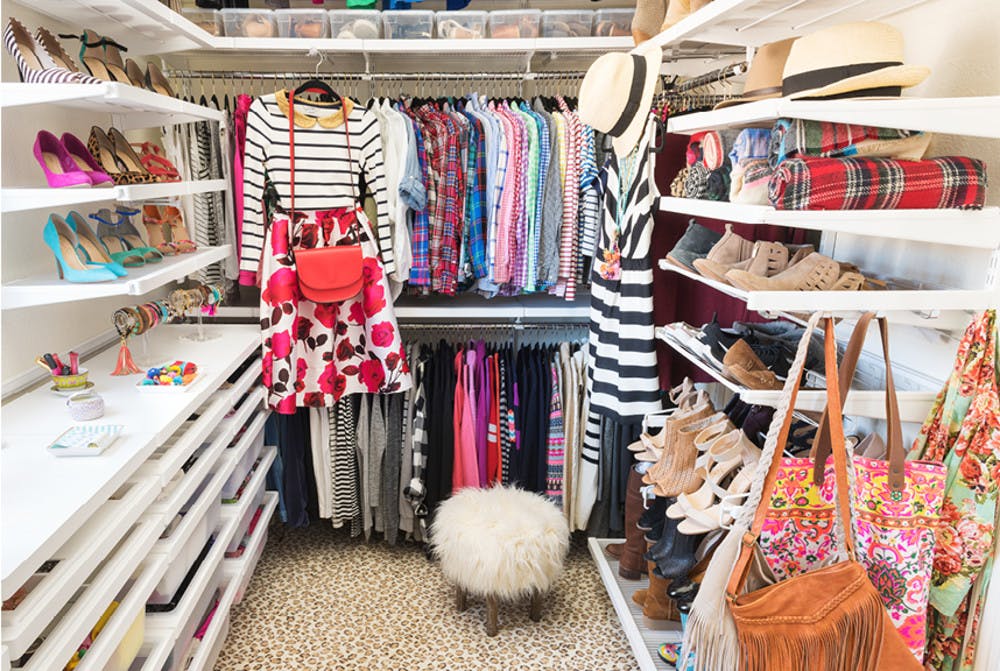 Now Cassie can plan multiple outfits at a time for her blog stories. "The Valet Rods are my ABSOLUTE favorite things! They make it so easy to add accessories to an outfit," said Cassie. A bank of elfa décor Drawers contains the couple's sweaters, scarves. Above, décor Shelves show off some of her favorite heels. On the opposite wall, elfa Gliding Shoe Shelves and Racks put the majority of Cassie's shoes within easy reach.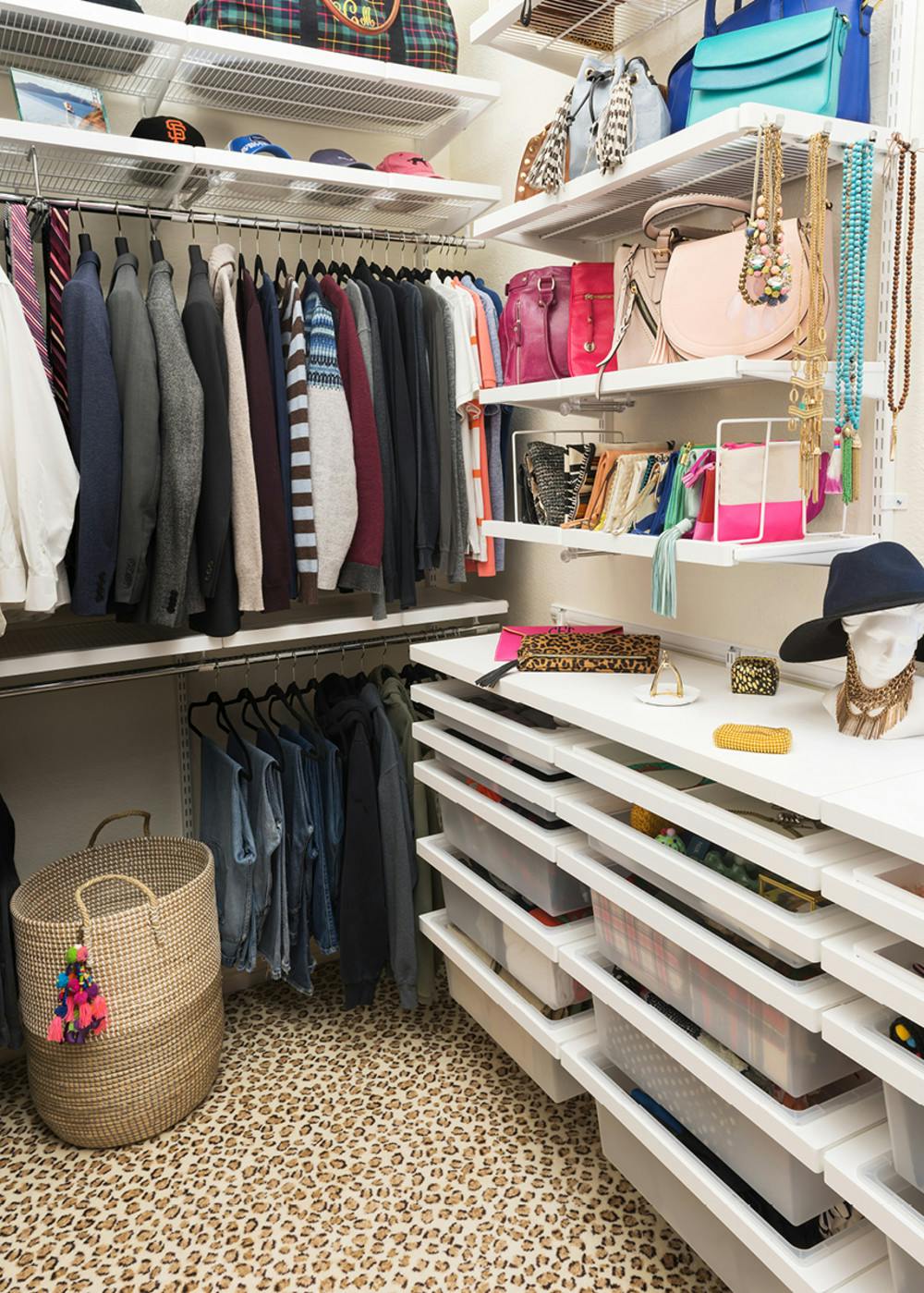 New leopard-print carpet adds a dash of fun and glamour to the space.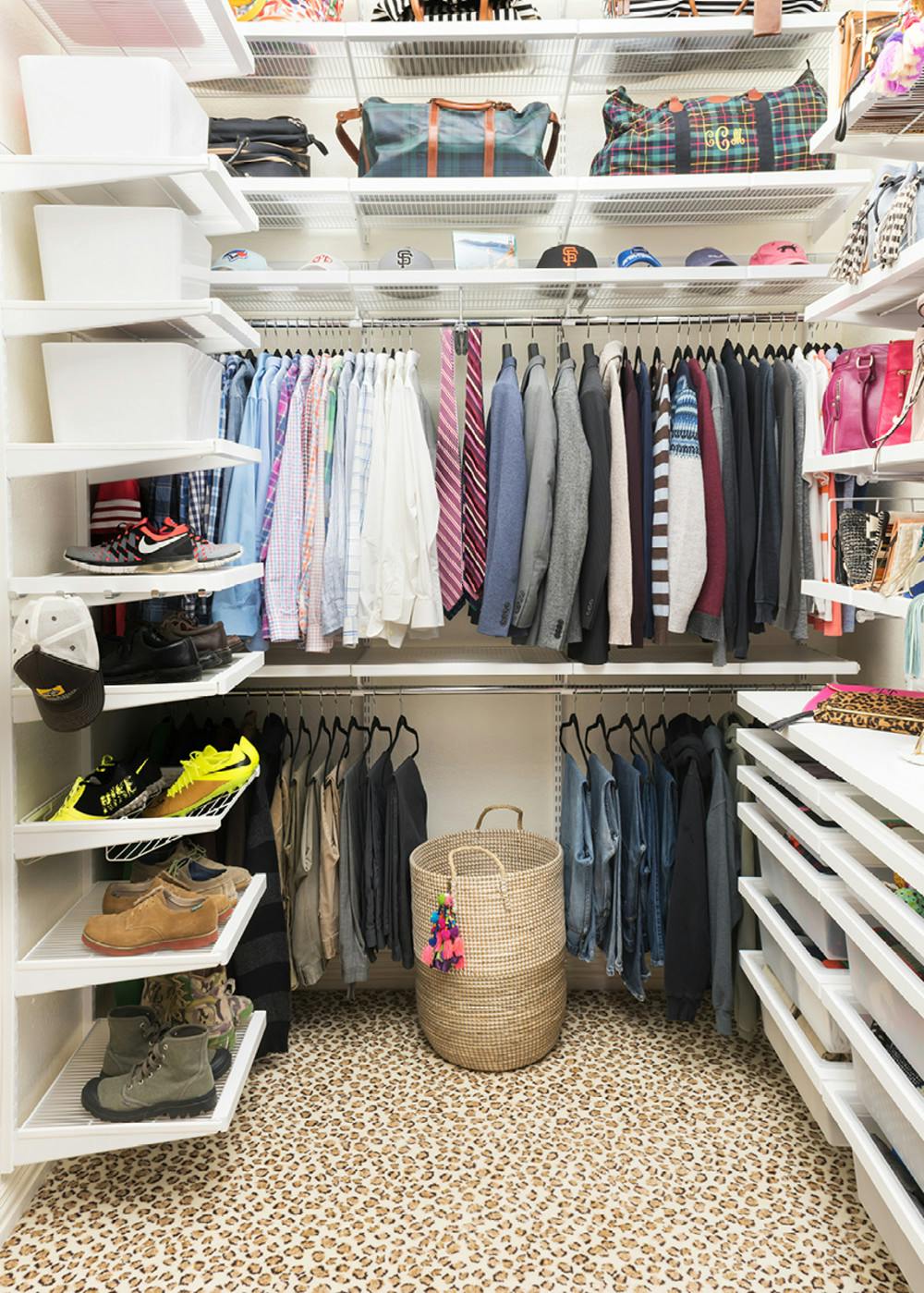 John's suits, shirts, jeans and ball caps all found homes thanks to a row of double-hang and Ventilated Shelving. High above, Alison stored the couples' travel duffels.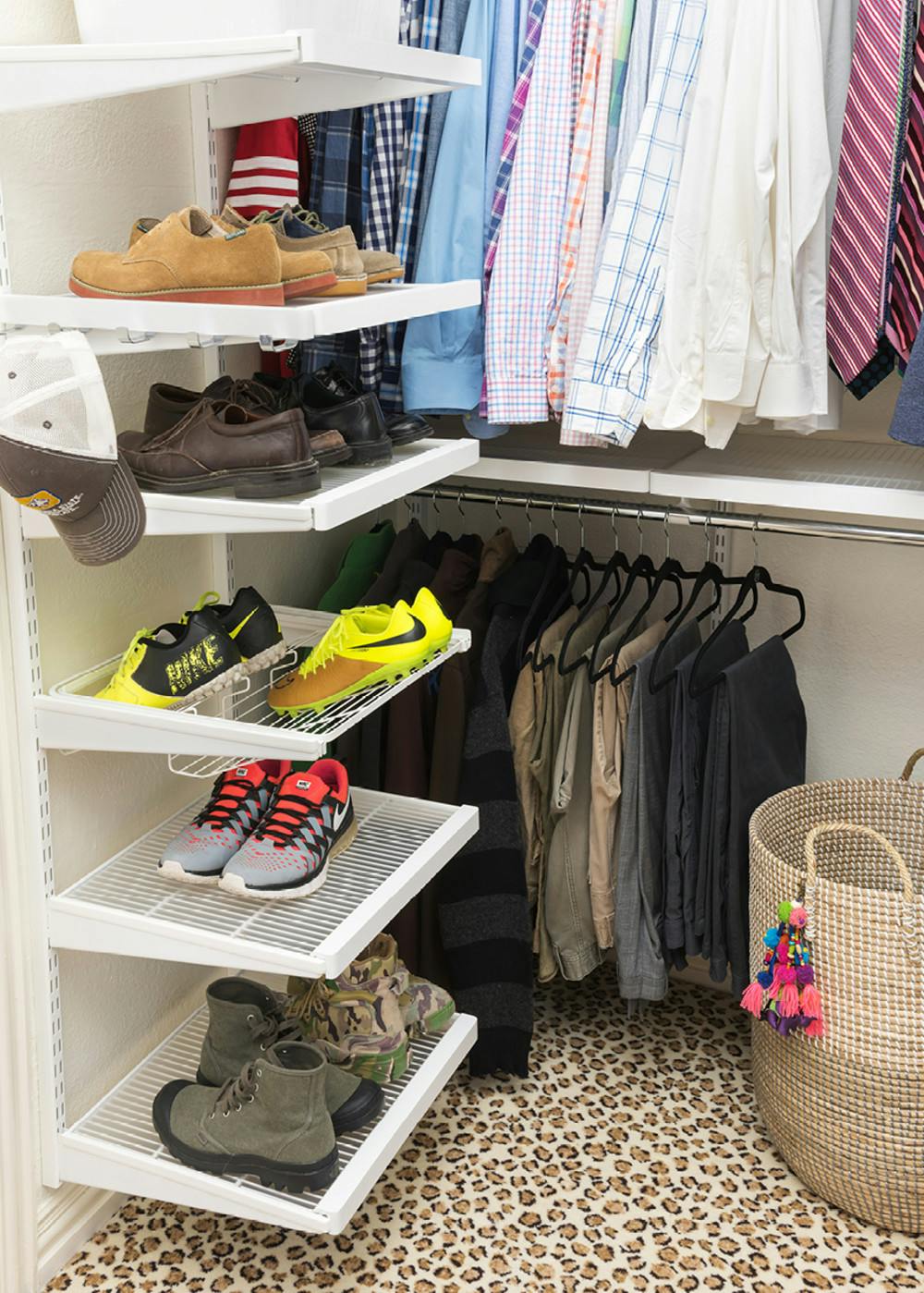 Alison used our 18" Gliding Shoe Racks and Shelves along the short wall to organize all of John's shoes. Bins conceal his flip flops.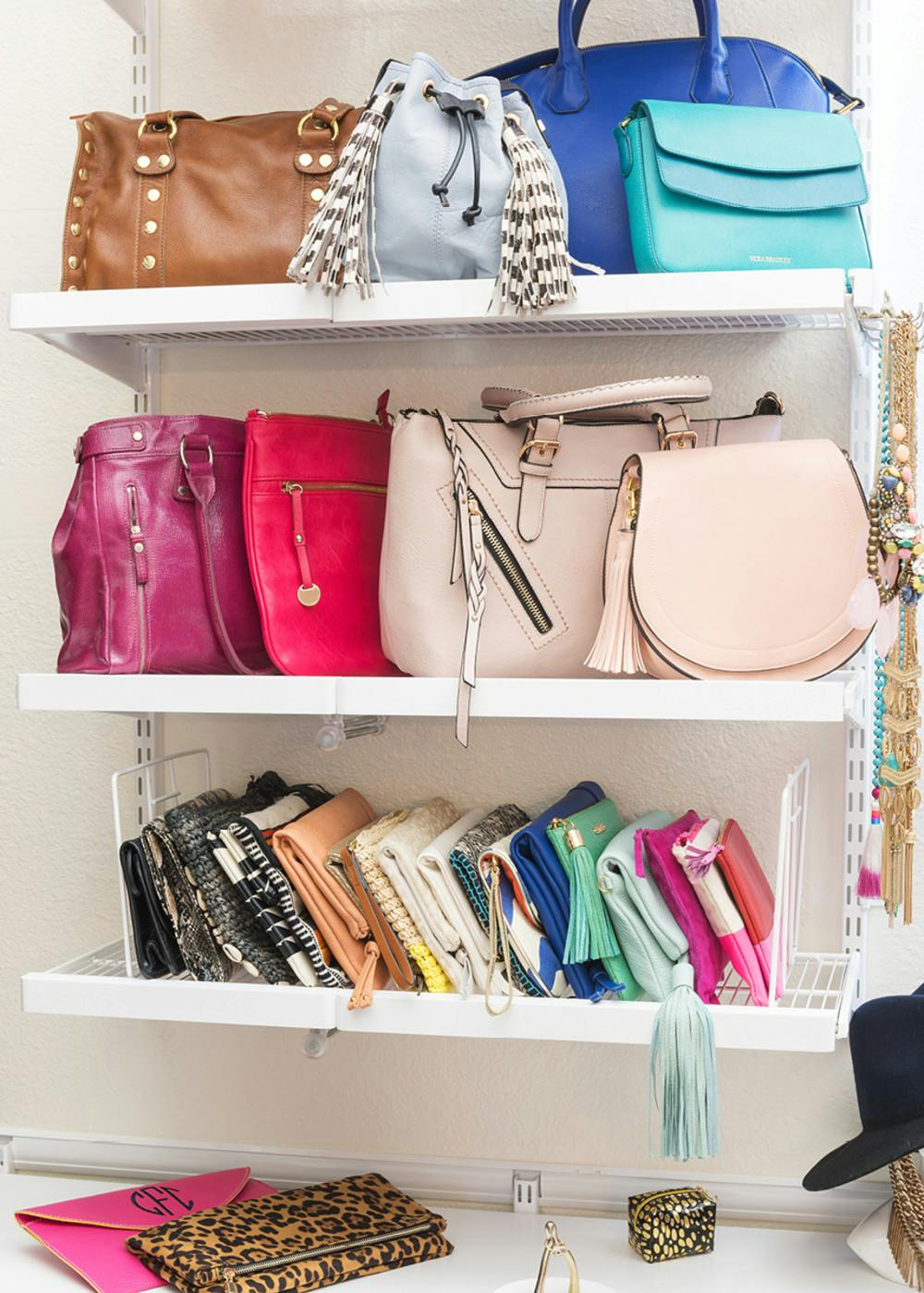 Cassie's statement purses and clutches stand in beautiful order on décor and Ventilated Shelves thanks to our Shelf Dividers.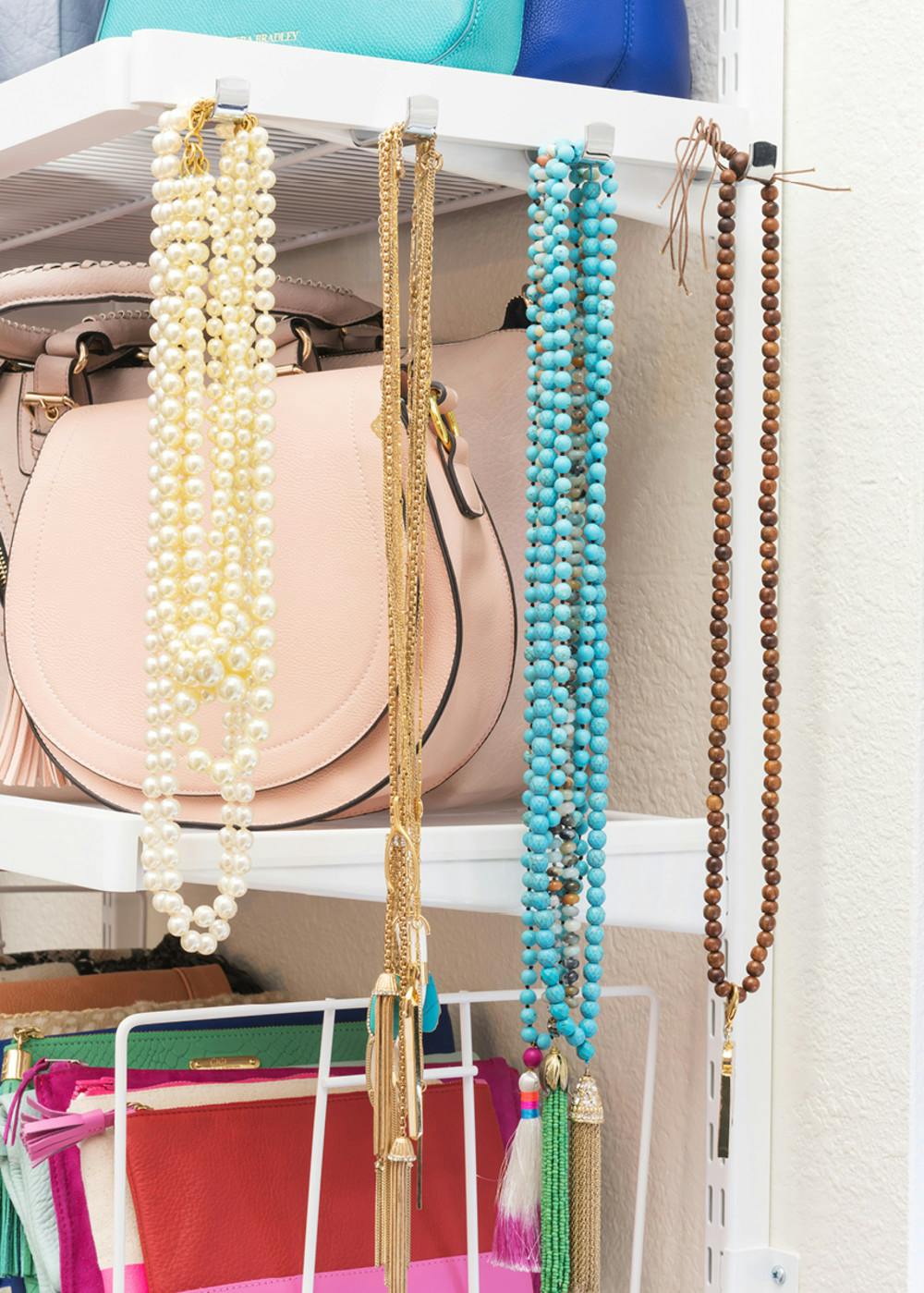 Necklaces are kept tangle-free with the help of our Bracket Hooks at the ends of the Shelves.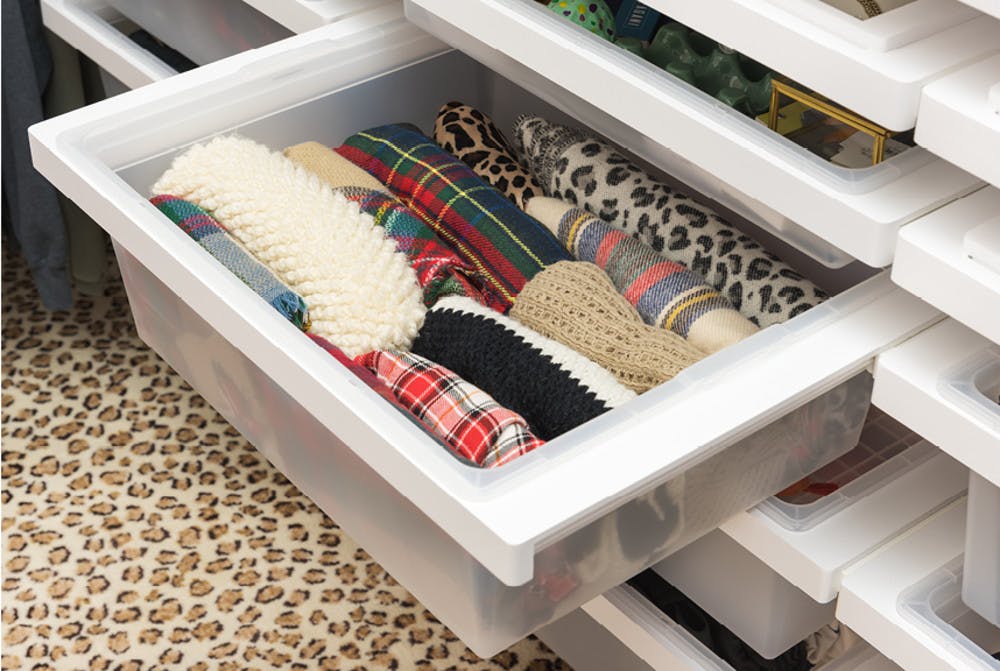 Alison file-folded scarves and placed them in our Translucent Solid Drawers to make everything visible while saving valuable space and "searching" time each morning.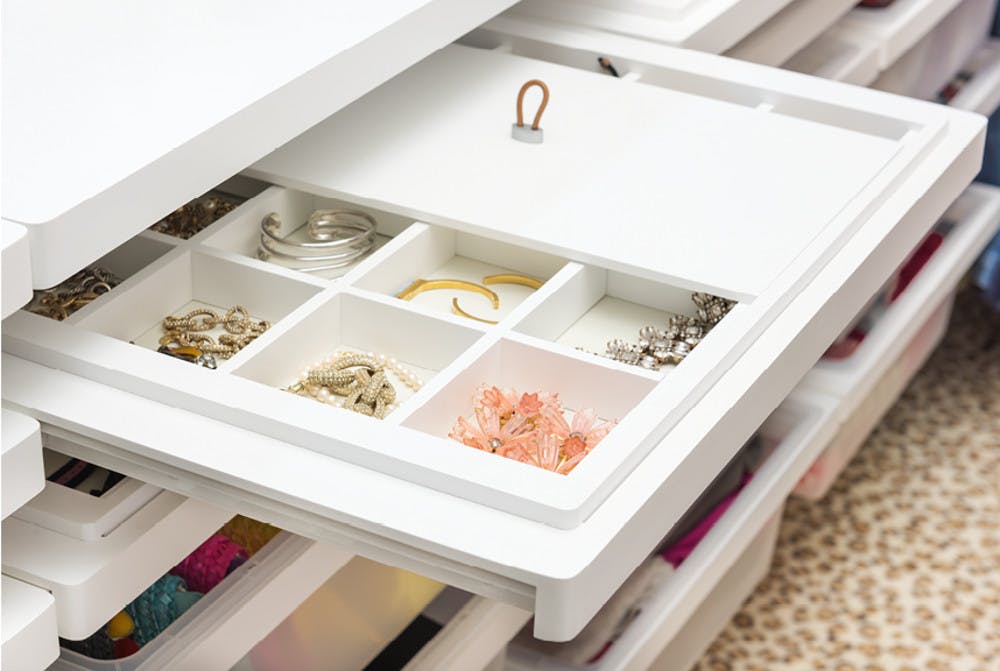 "I love, love, love my new Jewelry Drawers!" said Cassie. "The Divided Compartments mean I'm never looking for a missing earring. And I can actually see all my options at a glance."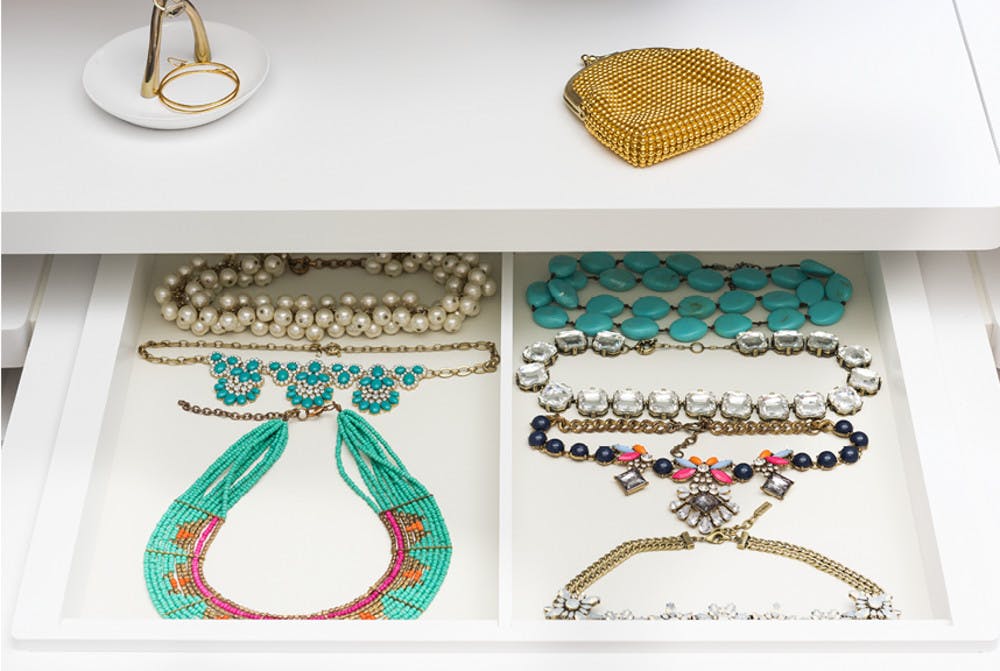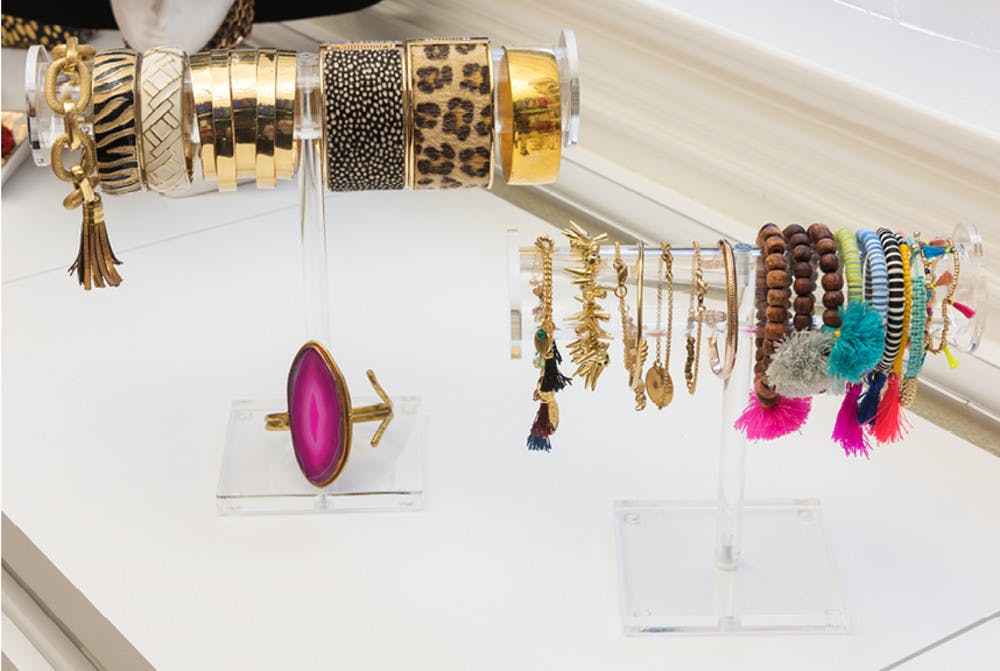 Cassie already had our Acrylic Jewelry Stands, but now the pieces on them have room to shine.

One of the accessories Alison insisted on was a Gliding Tie & Belt Rack. "I can't get over how many belts can fit in such a small space! And I can get to every one of them easily," said Cassie.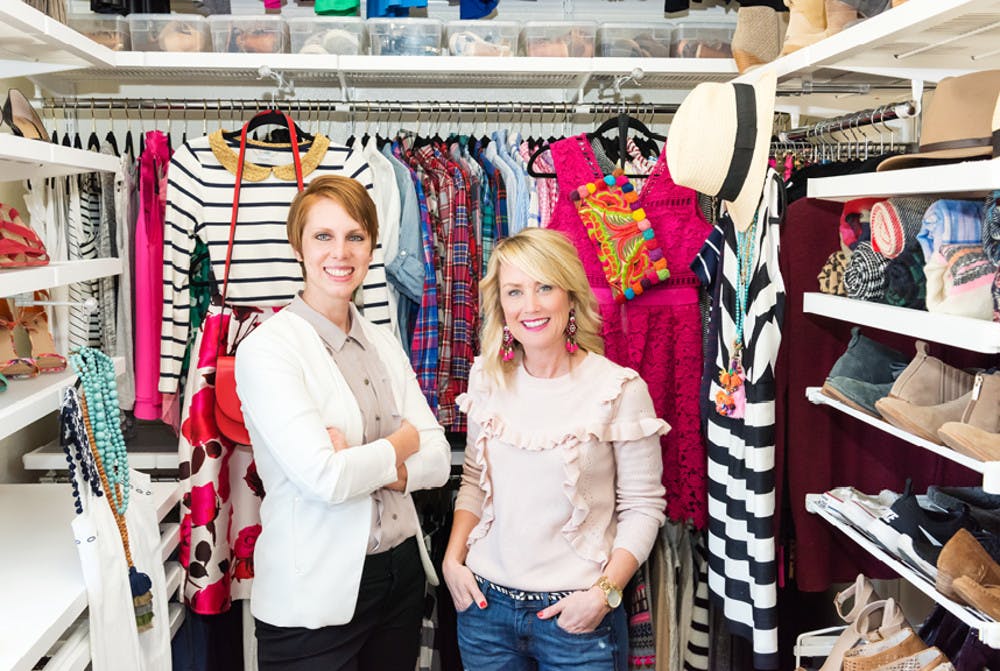 "I don't know how you did it, Alison! Everything is so beautiful and organized! I just want to spend all my time here in my beautiful, new closet!" said Cassie.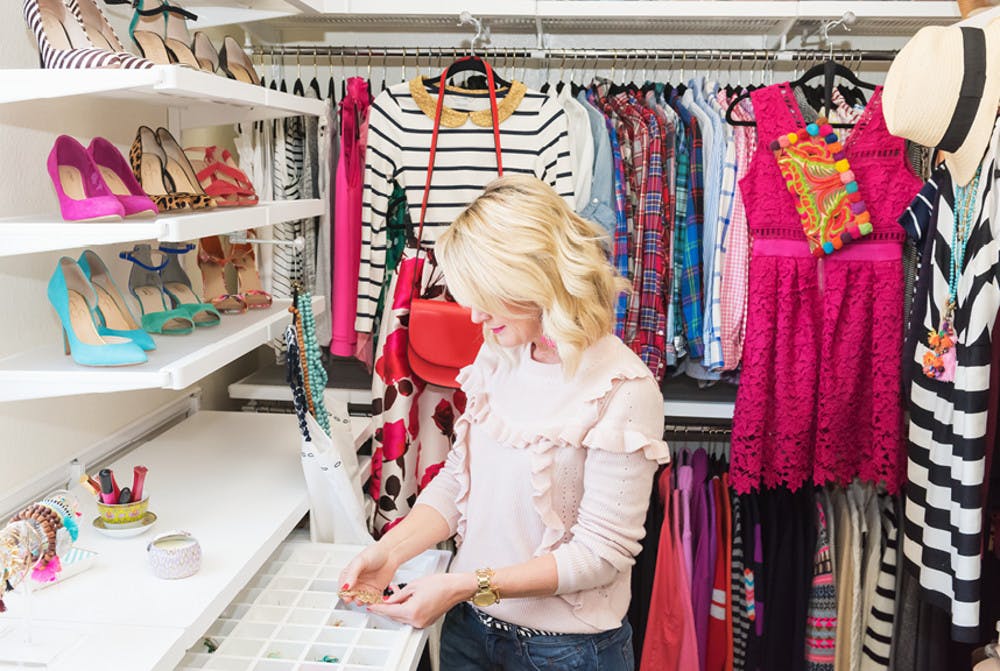 Thanks, Cassie. We were happy to help create a space as pulled together as you are!