You've seen the tutorials, Instagram takeovers, kits, master classes and more - makeup is having a moment like it's never had before.
And it should, because never before has makeup been so easily accessible, teachable and fun to play with. Everyone has their routines and favorite products, and no matter if you're a minimalist, a maximalist, or a maximalist who thinks they're a minimalist, you probably have a makeup collection that needs organizing.
And if you're sitting here thinking 'YES!' we'd like you to meet Luxe, our completely modular, stackable, buildable and reconfigurable makeup organization collection. We think you're going to love it.
Because no matter what size your collection is, we have a solution for it, and we REALLY mean no matter what size.
Check out a few options we've put together, below!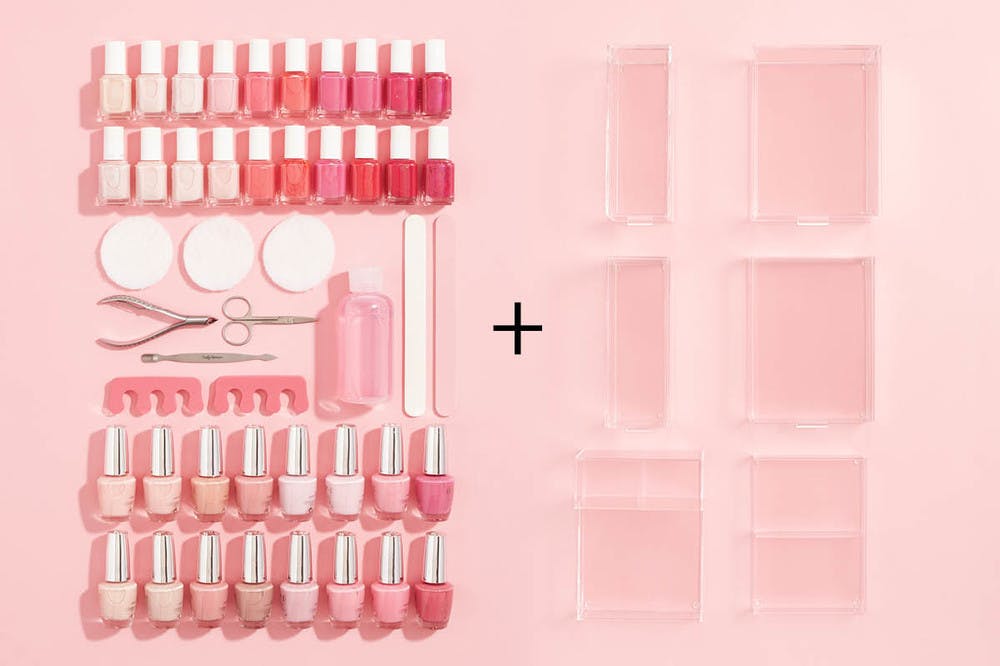 Nailed It
36 bottles of nail polish, 1 bottle of nail polish remover, 1 package of cotton rounds, 2 nail files and 3 manicure tools - basically a small nail salon fits into just six pieces of our Luxe Makeup Storage Collection.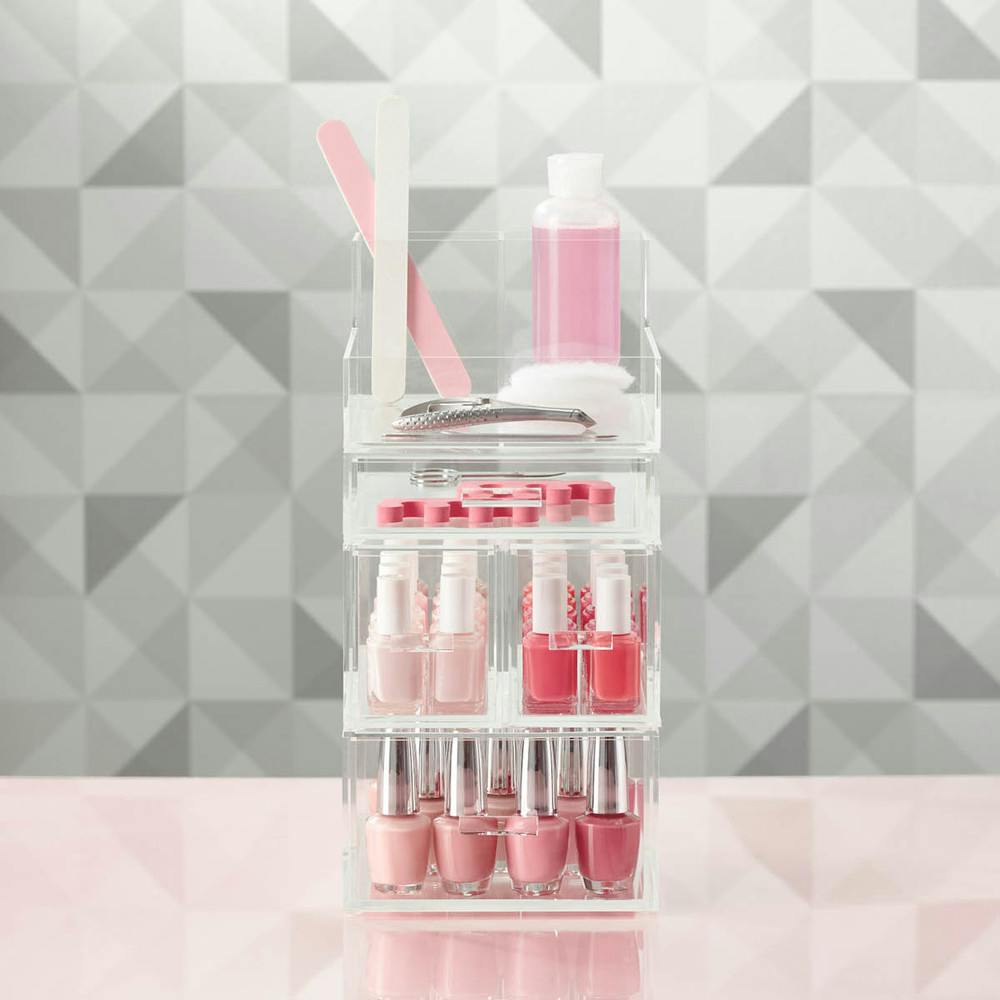 The designs fit the varying heights of different nail polish bottles perfectly while still making them all easily accessible and organized. Keep your absolute necessities at the top for a quick clip, buff or file, or get prepped for an entirely new coat. Their faceted pulls blend in perfectly with the crystal clear look.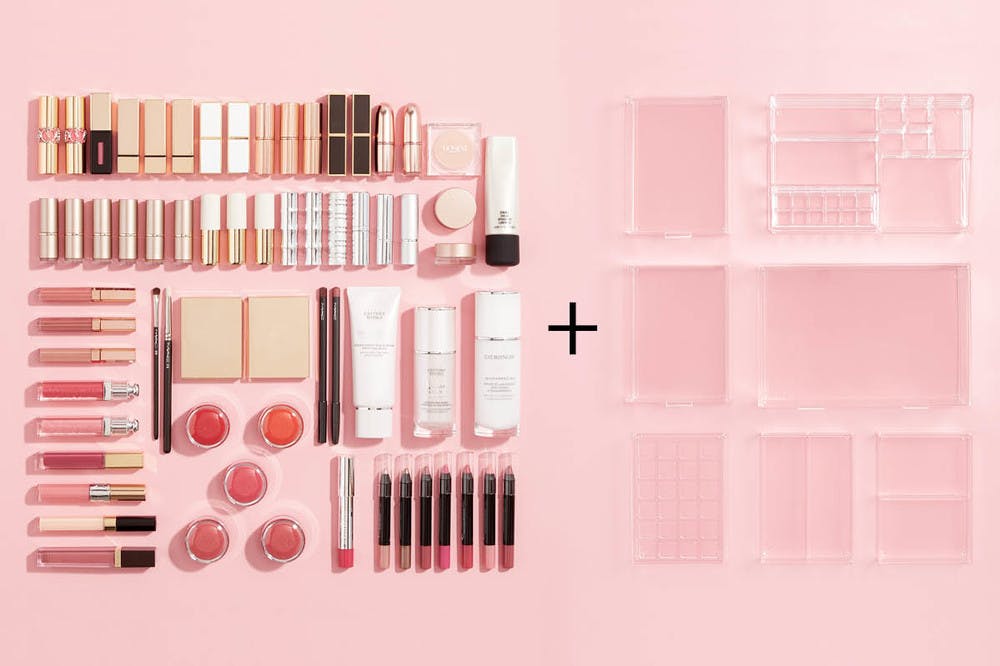 For the Lip Obsessed
In-drawer lipstick organizers and a drawer-top accessory organizer are really going to be your friend here if you have loads of lipsticks, lip accessories and oblong beauty products. If that's you, then this configuration is for you.
32 lipsticks, 14 lip glosses, 5 lip balm compacts, 2 eye brushes, 2 lip liners, 8 lip crayons, 3 primers, 3 skincare products and 2 powders all fit perfectly within the seven pieces of this configuration.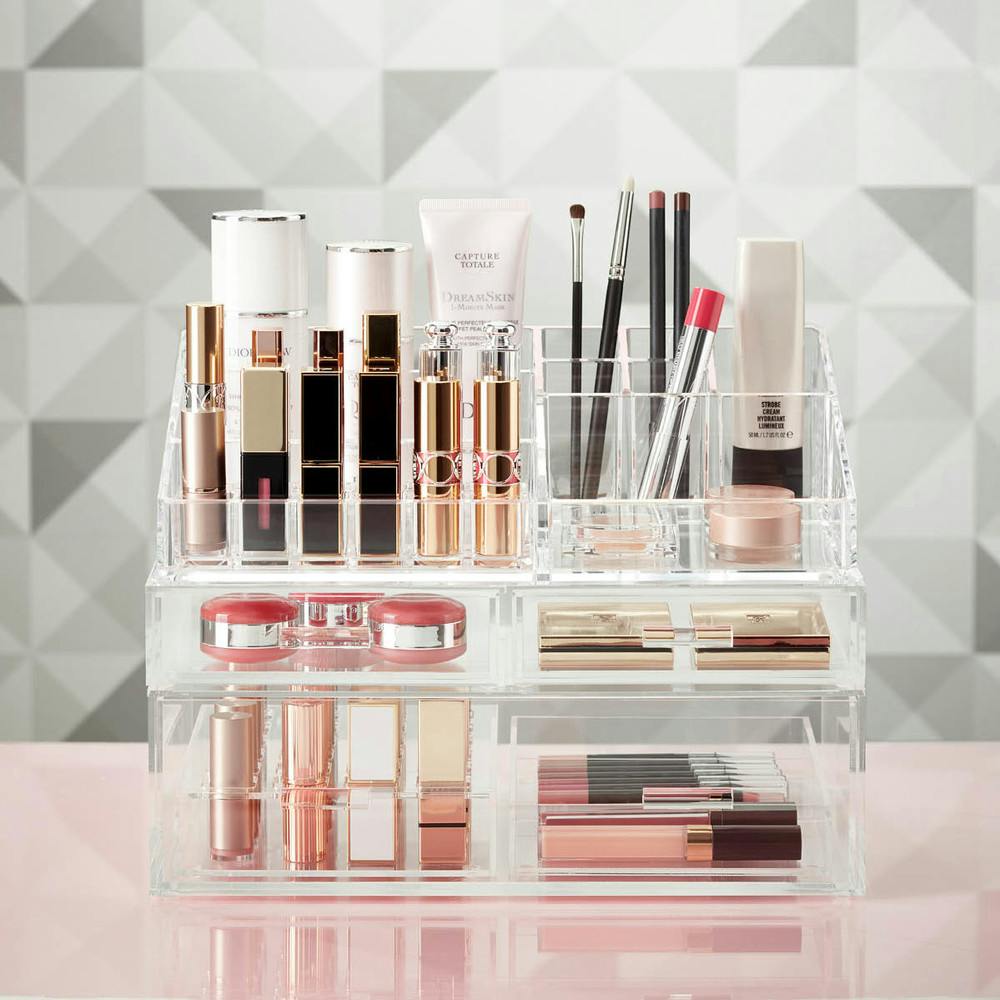 The Luxe Collection's smartest function is the fact that each piece can be unstacked and work perfectly on its own, or can reconfigured and restacked as your collection changes.
Need more lipstick storage? Add another lipstick divider within a drawer! Need open storage for the makeup you use most frequently? Stack a makeup organizer on top of your configuration.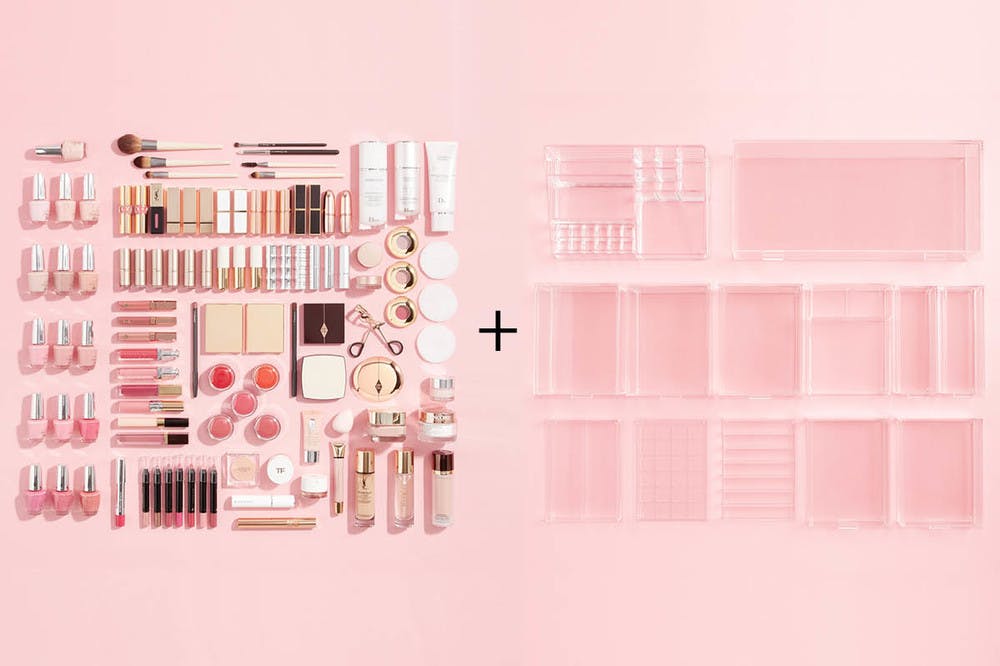 The Maximalist
If you really really love doing your makeup, chances are your collection resembles something around the size of what you see above. It might not be obvious that you have that many products, but once you start pulling the skin care, lipsticks, powders, bronzers, eyeliners and more out of various drawers, your collection might be more sizeable than you think.
16 nail polishes, 7 brushes, 3 skincare products, 30 lipsticks, 9 lip glosses, 8 lip crayons, 7 lip balms, 2 lip liners, 2 powder compacts, 6 face primers and eye primers, 1 package of cotton rounds, 1 eyelash curler, 2 mascaras, 1 beauty sponge, 1 eye shadow quad, 2 eye shadow pots, 2 blushes, 4 concealers, 2 foundations (over 106 products if you're counting) fit into just 10 Luxe Makeup Organizers.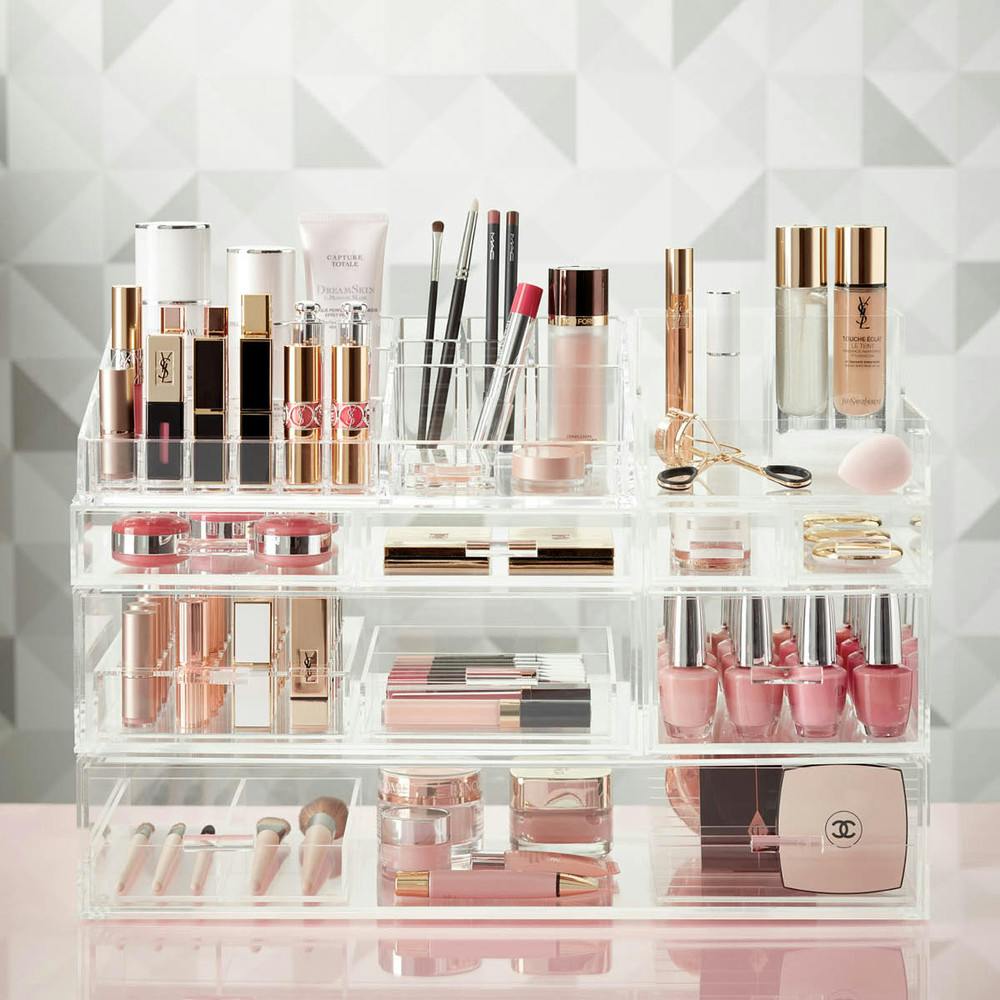 The beauty of this configuration is second only to the feeling of being truly and completely organized. No more searching for your favorite dark red lipstick is, no more shuffling to find the right shade of bronzer for summer, no more flipping through eyeliners for the perfect tawny brown - everything is here, accessible and put together.
Love the idea of Luxe but didn't see any configurations that fit your collection? Shop our kits online here, or come in-store and let one of our experts help you configure the makeup storage solution just right for you and your makeup needs!