It's just so fun when you learn something new about someone you've worked with for a very long time. Our sweet colleague Rene, who is a Product Resource Assistant for our Buying Department, has worked at The Container Store for 13 years.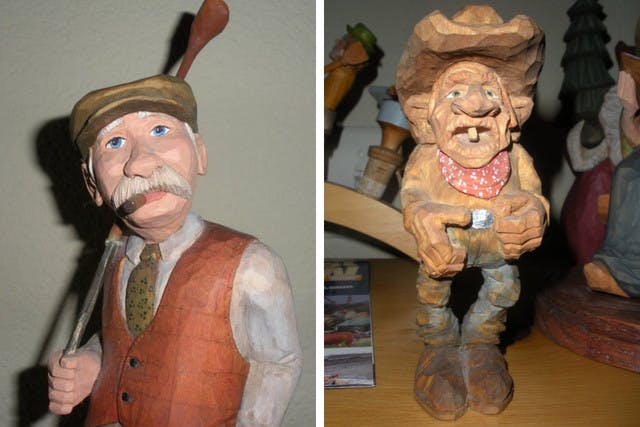 About three years ago, during our annual Employee Art Show, we discovered her talents when she displayed some of her wood carving pieces.
About that same time, when she was enjoying her "sabbatical" with us - two extra weeks of vacation we give employees at 10 years of service - she began what is now her main artistic hobby, mosaics. We just adore the guest room she's converted into her craft space, but not as much as she adores it. It's her retreat, her creative space, or "NeNe's Happy Place" as her grandchildren call it.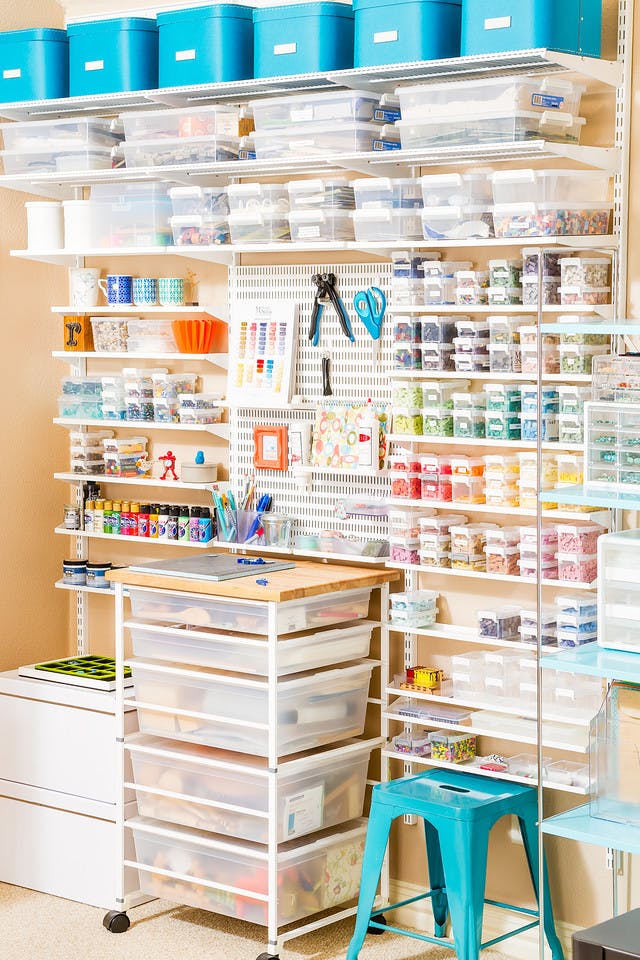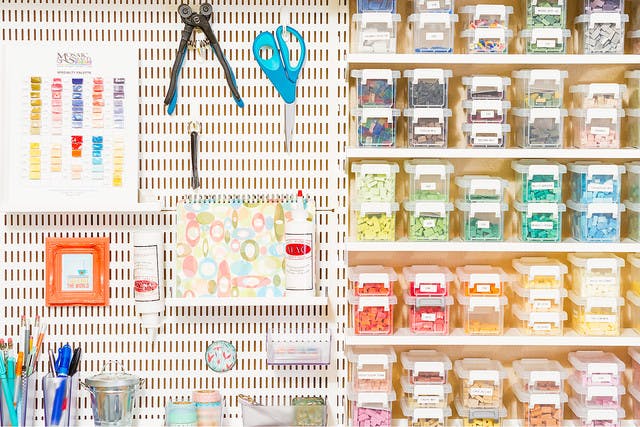 elfa Shelving, coupled with elfa utility, creates a showstopper of a wall. Rene loves how much organizational space the wall has, which allows her to maximize every inch of space. elfa utlilty pegboards and accessories hold her tools of the trade, like her Montolit Glass Cutter, Weldbond Adhesive and PJT01 Tweezer Set.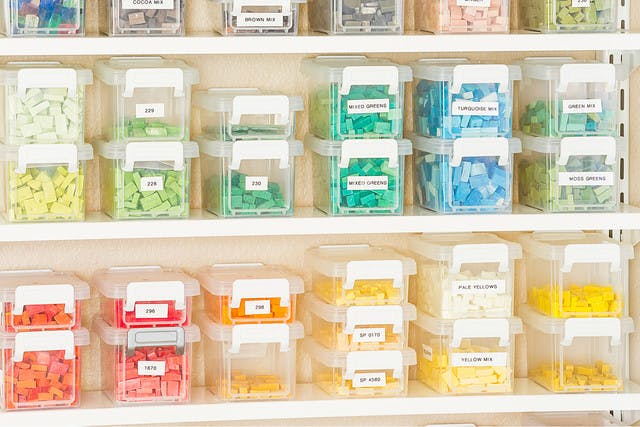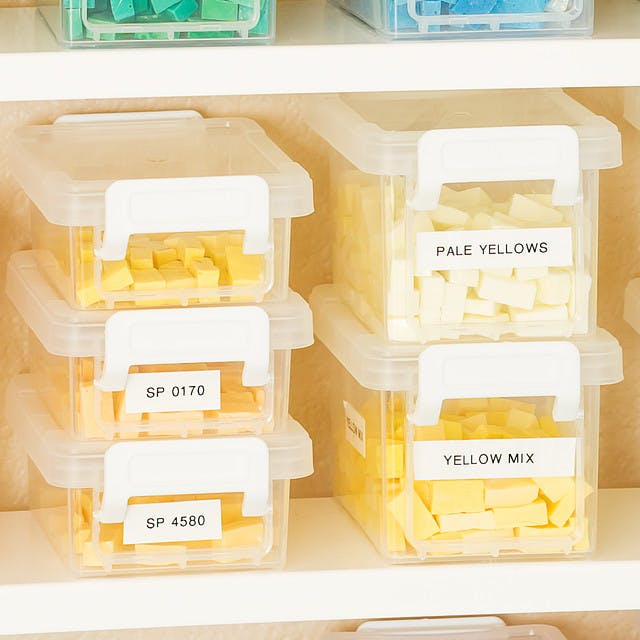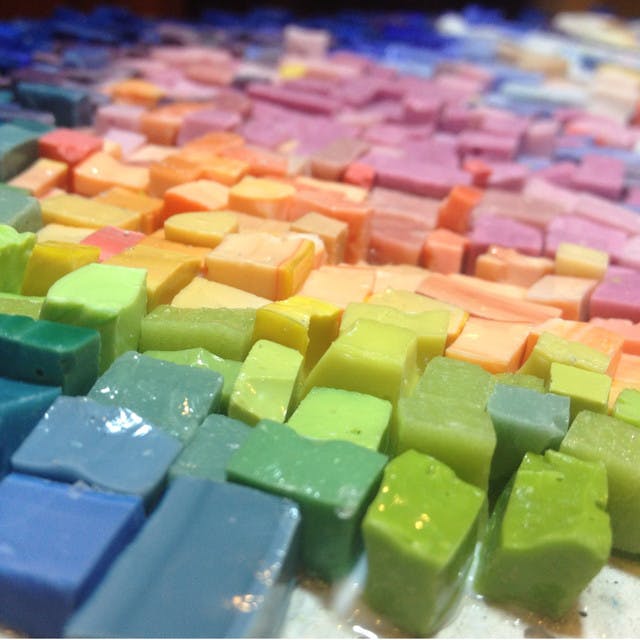 Rene LOVES these Iris boxes that hold the mosaic tiles, and they fit perfectly on elfa Shelves. In fact, she buys them by the case and just loves how easy it makes finding just the right color of tile when she needs it. She uses our Brother Label Maker to label the boxes.

Rene uses Italian Smalti tile. She loves the vibrant colors of the tiles, which are made from secret recipes handed down through three generations of the Donà family.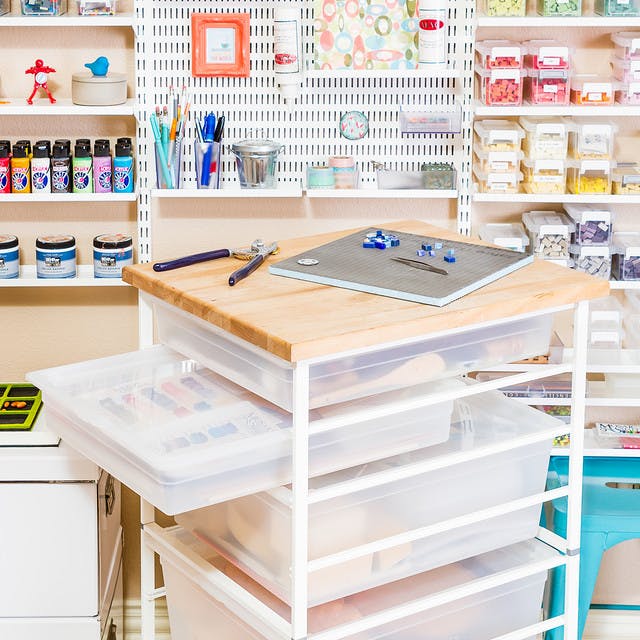 Prior to converting the guest room into her craft space, Rene says she used her kitchen island for her tile work. A rolling elfa cart is a much better solution that gives her the ability to walk all the way around the piece when working. She uses the lid of the first solid drawer to lay her tiles as she creates her mosaics. The drawers also hold supplies for her woodcarving and jewelry making that she still "piddles" with sometimes.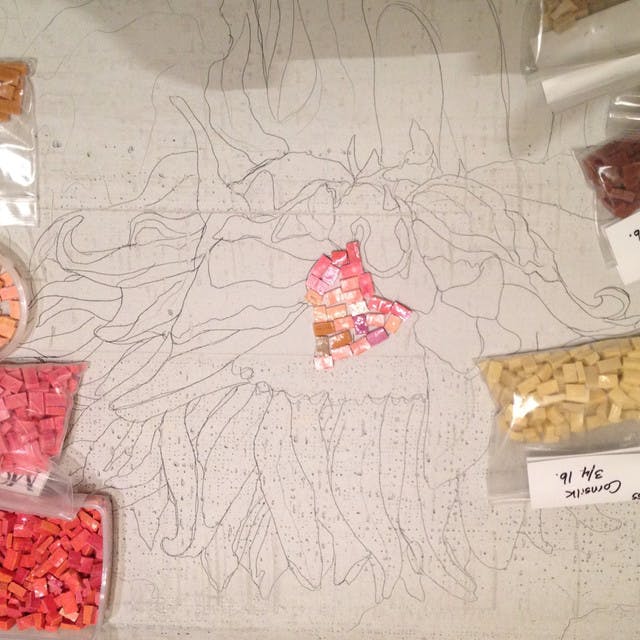 The day we visited, Rene was working on a piece that was inspired by a watercolor she saw from artist Alisa Wilcher. She emailed the artist to tell her how much she loved it and asked if she could create her own interpretation using mosaic as a medium. Alisa sweetly agreed!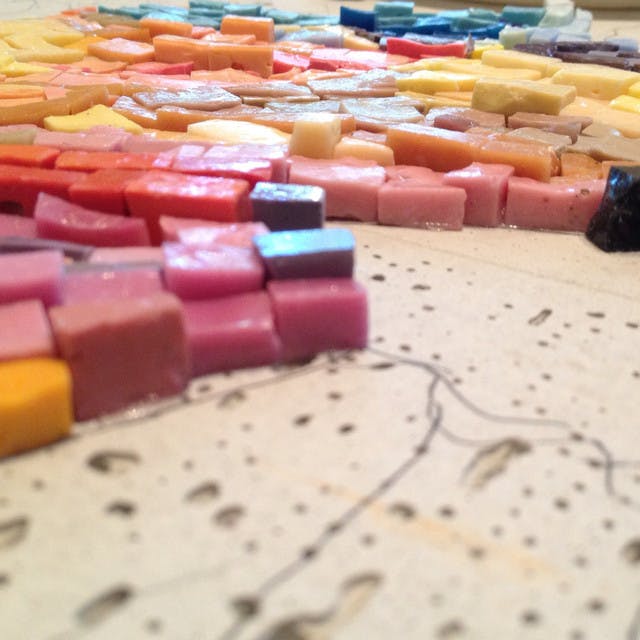 Rene free hands all of her subjects using carbon paper, and then transfers them on to cement board.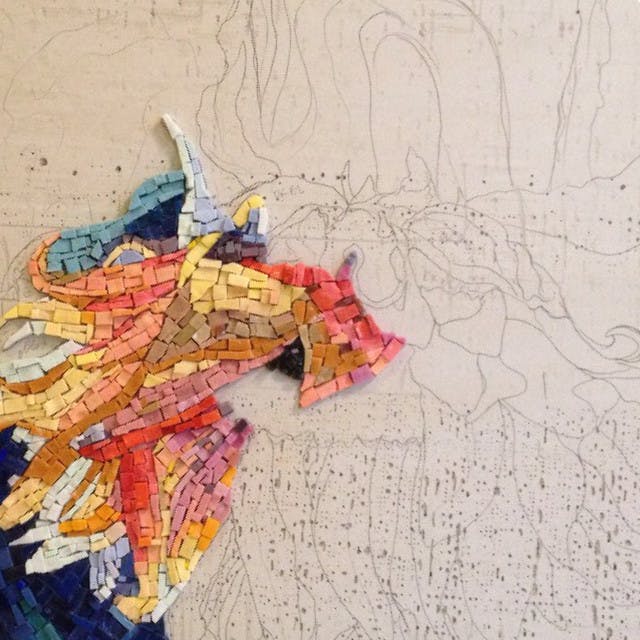 She doesn't use grout as she places the tile. She says this particular piece "evolved" from start to finish, as she placed and replaced, cut and recut the various tiles to achieve the effect she desired in the floral image.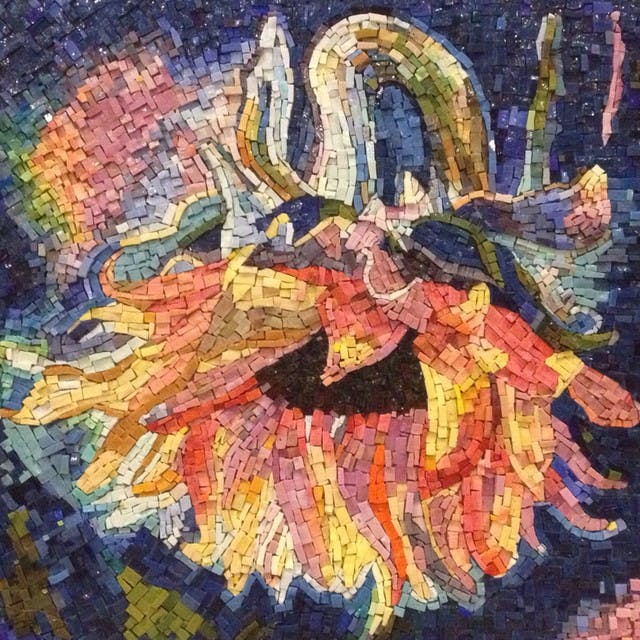 The finished piece is stunning, and took more than 100 working hours to complete.
"I call it Abundance. Because it's a flower blooming at its most beautiful point, yet getting ready to decline a bit," Rene reflects with a happy yet somber look as the mother of three grown children Chris, Jordan and Erin. "I am truly so very happy at this stage in our lives."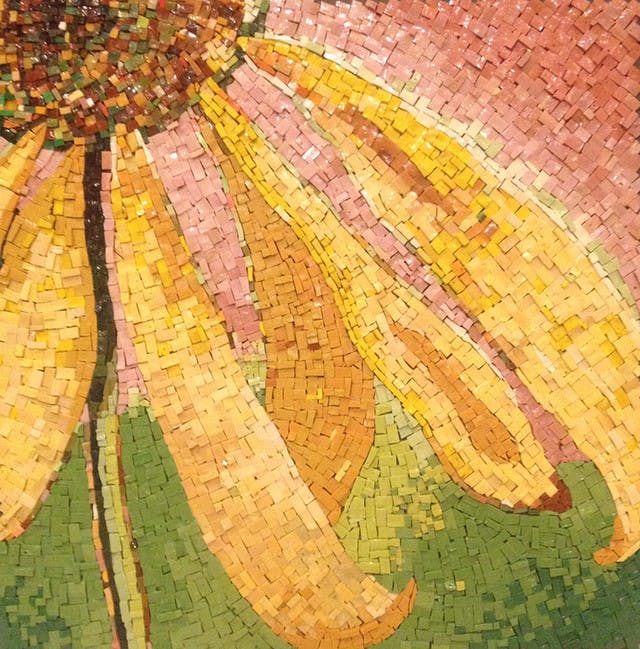 Rene's mosaics bring such joy to her life and to that of her beloved husband Steve, or "Stevie" as she calls him.
"I remember when I completed my first piece and he went to hang it over our bed. He just stood there with tears in his eyes, all choked up," says Rene.
"I was so touched. What a sweet sweet man he is."
Rene's mosaic work is purely for personal pleasure at the moment, as she hasn't ever put her fabulous pieces up for sale. But with the beautiful work that's coming out of that organized craft room, we bet she'll be getting some requests for orders soon. And to have a talent and a happy place like hers...priceless!