When my kids were younger, I SO cherished the time when I could sit down with them to play a game, work on an art project or just watch them hang out with their toys. I also cherished the time (and still do) when I could sweetly say "go play" so that I could get some things done around the house. What I discovered quickly is that if they couldn't see what they had to play or create with, nothing got used and they wouldn't stay there very long. The other thing I learned is that they could make a space a disaster area pretty quickly, so some designated put away spots were vital to everyone's sanity.
I think whether you have a standalone playroom or just a play space that's a part of a living room, with some simple "zoning" and key products, you can create a space that's fun, functional and makes for easy clean up once playtime's over with.
That first rule of organization always applies - go through the stuff and donate, giveaway or sell the things they don't use and throw out the stuff that's yucky - old art supplies, stuffed animals that have been really loved. Now, you have to purge the stuffed animals with a soft touch and sometimes some craftiness and negotiation. I've experienced many tears over the mere suggestion of throwing away that six foot stuffed python that was won at the State Fair five years ago and hasn't been touched since. Same goes for school artwork. Point is you have to purge. Get the kids involved. Between them, what your space can accommodate and your guilt complex, you'll know what needs to stay in the space, be stored somewhere else for nostalgia's sake or go altogether.
Then create zones in your space - art zone, game zone, book zone, dress up zone, puzzle zone, stuffed animal zone, open play zone, etc.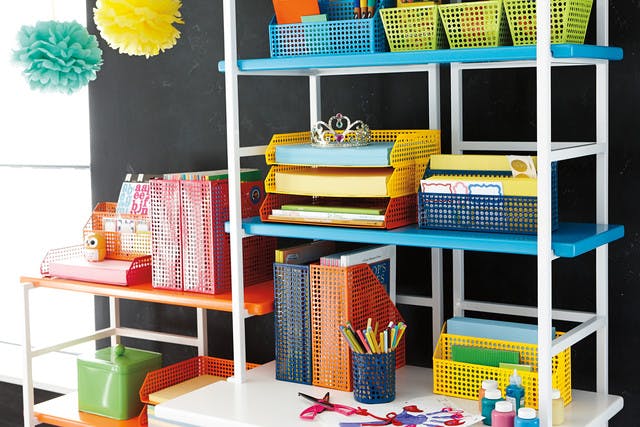 Open shelving is so great in a play room because of the visibility it provides. And many modular shelving systems have desk components that make for a great workspace for art projects or studying. We love the flexibility and pops of color of the Connections Shelving System. Load up the shelves with colorful bins and containers that have some personality and are stackable like the Edison Office Collection. Try and put things that you want the kiddos to get to easily at their eye level or lower.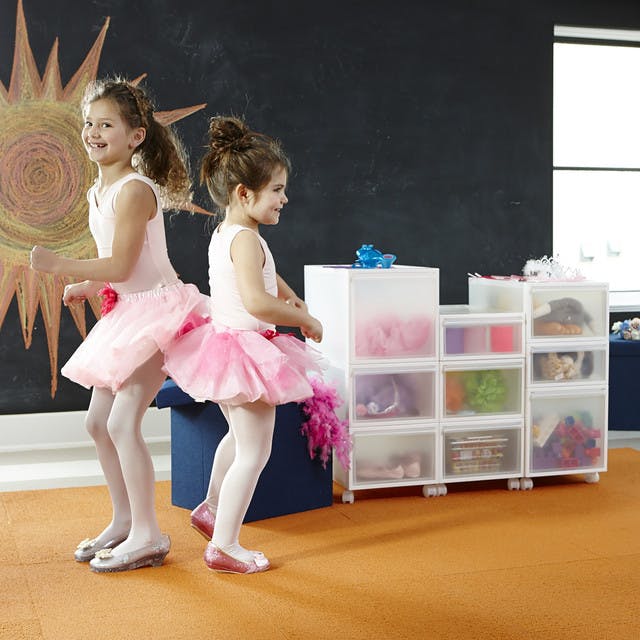 Toy storage and toy organization is often a personal preference. Open bins are always great for toys, puzzles, stuffed animals and such. But if you're not the open bin kind of person, I love our Like-it Stacking Drawers. They're closed bins but they are translucent so you can still see what's inside. They can stack vertically or horizontally to make the most of your space, and you can add casters, which makes rolling a "zone" in and out of an open play space really easy. Whether it's an open bin or translucent drawer, you can label them with the contents, which helps kids learn where things go after they're done playing with them. If they can't read yet, a picture or icon that signals what's inside works well too.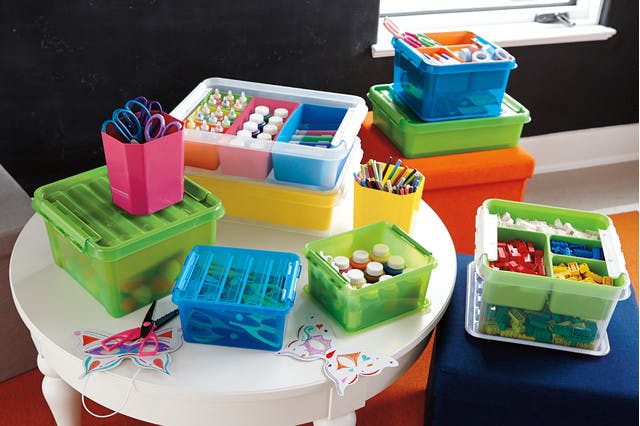 So if you have the space, it's always great to have a freestanding table or desk that's low to the ground for creative projects. Oh the glitter, paint, glue, crayons, puff balls, stickers, Legos that can go awry if it's not contained. "Where's the glue?" UGH! The Smart Store System so brilliant and so multifunctional, you'll probably find tons of uses for it around your home. There are multiple sizes of open totes and you can customize the inside of the larger totes with optional inserts and trays. The totes have locking lids that make transport quite easy. Also... I love a storage stool! Seating plus storage that no one can see is so fab! Great for those things that maybe are not so fun to look at when company comes, or that maybe you want to hide away from the kiddos. Poppin makes a Box Seat that's sturdy, has ample storage inside and comes in great, fun colors.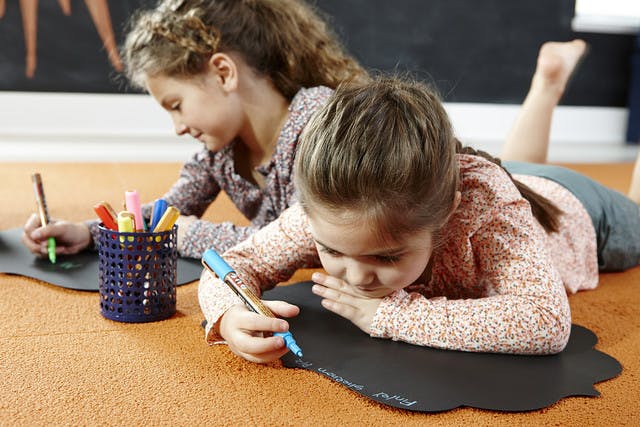 So I mentioned the open play zone. It's important to have a place where the kids can plop down on the floor and just play. These Chalkboard Placemats are so precious. Colorful Chalk Markers can transform the blank canvas into a fun decoration for a family dinner or an imaginary tea with those beloved stuffed animals. The open floor space is the place, though, that can get out of control quickly, so start early if you can and make sure the kids know how important putting things back to their zone is - they will feel happier with the play space the next time they use it because they can find exactly what they want. And yep, Mom's happier not to have do all the clean up and will also feel pretty cool that she's teaching her brood the early satisfaction of order and organization.