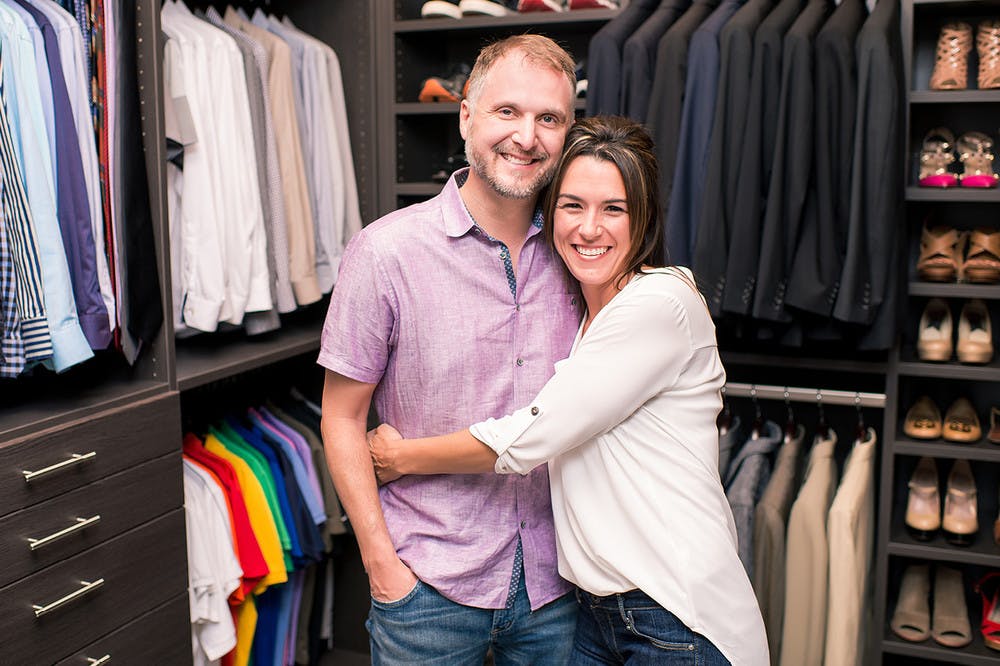 Meet Cathy and James Crossno. They couldn't be happier with their master closet. But that wasn't always the case. One day, after living in their home for more than five years and dealing with inefficient closet rods and disorganized space, they had had enough. They were more than ready for something new. So when a direct mail piece showcasing Laren Closets arrived in their mail box, it seemed that the Universe agreed. It was time.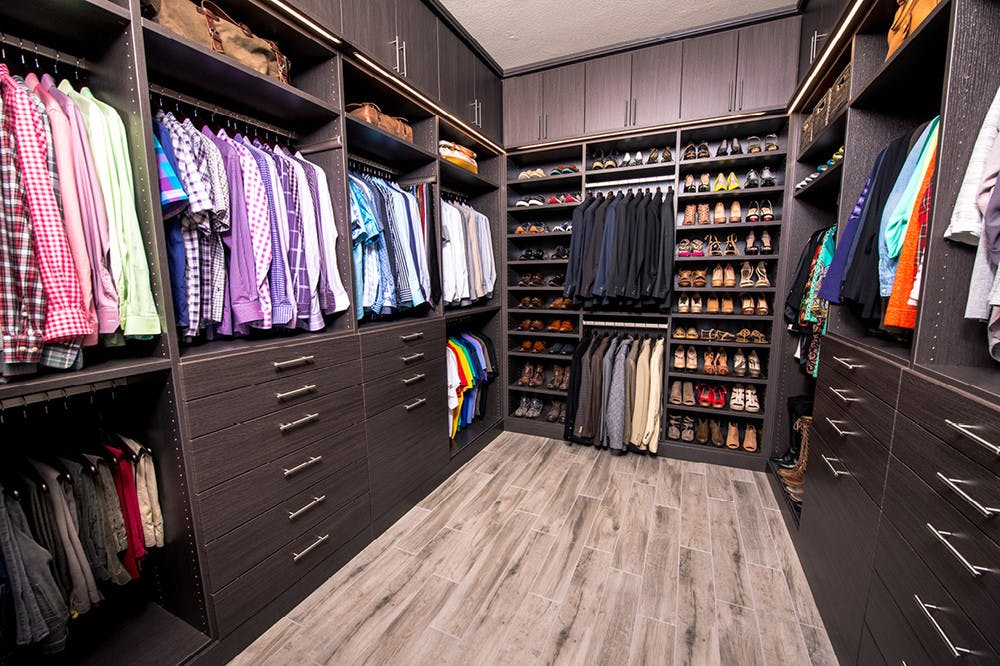 "We had looked at other custom closet solutions, but we really liked being able to go to The Container Store and actually see what we were getting. Nothing else really compared to the quality," said Cathy. The couple set to work designing their custom walk-in closet space with Contained Home Organizer, Kristen Shoemate. "Kristen was amazing. She worked to understand what we needed - not just what we wanted. And she acted as our General Contractor, taking care of scheduling the demolition of our old space and the installation of our new one," said Cathy.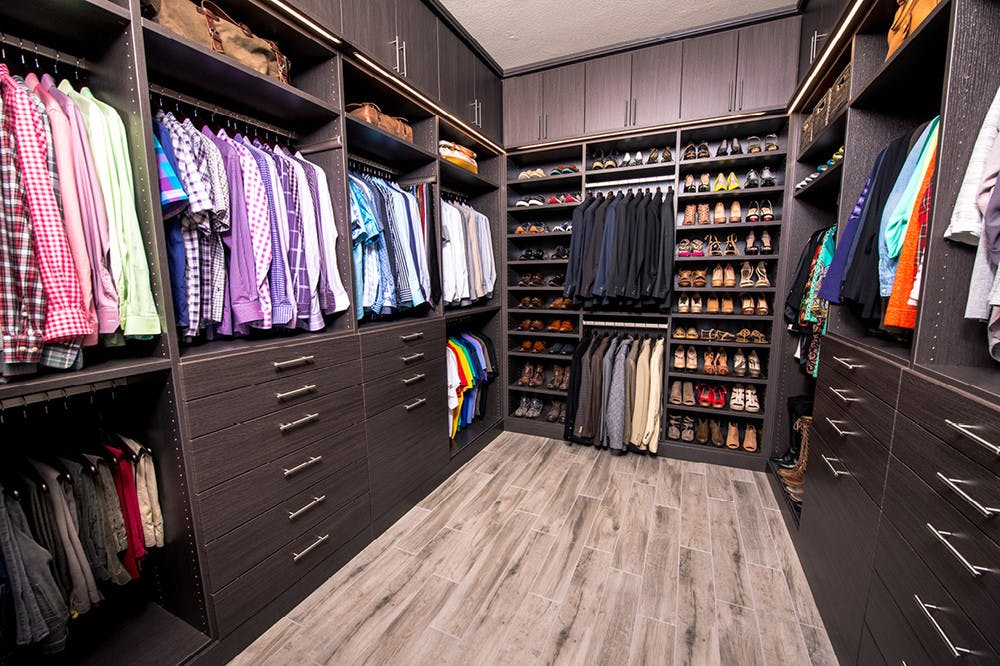 Cathy and James couldn't be happier with the result. "Who would have imagined that a closet could be a place where we want to hang out. It's truly a ROOM, not just a closet," said Cathy. "And the space seems so much bigger than before!"
One of the couple's favorite things is the shoe wall. It features 21 beautiful shelves - enough for all of their shoes. "It's the first thing you see when you walk in. I can see all my options at once. It just puts me in the best mood," said Cathy.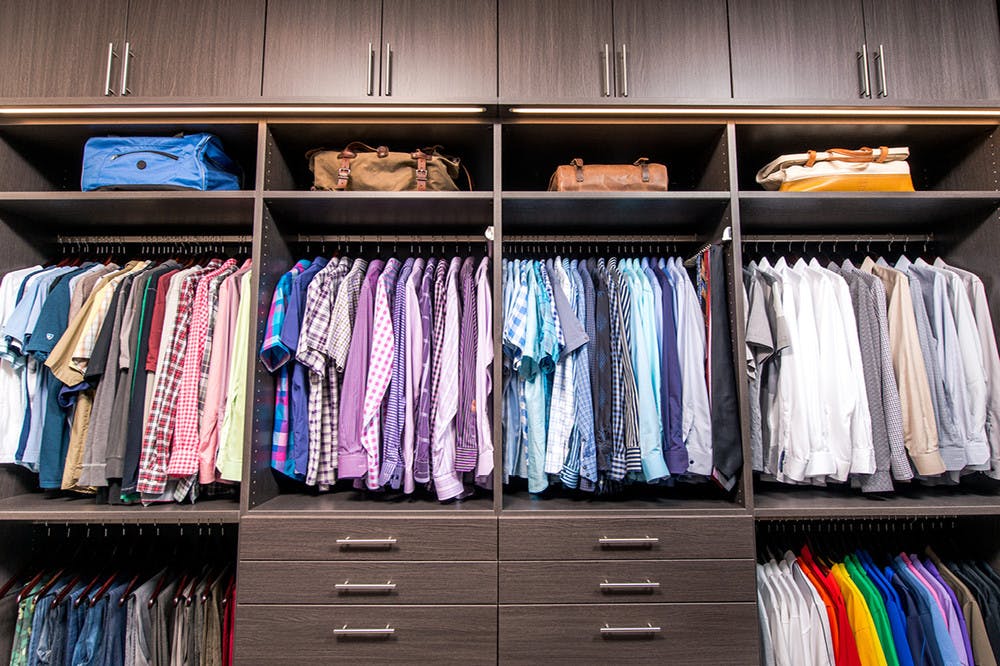 Her husband, James, loves that he can see all his shirts at a glance. Kristen helped organize clothing by color and occasion, grouping casual wear together in one areas and dress shirts and suit jackets in another.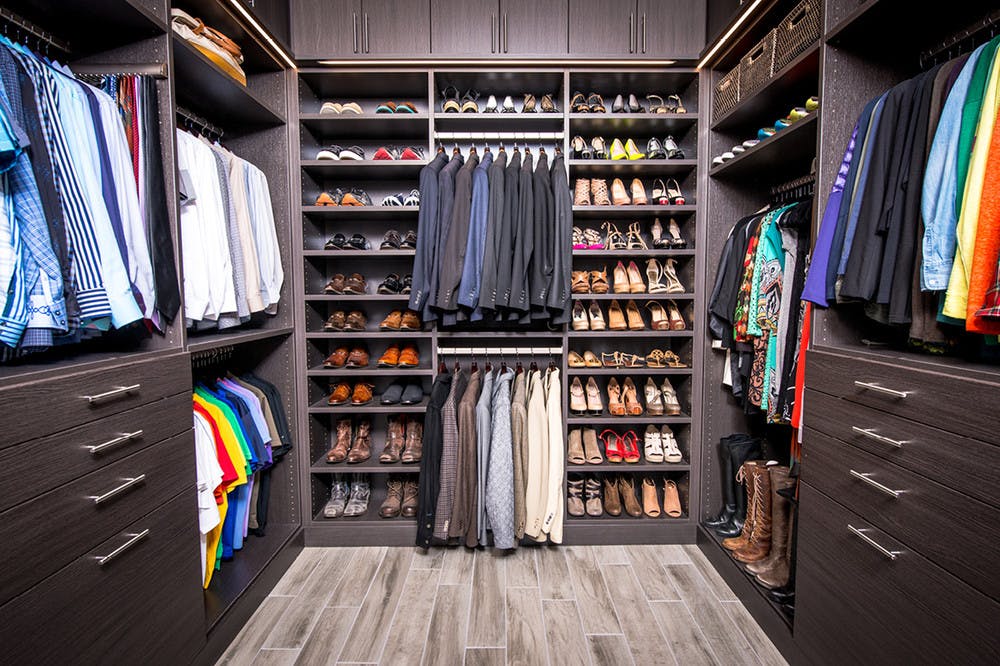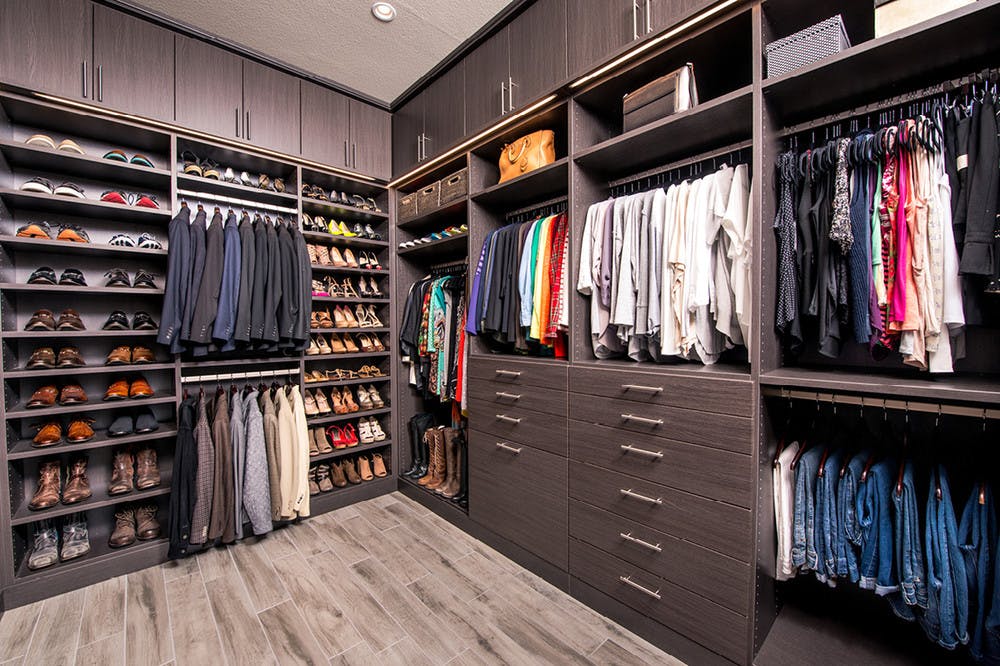 "I'm also really glad we went with both the LED Lighting and ceiling lights. The closet lights serve to spotlight shoes, purses and outfits. It really adds to the elegant feel of the space," said Cathy.
One of the things Cathy knew she wanted was multiple built-in hampers. The bottom, large drawer conceals one of the hampers. Blackwash Rattan Storage Bins with Handles on upper shelves conceal accessories and out of seasonal items.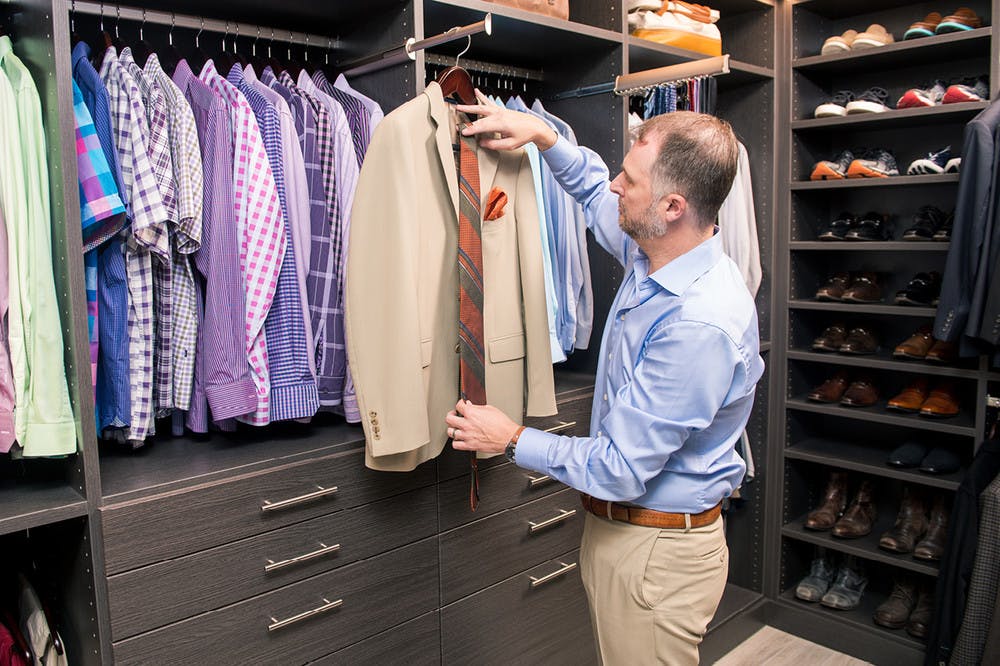 Now getting ready is a snap. James especially likes to make use of the extendable valet rod when picking out which tie to wear.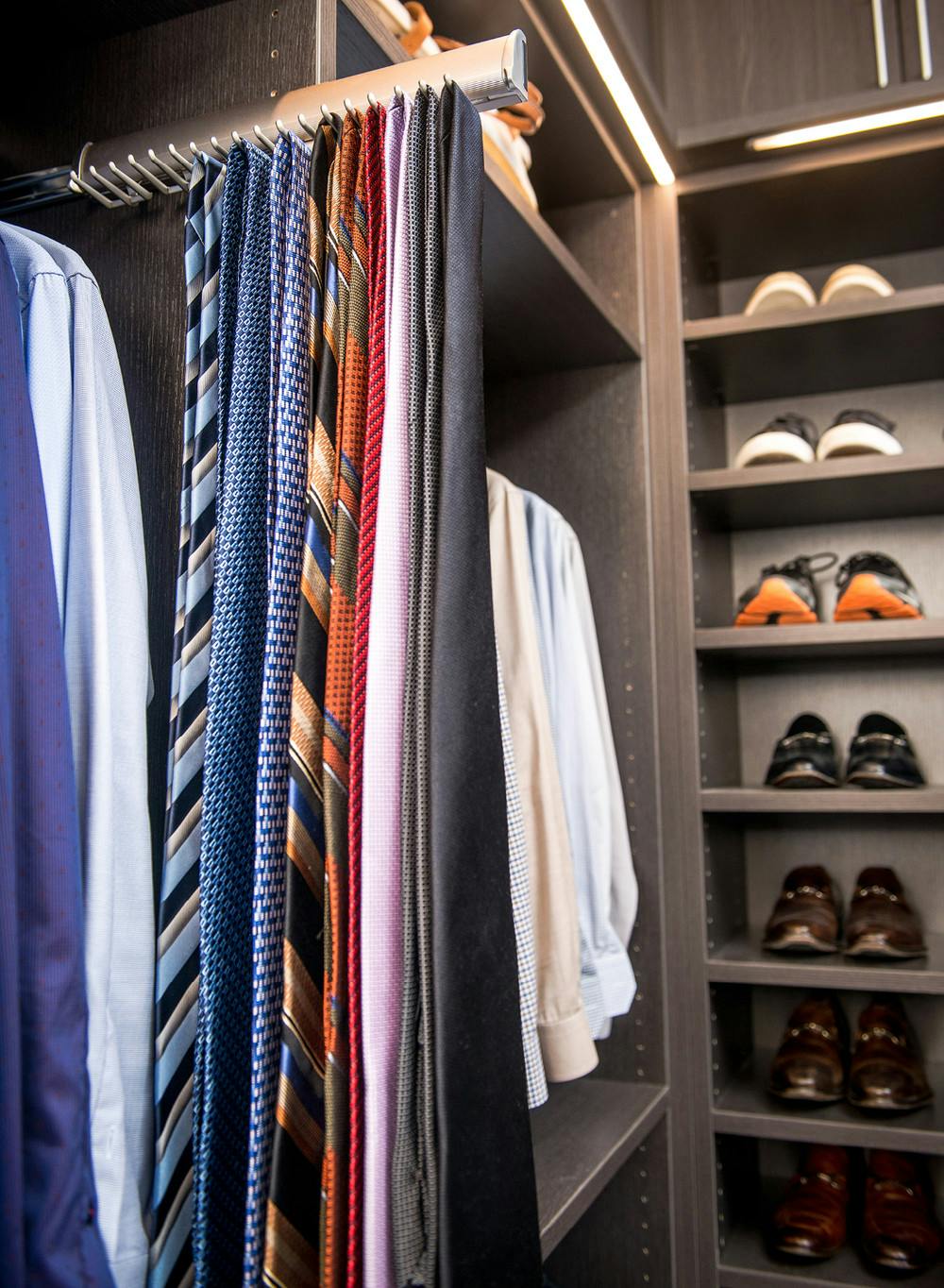 And speaking of ties, an extendable tie rack lets James see all his options at a glance while taking up virtually no space in the closet. Plus, it slides right back into the space when not in use.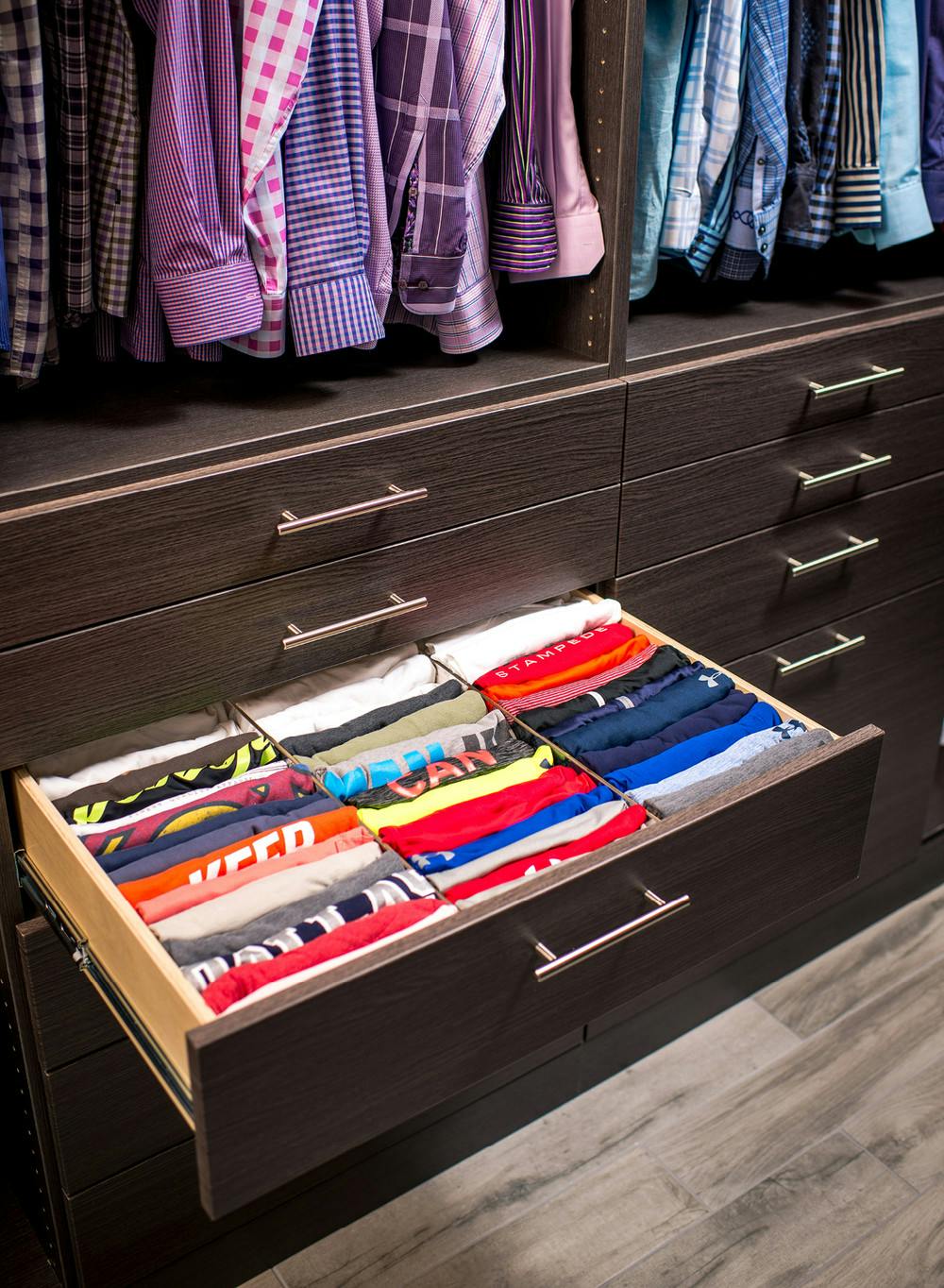 Plenty of soft-close drawers were a must when the couple designed their closet. Acrylic drawer dividers section off the space and make it easy to organize T-shirts and other casual wear. The best part? All the organizational features mean it's almost impossible for the space to become disorganized!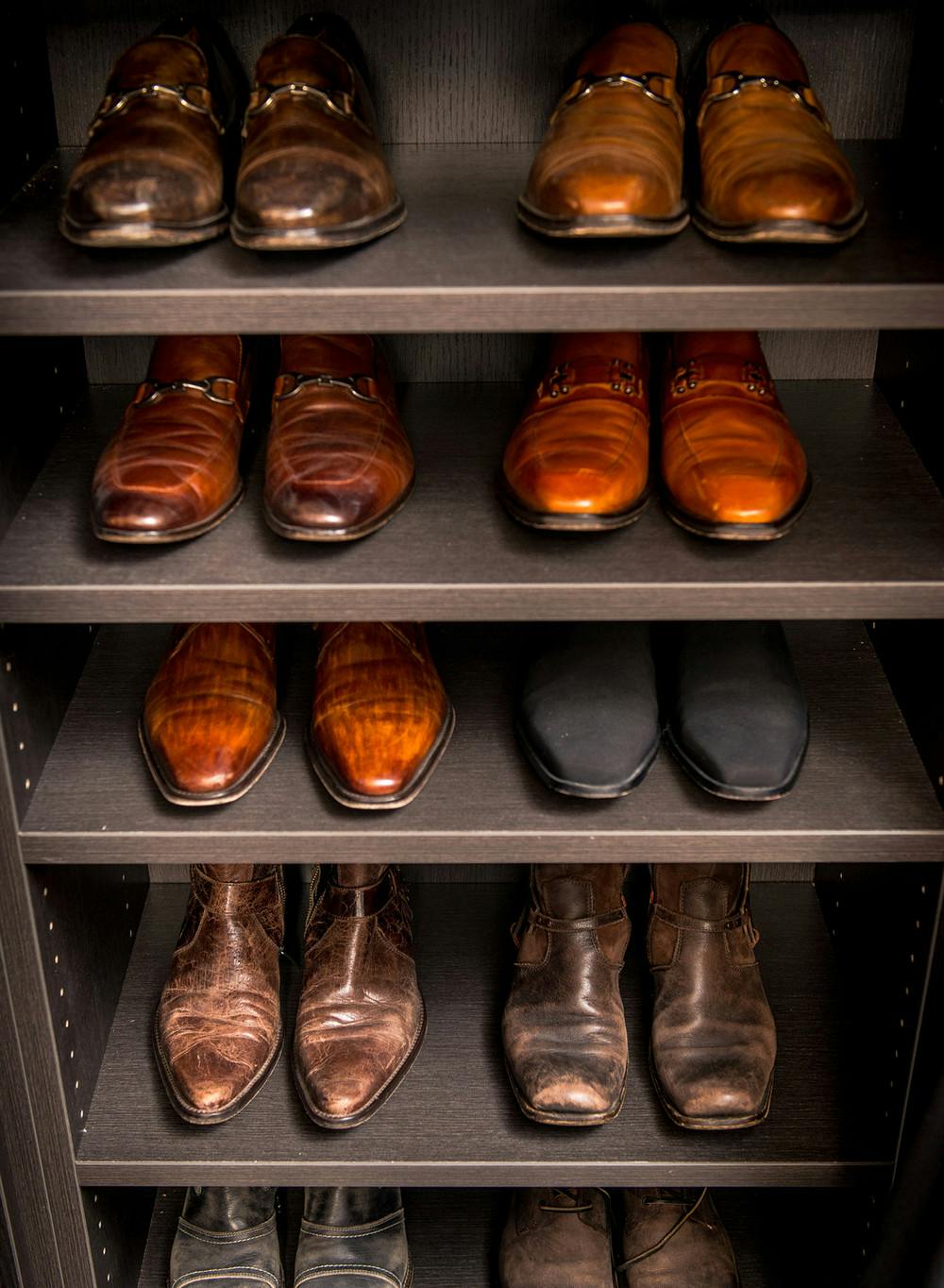 James' shoes are neatly arranged on shelves, making it easy for him to find the ones he wants in a hurry.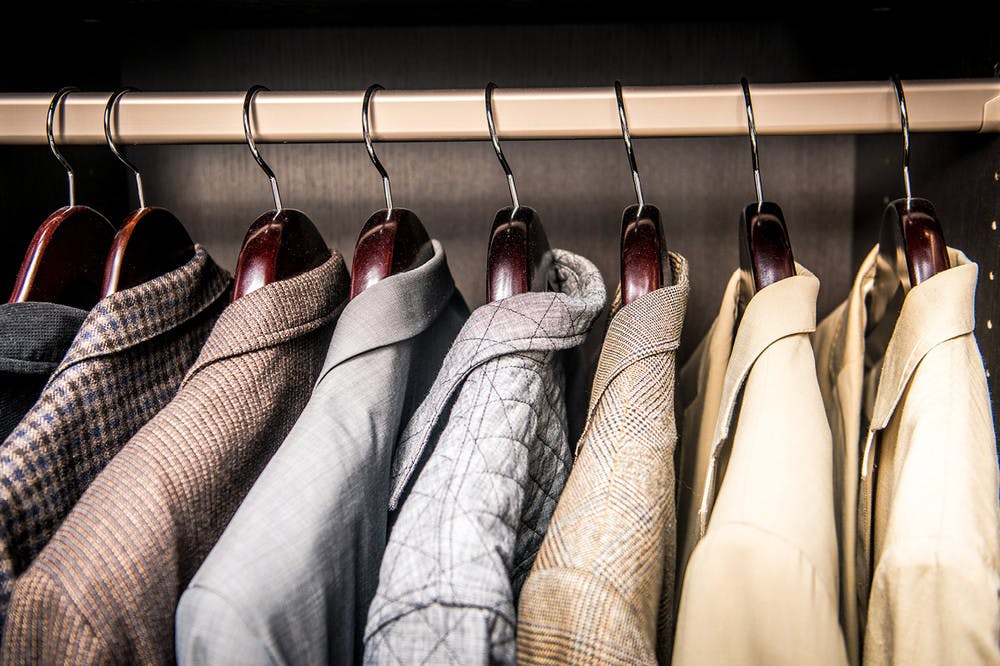 Walnut Wooden Hangers easily hold jackets and create a unified, elegant look.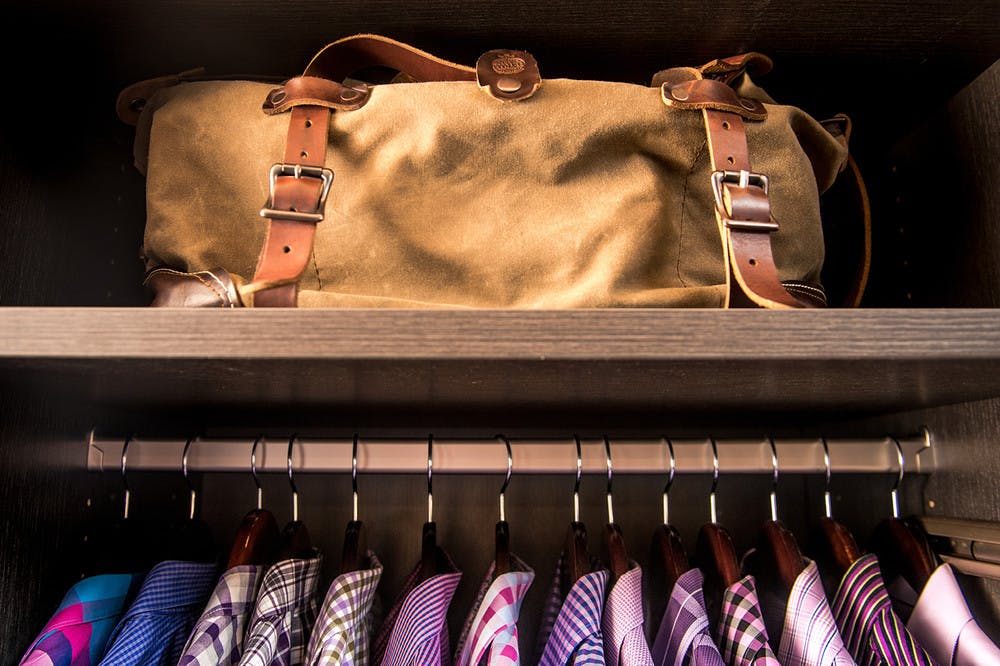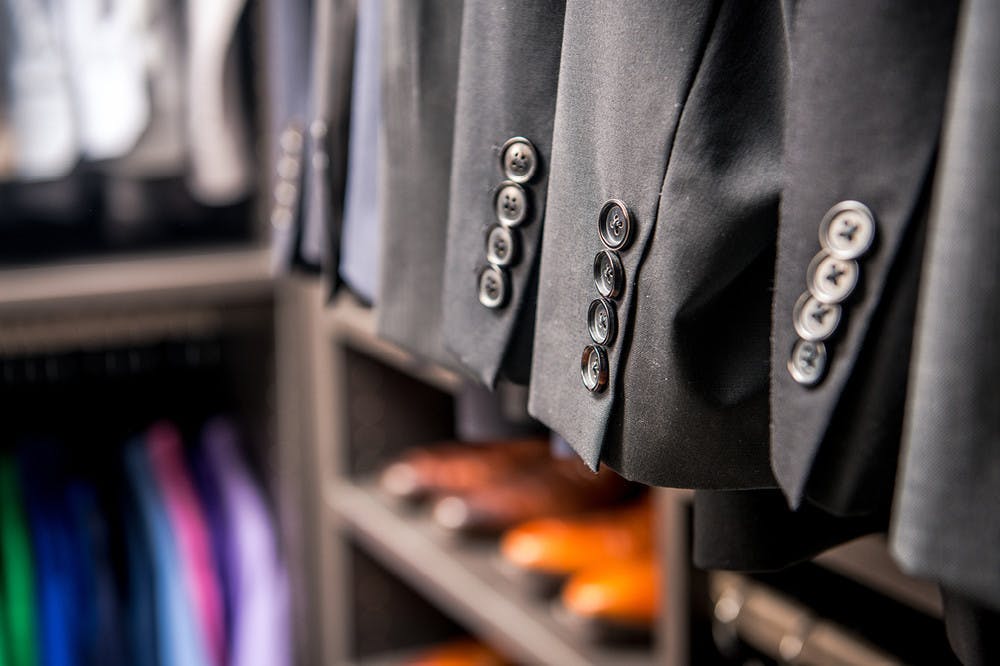 A tufted, seafoam green bench is the perfect spot for putting on (or taking off) shoes.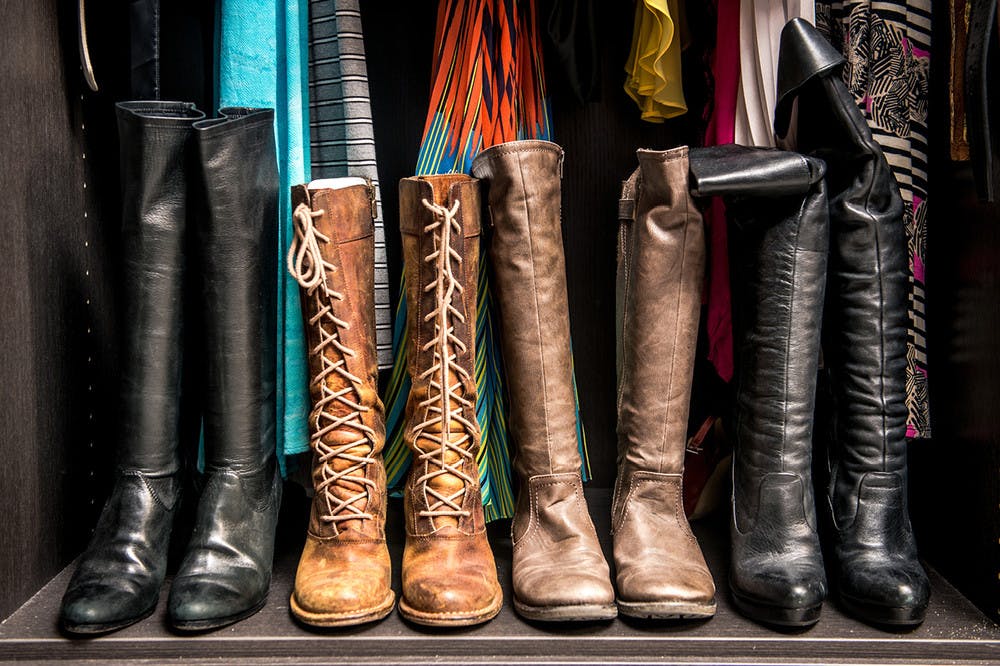 Tall boots find a home under hanging clothes. Boot insterts keep them standing tall.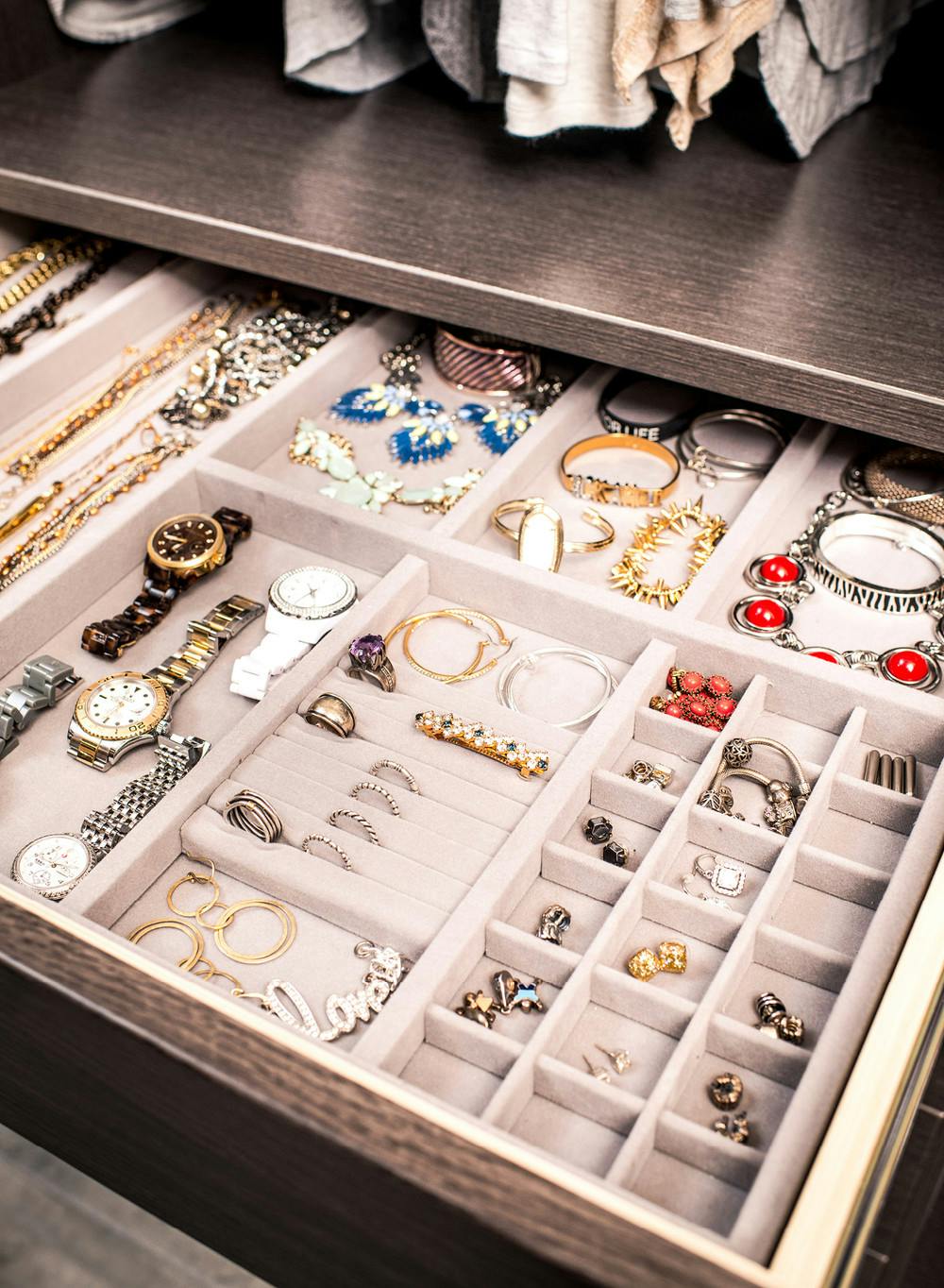 Last, but not least, Cathy needed a place to store and organize her jewelry. Adding Jewelry Trays to the soft-close drawers was the ideal solution.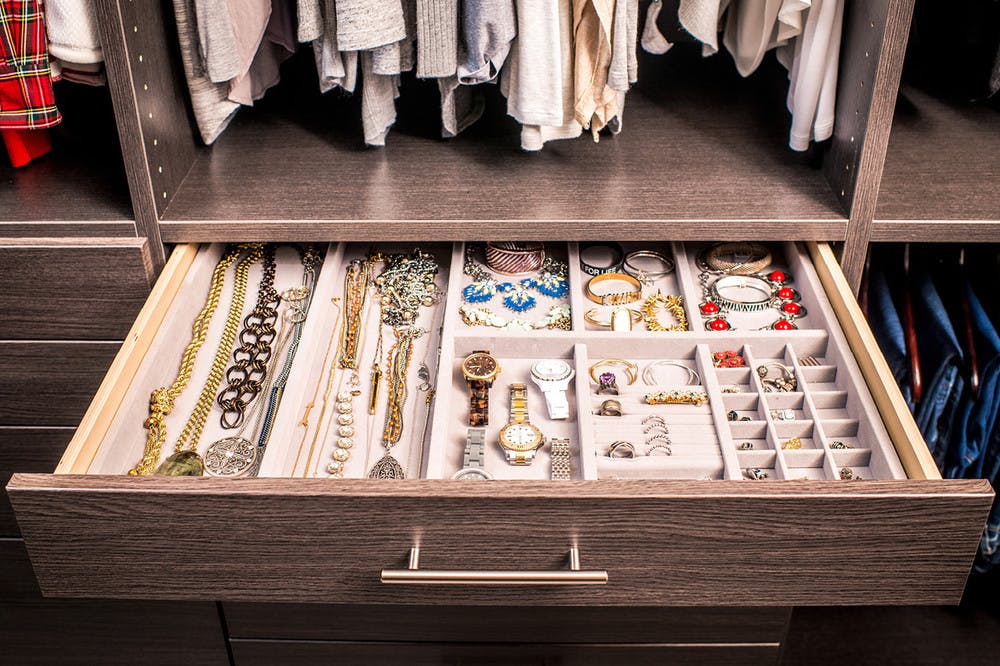 From rings and earrings to watches, bracelets and necklaces, everything has a place and can be quickly found in these gorgeous jewelry drawers.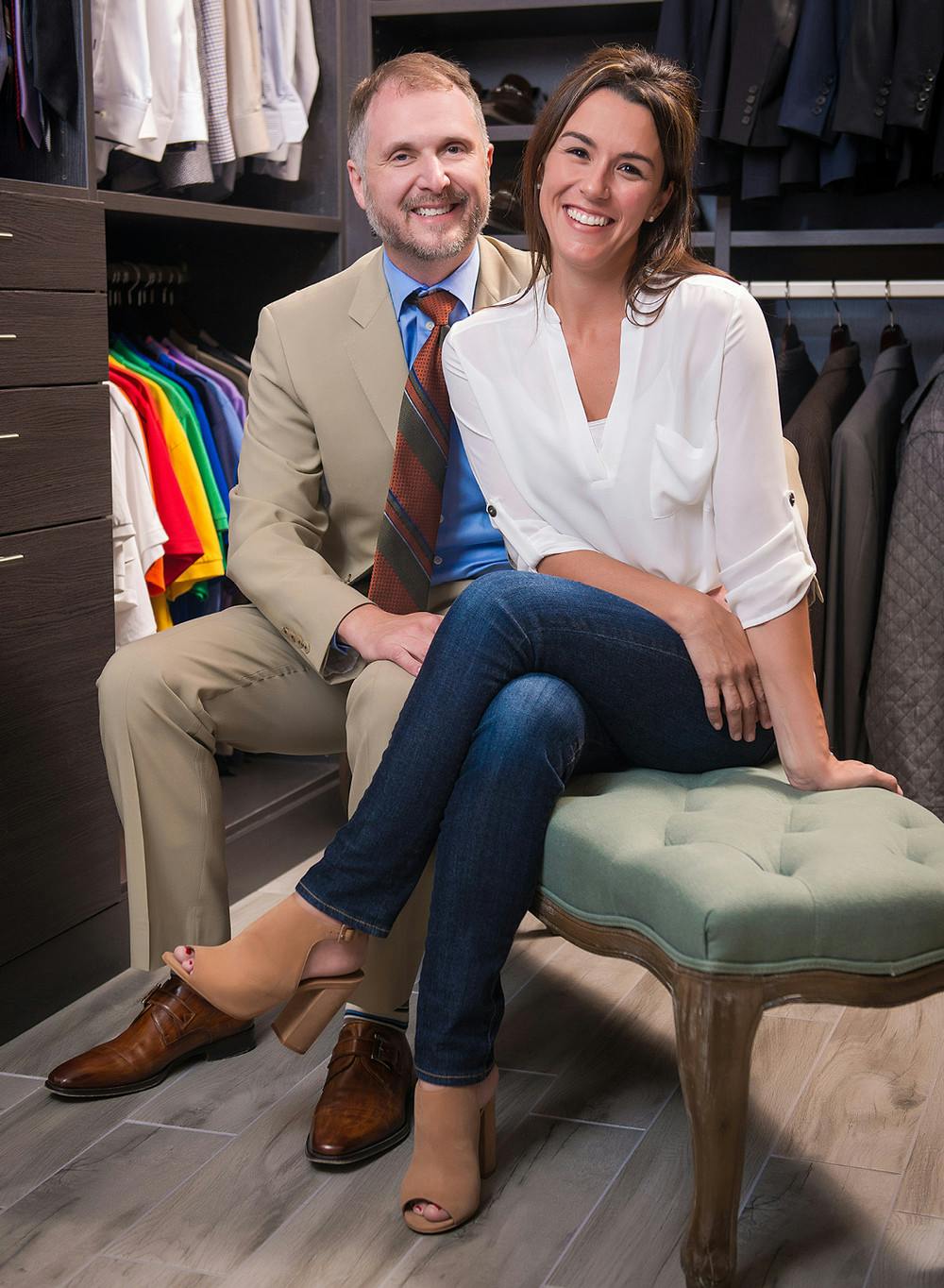 James and Cathy couldn't be happier with their new space. "I can't believe we have a closet like this. It truly is one of my favorite places in the house." Cathy, we couldn't agree with you more.