Spring has sprung! Along with decluttering and organization projects, the desire to do a little spring cleaning is also in the air. And when we think of spring cleaning, it's hard not to think of our longtime vendor Casabella - the quintessential experts of cleaning tools and supplies.
We've carried Casabella cleaning products for close to 30 years now. It all started when Casabella founder, Bruce Kaminstein, was selling a single mop at a trade show in the early 90s, and our Chief Merchandising Officer, Sharon Tindell, stopped by his booth to buy one. The relationship started there and continued to grow with now dozens of products in our stores and online - large in part because Casabella's philosophy of product design aligns perfectly with our philosophy of designs we love to carry - that products can be well designed and fully functional - and fun!
Does all this talk of Casabella have you ready to throw open the windows and get to cleaning? We'll help you get to work with these top 10 Casabella not-so-basic-basics to get you started - below!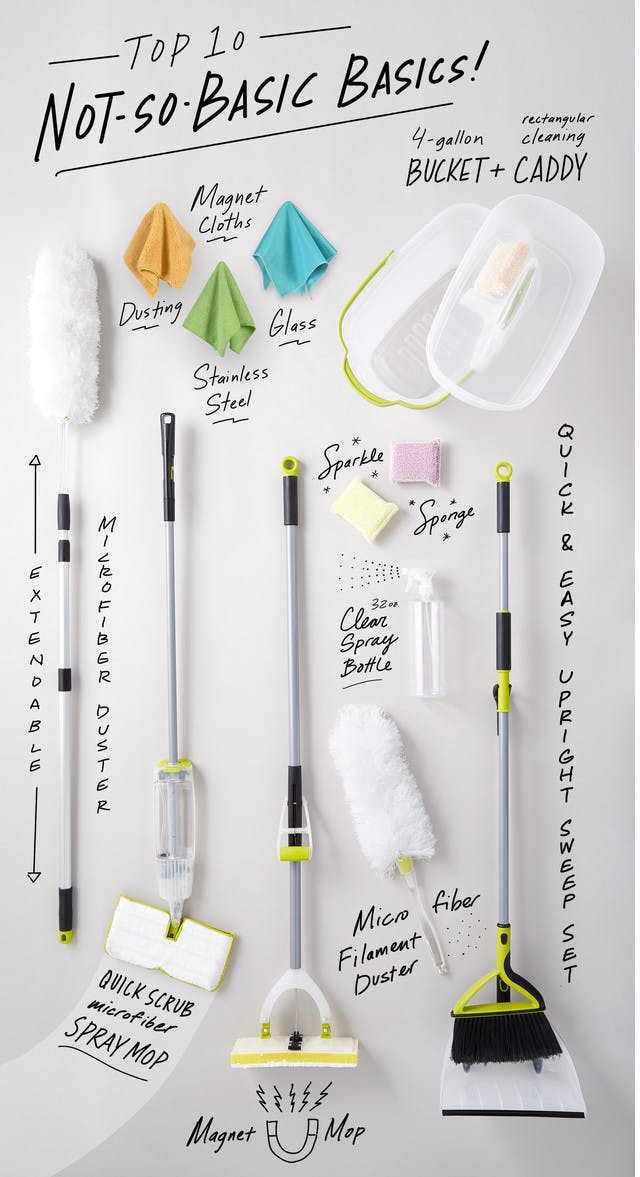 Extendable Microfiber Duster Reaching your house's cleaning potential is easy with this wunderkind. Its fluffy head attracts and holds dust, while the handle extends so you can reach the furthest corners of ceilings, plus, the duster is flexible to fit into tight spaces.
Quick Scrub Microfiber Spray Mop Fill our Quick Scrub Spray Mop with your favorite wood or tile floor cleaner for a quick and easy clean every time. The secret is in the reusable microfiber cleaning pad that literally traps dust and dirt (rather than simply spreading it around).
Magnet Mop Our Magnet Mop uses ingenious microfiber to clean and dust floors in a flash without the use of harsh chemicals or cleaners. The microfiber filaments thoroughly yet gently cut through even the messiest situations. Use it dry as a dust mop or just barely damp to maintain marble floors.
Clear Spray Bottle Not just a spray bottle, Our 32 ounce Clear Spray Bottle is unbeatable for dispensing water, cleaning solutions or insecticides. The nozzle is adjustable, so you can control the intensity of the spray.
Sparkle Sponge Brighten up your kitchen with these Sparkle Sponges that are safe and effective on non-stick surfaces, and perfect for glassware and porcelain. The efficient and innovative scrubbing texture works hard so you don't have to, and looks cute while doing it.
Microfiber Filament Duster Banish dust and lint with our Microfiber Filament Duster. The polyester fibers of the dusting head generate their own electrostatic charge to draw in and hold dust and lint particles. Simply roll the handle back and forth between your hands to activate the charge.
Quick & Easy Upright Sweep Set This smart and beautifully designed Quick & Easy Upright Sweep Set is just that! The long handle of the dustpan allows for hands-free operation and its rubber lip creates traction with the ground and adheres flat to the floor, and you can flip the dustpan closed while the comfort-grip handles snap together for compact storage.
Magnet Cloths Our Dusting Cloths are created from innovative microfiber materials that are targeted to clean dust, stainless steel and glass. You can use them dry or moistened with water for more cleaning power.
4-Gallon Bucket + Rectangular Cleaning Caddy Our roomy clear Rectangular Cleaning Caddy nests into our Rectangular Bucket and has a large, open design to accommodate cleaning supplies, shower necessities, car washing accessories or dog grooming essentials. A breeze to clean and a breeze to clean with!
If our top 10 have you excited for what spring-cleaning brings, check out our entire Casabella category on our site! Full of even more brooms, mops, and nifty kitchen-cleaning essentials for every cleaning need.