After spending the last 40+ years helping our customers organize their garages, there's one important lesson we've learned: every single garage is different. One's garage storage needs can vary greatly depending on the size of the space, the type of items one needs to store, their personal preferences, etc. Put another way, what works for an amateur mechanic/DIY-er does not necessarily work for someone who grows edible seaweed in an aquarium.
(Yes, that's totally a thing--look it up.)
Therefore, as the proud place Where Space Comes From (TM), it behooves us to offer a degree of variety in our garage storage arsenal, and that's why we recently introduced Tribac 5-Shelf Unit and Titan Cabinets. If Gladiator is too heavy-duty, Elfa is too large, and Metro Commercial/InterMetro is more strength than you really need, Tribac and Titan are still strong, affordable options that have you covered!
The Grey Tribac 5-Shelf Unit is constructed from super-rugged plastic and built to withstand tough garage or patio conditions. The shelves are adjustable and the included wall-mounts add stability. Each shelf supports up to 132 pounds. (Yes, that's just strong enough for a 10-gallon seaweed aquarium.) Add optional stacking Bins with or without lids for even more storage options. Or add Rails and turn the Bins into Drawers that are perfect for smaller hand tools, towels, and gloves. Best of all, the unit can either be assembled side-by-side for a wider, workbench-style solution, or stacked for a tower of storage. So many possibilities!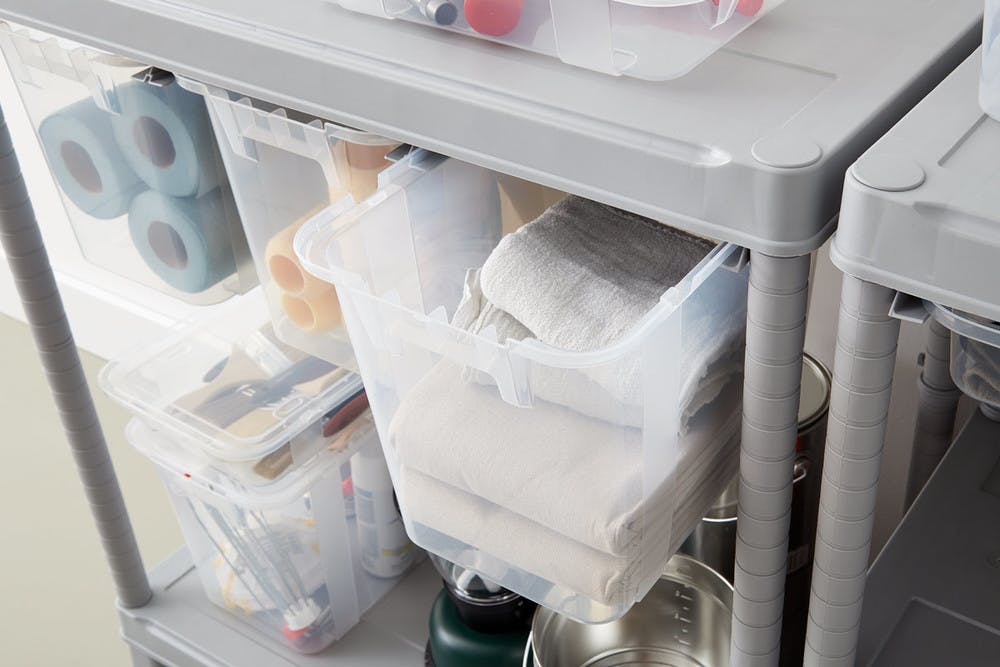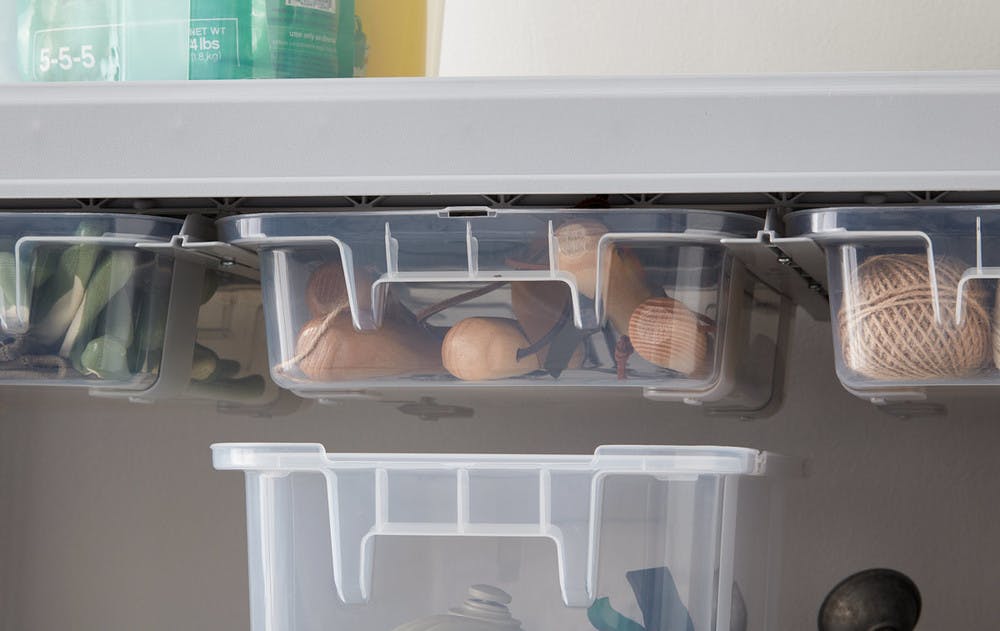 Our stylish Titan Cabinets are constructed of rugged plastic with concealed metal hinges and come in two different sizes. The High Cabinet has four adjustable shelves and the Base Cabinet has two, and each shelf holds up to 65 lbs. The doors are both waterproof and lockable, making them perfect for pool toys, sports equipment, paint cans, or plenty of other items.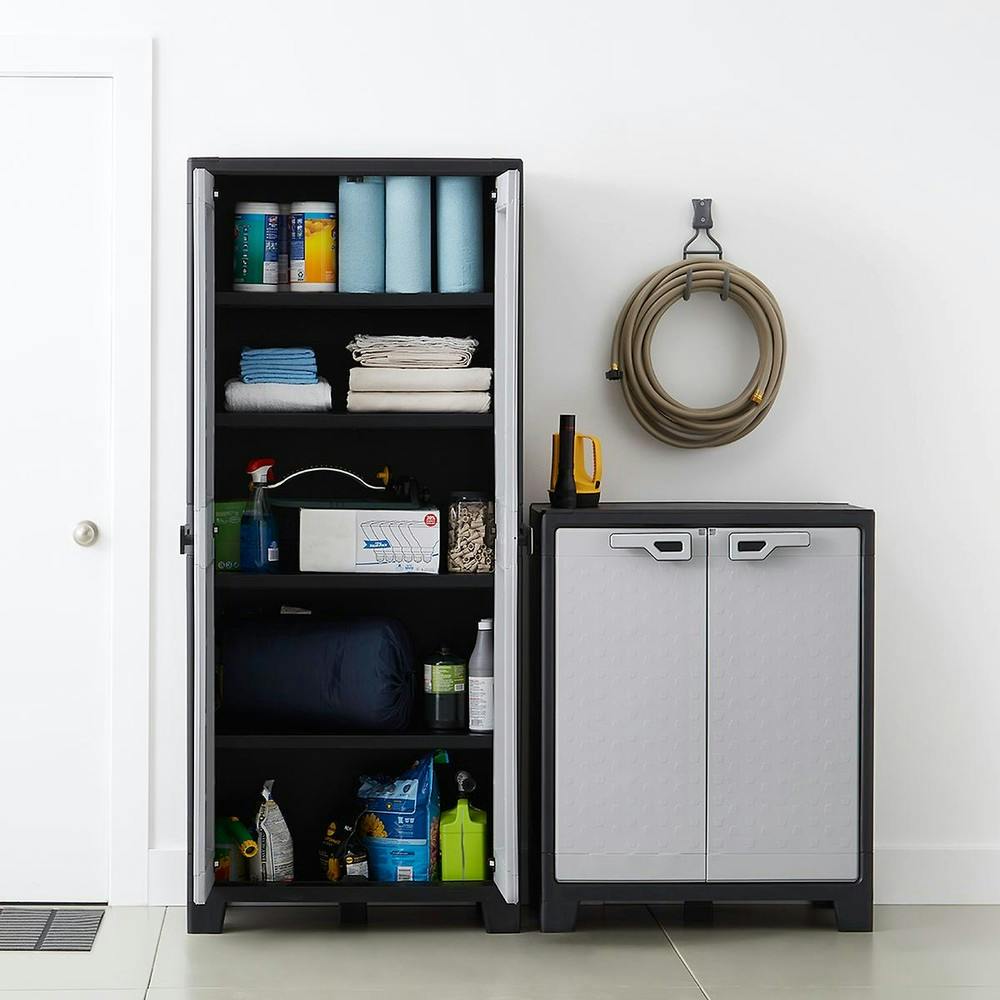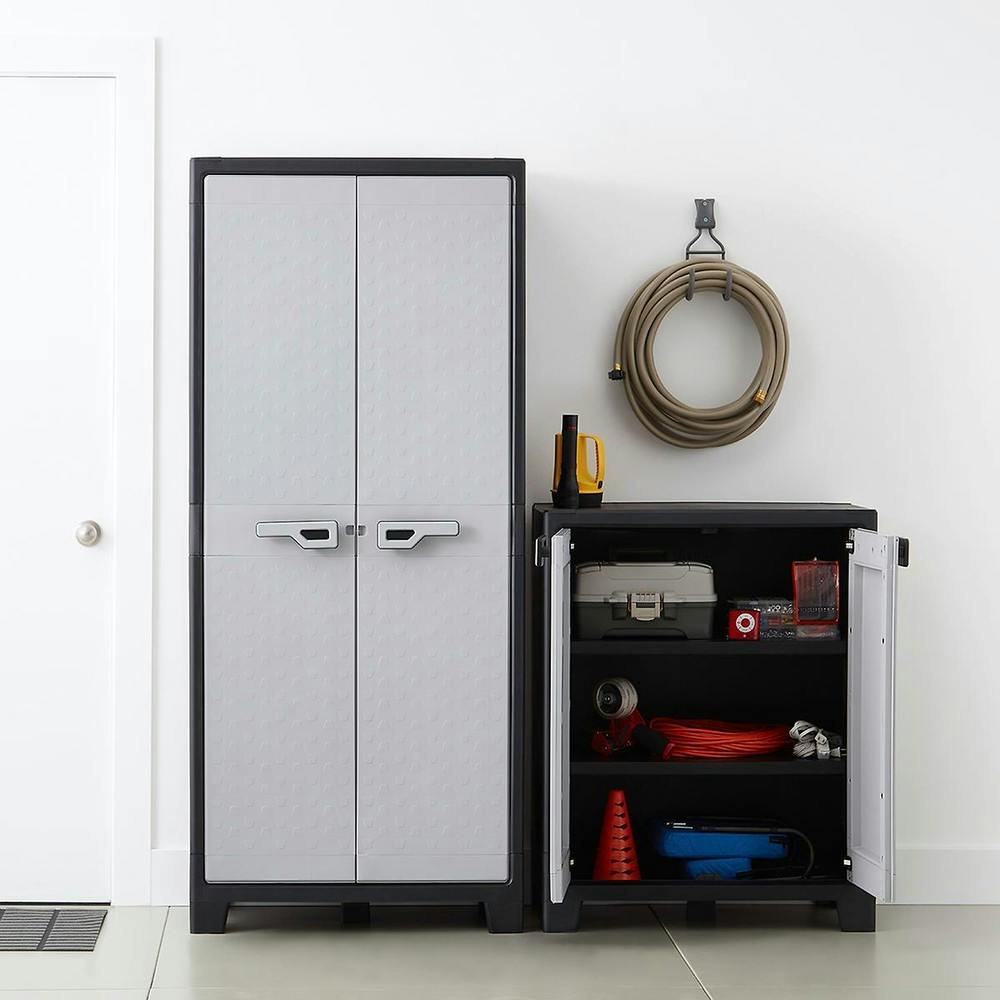 We're delighted to introduce Tribac 5-Shelf Unit and Titan Cabinets to our customers. So no matter what you need to stow away in your garage, The Container Store most likely has the perfect storage option for you!
(Need even more suggestions for your garage? Be sure to check out our full selection of garage storage products and organization tips!)