The turkey is roasting and dressing is made, the green bean casserole is bubbling and the pumpkin pie is cooling. Sound familiar?
It's the annual day of thanks and you might be a little exhausted, no? Putting together a Thanksgiving feast is hard work, and by the time you're doing prepping the house, buying and cooking the food and managing to look somewhat festive, it's time to make sure the kiddos are happy, and most importantly of all, seated for the meal.
The staying "seated" part might be the hardest part of all, so we've put together a few quick how-tos for a fun and interactive Thanksgiving place-setting you and your kids will love! Plus, a few fun recipes you can make together.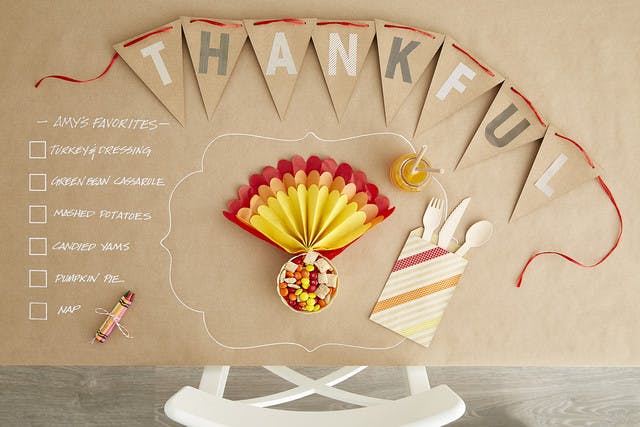 The overall theme of kraft paper, orange, red and yellow hues gave our place setting the fall look that every age loves. Here's how to create each part of the look depending on what you want at your festivities!
Tablecloth
This tablecloth is absolutely perfect for little ones. They can draw on it and get it messy without having to worry. Personalize it to your taste whether you want to add more or take away.
Create the placemat shape by tracing your current placemat (we used our Chalkboard Placemats) with our chalk markers for a clean outline that the kids can get messy!
Create a checklist for your little ones to mark their favorite foods as they eat by using our Chalk Markers. That way they can still interact at the table through every course.
Wrap a few crayons in some twine and let them pick their favorite to check off the list
Centerpiece Banner
This fun and festive banner can be personalized to any message you want all your guests to see!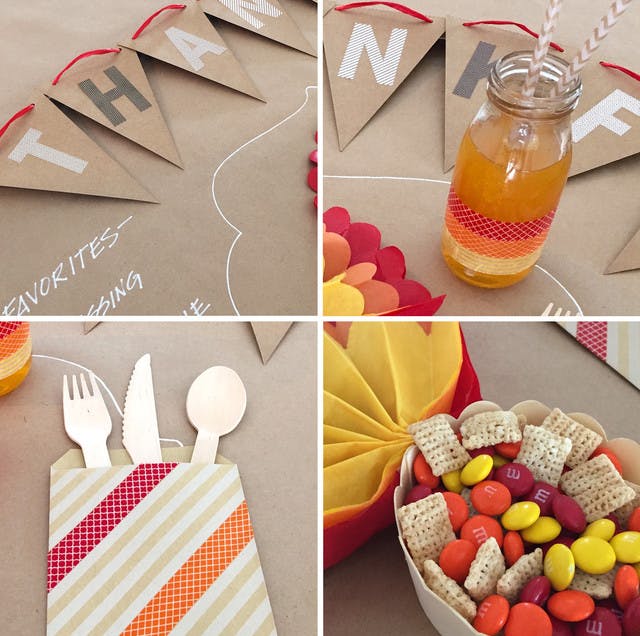 Tropical Lemonade Punch
The perfectly coordinated colors of this mix add to the table decor and a delicious to drink!
1 cup Pink lemonade mix
1 can (48 oz.) dole pineapple juice
1 Liter Sprite
Yields approx. 11 cups
Topped off the presentation by adding our Chevron Paper Straws
Combine all ingredients and add paper straws for a finishing touch!
Utensil Holder
Add some extra attention to detail with these personalized utensil holders!
Use our Red Clover, Orange Diamonds and Yellow Stripe Washi Tape, to decorate our Treat Sacks to color-coordinate with the Thanksgiving theme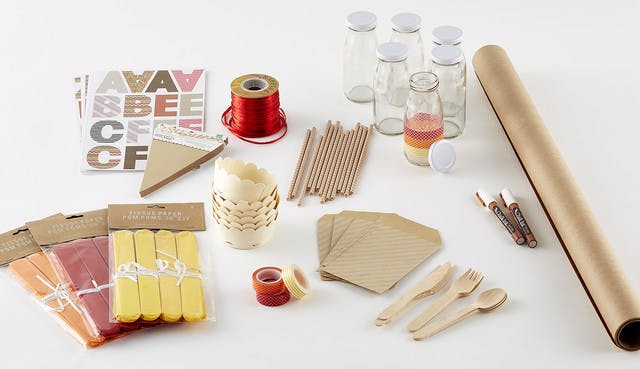 Turkey Treat
Create a cute turkey tail feather for each place at the table by using our Yellow, Red and Orange Large PomPom Kits.
Each kit comes with four flat accordion tissue groupings. To begin, remove one flat tissue grouping and remove the string wrapped around it
Spread out the tissue so it lays flat and count off two pieces of the tissue
Repeat for each color
Once finished, place the three colors in a tiered effect so the red is on the bottom, then the orange, then the yellow (like the photo)
Pinch or fold one end of the three tissue colors together to create the turkey tail feather effect
Secure each end with a piece of tape wrapped around the end to keep the tail feather together
To connect the tail feather to the bowl, cut a 1/2 vertical notch in the edge of the bowl and insert our folded end into the tail feather
Turkey Treat Snack Mix
This easy snack mix is a perfect recipe to make with the little ones!
1 1/4 cup red M&Ms
1 1/4 cup orange M&Ms
1 1/4 cup yellow M&Ms
1 1/4 cup chex cereal
Combine all incredients together and place into individual bowls. Each bowl holds approximately 1 cup of mix and the entire recipe yields 6 cups.
Have your own creative additions to keeping your kids at the table? Let us know at the comments and have a happy Turkey Day.