Even the most organized folks have a place in their home that drives them crazy or that they'd like to tweak or refine a bit more. Well, interiors prop stylist Miriam Bouleanu had exactly that in her charming 1940's apartment, located in Chicago's Ukrainian Village - shared with art director boyfriend, Spencer, and their cat, Monster. Friends often asked what was behind the door that was constantly kept closed when they visited. Miriam referred to it as her "room of shame" - a dumping ground where nothing was visible with a "random" table that had accumulated a myriad of piles. From client sheets to fabric, inspiration items to crafting supplies, she never felt settled or efficient in the space.
Growing tired of the clutter and needing a productive area to work from home, Miriam teamed up with her stylist friend Gena Sigala, and turned the "room of shame" into what they now call the "room of fame." It's now a fun and relaxing space that mixes Miriam's vintage treasures with tons of smart systems and storage solutions. She says the transformation was "life changing" and she's now living large in her small, well-organized office.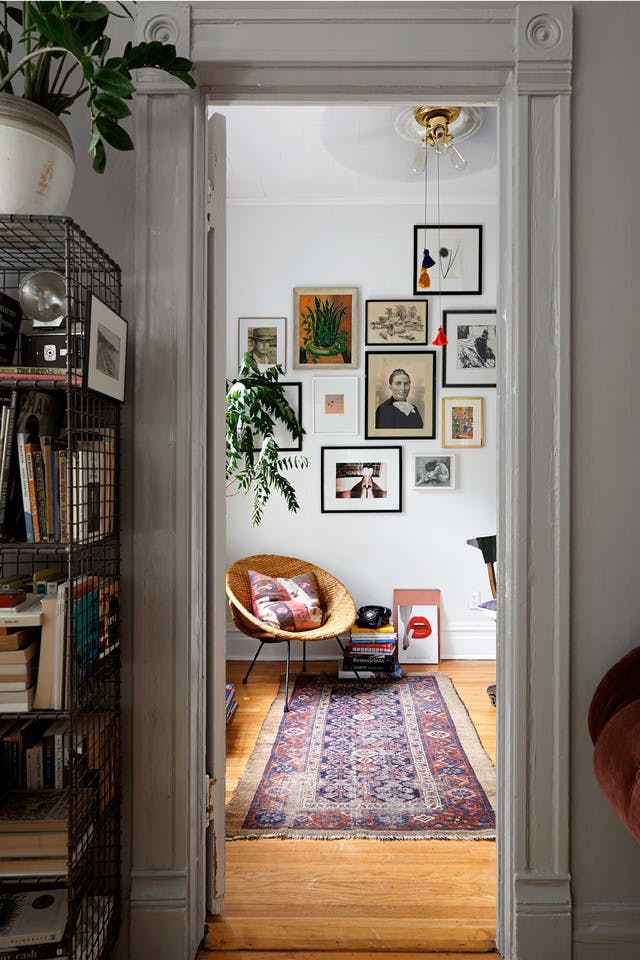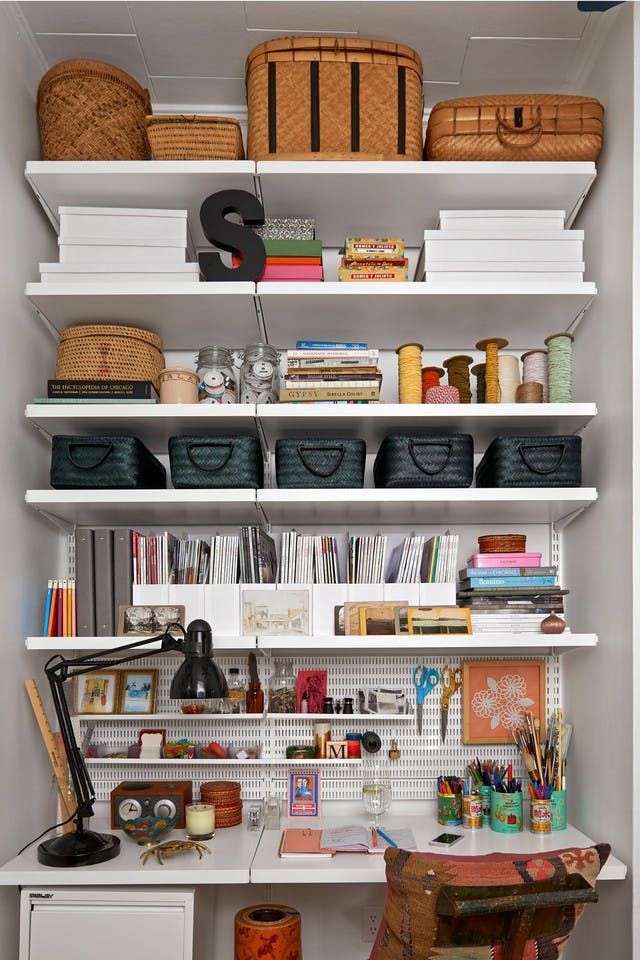 Miriam and Gena made the most of the apartment's high, 118-inch ceilings, taking elfa shelving all the way to the top to create a functional workspace while maximizing every inch of vertical space. The top shelf is filled with found vintage baskets, which reflect Miriam's aesthetic and personality. Magazine holders now organize the many editions of inspirational materials that Miriam uses on a daily basis for tear sheets and inspiration boards.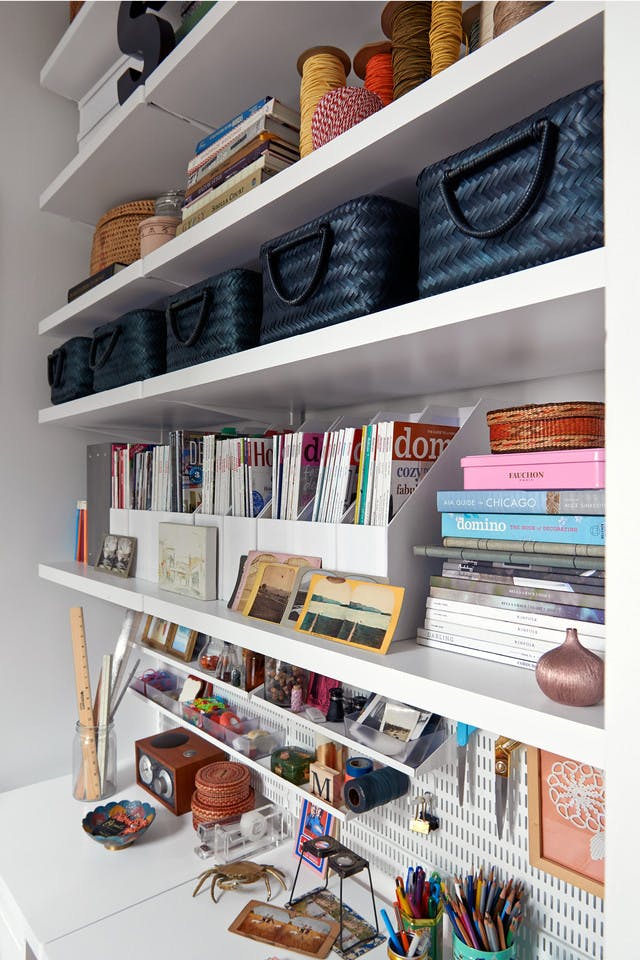 A Roman shade that was made from a beautiful piece of Indigo that Miriam found at the Kane County Flea market served as the color inspiration for the room. The row of blue bamboo bins took the inspired pop of color across from the window and into the workspace. Miriam says that, as a freelancer, she needs to keep her receipts for tax purposes. She now uses all of the new storage bins to organize her receipts and the Bisley filing cabinet to keep the paper in its place. She says that, in general, paperwork is something she has struggled with - now there's a system in place that makes sense and makes her work more efficient.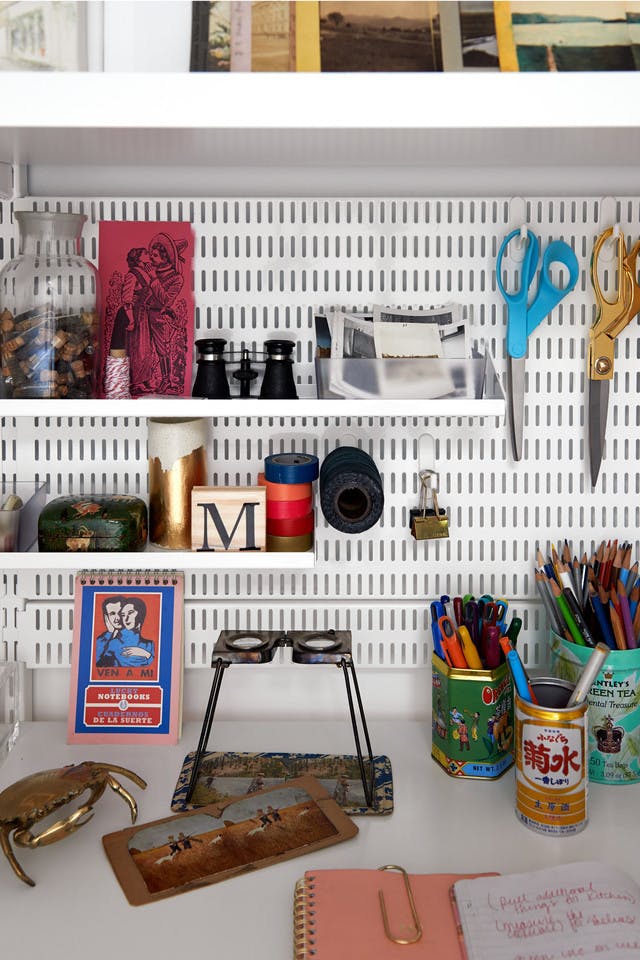 Elfa utility boards with various combinations of shelves, bins and hooks created areas of function and fun to showcase her flea market finds and trinkets - like the tea tins that she picked up in Chicago's Chinatown and turned into pen and pencils holders.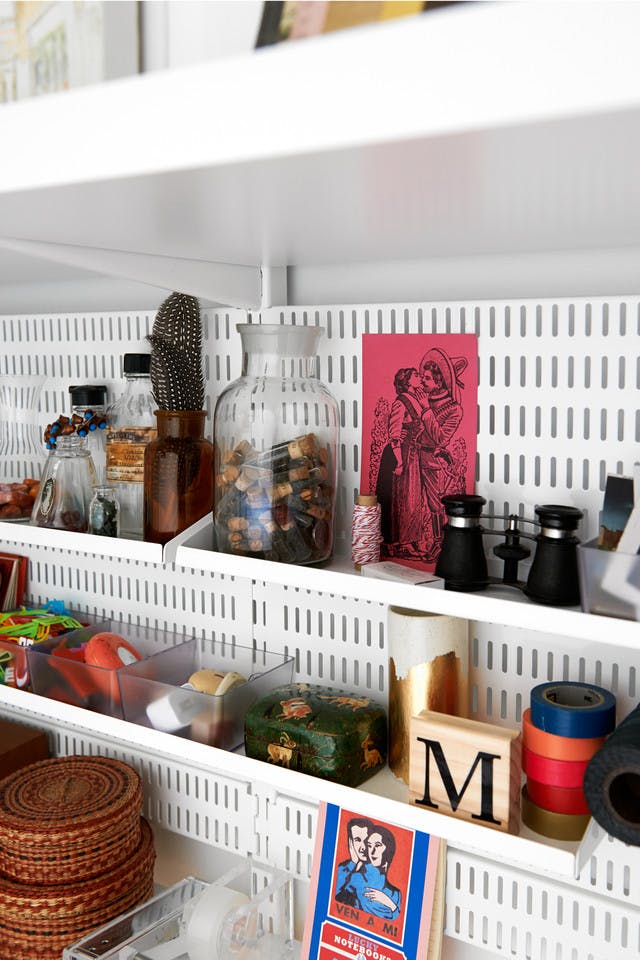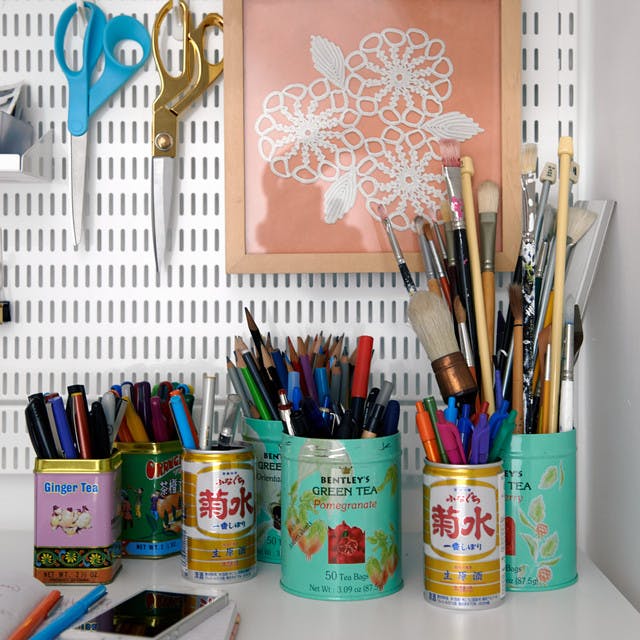 These touches of interest and personality provide the creative inspiration that Miriam thrives on and comes by honestly, as her mother was a curator at the Chicago History Museum and her father a photographer. Her grandmother Ileana or "Bunica" which was the Romanian word Miriam used for her, was also a creative and her handiwork is proudly displayed in the space. She gets emotional as she tells the story of Bunica helping to raise her after coming to America from Romania with "absolutely nothing." She brought doilies with her that she had made, and told Miriam that, although she wouldn't have an inheritance to share with her, she did have these dainty pieces that her grandmother had been making her entire life.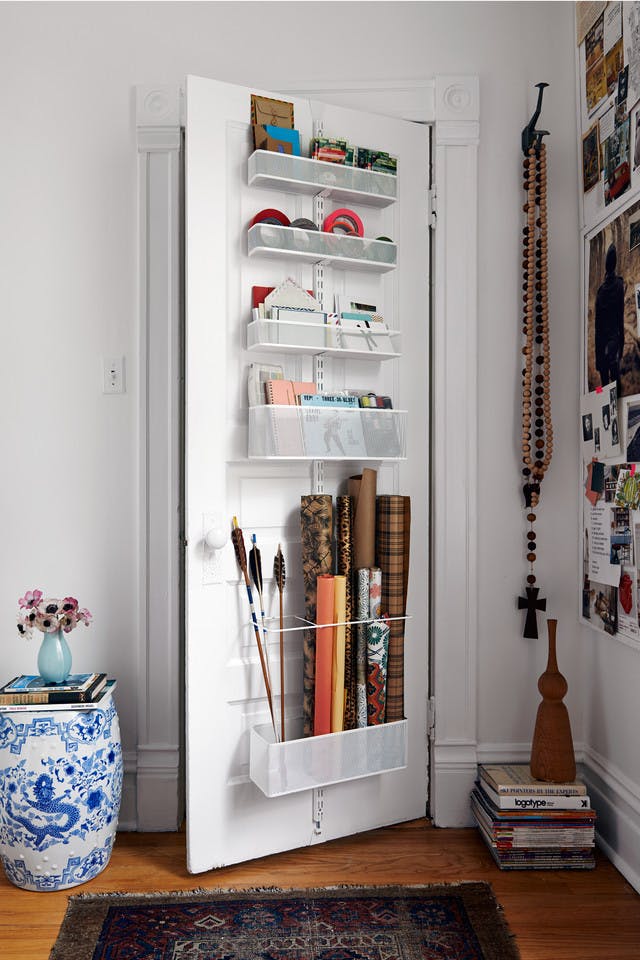 An elfa door and wall rack holds all of her stationery and paper materials that she uses in her styling projects. With an admitted tape obsession, Miriam has a shelf that is devoted to only that - Washi Tape, Cotton Tape - tape galore! When organizing her office, she kept in mind a personal goal of wanting to get better at writing "thank you" notes and handwritten letters. She says because the stationery and cards are now in their own home she's already written a few letters, which previously she hadn't done in over a decade.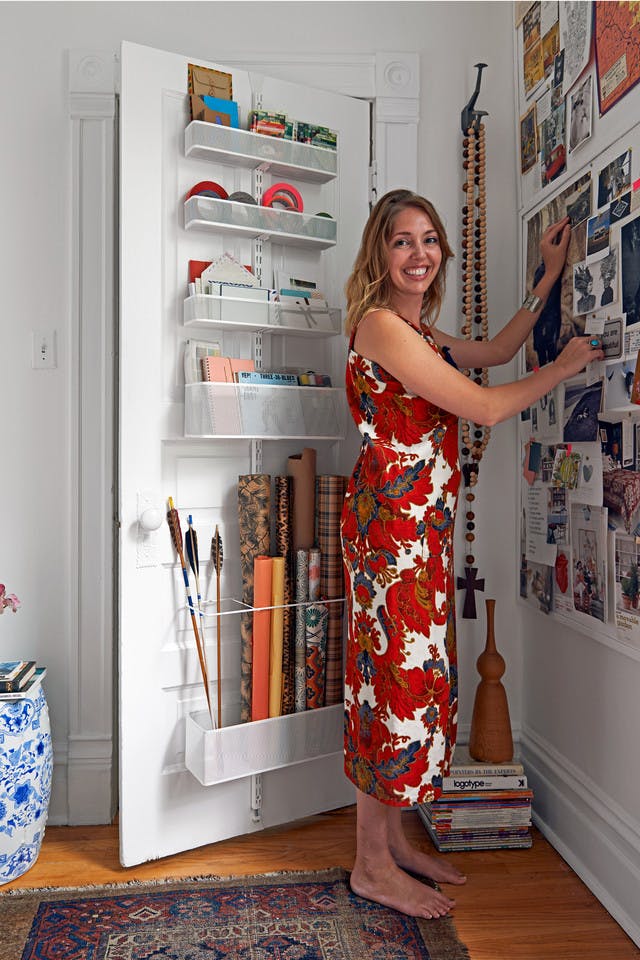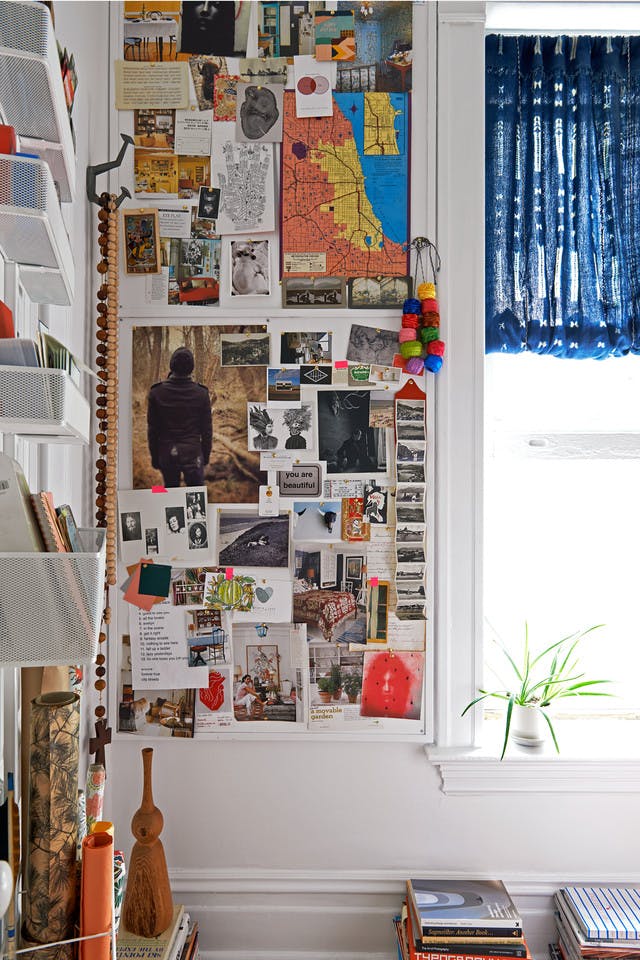 We love what Miriam and Gena did to create a space for her inspiration boards. They painted two of our cork boards to match the walls - Benjamin Moor Chantilly Lace. The result is a clean, seamless look that fits perfectly in the corner to hold Miriam's "ephemera" - her little muses as she works.
Miriam says that one very special thing about the experience is that Gena and Steven (who photographed the space for this story) usually work together on photo shoots, creating environments that neither of them gets to live in. She says it's the first environment that she has ever created which is real and is also photo shoot ready. "It's an inspirational space but 100% real and functional. It's a dream come true."
Interiors Editor and Styling by Gena Sigala