Fashion savvy blogger and all around creative woman, Cassie Freeman of hisugarplum, had grown tired of her cluttered craft room. After moving into her new house and tackling the organization makeovers in the pantry and cabinets, it was now time to address the organization of her source of creativity.
Cassie found that, though both of her elfa Door & Wall Rack Systems transitioned perfectly from her former house's craft closet to her new house's craft closet, the rest of the closet wasn't transitioning so seamlessly. What to do? Call The Container Store, of course!
In no time, Cassie contacted talented organizer and founder of IHeart Organizing, Jen Jones, and some of our fabulous in-store expert employees helped set Cassie up with an elfa Craft Closet that made all of her creative dreams come true! Check out the entire craft room makeover, filled with some of our best-selling bins, boxes, labels and more!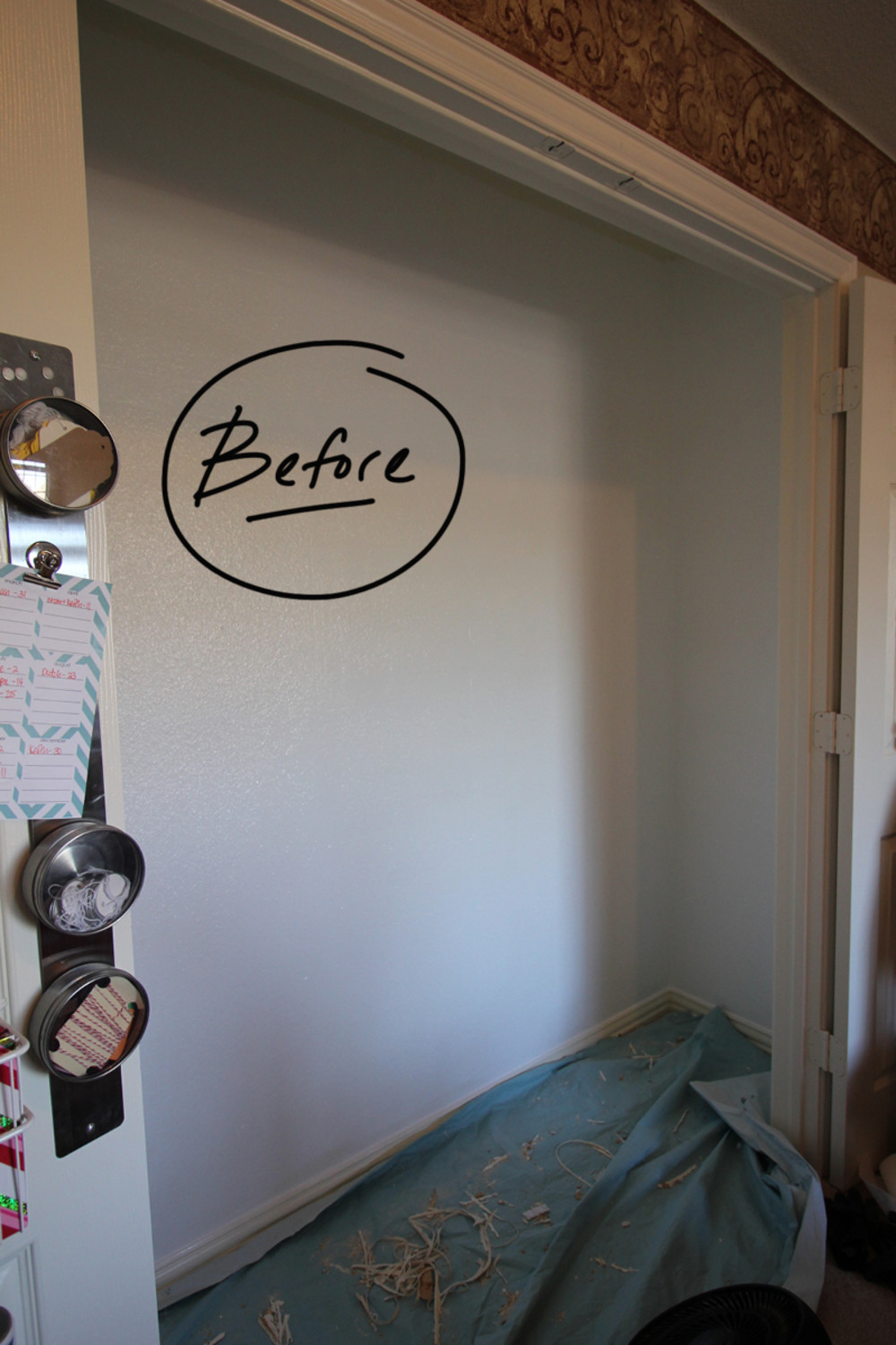 Before, the built-ins within in the space were doing more harm than good. Even after they were removed, Cassie wasn't able to bring most of the elements of her old craft space into the new space. An organization overhaul was in order.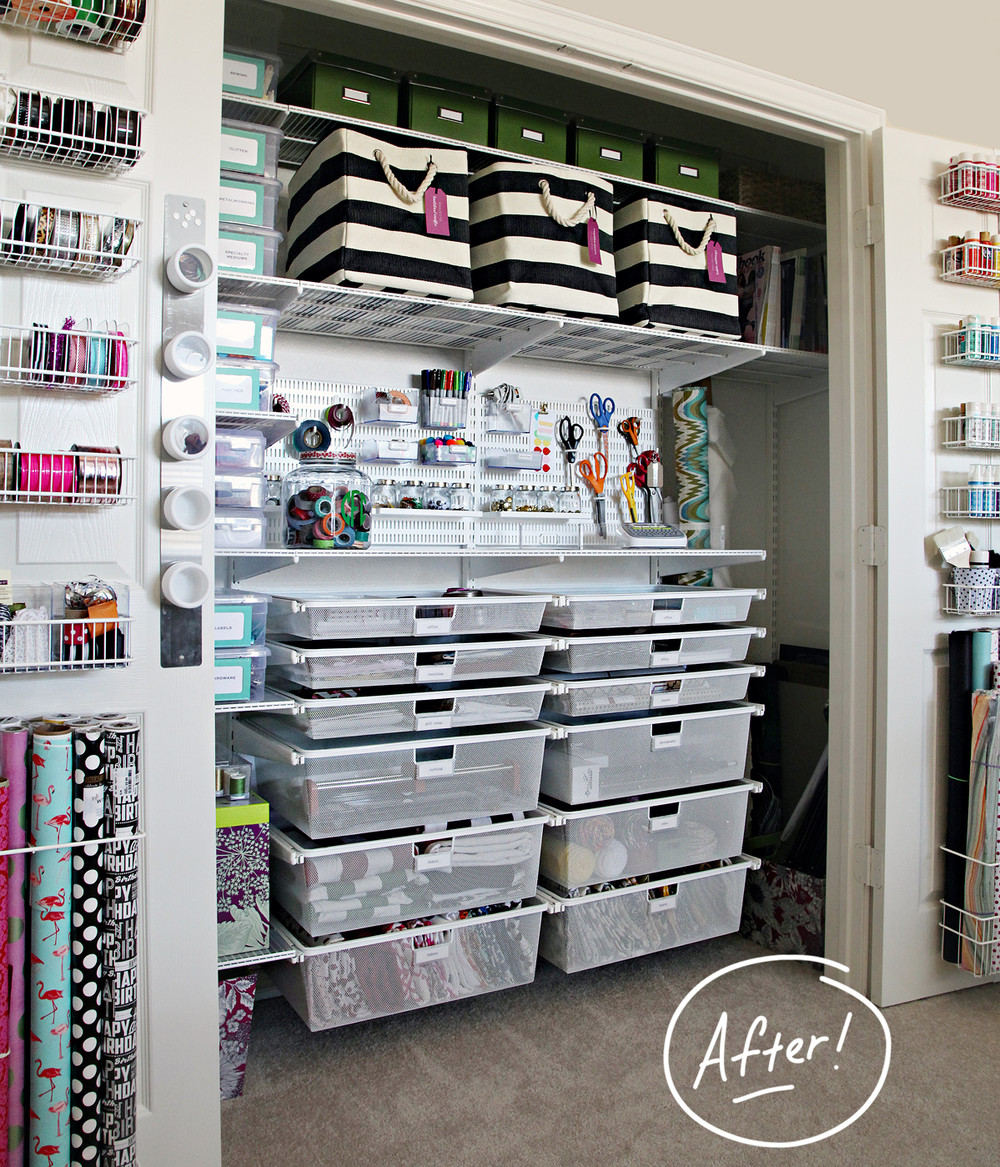 Now, every craft supply Cassie could ever need is right at her fingertips and ready for use! By utilizing all vertical space and maximizing the volume of free space she already had, it looks and functions like a crafter's dream.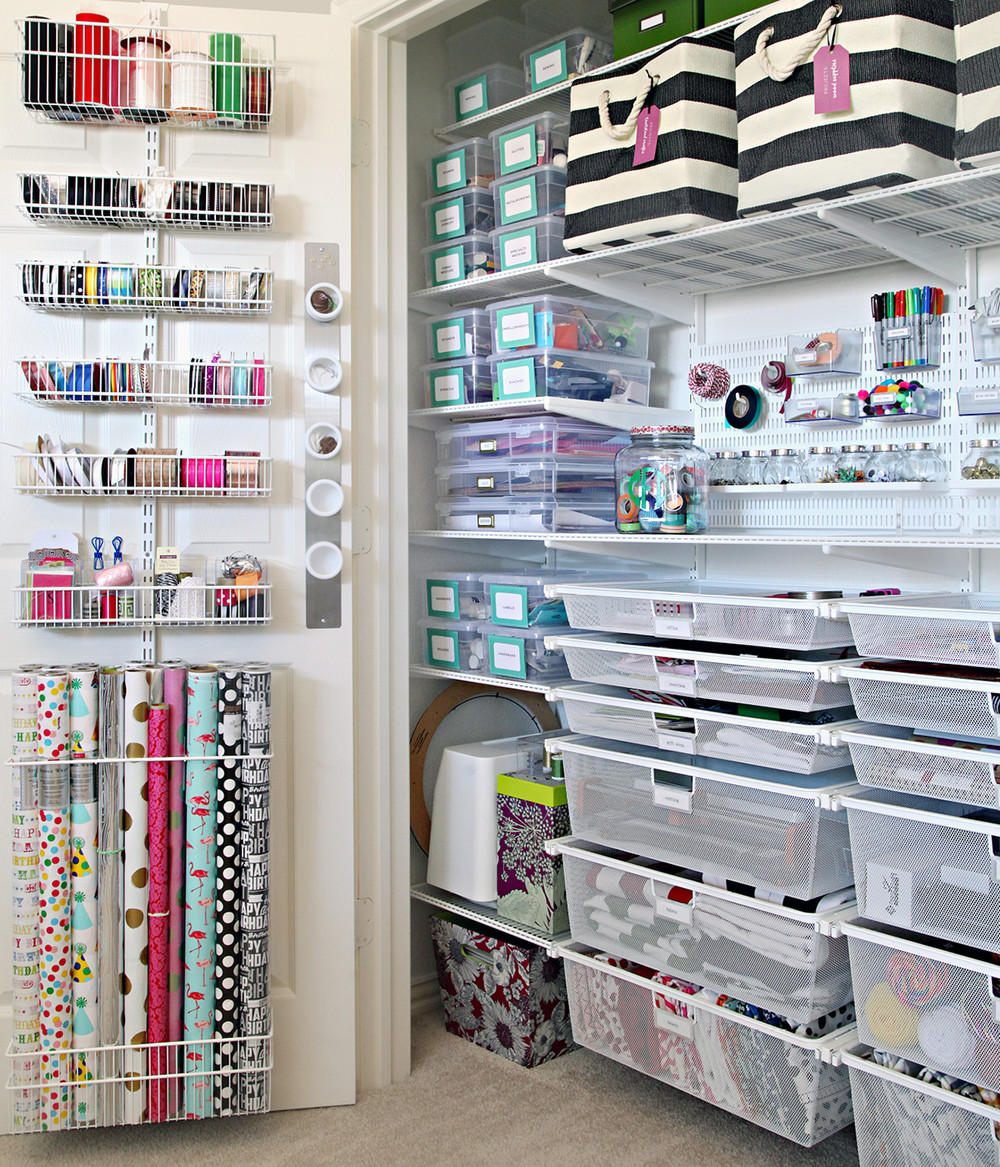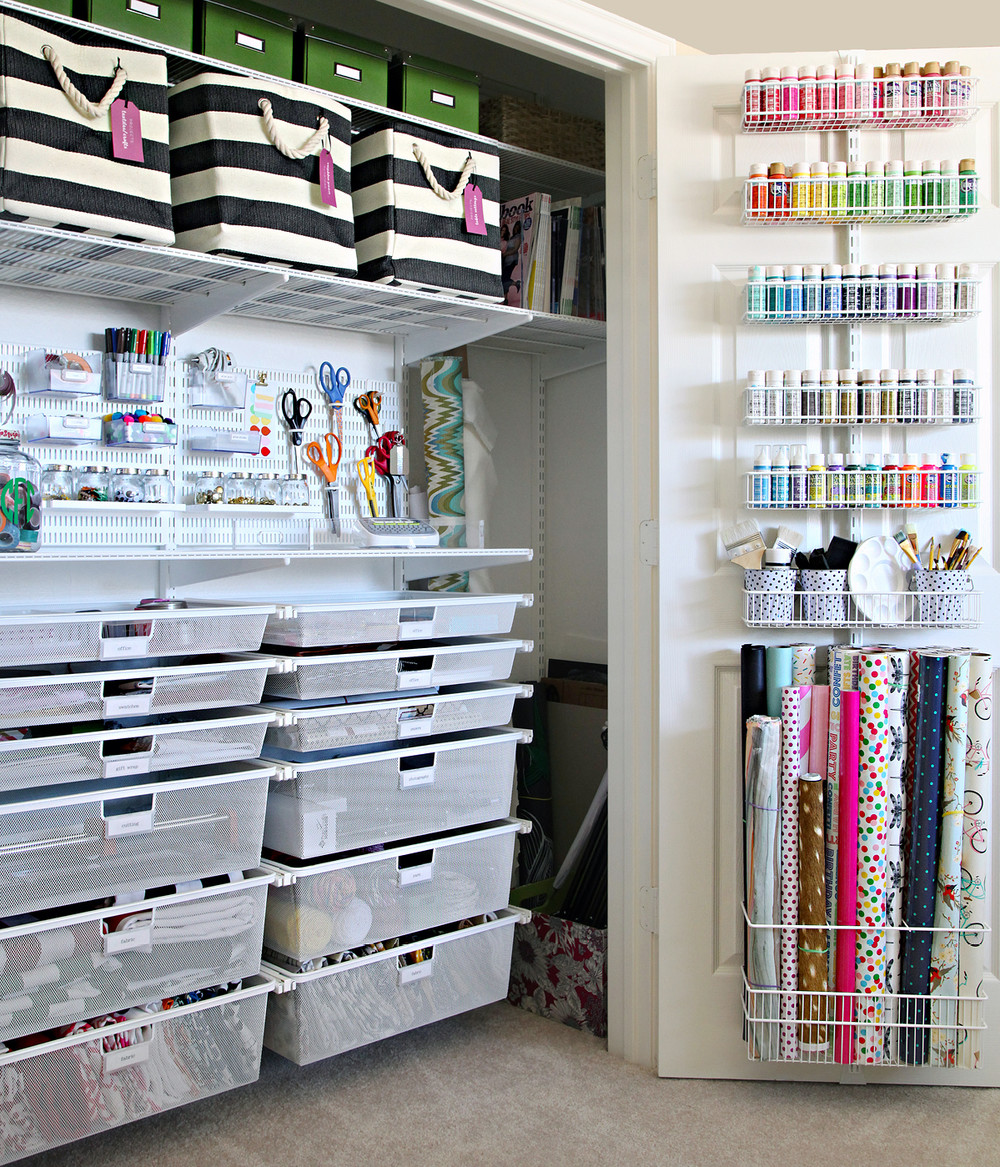 "The difference between organizing this craft closet by myself, and designing it with Jen Jones? No detail is overlooked or too small! She thinks through each and every placement to make sure it's the smartest and most efficient…then makes it so pretty you're almost certain to maintain it! She is a wealth of great ideas and tips, and she left me inspired to tackle more areas of the house," said Cassie. We couldn't agree more!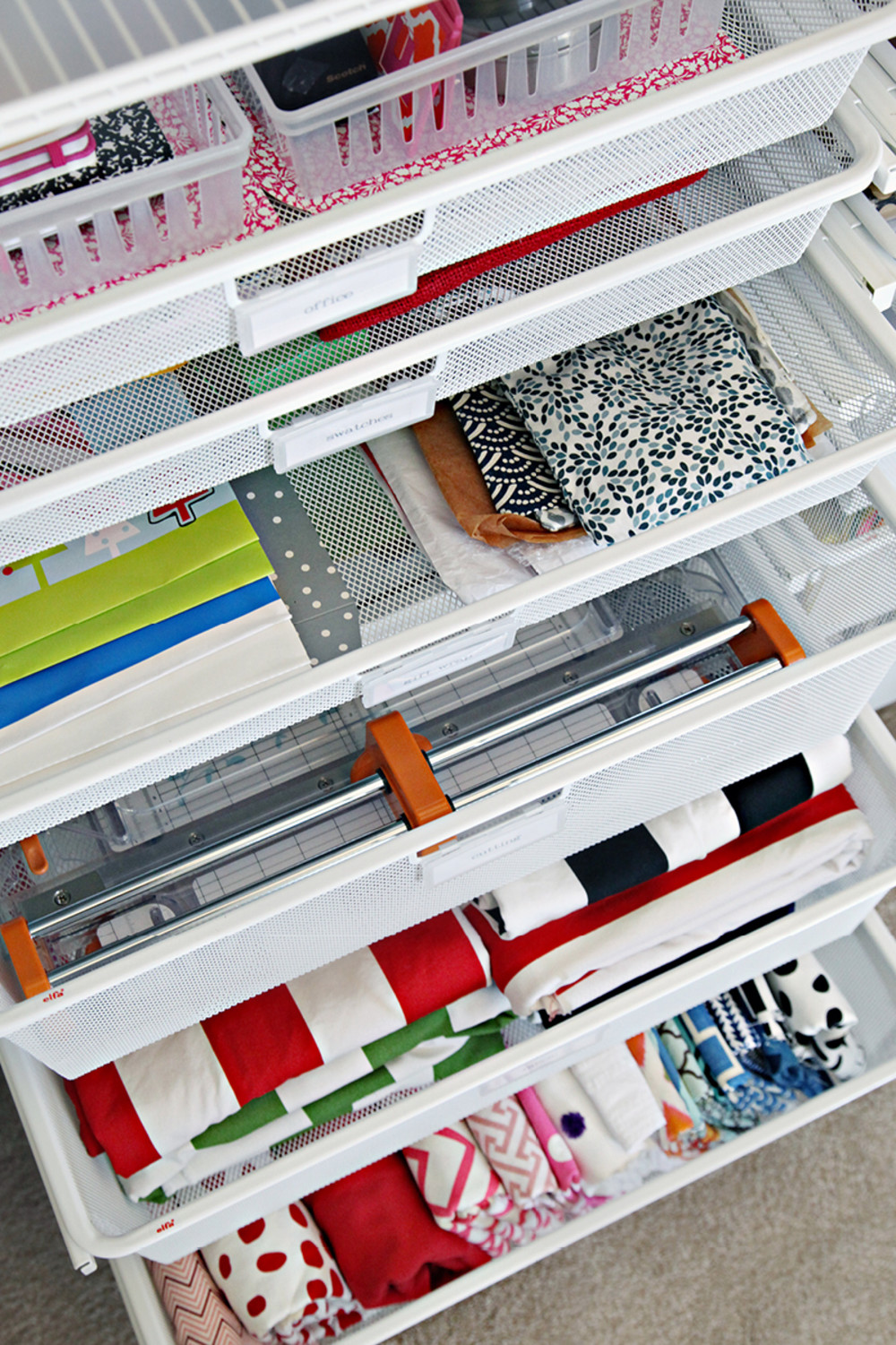 "We stored the most-used items on the utility board so they were within reach, and the rest of was sorted and placed in the pull-out drawers, and clear boxes," said Cassie. elfa Mesh Drawers perfectly stored the not so frequently used items out of sight.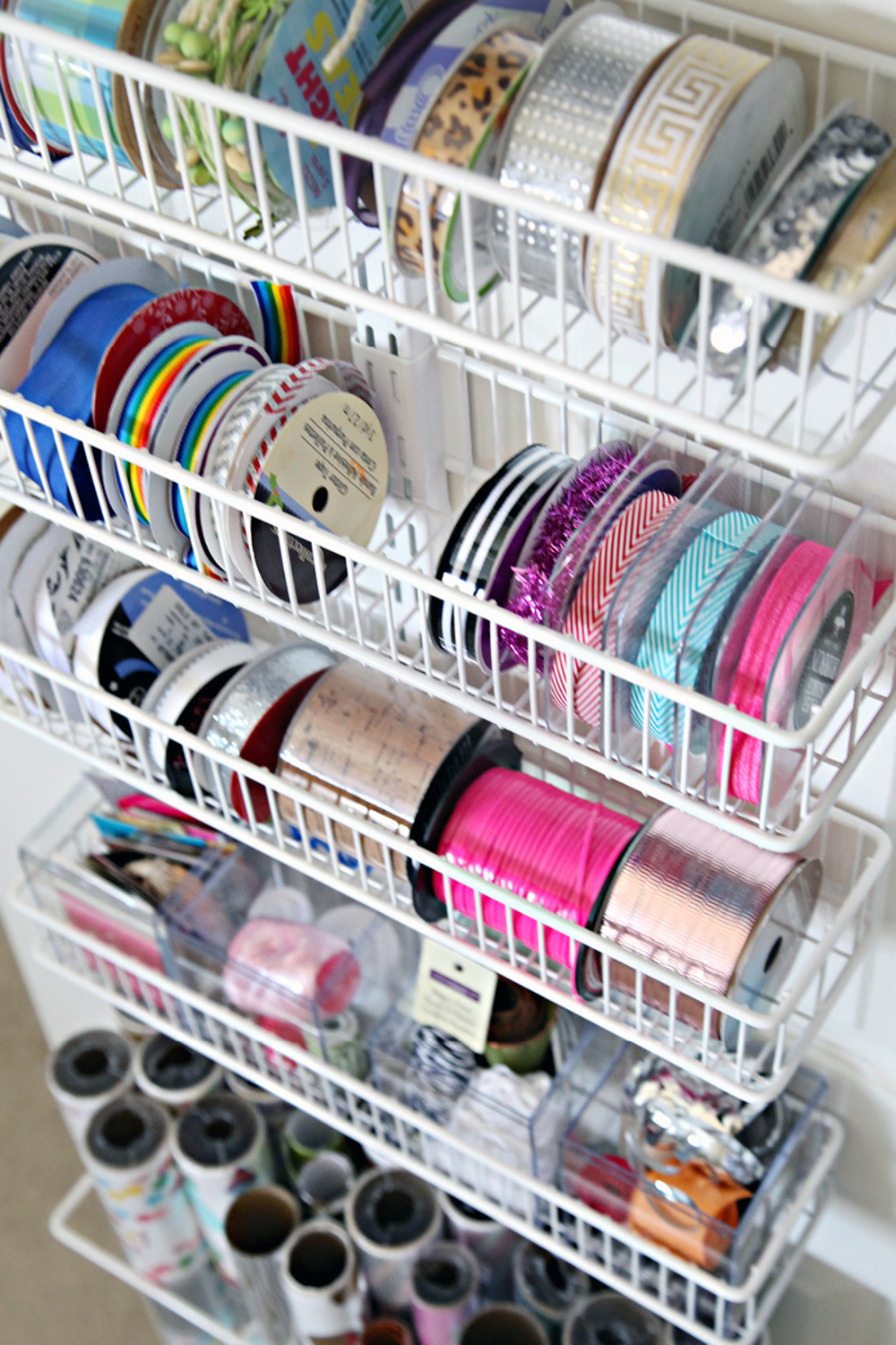 Our elfa Door & Wall Rack System worked wonders on both sides of her door. Here, Cassie organized all of her ribbons, twine and string where she can see absolutely everything.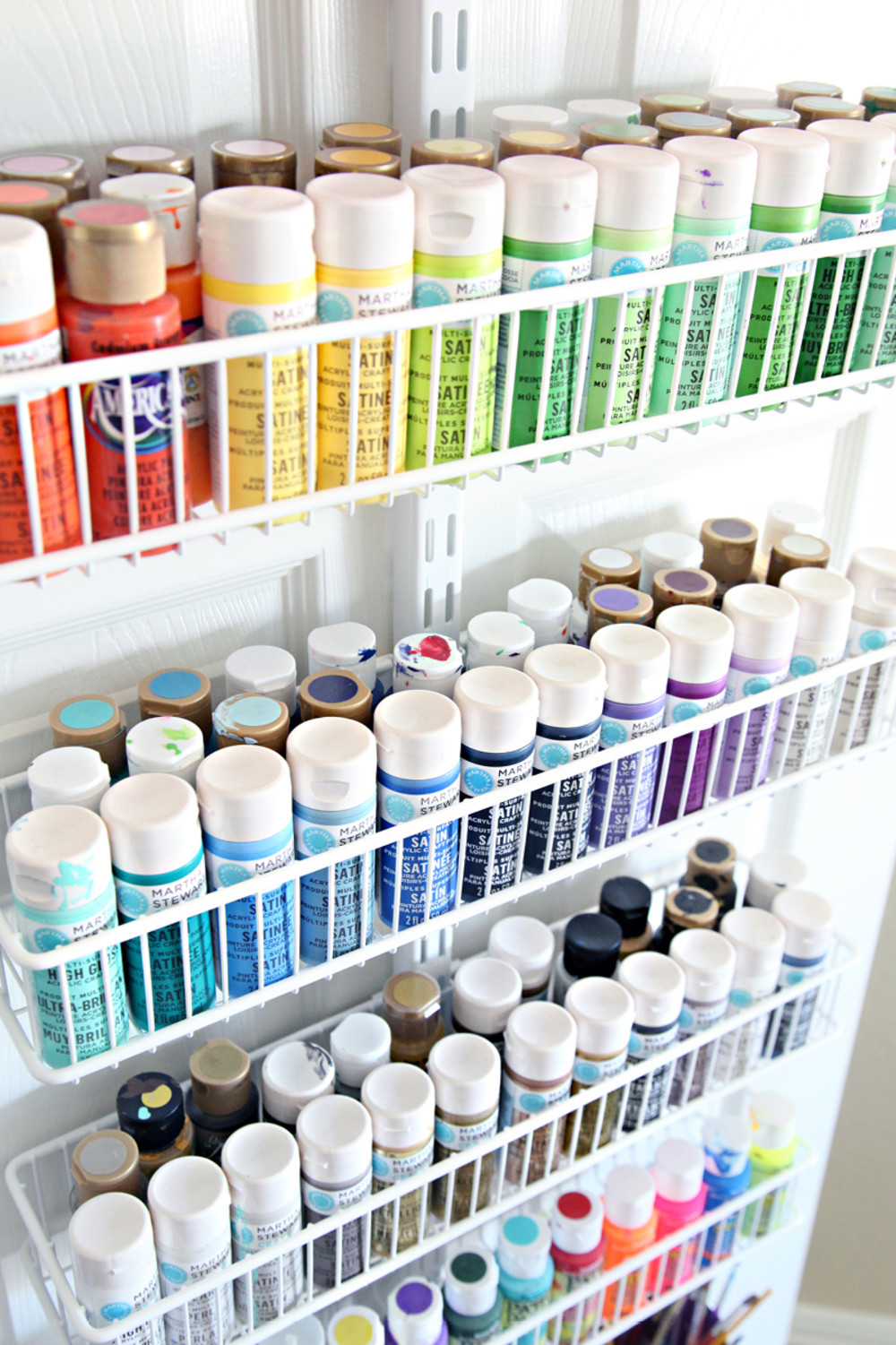 No paint goes undocumented when stored within our elfa Door & Wall Racks. Cassie and Jen organized each bin by color. Now, whenever Cassie needs one or a few, she can even take the elfa utility Baskets right off of the Wall Rack and tote them wherever she's working.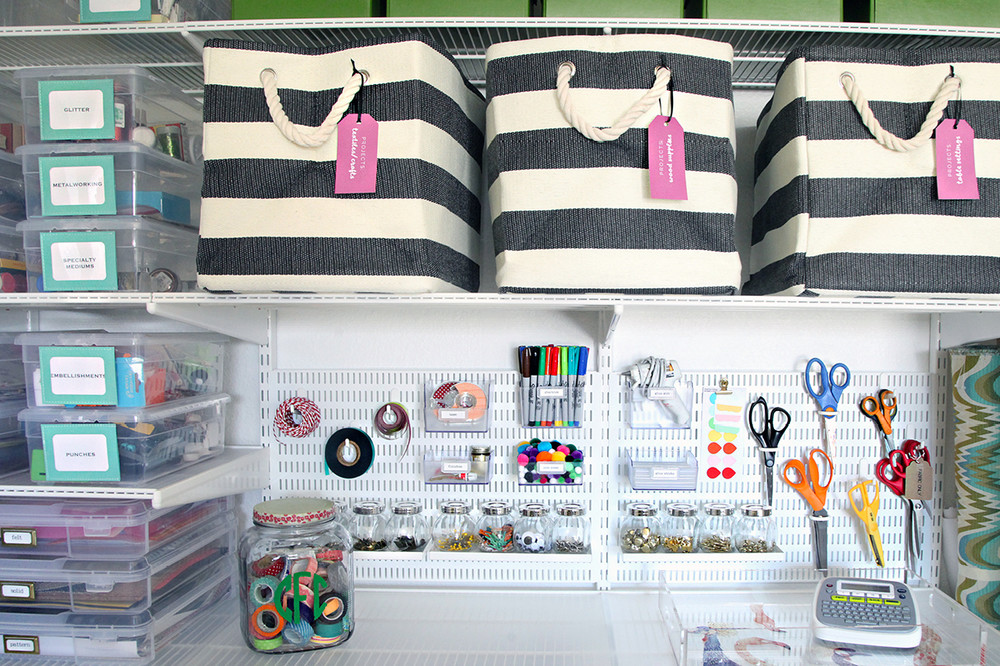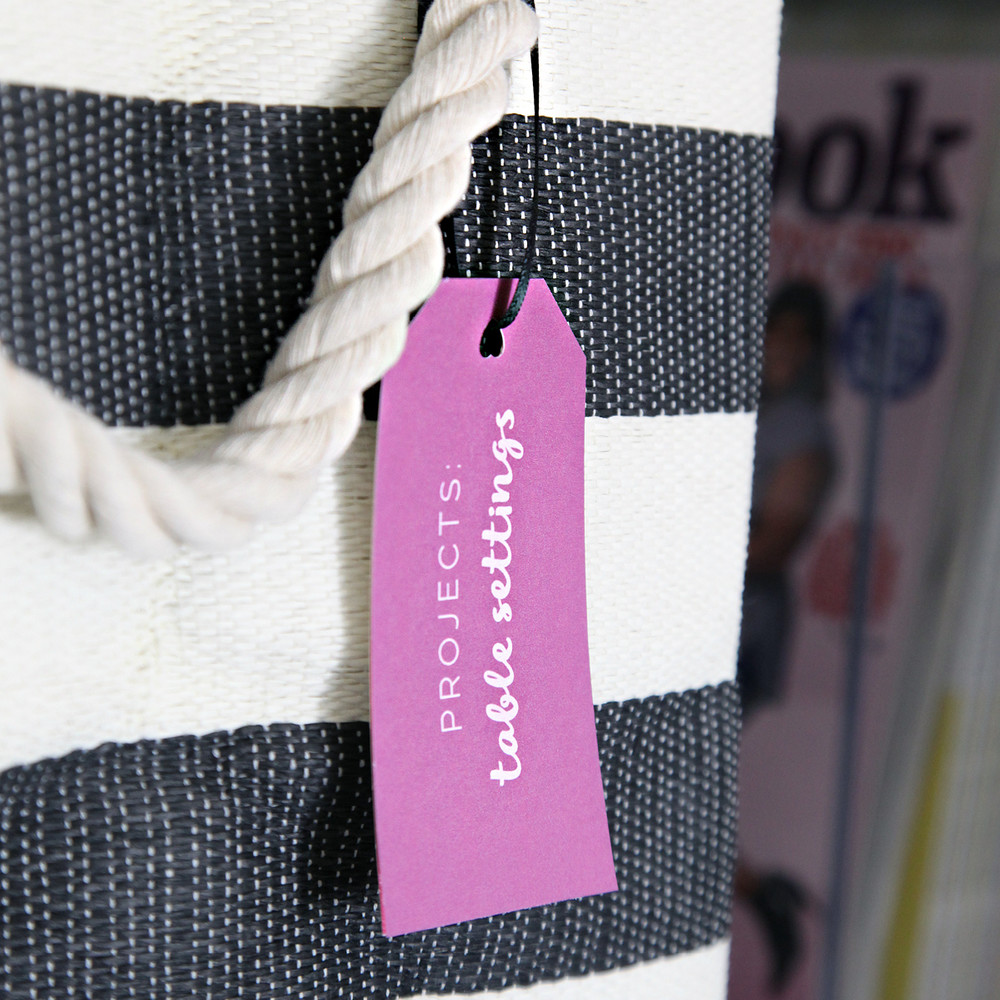 "I'm a sucker for these Striped Rugby Bins, and not only do they add a fun pop of pattern to the all-white closet, but hold a ton of stuff! Believe it or not, all three of these bins are full of materials I've picked up over the years for blog craft ideas…and never got around to! I think I'm set for craft posts for awhile!" said Cassie.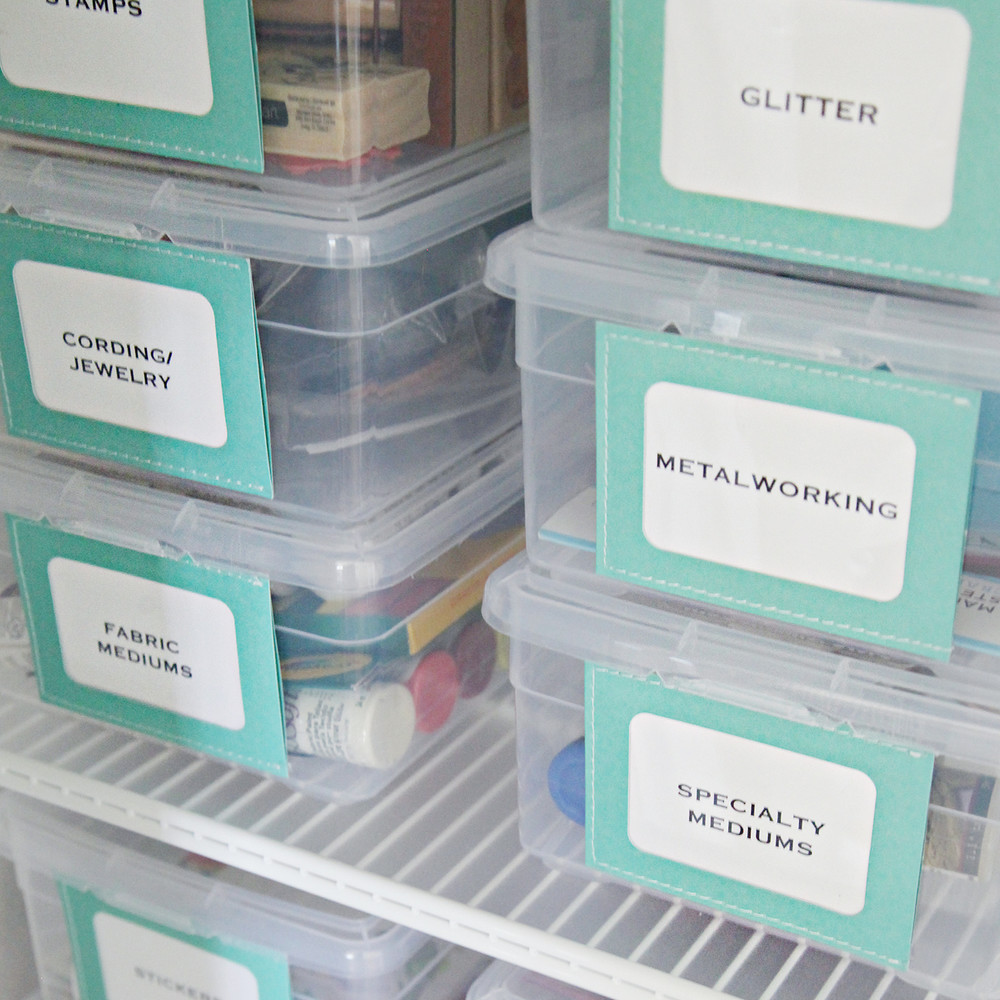 "Obviously not everything needs labeling, but we just couldn't deny these cute labels for each of the Our Men's Shoe Boxes," said Cassie. She used Our Men's Shoe Boxes to organize and stack everything from glitter to stickers. Plus, they encourage 'other people' to put things back in their proper spot.
"I buy them by the case and use them all over the house for organizing, and of course they are perfect for the craft closet, too," she continued.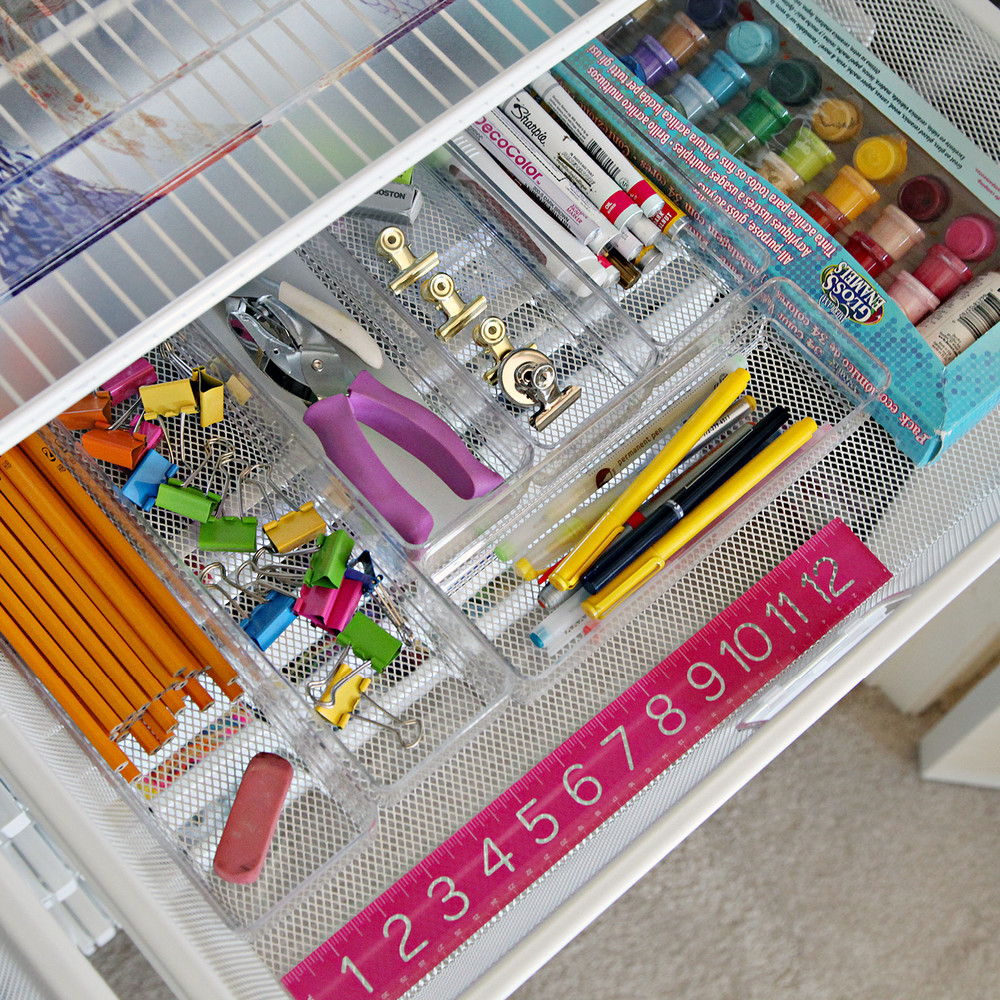 The top drawers are dedicated to Cassie's office and homework supplies, with Acrylic Drawer Organizers keeping everything sorted and separated. Not only do they look beautiful, but they give a system of order to an otherwise open bin.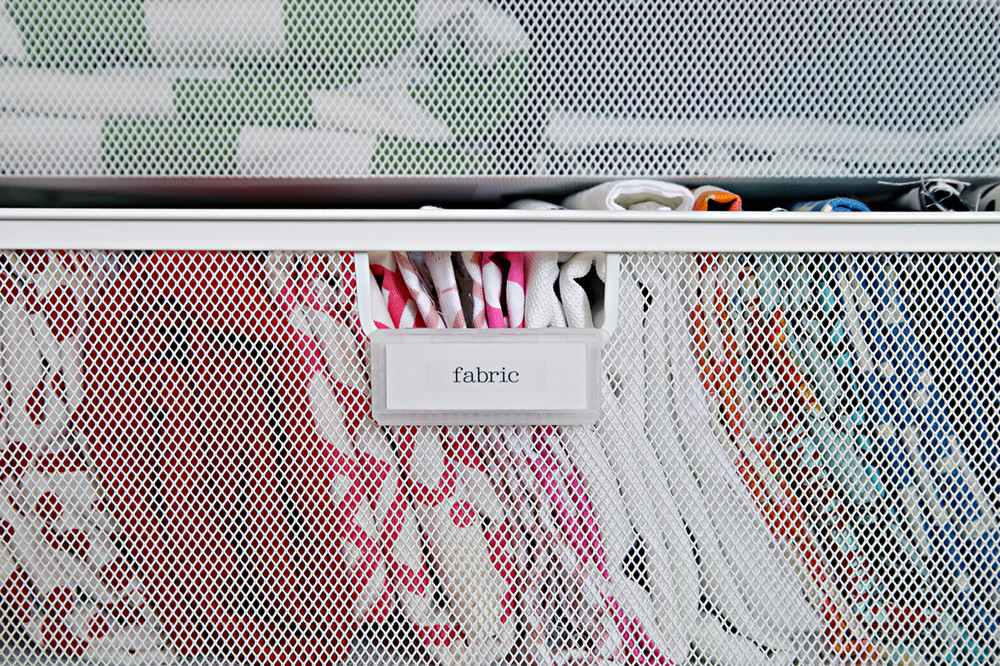 Our elfa Drawer Label Holders work seamlessly with our elfa Mesh Drawers and are ideal for crafters with changing needs. When a drawer's responsibilities change, just pop out the label and insert a new one to match what's inside.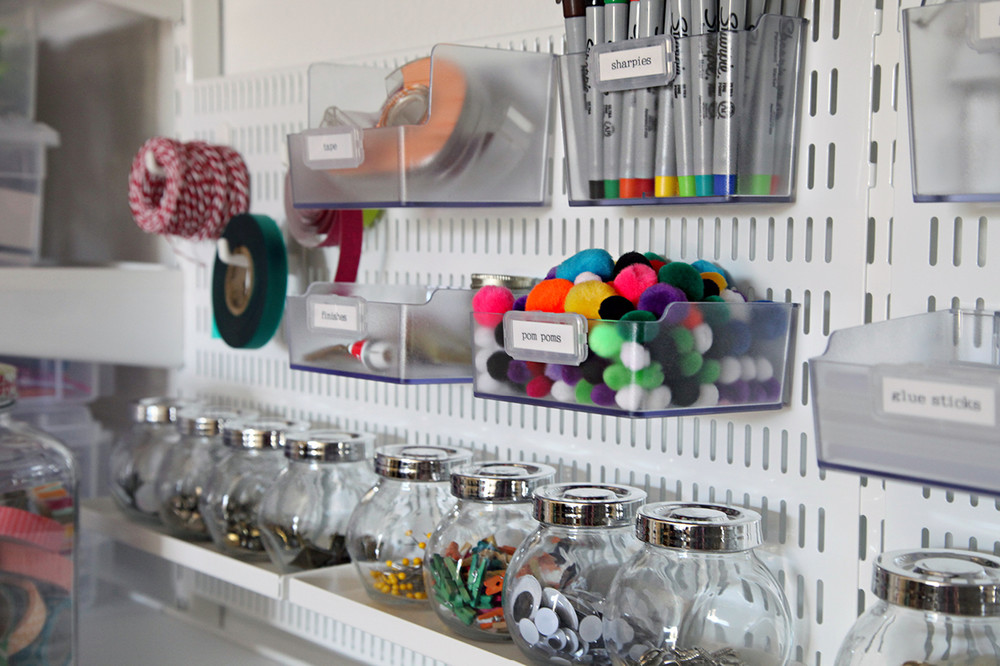 elfa utility Board Boxes hold Cassie's frequently used craft supplies like Washi Tape and pom poms.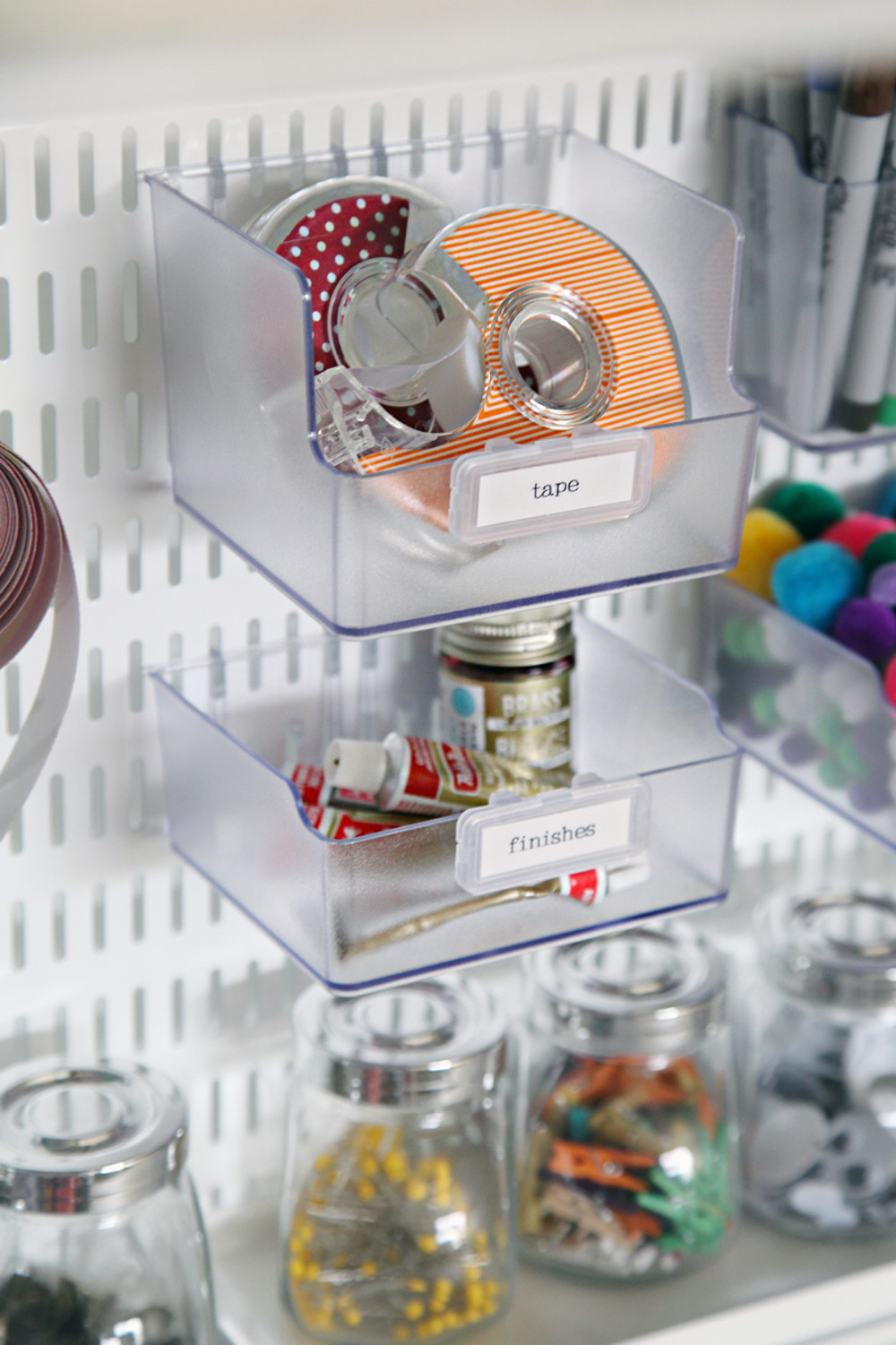 "Installing the utility board in place of another shelf also created an open work space, and the plastic liners keep things from falling through the slats of the elfa Ventilated Wire Shelving. I may add an electrical outlet to the closet someday for a lamp and spot to plug in my glue gun," said Cassie.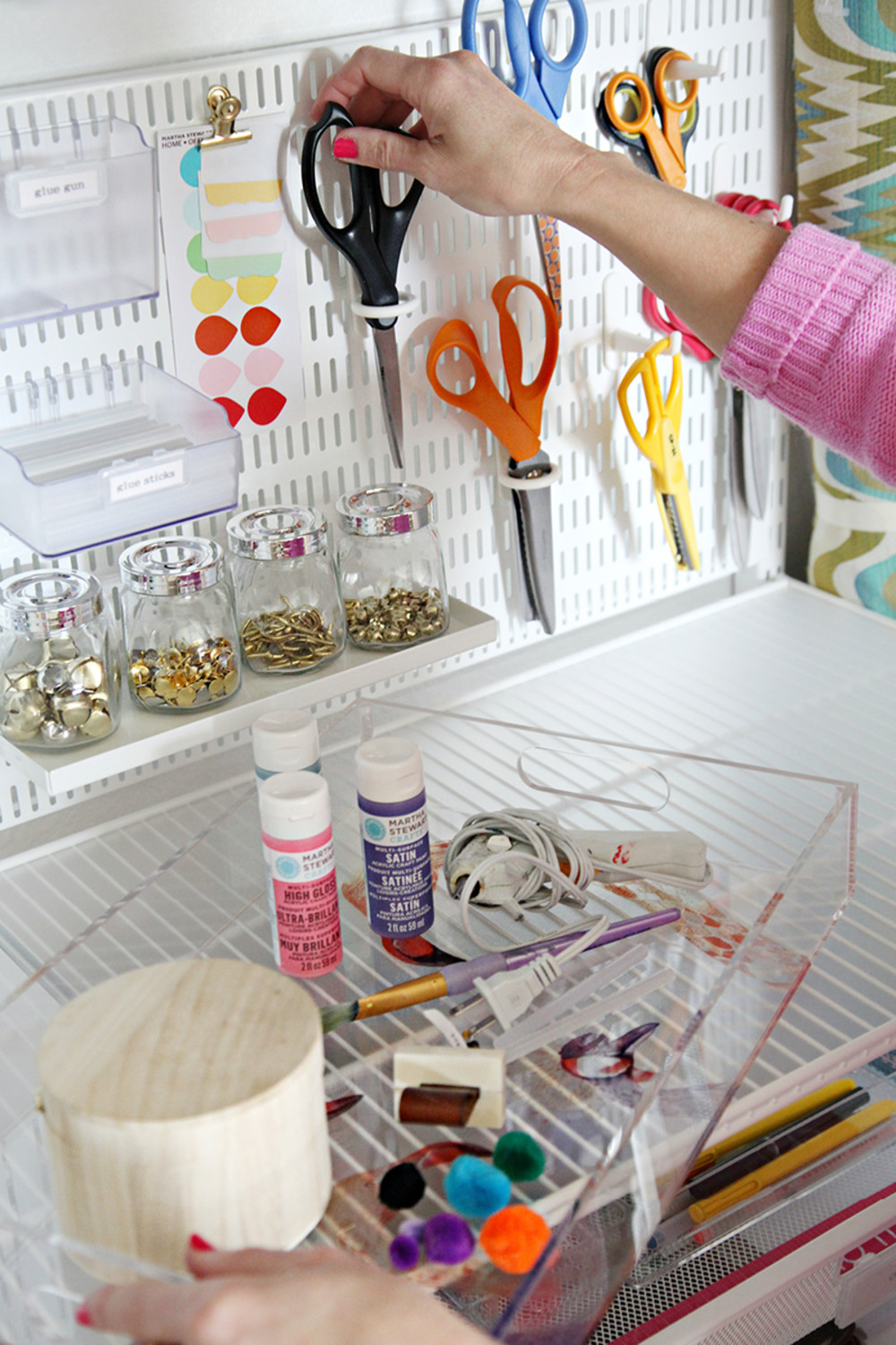 utility hooks keep her scissors out of the way but always easy to grab for a finishing snip.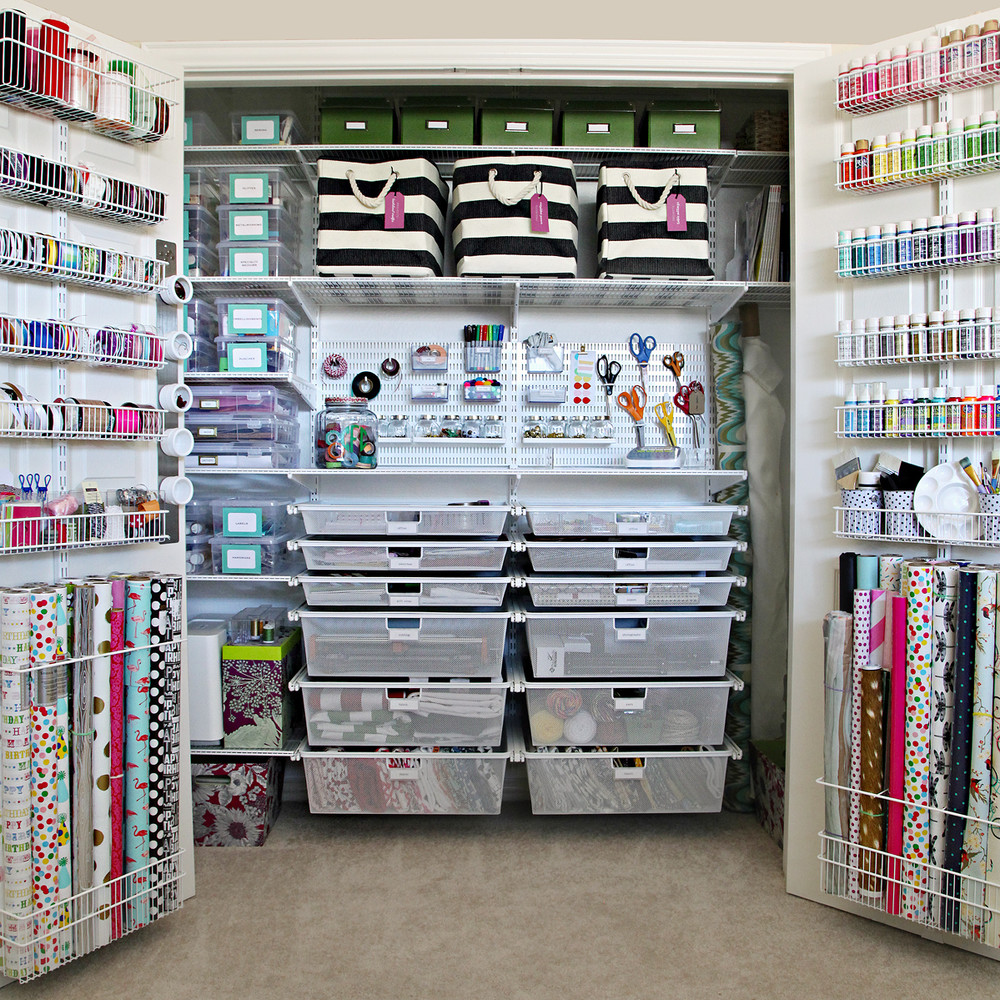 Cassie's space now functions for her exact needs. There's no paint unaccounted for, no ribbon lost in a pile and no object without a home to be stored it. We love what you've done, Cassie! So glad elfa could help make your craft room crafty again!