Packing my kids for camp for the first time seemed daunting and a bit scary. After all, I was going to be sending my babies (well, not babies but tweens at the time) off to a foreign land (the piney woods of East Texas) for a whole week by themselves! And I remember thinking, how are they going to get along without me to tell them what to wear, to put on sunscreen and bug spray, to pick the horse to ride that will not buck them off. And no phone calls all week? No contact at all? UGH!!!!
But what I found was 1) every camp has a thorough checklist to guide you through exactly what to pack 2) a trunk that's carefully organized and packed is key and 3) you'll be more worried than your kids when they are at camp - mine skip off now to their cabin almost forgetting to give me a smooch goodbye.
Over the years, I've packed one child for camp and also all four at one time and combinations in between and no matter how many I'm sending off, these trusty tips have served me and my campers right every single summer.
First things first, choose a trunk that is rugged enough to tote to camp for the next few years. You have to remember that they are literally going to be living out of this thing while they are away, so you want to make sure it's sturdy and roomy. My son has been going to summer camp since he was nine and he's now almost 16 and he still has his same trunk. Look for one with wheels for easy maneuverability. I love this trunk because it has a removable tray on top that can store items campers want to get to quickly each day and also provides an extra packing area.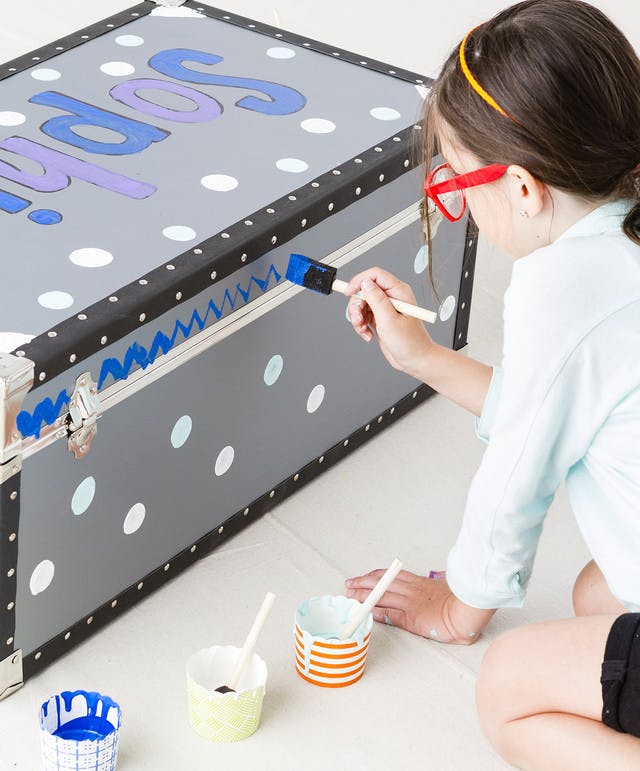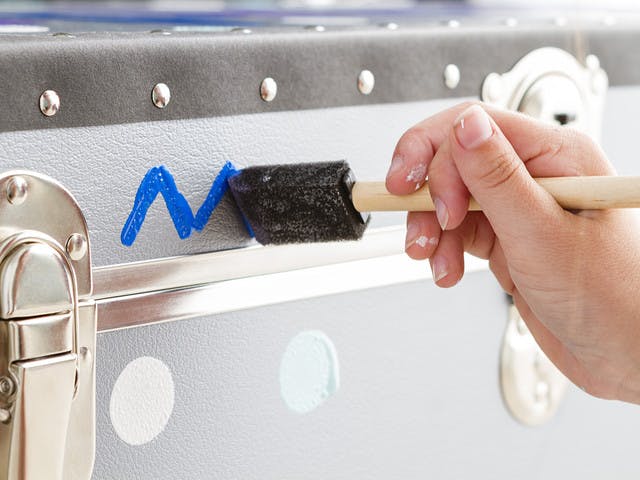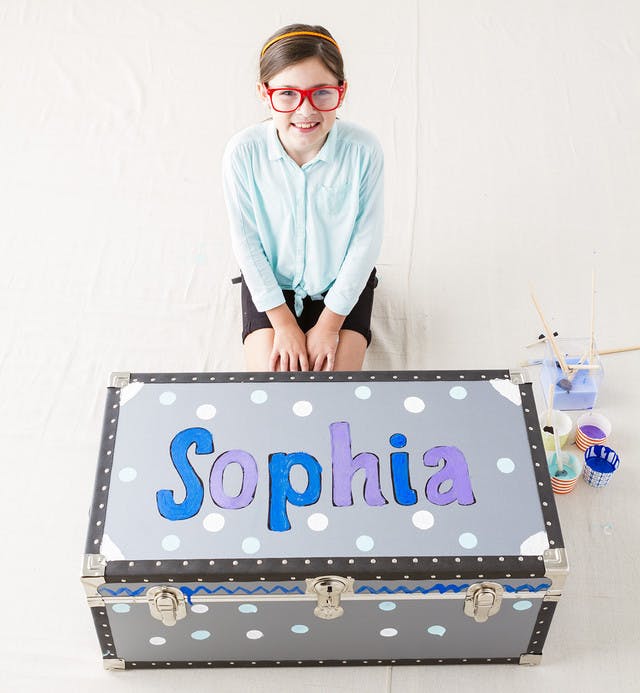 Personalizing the trunk with paint, vinyl transfers or stickers is a big deal I learned that first year. Now, my girls get into it way more than my boys - but it's a fun way to let their style shine and also get them in on the camp prep fun. Here's Sophia, my youngest, doing one. We filled Baking Cups with paint and I let her paint away. I always try to let them be pretty free with this and not worry about it being too perfect. It's fun and really shows off their personality, which I think the camp counselors always love.
I always put photos on the inside of the trunk to pack a little "home" to go. Tape the photos to a piece of colorful cardstock, then adhere to the inner lid of the trunk. That way you can easily update the photos next year. But I always leave some of the older ones in there for a little fun walk down memory lane.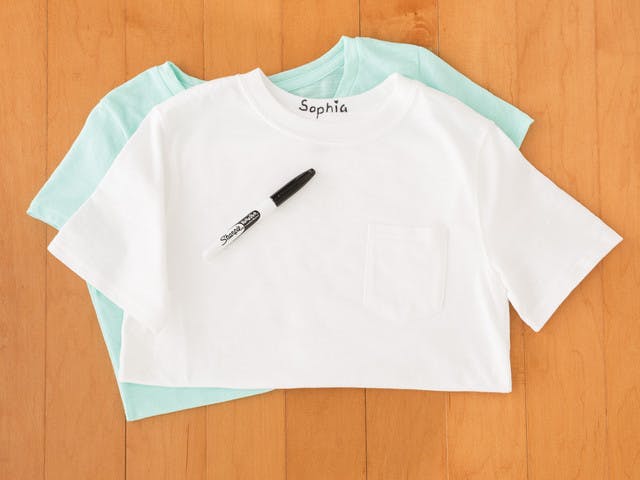 The camp will tell you to label EVERYTHING. And you'll say to yourself as you are getting writer's cramp - really? Yes really. My son's whole bag of laundry went missing once at camp. Long story. But labeling is a must. A Laundry Marker will ensure that campers return home with everything they took to camp. Print names on bed linens, clothes, towels, toiletries and sports equipment. Everything. I've also used Our Label Maker by Brother and the fabric labeling tape, which is fabulous and efficient.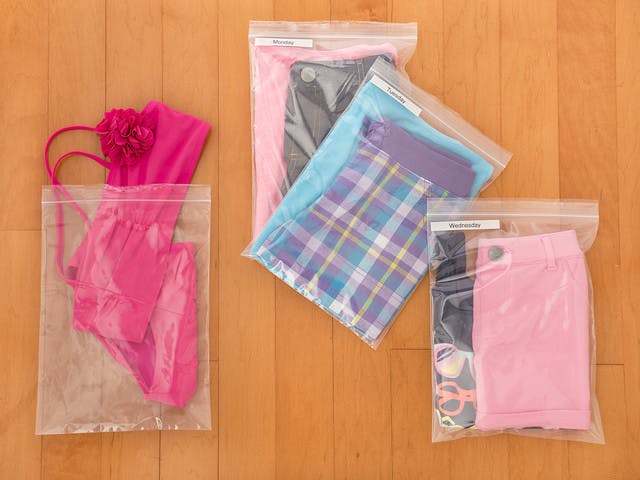 So, THIS is my favorite camptime packing tip! It's the one that always makes me feel like the best mom ever. Use Reclosable Bags and pack one outfit in each clear bag marked for every day of the week. This not only makes dressing a bit easier, it keeps you from over packing. Now, don't get your feelings hurt if a couple of those bags come home unopened. I know, gross. But it WILL happen. Just think of it as they were having so much fun at camp they just felt like wearing the same thing twice.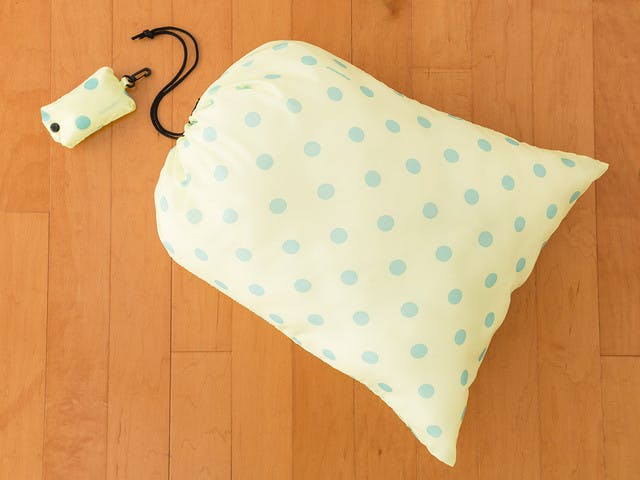 And don't forget a fun laundry bag for all that laundry! This Travel Laundry Bag is perfect because it folds down tiny to make more room in the trunk when you're packing.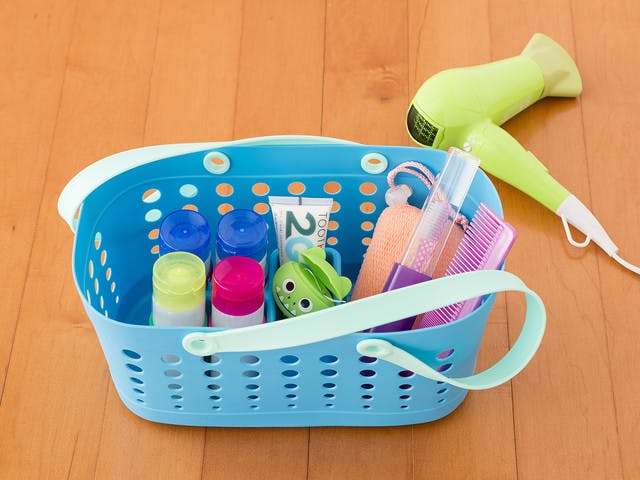 Don't forget to pack a Shower Tote that has holes for drainage. Don't send along full-size bottles of shampoo and conditioner - keep them in smaller, Leakproof Travel Bottles to avoid any spills inside the trunk.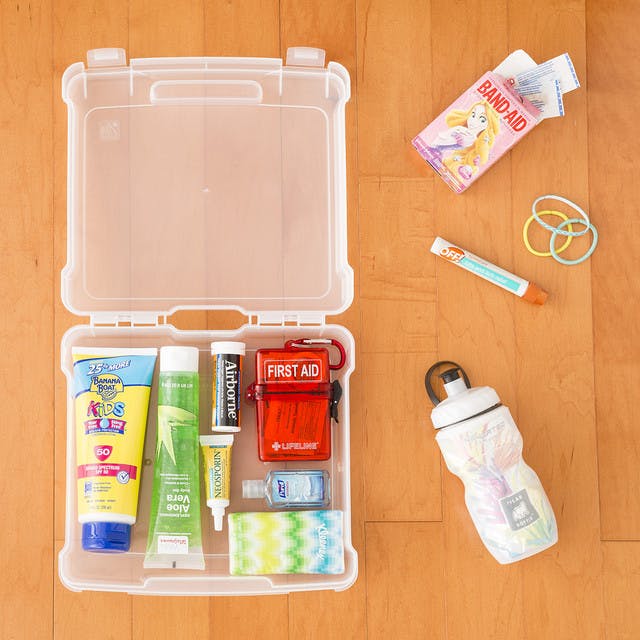 I pack a small "must have" storage container with items like sunscreen, lip balm, a mini first aid kit, hair ties, etc. Most camps will want you to also send a small day bag or backpack for excursions and your child can fill it up each day as needed.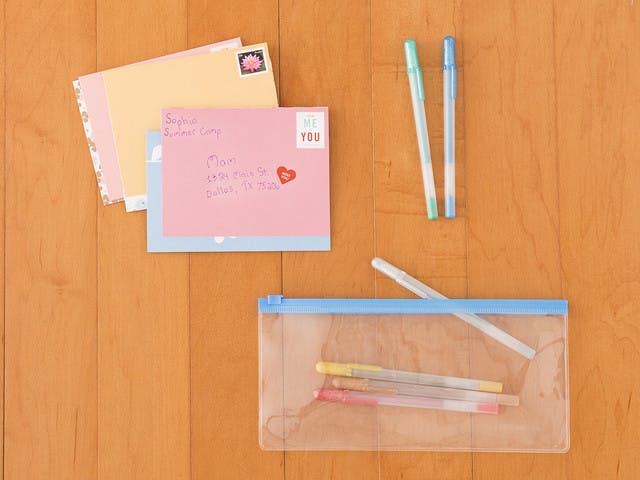 Send along pens, stickers and notepads so your child can journal their favorite camptime memories. I love to include pre-addressed, stamped envelopes and postcards so it's easy for them to write home. I do them for mom, dad, grandparents and all the siblings and it's always a little experiment to see who actually gets one.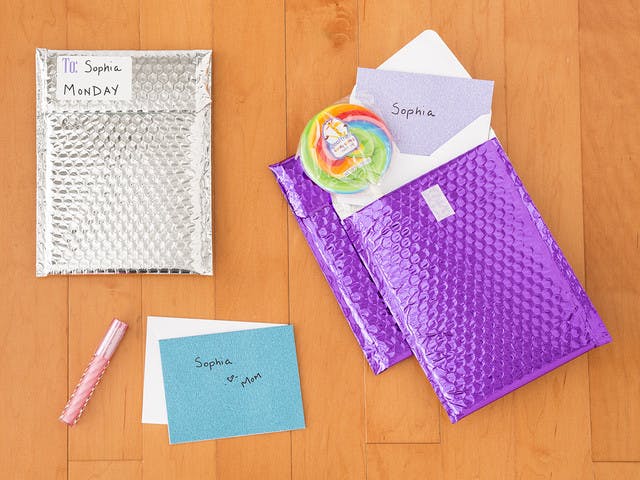 Featured Products: Bubblope Photo Mailer
Finally, always try to add touches of home with a special stuffed animal (depending on the age of the camper), a few hidden notes, and some pictures of family and friends. Know the camp's policy about sending snacks or care packages. Our camp always has us drop the care packages off the first day of camp. I'll mark a padded envelope with the day of the week I want the package to be delivered (I don't do one every day - usually Monday, Wednesday and Friday - so they have something to really look forward to). I include special candy, puzzle books and always a motivating card. Chances are, they are having way too much fun at camp to be home sick, but just in case I always think they appreciate hearing from mom or dad in some form or fashion.