Whether you're counting down the days till Christmas or just can't quite remember when ol' St. Nick is supposed to arrive, you're probably going to be wrapping some gifts this season.
I'm more the "throw it in the bag and go" type, or I've been known to put my gift in an envelope and give it to family members, and they'll do the same for me - but what if, like me, you want to step up your gift wrap game this season and try something new?
If the thought of taking your wrapping skills to another level this season piqued your interest, check out a few options for every level of experience below!
The Almost Grab and Go

For this quick wrap presentation you only need a ready-to-be-tied bow, and some coordinating wrap.
We used our Santa Hats & Snowflake wrap to create the perfect canvas, and then used our Pom Pom Garland with a Santa Hat Gift Tag to complete the look.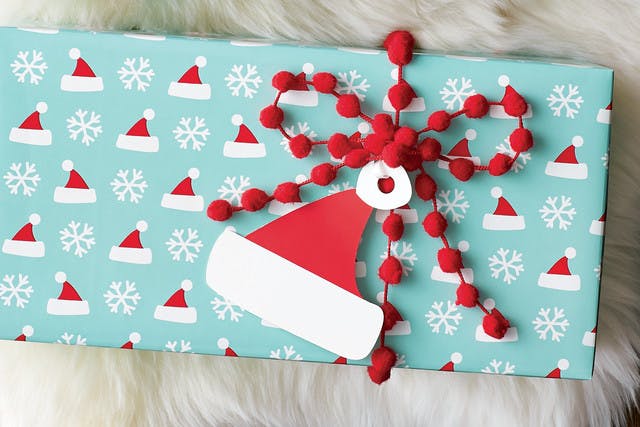 All the little fluff spheres make it seem like a well put together present without having to painstakingly glue all those little things on. Just two steps and voila! Perfect present.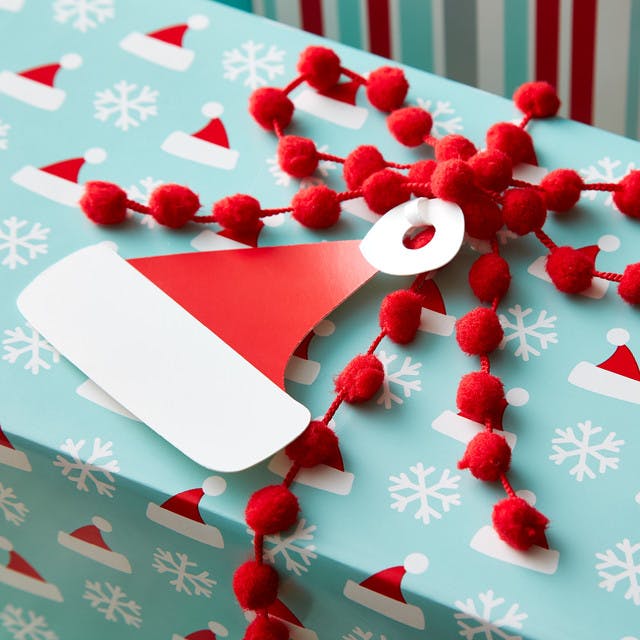 A Little More Fluff

For those just a bit more adventurous - try your hand at making your own bows from scratch. We chose the poinsettia design, which you can find in our Gorgeous Gift Presentation Guide.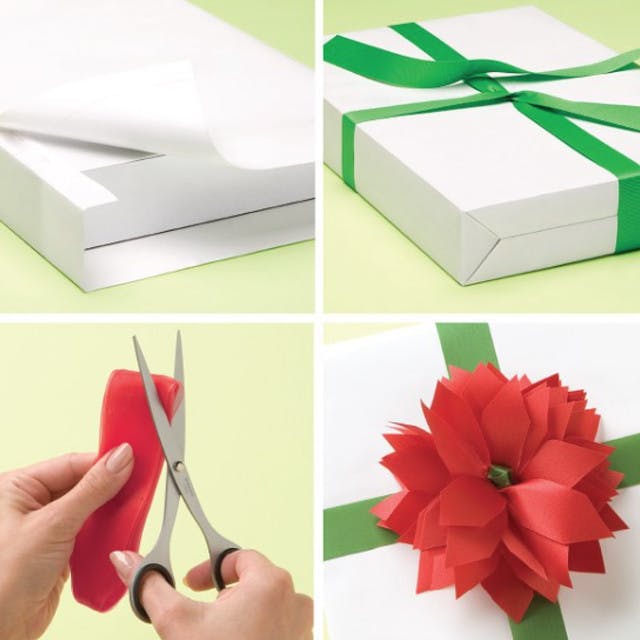 Wrap and tie your present to create the canvas for the poinsettia to start.
Form a loop of our ribbon and wind it around about 15 times, then notch all four corners including the middle portion, being careful not to cut all the way through.
Use a ribbon to tie a notched center and cut the ends of the loop to form a pointed petal shape.
To create the poinsettia design, cut the loops completely through the ribbon and pull out the new "petals" by twisting left to right. This will make for a fuller look.
Finish by knotting a ribbon of different color to form the center of the flower.
This sounds like a lot, but our handy guide helps you step by step!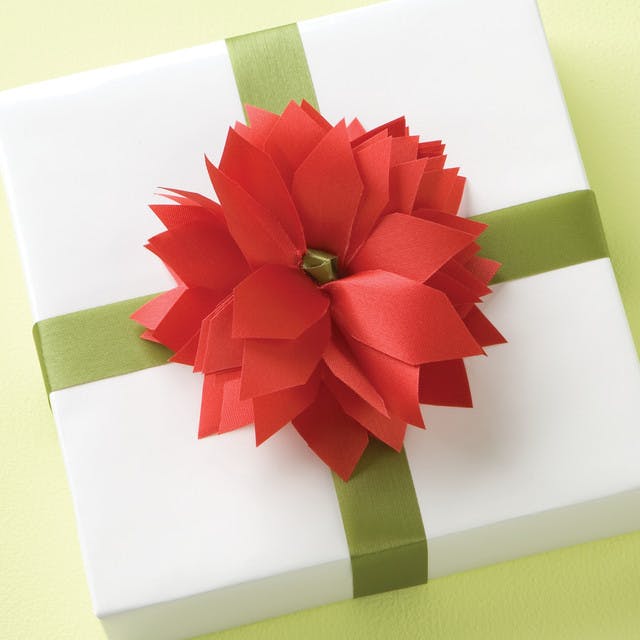 All Out Show Stopper

Now, this wrap requires ultimate personalization as each part takes some thought and artistic freedom (but that's the fun part, right?) Give it a try if you're feeling bold.
Use our beautiful Matte Wrap to wrap the present, then use a star shaped hole-puncher with our Decorative Glitter Tape to decorate your package with stars around what will be the main attraction.
For the tree, use our Peppermint Stripes wrap and cut a section into the shape of a triangle. Then fold that piece like an accordion.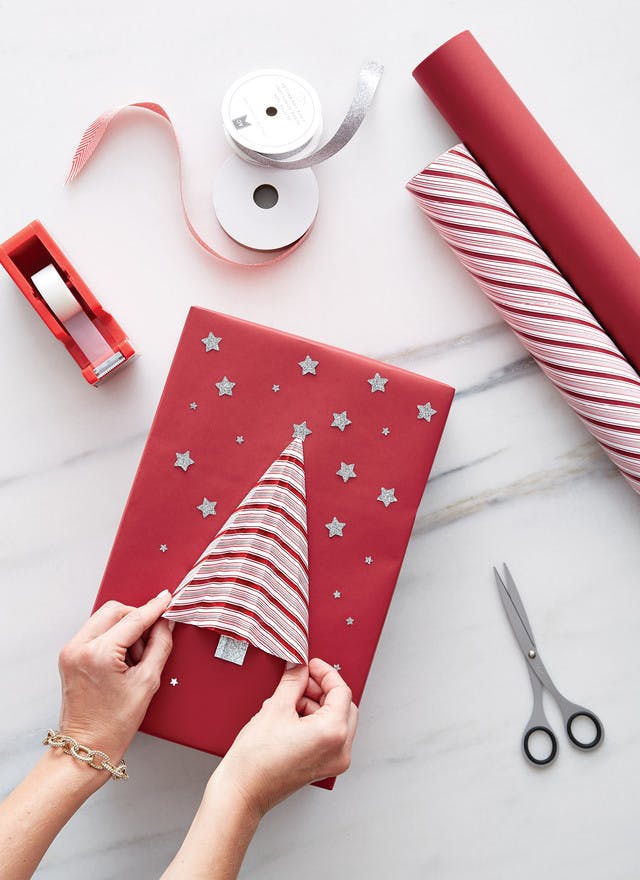 Once it's folded and scrunched together, cut the bottom of the triangle to be even across. For the finishing touch, fold each end underneath itself to create a perfectly festive tree on top of your beautifully wrapped gift!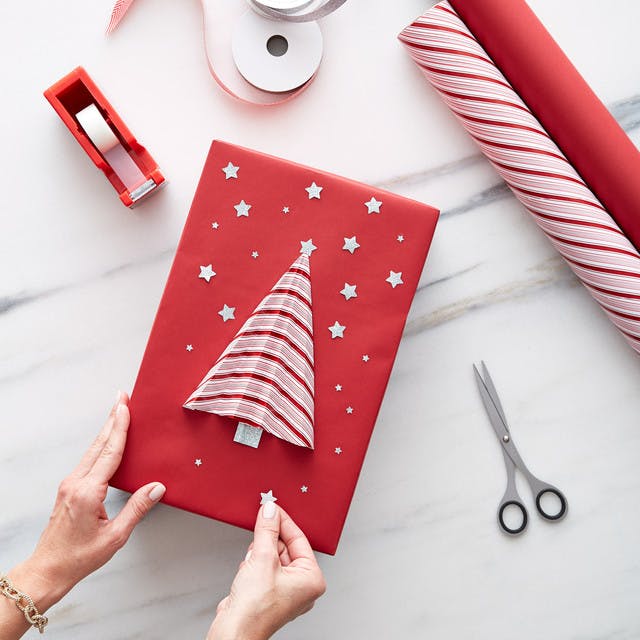 No matter what your wrapping skills are this season, it's always the thought that counts. Happy holidays to you and yours!
For more gift wrap and bow making tips, see our videos here.