Victoria Levitan is the creator of the beauty & lifestyle blog www.viciloves.com and is based in Washington D.C.
I can't tell you how many times I've heard my friends say that they don't enjoy putting on makeup. They feel it's a hassle, it takes too much time and most importantly, they can't find what they're looking for when they're in a rush. As I write weekly product reviews and tutorials on my blog www.viciloves.com I understand that makeup takes time, but it should also be an enjoyable experience! It should feel fun putting on lipstick, testing out new mascara and playing with a colorful eye shadow palette.
I've found that an easy way to harken back to the days when makeup was fun is to organize your products in a way that fits your lifestyle, so you always enjoy the time it takes to put your makeup on in the morning. See a few of my makeup organization tips using Container Store products (some even on SALE), below!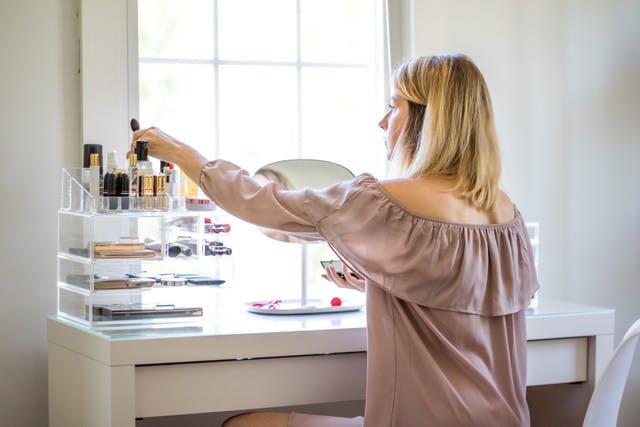 When you're looking at your makeup collection, the first thing to do is to get rid of products that you no longer like. Have any colors that don't reflect your style? Get rid of them! Same thing goes for products that you've had for a long time or items smell a bit, "off". Once you've gone through your collection, it's crucial to store them in a place where you can see everything. If you can't see it, you won't use it - it's as simple as that. I actually store all of my makeup inside and on top of my vanity table. The Luxe Acrylic Makeup Solution, on sale now, is a fabulous eight-part modular system, allowed me to custom build my storage for each makeup category. I divided up my makeup between a large drawer and two separate acrylic units that sit on either side of the table.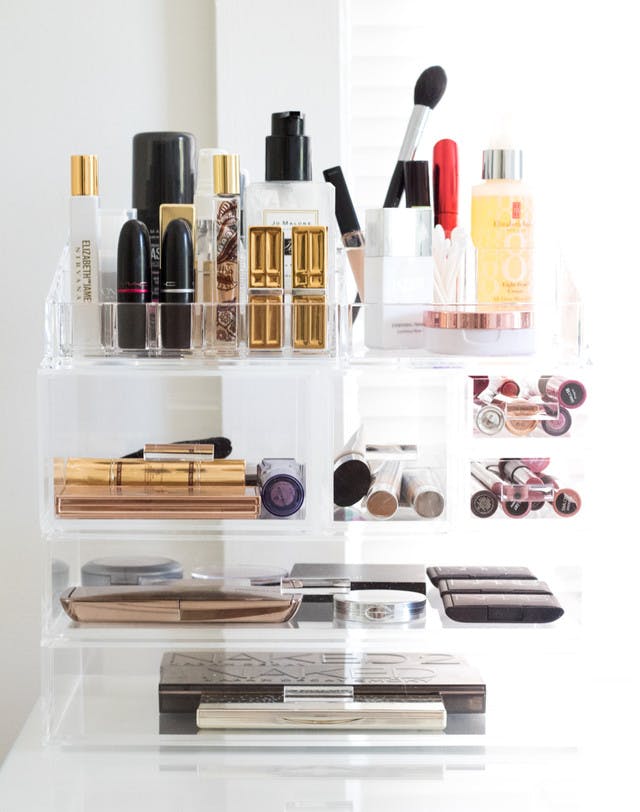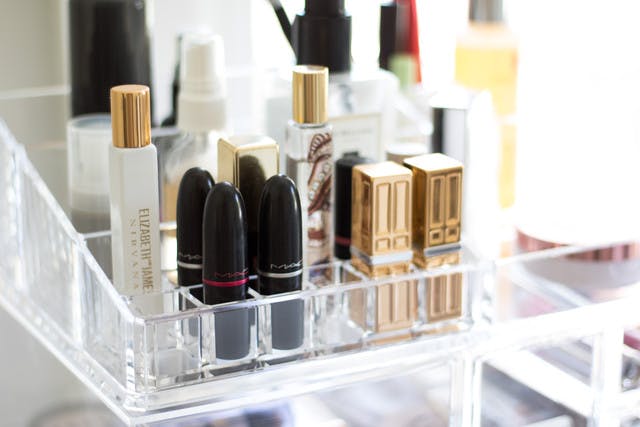 The Large Acrylic Makeup Organizer (also on sale!) fits perfectly on top of my larger unit, and that's where I store my current lineup of everyday products and things I want easy access to. Its individual slots make it easy to divide up my makeup by category. Assigning separate spots for my concealer, mascara and foundation gives me the accessibility that I need when I'm getting ready in the morning. I also always need Q-tips on my vanity in case I need to clean up smudged mascara, and having a designated spot for it makes getting ready so much easier. I also keep my lip products on rotation by showcasing them in the front of the organizer. As we're heading into the fall I've started to feature a few cooler berry toned lipsticks while still keeping my summer lip products out. That way I'm ready for any type of weather and can adjust accordingly when I get ready in the morning. I'm a big fan of rollerball perfumes and realized that those also fit into the same unit as my lipsticks! I like having them in there as it reminds me to put on perfume and instantly lifts my mood. A few other essentials that I keep on my organizer are facial sprays, moisturizers and my favorite contour/highlighting brush. Too many times has that brush gone missing so I decided it needed its own spot!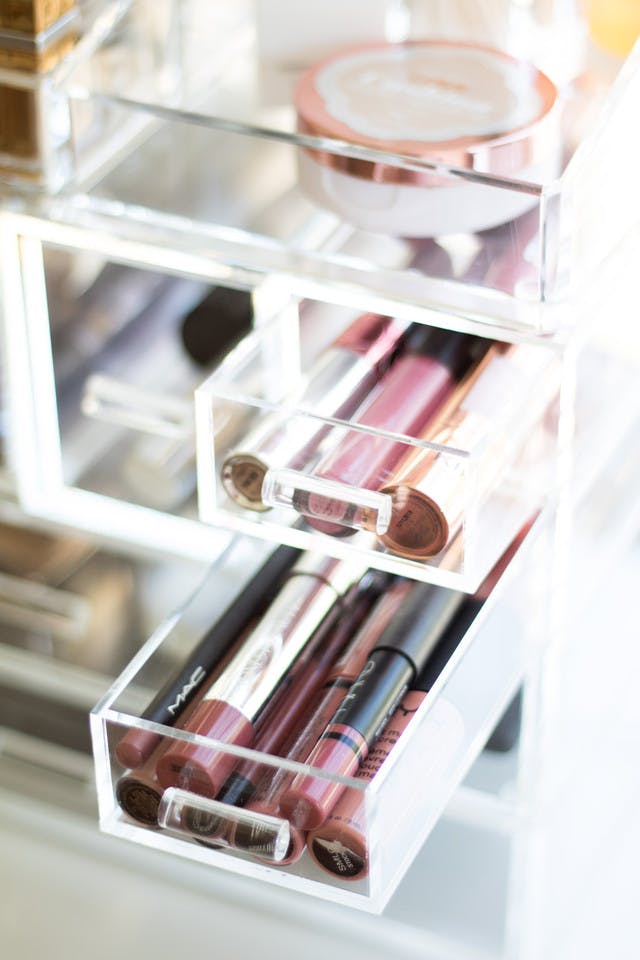 Moving on to the acrylic components below, I've organized all of my highlighters together along with two separate compartments for pink and nude lips (as I wear those two colors the most). I also have drawers for tinted moisturizers, blushes and my two favorite eye shadow palettes. Not surprisingly, both of those are from Urban Decay. While I could fill up certain drawers more, I'd rather have a clean overview of everything I love than to have to rummage through a pile of products.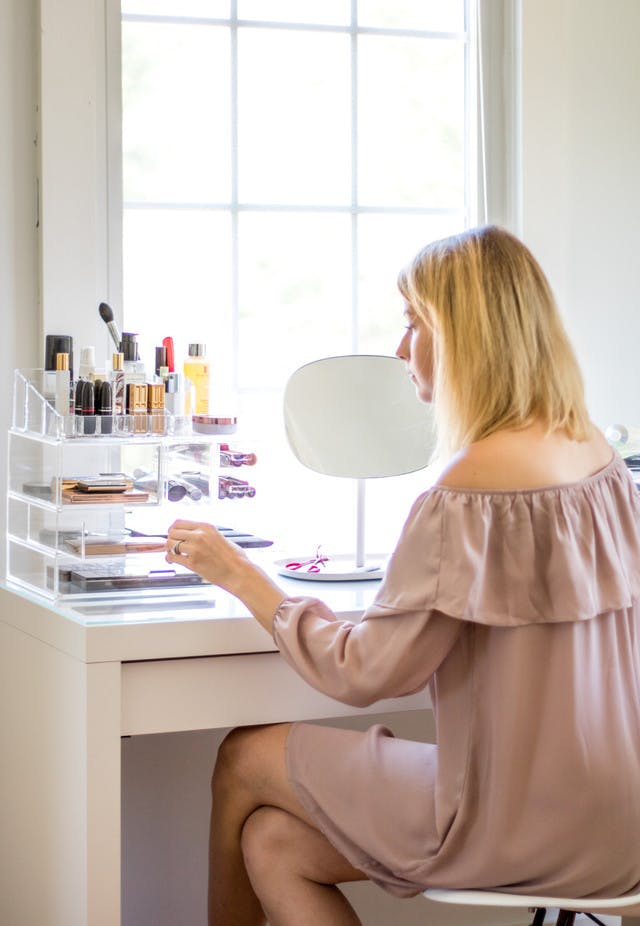 When I initially organized my makeup storage, I was so surprised at how easy it is to put the Luxe Acrylic Modular System Components together. I started my larger unit with two wide drawers for my eye shadow palettes and blushes as those can take up quite a bit of space. I then added a tall half unit on top for my highlighters next to a quarter tall unit for tinted moisturizers, and two quarter short units for my lip products. The components have little grips at the bottom that allow them to stick together very easily and stay in place! You wouldn't believe that they're all separate parts as they fit beautifully on top of each other and have a nice weight to them.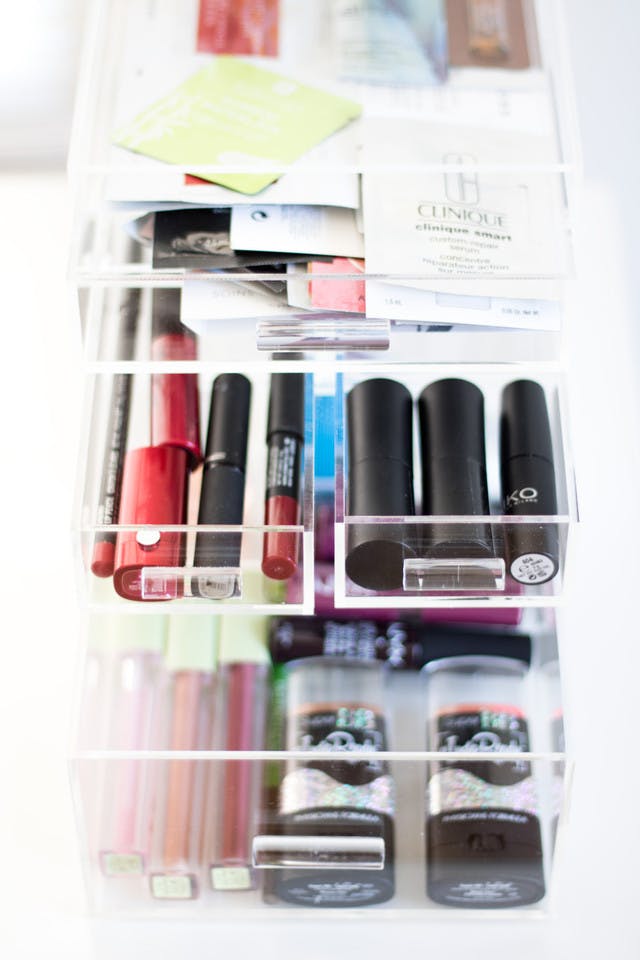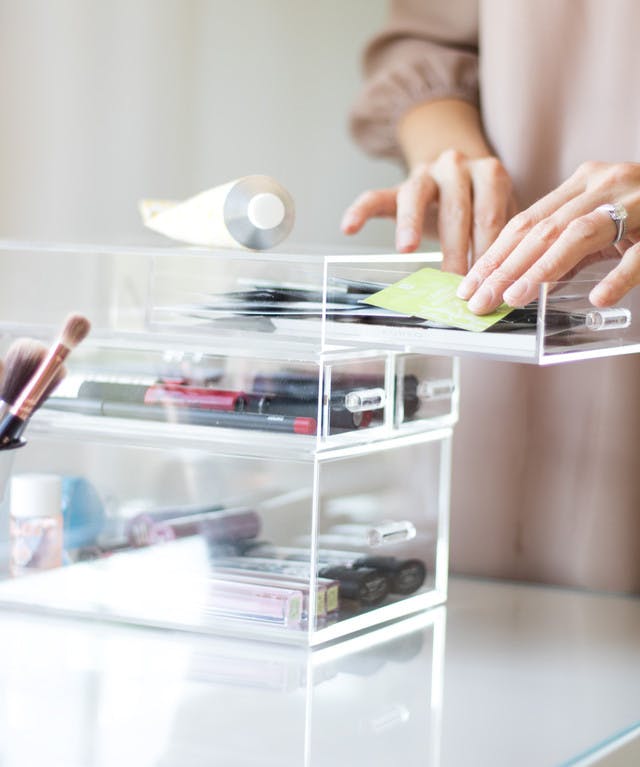 My smaller unit contains beauty samples, lip products I don't wear as often (hello, red lipstick) and products I still want to feature on my blog. I have a medium tall unit for the new products at the bottom and two quarter short units for the miscellaneous lip products on top of it. I've become a big fan of the quarter short units as it allows me to divide up my lip products by color scheme. If I'm in the mood for a certain shade, I know right where to go and don't have to sift through one big drawer. The unit is topped off with a medium short drawer for all of the beauty samples I receive. I've found it incredibly useful to have them stored this way as I like to take a few of them with me when I travel. It's a huge space saver when you can bring a few samples into your carry-on instead of full size products.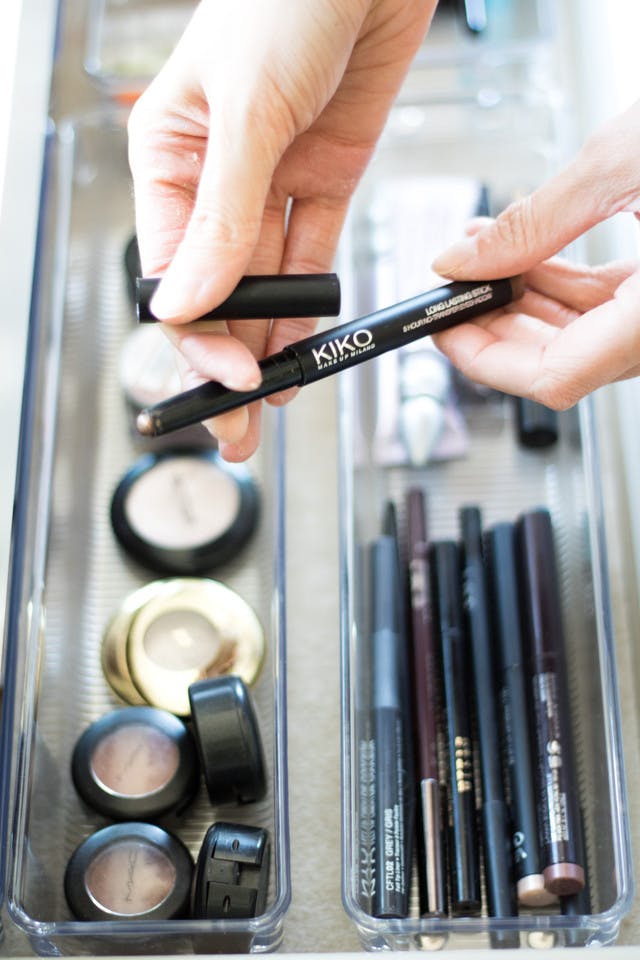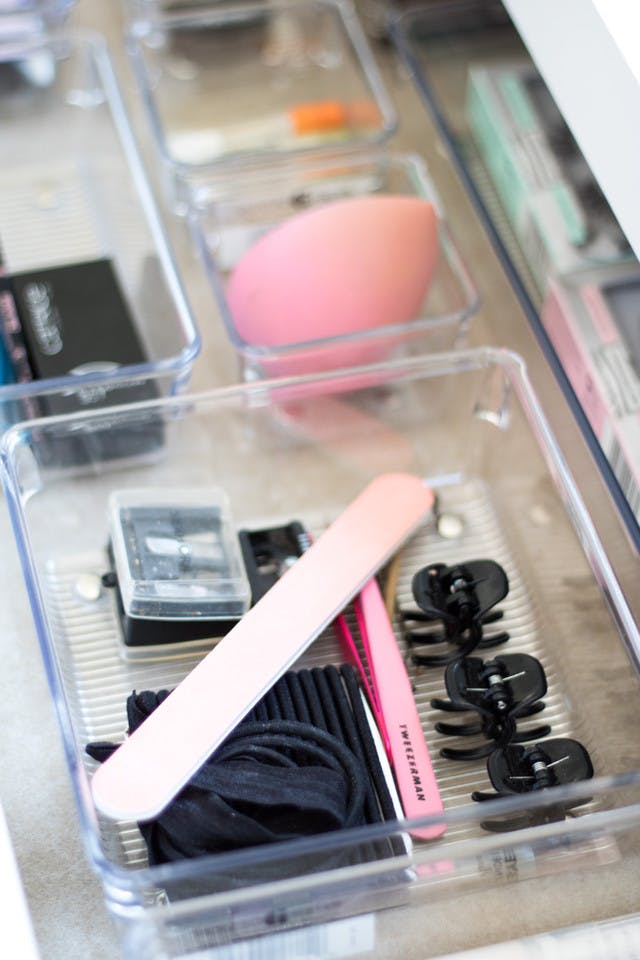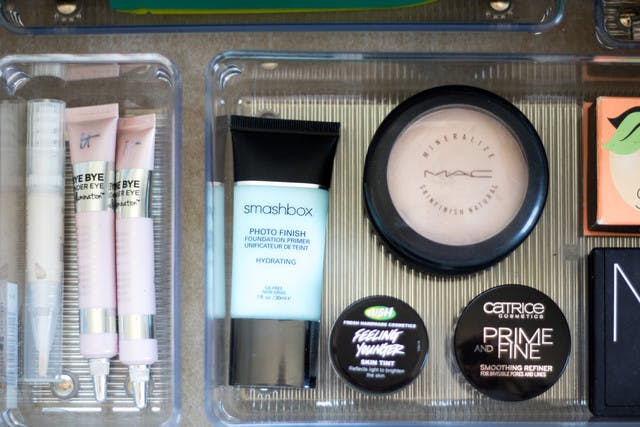 The rest of my makeup is stored in a large vanity drawer that I've organized with the Linus Shallow Drawer Organizers. They've created manageable sections for my makeup and its translucent color makes it easy to see what I have across the board. Individual eye shadows, liners, powders and bronzers, primers and backup products are neatly organized along with a few hair accessories and nail files. It's convenient to have those beauty essentials in my vanity, as I sometimes like to put my hair up when I'm getting ready.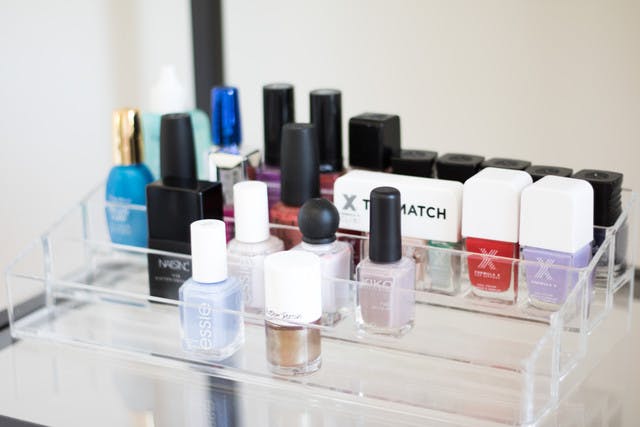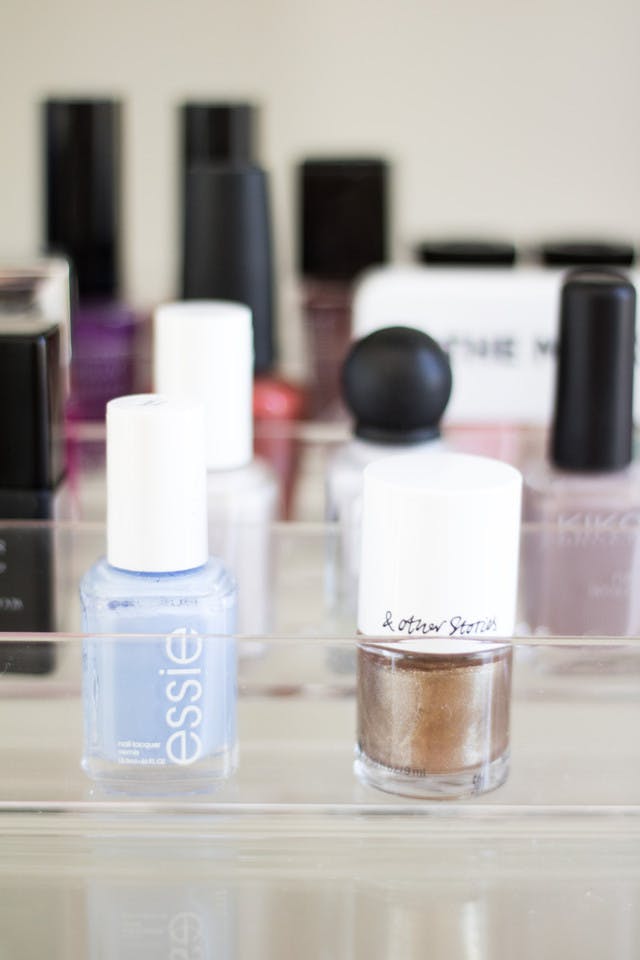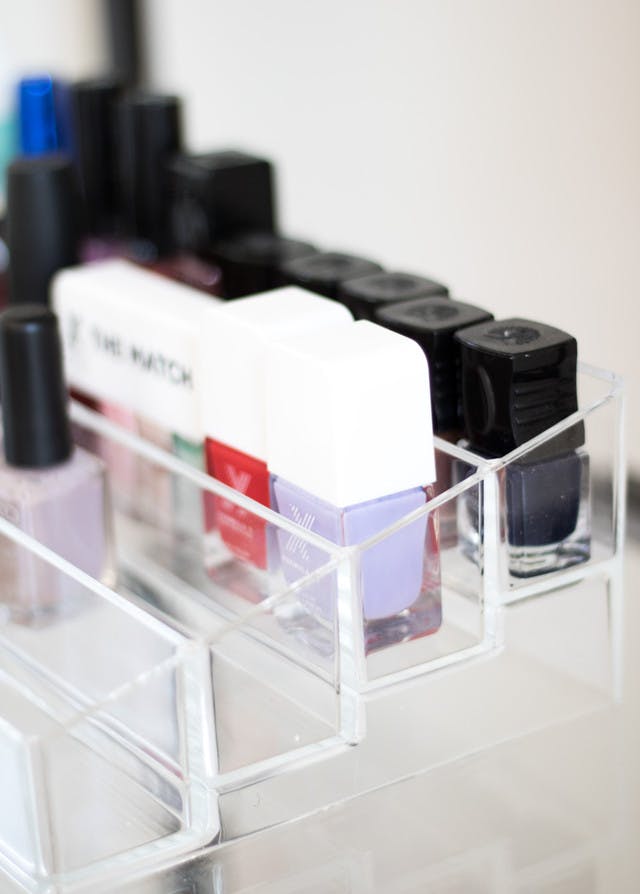 One thing that has made me more excited about doing my own nails is storing my polishes in the Acrylic Nail Polish Riser. It seems silly, but having designated storage has made me appreciate my collection more. The three slanted compartments give me the overview I need to quickly grab the exact polish I'm looking for. Since I still have room to grow, I've organized it as best as I could by brand but then also ventured into putting similar nude colors together on the second row. In the front I keep my two favorites because I wanted to make them the center of attention and I really like the effect that it gives me.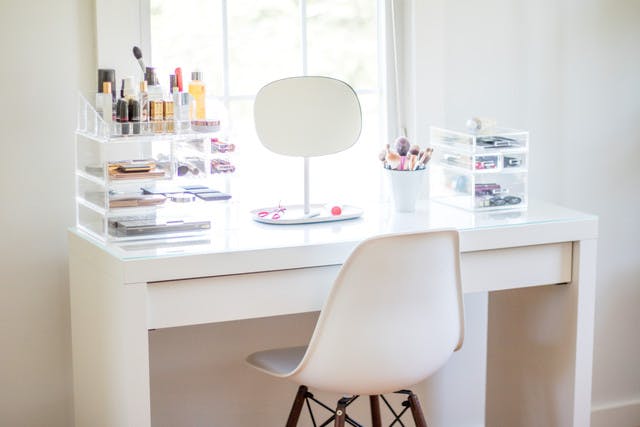 The beauty of organizing your makeup is that you get to decide how you want it to be. Do you love putting on blush or filling in your eyebrows? Give those products their own drawer and make them the center of your storage system! Not only will you have all of your makeup stored properly, you'll also know where all of your favorite things are!
Check out my blog www.viciloves.com for beauty product reviews and tutorials and let's keep in touch via social media! Follow me @viciloves on Instagram, Twitter and Facebook and let me know how your makeup storage is coming along! I'd love to hear how it's working out for you!