While our fantastic Elfa Custom Shelving system is well-known for its ability to fully transform closets, garages, kitchens and pantries - one of its lesser known skills is organizing the smaller things. No need for wall-installation or detailed designs, some solutions are better right out of the box. That's where our Elfa Grab & Go solutions shine. Check out a few of these easily assembled, freestanding solutions.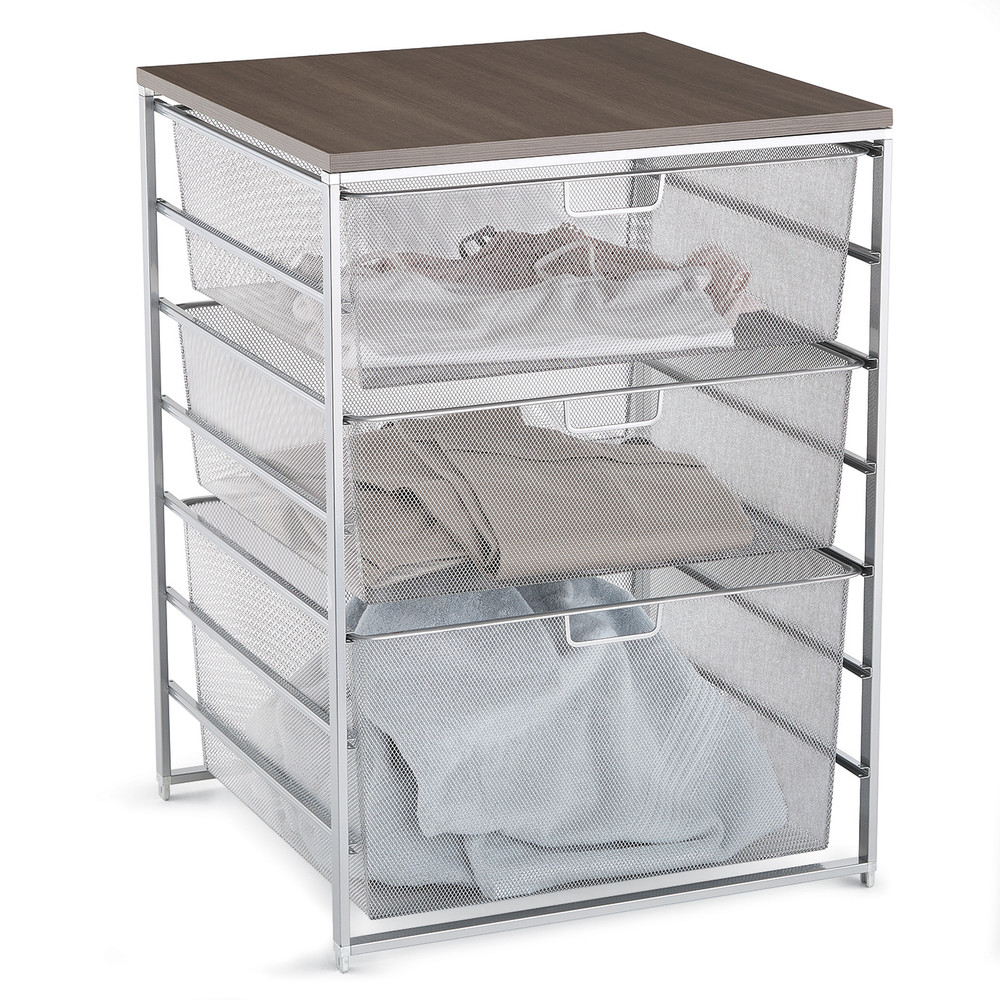 Start-A-Stacks
Our Elfa Start-A-Stack is an ingenious multi-functional product that works to store any items around the home. It features three 2-Runner Mesh Drawers, one 1-Runner Mesh Drawer and Back Stop Pins. The fine weave of the mesh prevents small items from falling through. You can really customize it any which way - whether for clothing, pantry staples, toys or office supplies.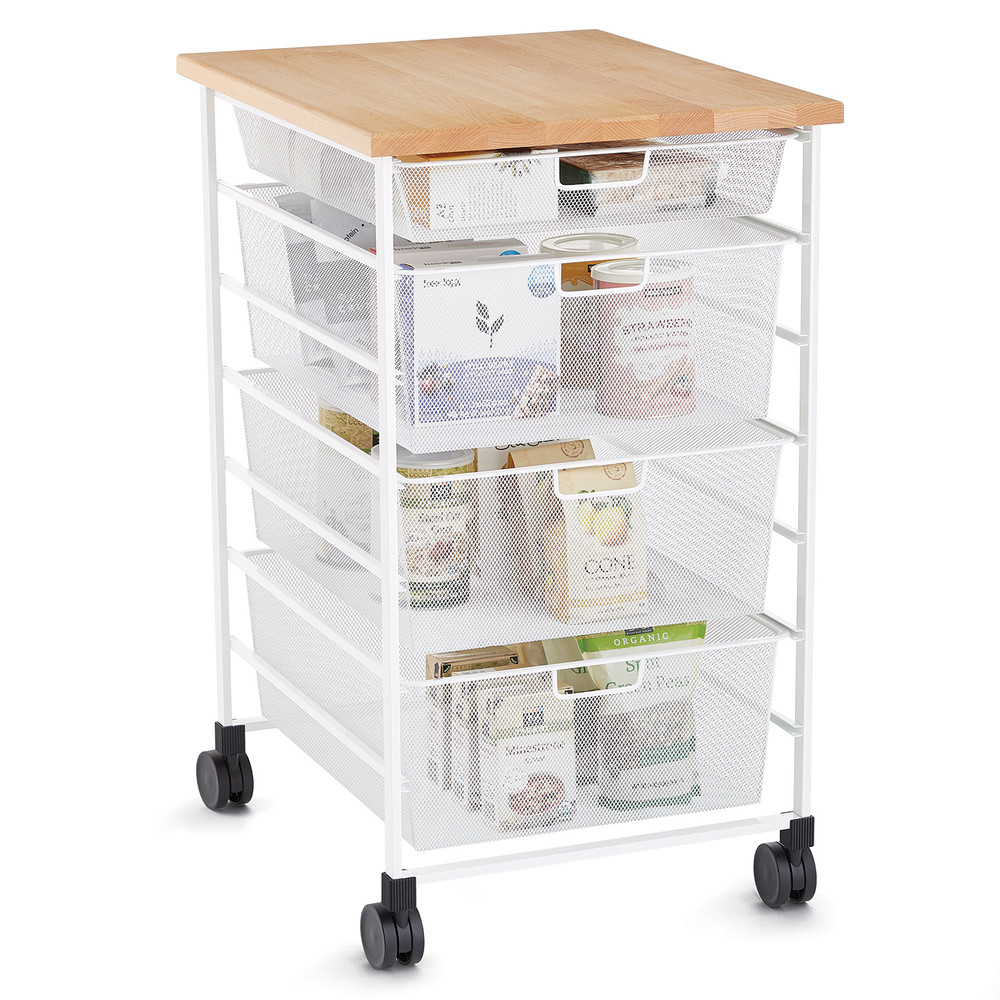 Kitchen Cart
Our Elfa Mesh Kitchen Cart is a powerhouse in any kitchen, no matter how big or small the space you have to work with. It features a Butcher Block Top, two 1-Runner Mesh Drawers, three 2-Runner Mesh Drawers, a 32-Hook Rack and Casters. The butcher block top makes it easy to help prep food and the rolling wheels allow you to take it anywhere to serve.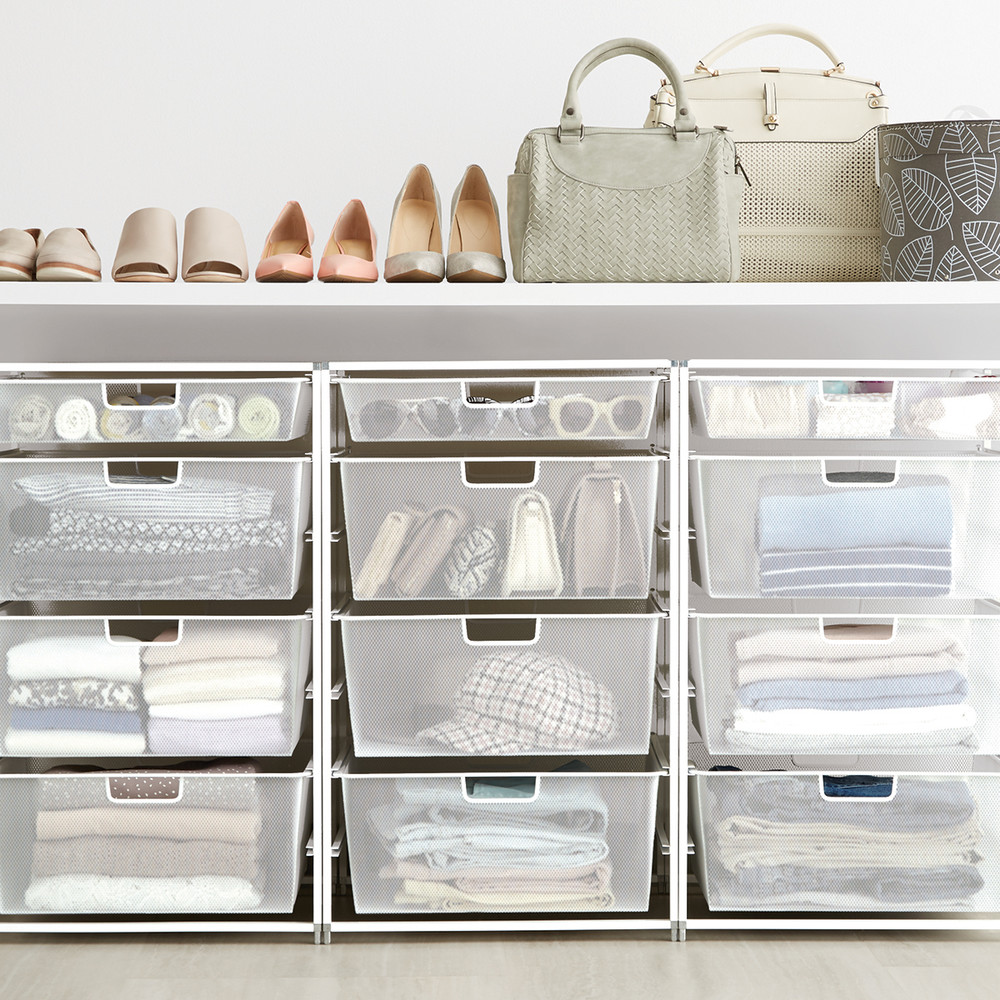 A New Take On Drawers
Add an entire bay of Start-A-Stacks to create a more open, space conscious chest of drawers that can store not only all your clothes but your handbags and accessories, too. These solutions install in minutes and their high-quality design means they'll continue to look great year after year.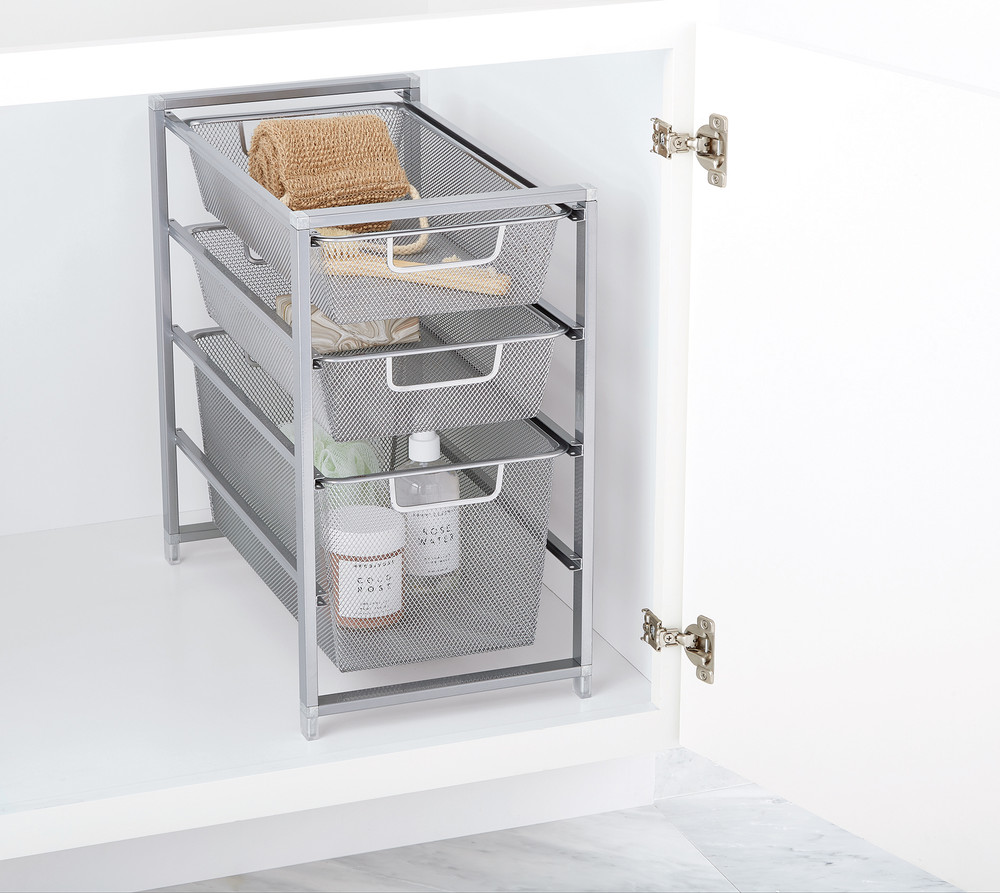 Under Sink
When it comes to storage space under a bathroom sink, nothing gets the job done quite like our Cabinet-Sized Elfa Drawers. This solution measures in at just 17-1/4" in depth and 10" in width, so the three drawers of this solution conquer everything from toiletries and cosmetics to small appliances and cleaning supplies while still working around pipes and obstructions that come with any bathroom cabinet situation.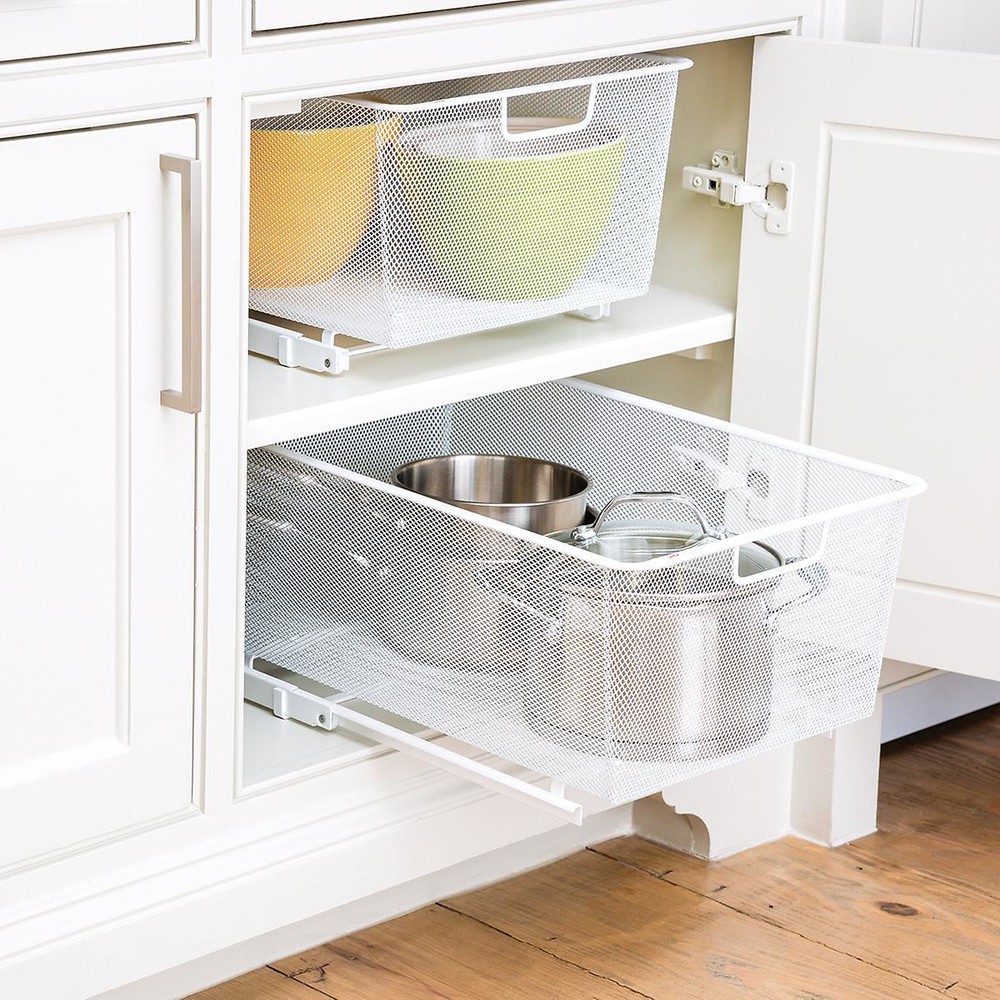 Easy Cabinet Access
One of the least-glamorous parts of cooking is reaching into the cabinet to shuffle through the pots, pans and lids in an attempt to find what you're looking for. Our easy-to-install Cabinet-Sized Elfa Mesh Easy Gliders solve that problem with their easy glide-out design and significant weight capacity. They come in three different widths and three drawer heights making it easy to find the right combination for your space, your cooking skills and your cooking tools!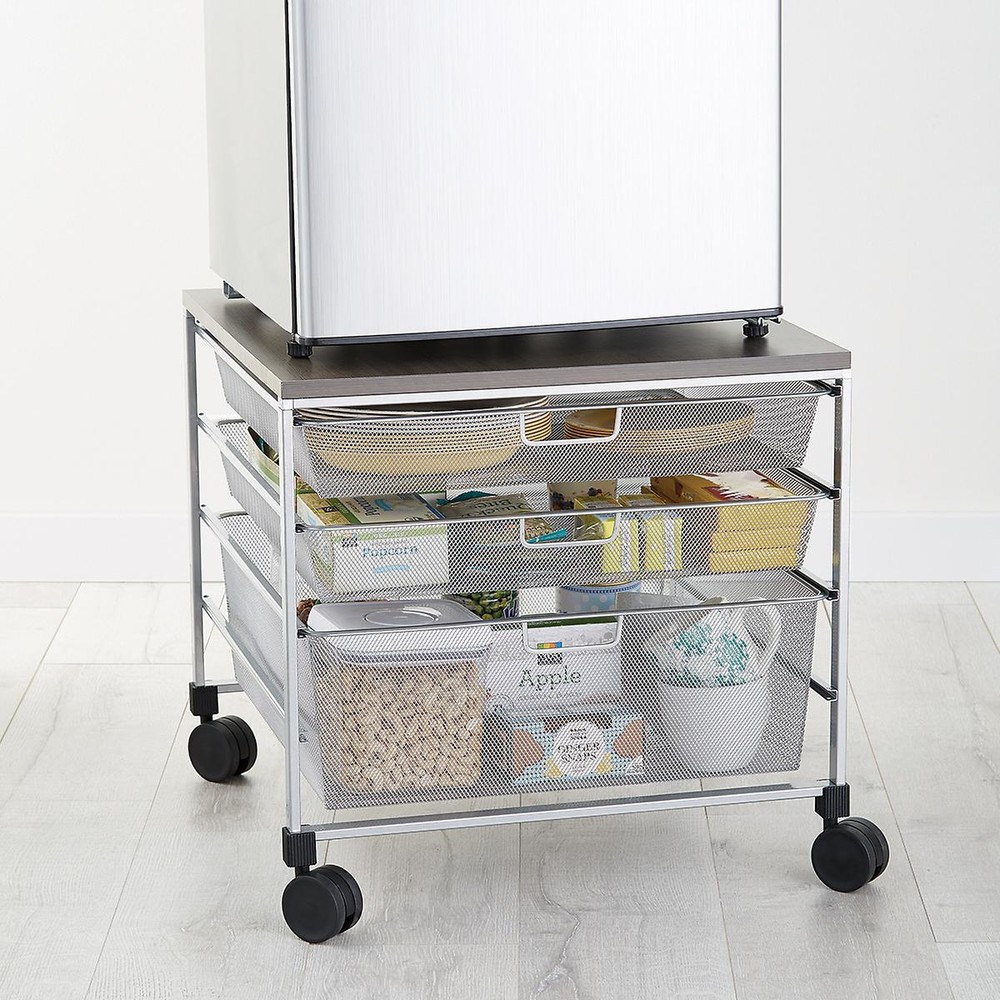 Dorms Done Better
Dorm constraints are no joke - and it can be hard to find an effective and efficient solution to organize everything you need for a day of school. That's why we created our Platinum Elfa Mesh Compact Fridge Cart. It makes the perfect accessory for a dorm-approved mini refrigerator or microwave in a dorm room or even an office. It features two 1-Runner Mesh Drawers and one 2-Runner Mesh Drawer for holding snacks, napkins or plates. Plus, the tight mesh and closed corners of the drawers prevent smaller items from falling through and the Melamine Top and four heavy-duty casters easily support most mini fridges.
Elfa is so much more than an installed closet, garage or pantry - and we hope you'll find that some of these grab and go solutions can help you with the little tasks around the home. Plus, for a limited time, you can save 30% on ALL Elfa solutions during our annual Elfa Sale!