You've planned the party, sent the invites, talked to the family and prepared the food. Now it's time to set the table! But where to start? Make sure your inspired place settings set the tone for all your festivities, and don't let it eat into your dining time! Check out a few of our ideas and DIY tips for every style and seasonal occasion, below.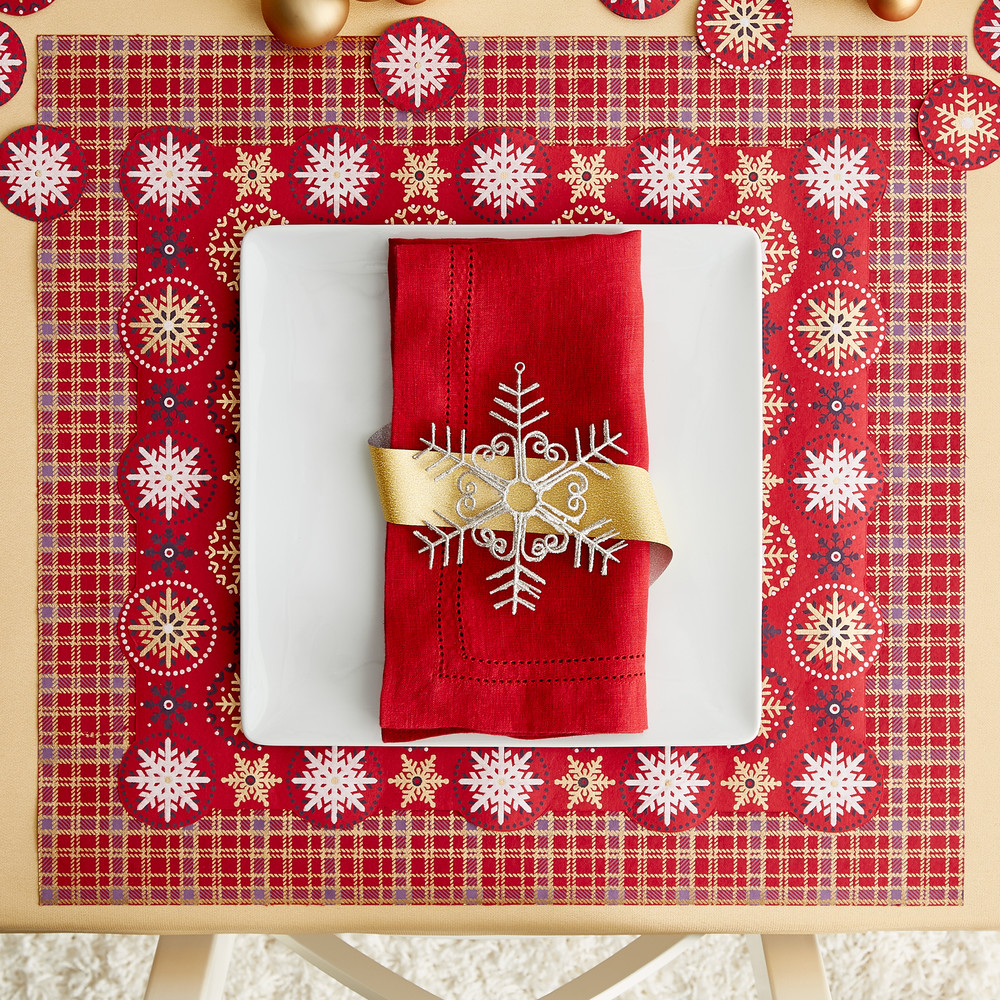 Christmas Lunch
Bring the Christmas spirit to the table with this DIY place setting. Using our Vivid Wrap in Berry Tartan, we cut a large square pattern that designated each place setting. To frame the beautiful plate and silverware setup, we then used our Vivid Wrap in Red Nordic Flakes to mix up the pattern play.
Our Vivid Wraps is one of our favorite collections of wrapping paper that we bring in each year. They're handmade from recycled paper so you're helping the earth a little bit no matter how you use or reuse each gift wrap.
To decorate the center of the table, we cut the circular snowflake patterns out from our Vivid Wrap and placed them around the table. It adds the perfect little touch for a fun, yet casual tablescape.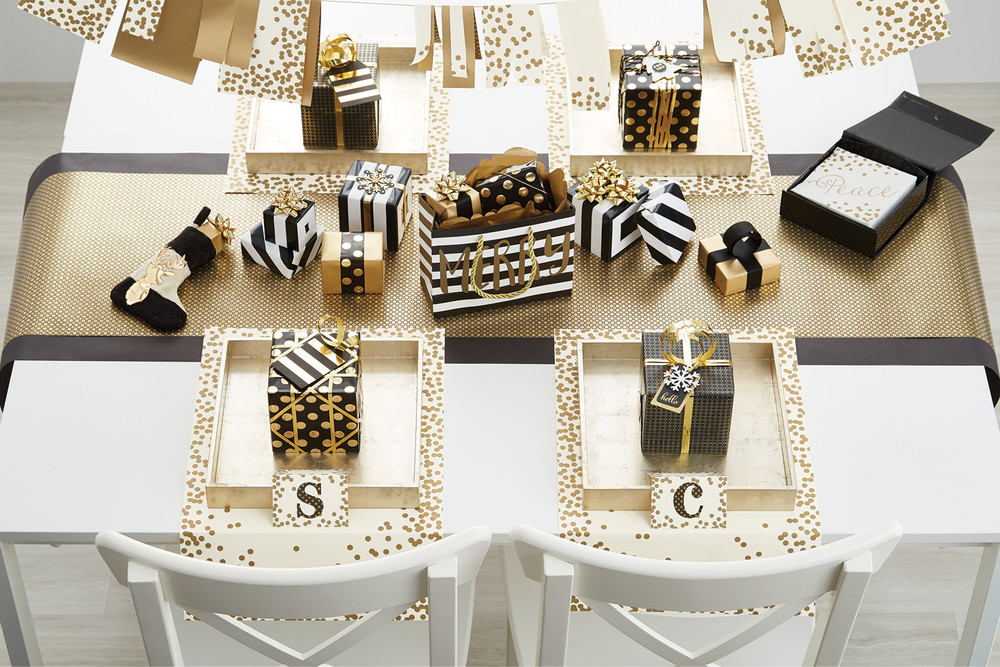 Season's Greetings
Take this twist on the traditional Christmas gift opening with a table setting full of white, black and gold colors.
To set the center of the table, use our Chalkboard Table Runner Wrap to run the length of the table, then layer our Auron Wrap in Black with Gold Stars over the top to create your color duo.
We created each place setting by first using our Confetti Gold Placemats, then placing our beautiful Lacquered Gold Trays on top as a modern setting. Use our Confetti Gold Placecards and our Alphabet Stickers to create a customized name card for each guest. It creates such a beautiful presentation without having to do much!
The rest of your table can be decorated by the gifts that you are gifting! See a few of our tips on how you can wrap each one, below.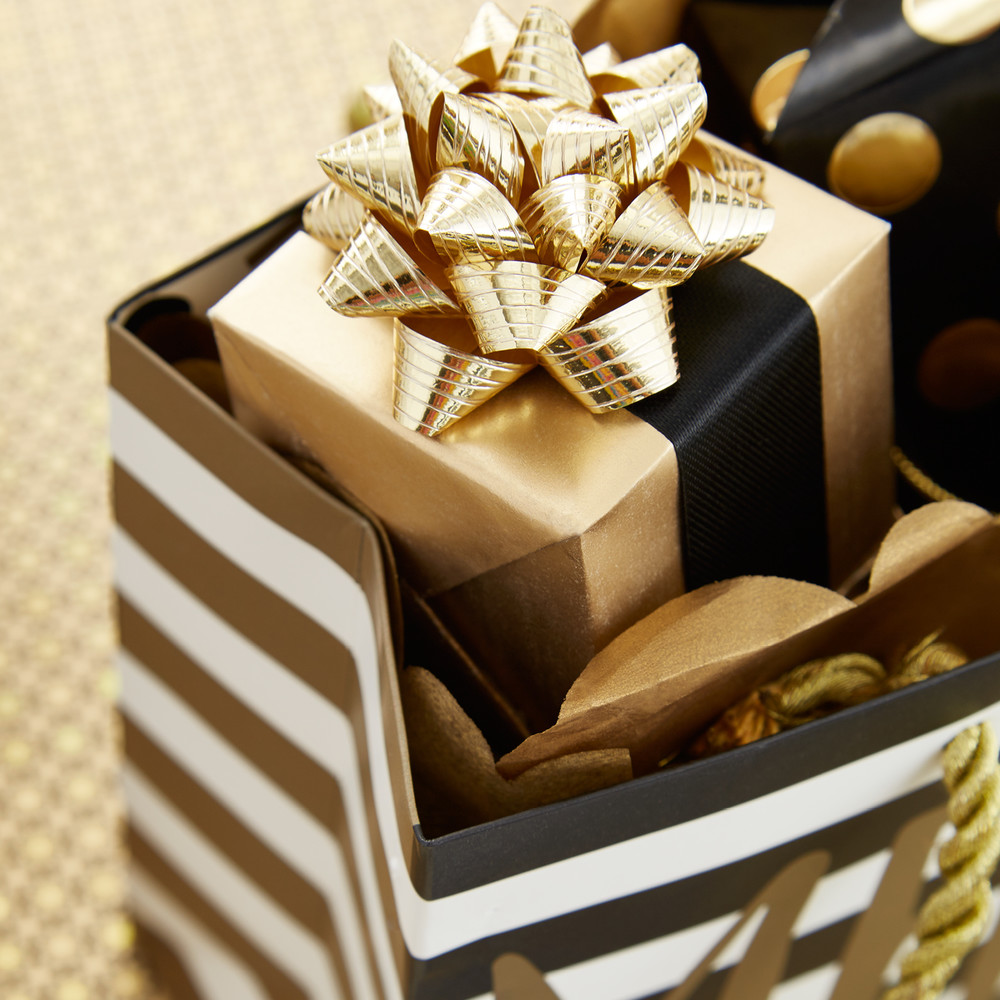 For this gift, we used our Striped Merry Tote and our Metallic Tissue Sheets to house a present wrapped in the reversed side of our Gold Hexagon Wrap and Black Satin Ribbon with our Gold Bow atop.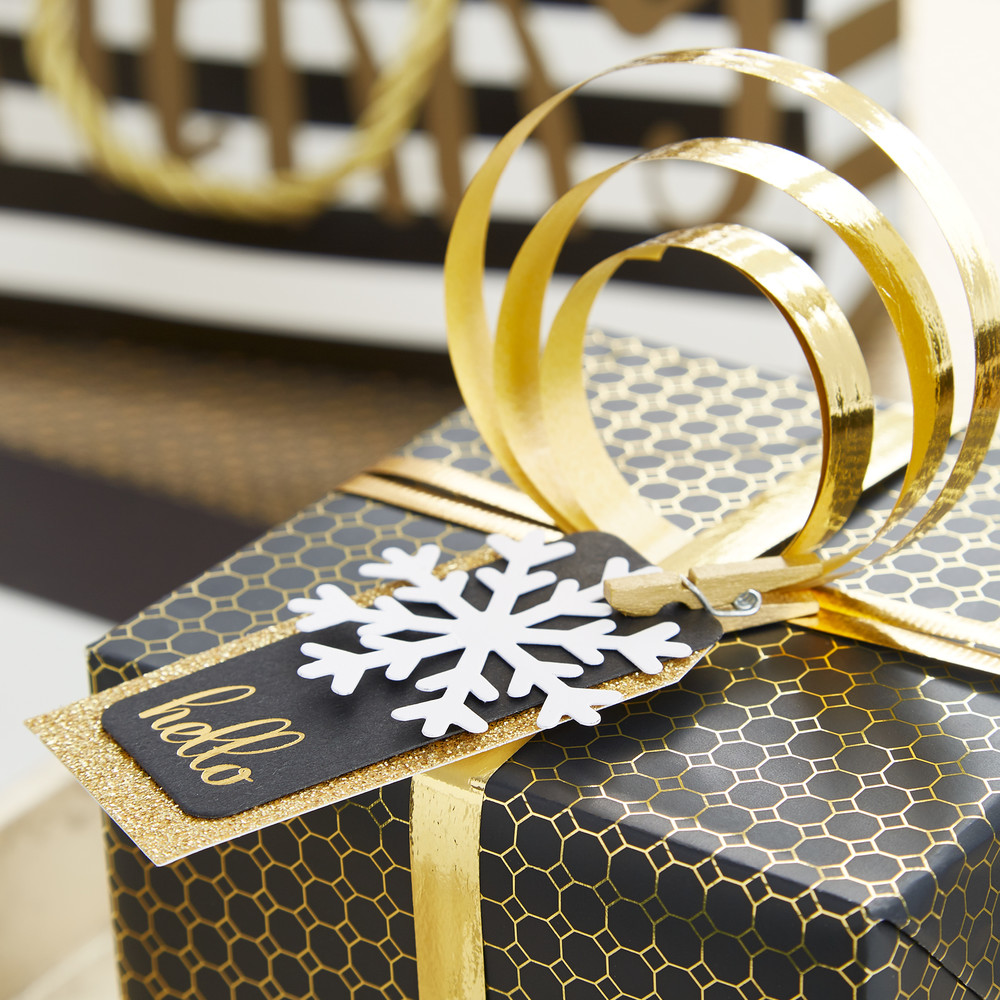 Using our Collapsible Glossy Gift Box, we wrapped it in our Hexagon Wrap, Gold Ribbon and affixed with our Glitter Gift Tag.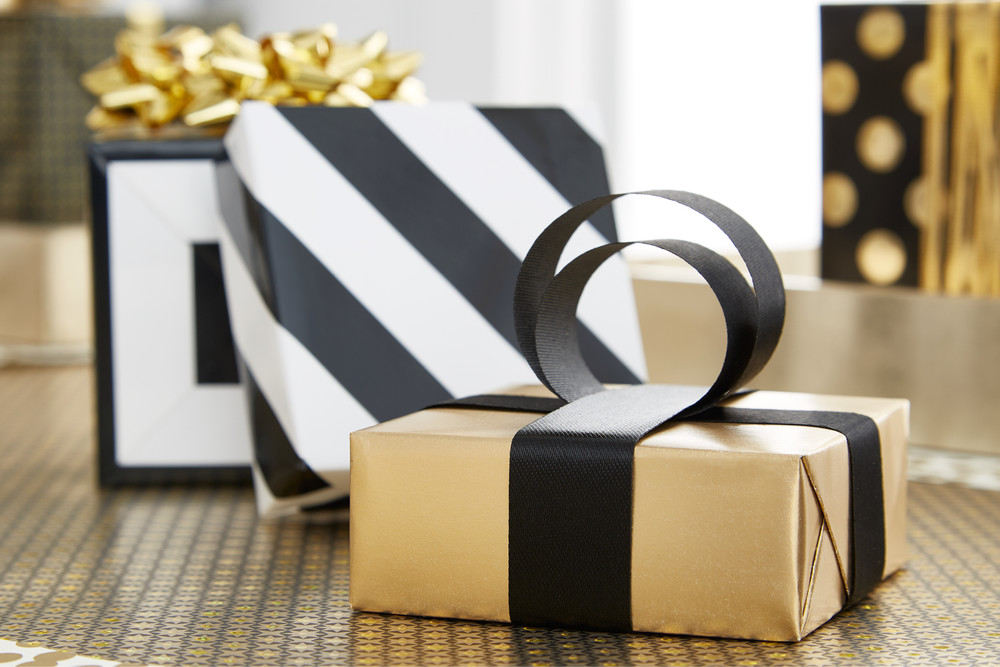 By reversing out our Gold Hexagon Wrap and using a simple Black Satin Ribbon, this simple gift stands out from the crowd.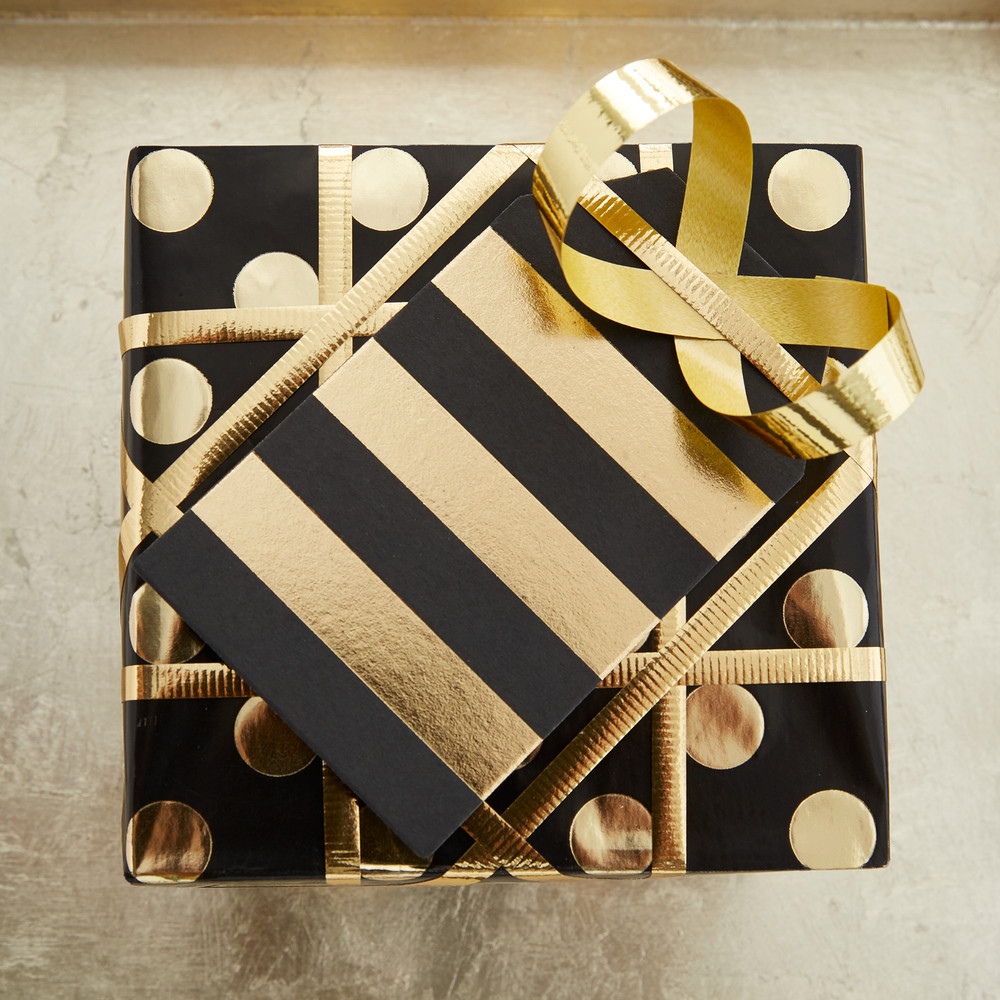 For this present, we again used our Collapsible Glossy Gift Box, wrapped it in our Gold Foil Dots Wrap and used our Multi-Channel Curling Ribbon and Gold Ribbon to envelop our Striped Gift Tag!
New Year's Eve
Set a table to toast the New Year from with this champagne setup. Using our Gold Hexagon Gift Wrap, we covered the table to contrast the lighter tones that we then set the rest of the table with. Our Confetti Gold Placemats marked each place setting. Using our Black & Gold Dots Woven Wired Ribbon, we tied each silver setting together and added a Black & Gold Stripe Gift Tag personalized with each guests' name written in our Gold Chalk Marker.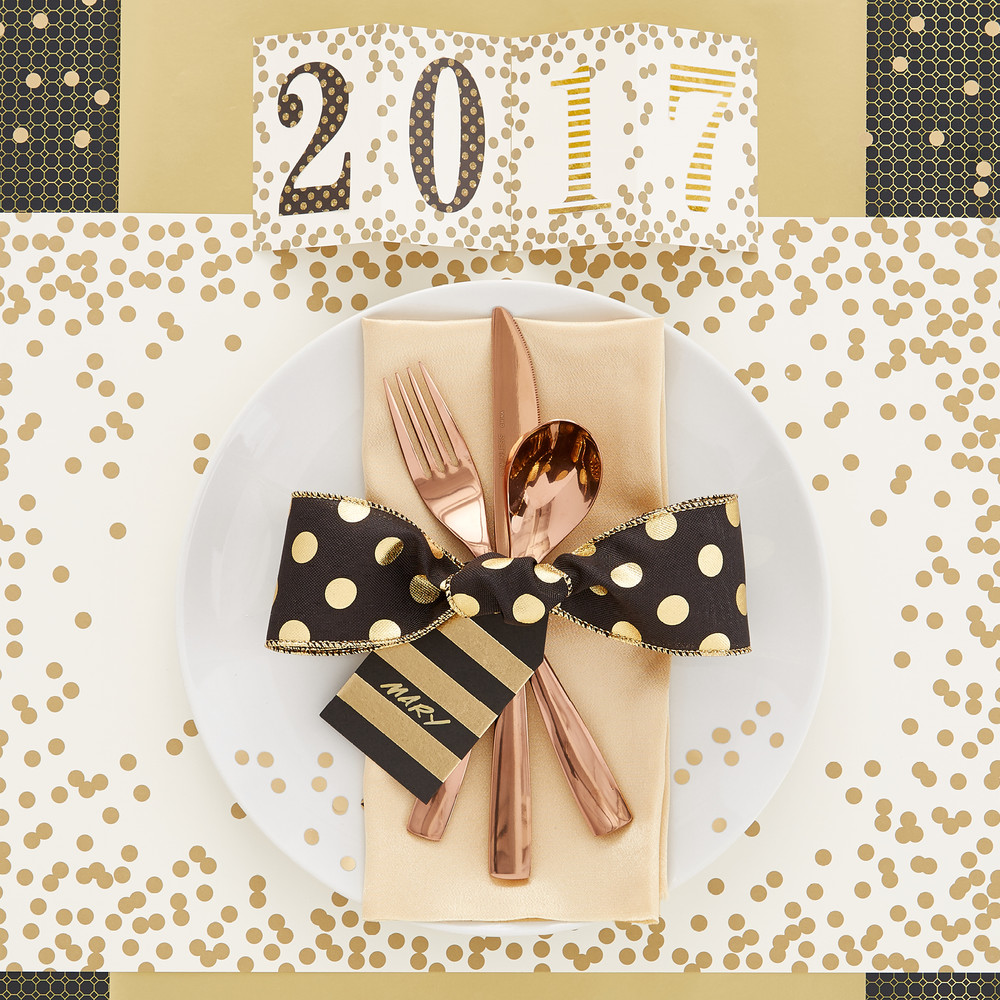 What will this season be bringing to the table? Let us know how you plan to create your tablescape and for what occassion, below!