Several months ago we followed high school senior Marielle and mom Linda, with their college checklist in-hand during their shopping trip to prepare for Marielle's move to her dorm in Missouri. Check out that story here.
http://www.containerstore.com/blog/posts/countdown-to-college
Well, we also tagged along as they packed up the car for the long-awaited dorm move-in day!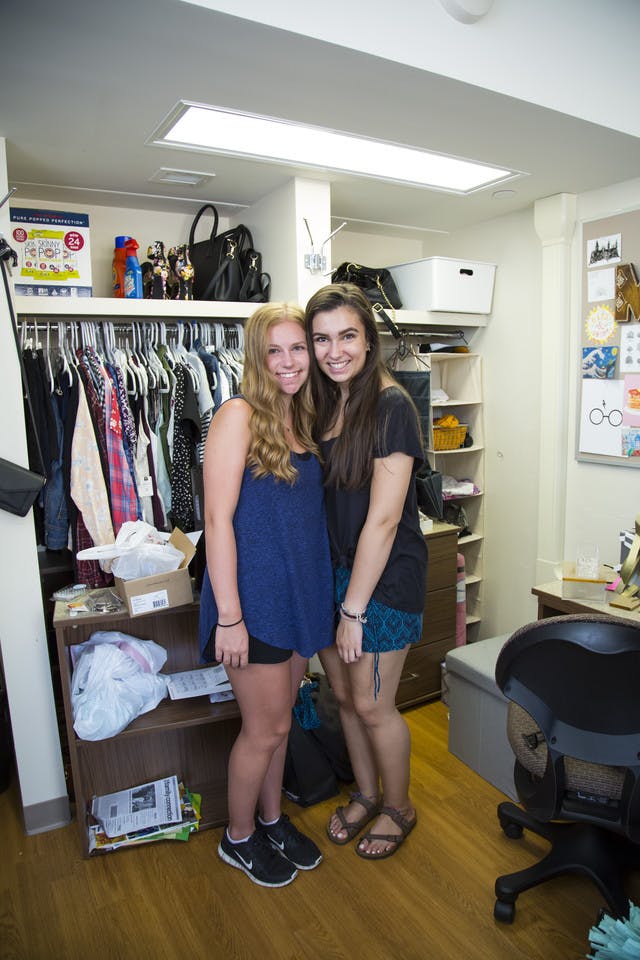 Marielle (right) and her roommate Elise (left) are settled into their cozy 13 by 11-foot home away from home, and have used every inch of space to make campus life comfortable.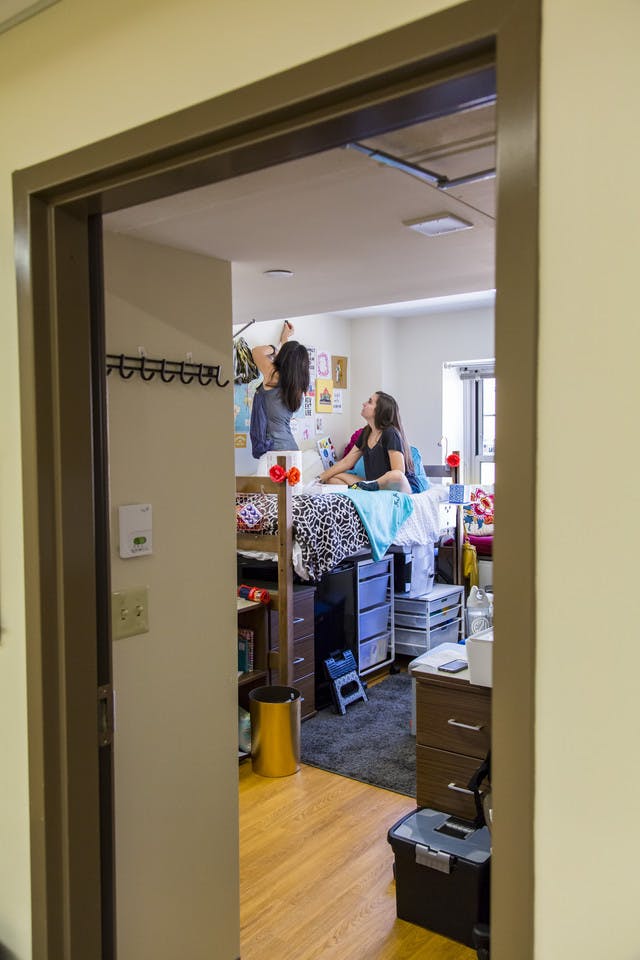 Mom Linda helped with the move in - that's her there working on Marielle's dorm wall decor.
"Thank goodness for Command Hooks and Museum Putty. They saved the day with all that Marielle put on the walls. More than Command Hooks, the Museum Putty was the best tool for helping her put up all her art," said Linda.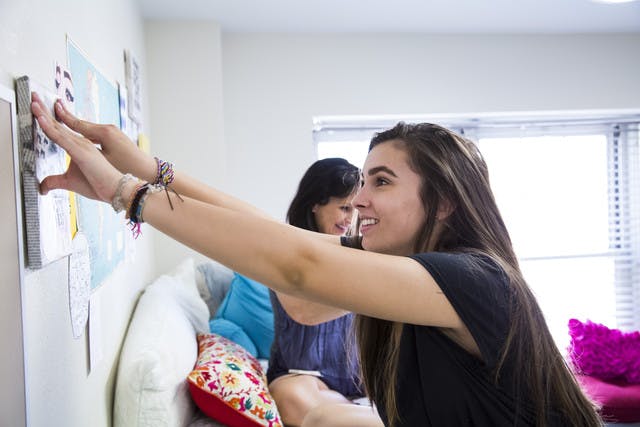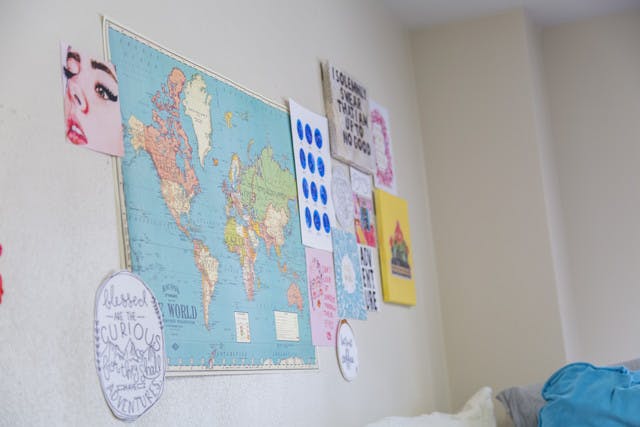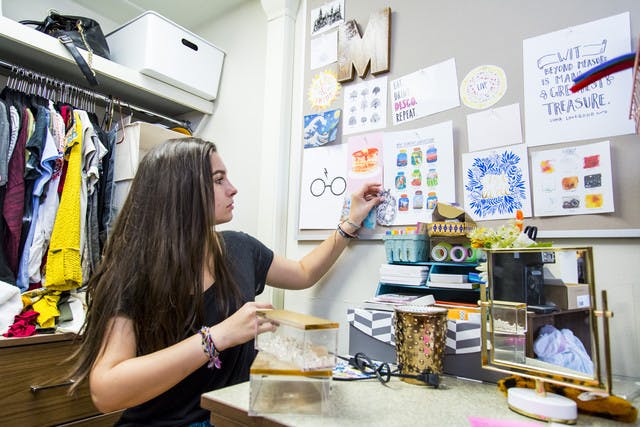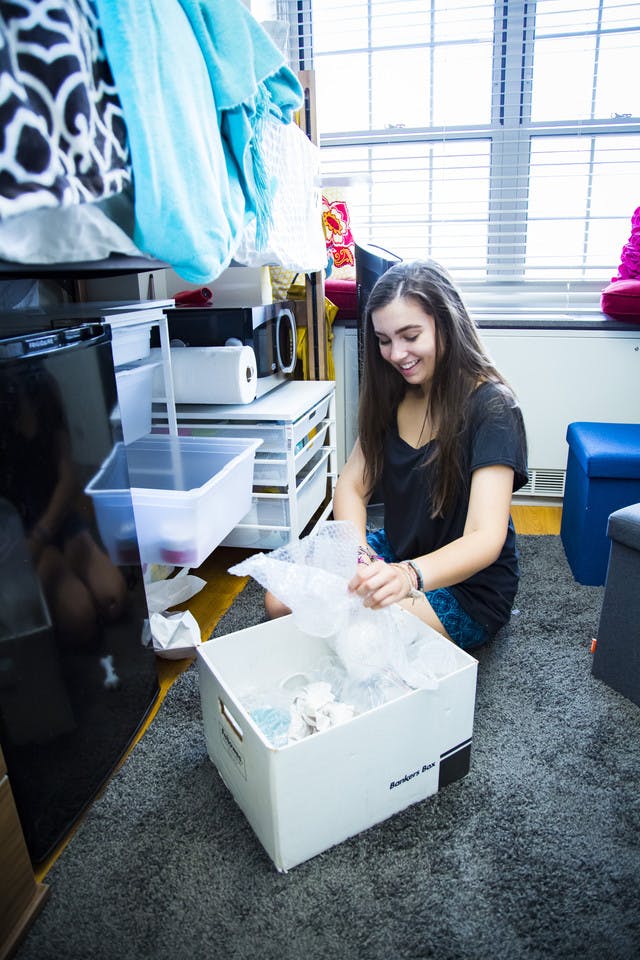 By elevating the bed - Marielle and Elise were able to maximize the space underneath it. The space - outfitted with elfa drawers, is multifunctional, now used as a mini kitchen and also a place for general dorm storage.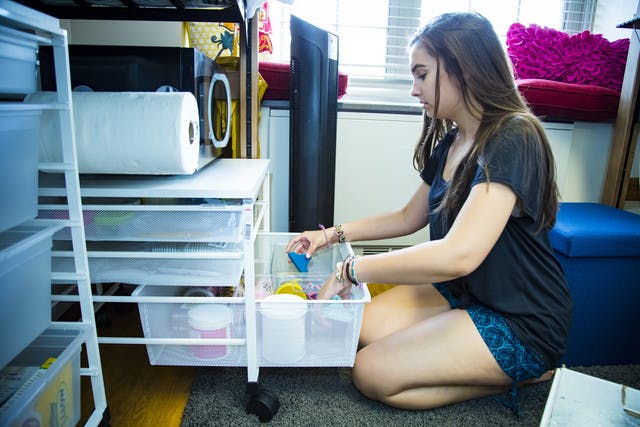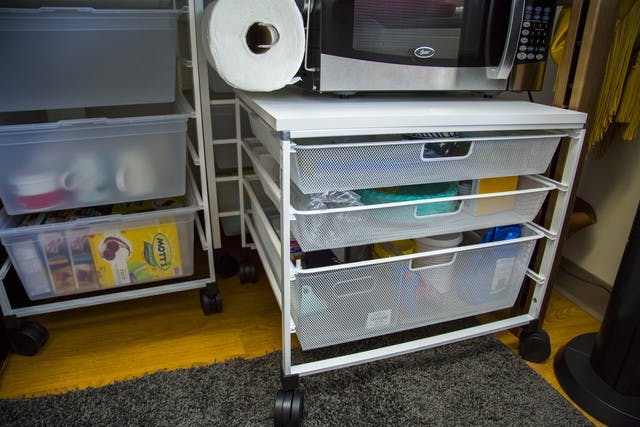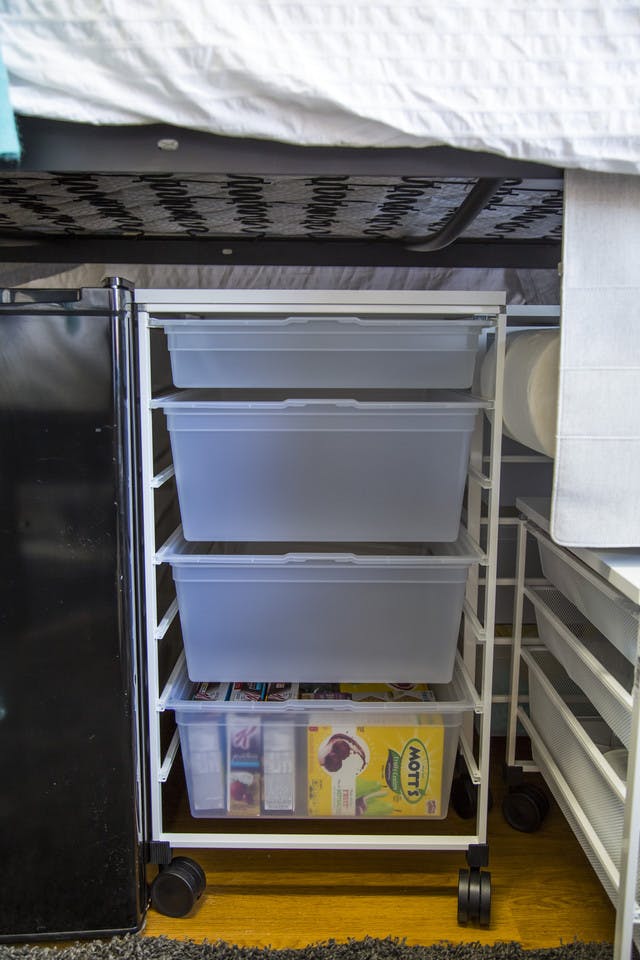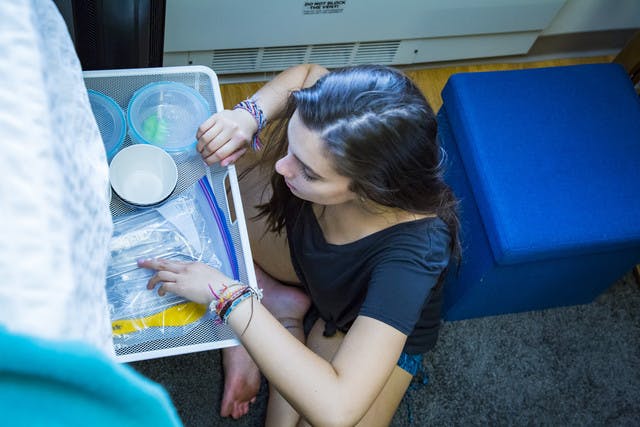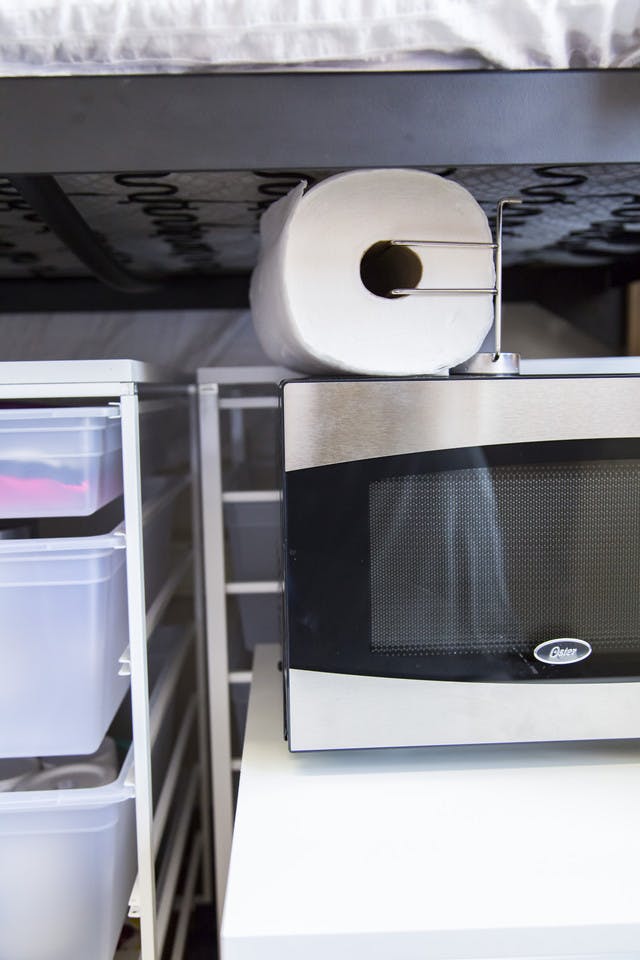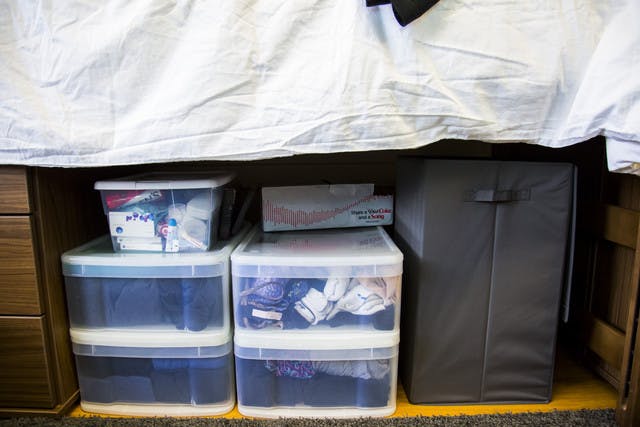 Under the other bed, tinted stacking drawers and a hamper serve as extra closet space.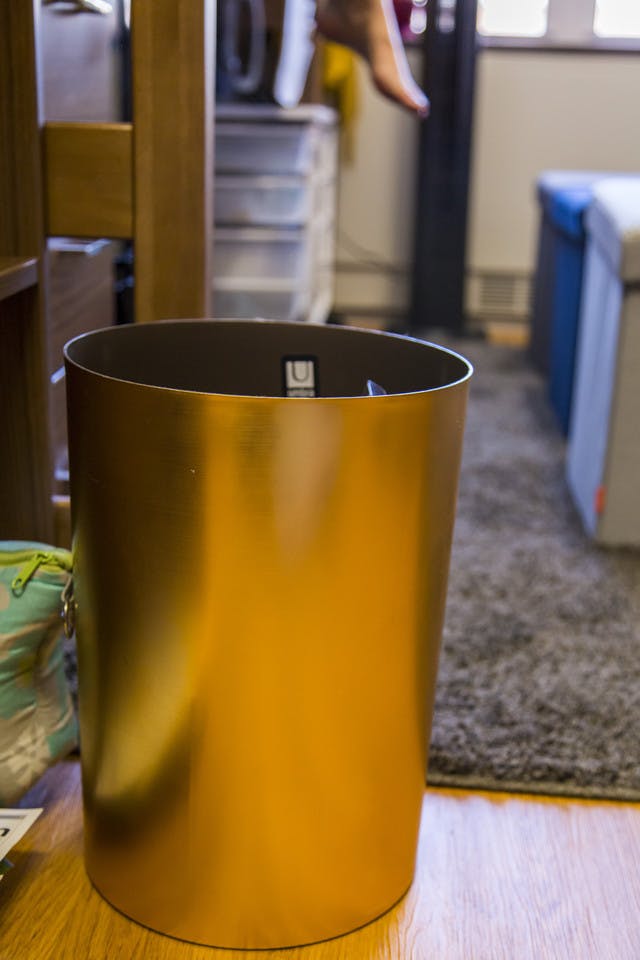 Storage and organization doesn't have to be boring! The girls wanted metallic accents throughout the room, and touches like this trash can and fabulous desk accessories brought some great home decor accents into the tiny space.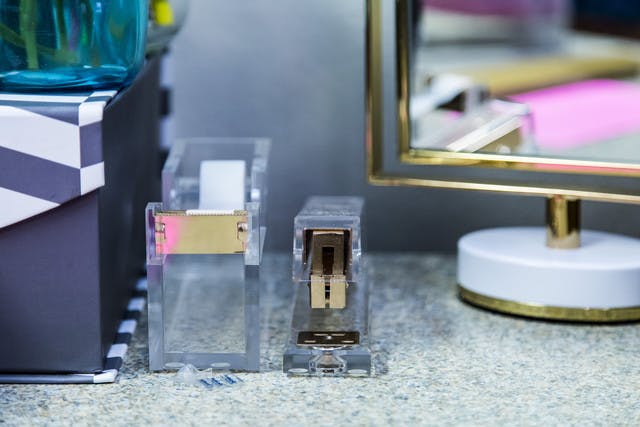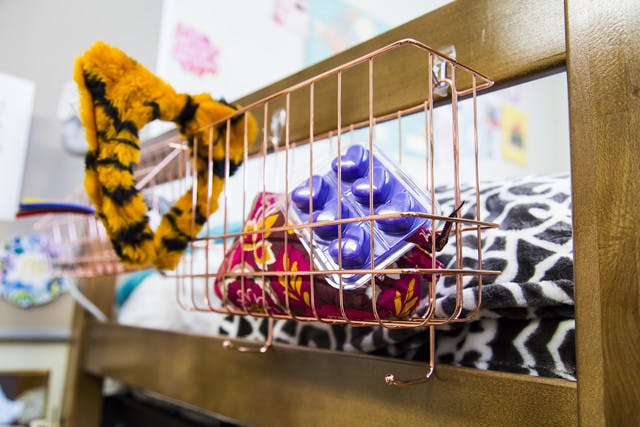 "It was so nice to find the copper bins for her to hang from her bed. They really look like rose gold to us which is such a hot trend right now. She can put her phone and other items in there at night," said mom Linda.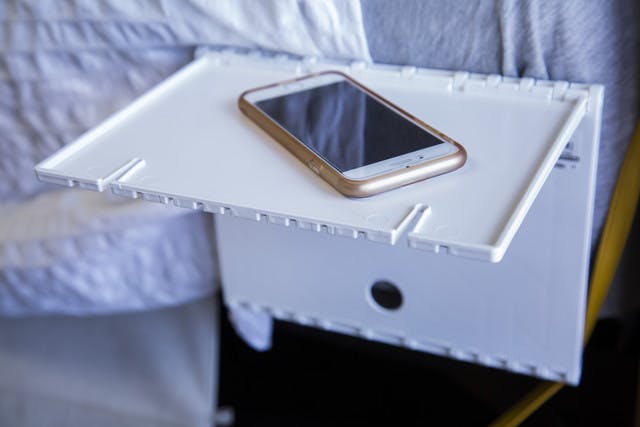 This trusty urban shelf is a must have for dorm storage - and another great place the girls can set their phones! You just simply slip it under your mattress, and lock into the position you want! It can also double as an iPad or tablet stand!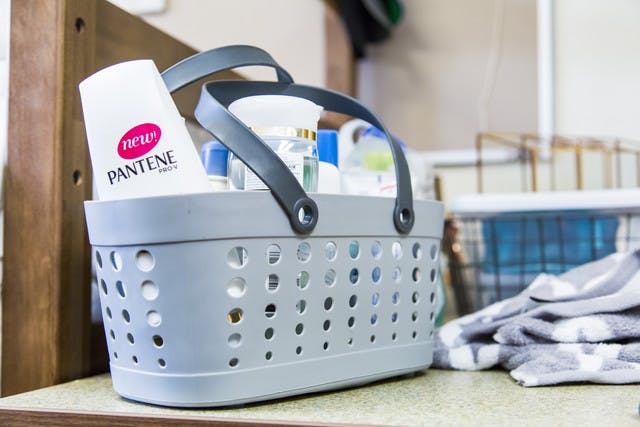 Yes, the girls do have to trek down the hall to a communal bathroom and their dorm rooms don't have a sink. Our Flexible Shower Tote is a fashionable and functional accessory for the girls' trips to the shower! There's an integrated divider inside to help organize toiletries, and drain holes allow water to escape.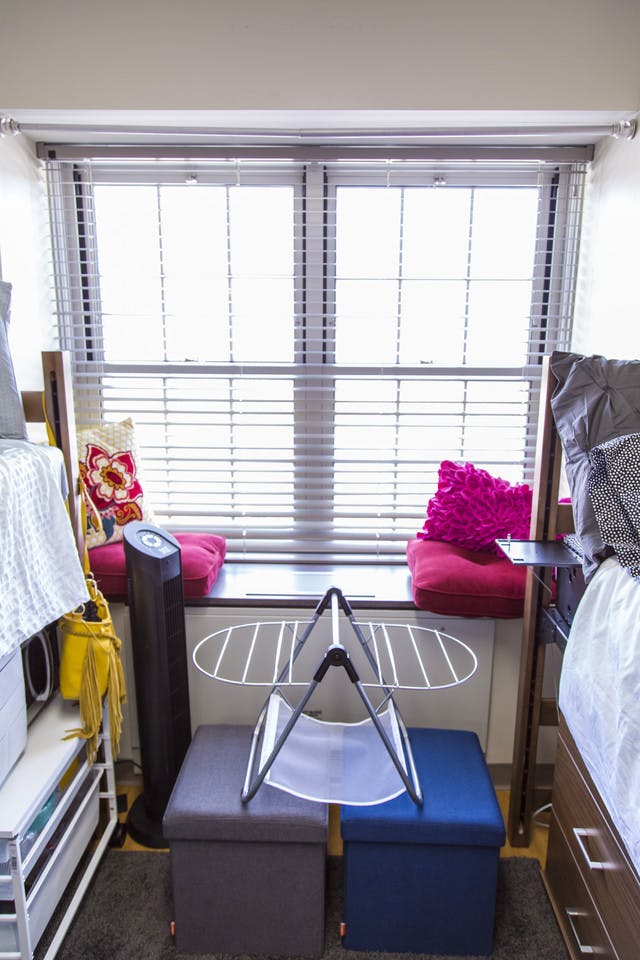 A foldable drying rack can be brought out when the girls need to do some quick dorm laundry. Our space-saving Countertop Drying Rack offers an unbelievable 10 feet of drying space thanks to its adjustable wings. A mesh shelf is perfect for blocking out garments or other delicates. And when Marielle and Elise are finished, it folds compactly for storage.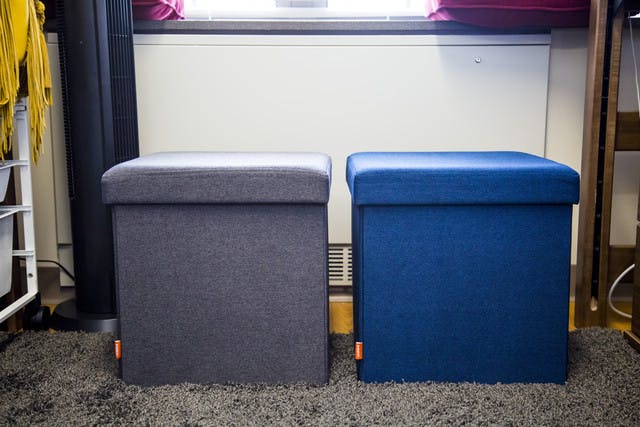 When the drying rack is stored away, the girls have these fabulous Poppin box seats that provide extra seating for their guests. And with bountiful space inside, the seats double as extra dorm storage which is a bonus the girls love.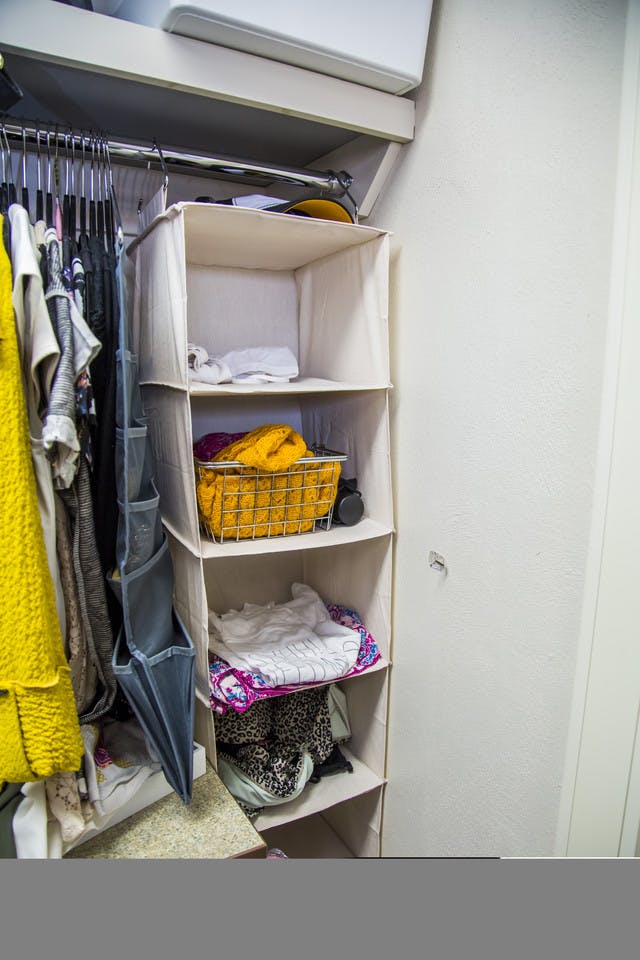 With those tiny college closets that measure about two feet wide and two feet deep, Marielle and Elise really had to edit their wardrobe and plan to change it out from season to season. The slim profile of our Huggable Hangers helps and allows the girls to fit in more clothes, and the hanging canvas Sweater Bag is great for their folded clothes.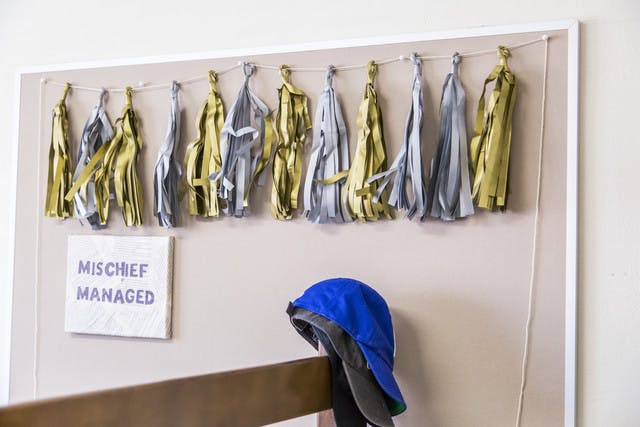 And while there was lots of function going on in the room, it was important for Marielle and Elise to incorporate some fun, personal style and important mementos from home.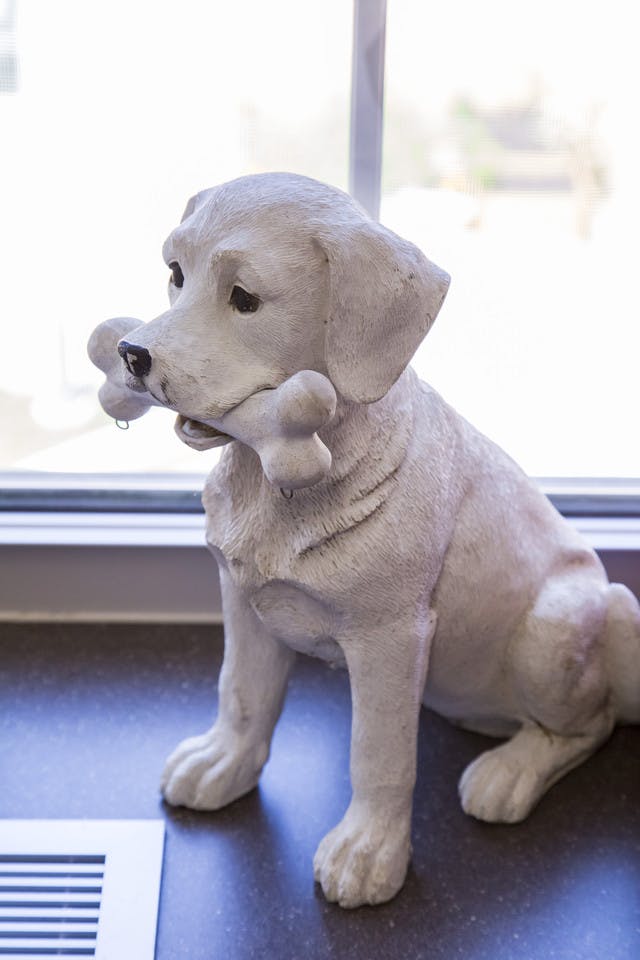 "Marielle was afraid she would miss her black labs at home, so she snuck the statue of a lab we had on the front porch into the car when we weren't looking. We found it when we unpacked," mom Linda said with a laugh.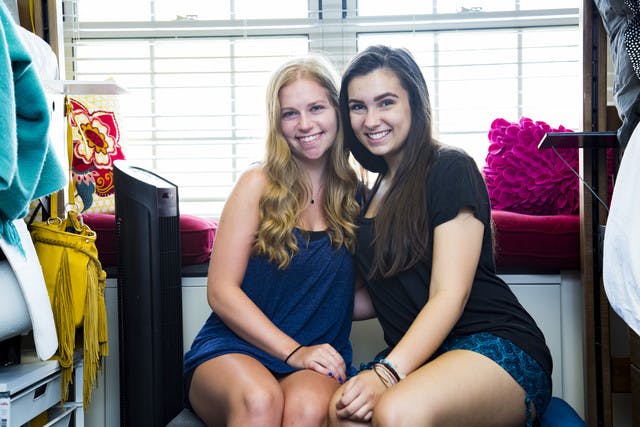 "Marielle survived rush and is now an ADPi. She LOVES college life - and she's only one day in. Missouri is really where her heart is," says Linda.
Woohoo Marielle! Best of luck in year first year at college!