Jillian Clark, the fabulous blogger behind the wedding lifestyle blog 100 Layer Cake, was no stranger to making small spaces work efficiently. Before her family moved into their new home, her husband (Scott) and two boys were sharing one closet. So, when the time came to get a little more space, that also (and somewhat unfortunately) meant that she was going back to sharing one closet.
Though the new closet had a lot more space, it still needed to be shared and split efficiently. Jillian knew just who to call!
Our design experts took all of Jillian and her husband's needs and design wants, and combined them into a customized elfa solution that made the absolute most of every inch of free space. Check out the master closet makeover, below!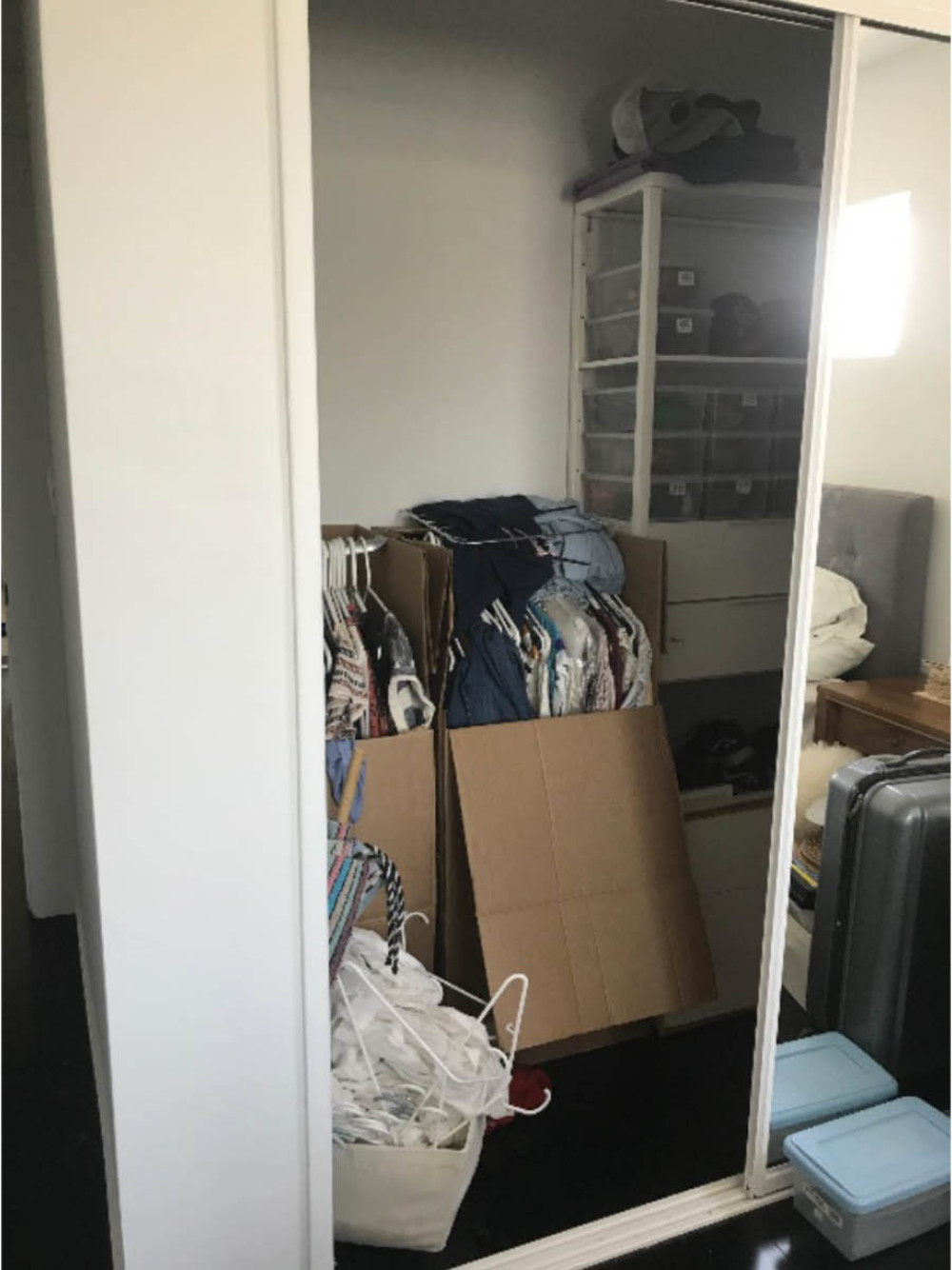 Before, a bulky built-in offered only a set amount of space and shelving with which to store shoes, accessories and more. It was also installed right in the center of the closet, making it tough for Jillian and Scott to split the differing items they needed to store.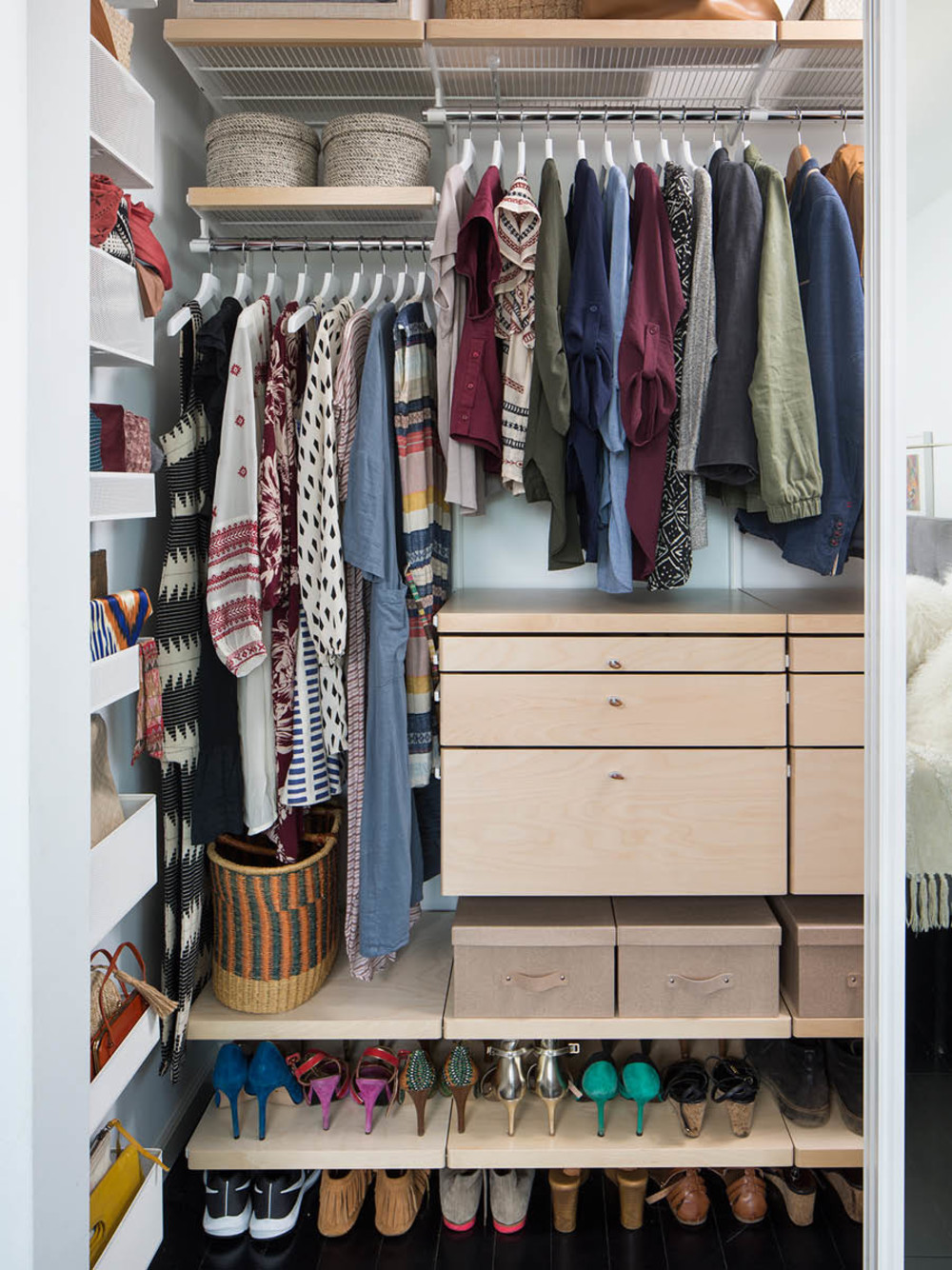 Featured Products: Birch elfa décor // White elfa Door & Wall Rack // Basic White Wooden Hangers // White Round Jute Storage Boxes with Lids // Bigso Oak Woodgrain Storage Boxes // Linen Drop-Front Sweater Boxes
Jillian's Side
We used elfa birch decor Shelves within the space to bring a lightness to the closet. Chrome hanging rods at varying heights and lengths allowed Jillian space for long-hanging clothes like dresses and shawls, and still allowed for ample hanging space for blouses, shirts and jackets. Our new elfa decor Drawer Fronts & Frames replaced the traditional bulky chest of drawers and still allow for concealed storage or clothing and accessories.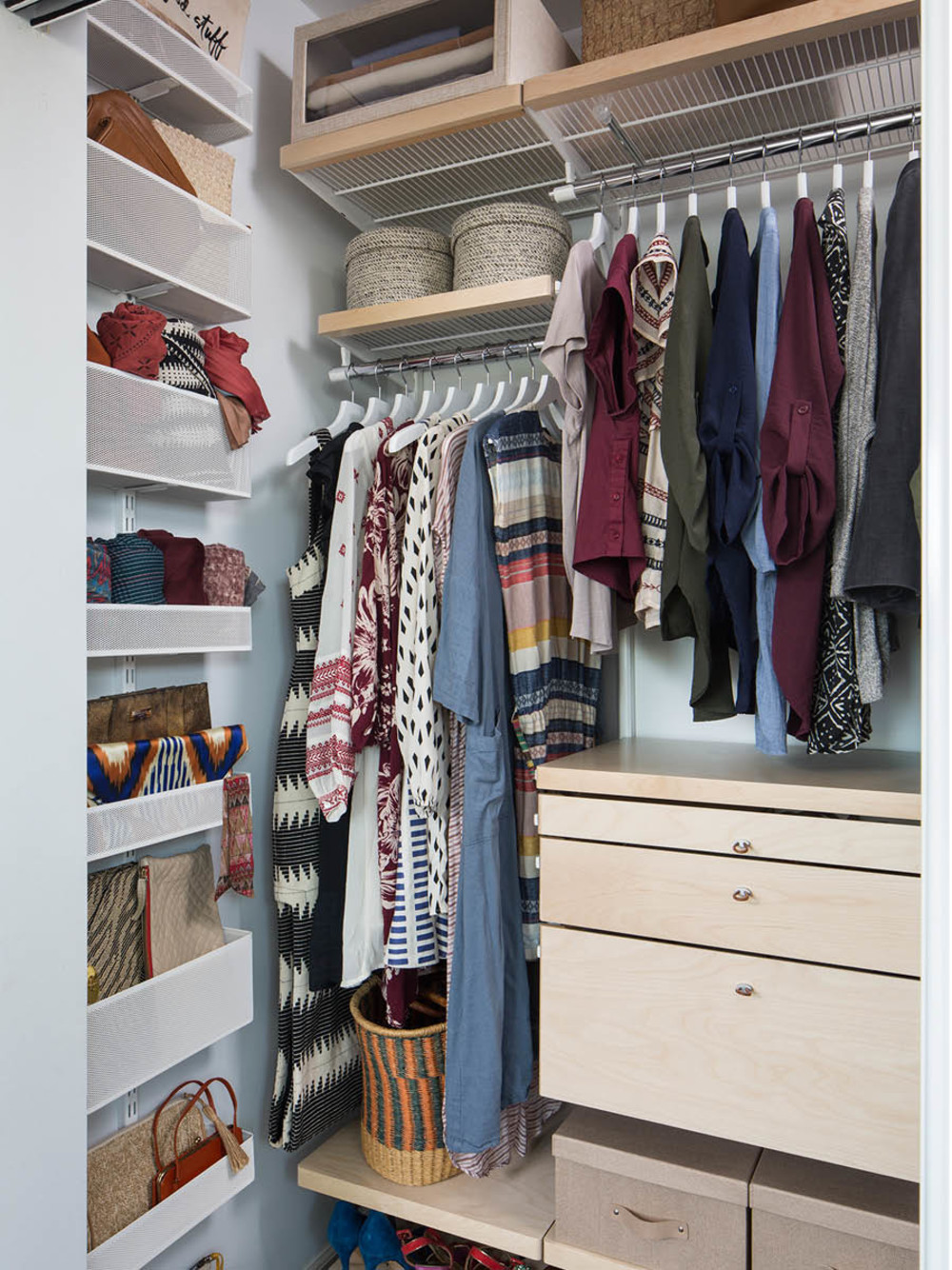 Our elfa Door & Wall Rack was the perfect solution to store all of Jillian's small handbags and scarfs. Each bin is easily repositionable depending on how tall each purse is, and her clever way of rolling her scarves allowed her to store even more per bin.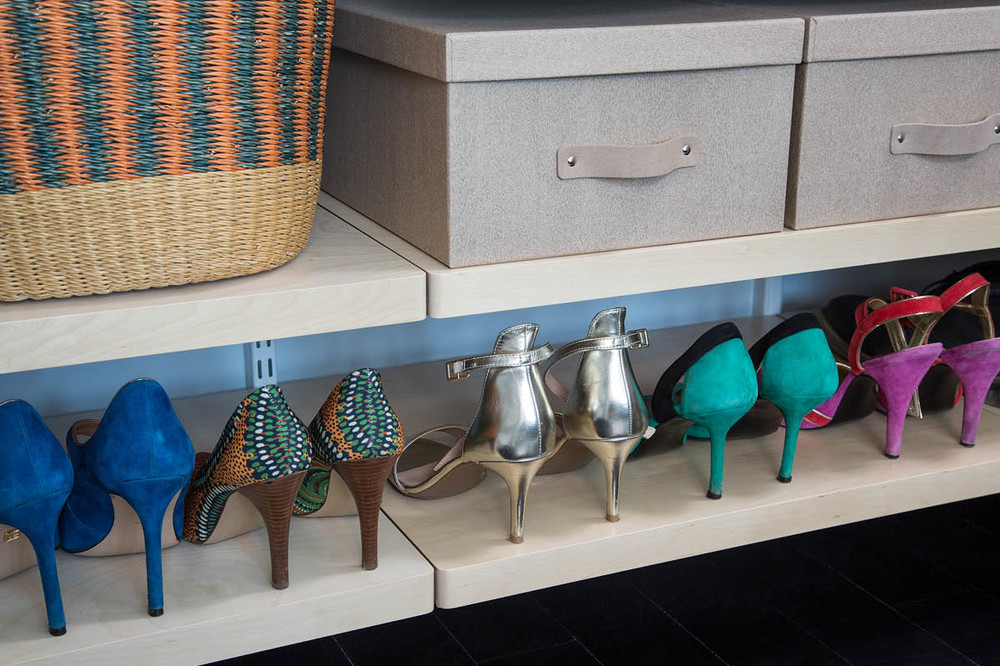 Birch elfa decor Shelving installed further down along the wall provided a perfect place for Jillian to store and display her colorful heels. Now, they're easy to see and access to complete the perfect outfit. Bigso Oak Woodgrain Storage Boxes hold accessories and out of season items in a concealed and stylish presentation.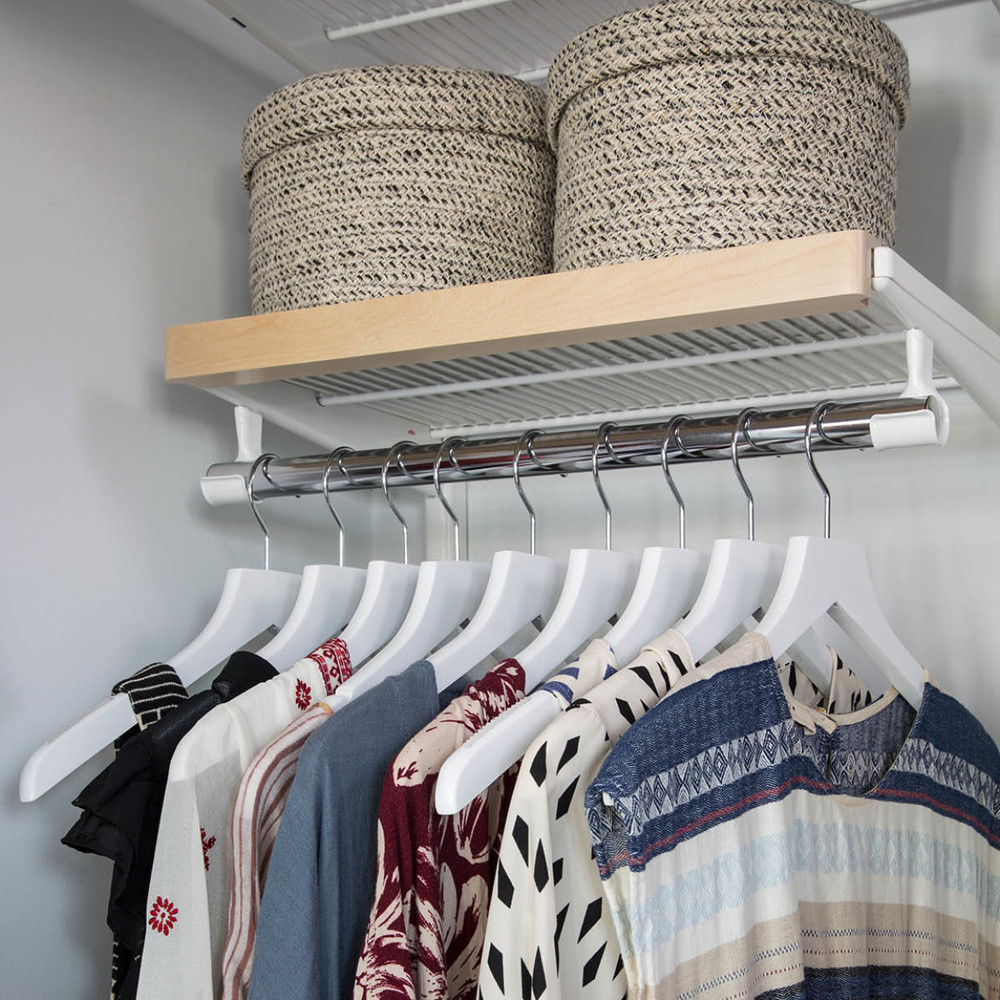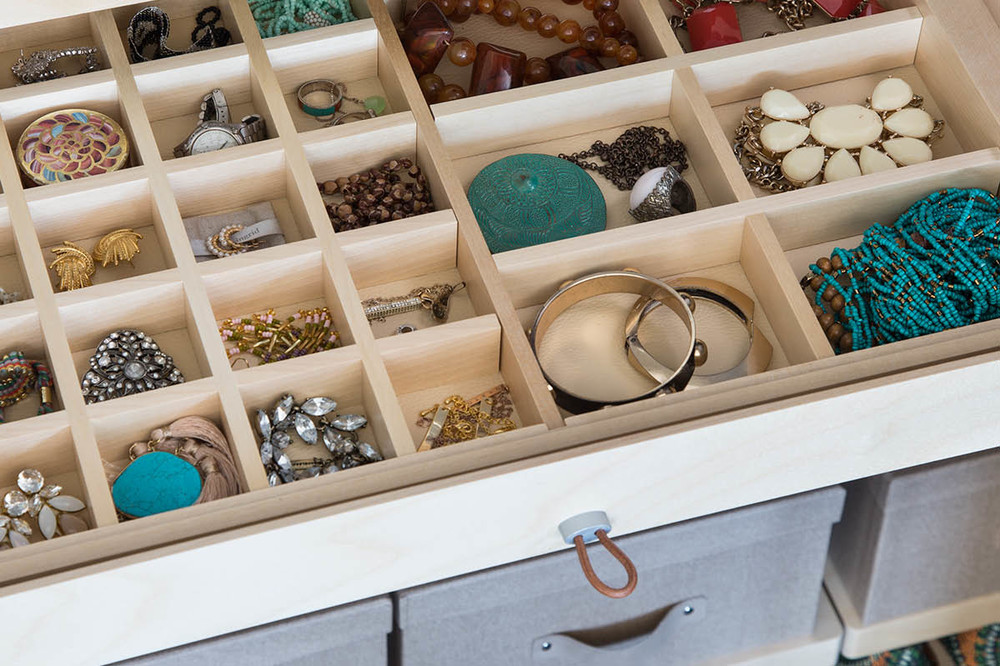 Jillian loved how the elfa Jewelry & Accessory Trays immediately organized her collection. The system works perfectly to store all jewelry, from bracelets to earrings to necklaces. It can also easily be adjusted depending on what Jillian adds to her collection.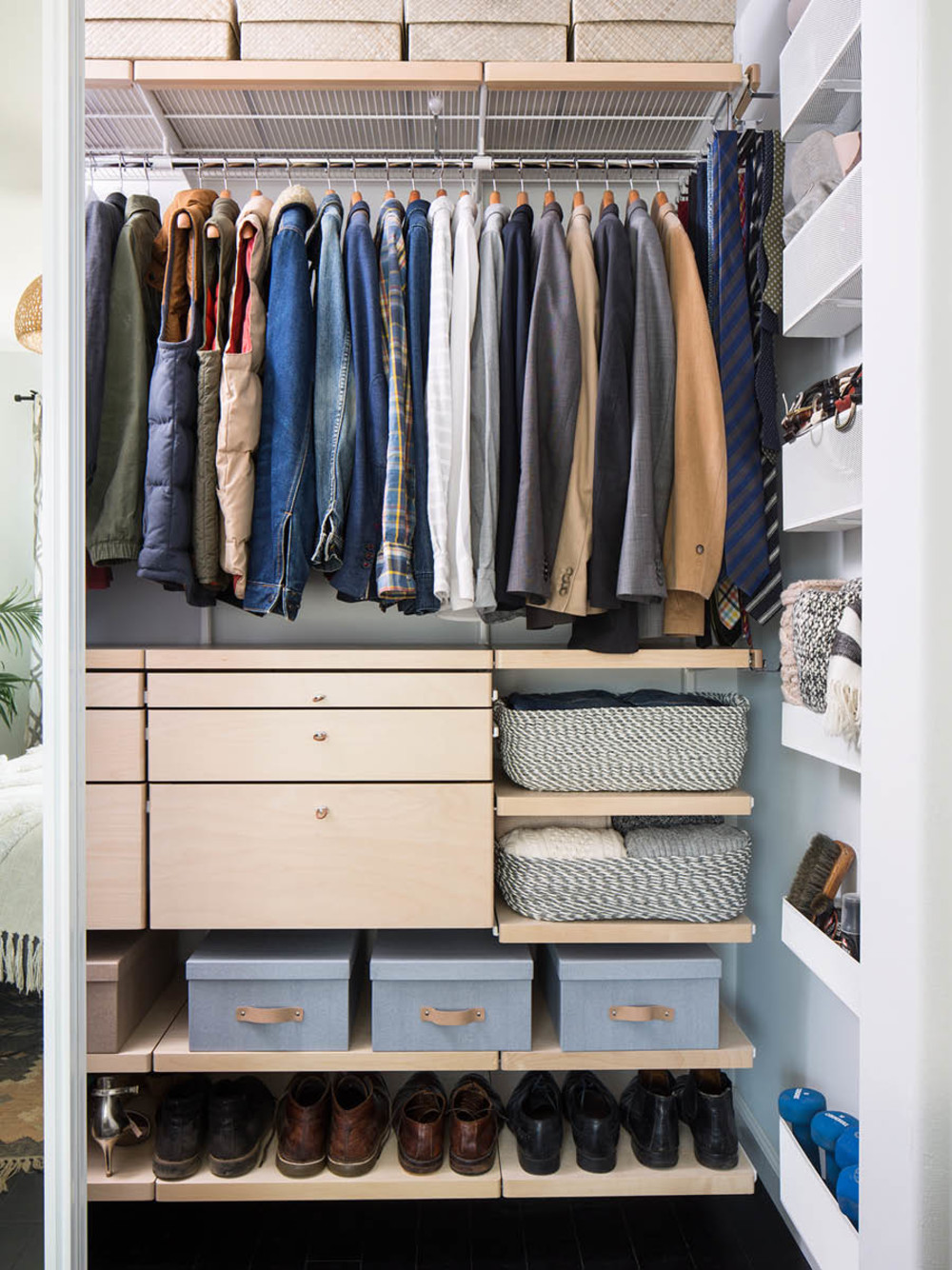 Featured Products: Birch elfa decor // White elfa Door & Wall Rack // Basic Natural Wooden Hangers // Natural Pandan Shirt Box // Bigso Grey Woodgrain Storage Boxes // Grey Laguna Cotton Fabric Storage Bins
Scott's Side
Ample hanging room was a key element on Scott's side of the closet. Now, he can store all of his vests, shirts, jackets and coats with more with room to spare. Woodgrain Storage Boxes offer even more concealed storage apart from the Drawer Fronts & Frames. Open Fabric Storage Bins store bulkier sweaters, hats, jeans and more where he can easily see them.
Another elfa Door & Wall Rack organized all of Scott's hats, belts, scarves and shoe polishing accessories.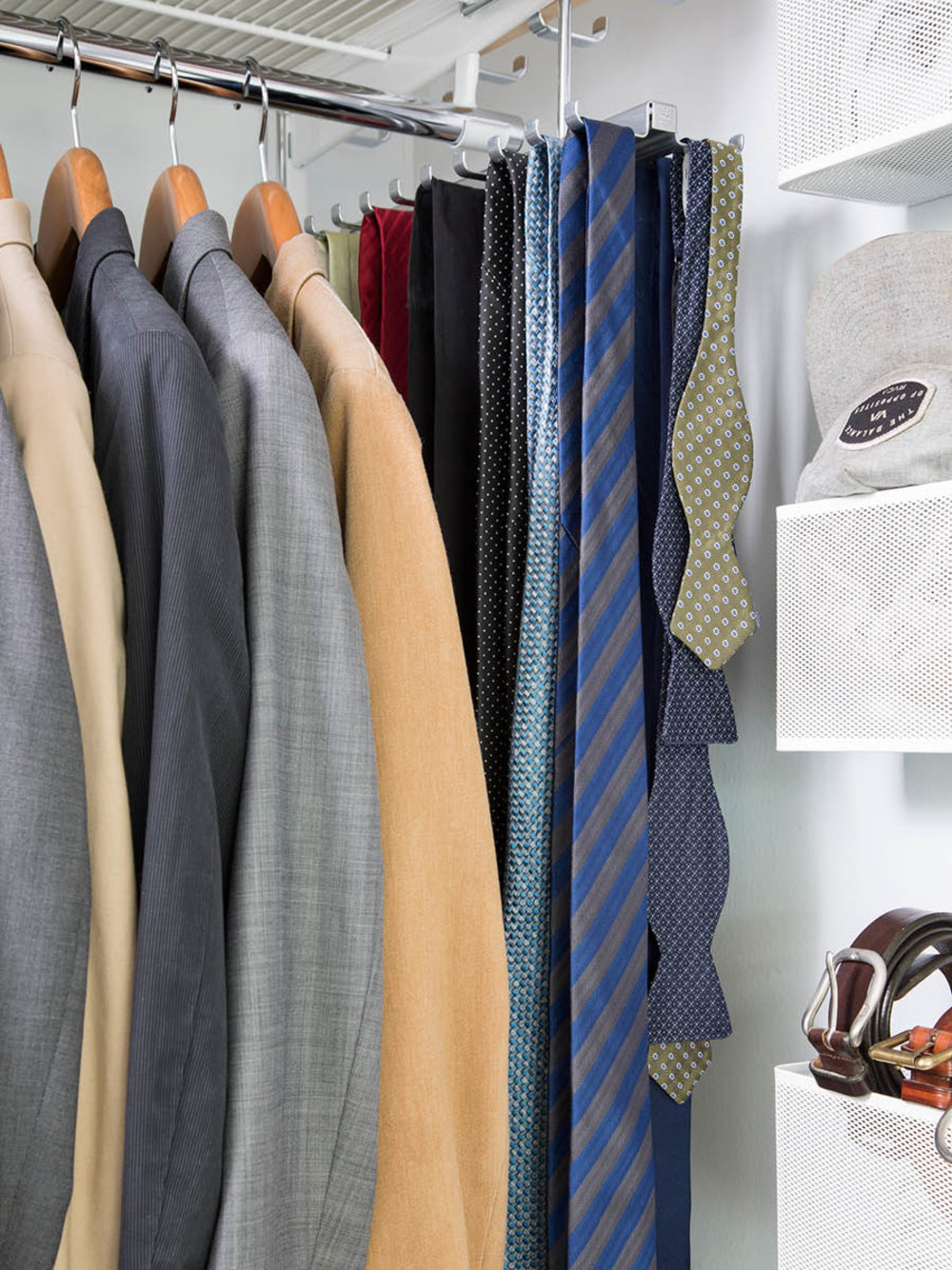 With our Gliding elfa Tie & Belt Rack, Scott can easily store and organize all of his ties in one easily accessible spot. Just like the name says, it can glide out so he can see every single tie at a glance.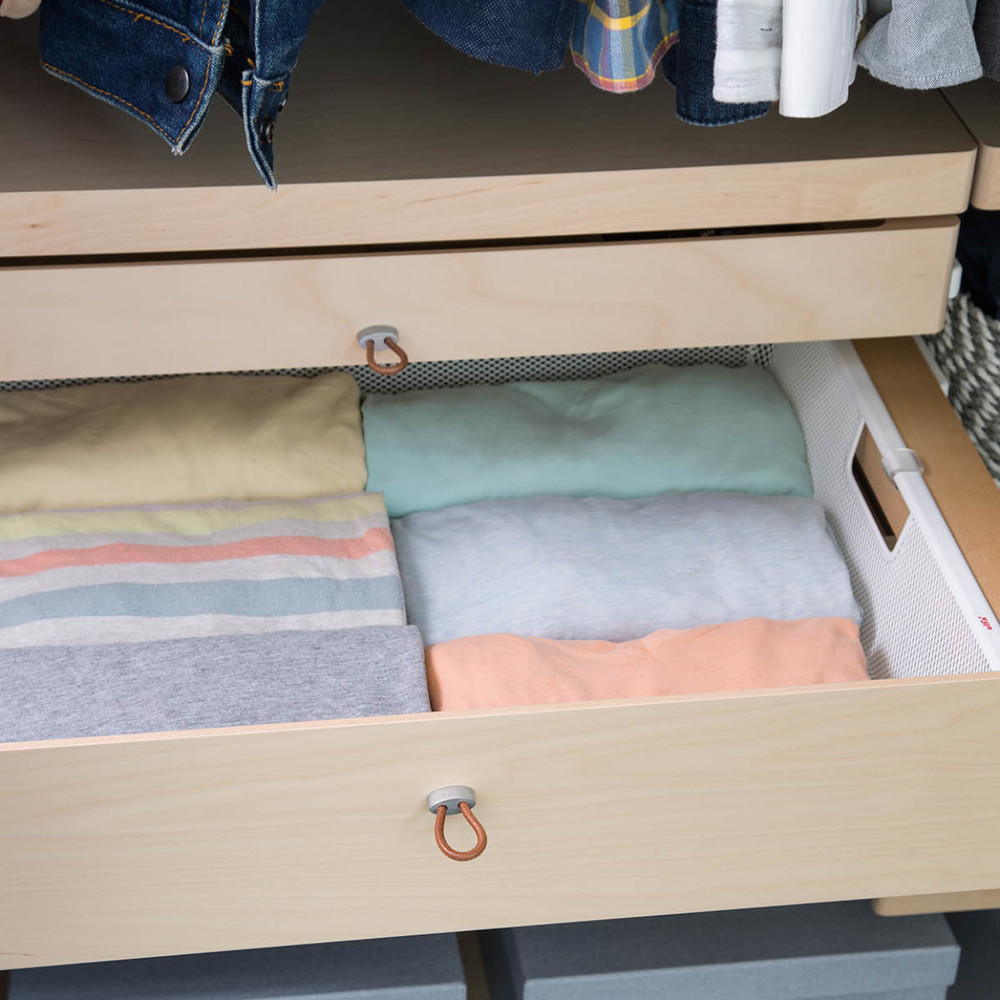 At the end of the transformation, Jillian and Scott had a closet that perfectly suited both of their needs while still being able to work as one harmonious design! If you're thinking about refreshing your closet, all elfa is now 30% off during our annual elfa Sale! Check back in this week to see how we transformed Jillian's sons' shared closet, and turned a nook into a streamlined office.