For those loved ones that live far away, the holidays can be hard to celebrate with all the usual seasonal excitement. And it's no wonder, shipping gifts over the holidays can be tough, and the excitement of waiting for a present under the tree isn't quite there when it arrives in a box stuffed with packing peanuts. But we believe that you still can bring the excitement of a wrapped gift under the tree, even from far away. We've put together a collection of creative DIY shipping ideas that make every delivery feel so much more special.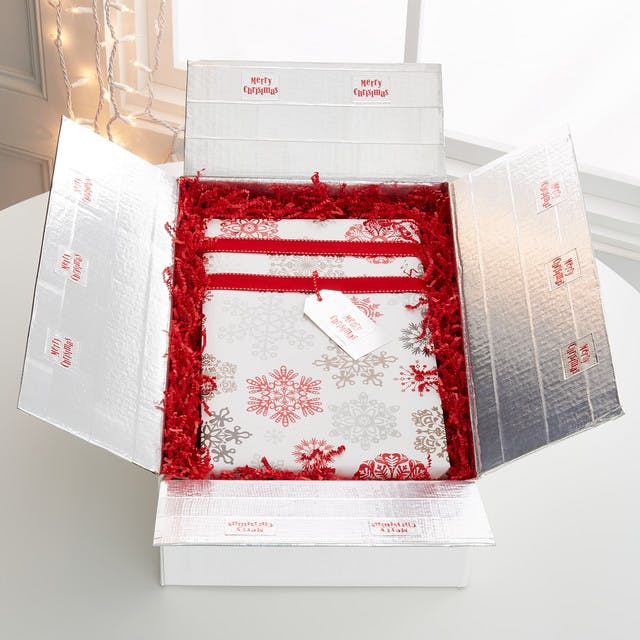 Metallic Moment
Create a DIY present within a present with this shipping idea. We used our Corrugated Shipping Box and covered the interior with our Silver Duct Tape for a metallic splash. For an extra holiday touch, we added our Merry Christmas Embossed Foil Seals around the edges and used our Crinkle Cut Paper Shred Red to frame the package inside!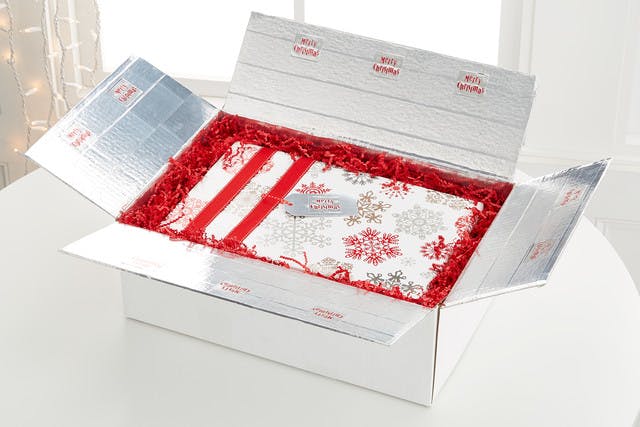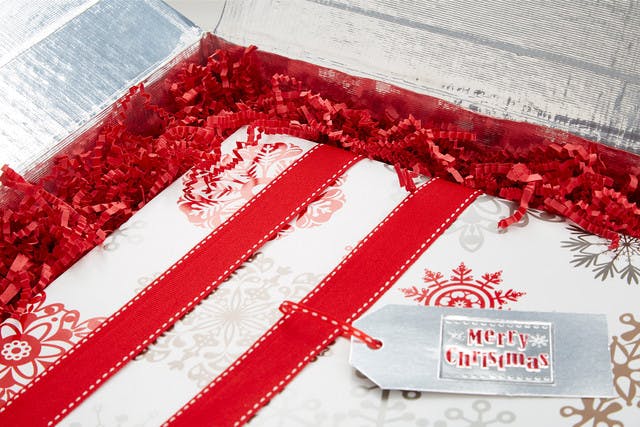 If you're a fan of this perfectly wrapped present, we used our White Gift Box, Snowflake Gift Wrap, Merry Christmas Embossed Foil Seals, Silver Foil Tag-It Gift Tags, White Stitched Red Ribbon and White Stitched Red Grosgrain Ribbon.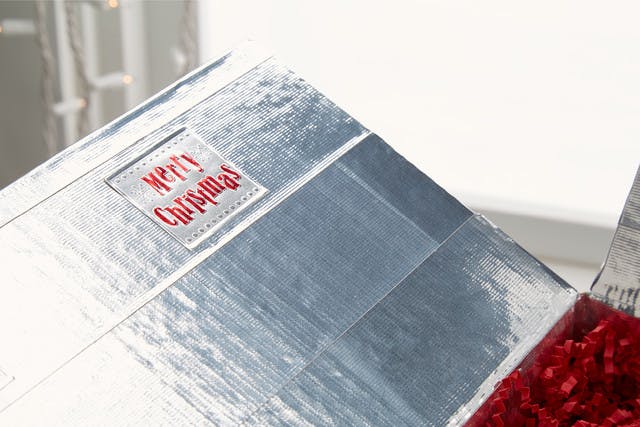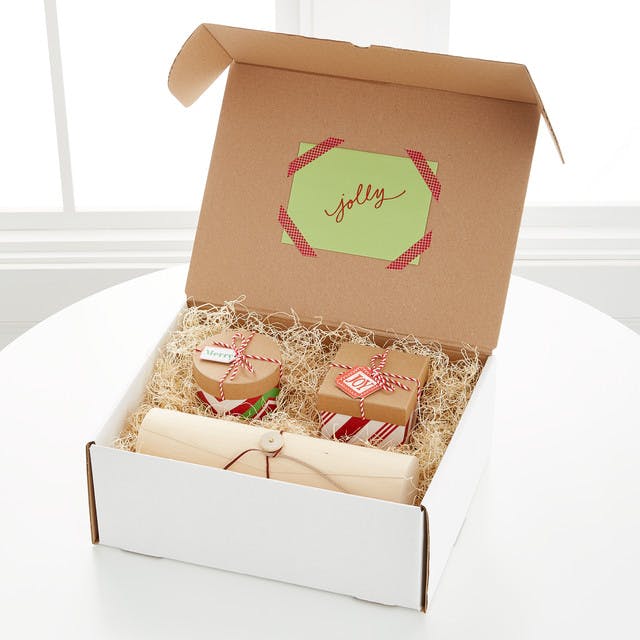 Rustic Gift Basket
Make your loved ones feel like they're receiving a customized gift basket the moment they open the box! We use our Quick Ship Mailer box as the container. The hinged lid really makes the recipient feel like they're opening something special. To decorate the interior of the box, we used our Holiday Greetings Stickers (we used the Jolly as you can see here) and taped them with our festive Red Clover Washi Paper Tape. For the "gift", we used our Round Glitter Chevron Twine Trinket Box, Square Glitter Stripes Twine Trinket Box and Birch Veneer Wine Bottle Cylinder to give the gift basket feel of opening several different gifts all in one package. To frame the gifts, we used our Shred that coordinated with the Kraft and woodgrain look of the packages.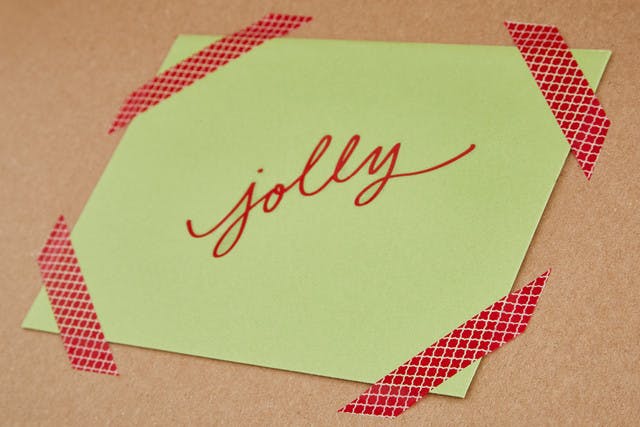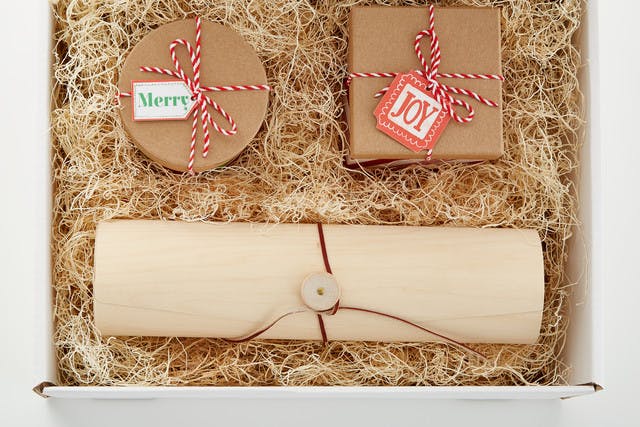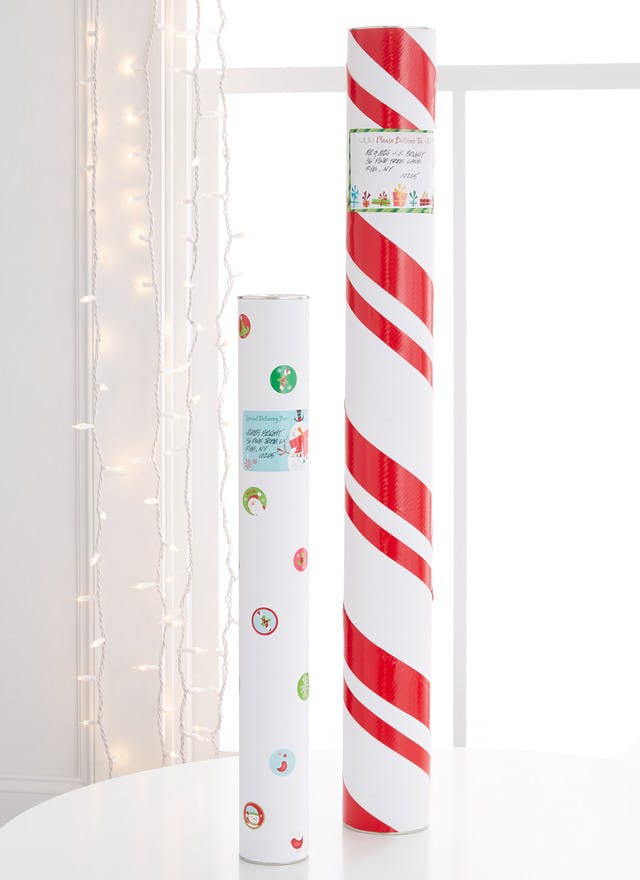 Candy Cane Kid Friendly Shipping
This kid-friendly DIY is a perfect activity to do pre-Christmas. Let the little ones take our Telescoping Paper Tube, our Joy Labels & Seals Book and our Christmas Pals Labels & Seals Book and decorate to their heart's desire. They can feel like they're involved in the gifting and create something the recipient won't soon forget!
Create this candy cane look with our Telescoping Paper Tube and our Duct Tape in Cherry! Use a regular width of duct tape and wrap around the tube. If desired, cut the regular width in half to wrap around as a second accent to the candy cane stripe. Use our Christmas Pals Labels & Seals to put the names right on the outside of the present!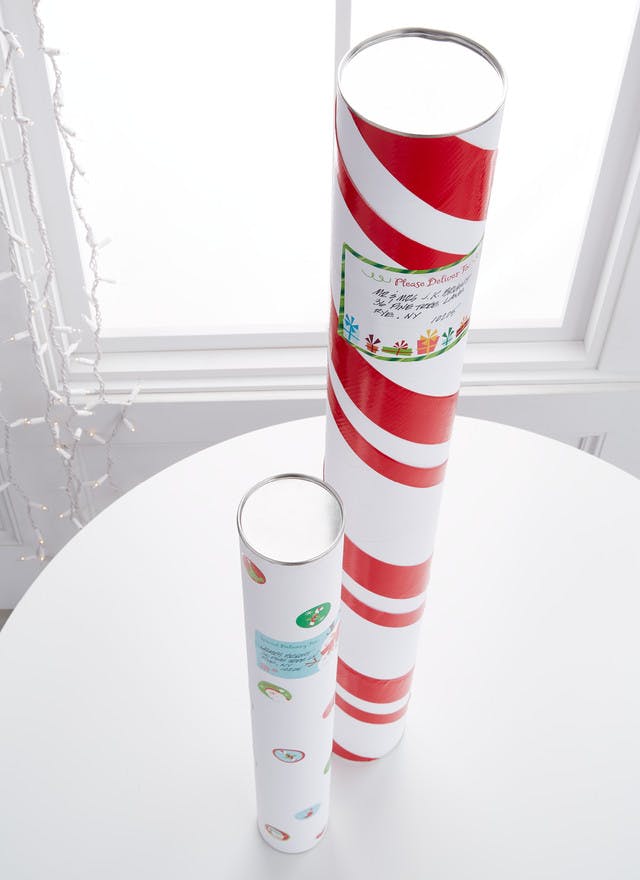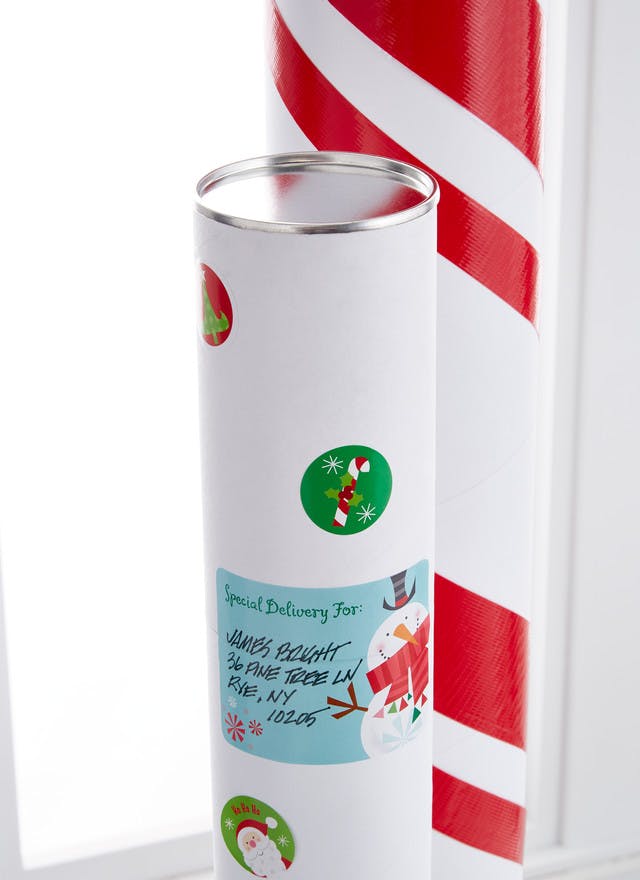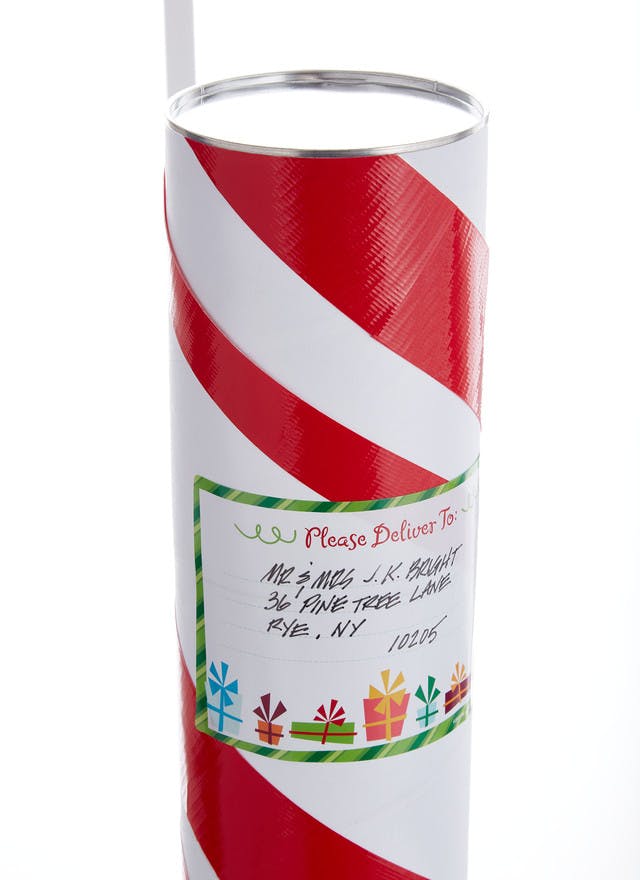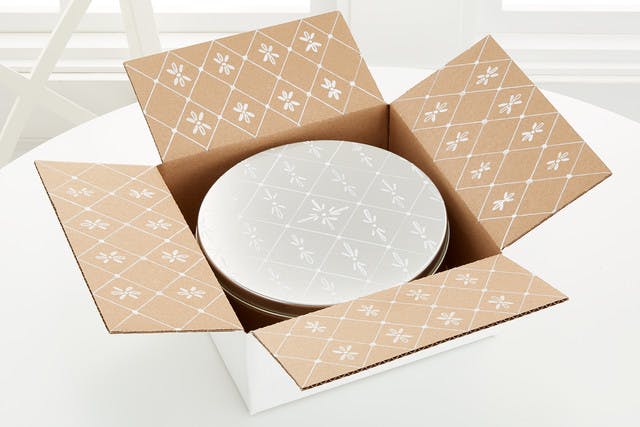 Lattice Love
If you're sending a homemade gift to someone far away, think about this oh-so-cute design that's a treat from the moment they open it. We used our Cookie Tin Shipper as the box and decorated it with a fun and easy to recreate lattice pattern. Simply draw even lines with a ruler across and crisscross the box, and finish each diamond space with a little design to your liking. We used our White Fine Tip Chalk Markers to finish the design on both the Cookie Tin Shipper and the Round Tin for a cohesive pattern that looks like a gingerbread house!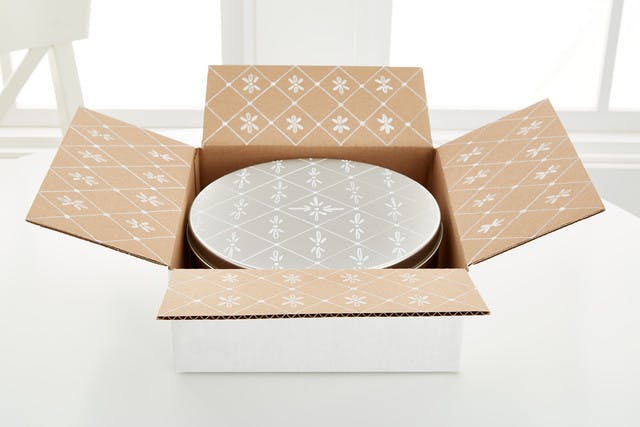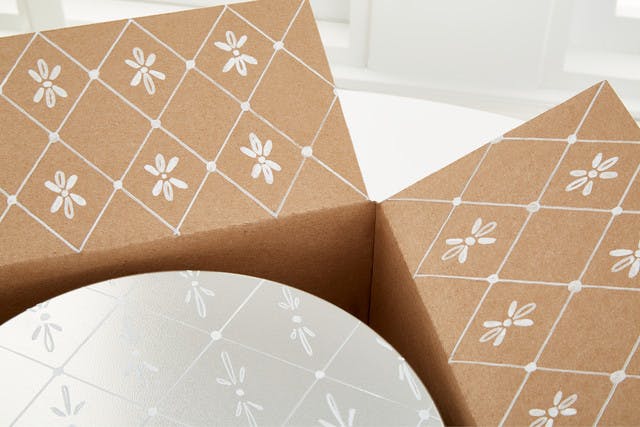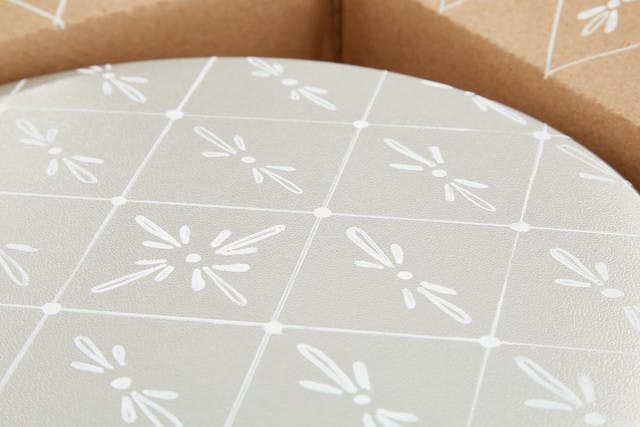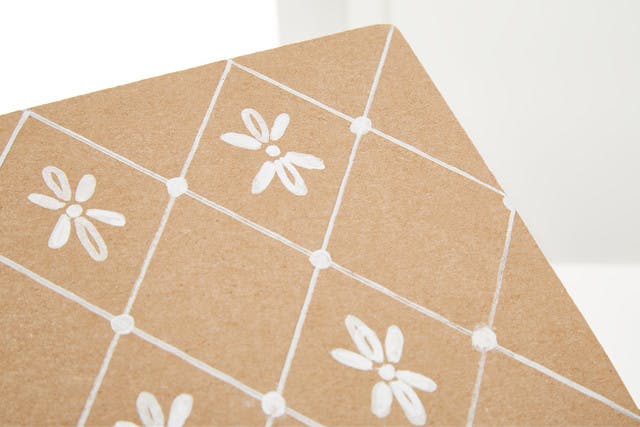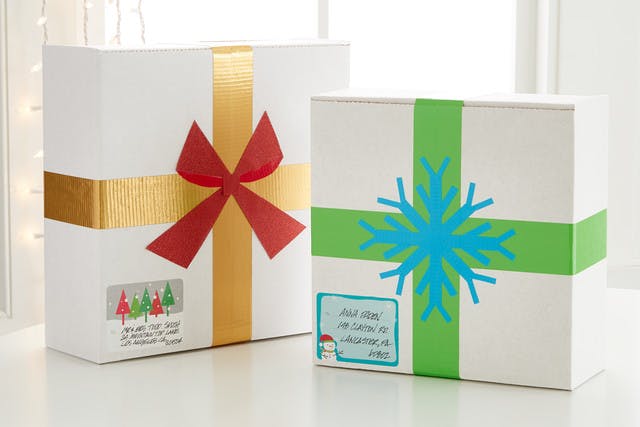 The Gift of the Present
What can't duct tape do? We used our Corrugated Box, Duct Tape in Gold and Duct Tape in Red Glitter to create a present ready to unwrap right on their doorstep. To create the bow, sketch a bow shape or use this template. We finished the gift off with our Joy Labels & Seals Book so it truly feels like a present ready to unwrap.
For the snowflake gift, we used our Cookie Tin Shipper, Duct Tape in Electric Blue, Duct Tape in Island Lime and our Christmas Pals Labels & Seals Book to make a fun flurry of a present. Use our snowflake template if needed.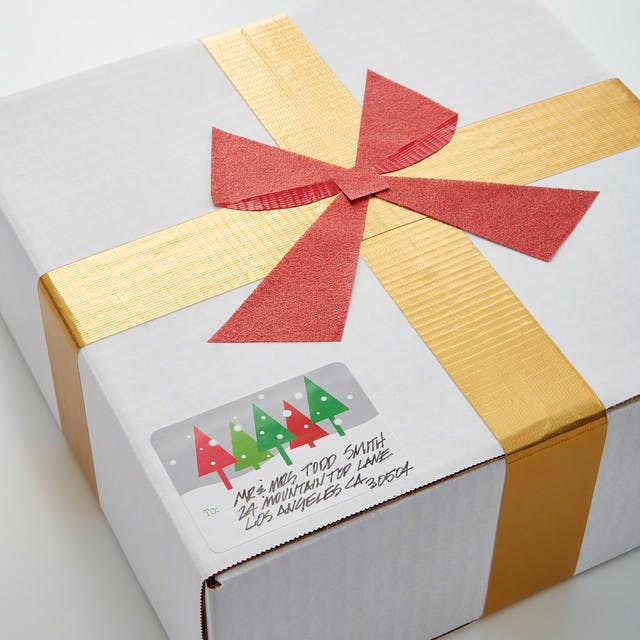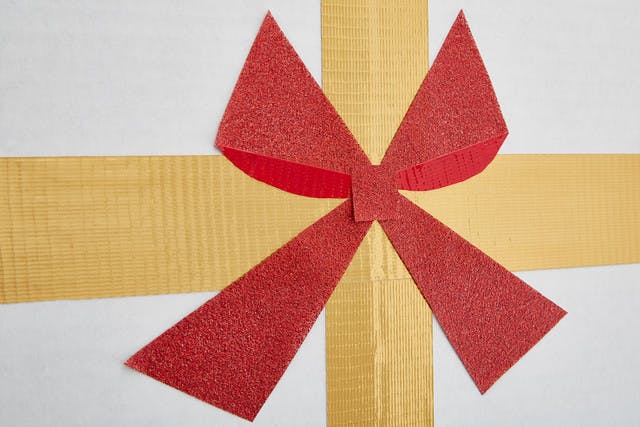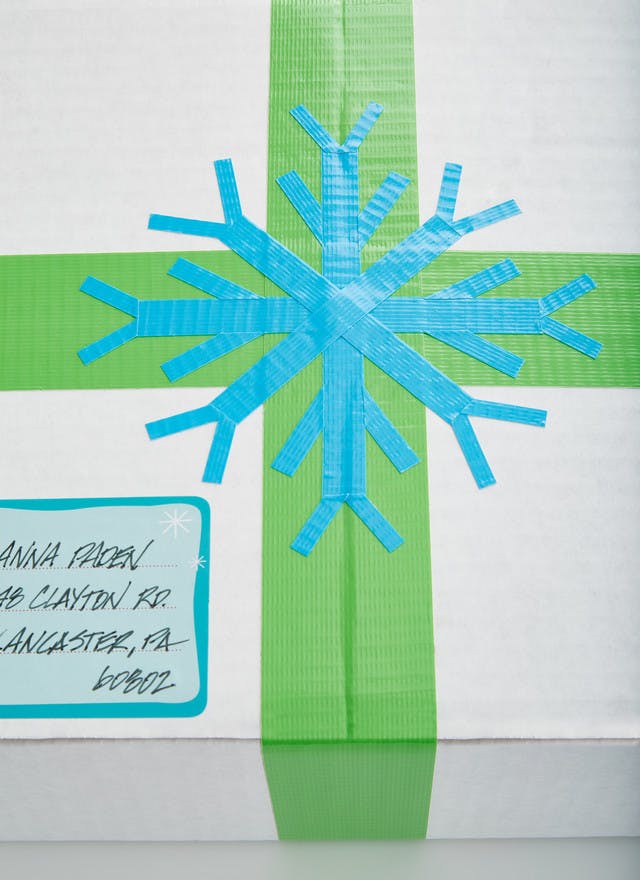 Give all your loved ones both near and far an extra reason to be excited this season with these DIY shipping ideas. Let us know which is your favorite in the comments and give us your tips for special shipping over the holidays.