It's a bittersweet time for Marielle and her mom, Linda. The extremely close duo are filled with emotions of excitement, uncertainty, anxiousness and a whole lot of love as they begin planning for Marielle's send-off to college.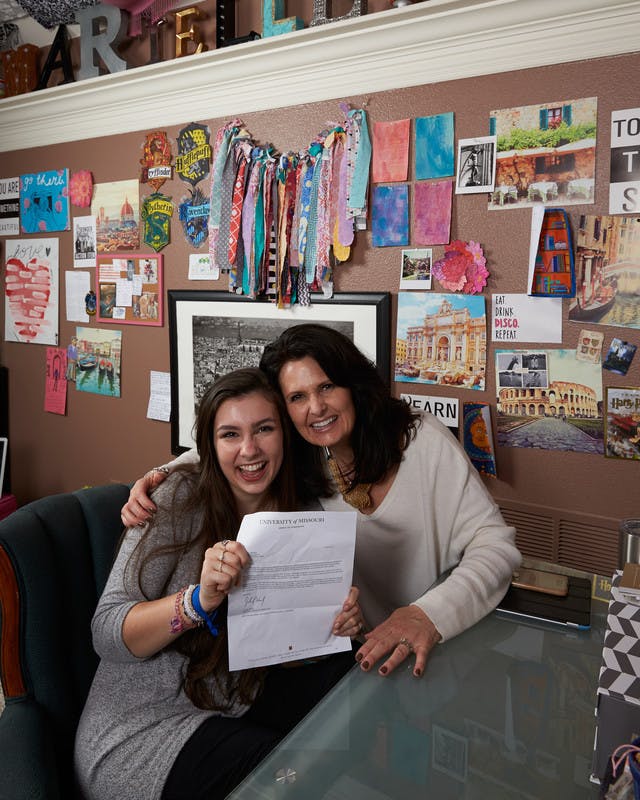 Linda says her daughter has always had her eye on going to college outside of her home state of Texas, which makes mom's heart just a tad more tender when she thinks of the move. We were excited to follow them on their journey as they planned Marielle's dorm from afar and helped her put together a Dorm Registry for some upcoming graduation parties.
First stop - Marielle's room at home where we got a sense of her boho chic aesthetic and eclectic style.
It's often the first question you hear from both college-bound students and their parents - "how am I going to fit all of this in my dorm?" The answer is: you can't. But there are great ways to bring elements of home to the small living space, space saving tips and ways to create an cohesive look with your roommate.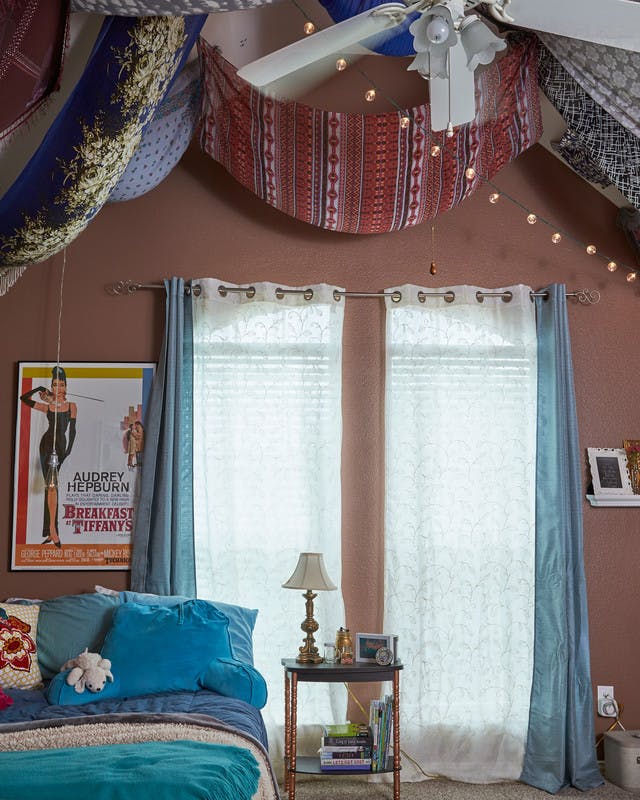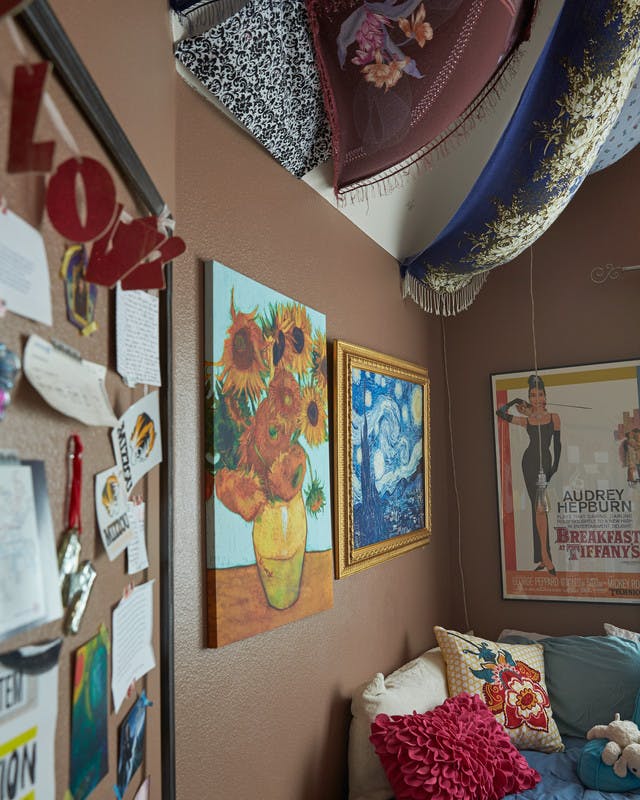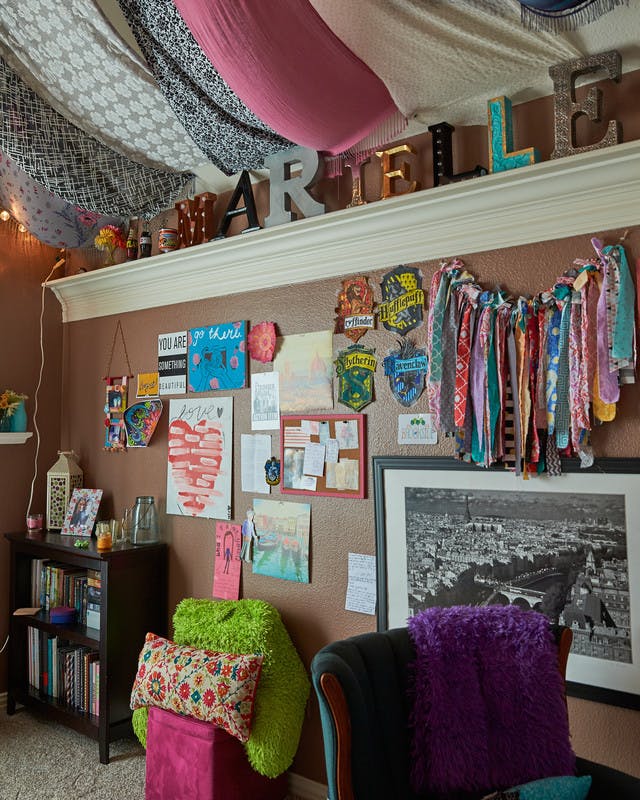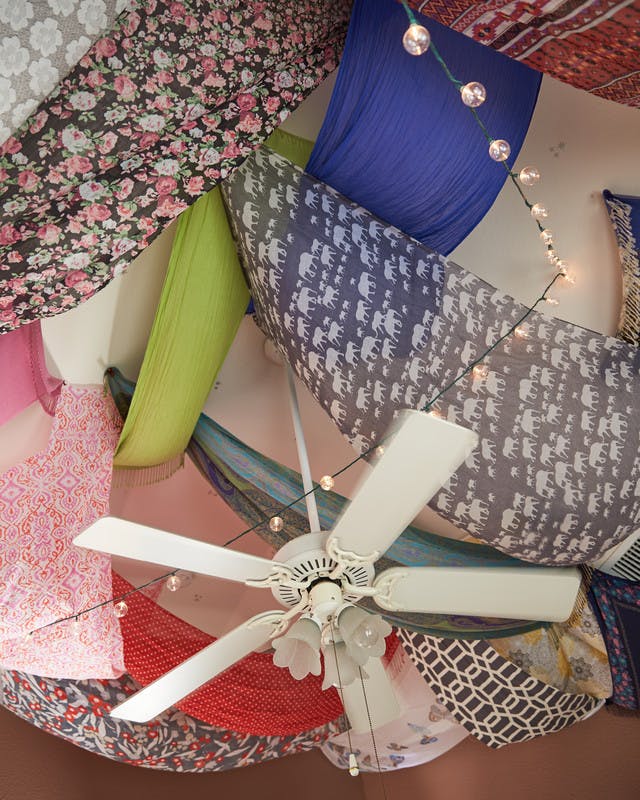 Marielle is really into textiles, scarves and fabrics, which are draped around her room and on her ceiling. She's especially fond of some of them, which are from Turkey where her grandparents lived.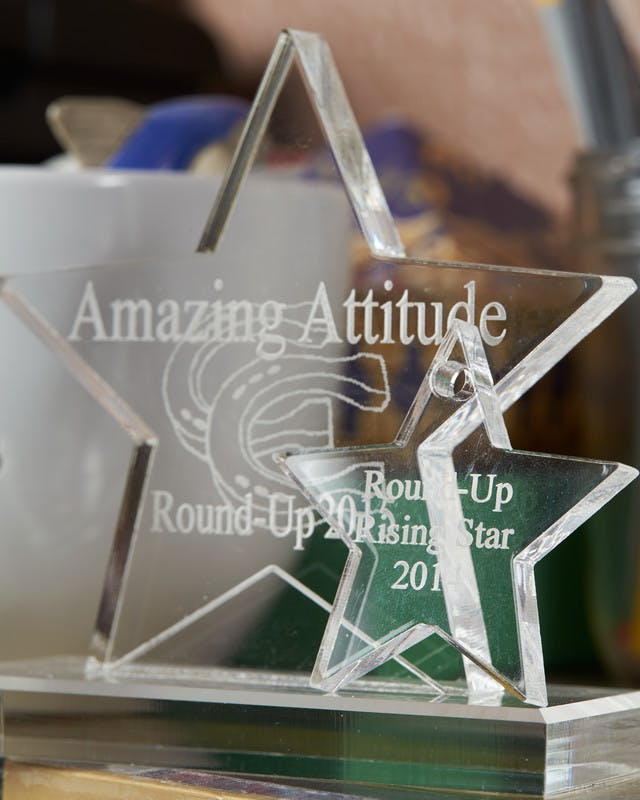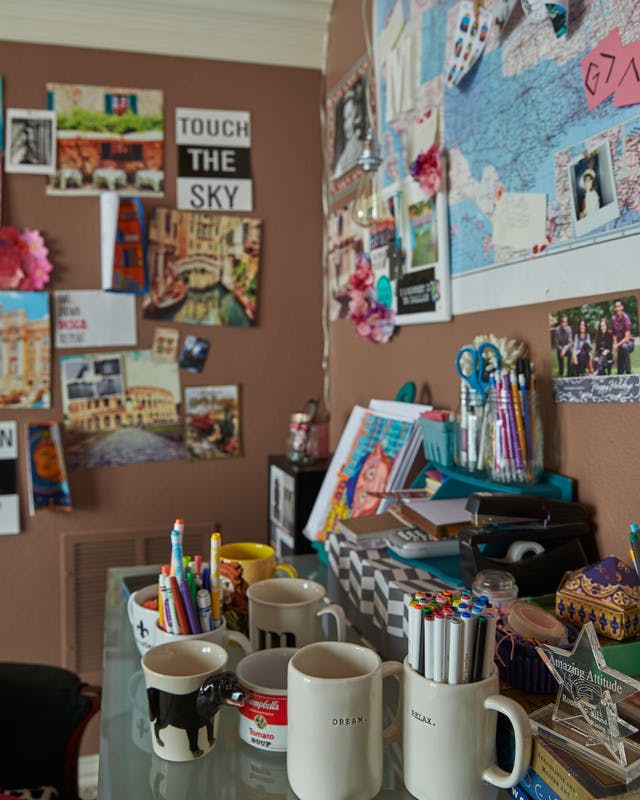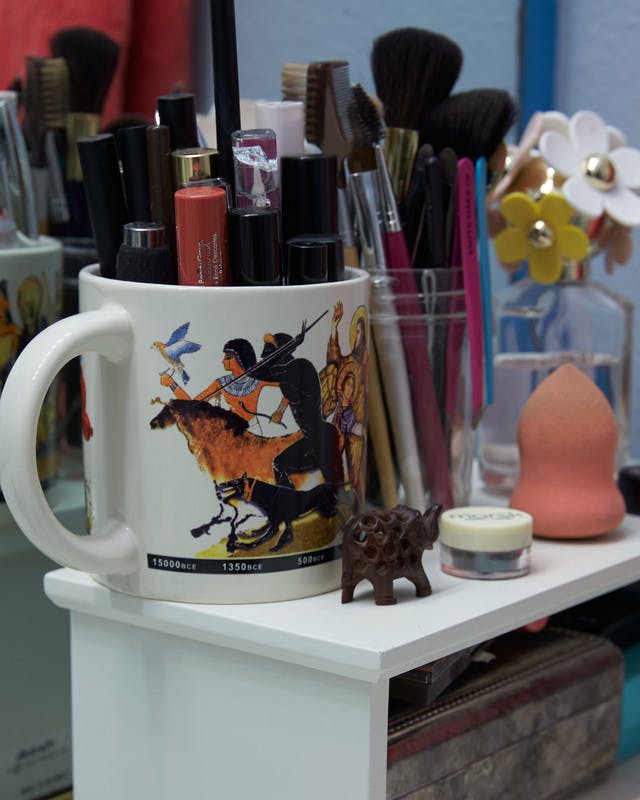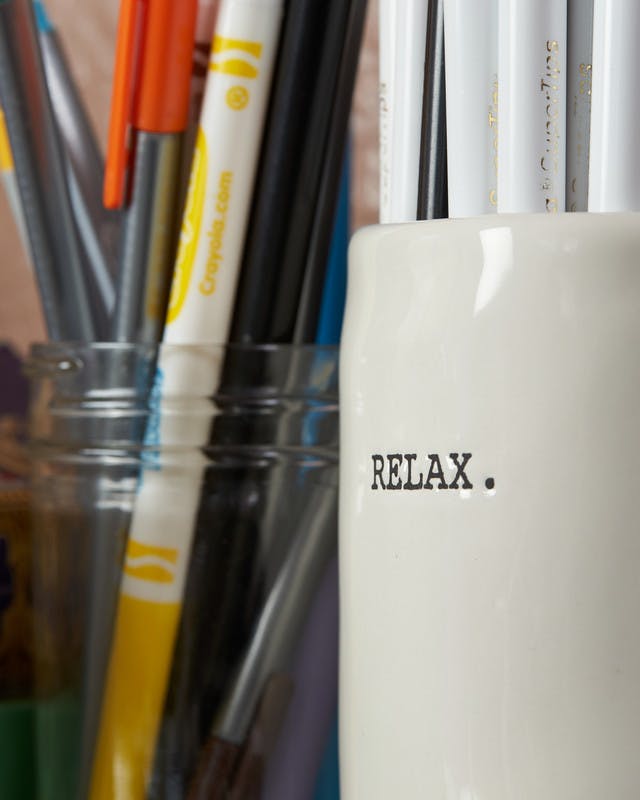 Marielle has an extensive collection of coffee cups - too many to take them all to school, but she plans to take a sampling to remind her of home. She uses them to drink coffee but also as vessels to hold things like pens and pencils and makeup brushes.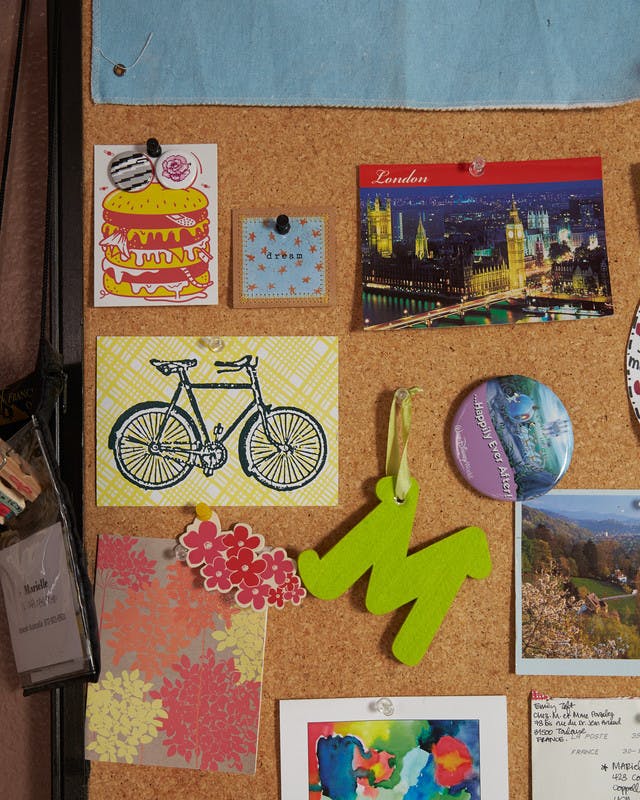 Bulletin boards are all over her room filled with keepsakes, travel inspiration and memories.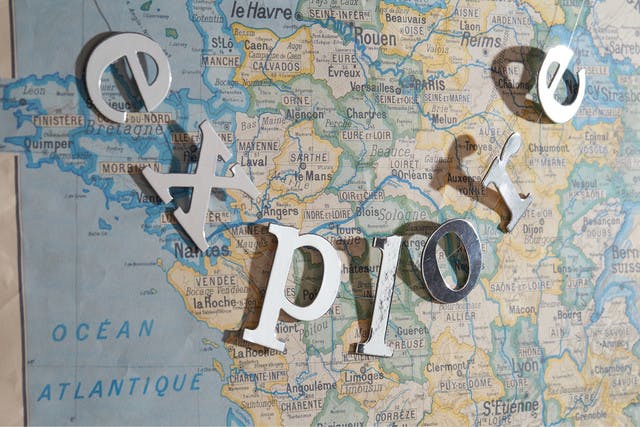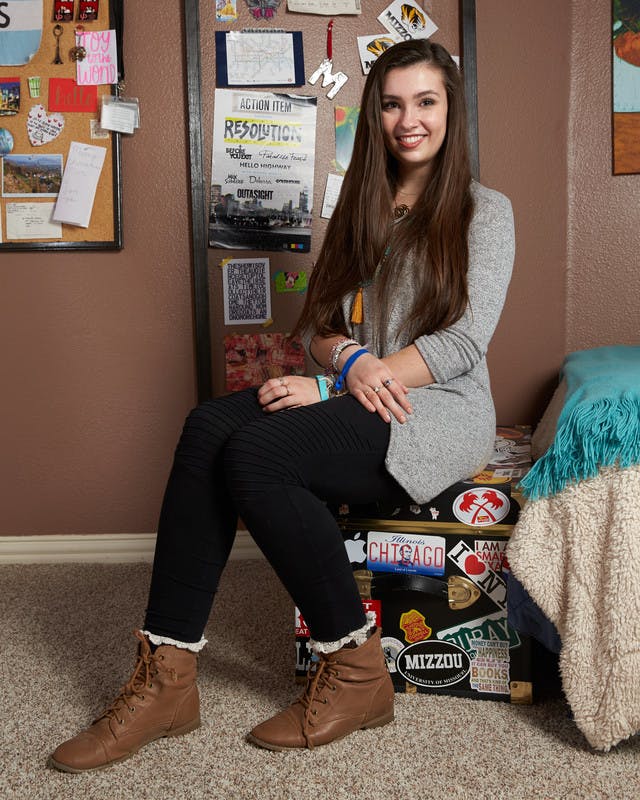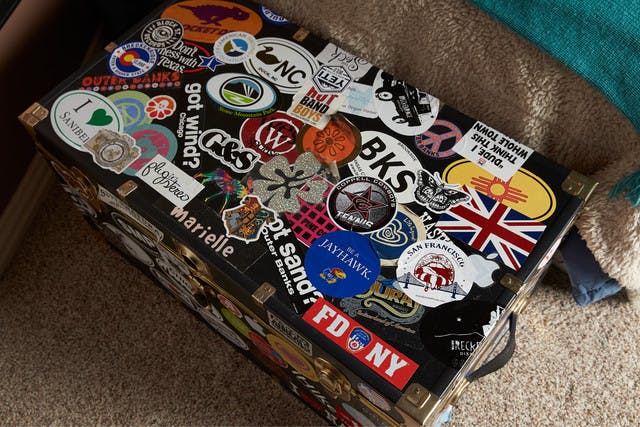 A trunk covered in stickers is one of Marielle's favorite statement pieces in her room at home. We wonder if it will make the cut for the dorm room plan.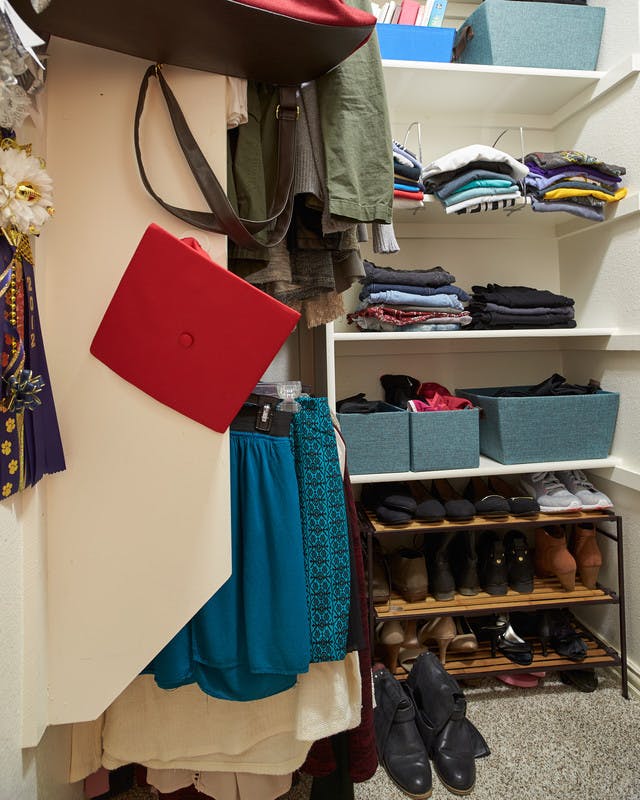 OK this is where things start to get interesting. After doing research on her college's website about on campus living and their dorms, Marielle knows she only has 2 feet of space in her closet. She'll have to make choices about how she'll organize that space and plan accordingly for the items she'll take with her.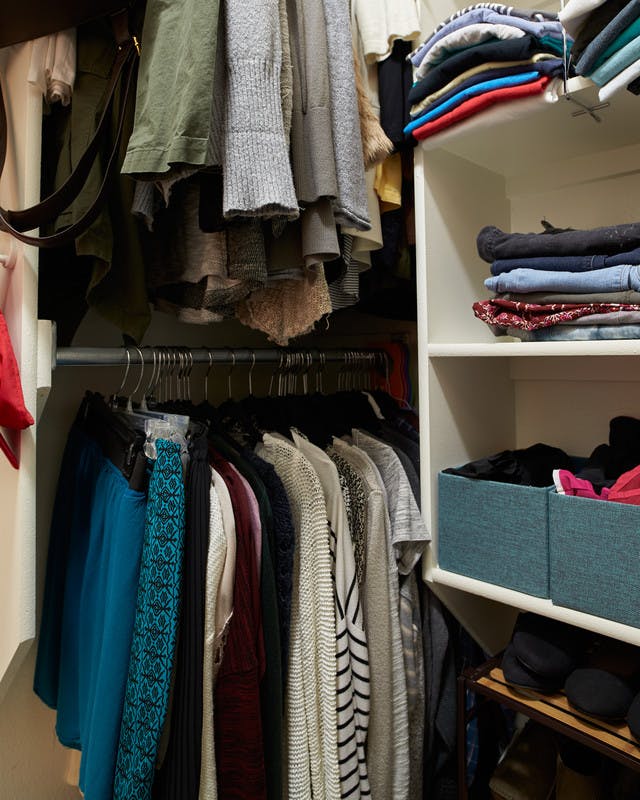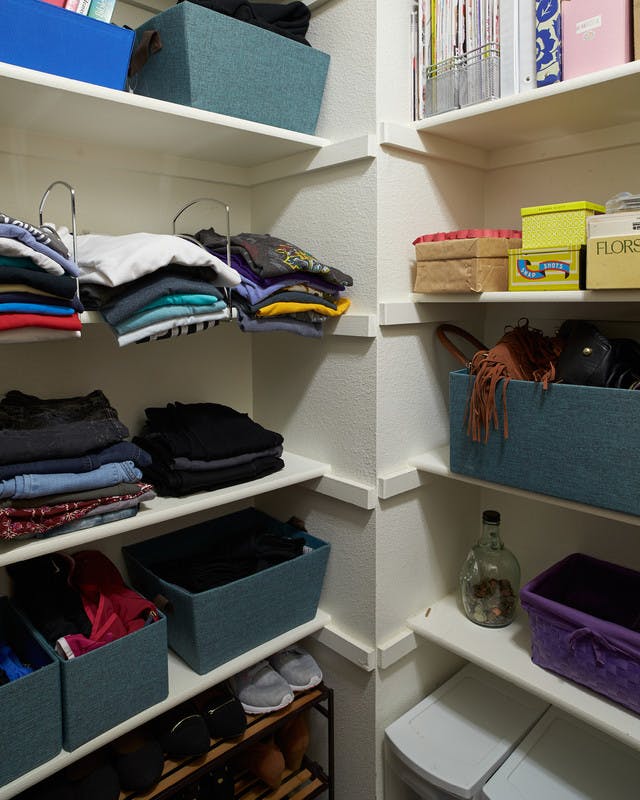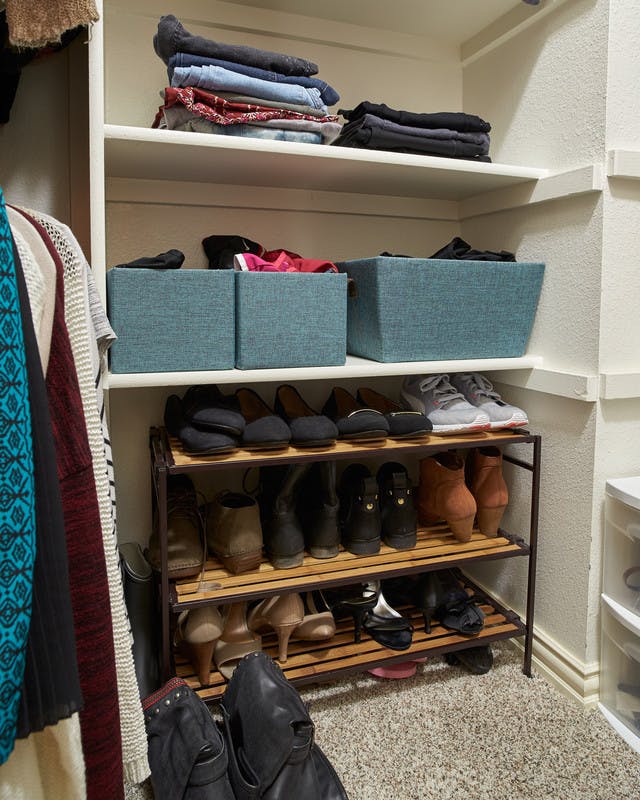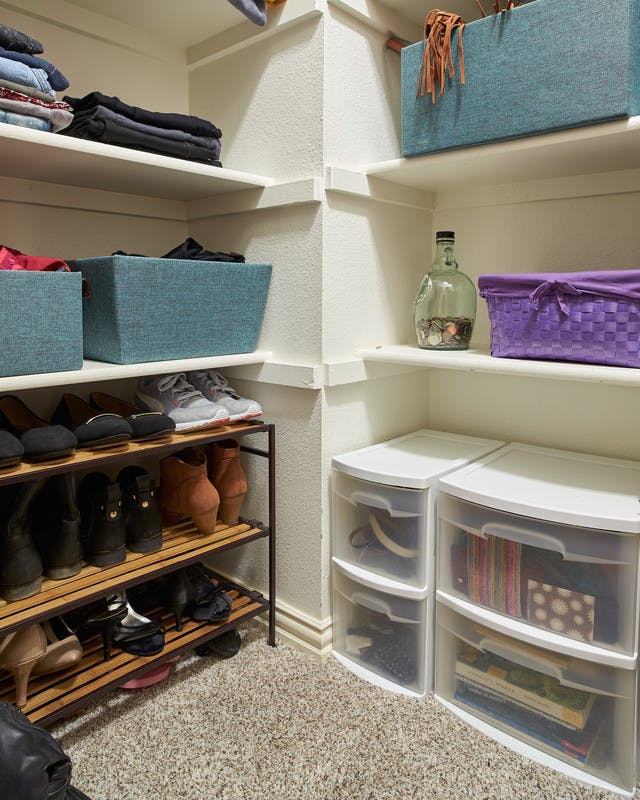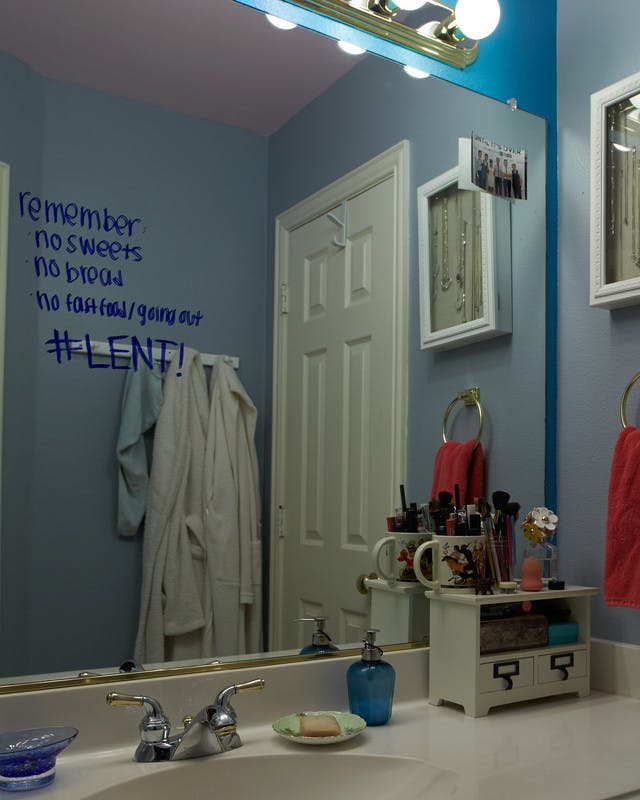 Marielle has a serene bathroom all to herself at home. That will all change at college as she'll have a shared bathroom and will have to find ways to transport her necessities down the hall when she's headed to take a shower.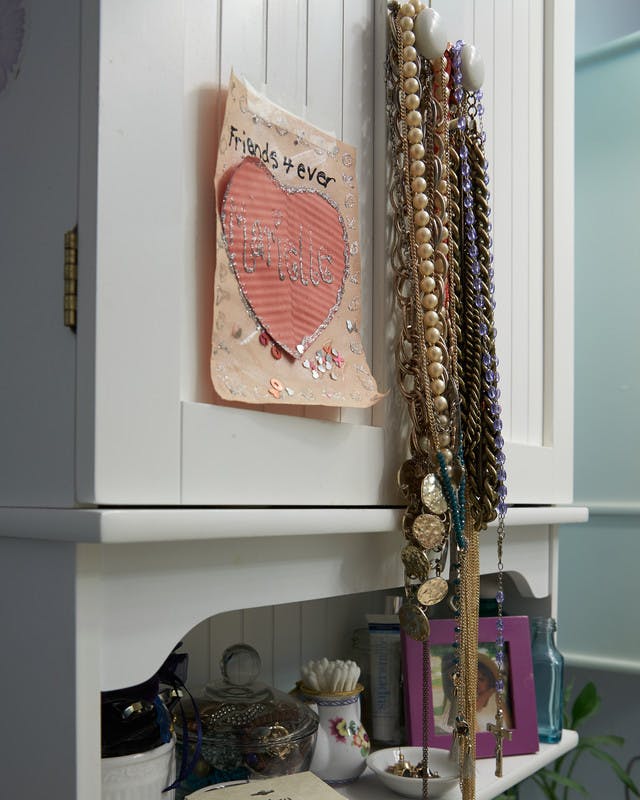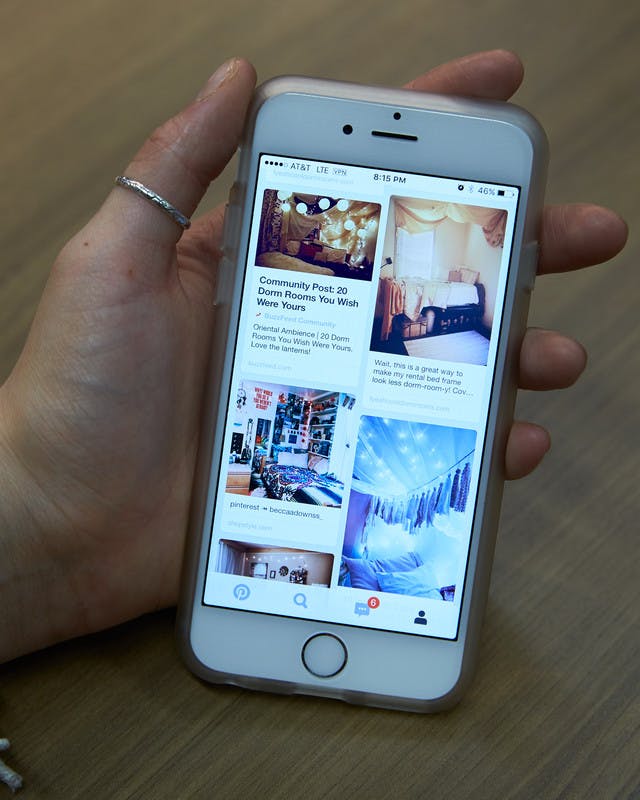 We loved that Marielle has been putting pinning inspiration ideas for her future space on Pinterest as early as the 8th or 9th grade. She has several boards and also has one that she shares with her mom. She says she wants something that is cozy and neutral, probably white, black and grey with bright pops of color for accents, and she'd like a complimentary design with her roommate.
TIP: Marielle Googled the dorm she will be staying in - past residents had uploaded photos of their decorated room, which gave her inspiration of how to arrange things, ideas for different space configurations and great new style cues.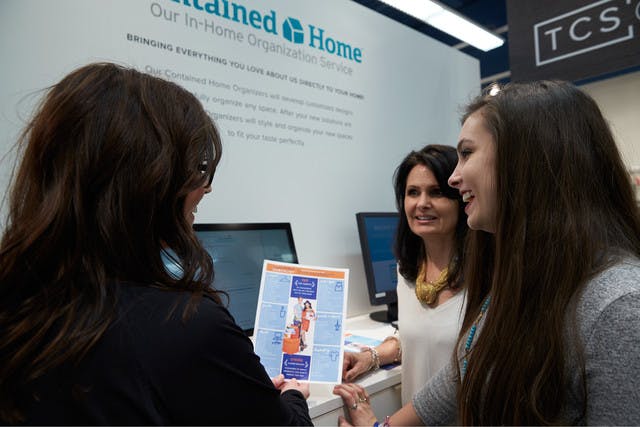 Next stop: The Container Store. Linda and Marielle teamed up with our dorm room expert, Shannan, who guided them through the registry process using our Dorm Room Basic Six to navigate them around the space. We've broken it down to the six areas that all dorm rooms have in common that need to be organized: Closet, Walls & Doors, Desk, Laundry, Bath and Storage.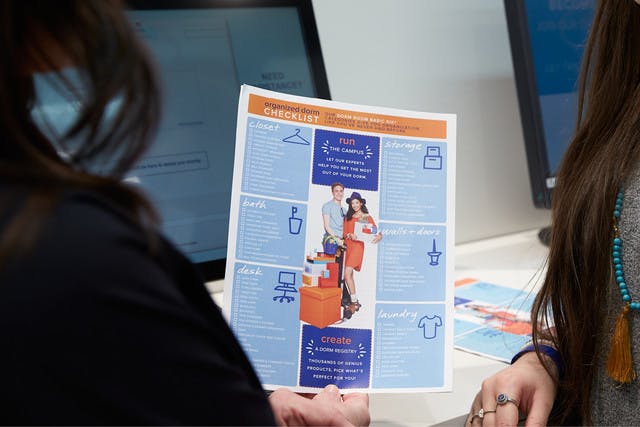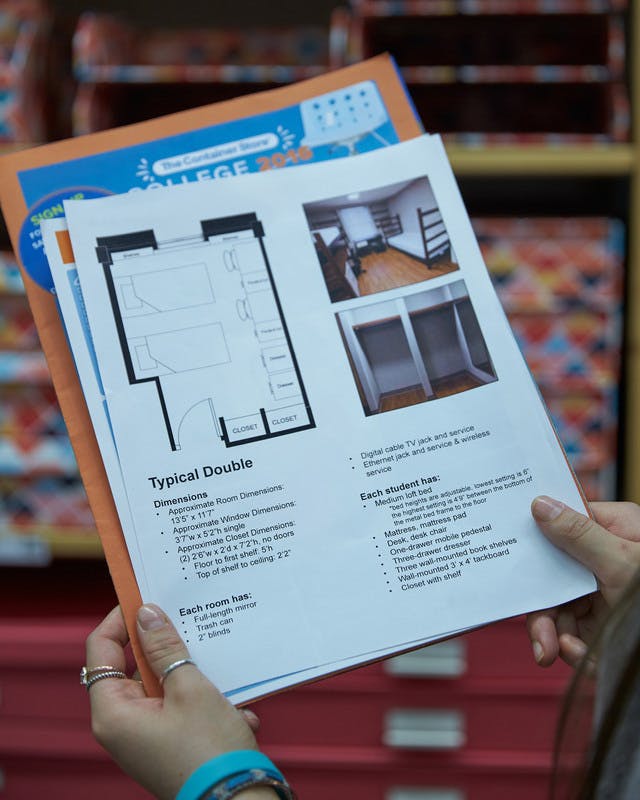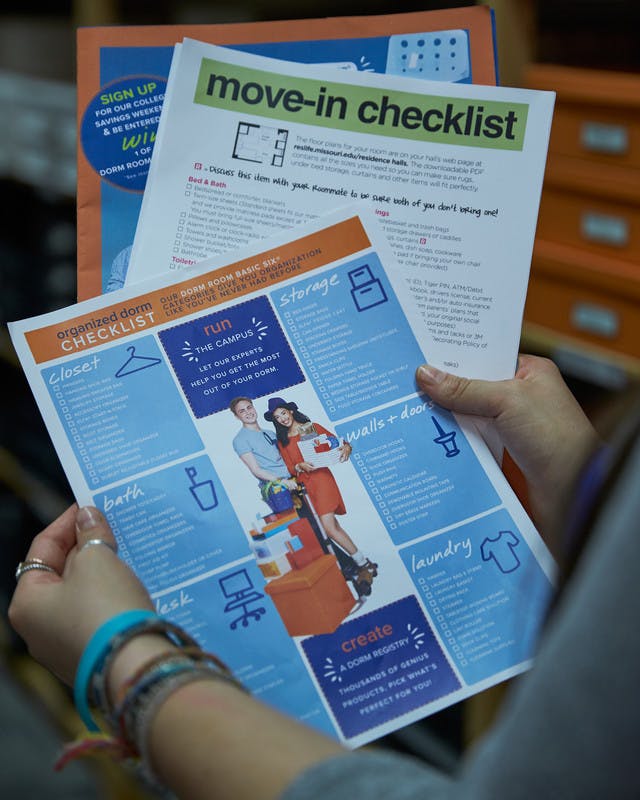 Our handy checklists take out the guesswork and provide the must-have products Linda and Marielle need to make the most of every inch of space in her dorm room. That, coupled with checklists specifically from the college's website, make dorm shopping much more effective and efficient.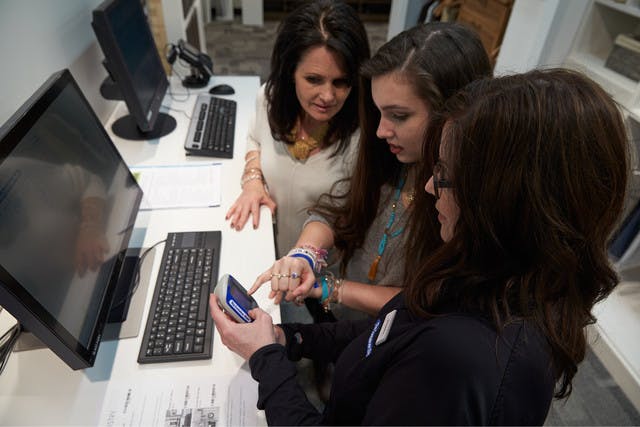 Once Marielle had her scanner ready to go, Shannan started them in the closet section. Remember those 2 feet of space she has in her dorm closet? It has one rod and no doors. After looking at the photos of the proposed dorm closet, Shannan shared some wonderful ideas with Marielle and Linda.

Since the closet is so small, Huggable Hangers will be a must-have to help maximize the tiny closet space (Linda and Marielle were already fans). Shannan shared all of the great features about our Cascading Hooks, which will allow Marielle to hang more clothes and plan outfits easily.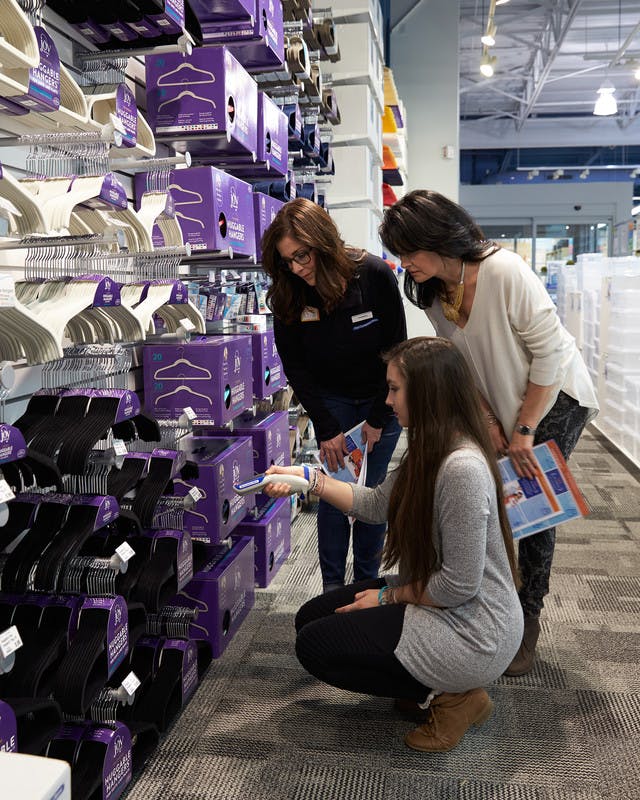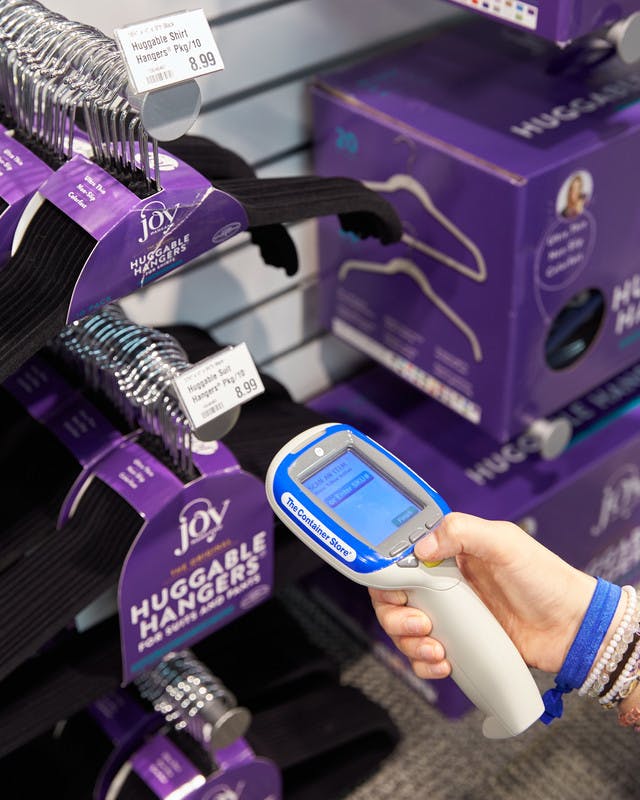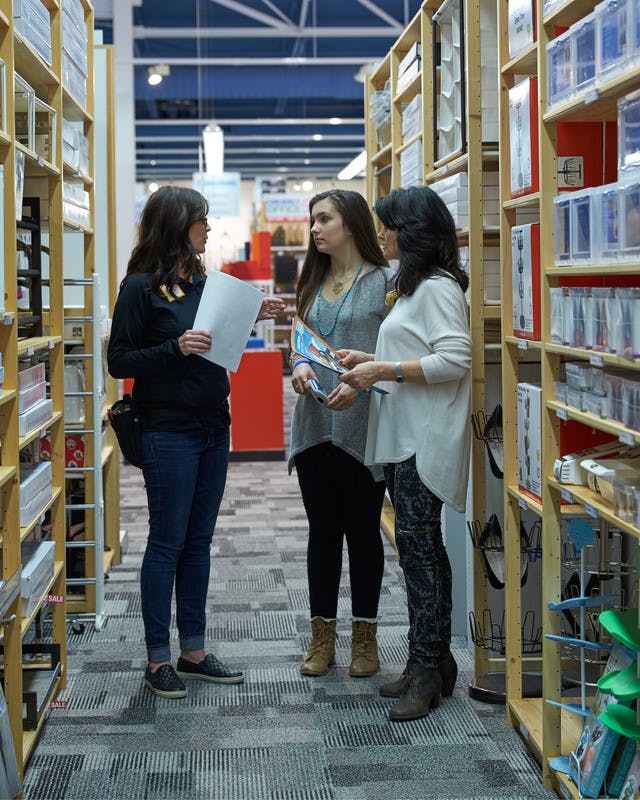 The team determined that a shoe cubby at the bottom of Marielle's closet would be the best solution, as she doesn't have a huge shoe collection and isn't really a "kicker" or a "placer" when it comes to her shoes. A cubby is a great in-between option as opposed to a hanging organizer, shoe shelf or rack.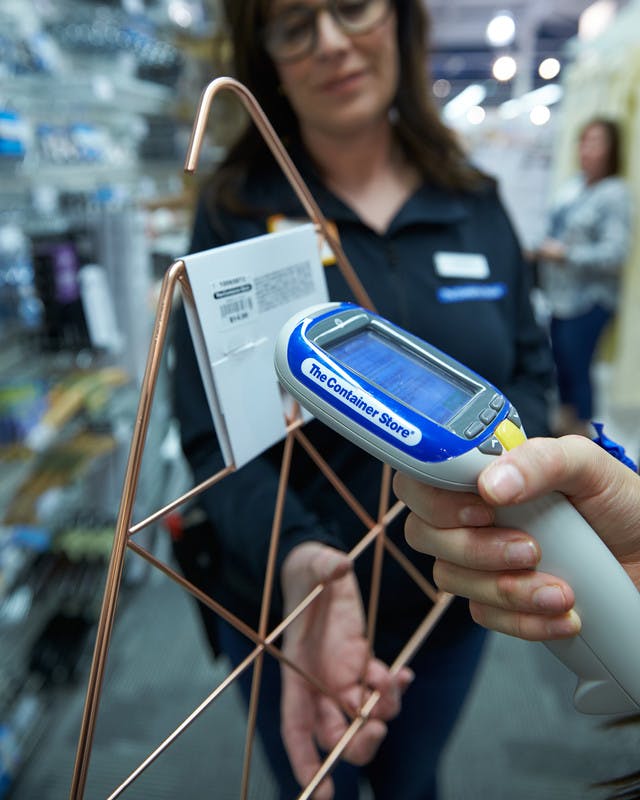 Marielle loves the modern style of our pendant scarf organizers to help organize her collection.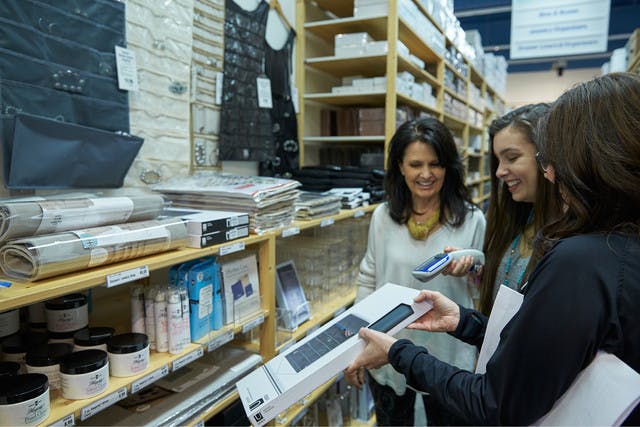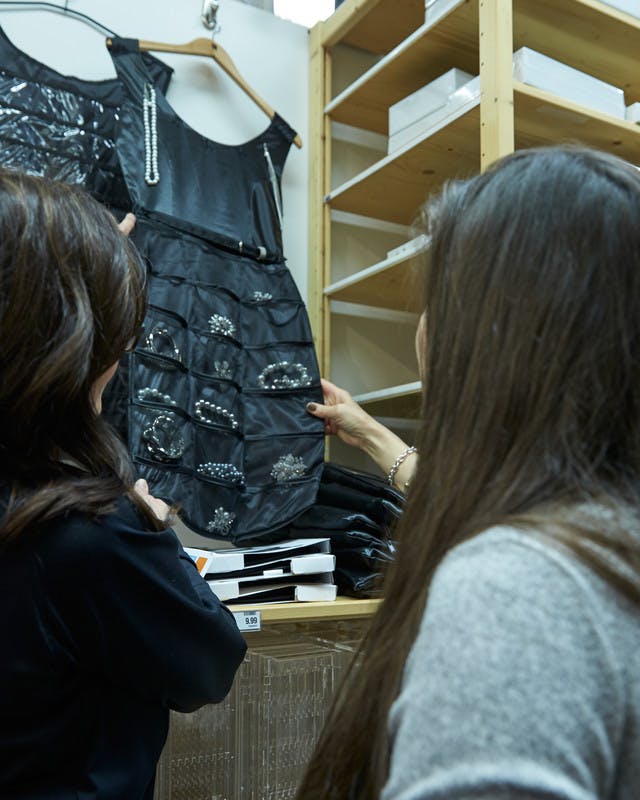 Our Little Black Dress Hanging Jewelry Organizer was also a big hit! As a mom, Linda loved that it was a discrete way to store and hide Marielle's jewelry in the closet instead of her leaving it on a counter - as a lot of visitors travel in and out of dorm rooms on a daily basis. Marielle loved it for its fun style and ample storage pockets and hooks.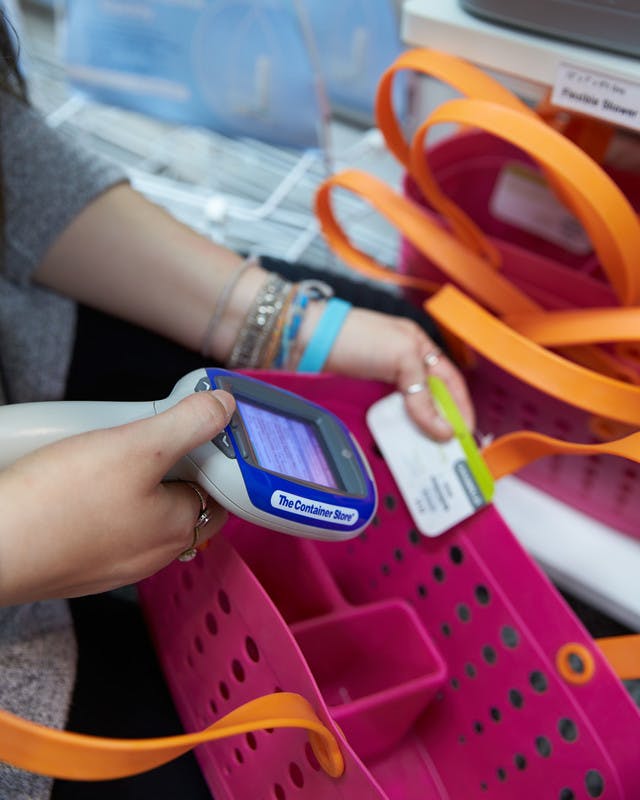 Since Marielle will have a communal bathroom and no sink in the room, everything needs to be easy to transport. She registered for one of our Flexible Shower Totes, which will be great to carry and take back and forth. Drain holes are key, and sections that are molded into the tote keep things compartmentalized.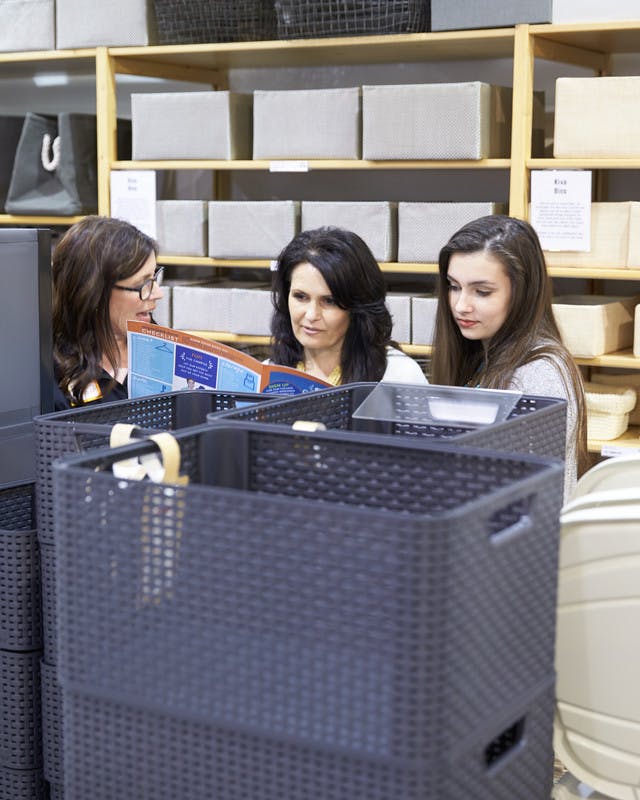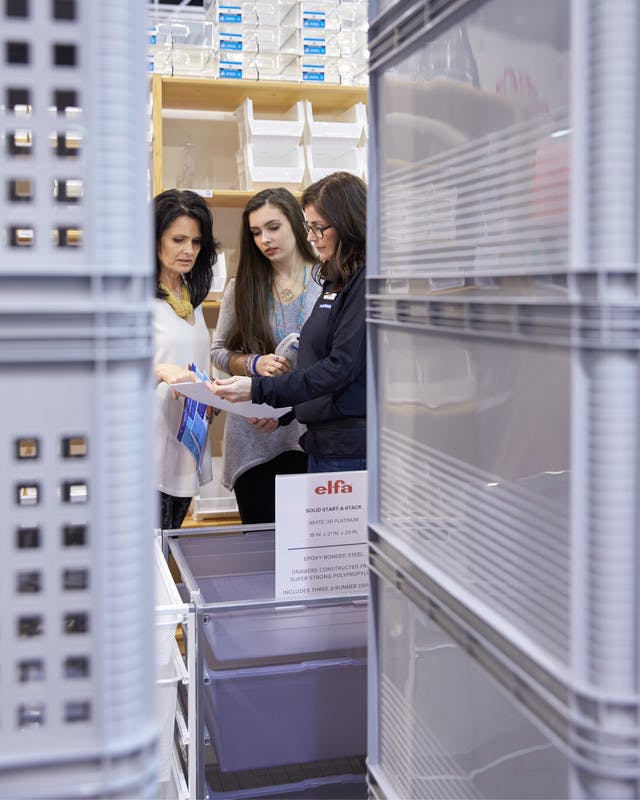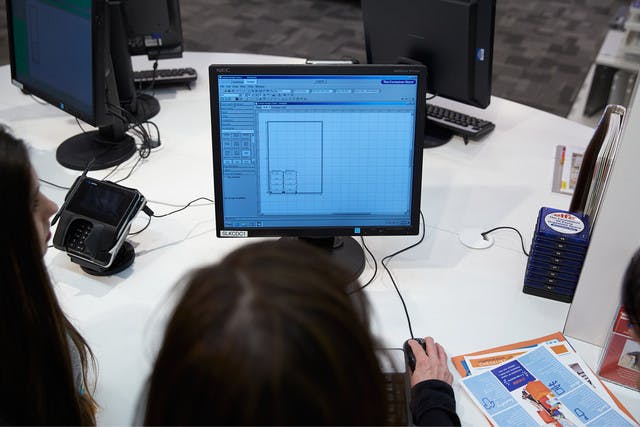 Because Marielle's bed can be elevated and the space underneath totally maximized, Shannan helped design a series of elfa drawer units that creates fabulous storage for clothes, linens, towels, toiletries and other supplies.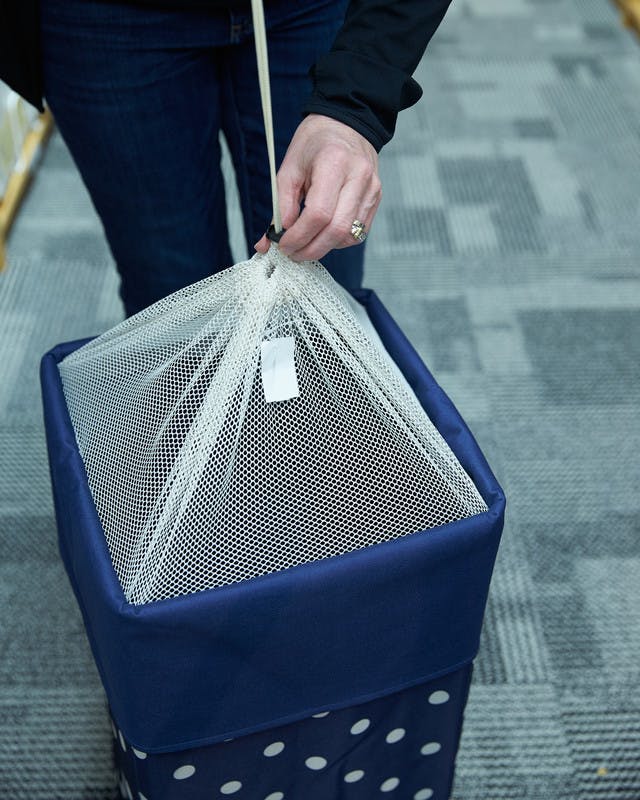 The laundry room will be easily accessible to her dorm room, but still wants something that is easy for transport.
She registered for our Navy & Sand Dots Laundry Box, which is roomy and easy to carry. Marielle mentioned that she has done her own laundry - or helped - since about 2nd grade, so she's very confident. (Mom is happy about this too!)
A fun fact is that the college has an app for their laundry areas that notifies the students when their loads of laundry are done.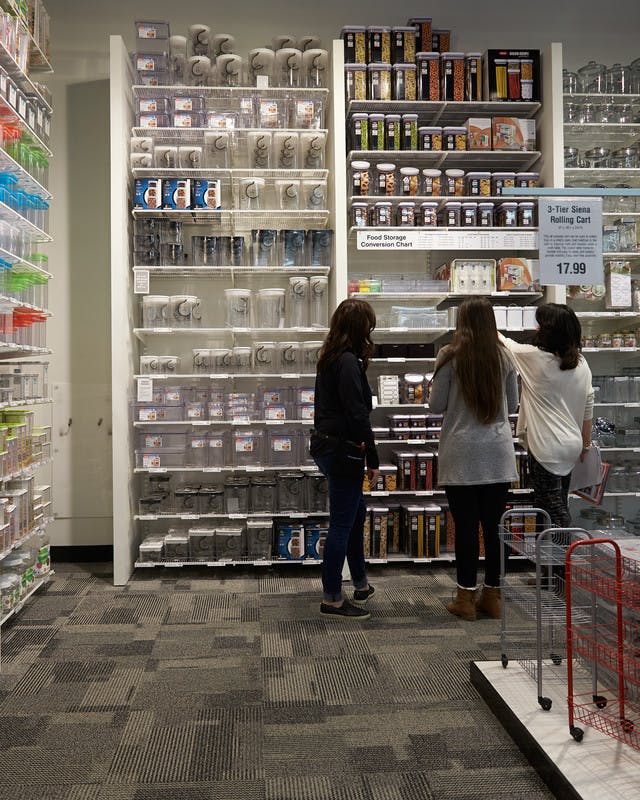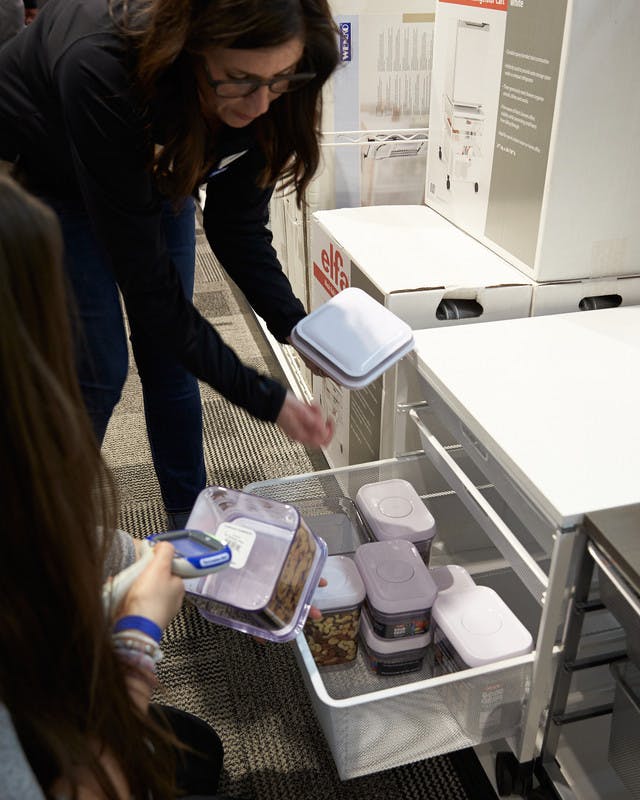 She registered for one of our elfa fridge carts to help maximize vertical space in the room. Shannan suggested really utilizing the drawers to hold all of their snacks and look into food storage solutions. Marielle loved our POP Canisters because of the modular and space efficient-design. Shannan suggested getting a magnetic paper towel holder that can attach to the side of the fridge cart, making it readily accessible.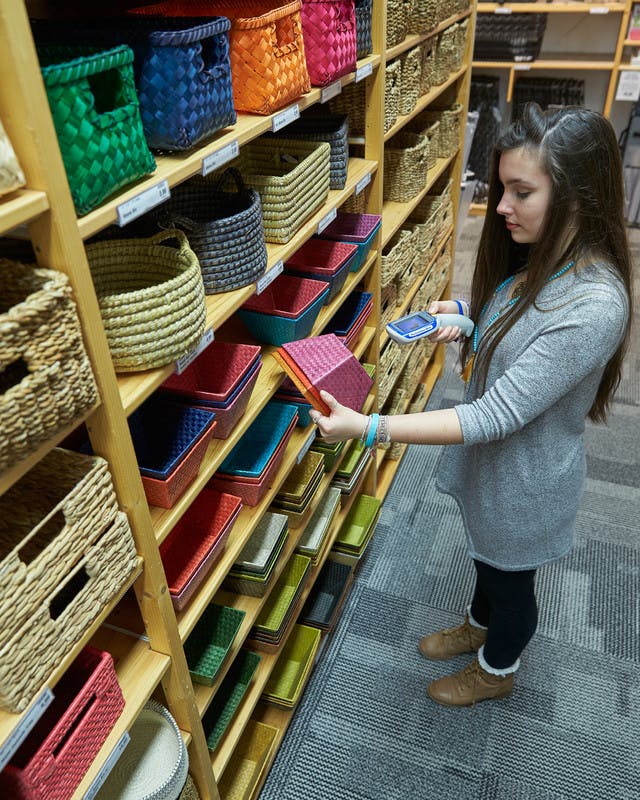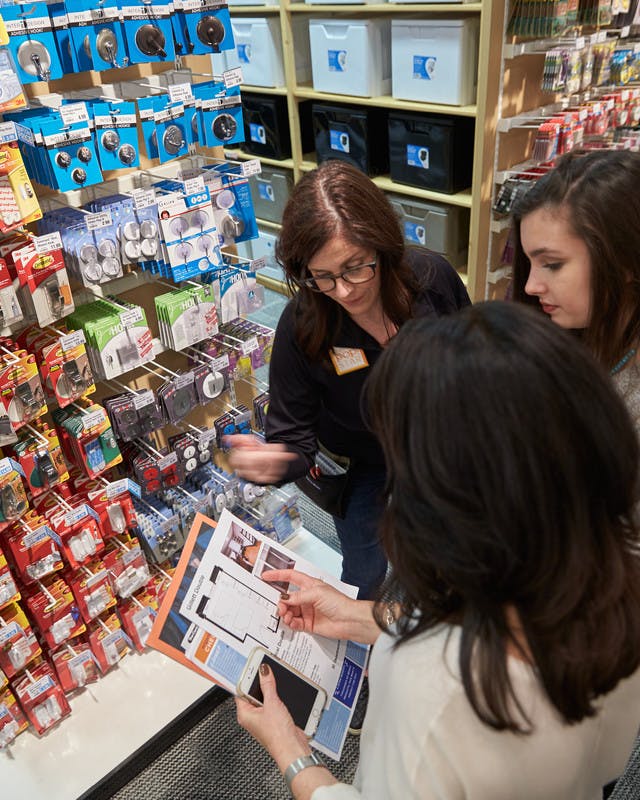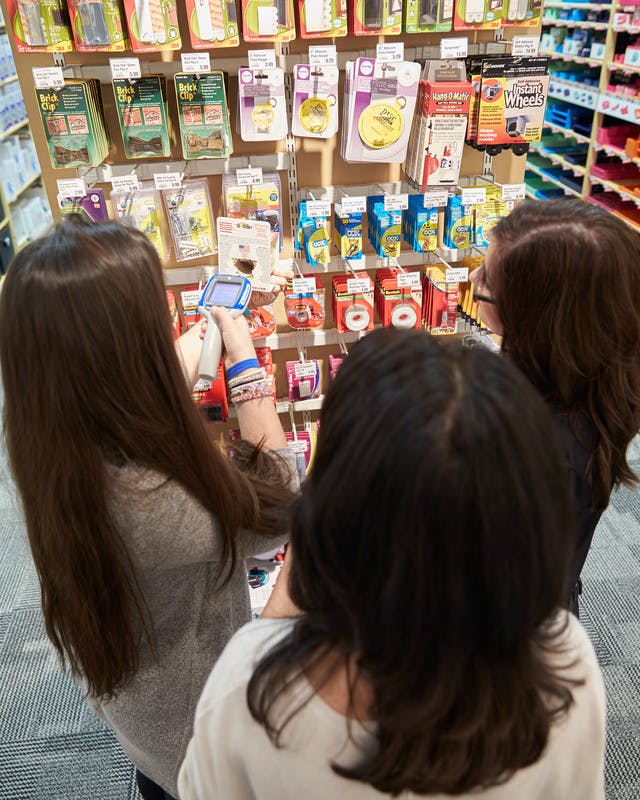 As we saw in Marielle's room at home - bulletin boards and use of wall space is important to her. But for colleges, it's important that Walls & Doors are not marked or damaged by tacks, tapes and adhesives. She registered for a lot of university approved Command hooks in different styles and sizes, as they plan to hang many posters and other pictures on the wall. Shannan demonstrated how it's important to make sure you're using the right side of the hook and the proper surface.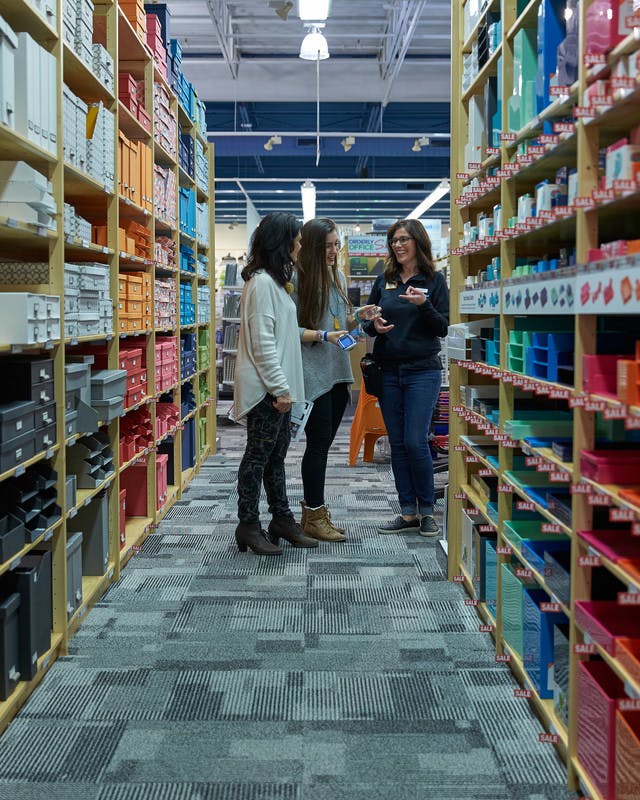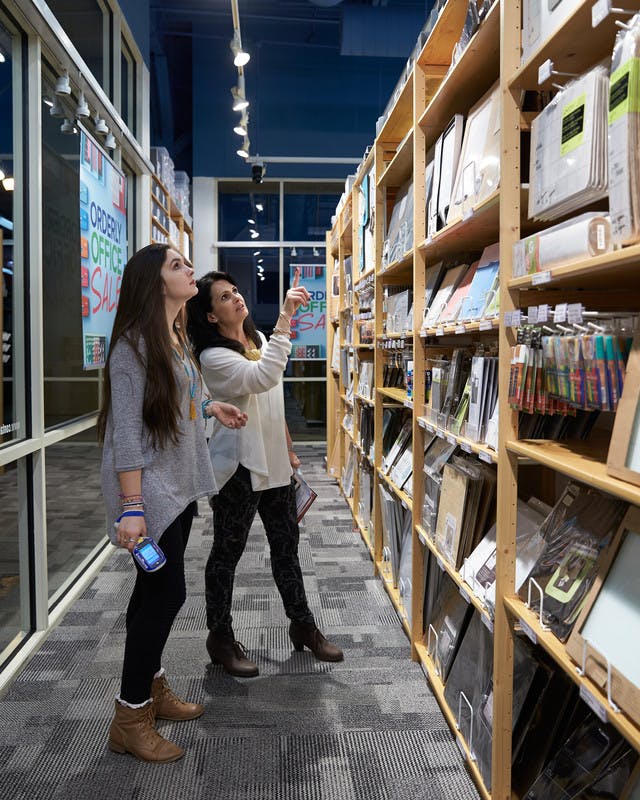 In her desk area, Marielle is looking for a clean and organized look and is interested in a desk riser to add vertical space and allow for more storage. While she plans to primarily use the desk for studying, she'll also use it for a vanity. She liked our Luxe Modular System to store all of her makeup and may keep that on her desktop. Cord Control was also top of mind for this area of the dorm.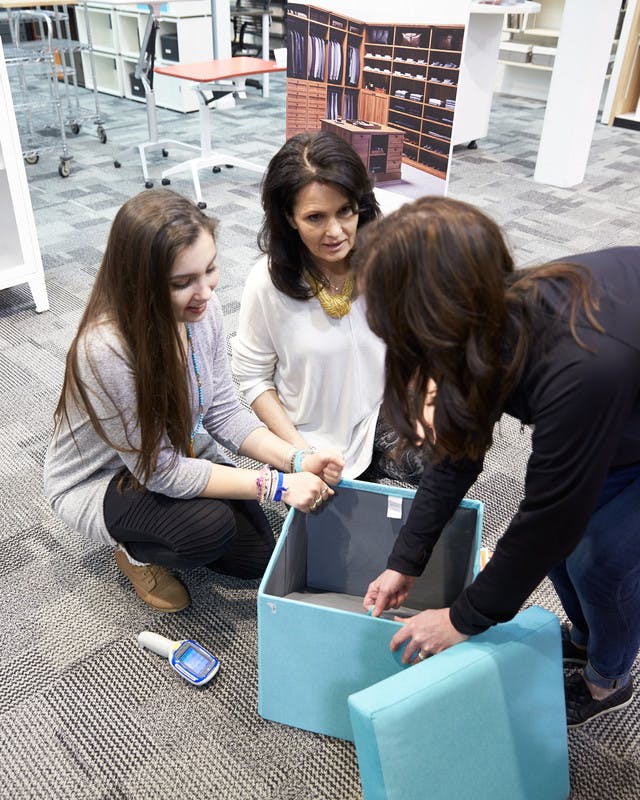 They not only loved the colorful look of Poppin office products, but they LOVED the Poppin Box Seats. They love that it can be used as a seat or storage and that they can easily be folded up. Shannan also suggested that these would be great to use during move-in and that they can easily throw things inside for easy transport. The same idea holds true for any type of bin or basket when you are packing up the car for move in - use the inside of box and bin as a great space saver.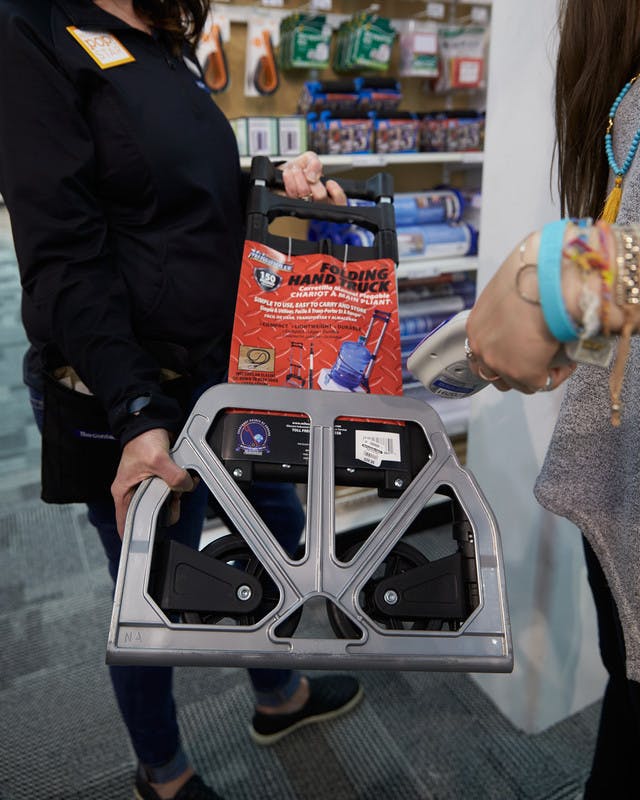 And this one may have been a bit of a surprise suggestion to Linda and Marielle, but it's a must-have - a dolly for move in.
Ours holds up to 150 pounds and folds up compactly when not in use.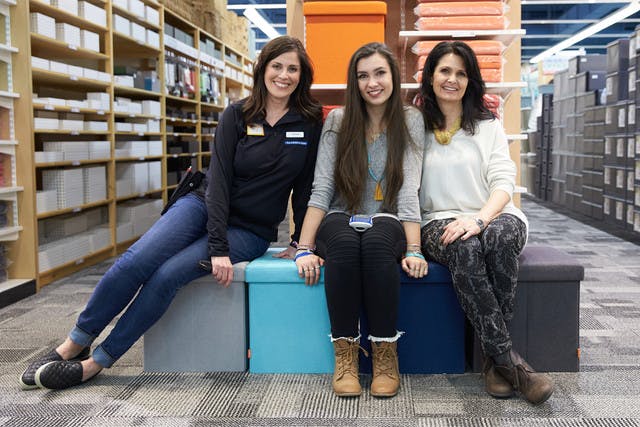 Featured Products: Grey Poppin Box Seat // Aqua Poppin Box Seat // Navy Poppin Box Seat // Charcoal Poppin Box Seat
After going through the entire process, there were a lot of emotions and a bit of tears. But mom Linda said all is good. And she has some wise words for those moms out there about to go through this journey with their college bound kiddo.
"You have to remember that this is going to be your kid's home and not yours. You can't organize it your way or it won't work. It's important to learn more ways to help them organize and find function in the space. While I fold my shirts neatly so you can see them, I realize that this isn't something most kids will take the time to do. You need to accommodate them and their needs and look for organizational solutions that helps accomplish that," says Linda.
Linda says that the idea of Marielle leaving for school feels like her heart is being ripped out. "To have your child move away from you - several states at that - is going to be really tough. Marielle is a "good egg" though and I truly enjoy spending time with her. So this time planning her dorm room not only sets her up for success away from home, but also gives me a lot of comfort knowing she will be in a happy, organized home away from home."
Next stop - follow Marielle on her college countdown journey - her graduation party!
To see Marielle's full college registry click here. And for more information about our Dorm Room Basic Six and some expert tips and tricks for dorm room organization, click here.