Over the river and through the woods to Grandmother's house we go. Or, to a fabulous friend's house. One of my favorite things about the holidays is when the house is filled with loved ones. But it's important to show them the love by making their stay comfy and cozy.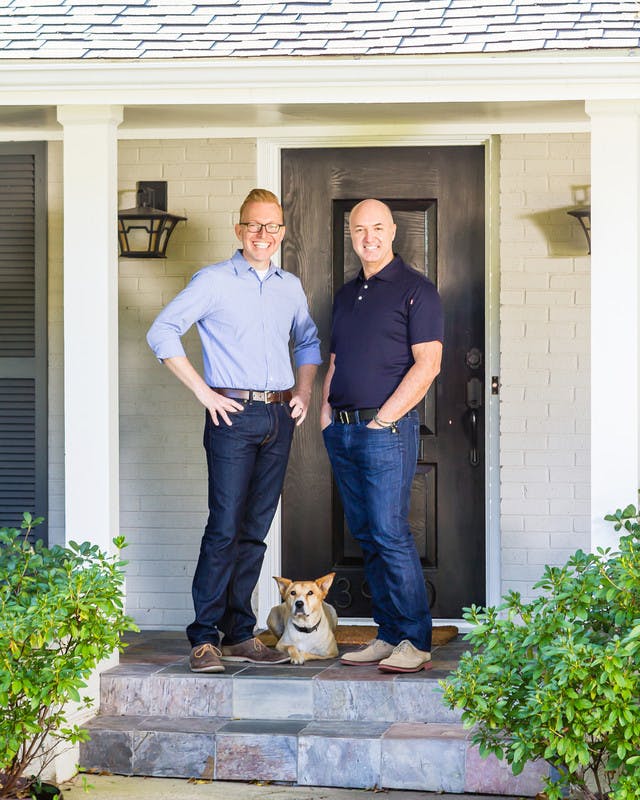 When we started thinking about a welcoming guest room, I immediately thought of Brian, our Senior Visual Merchandising Director, and his partner of 13 years - John. In a conversation earlier this year, Brian had shared some of the things they do to make their fabulous 1960's ranch-style house inviting and guest-ready.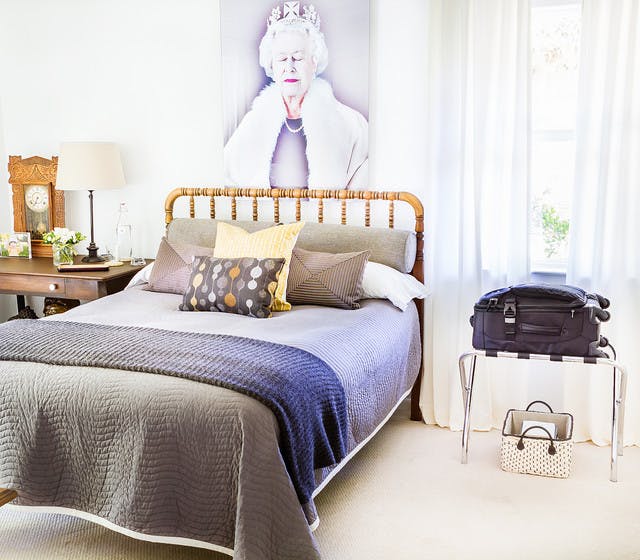 Brian and John's guest room reflects the couple's eclectic aesthetic, which is a mix of family heirlooms and found objects with contemporary touches and original artwork.
"Despite the fact that our house is filled with beloved treasures, we never want it to feel stuffy like a museum or a fussy hotel room. We want it to be a cheery, comfortable place filled with love. A place where folks feel taken care of and super content," said Brian.
One thing we always recommend is to stay overnight in your guest room from time to time and see what's missing for visitors. Recently, Brian and John changed the position of the bed in the room - putting it against the window, which Brian said changed the whole feel of the space.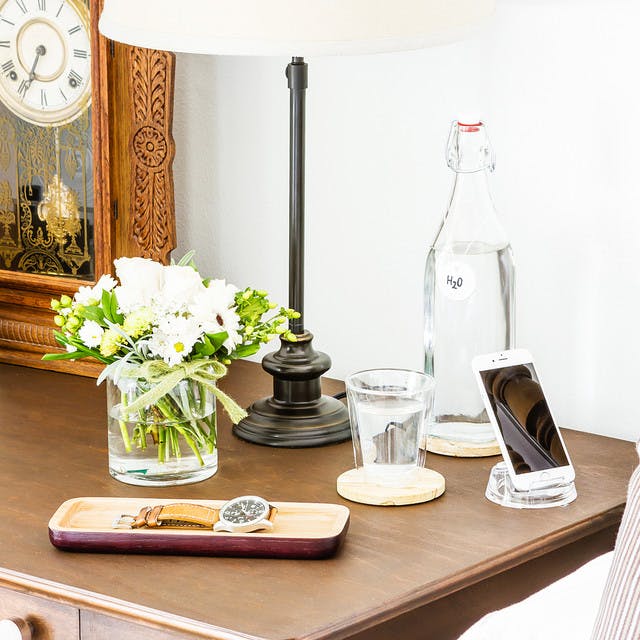 Bedside beauty: Style your nightstand with welcoming touches and functional necessities. Brian and John use a 1920's writing desk that's been in John's family for years - it was his great grandfather's, who was the town doctor in small town Damon, Texas. Using a longer nightstand like this also provides a place for guests to put their laptop and place for them to write. A bottle or carafe of water, fresh flowers, a cell phone holder (don't forget chargers too, for various types of devices) and a vessel to collect watches, jewelry and change are perfect additions that will make your guests feel right at home.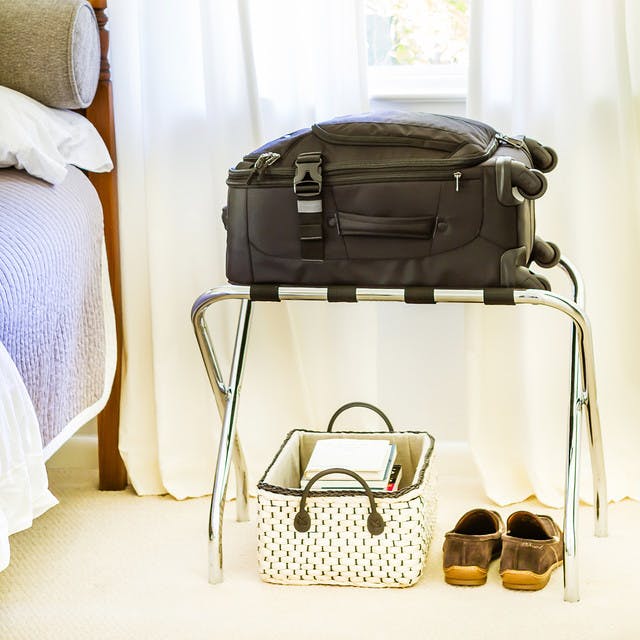 Take a Load Off: Brian and John always keep a luggage rack in the room. Not only for guests, but also for packing for their own frequent travel for work and play. Here, they've added a bin that holds a collection of current reads. John, his mom and his sister swap books they're reading, so the bin is there for guests to read while visiting, and they're welcome to take a book and leave one behind. A spot for reading is good too. And a chair with a throw in a cozy corner sets a welcoming mood.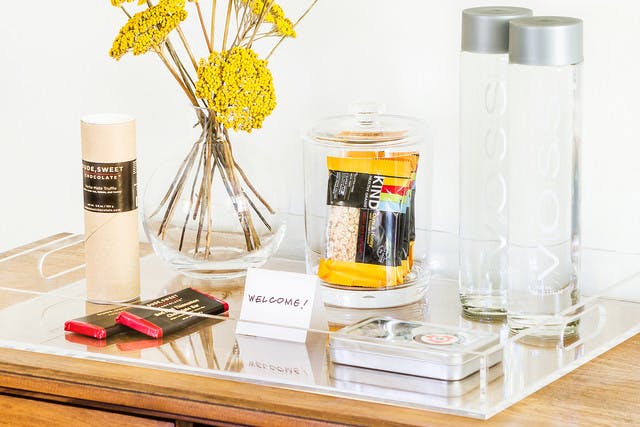 A Warm Welcome: Creating a welcome tray or basket makes guests feel instantly special and pampered. Add a handwritten message or note for a extra personal touch - include the Wi-Fi password, maybe a fun quote and what the weather forecast looks like during their stay.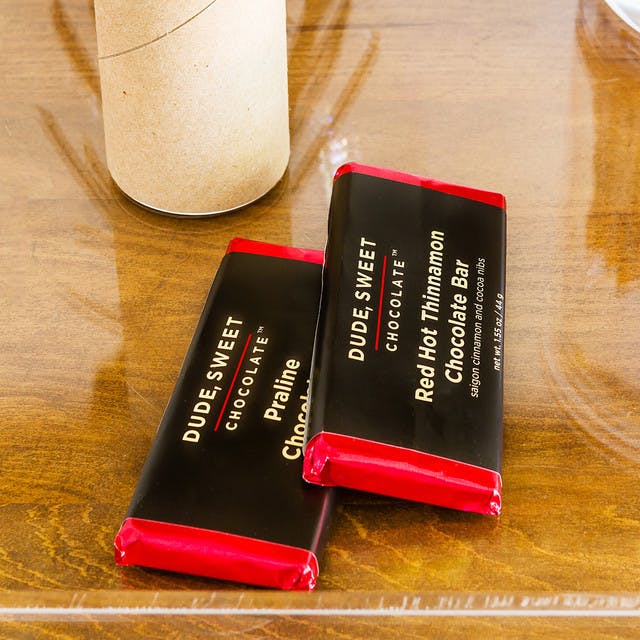 Local Love: Adding something that your guests can only get in you area is special and fun. Here, John and Brian placed gifts from a local Dallas chocolatier. These touches of generosity are unexpected and much appreciated.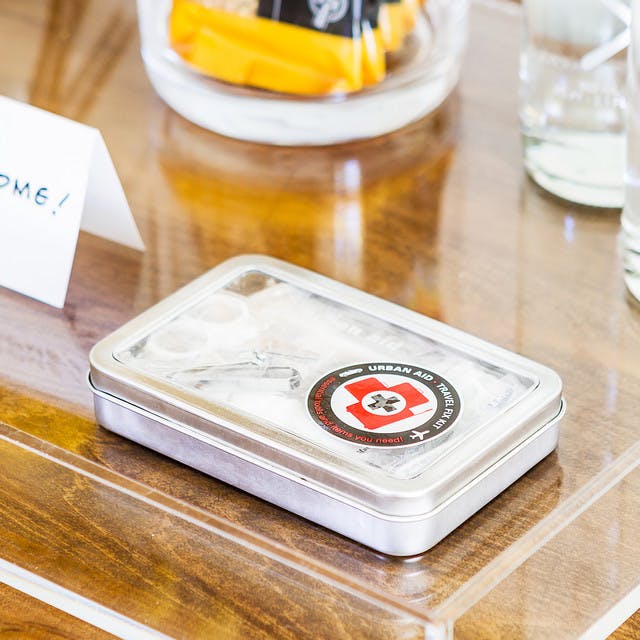 Never Leave Home Without It: A travel emergency kit is a fun gift and can also be a little lifesaver if the guest forgot something or needs a quick fix while on the road. Scissors, tweezers, a nail clipper, a set of earplugs, a disposable razor, toothbrush, emery board, cotton swabs and balls, spot-treating wipe plus a sewing kit with needle, threads, buttons and safety pin- you just can't get much better.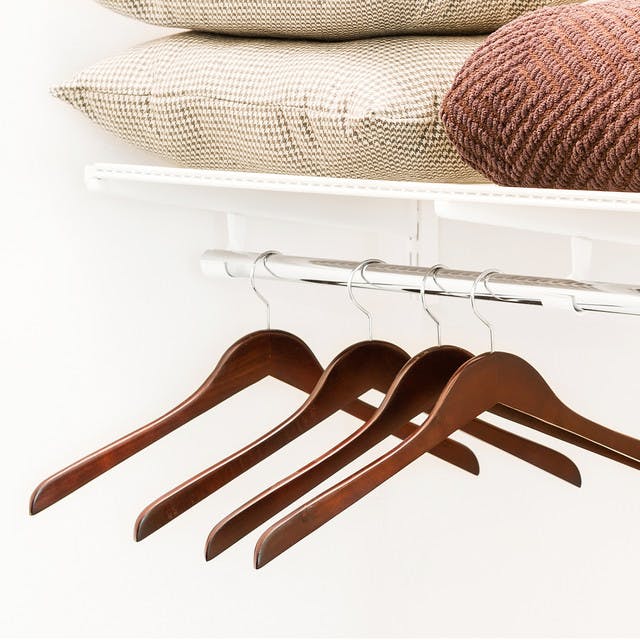 Handy Hang Ups: You always want to provide a space where guests can unpack, hang up and store their clothes. Brian and John's guest closet is organized with elfa shelving and drawers. A section of the closet is designated for guests with beautiful wooden hangers. They keep a couple of the drawers empty for guests' folded clothes. Shelving above stores extra linens and pillows for guests to use. If you don't have a guest closet (or if yours is full, a garment rack is a great alternative).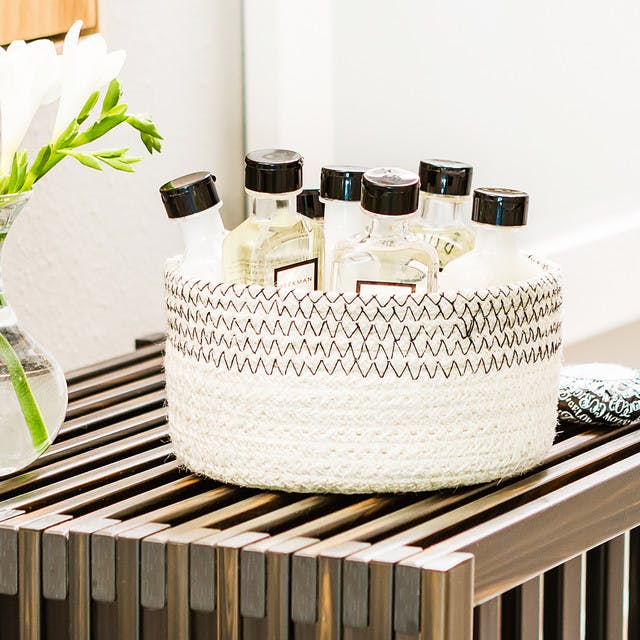 Shower Them With Amenities: This is what started the conversation I had with Brian about his guest room. And since, I've totally stolen this idea. As I mentioned, John and Brian are frequent travelers, and years ago they began bringing home the hotel amenities they didn't use during their stay. They have quite a collection, and when guests are coming, they create a lovely collection of soaps, shampoo, conditioner and other products in the guest bath. Brian has an affinity for Beekman 1802 products. And you know all of those extra toothbrushes and floss you receive at the dentist? They keep a collection of those too and display them in the bathroom prior to their guests' arrival.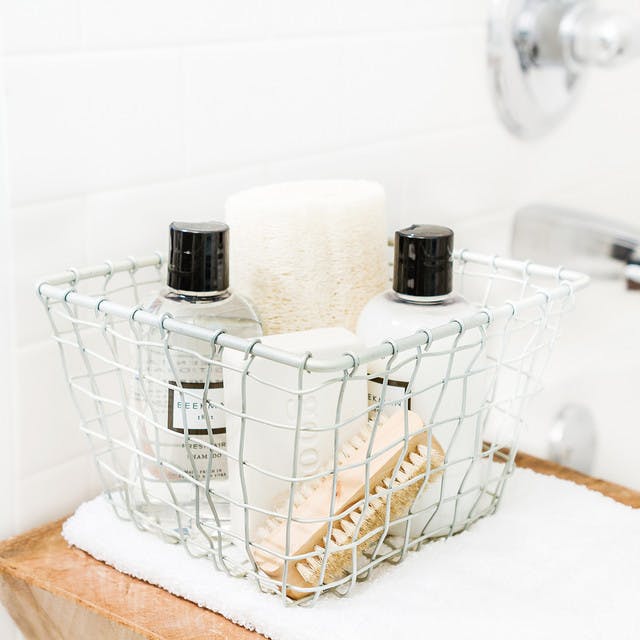 Create A Sense of Privacy: While they are guests in your home, your friends and family feel better when they can retreat with some sense of privacy. And good hosts welcome that. Brian and John's guest bath is a Jack and Jill, which connects to another bedroom that serves as a media/TV room. When guests are there, it feels very much like their own private suite. And before the guests arrive, check little things - ensure the door shuts all the way and locks, light bulbs are changed and the remote to the TV has new batteries.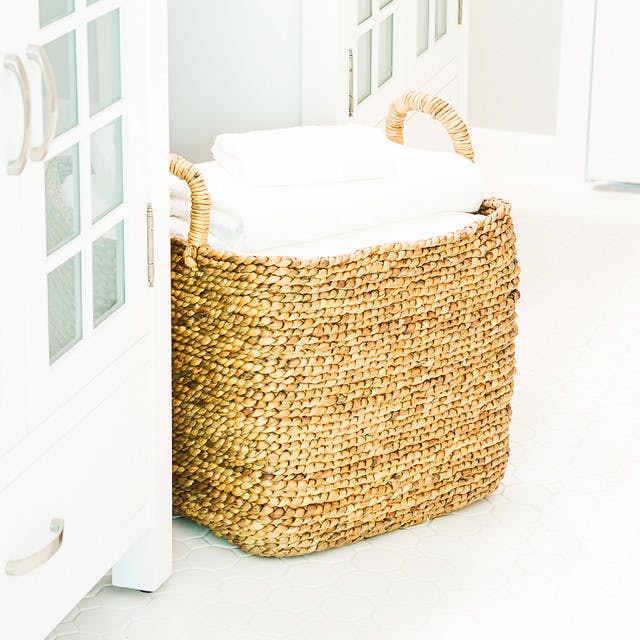 Load Them Up With Linens & Towels: Even though they feel totally at home now staying in your fabulous space, even guests you've known forever don't want to be an imposition and ask for things. You can take that factor out of the equation by making sure the area is loaded up with towels - nice fluffy ones. A hamper or laundry bag is also a nice touch and often forgotten in the guest room.
Brian and John have such fabulous taste and have created such a haven for their guests to enjoy - during the holidays and throughout the year. Just ask their old friend, Meg, who travels to Dallas every six months and has a standing reservation for the room.
"After a long day of travel: early morning, stressing to remember what's important to pack, hurrying to be on time, hauling heavy luggage about, and remembering (and sometimes panicking over) what you did forget to pack, there is something so soothing for frazzled nerves about stumbling into a guest room like this one. To have your needs met by your hosts in such thoughtful ways makes you feel kind of special; the extra "above and beyond" options just feel luxurious. Multiples or assortments of items grouped in baskets somehow welcome you to take one, like "Hey, there's plenty. Go ahead," said Meg.
Love it! Go ahead...get your guest room ready!