It's a room full of cuteness. And I'm not just talking about the space. Two-year old Finn, and mom, Caroline, are a whole lot of cute themselves. When the busy single mom moved into her charming 1947 Pacific Palisades home about a year ago, she envisioned a room that was minimal, but with a touch of warmth - a room that was soft yet boyish and that he could grow into. She wanted a soothing place to spend time with her precious boy playing, reading and letting their imaginations run wild thinking about the adventures they'll share together.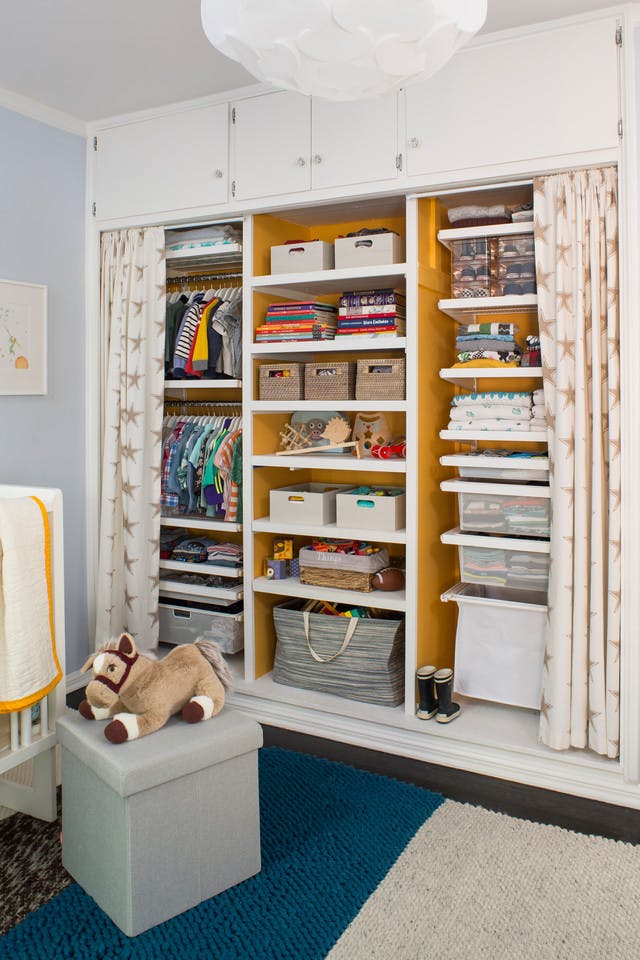 The first challenge was to tackle the closet, which was a built-in cabinet with sliding doors that Caroline describes as "terrible." She removed the doors and replaced them with fun drapes made of fabric she found in her native Sweden. She painted the inside of the closet a chipper shade of yellow that immediately brings a sunny spirit to the space.
"Finn's room is the darkest room in the house. With trees surrounding the outside of the room, it's cozy, kind of like a tree house. The yellow brightens up the space," said Caroline.
The three sections of the closet are different depths, which made elfa decor shelving and drawers a "genius" choice to install in the space, because of its variety of options in widths and depths.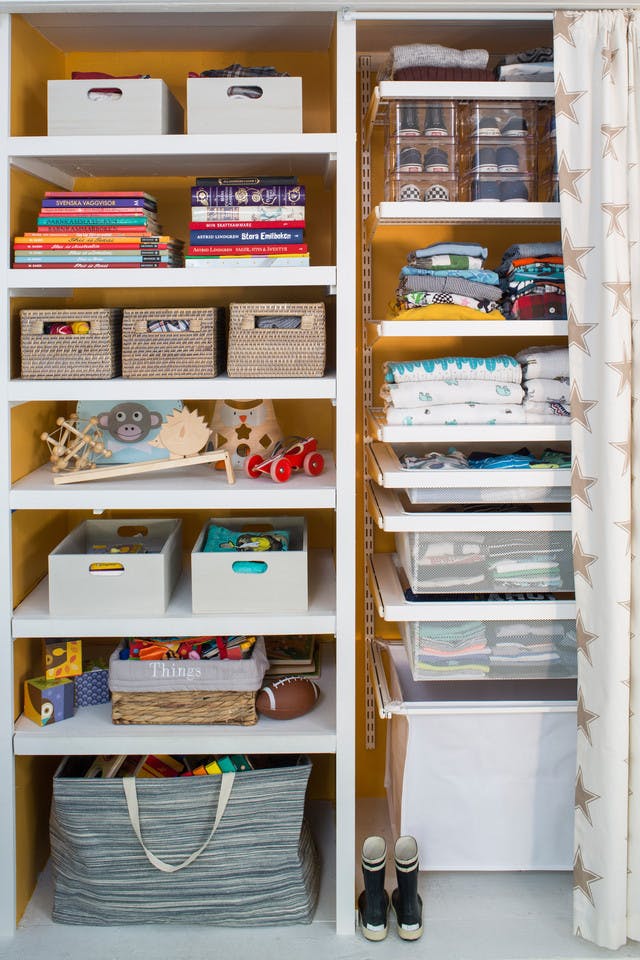 Caroline is a self professed "neat freak" and she loves how the closet now has a designated place for everything, which makes both mom and son happy when it comes to getting dressed and picking up after playtime.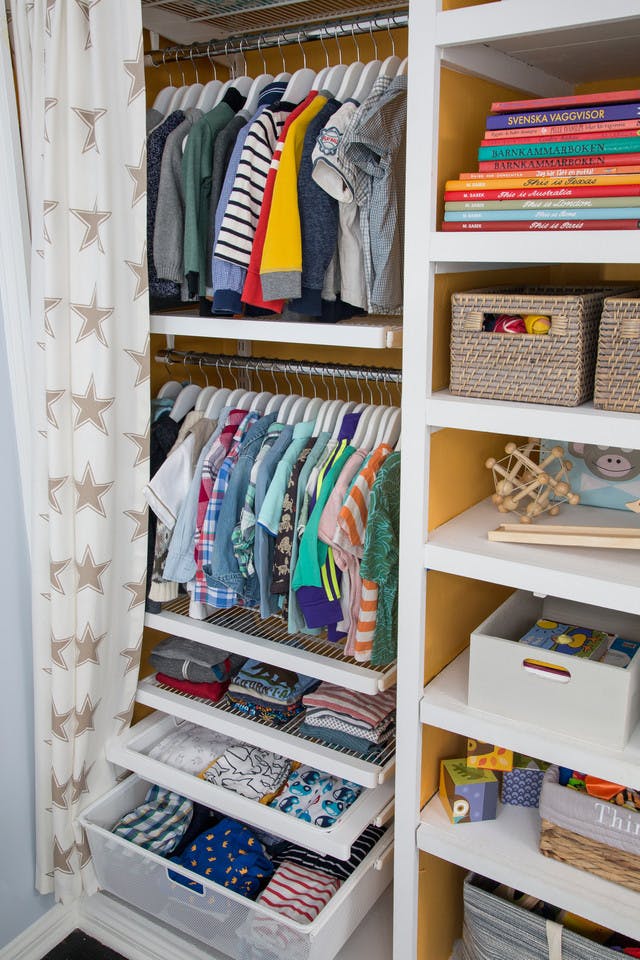 Those little man clothes!! Caroline says clothing is now much more visible and it's much easer for her to dress Finn in his dapper duds.
The shelves are filled with bins of keepsake items at the very top, and then are organized in containers holding like items below - a box for books, toy storage bins and a Crunch Can holds musical instruments on the bottom shelf, which makes them easy for Finn to access.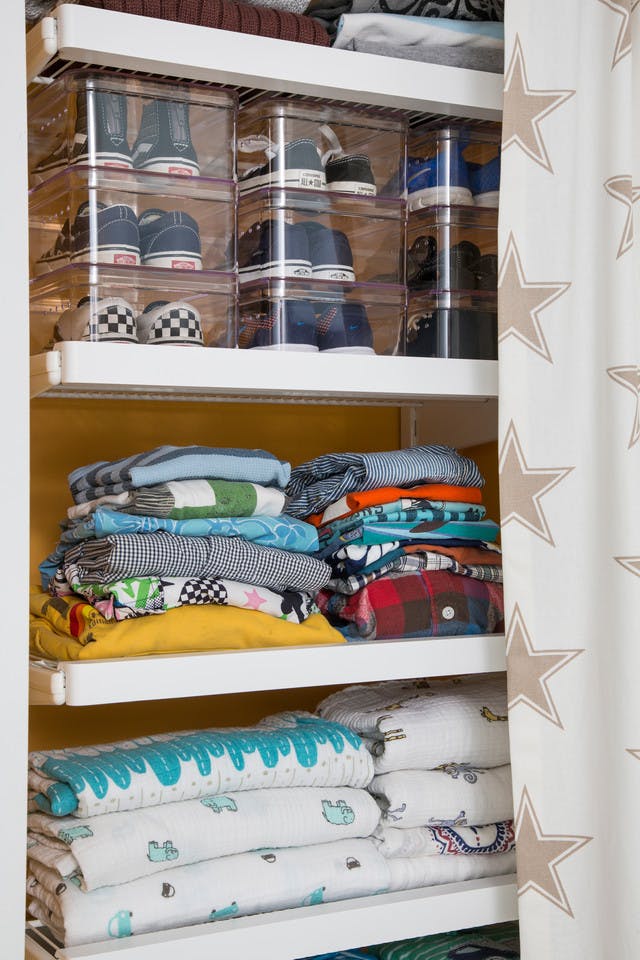 Finn clearly has a thing for cute kicks! Just look at those sweet shoes stored in our clear shoe boxes. Shelves below provide ample space for folded clothes and linens.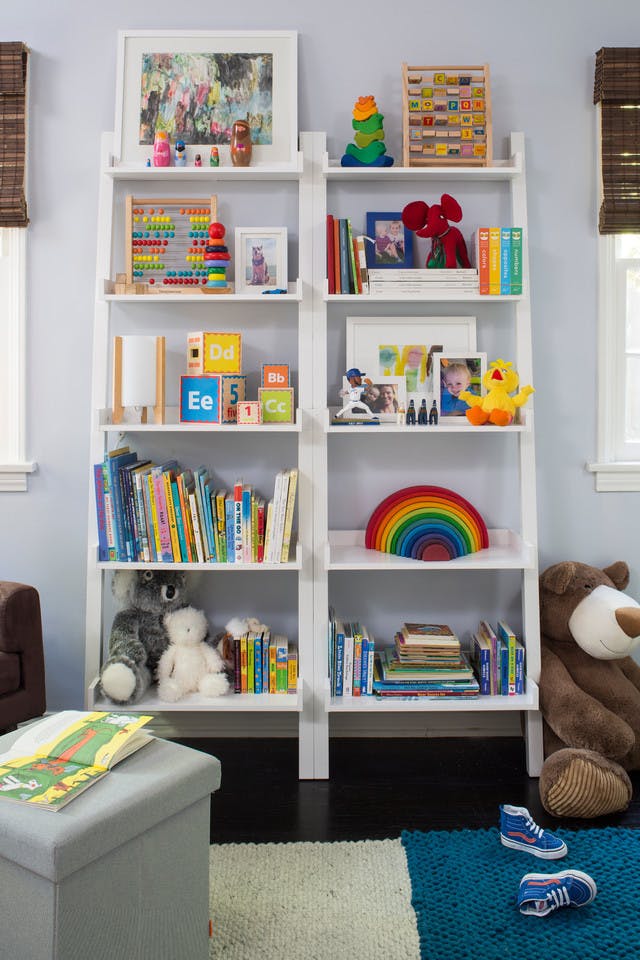 The first thing Finn does when he is in his open play area in his room is sit by his bear that he calls "Nalle," which is Teddy in Swedish. And the bookshelf that Nalle leans against is a focal point of the room.
"The bookcases are so pretty and make such a great statement. Finn is able to easily get to his books and pull them out and read them. We store building blocks in the storage stool, and we make a cleanup game out of it when it's time to put them back into the seat," says Caroline.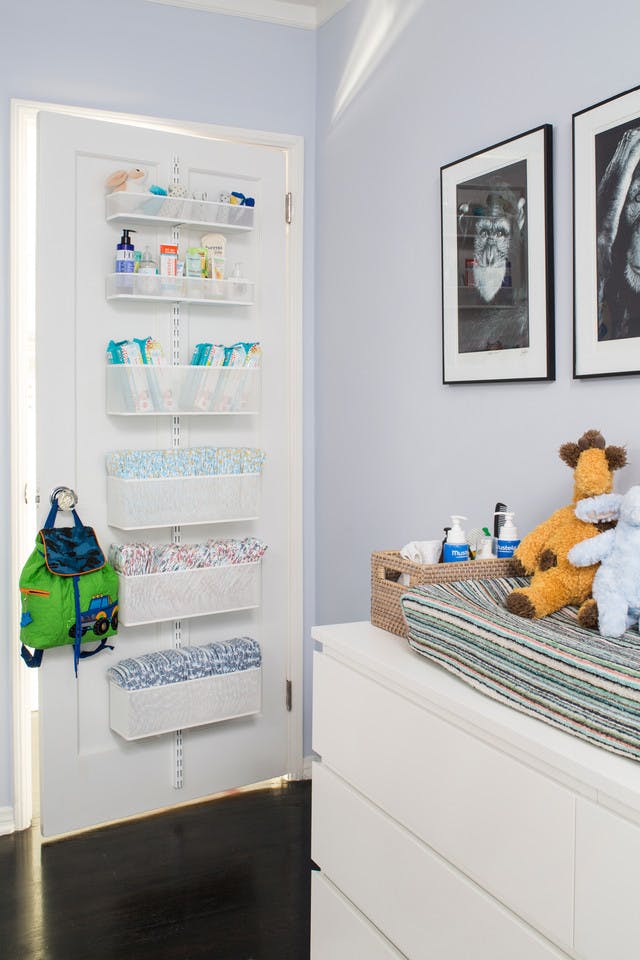 Caroline says she LOVES the elfa door and wall rack that is near the changing table and holds diapers, wipes, lotions and other necessities.
"I wasn't sure about the idea of it in the beginning with all of the items being so visible, but it has easily become my favorite thing in the room. It's a godsend to have everything right there when I need it. The whole room is practical AND beautiful and more than I ever dreamed it would be," said Caroline.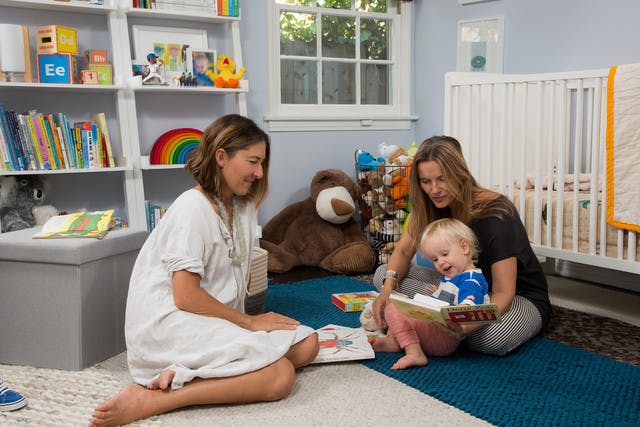 Friend and stylist Gena Sigala helped Caroline pull her vision for Finn's room together. Gina and the little tyke became fast friends during the project.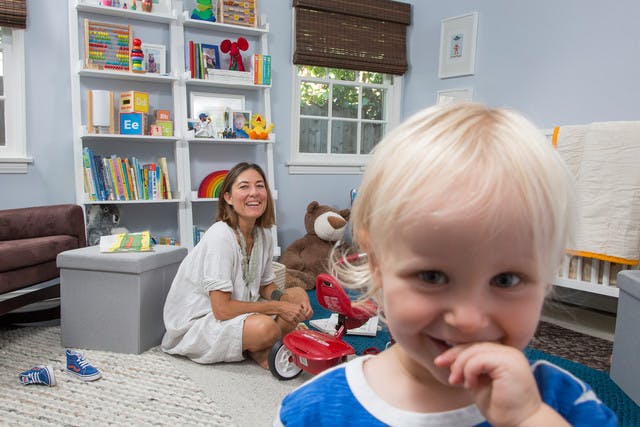 A face that is just too precious in a space that's perfectly organized to mom's delight. Finn, dream big in your fabulous room sweet boy!
Photos taken by Meghan Beierle
Interiors Editor and Styling by Gena Sigala