After more than a decade living in the thriving bustle of downtown Charleston, Piper and Matt made the decision to make the move from their condo to beautiful James Island, located about five miles from Charleston across the Ashley River.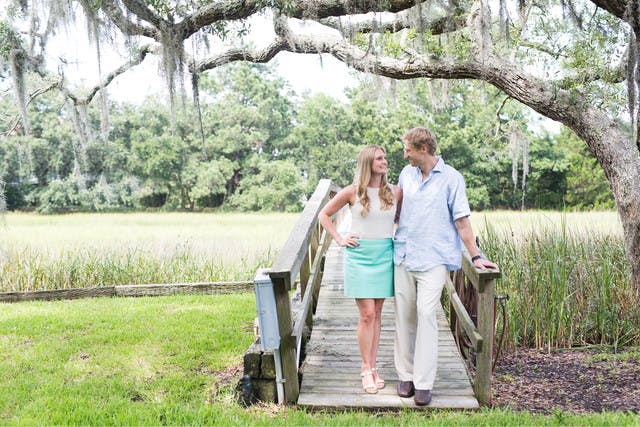 The couple found a charming, renovated 1960s ranch house with space to start a family, and a beautiful backyard that backs up to the Kushiwah Creek and feeds into the Charleston harbor. Piper and Matt are both busy attorneys, and enlisted the help of our Atlanta-based Contained Home organizer, Claudia Morris-Barclay to help them assess the master closet and maximize the space.
"Piper and Matt were up for anything and everything - open to various ideas and flexible as things changed. They were dream clients as they had a general idea of what they needed. The more we spoke during the consultation, I was able to determine what was frustrating them the most about their storage situation, what their long term goals were and uncover their design style. I took cues from their home decor along with statement clothing pieces that would be in the master closet to evaluate which completion items would both fit in with their aesthetic and be highly functional for the way they live," said Claudia.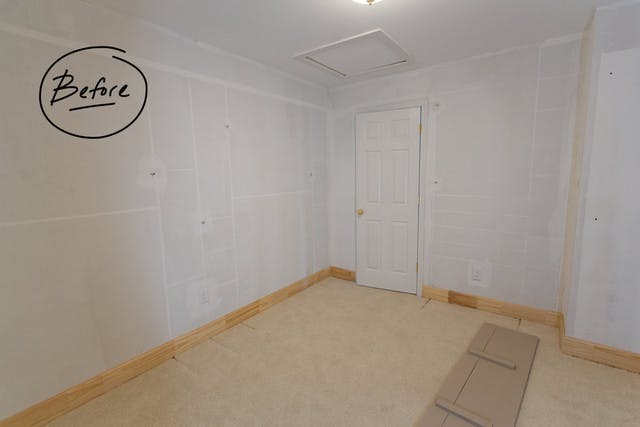 "One of the challenges in their Master Closet was making sure Matt had space in it! The closet had two doors, one leading into their Master Bedroom and another leading into their laundry room. It was important to decide which one would be considered the "main" or most frequently used door and design the organization around that. Because of the need to have an open walkway between both doors, the shelving had to be kept shallow but still maximize storage space," Claudia continued.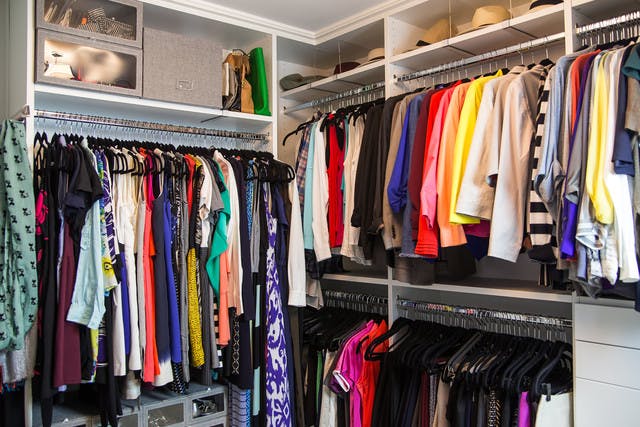 The result was a beautiful Laren custom closet as the foundation, organized with thoughtful storage accessories that complimented the couple's lifestyle and gave Matt a generous 12 feet of hanging space.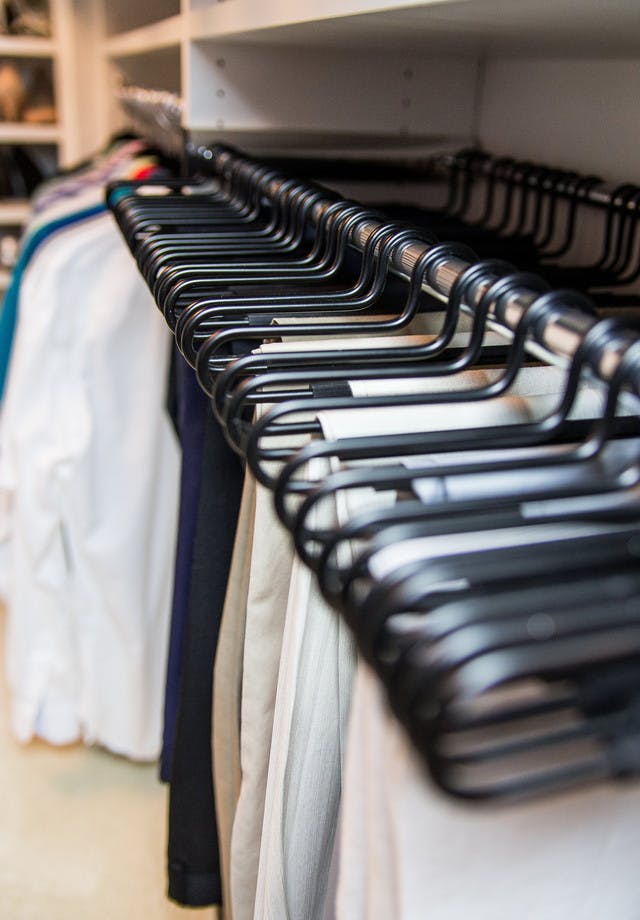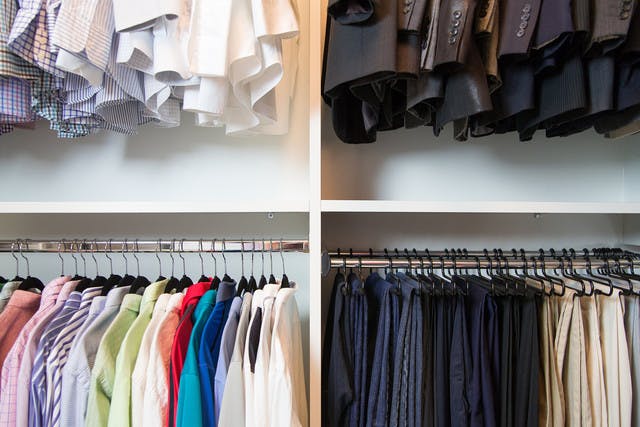 The rest of the couple's closet was devoted to Piper's vast wardrobe that covers work time, social time and play time!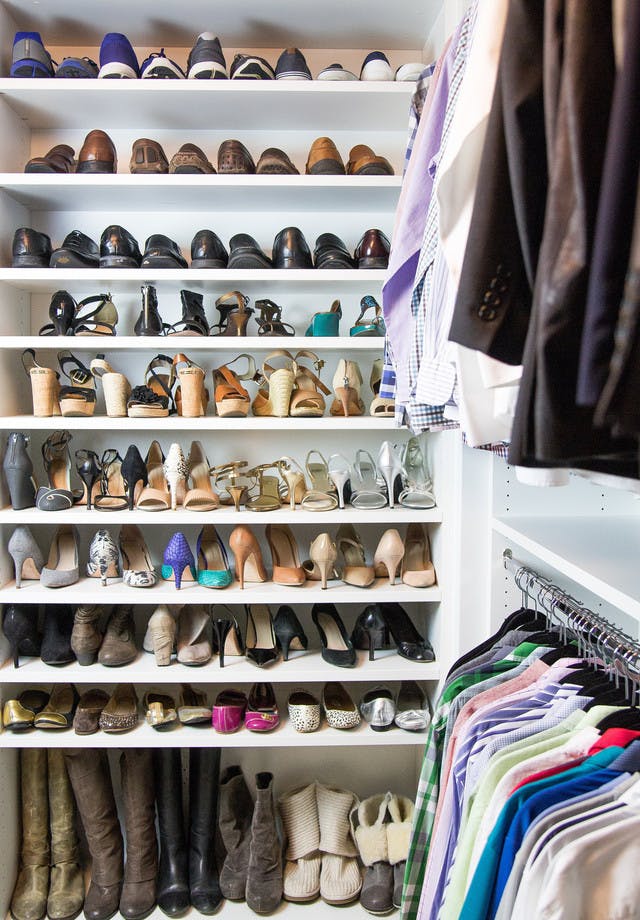 Can we talk about this shoe wall? Love! And so does Piper!
"I was a "shoe box girl" forever, but now it's nice not having to open and close a lid anymore when trying to access shoes. I was also somewhat of a shoe "kicker" at times when I didn't want to be a "placer" and have to open the box to put shoes back after a long day. Now I make it a point to go into my closet and put them back exactly where I got them on the shelf," said Piper.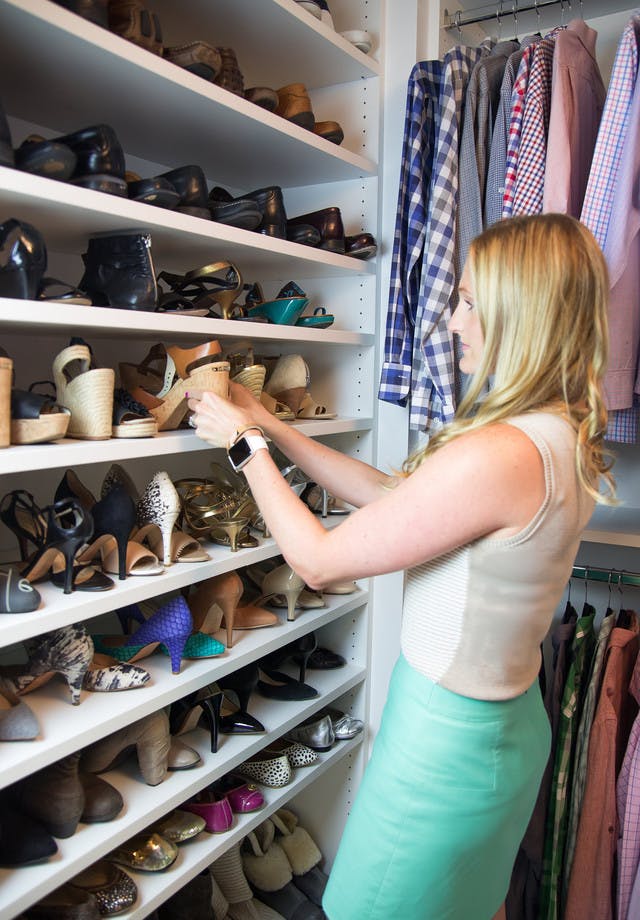 Piper loved Claudia's tip for the wall of shoes, which was to switch each shoe in the pair in opposite directions so you create even more space to store a few additional pairs on the closet shelves. (and it looks cool too!)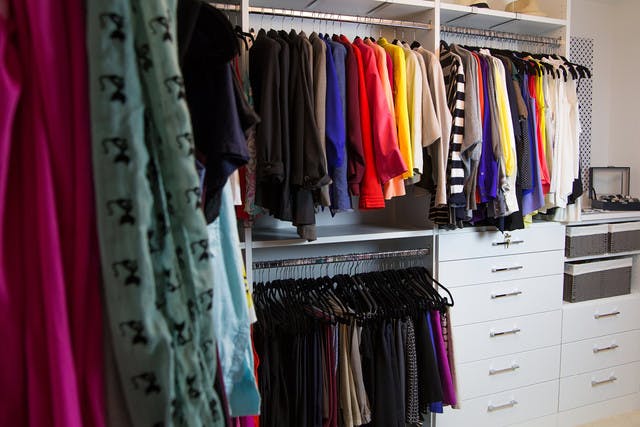 Claudia organized the clothing by zone, type, length, and color. She says there was a zone for work, casual, workout and special occasion clothing. Within each zone, all tops were grouped together, and bottoms grouped together. Then they were grouped into outerwear, sleeveless, short sleeve, 3/4 sleeve, short skirt, mid-length, etc. and then presented from light to dark. She used Huggable Hangers for all of Piper's clothing - the slim profile of the hanger gave her the ability to store more clothing and also gave the hanging space a more uniform look.
"One of the most effective techniques was to make sure to turn all of the hangers so that the front of the garments faced the "main" door so that she would be able to see the details of each garment at a glance. Setting up the space this way makes it very easy to see what you have and to put things away because you always know which category they belong in," said Claudia.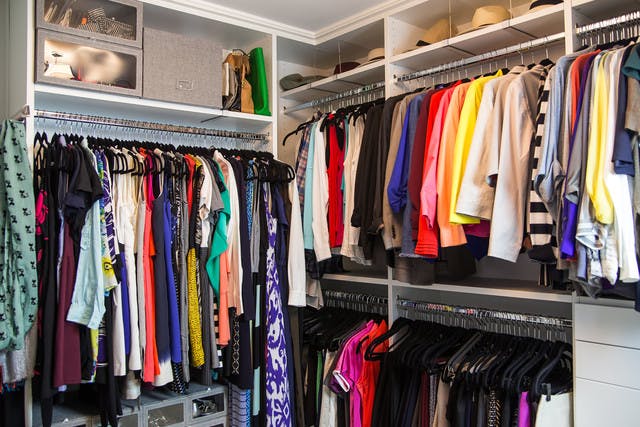 Claudia also used our Grey Drop Front Boxes to create extra shoe storage in the long hanging clothing area of Piper's side of the closet, as well as on Matt's side. The boxes keep the shoes they wear less often, dust-free yet easily accessible.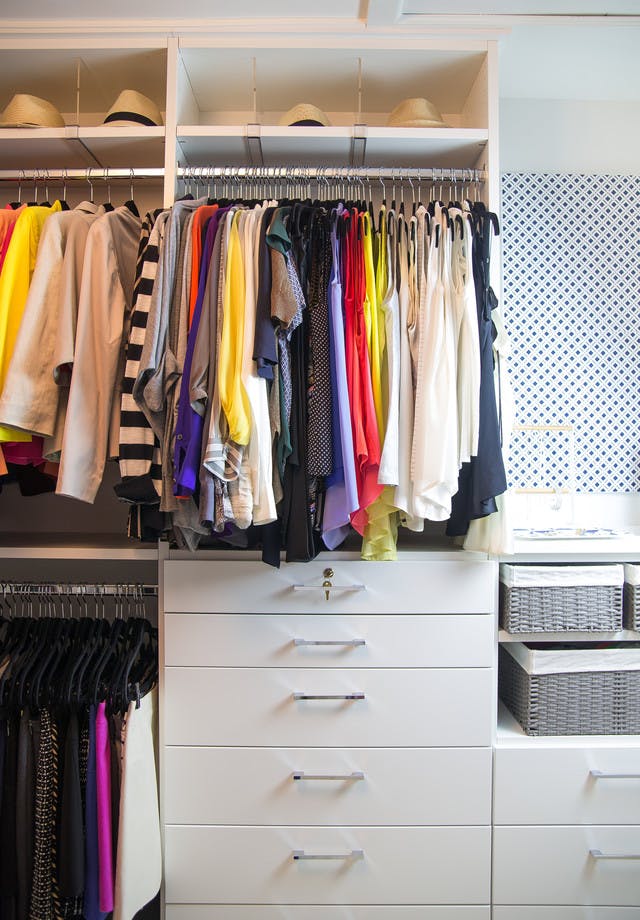 Two jewelry drawers (one with an incorporated lock) to the left of a small vanity niche are one of Piper's favorite features in the closet, as she now is able to wear more of her jewelry because she can see it all.
"Before, I would often just wear whatever I could easily see and that meant I would repeat the same pieces on a regular basis. Now, it gives me the opportunity to clearly see what I have and I can mix up my outfits a bit more with jewelry, which I really am enjoying," said Piper.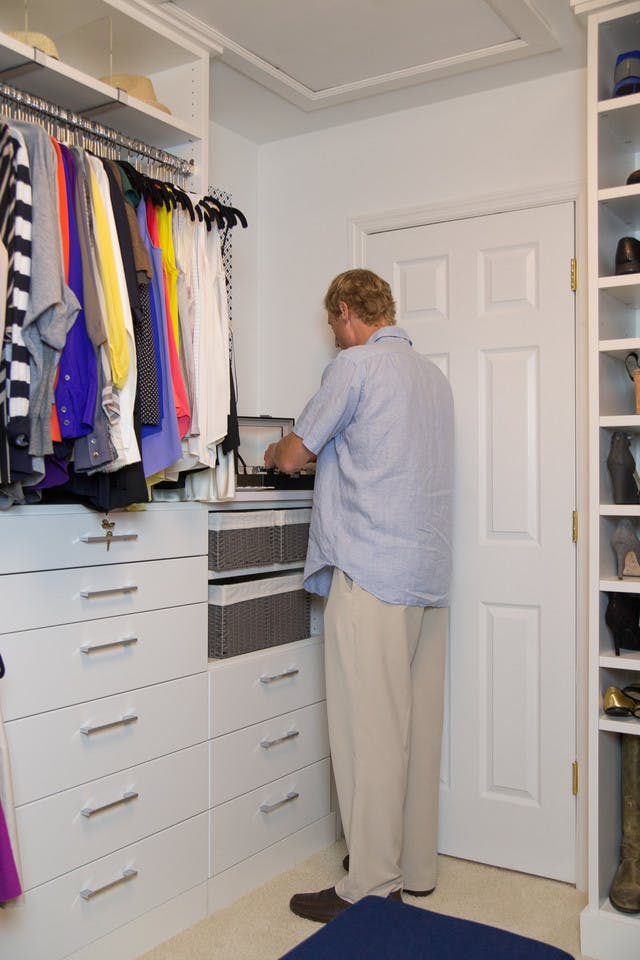 Matt and Piper like to keep inspirational quotes and a few pictures in their master closet. Claudia created a zone using Charleston Communication Boards on the wall above the drawers as a place to display these mementos, just above a landing space for wallets, keys and jewelry.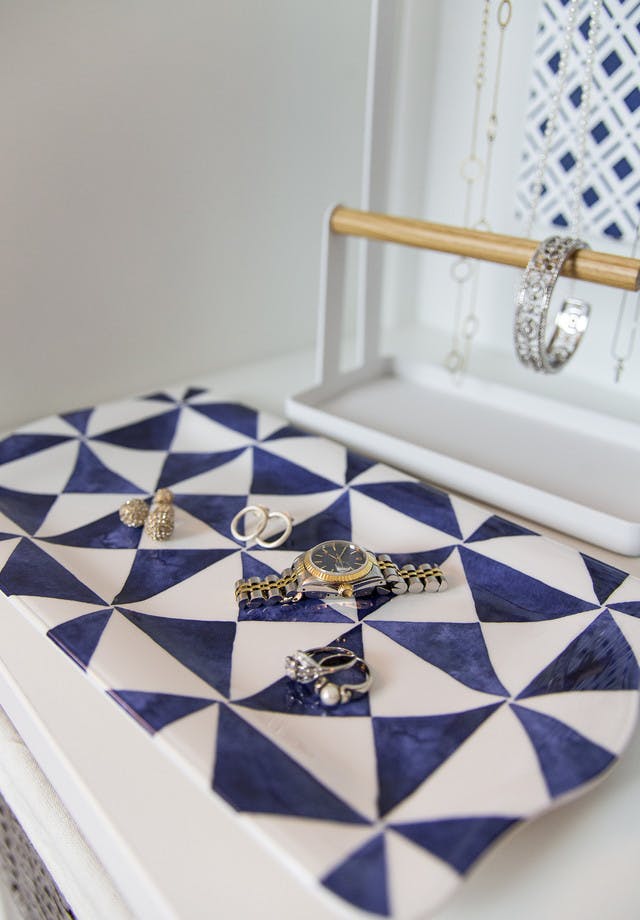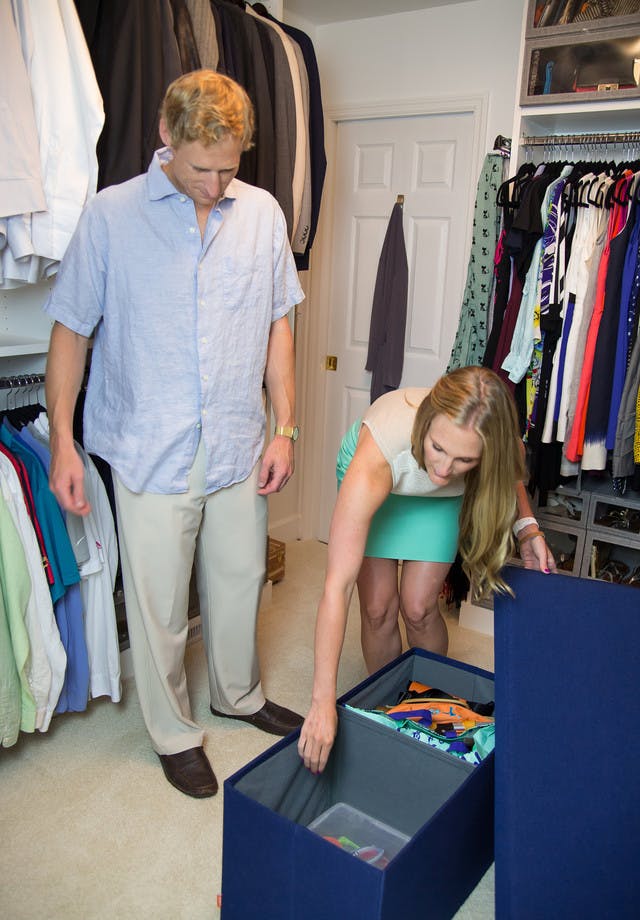 Piper says she and Matt are both OBSESSED with the Navy Poppin Box Bench in the middle of the closet, which does double duty in the space.
"Another goal was to get all of the items they use most frequently stored at eye level and below for easy access, and the things they used less frequently stored either higher up, or tucked away in closed storage. I thought a great way to kill two birds with one stone was giving them some hidden storage that was accessible, a place to sit down and put on shoes, as well as add a pop of color to the space. Poppin benches can also hold up to 275 pounds so it can be used as a quick step stool in the closet if needed. I love multipurpose storage," said Claudia.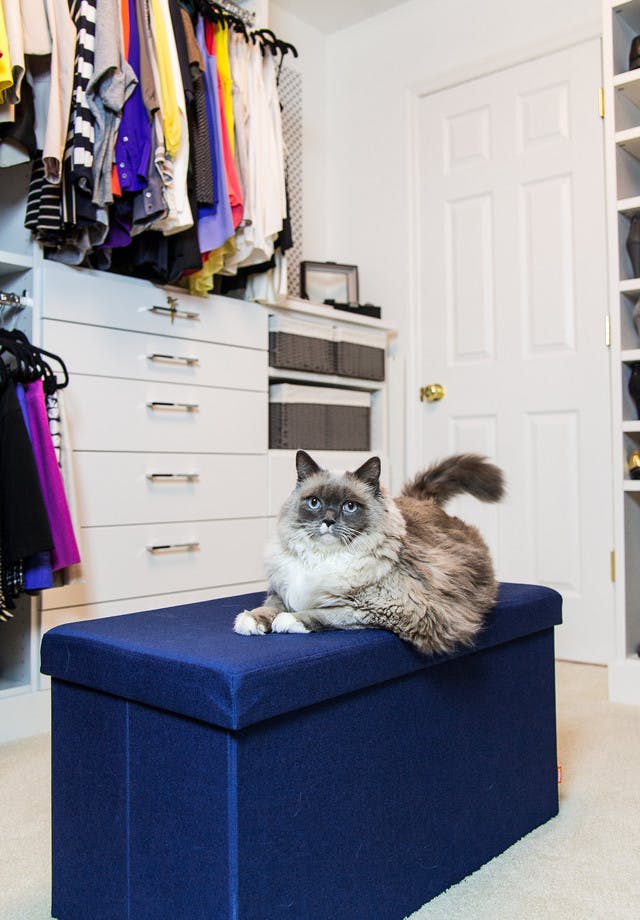 And the couple's pretty kitty, LeBron, thinks it's quite fabulous too, often making it his perch in the lovely closet.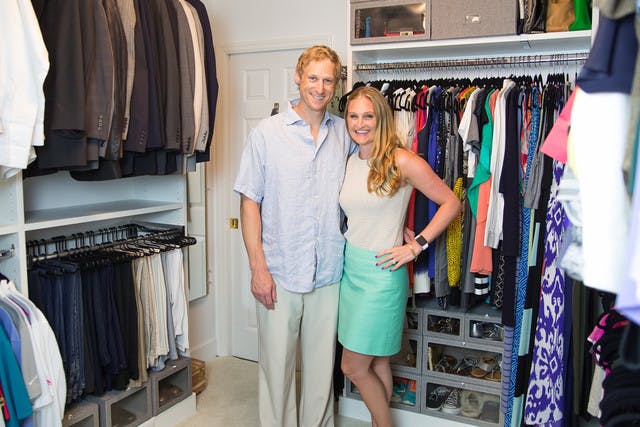 As you can see, there is lots of love in this beautiful custom closet, and we wish sweet Piper and Matt all the best in the world as they enjoy the space and their fabulous new home!
Stay tuned for a look at more organized spaces in Piper and Matt's home soon!
Teresa Earnest - Photographer
Claudia Morris-Barclay - Entertainment & Lifestyle Consultant
Kara Speckhals - Stylist