There are plenty of knock-off closet solutions out there that look like Elfa, but don't let them fool you. Trust me, I learned the hard way.
When we first moved into our home, my fiancé and I were thrilled to see we had, what appeared to be a fully decked out Elfa closet. But between sagging shelves and wasted space, it didn't take long to realize the closet solution we had was nothing like the real thing. Talk about a buzzkill! The good news, however, is I was able to work with The Container Store's design team to create the master closet of our dreams!
Getting Started
Before we got started on the design, we knew we needed to think about all the things we didn't like about our current setup. While the closet was a decent size, there was a lot to be desired when it came to flow and making the best use of space. Austin wanted to make sure his hanging section was easily visible. At a few inches over 6 foot, he wanted to have his clothes at eye level vs waist level. Another issue Austin wanted to conquer: accessibility. Austin had grown tired of having his clothes at the end of the closet while his shoes were scattered around. He wanted "his" section of our closet to be the first thing he sees when walking through the door.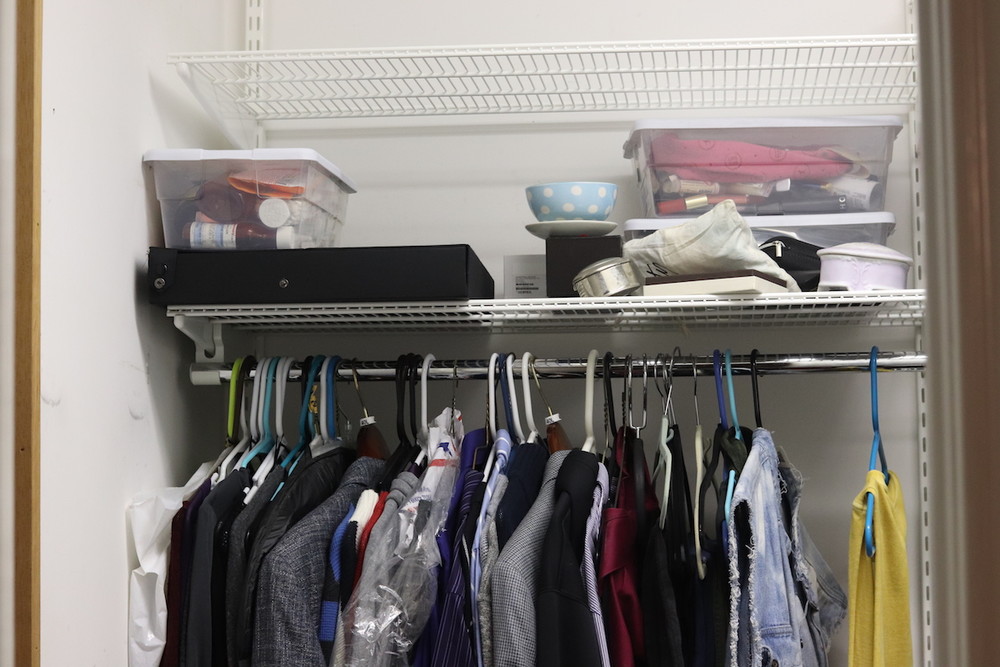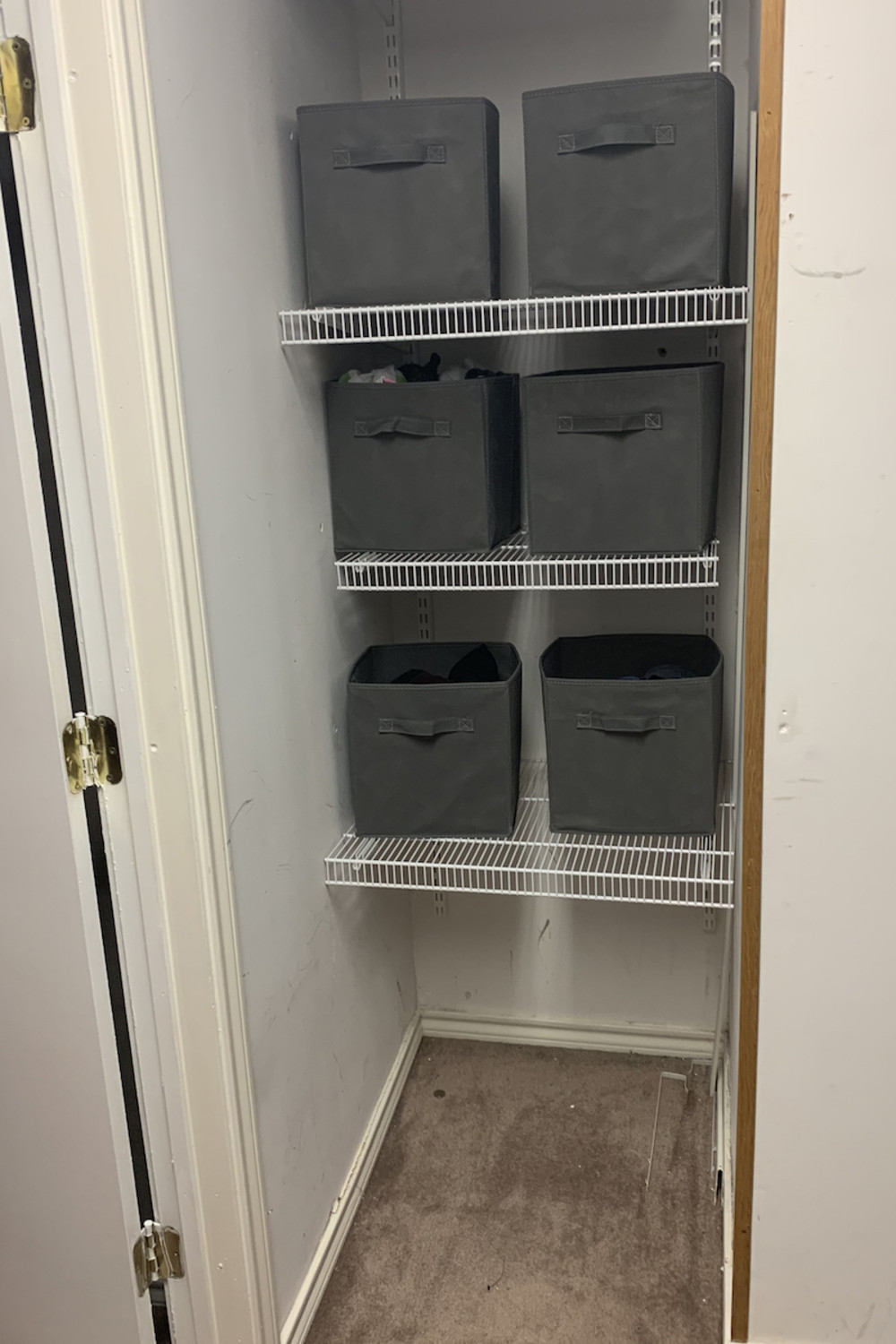 Beyond the desire of having an actual Elfa closet, MY biggest problem was a lack of space for all my accessories. Examples include shoes, purses, scarves, jewelry, hates… and my robes (yes, I said robes with an "s"). I am the type of person who won't use something if I don't see it. My hats were stored on upper shelves, so guess what, I never wore them! My bags were stuck in the back corner, so I never rotated them in and out. My jewelry was thrown into a hanging bag and stuck between outfits and… you guessed it, never worn.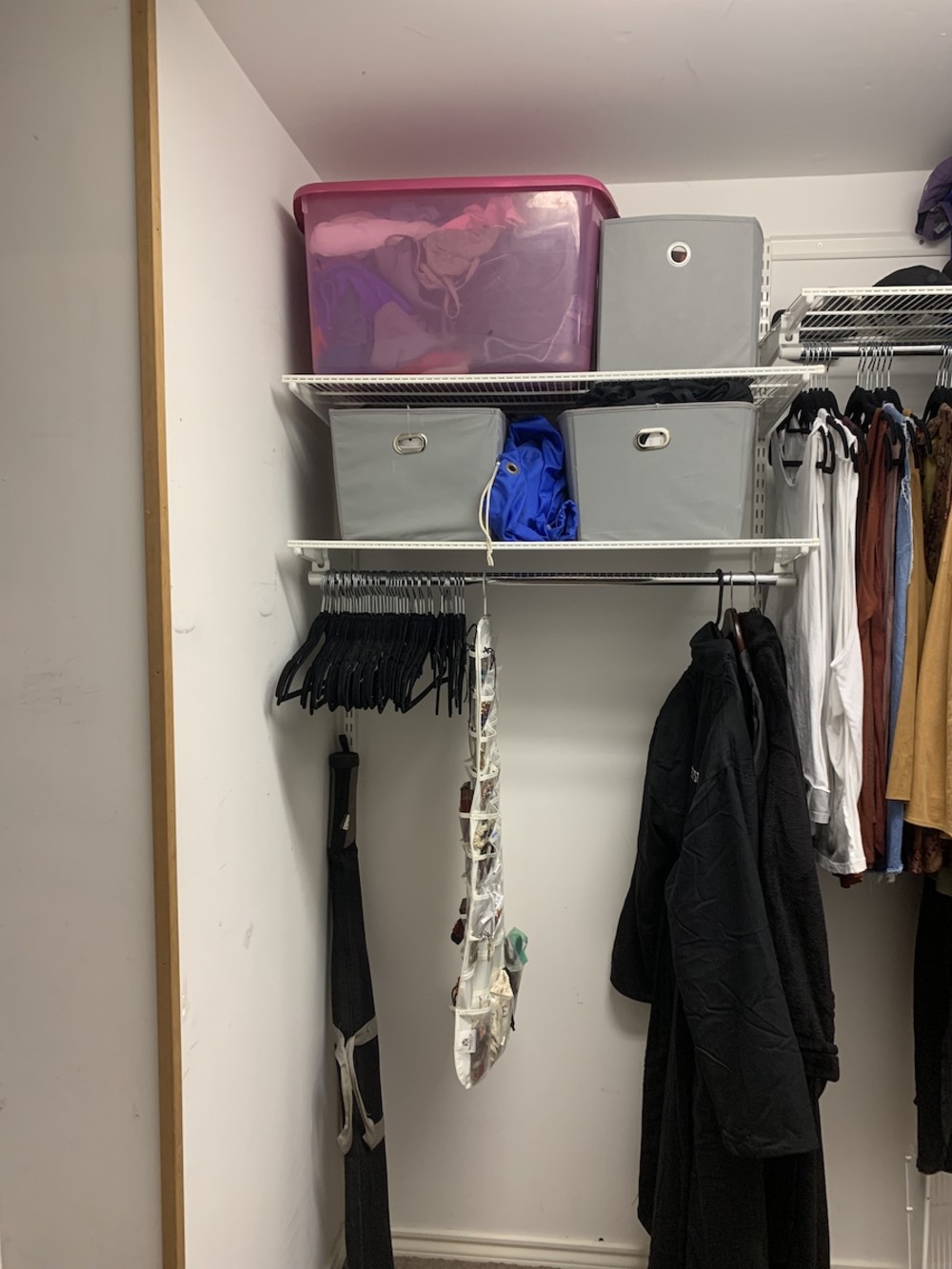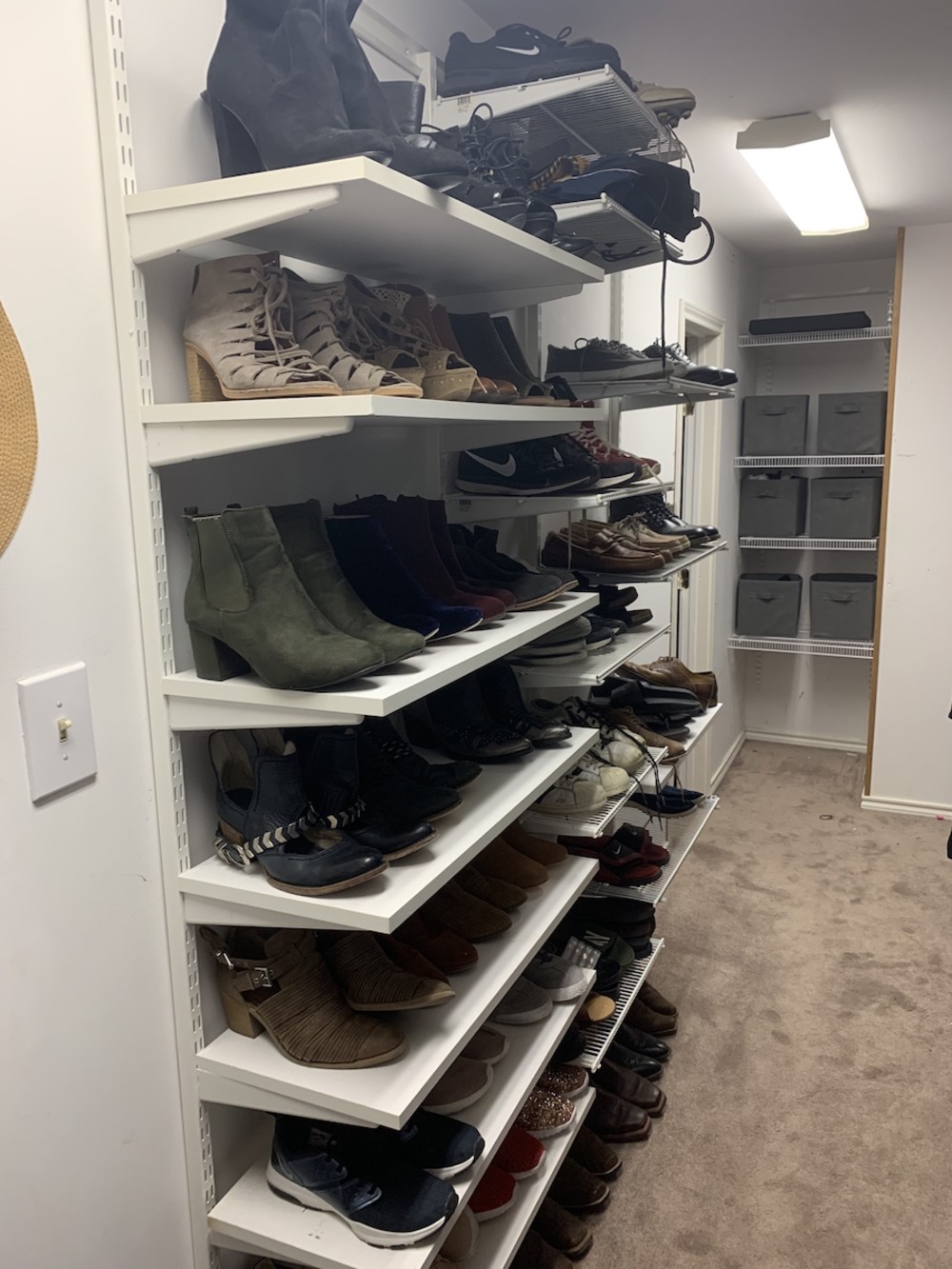 We had an incredible amount of wasted space in our closet. Our "long hanging" sections were abundant and underutilized, we had unnecessary shelves which were hard to access, and our shoe racks were a hodgepodge of wasted space-- and to be frank, a total eyesore. We knew all these problems could easily be solved with a custom Elfa closet. We knew we wanted drawers, double hanging space, and a cohesive shoe wall along the side of the closet. After we wrote our measurements, dislikes and wants down, it was time to schedule appointment with The Container Store design team. We were ready!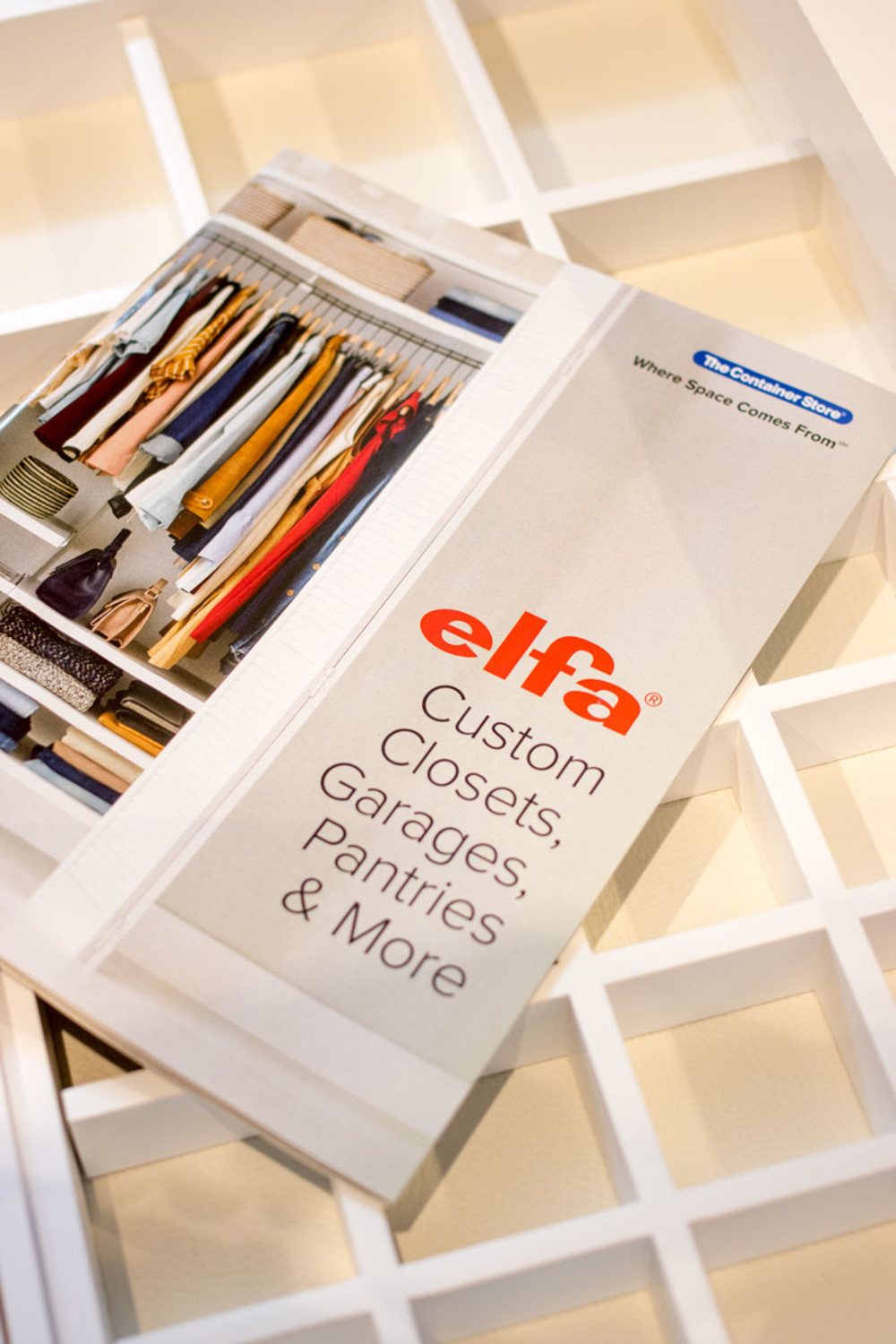 Designing The New Space
Working with the design team was a breeze! Amy, at the Northwest Highway store in Dallas, made me feel completely at ease during our appointment. As you probably guessed by now we became instant buddies! We knocked out the initial closet design together, and then I shopped the aisles for various closet essentials - it all took less than two hours. To be honest, I could have easily spent the entire day there daydreaming about all the ways I could makeover my entire house!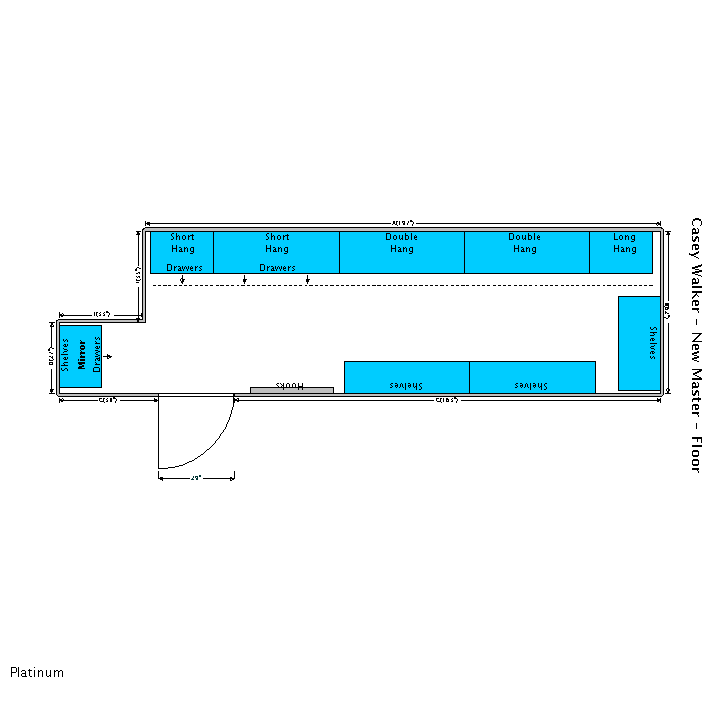 Installing The Closet
After we finalized the design, it was time to get our current space ready for the Elfa installation. We removed all our clothing and shoes and cleared the space. By the time installers knocked on our door, we were SO ready to finally have a custom closet that worked for us. Bye-bye fake stuff! Plus, installing the new closet meant we were finally getting rid of our big ole dresser in our bedroom. Hello more bedroom space!
You can only imagine our happiness walking into our completed closet after the installation was finished!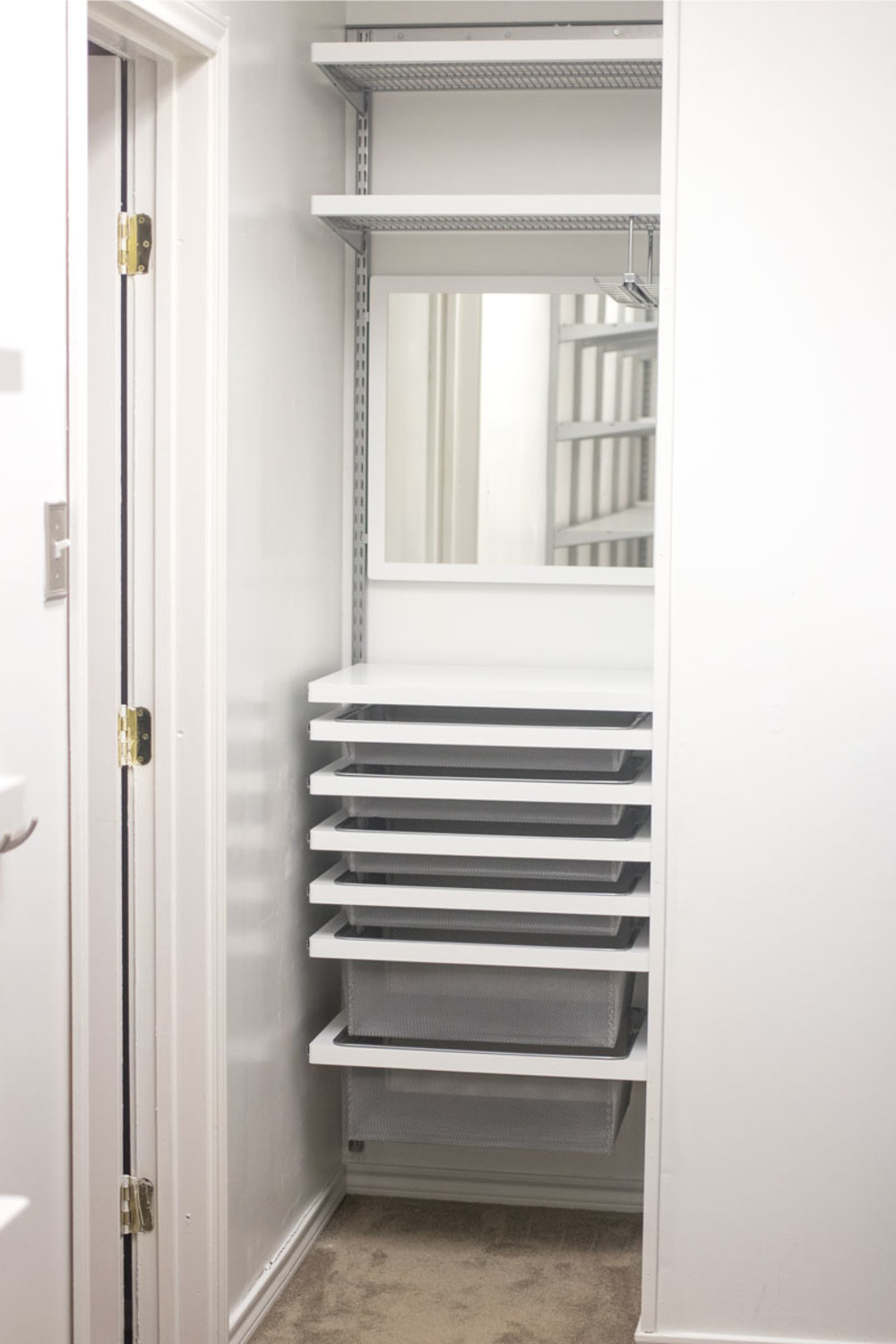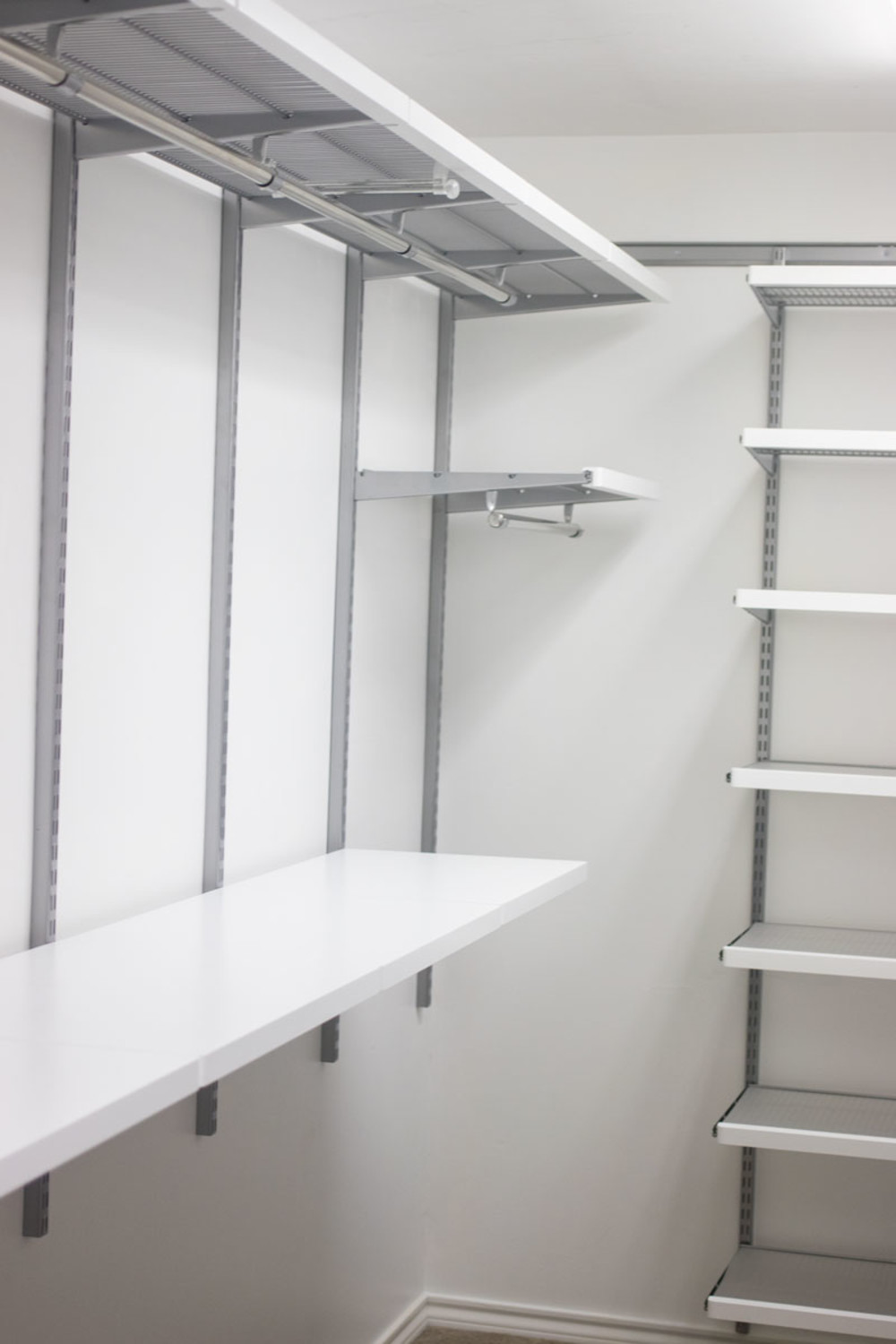 Finishing Touches
I cannot begin to explain how much we love the way our master bedroom closet turned out!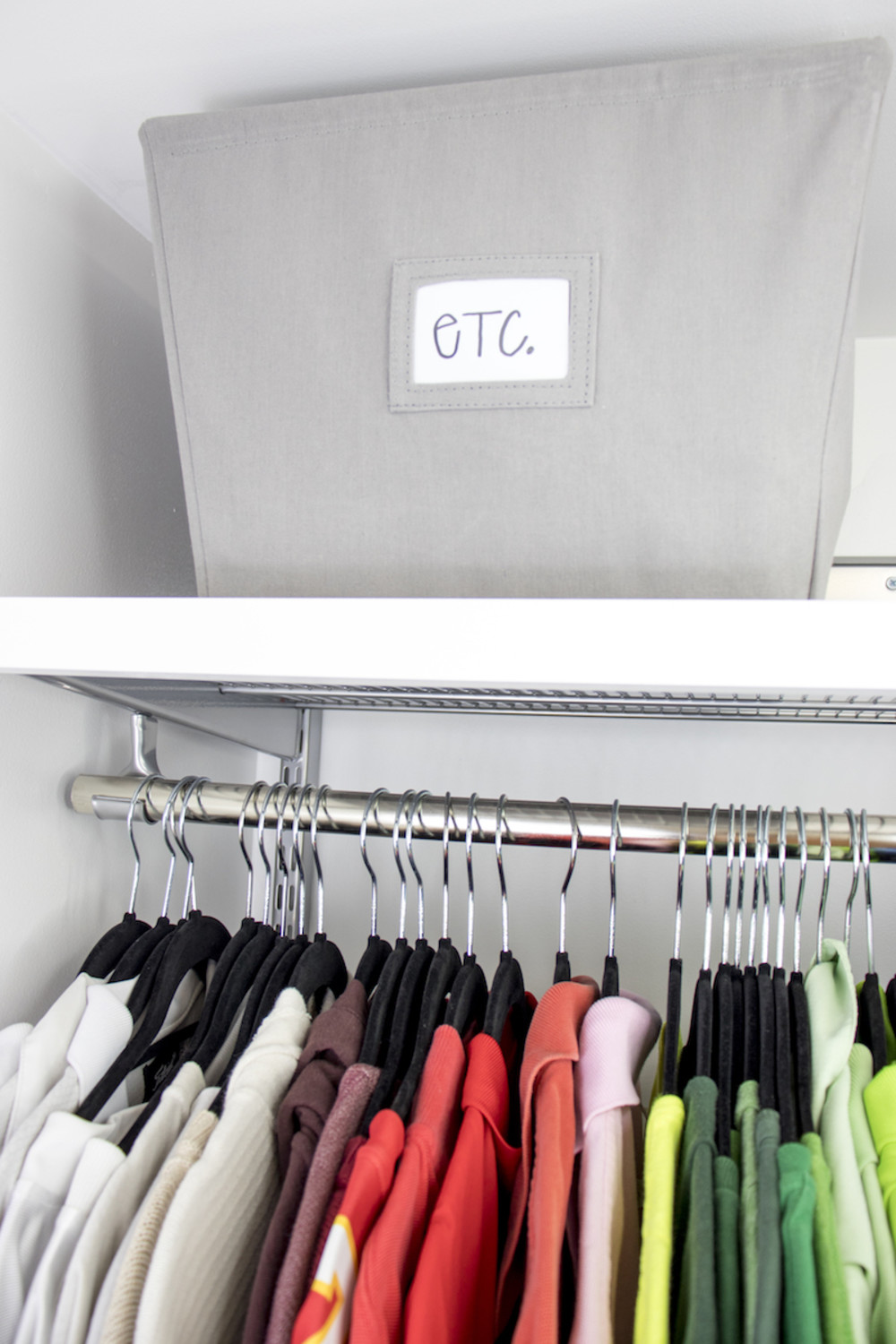 To complete the Elfa master closet makeover, we decided on Grey Open Canvas Storage Bins labeled with 3M Scotch Dry Erase Label Tape. We use these for our "work around the house" clothes, jeans I can't bear to giveaway, and some other odds and ends that needed a home.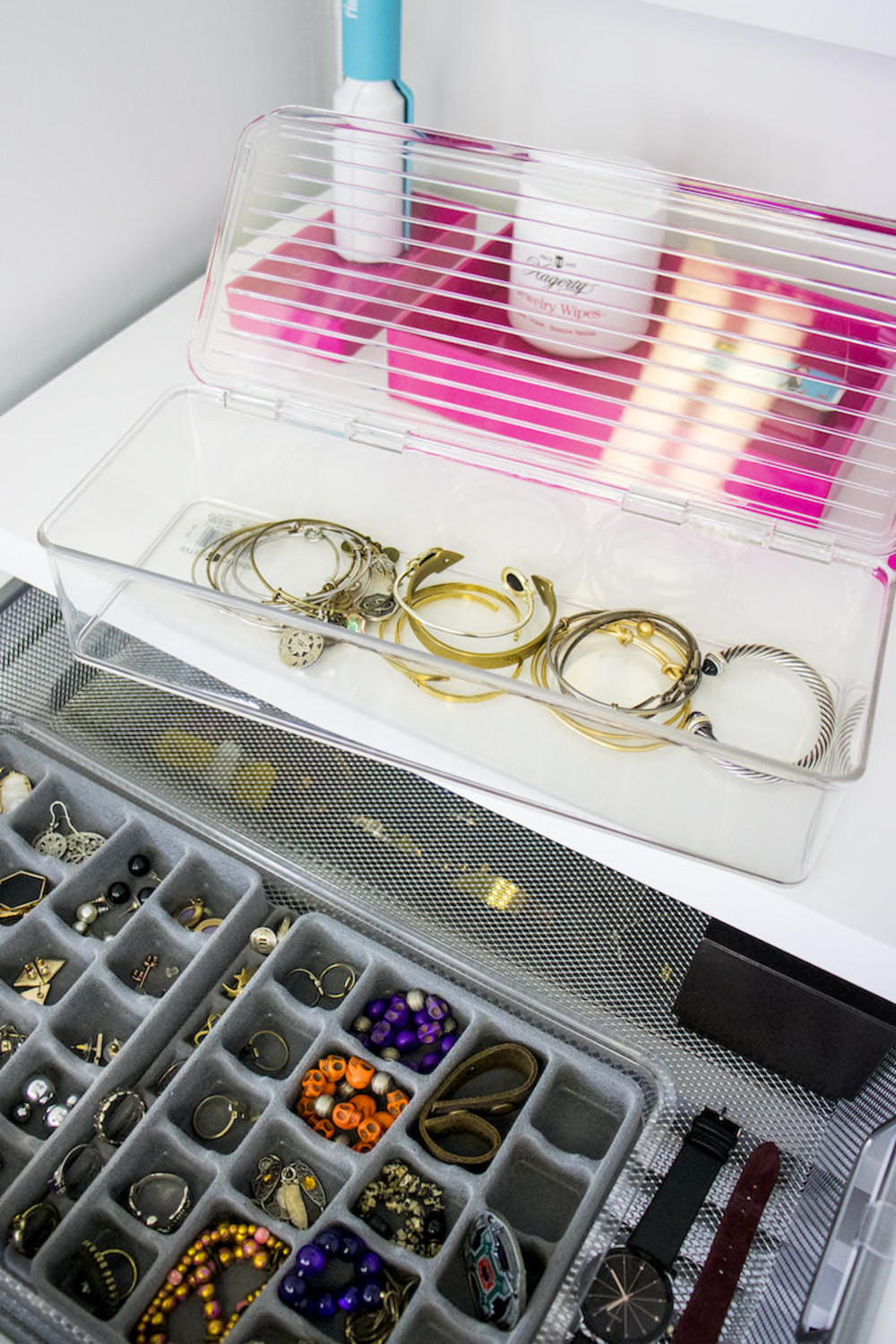 I added the Grey Stackable Jewelry Tray System to my accessory station. Now I can easily see ALL my jewelry choices at a glance.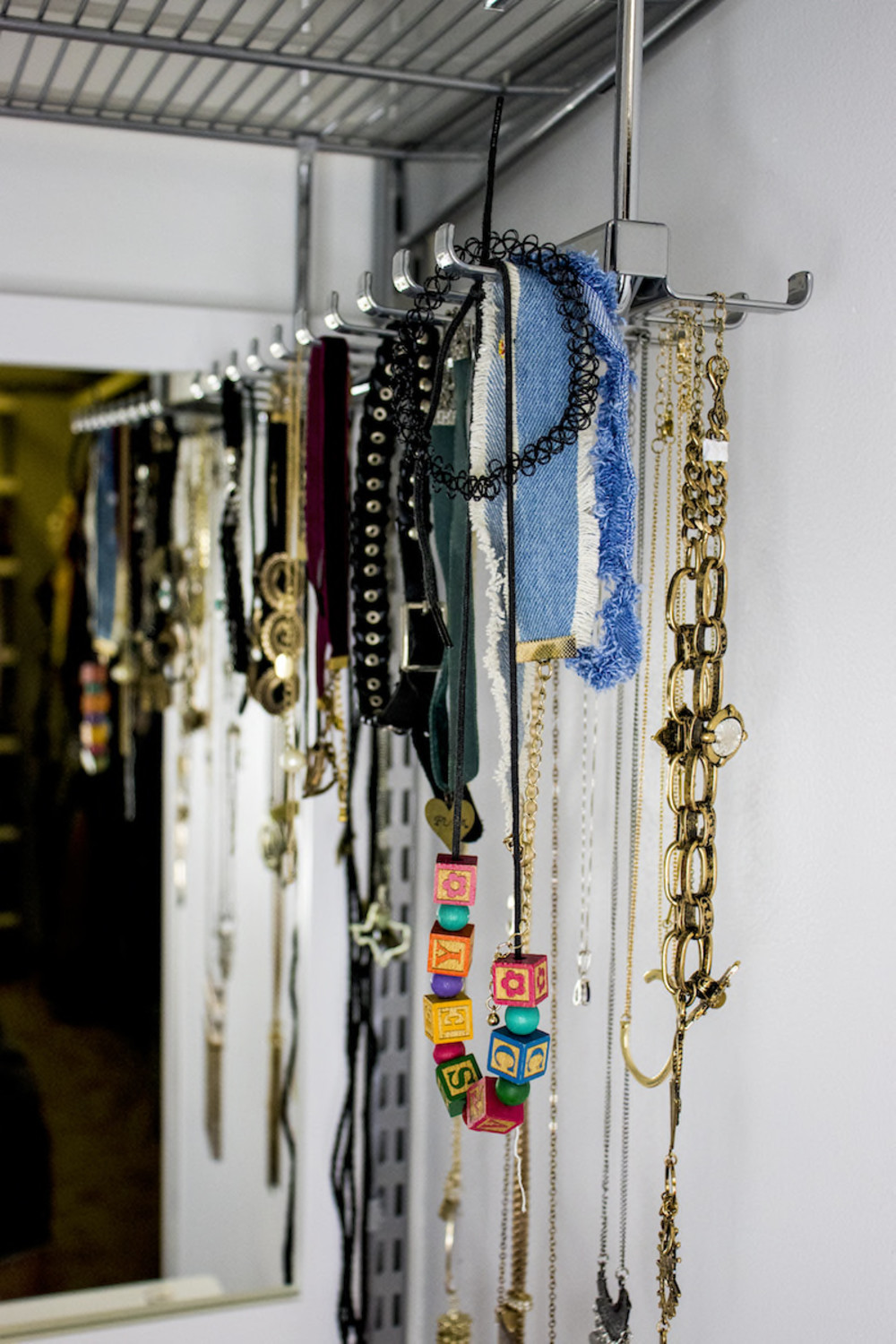 We added an Elfa Gliding Tie & Belt Rack to hang my necklaces on (genius, right?). Elfa Expandable Valet Rods were added to help keep us organized during the week (yes, I lay out my clothes before I go to bed, don't you?!).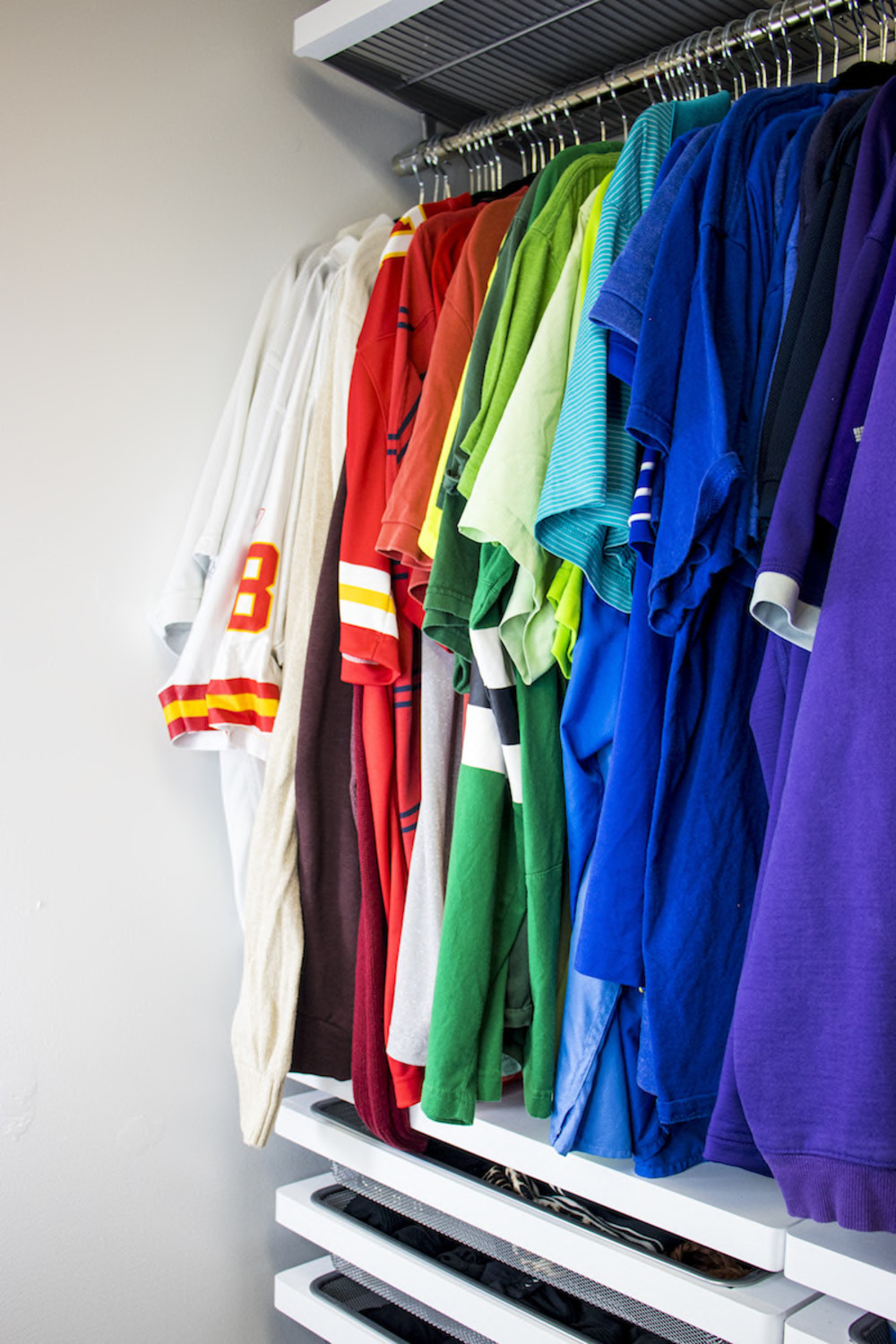 We also bought all Black Premium Non-Slip Velvet Hangers, because the quickest way to ruin a new closet's aesthetic is mixing plastic, wood, wire and velvet hangers! I'm amazed at how much nicer our wardrobes look just from having matching hangers. Plus, the slim profile helps save even more space in our closet!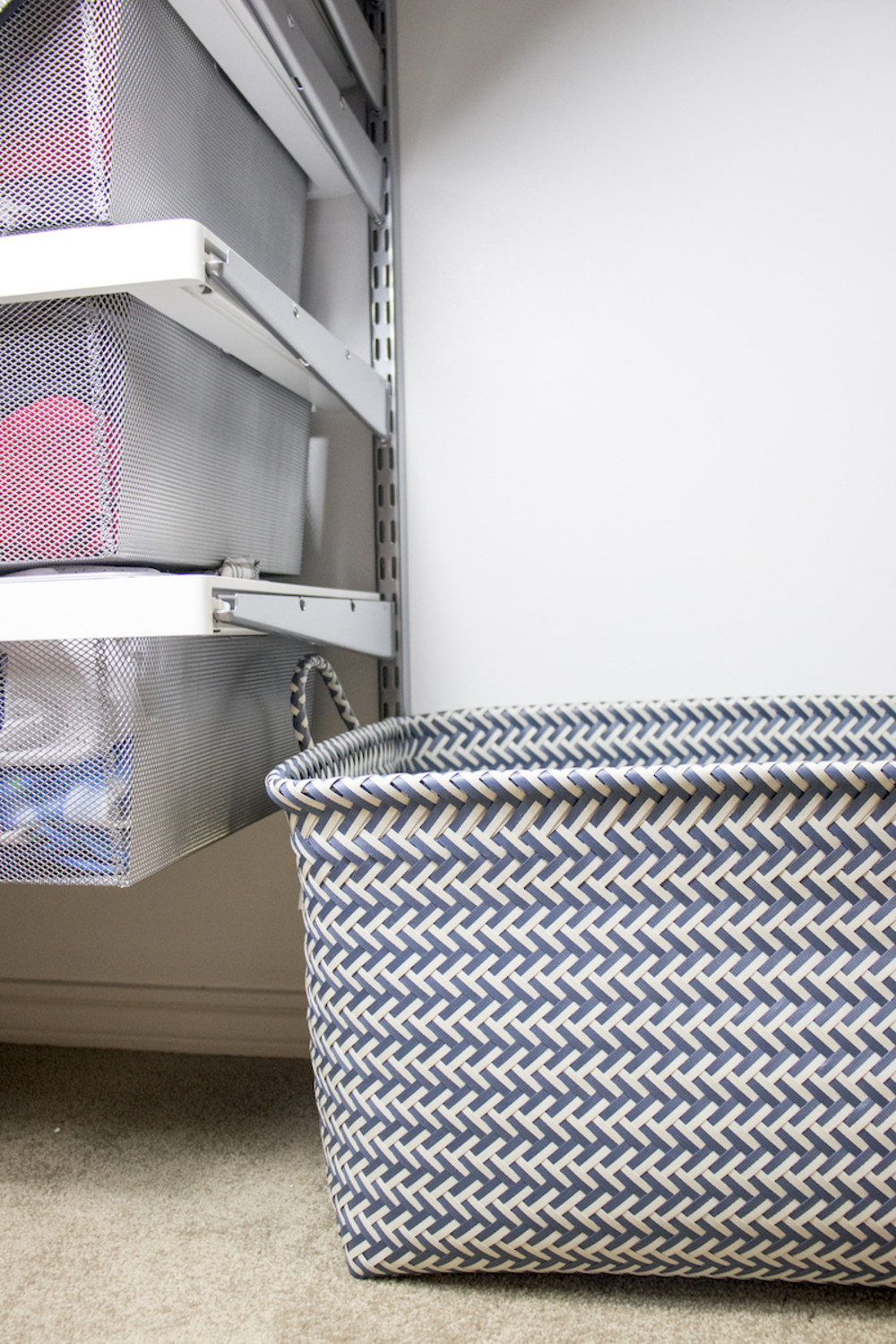 A few Slate Blue & White Strapping Laundry Baskets added a little pop of color to our space. Plus, the handles make them easy to carry our dirty clothes to the laundry room.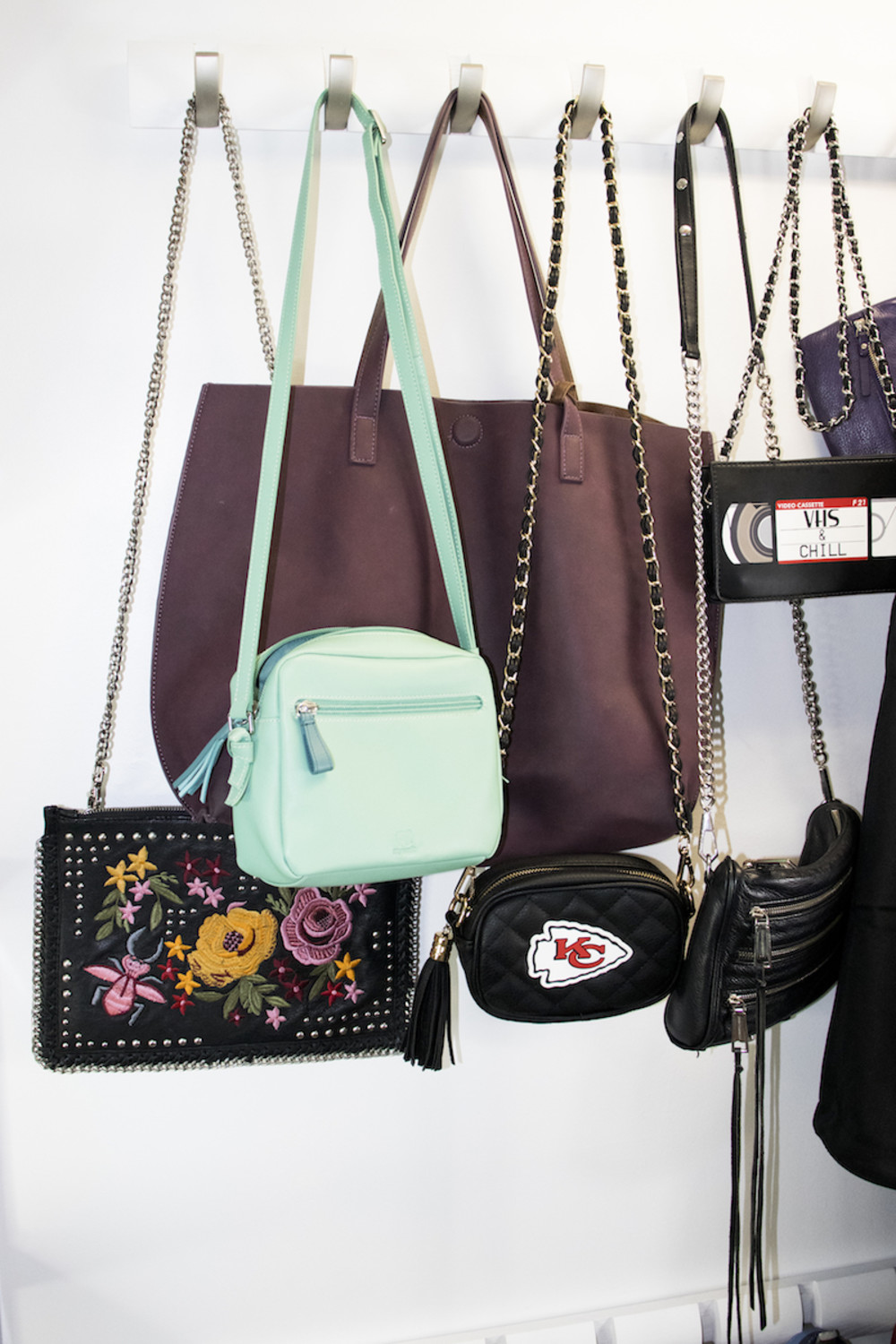 Finally, by the door, we used two Whitewashed 8-Hook Flip Racks for my bags so I can easily access them as I come and go.
Our world has been ROCKED with our new Elfa closet install.
Quick PSA: There is no better time than the present to install anything Elfa in your home. From now until June 30th, you can receive free Elfa installation on Elfa purchases greater than $750! Of course you can always install it on your own, but the ease of The Container Store team taking care of it is priceless.
Visit my blog to read more about my master bedroom closet makeover, or follow me Instagram to follow my home organization journey!