Holly Chamness helps her clients transform their spaces into cozy places with her custom drapery, pillows and duvets. You have to check out her jaw dropping creations at hollychamnessinc.com. But the talented seamstress was in need of a little makeover herself in this space where she creates all of those beautiful things. Isn't that just like so many of us gals - taking care of others before ourselves!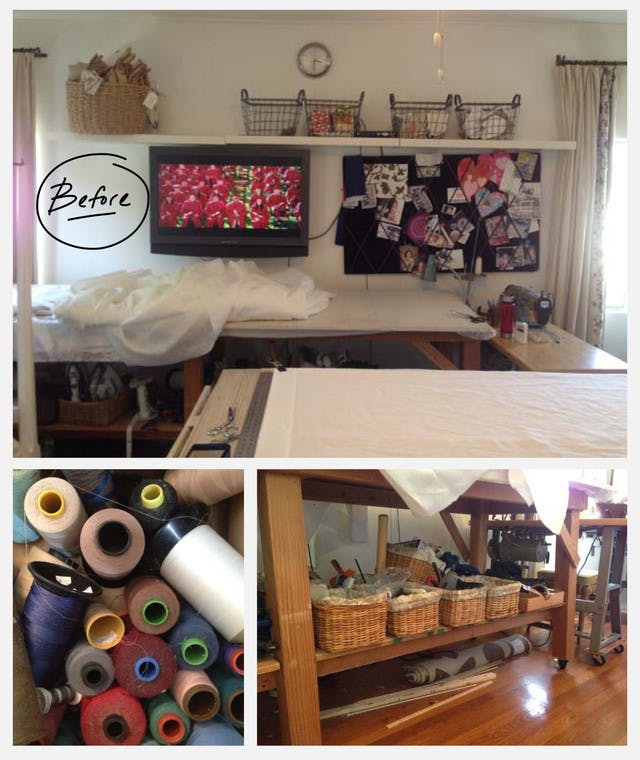 You see, her charming 1920s Los Angeles home serves as her place of business, and her guest room doubles as her work studio.
As friend and stylist Gena Sigala describes it, "The piles of swatches, trimmings and tools were in desperate need of some organization. We wanted to make the room a place where clients could comfortably meet and guests could sleep."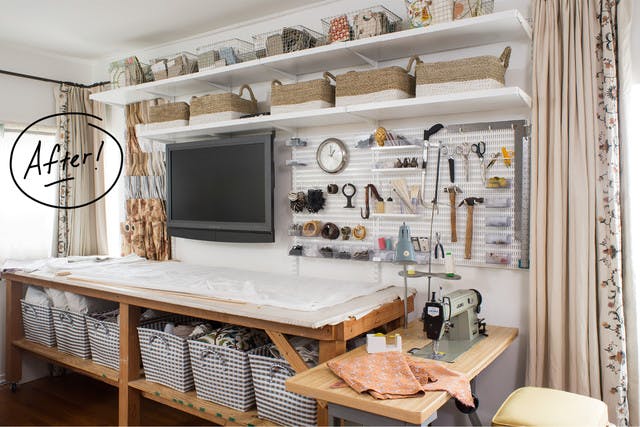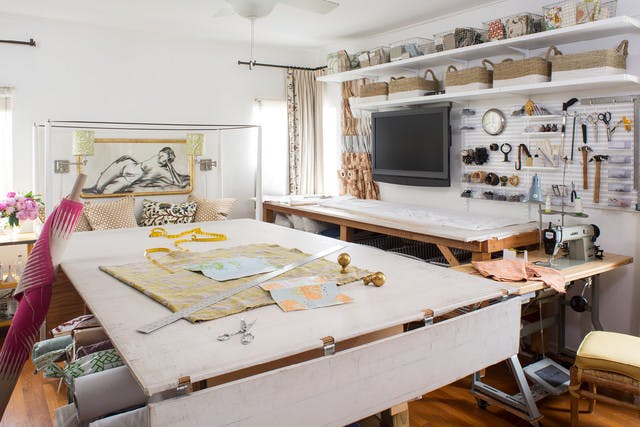 Gena and Holly worked with our elfa designers to maximize the vertical space and celebrate the high ceilings in the vintage home. The daybed on the back wall is now functional for client seating or for guest stays. The bed was a treasure from her mom who bought it in a nunnery in Mexico when Holly was a little girl. A portrait that Holly drew in art school hangs just above it.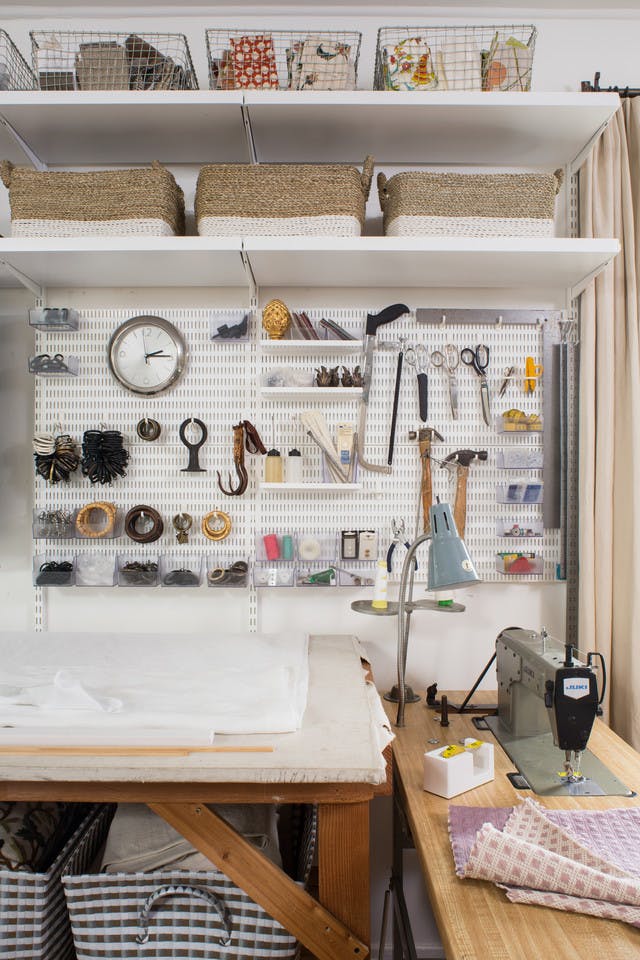 The abundant amount of fabric that lives in the space needed a proper home. Bins in a variety of textures and colors created eye-catching storage on shelves above and below the workspace.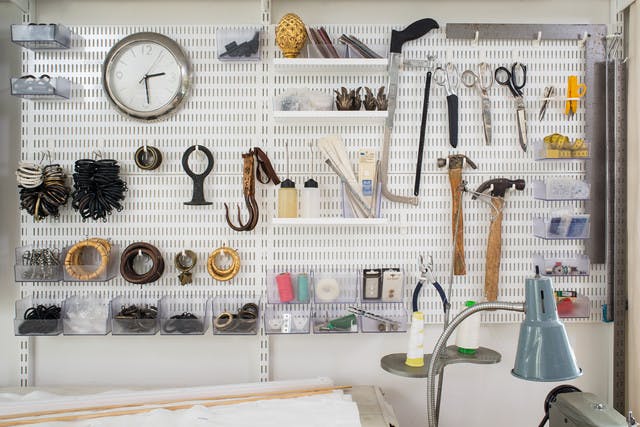 Elfa utility boards were the perfect solution for Holly's tools, keeping them visible and accessible above her workspace instead of piled on top of it.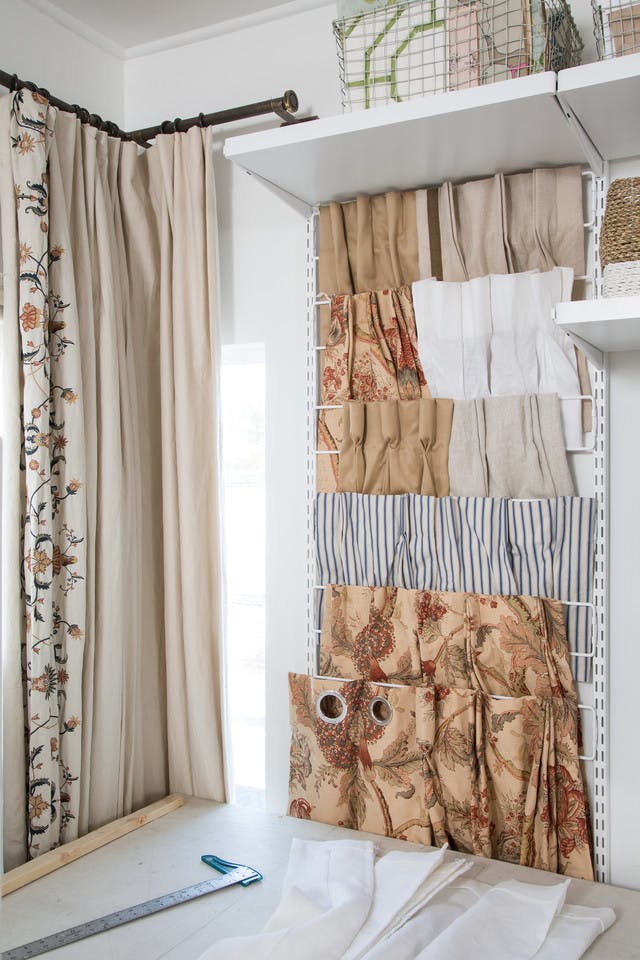 Gena used double rails on elfa hanging standards to hang Holly's samples. They're functional, but also create a lovely focal point in the room.
"Now I'm able to visually explain and show the different types of pleating techniques and hardware styles I can incorporate in a design. Before, I didn't have a way to display them," says Holly.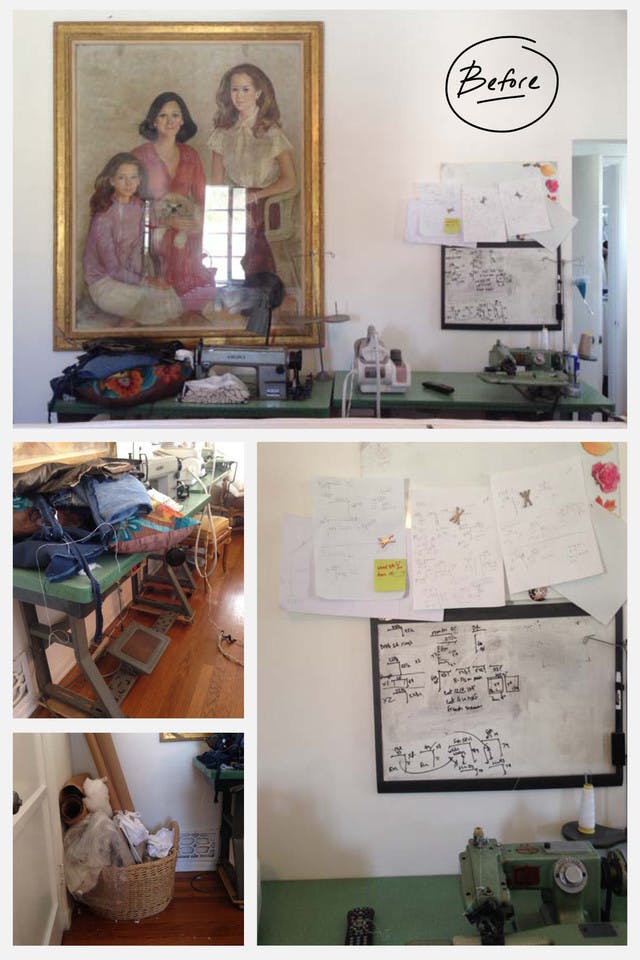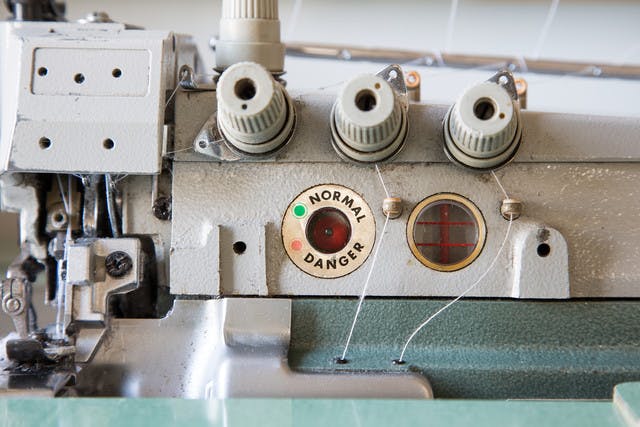 Creating an organized area was key, but personal pieces of decor and mementos were also very important to Holly. This included family portraits and artwork, as well as her late mother's sewing machine that Holly used to start her business. She now uses more modern, industrial machines.
"I learned to sew growing up. My mom was an amazing seamstress who made clothes for Neiman Marcus in the 1950's and 1960's. It was my dream to be able to work from home, own my own business and do what I love," says Holly.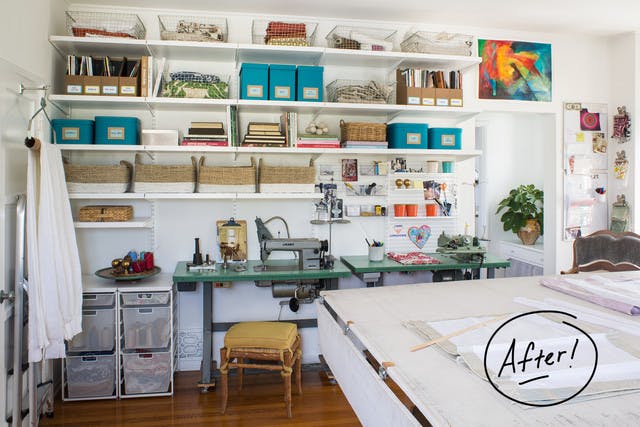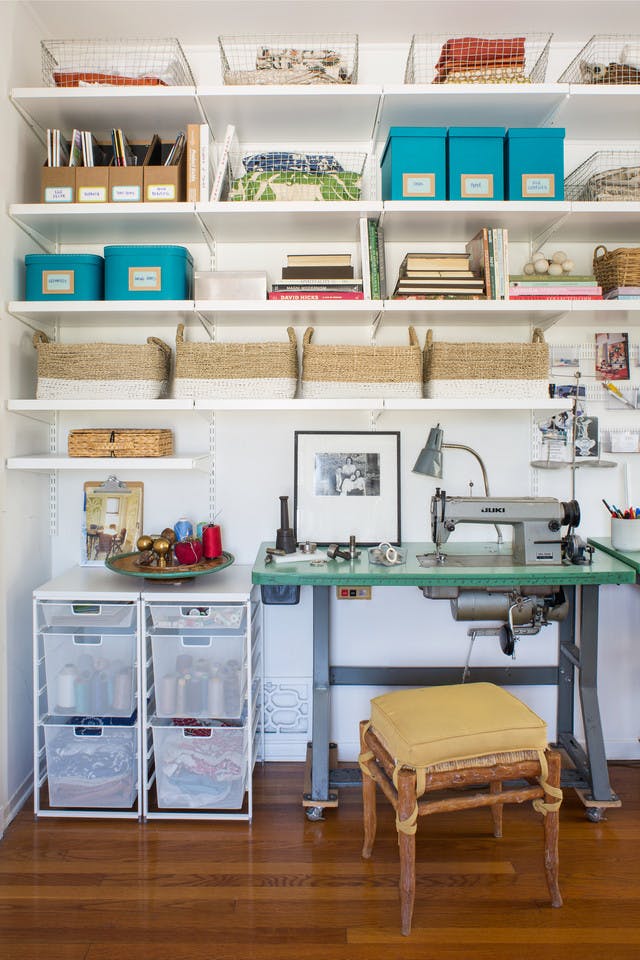 Gena added more elfa shelving and drawers - then organized them with an eclectic, yet uniform, mix of bins, boxes and magazine holders.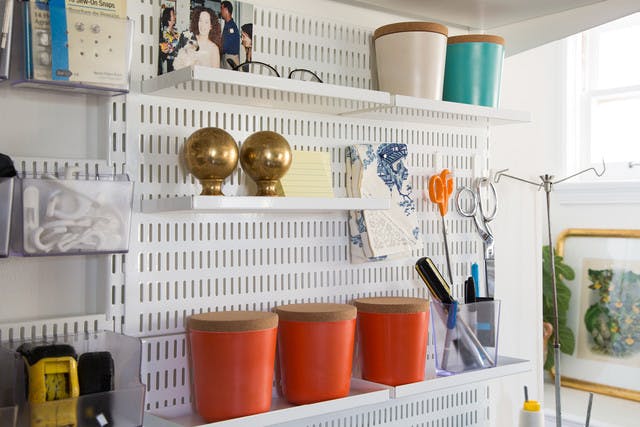 Again, elfa shelving and elfa utility came to the rescue to store items for Holly's handiwork, and also elements of decor and personal items to warm up the space.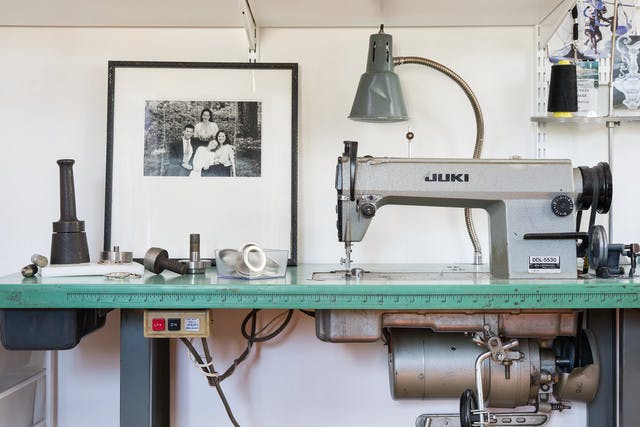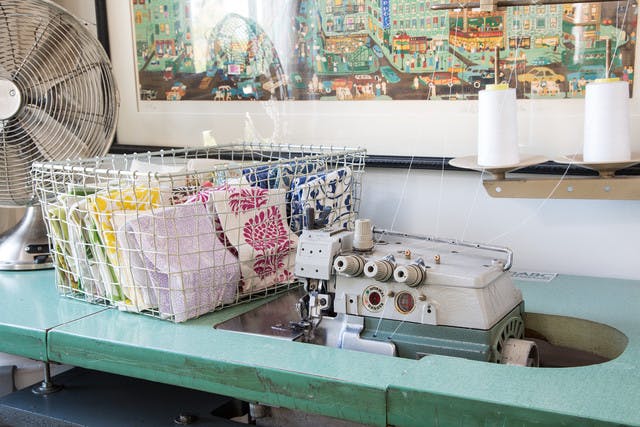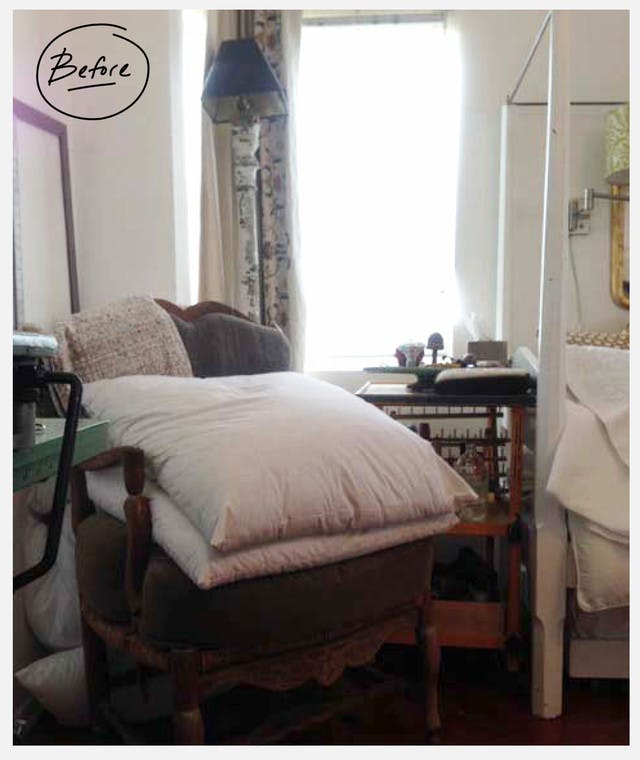 A corner space in the room needed to be cozied up and utilized properly for overnight guest stays or client meetings.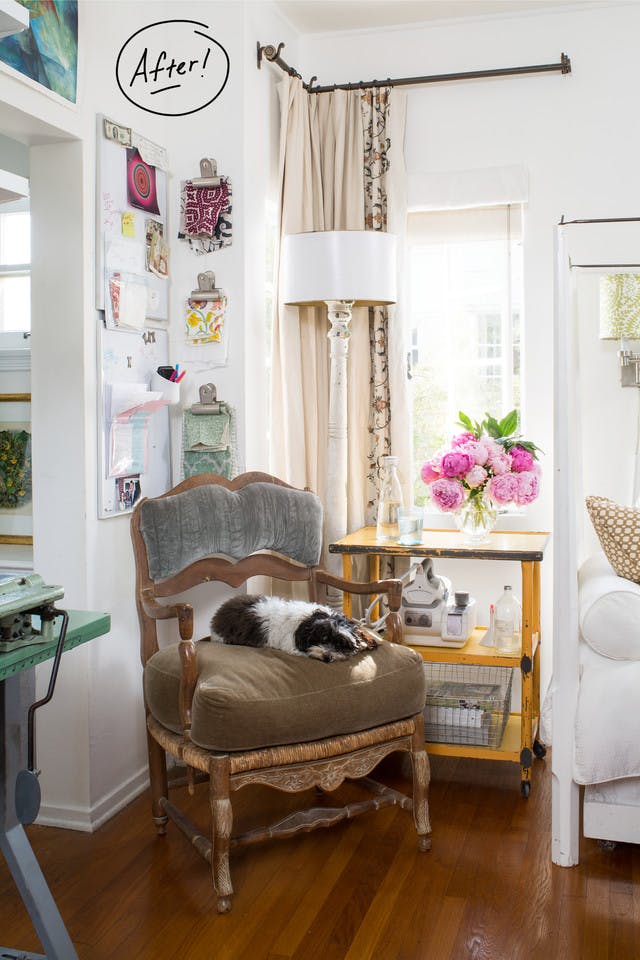 Olive, Holly's Havanese pup, approves of the transformation and the room's more relaxed, less chaotic feel.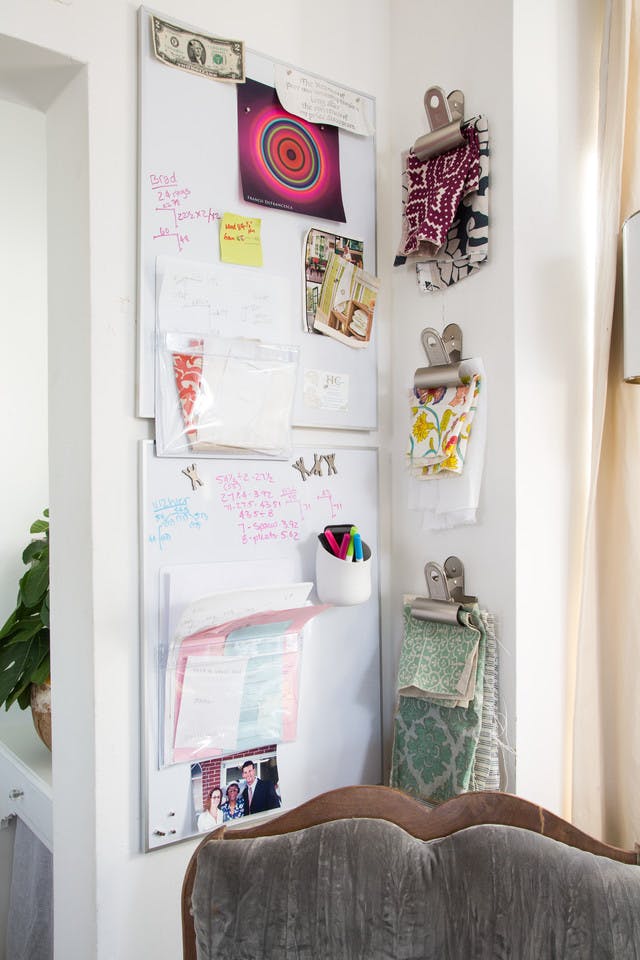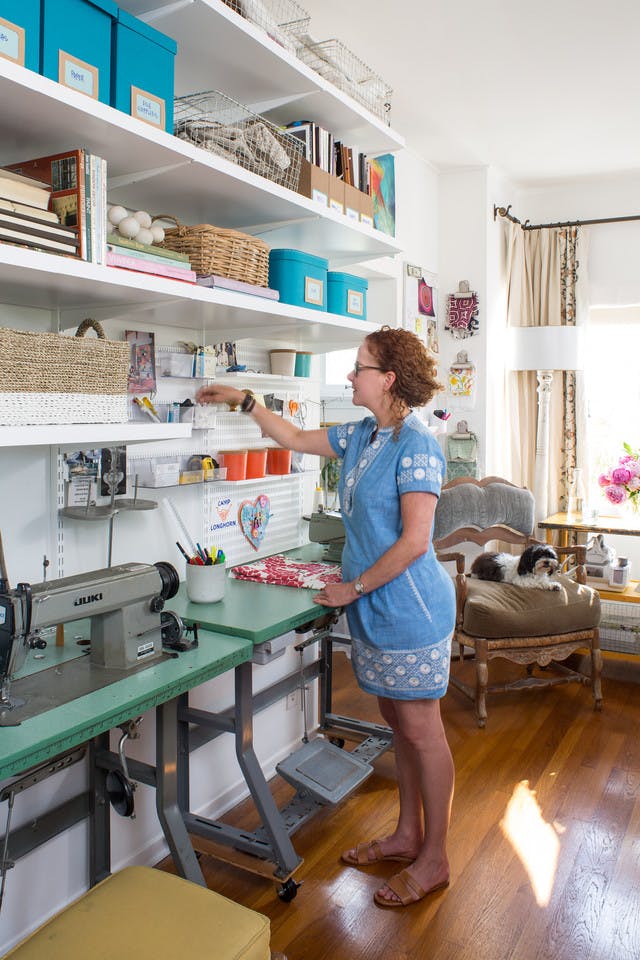 The sweet pooch isn't the only one who gives it the thumbs up.
"The new space now feels airy and beautiful and can be a room that I actually want to be in all the time. It's opened up my thought process and has made working and entertaining guests and clients here much easier and enjoyable. It's a space I'm very proud of," Holly said.
As you should be Holly!
Wonder what Holly and Olive do when they are playing and not working? They set sail for the high seas! Check out Holly's organized boat here.
Photos taken by Meghan Beierle
Interiors Editor and Styling by Gena Sigala