Above: Jake Deutsch (left) and Brian Atwood in their brand-new Avera space.
Not long ago, we at The Container Store had the pleasure of working with famed shoe designer Brian Atwood and his husband, Cure Urgent Care Director Dr. Jake Deutsch, on their master closet makeover in Manhattan's luxurious Hudson Yards residences. "Closets are VERY important to us," says Brian. "I have spent my life in fashion and Jake is a type A and organizationally obsessed. We needed the perfect solution for both, which is why we turned to The Container Store Custom Closets."
After weighing all four of our Custom Closets options (Elfa Classic, Elfa Decor, Avera, and Laren), Brian and Jake chose Avera, which perfectly fit their style in the beautiful Stone finish. "It feels fresh and modern," Brian says. "The finished product looks built-in and definitely custom. So often closets are made of inexpensive looking materials and in jarring white finishes, but our pallet is warm and masculine, and this elevated the result even further." After their space was measured, designed and ordered, our installers went to work turning their dream into reality, and the results are breathtaking!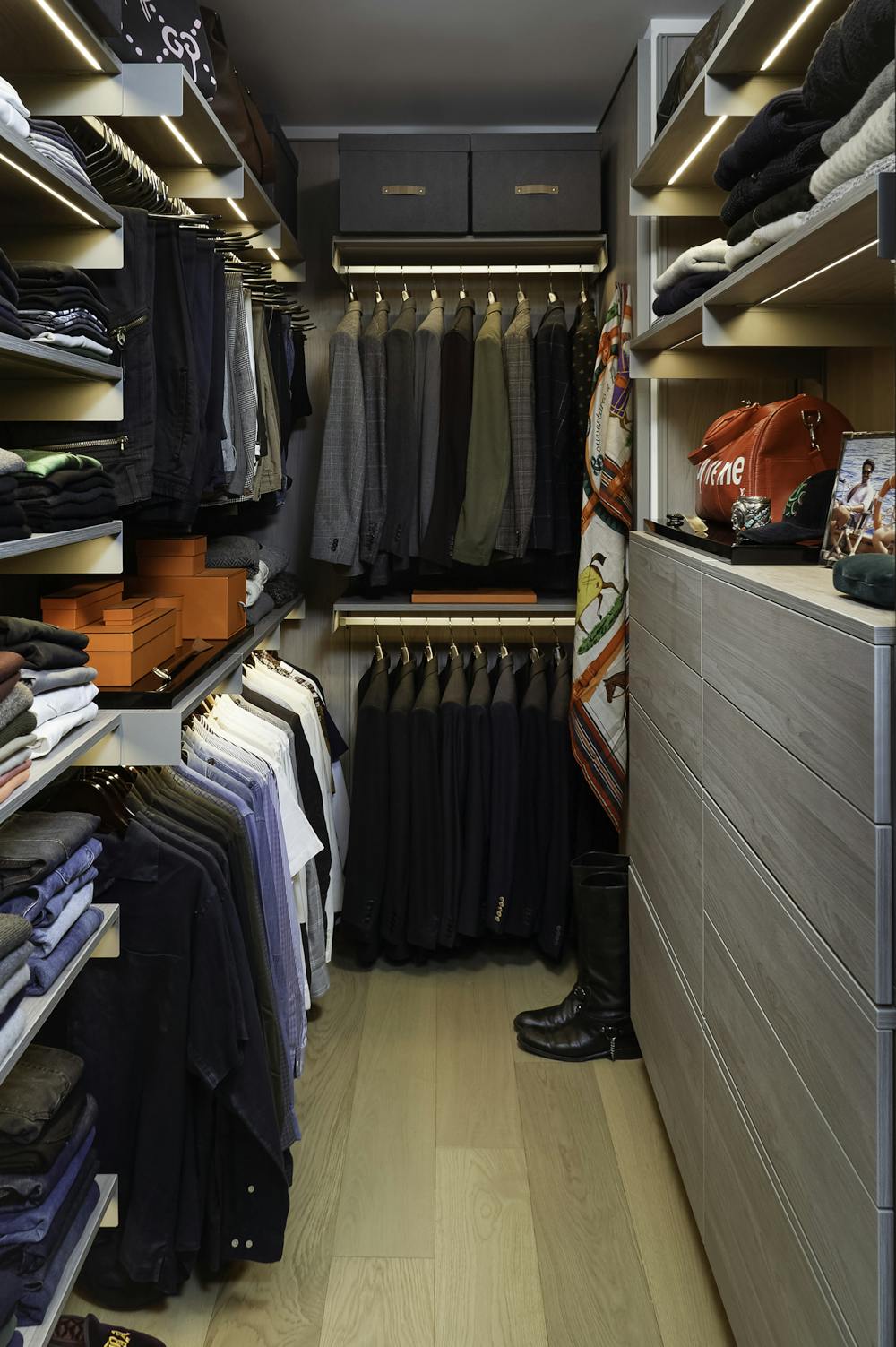 Brian and Jake's closet includes ample hanging space for shirts, slacks and suits, as well as plenty of shelf space for folded clothes such as jeans and sweaters. Plus, Avera's option built-in lighting system ensures everything is easily visible when they're choosing their outfit for the day or packing for a trip. "Lighting is KEY," Brian explains. "We really wanted a wow factor, so we included lighting on every shelf. The Avera system's lighting feature also has a dimming option which really pushes the design to the next level. The push-to-open and soft-close drawers are amazing and extremely high-tech. We did our homework and nothing else on the market was available with the incorporated lighting and drawer features. It's such a home run!"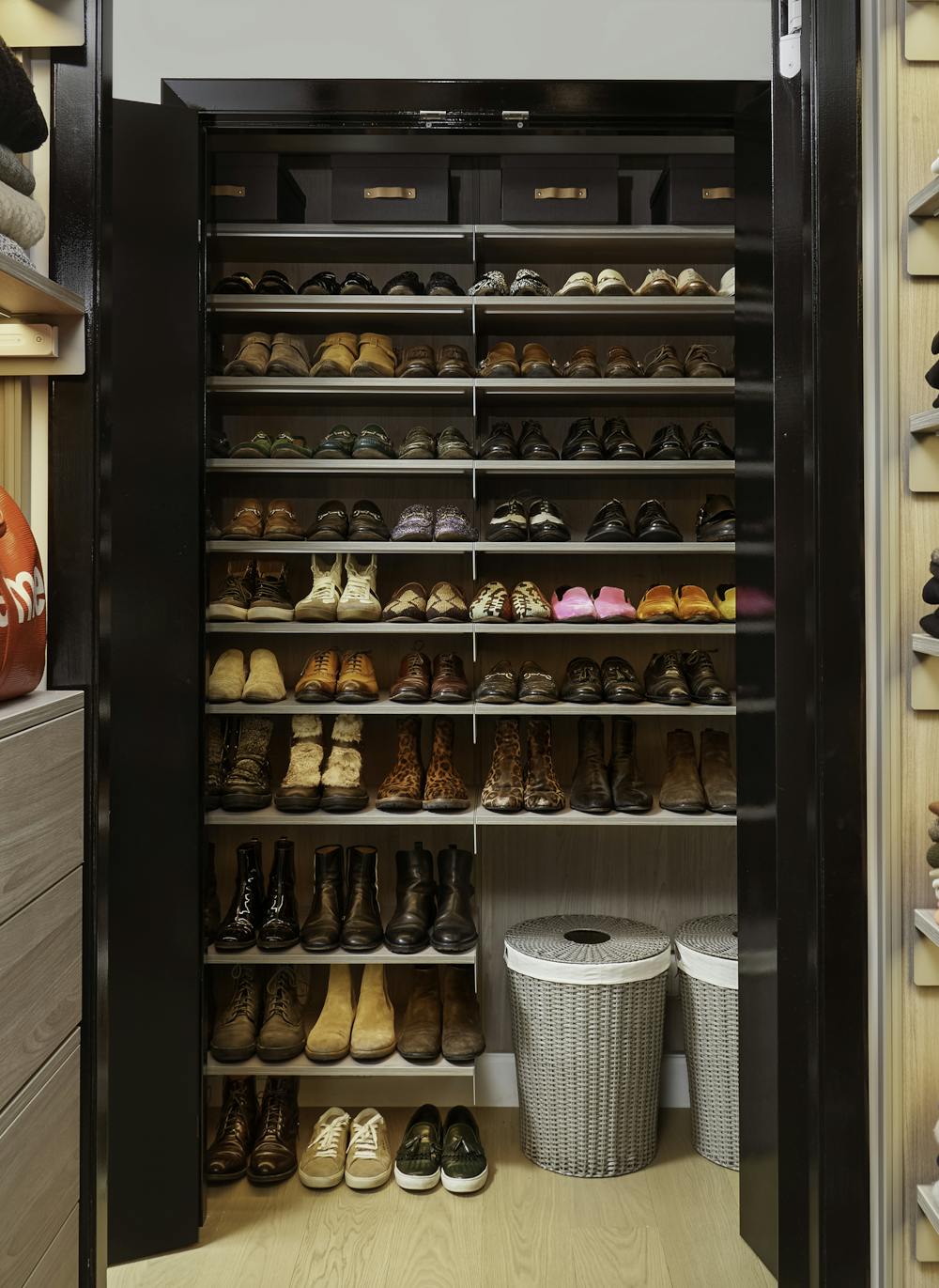 Because of one half of the couple is a shoe designer and the other spends most of the day on his feet, it would make sense for them to have an impressive assortment of fine footwear, and Brian and Jake's collection doesn't disappoint. Their selection of dress shoes, boots, sneakers, and casual shoes is tastefully displayed on a wall of Avera shelves so they can find exactly what they need with ease.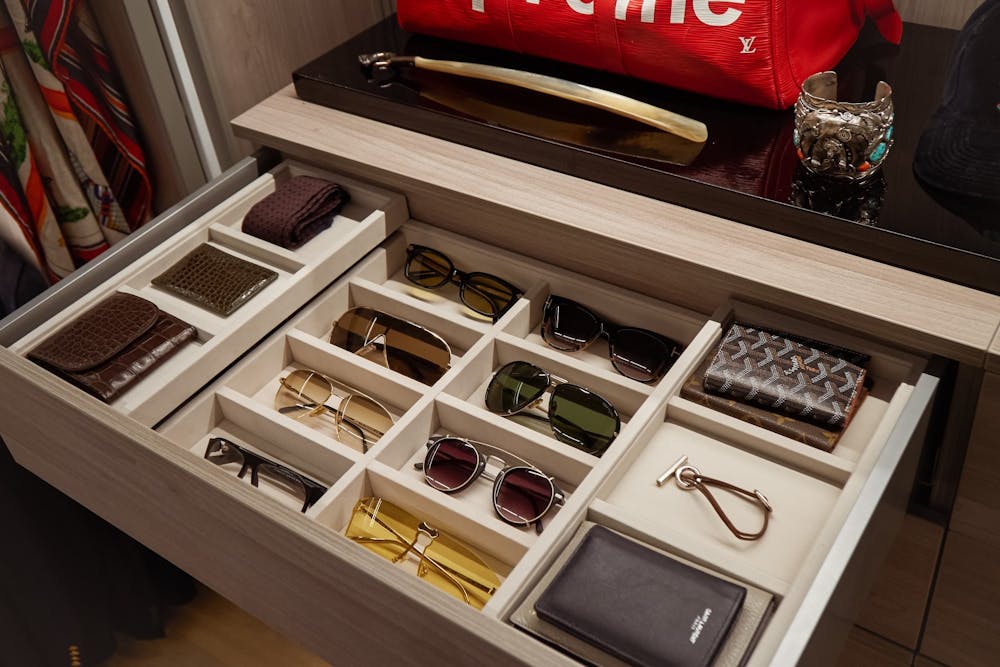 The aforementioned full-extension, soft-close drawers are equipped with Avera's exclusive trays and organizers, which keeps all of their eyewear, wallets, and other accessories tidy.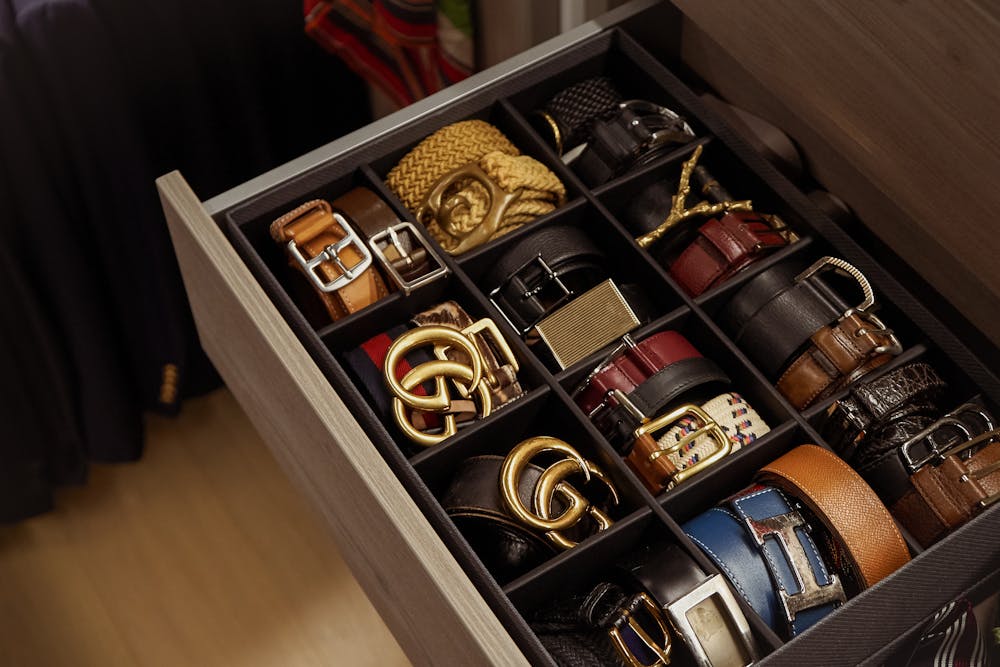 For belts, Brian and Jake use the Bigso Charcoal Herringbone 12-Compartment Divided Organizer. "It makes these items easy to find and look like a million bucks," says Brian.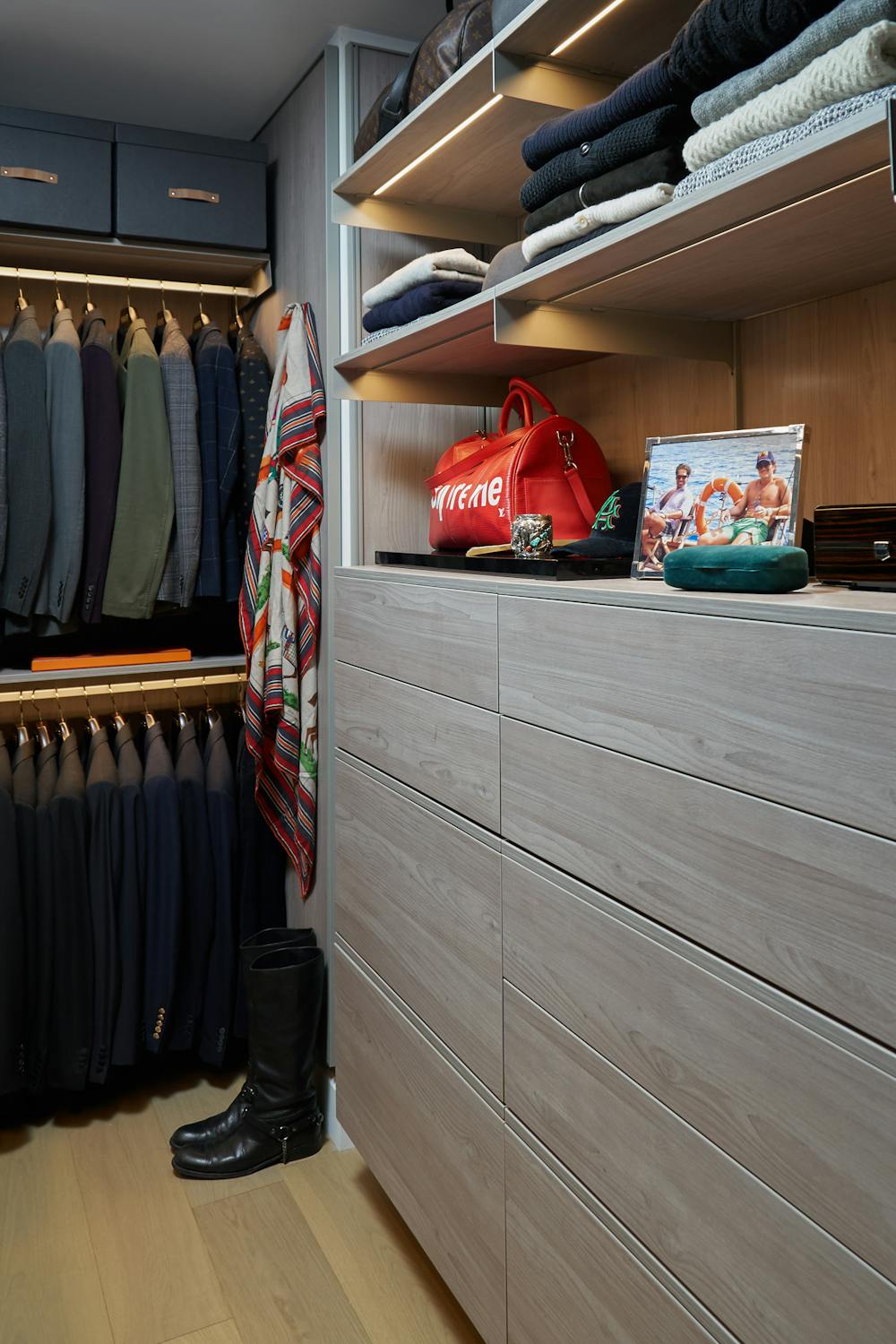 Plus, there's even space above the drawers for special mementos, photos, bags, and other items. "Our incredible closets now have a curated home for all our favorite things and makes staying stylish and putting our best foot forward a breeze," Brian raves.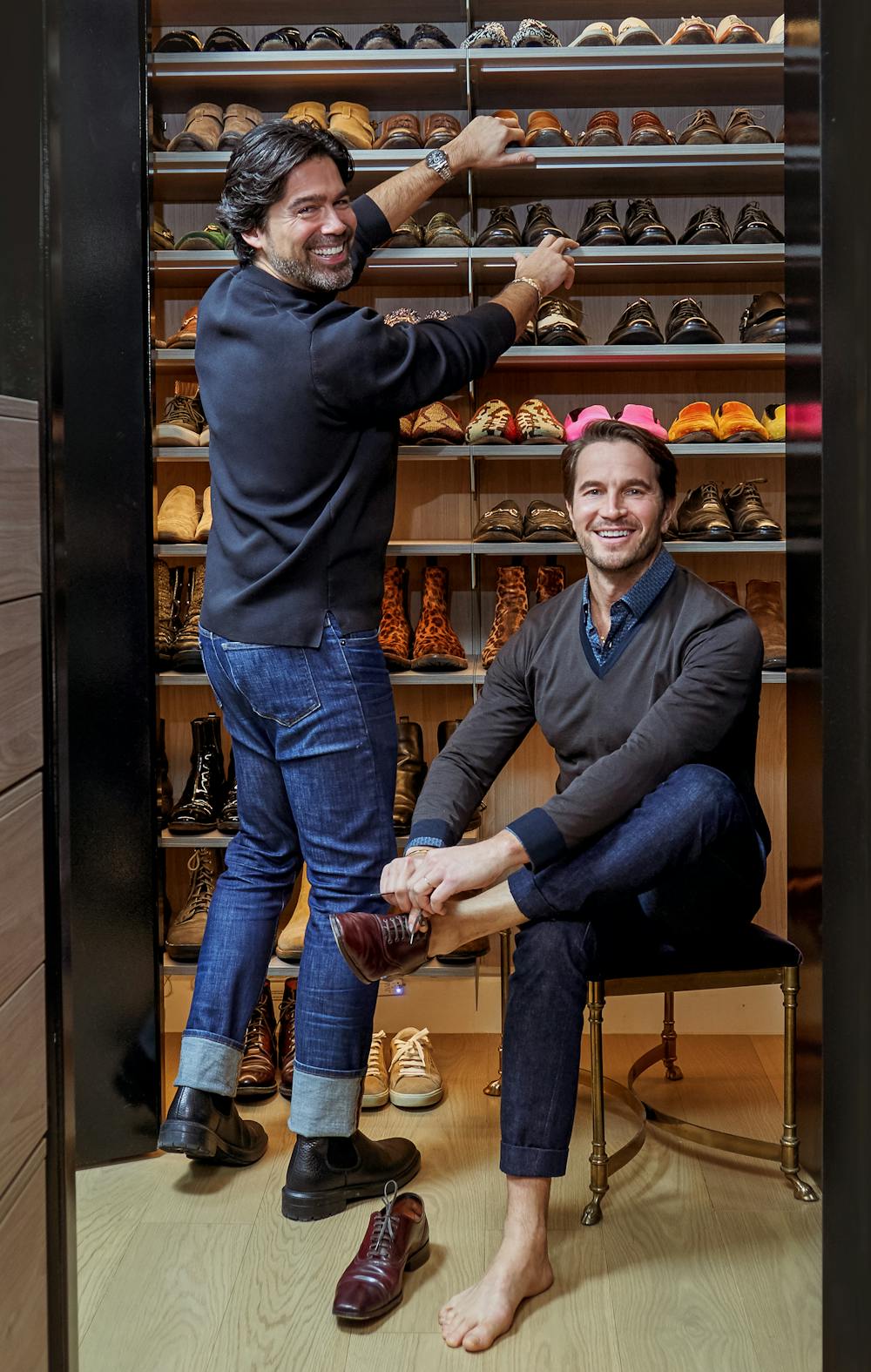 "Jake and I had so much fun designing our closet for our new home," Brian wrote on Instagram. "When your closets turn out this good, it's hard not to love hanging out in them!"
Well, Brian, the feeling is mutual! We had so much fun too, and we're so excited about how it all turned out!