I love to travel! Near...far...I'll go anywhere! And prepping for a trip is half the fun. I enjoy the process of researching and learning about new places as I plan our adventures. The list maker in me even loves making a great trip-prep-to-do list. 
However, when it came time to pack, I used to dread it because my suitcases and travel accessories were always a disorganized mess, and finding what I needed was a headache. But no longer! I spent an afternoon organizing my luggage and travel gear, and now I can't wait to pack for my next trip!
First of all, after many years of traveling all over the world, I had a lot of travel items to store. These included a neck wallet, backpack, Eagle Creek Pack-It Cubes, a luggage scale, camera equipment, car seat travel bags, and a GRID-IT Organizer for cords and cables. Of course, traveling organized with the right gear makes a trip much more fun and relaxing, but storing all of that gear at home can be a challenge! The closet where I keep all of our suitcases and travel accessories had become a mess and it was causing me extra stress each time I packed for a trip. It was time to find a better way to organize our luggage and travel gear.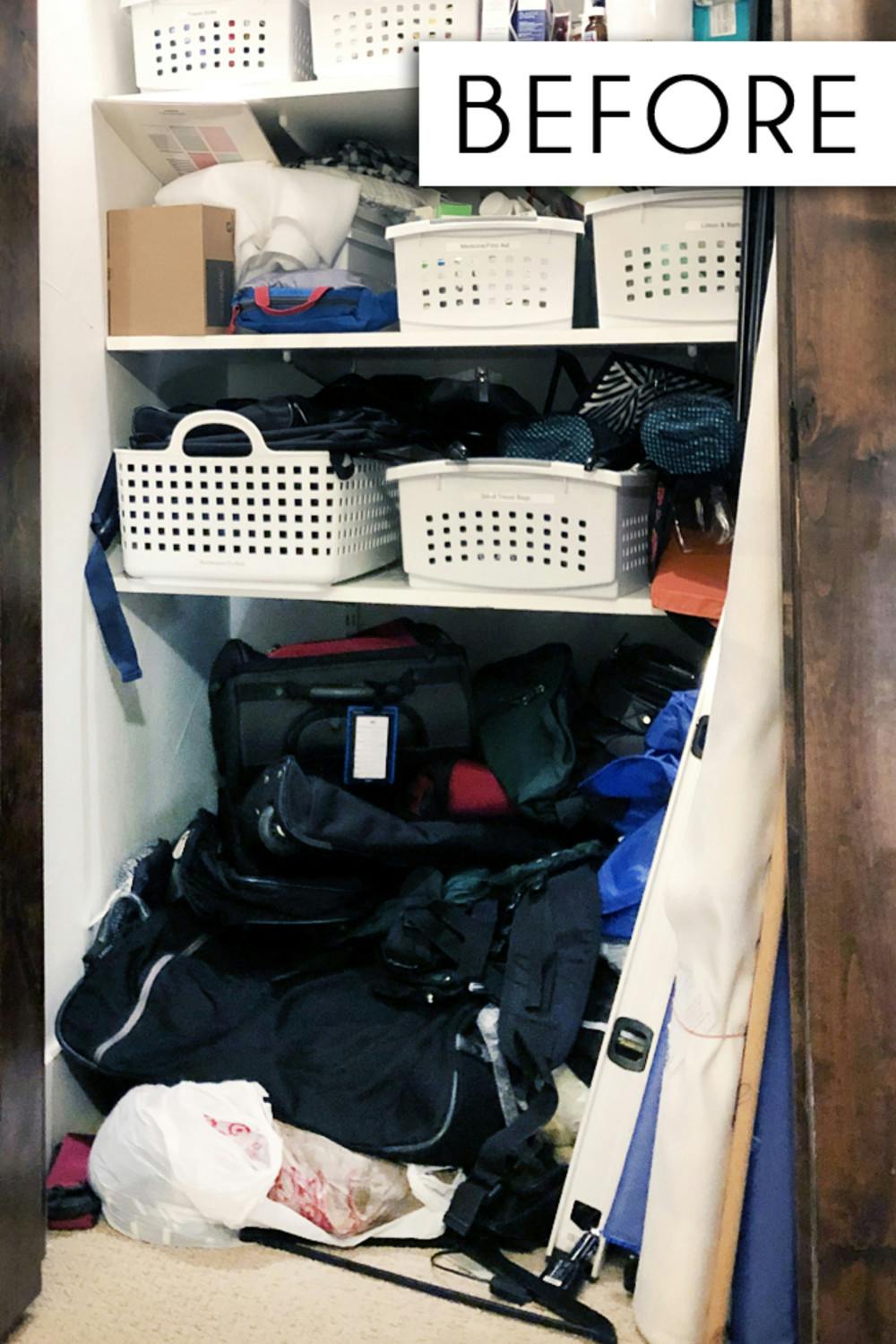 Where To Store Your Luggage At Home
Luggage is a necessity, but it also takes up a lot of space. The first thing to do when storing luggage at home is to consolidate by packing smaller suitcases inside of larger ones. (Think of your luggage as nesting dolls, each with a smaller suitcase or carry-on bag inside.) Your duffel bag can go inside of your rolling carry-on, which can go inside of your larger suitcase, and so on. 
Once you've nested all of your luggage inside of itself, it's time to find a place to store it. Depending on the space you have available, you might consider storing luggage:
under your bed, if the bed frame is tall enough
on a high shelf in the garage of basement storage room
in a short storage closet under a staircase
in your closet, laying down under you hanging clothes or tucked in that hard to use corner
on the floor of a linen closet with adjustable shelving
When space allows, I find it much more convenient to store your luggage near your bedroom, since this is where you do most of your packing. (And since I'm short, I prefer to store my luggage down low rather than up high.) I'm fortunate to have a small linen closet in the hall just outside of my bedroom, which is an ideal place to store our luggage and travel gear. After packing all of my suitcases inside each other, I stacked everything up on the floor of the closet and positioned the bottom shelf high enough that I can easily roll the luggage in and out.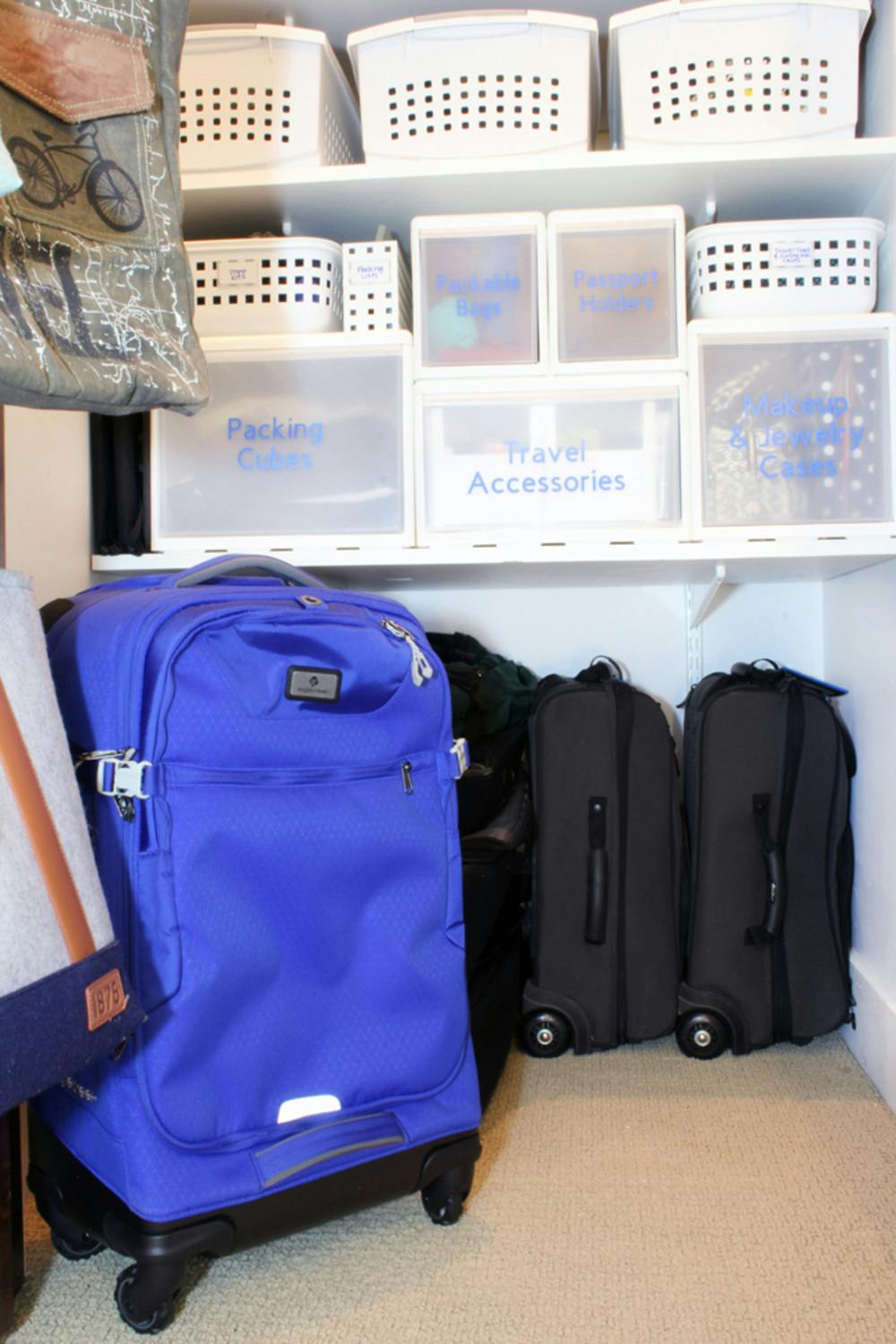 How To Organize Travel Gear At Home
If you are really limited on space, you can take the nesting doll concept one further and store all of your other travel gear inside of your luggage. For example, you could put your packing cubes and toiletry cases inside of a suitcase, and then you could use each case to hold additional travel accessories, like your international power adapters and converters.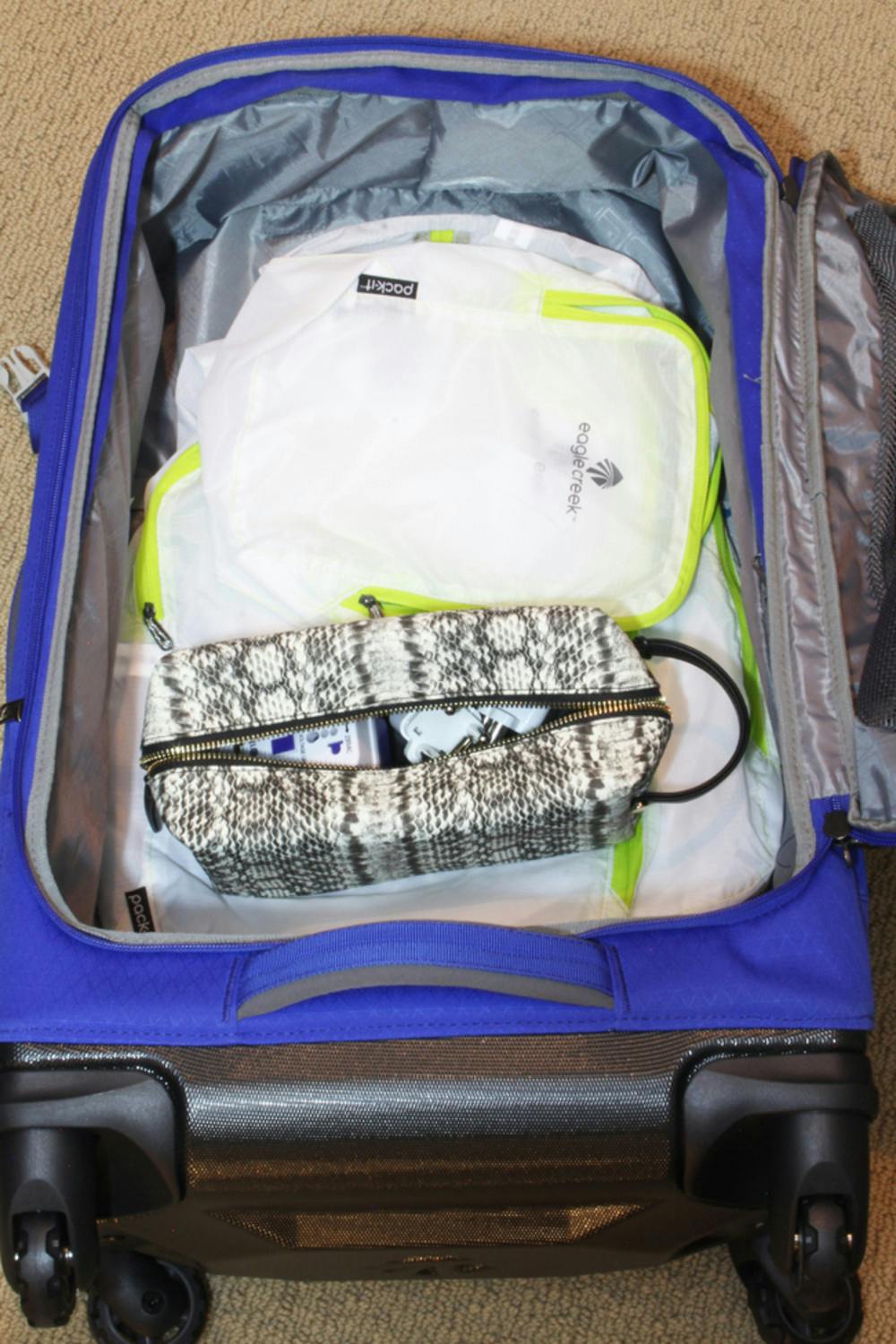 But while packing all of your travel gear inside you luggage is a great space saving trick,it can also create a bit of a headache when it comes time to pack. As for me, I need different travel accessories for different trips and rarely use everything at the same time, so storing all my gear in my luggage would mean emptying out lots of things that would end up on the floor of the closet before each trip and leaving a mess to clean up when I get home. 
If you can spare a bit of shelf space, a better option is to use drawers and baskets to organize all of your travel gear. This makes it quick and easy to grab out just the items you need for a specific trip, and also makes it more convenient for putting everything away when you return from your travels. My friends over at The Container Store recently introduced me to their Like-It Modular Drawers, and I realized these drawers would be perfect! (I'd previously stacked these drawers on the floor in a coat closet, and in the cabinet under my kitchen sink, but I'd never used them on a shelf before.) 
By combining both Like-It Drawers and Baskets, I was able to create a configuration that perfectly fit the shelf above my luggage. I sorted all of my travel gear, purged the items I no longer needed, and then I was ready to fill up all the drawers. I used the largest drawer (the "Tall Wide" size) for all of my packing cubes.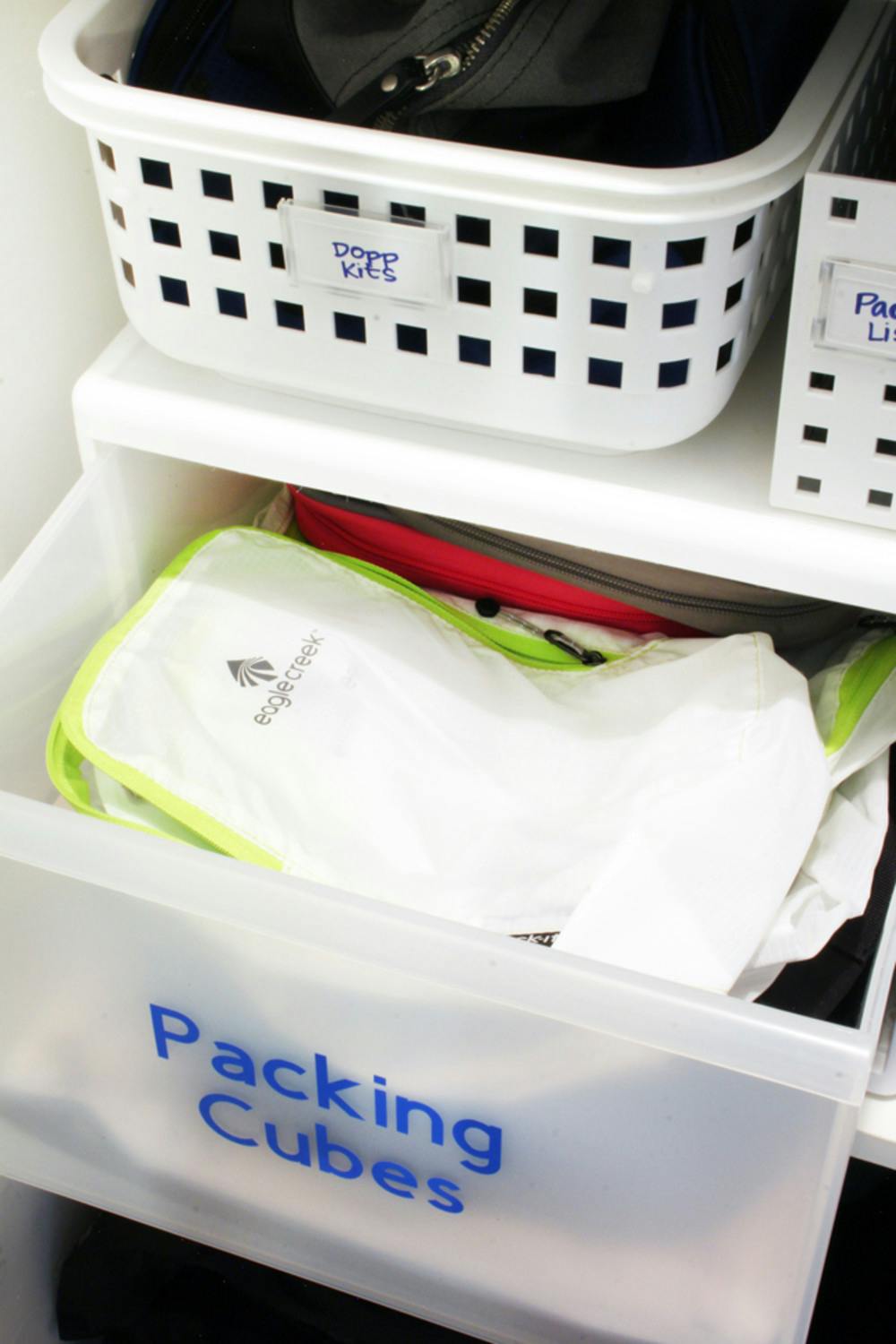 In another drawer (a Like-It "Short Wide" sized drawer), I added Like-It Modular Drawer Organizers to sort my travel-sized toiletries, TSA-approved carry-on bottles, international adapters and converters, luggage tags, and other small items.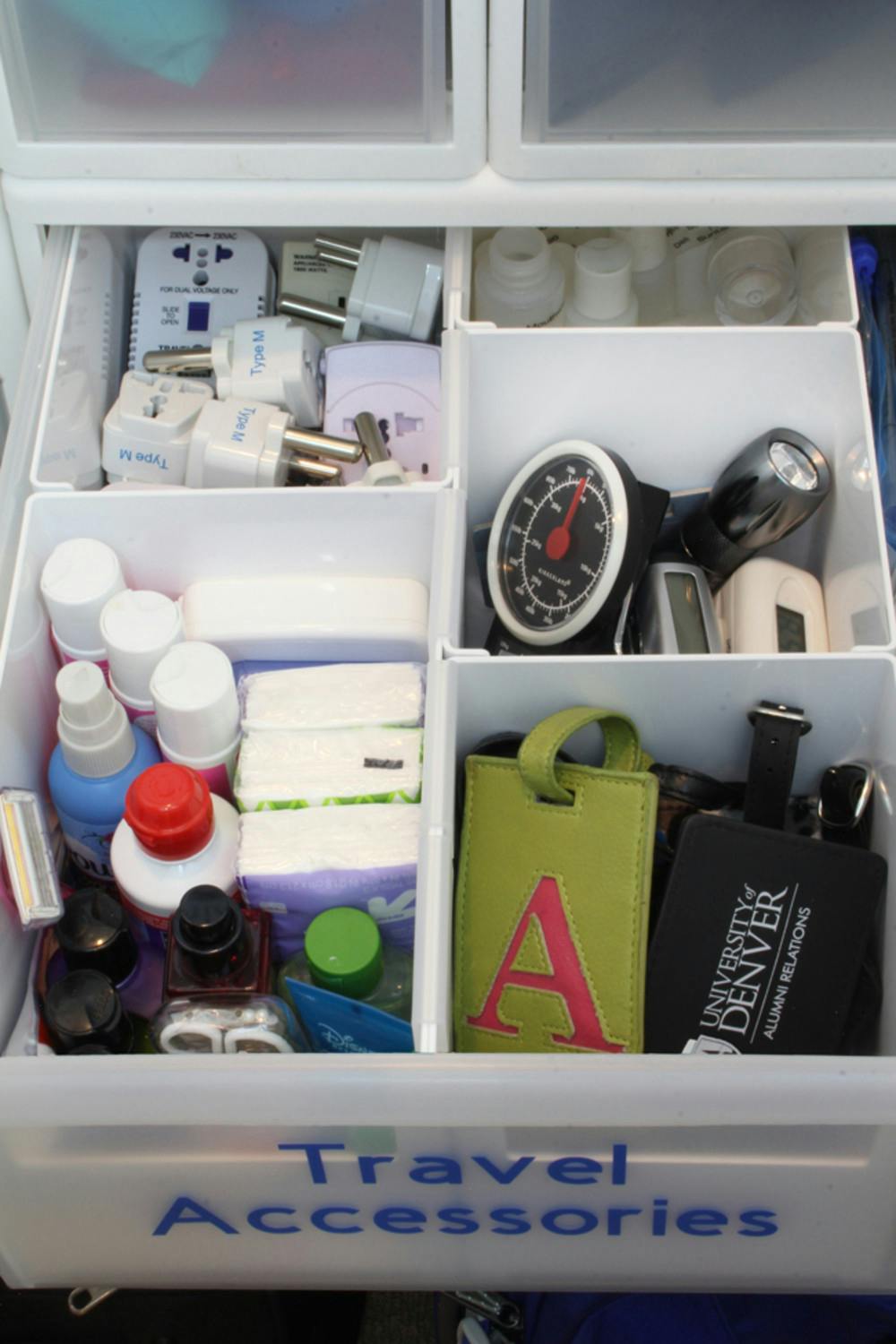 A Like-It "Short Narrow" Drawer holds all of my "packable bags." These bags are perfect for traveling because you can pack them in your suitcase without taking up much room, but when you arrive at your destination you can use them as backpacks or tote bags.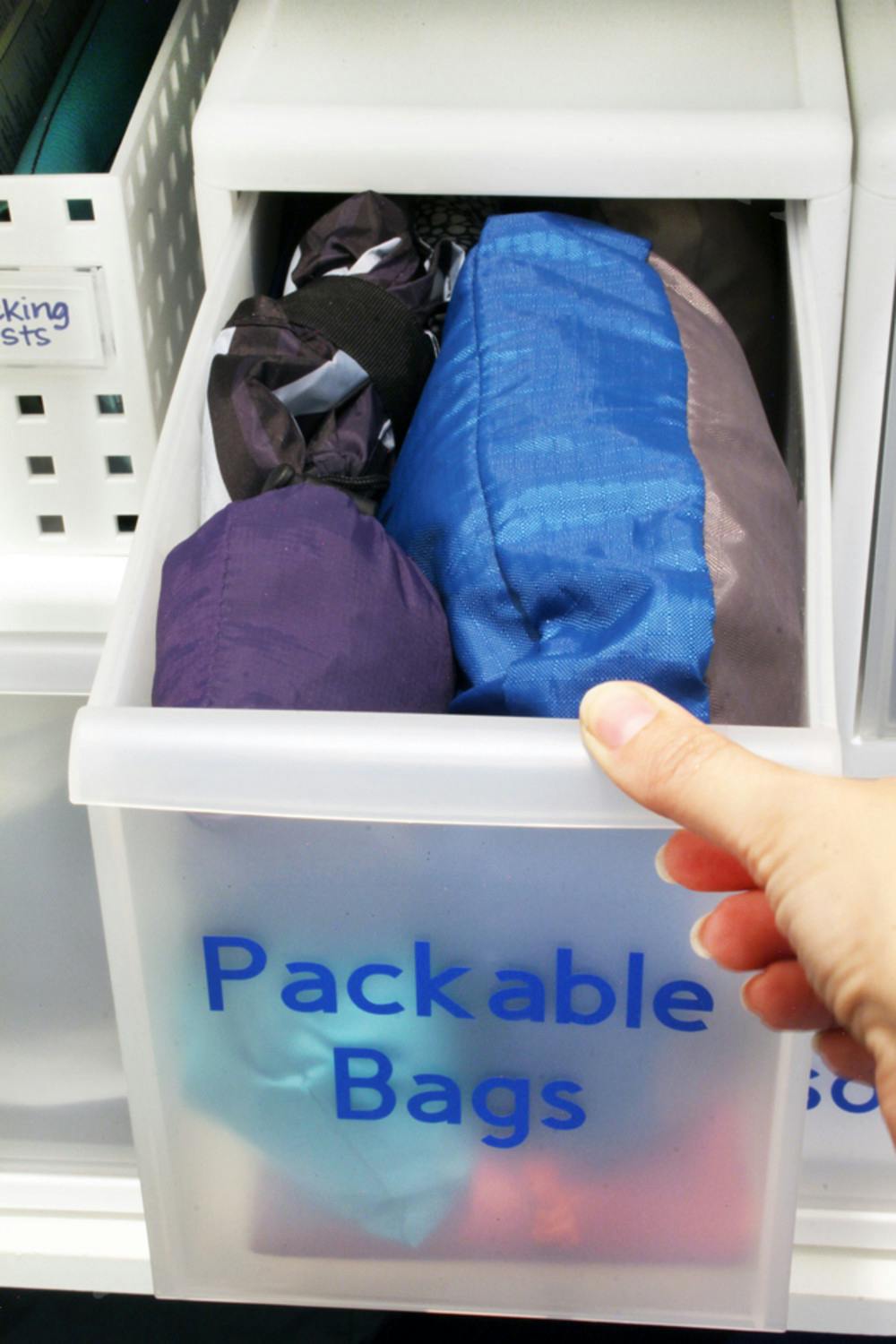 A short Like-It Basket holds the heat resistant pouches for my curling iron, flat iron, my travel towels. And a Like-It Brick holds my Pack This! Checklist Pad, notebook, and pen--which I would be so lost without! Once everything was in its place I labeled the drawers so I could easily identify their contents.
How To Store Backpacks And Large Totes
I also needed easy access my large totes, backpacks, and weekender bags since I use them frequently for carrying supplies to clients homes, for adventures around town with the kids, and packing for quick overnight trips. I only have room for these bulky bags in my clothes closet, but I finally found the perfect solution! I bought two of The Container Store's Over the Door Handbag & Accessory Hooks and attached them side-by-side to my linen closet door. Each bag rack has 9 hooks along a sturdy nylon strap that secures to the top and bottom of the door. After purging some of my lesser-used bags, I pared my collection down to the ones I use the most and hung them from the hooks. It's so nice being able to open this door, grab the one I need, and go!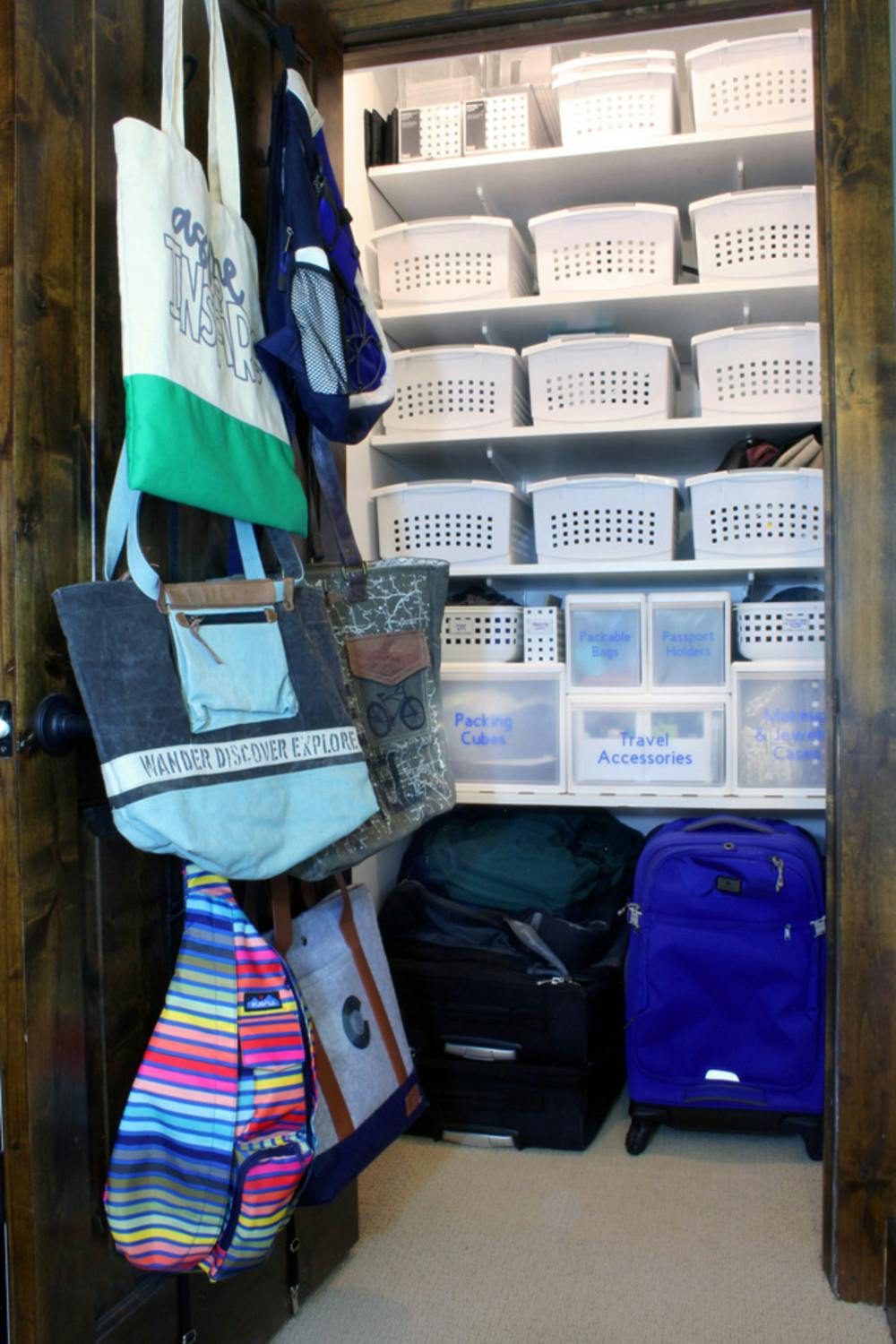 Once this project was completed, I was thrilled with how everything turned out! So while I used to hate packing, I now can't wait to pack for my next trip!
(Be sure to check out Angela's Blue i Style Blog and Instagram for more helpful tips and suggestions!)