The Container Store's Home Office near Dallas, Texas is the hub for many parts of our business--think Distribution Center, Marketing team, Customer Solutions Department, Online team and Buying team, just to name a few. These departments help keep our company running on a day-to-day basis and ensure that we provide our customers with the highest-quality products and customer service.
But equally important to our success is a new space tucked away on the far end of the building (or "South 150" as we say). It's the new home of one of our creative spaces: our in-house photo and video studio. It's there that our amazingly talented photographers, videographers, art directors and set builders, among others--capture beautiful images of our products for use in our catalogs, emails, packaging, social posts and on our website. It's a busy place that's always humming with activity, and we're excited to give you an inside look at how those beautiful images get created.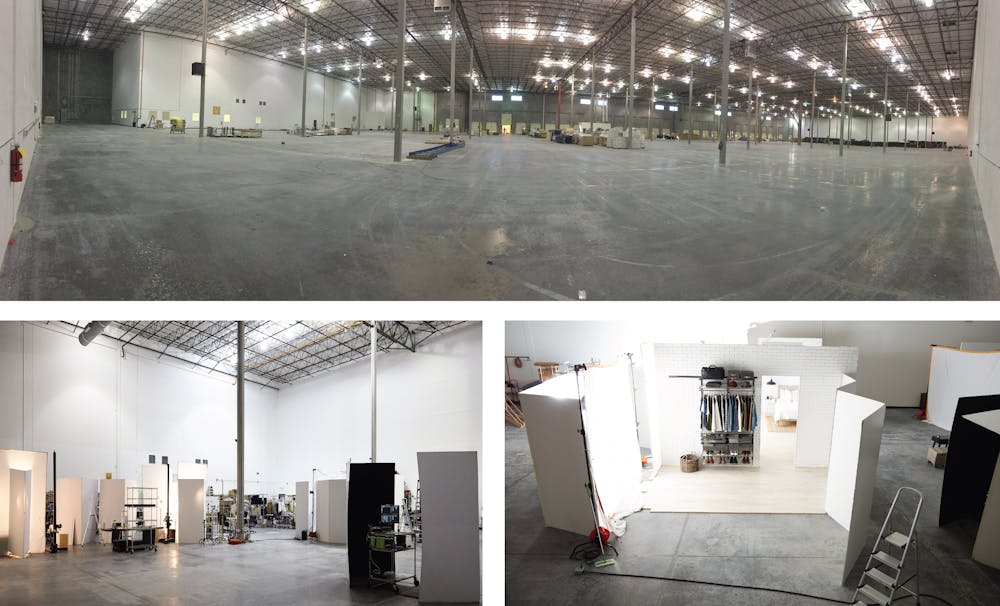 The wide open space in our studio allows our Creative team to build multiple sets and photograph a myriad of products simultaneously.
"Having an in-house photo studio--and more importantly, incredible photographers, Art Directors and stylists--allows us to not only shoot consistently beautiful images, but also helps us respond nimbly to the fast moving changes of the retail world," says Marolyn Locke, our Creative Producer and Studio Manager. "We stay almost fully booked shooting catalog and online images throughout the year, but can always shift schedules if the need arises."
The ample studio space gives the team plenty of room to spread out and work on multiple projects simultaneously--sometimes as many as eight at a time. "We can have different photographers shooting images for web, packaging and a catalog while a video team captures footage all at basically the same time. It can get pretty hectic, but it is all controlled chaos," Marolyn adds. "We are a well-oiled machine and it's all more organized than meets the eye."
Once new products are brought into the studio, the team discusses the best way to shoot them and constructs the appropriate sets in our workshop. "Aside from creating beautiful imagery, there is a lot of prep and post work that goes into making these shoots happen," explains Art Director Sarah Oister. "From pulling the products, to organizing everything, to creating spreadsheets and coding each shot so it can be easily referenced later, there are a lot of steps to ensure that everything goes smoothly!"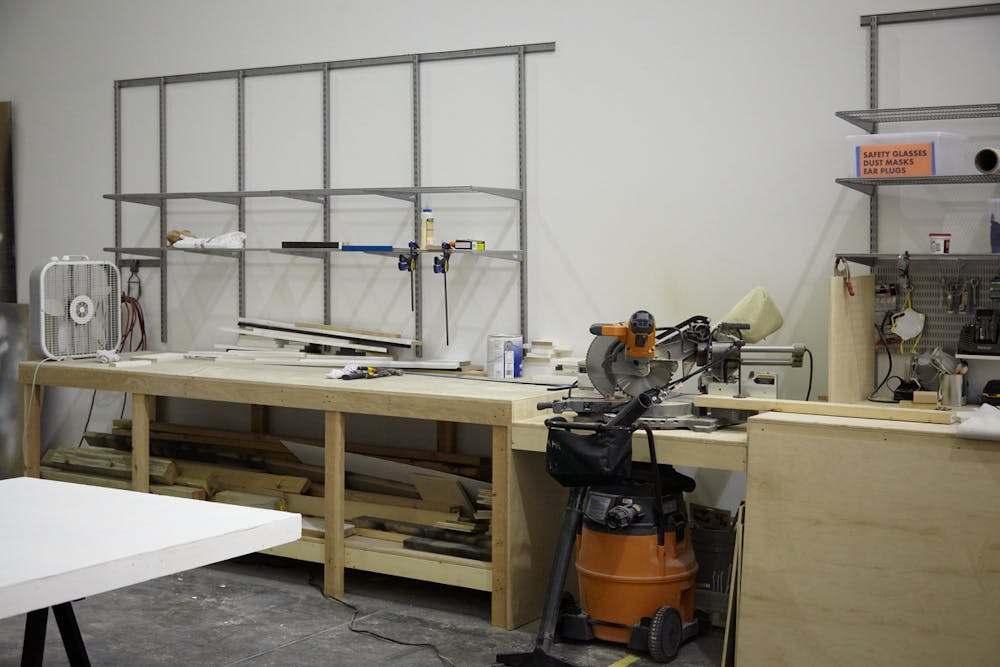 The studio sets are constructed in the adjacent workshop area.
Every member of the team keeps the whole picture in mind when preparing for shoots. Photo Art Director Bryn Prather, often helps with styling by sourcing additional props to dress the sets, such as clothing (for a closet shoot) or food (for a kitchen shoot). While these details may not be consciously noticed by the average observer, they help add an air of authenticity to our product shots, resulting in images that are, in Bryn's words, "clear, compelling and inspirational to our customers."
Once the set is built and the products and props are in place, the stylists go to work on the details, making sure everything in the frame is placed properly and looks appealing. "Styling our products and the sets is so important. It is mind-boggling how much thought goes into it," says Marolyn. "It is our job to make sure the consumer has great images and options when considering our products. Our stylists keep up on the latest trends in organization and colors then work in conjunction with our art directors to make sure we stay relevant in the world of organization."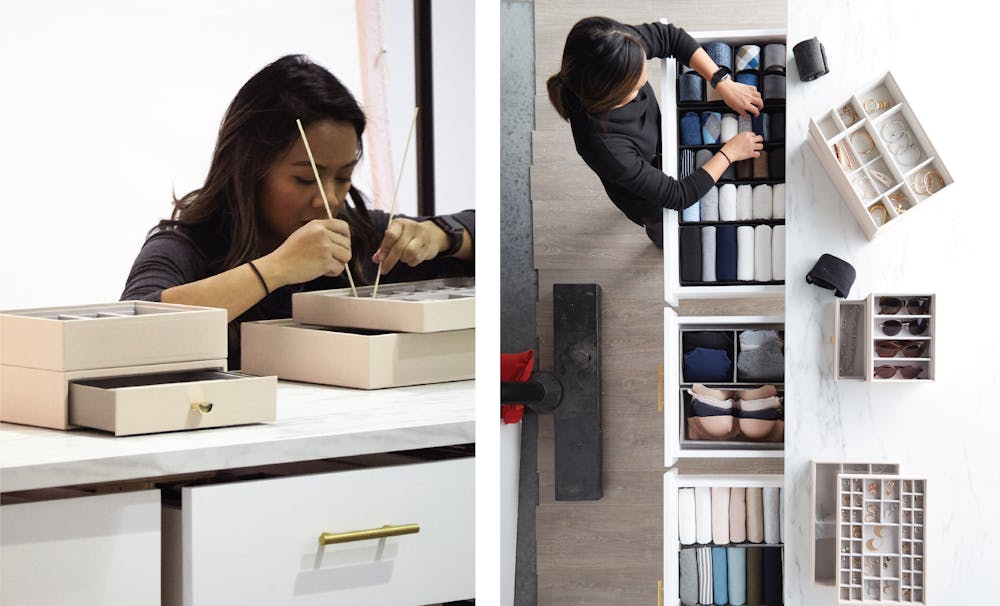 Stylists prep the set to make sure everything looks pristine before the shooting begins. [Featured products: Stackers Premium Jewelry Organizers, various Drawer Organizers]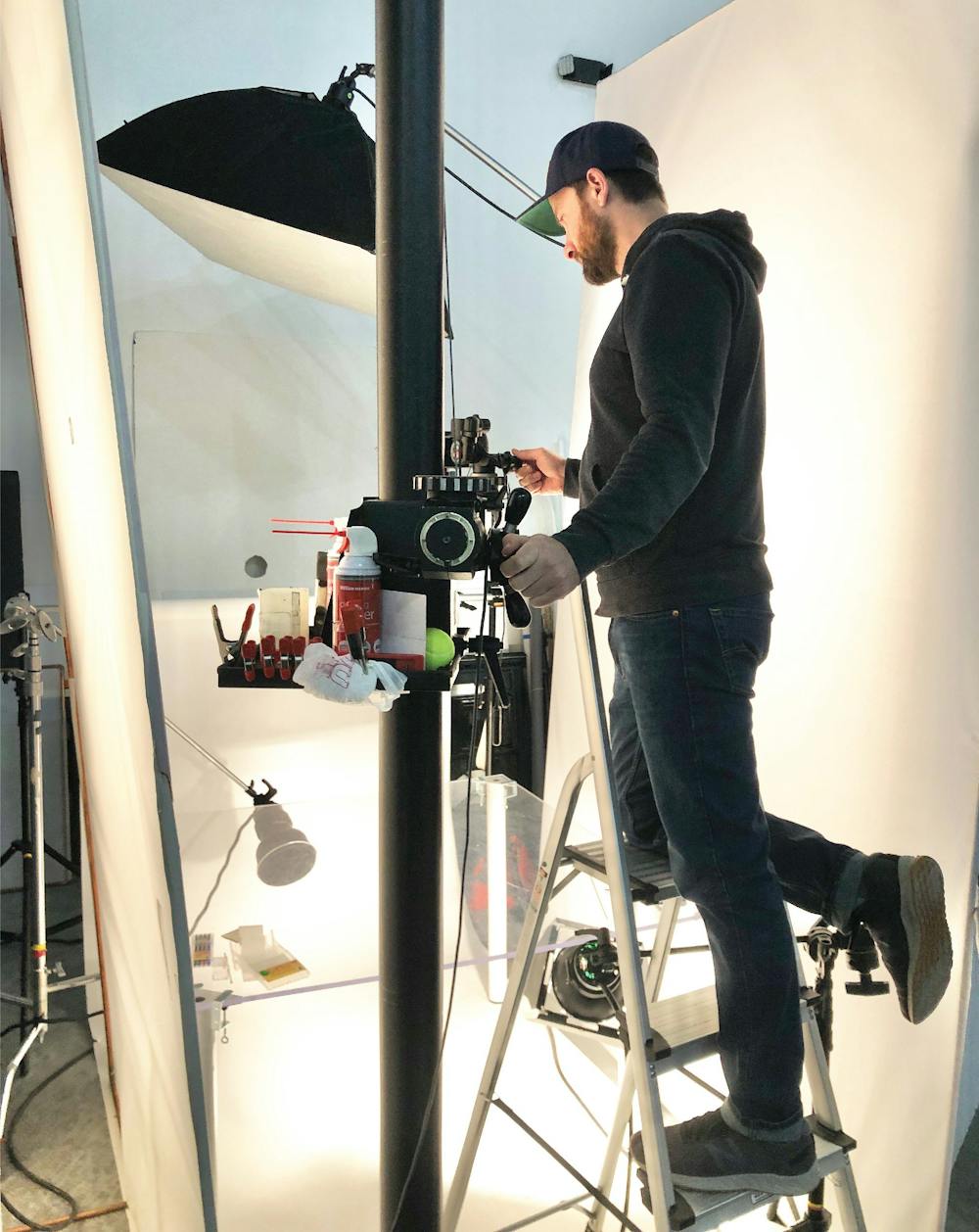 Studio Photographer Jay Newby sets up a shot.
Then, once the finishing touches on the lighting are made, it's time to shoot some pictures! Numerous shots of each product are taken, and the best ones are carefully selected and touched up as needed before being sent to our Creative Director for approval. And it's these beautiful photos that represent The Container Store's brand all over the world, whether on billboards, in catalogs or online.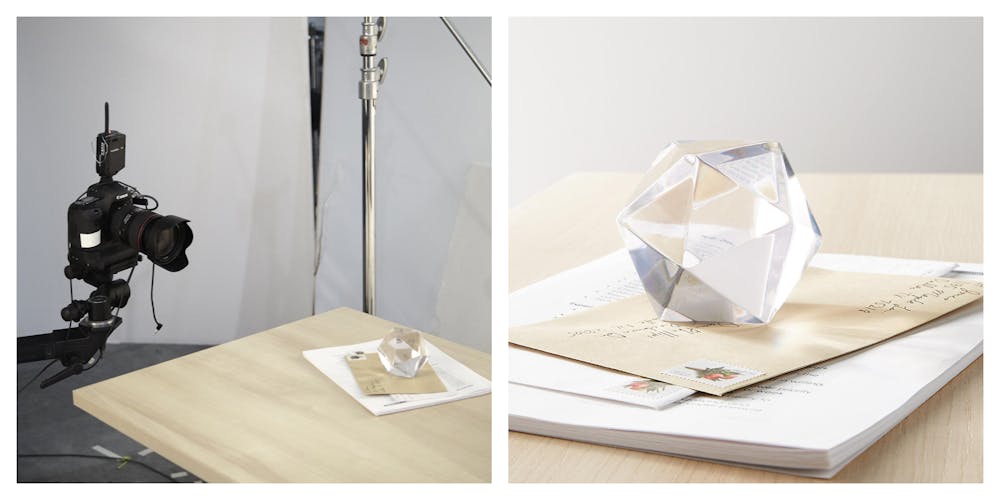 The studio camera setup (left) and the resulting image. [Featured product: Polyhedra Paperweight]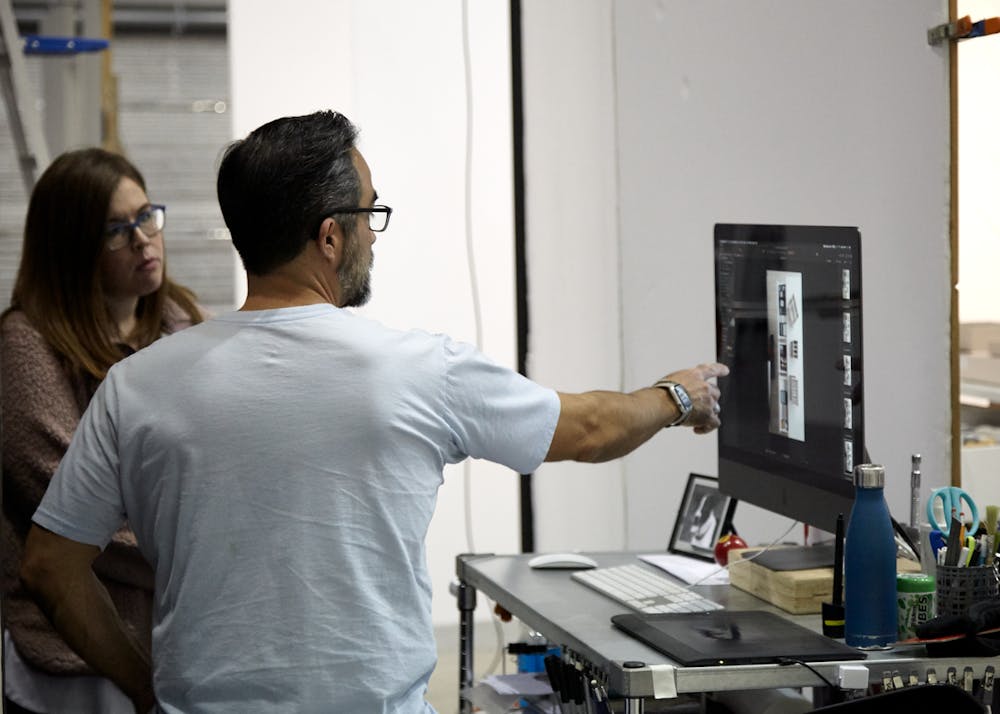 Art Director Sarah Oister (left) and Lead Studio Photographer Arturo Rodriguez discuss a shot.
"There are so many advantages to having an in-house studio," Art Director Randi Means says. "It allows us to work more efficiently by maximizing the use of our sets, products, and styling efforts. This helps with keeping our branding consistent across our catalogs, website, social media, and more. For example, we can often reuse a styled set for capturing video content. "
All in all, the process is a LOT of work, but it's important to us to deliver the most beautiful and functional final result to our customers. But despite all the hard work, Sarah notes, "we have a whole lot of fun too!"