One of the most common questions we receive at The Container Store is "where do you find such amazing products?" Well, the answer to that query is our amazing Buying department, headed by Chief Merchandising Officer John Gehre.
Of all the employees on our company's Executive Leadership Team, John Gehre is the newest. Even though he's only been at The Container Store for about a year and a half, he brings years of experience and a fresh perspective to our company. His enthusiasm for The Container Store and its products is evident the first time you meet him, and our people-first culture fits his leadership style like the proverbial glove.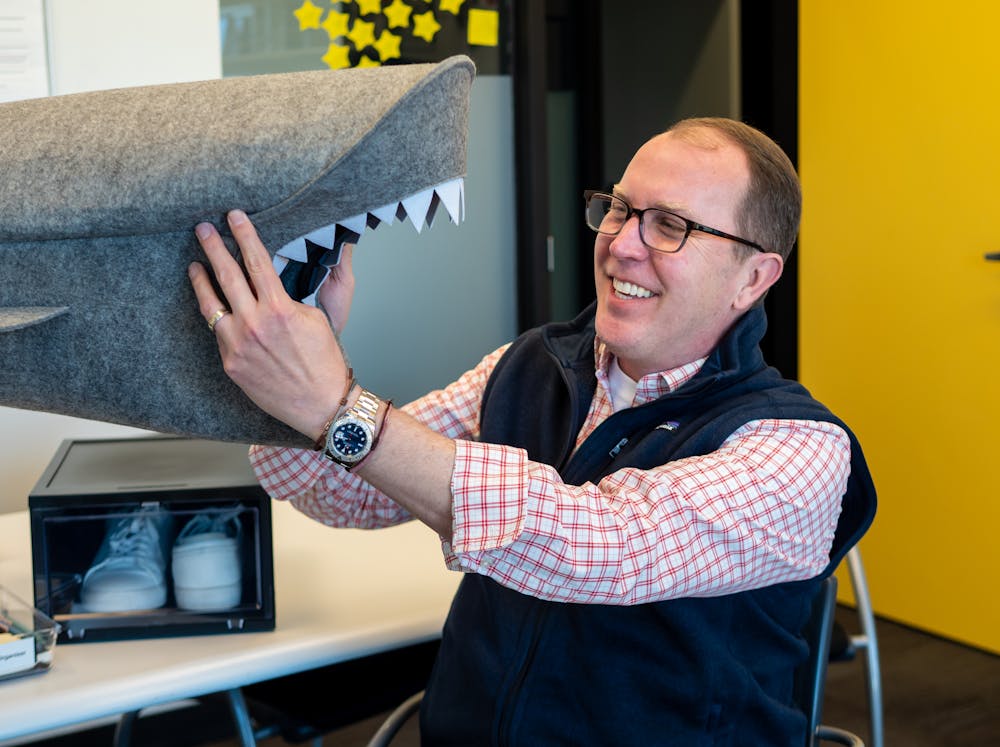 John inspects the fearsome jaws of the Little Stackers Shark Hamper.
John's retail career began as it does for many people—by accident. After majoring in economics, he landed a department store job in Atlanta and discovered he had a knack for retail. "I liked that it was both a left-brained and right-brained job," he says. "You have to be very analytic and numbers-driven, but you also have to be good with people and come up with creative solutions to problems." After rising through the ranks of several retail and grocery companies, he joined The Container Store in 2018.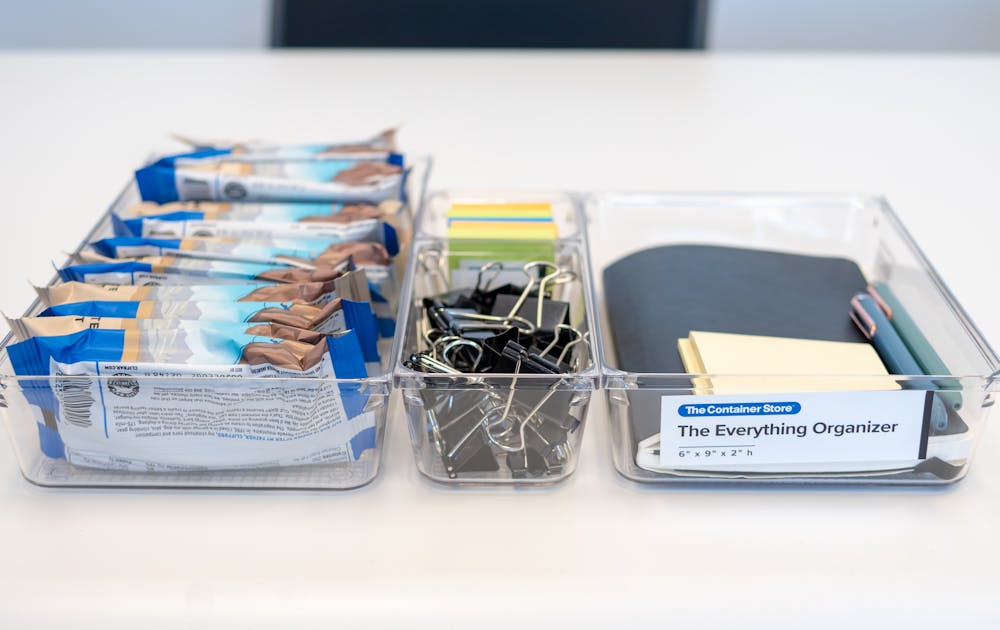 The Everything Drawer Organizers are among John's favorite TCS products. "I use them in my kitchen and office drawers and love them!" he says.
"In my first series of interviews with our Executive Leadership Team, the question that kept coming up in my mind was 'can I add value to The Container Store?'" John recalls. As he took a deep dive into our business, he began to see areas where he could help bring about improvements and put his experience to good use. Since he's been here, he's guided our Buying team as they've refreshed our product assortment, strengthened partnerships with both our vendors and Distribution Centers, and even launched more private-label products. In fact, developing our private-label assortment is one of his favorite projects. "I'm so proud of our new private label products," John says. "One example is our new Non-Slip Hangers. Jimmy [Seifert, our Closet and Laundry Buyer] has done an incredible job elevating and improving those products so we can offer the best to our customers."
For Jimmy, the feeling is mutual. "John's fresh perspective on our product assortment has been great for us," he says. "He challenges us daily on our product offerings to ensure we have exclusive, proprietary, and competitive products for our customers. He likes to say that we're the 'CEOs of our businesses'—in other words, we operate independently as teams but in unison with each other under the leadership of him and our department directors. I appreciate him not only as a leader, but also as a mentor."
"John's an amazing leader," agrees Scott Sumpter, our Senior Director of Merchandise Planning and Inventory Management. "He's brought lots of new ideas to The Container Store. He's also positive, strategic, and knows just when to dig into details. I learn something new from John every day!"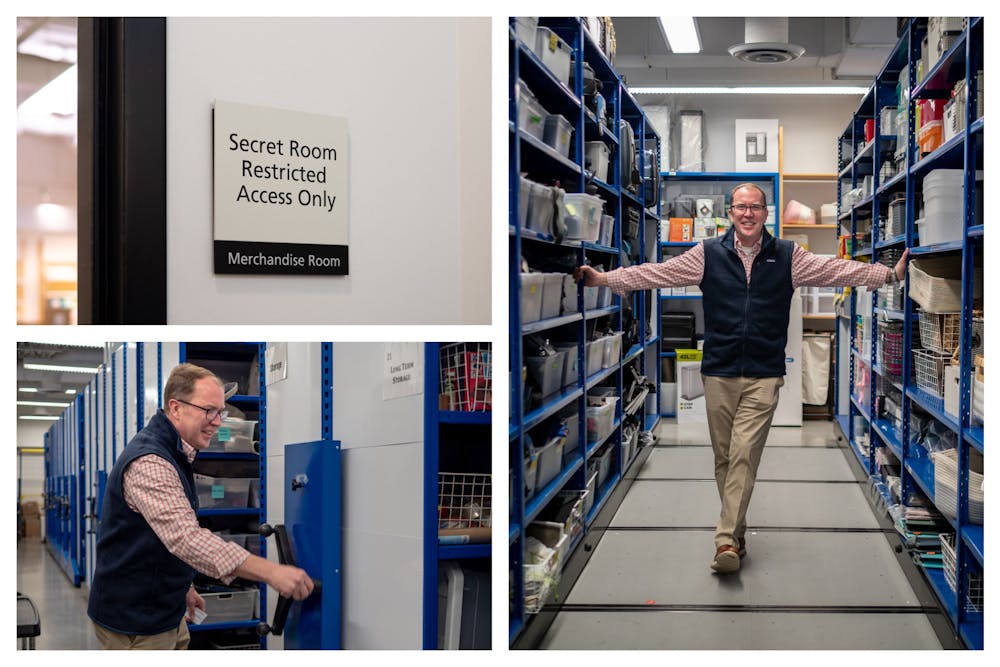 John takes us inside The Container Store's super-secret new product room.
And it's those new ideas and products—as well as superior service—that help The Container Store stand out among our competitors. "New products are the lifeblood of our business," John says. "We're constantly curating our assortment and making room for newer, more innovative products. As we look to the future, it's critical that we continue to focus on items that work to provide a complete solution for our customers at the best price point possible."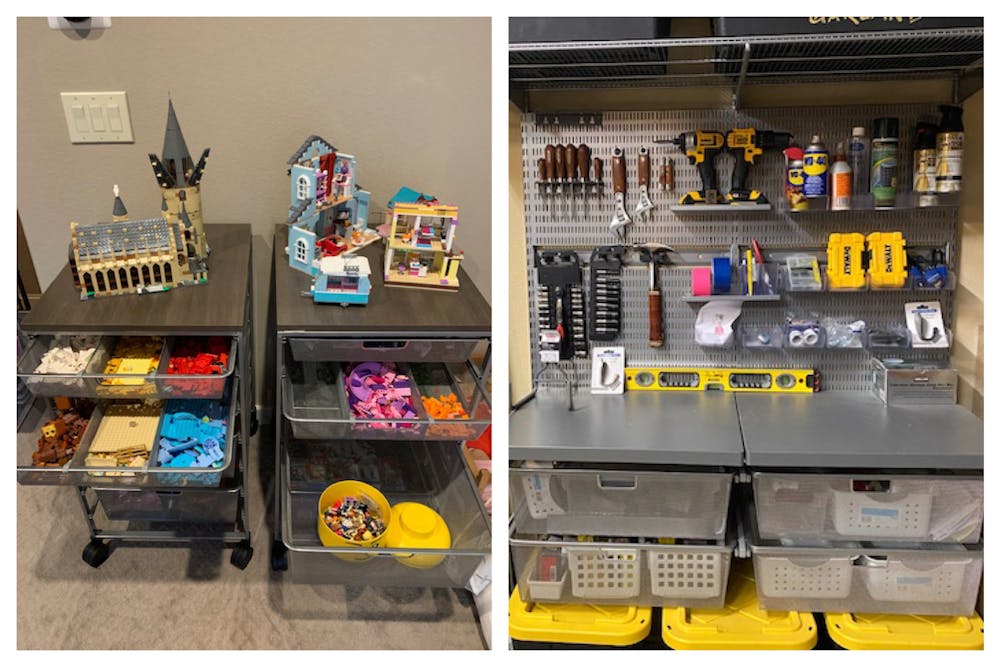 John's recent home organization projects include organizing his family's LEGO collection (left) and garage with Elfa.
With all his accomplishments and accolades, John Gehre remains the ever-humble team player, heaping praise on those he works with every day. "Our store teams are the best in retail today," he says. "We have a great curated assortment from our Buying team that provides end-to-end solutions that most retailers don't offer, and it's all supported by our wonderful Planning, Warehousing, Transportation, Visual Sales, Marketing, and IT departments. It really takes all 5,000 people in the company pulling together to create a great experience for our customers!"