Ready or not, here it comes - home schooling, at-home learning, virtual classes and the hybrid, face-to-face and at-home learning. Feeling apprehensive about taking on the task of teaching your kids, probably while you're also working from home, is normal. And one of the best places to start is by getting organized. One of our photo stylists, Brie Newman, couldn't agree more. "As a mom of a first-grader, I wanted to build on what I learned from doing home learning last year. There is simply a ton of paper, workbooks and supplies to keep organized - not to mention just keeping up with what is happening each day. As a photo stylist, I have come to rely on being organized, so I figured I should apply my skills to home learning." 
Create A Central Calendar
Setting up a calendar for everyone to see can make it easier for everyone in the family to know what to expect. If you have the wall space, consider using a combination of dry erase and bulletin boards with a dry erase calendar to create a central communication center. It's also a good place for encouraging messages and inspirational pictures.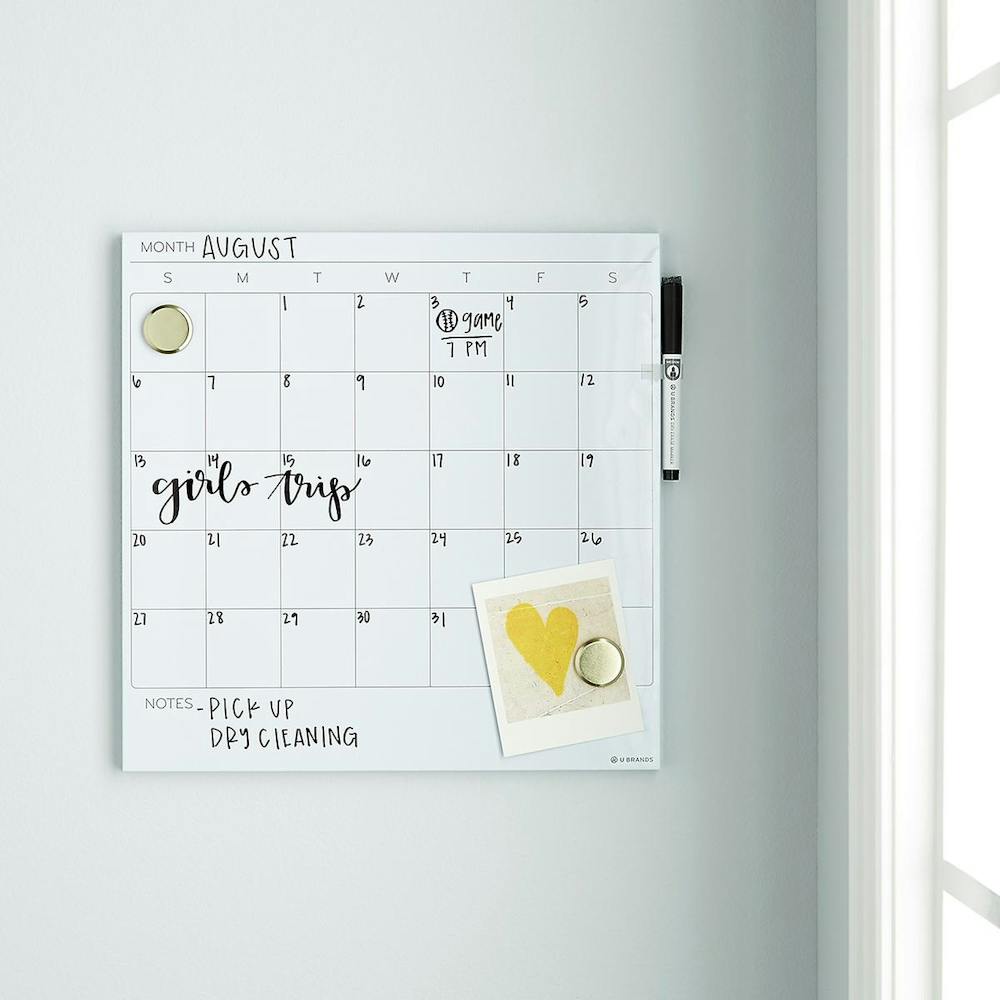 Go Mobile 
One of the easiest ways to create space for learning is to set up a mobile supply station. Brie is a big fan of our 3-Tier Cart. "I love that you can keep it in a closet and wheel it out when it's time for class," says Brie. "It makes it easy to have class anywhere from the kitchen table to the patio." Perfect for students in any grade, the cart's mobility also helps when a child needs to have their own space for a class call or for practicing reading or counting out loud. 
If a 3-Tiered Cart isn't your style, using stackable SmartStore Totes and Inserts is another good option. The removable tray can be customized with different inserts to hold supplies while the space beneath is ideal for paperwork and notebooks.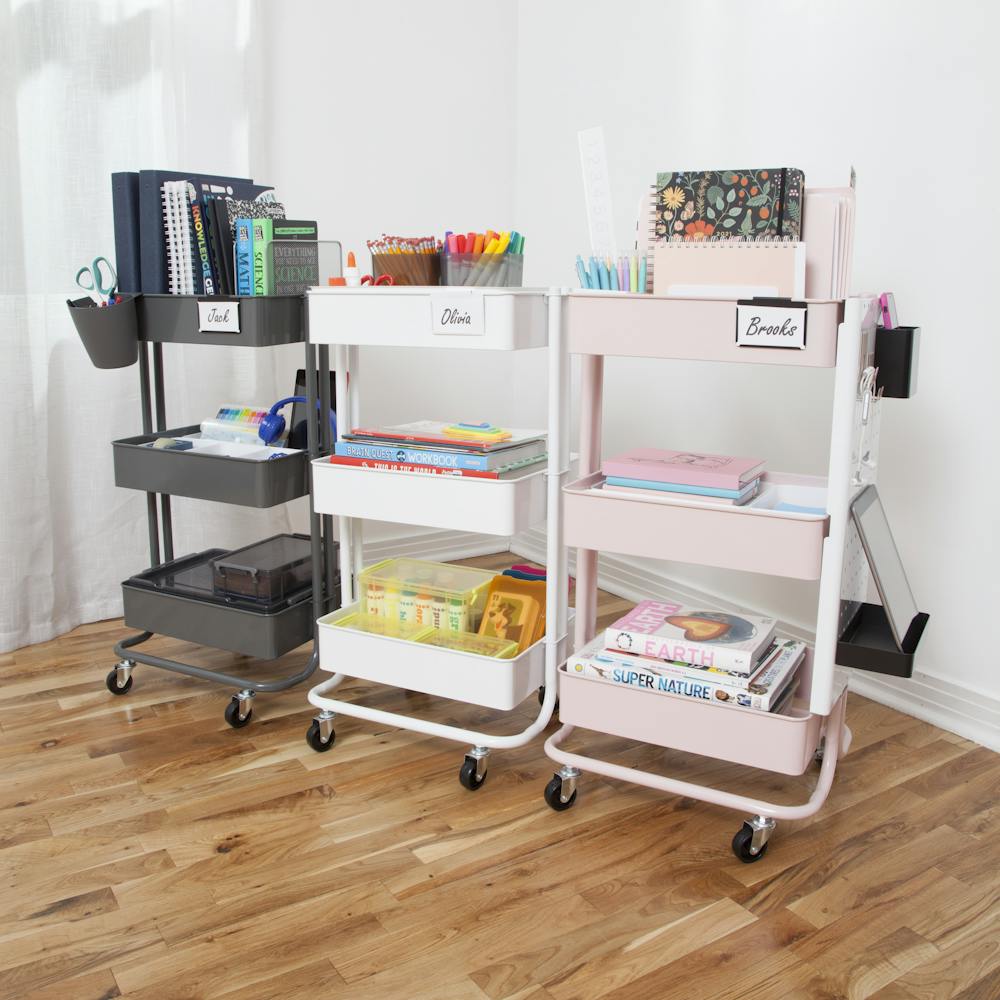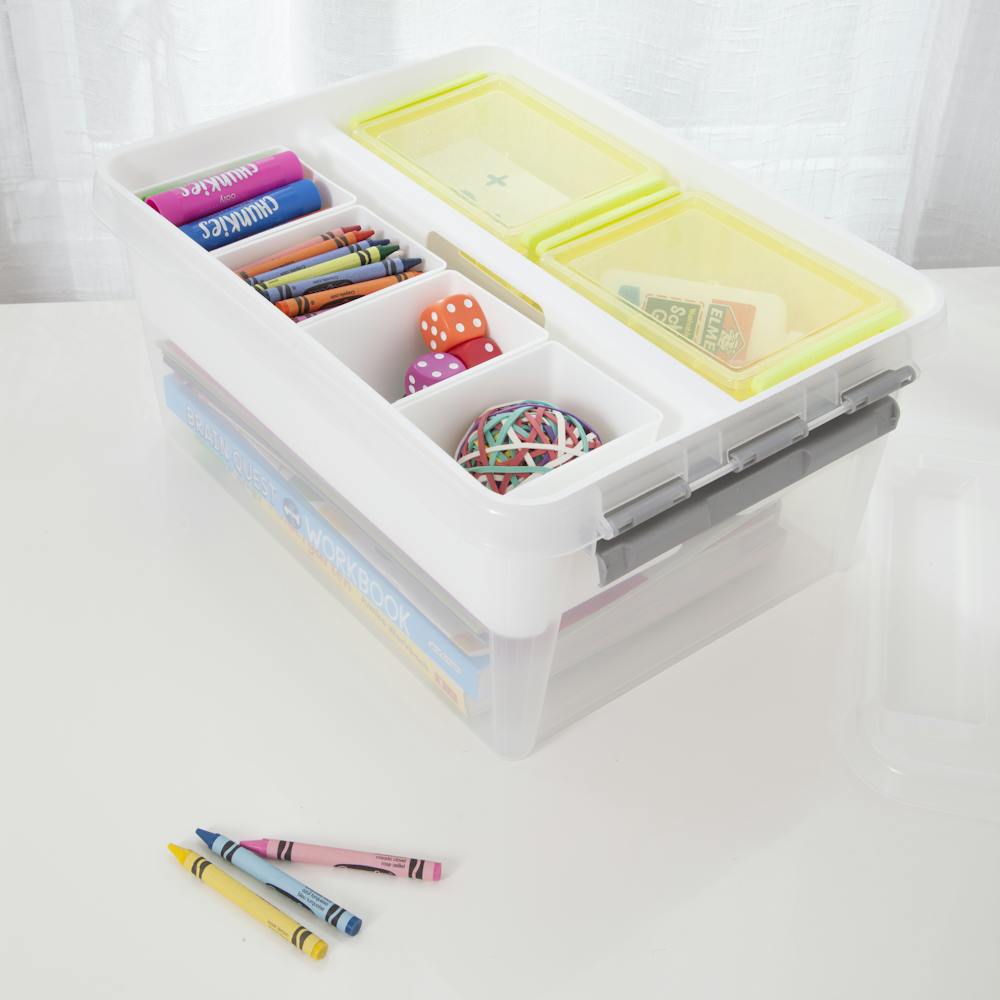 Create Custom Organization
Creating a learning space that fits the needs of each student makes it easier to stay focused and cuts down on time wasted looking for supplies. Brie and her daughter decided to organize all the supplies like markers, glue, scissors and crayons in the top tier. The second tier was for workbooks and journals, while the bottom tier was for putting finished work. "If you have more than one child, and don't want to get multiple carts, you can also assign each a tier to each child," says Brie.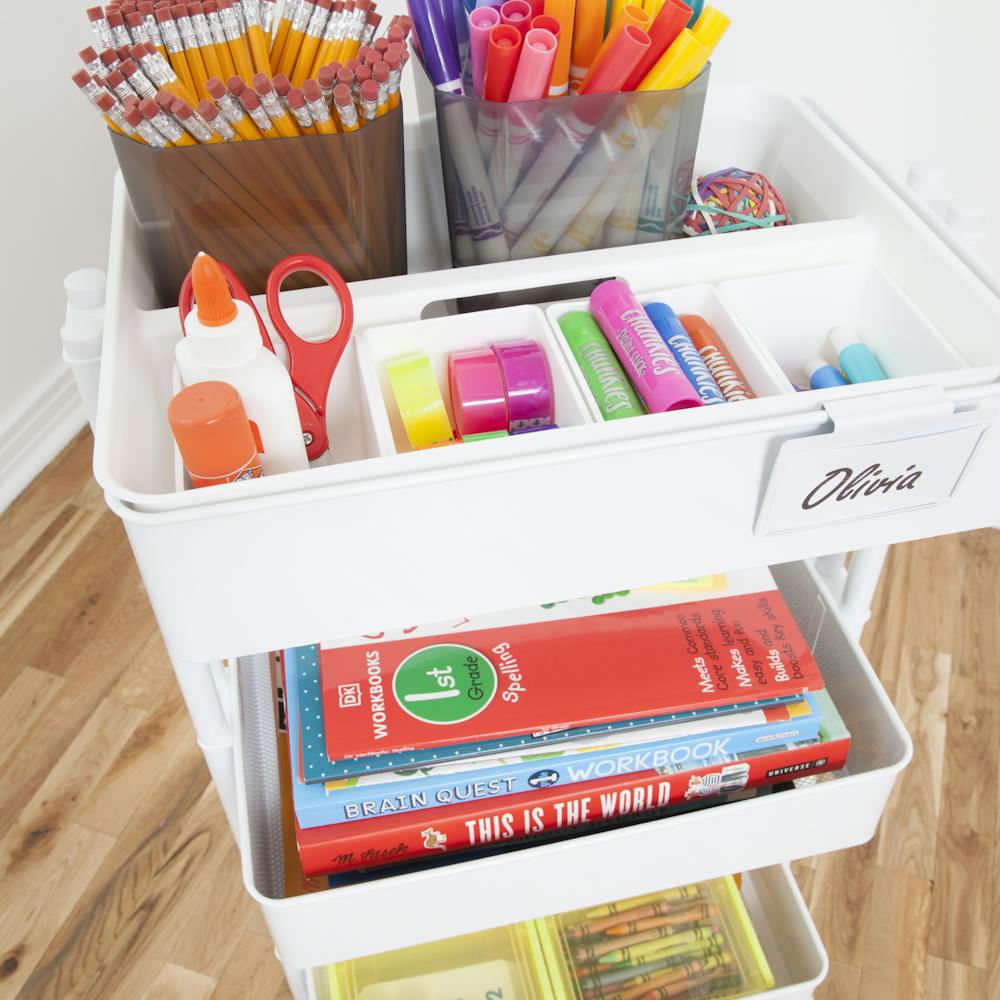 Divide & Conquer 
Using modular organizers in each tier and adding attachments are a great way to keep supplies organized and handy. It also makes it easy for kids to take what they need to a work area. "All of the supplies are right there on the cart," says Brie. Letting your kids help decide how to organize the cart is another good way to get them to put things back where they belong. "My daughter was so excited to figure out where everything goes. She loved the idea of hanging her headphones and charger on the pegboard attachment."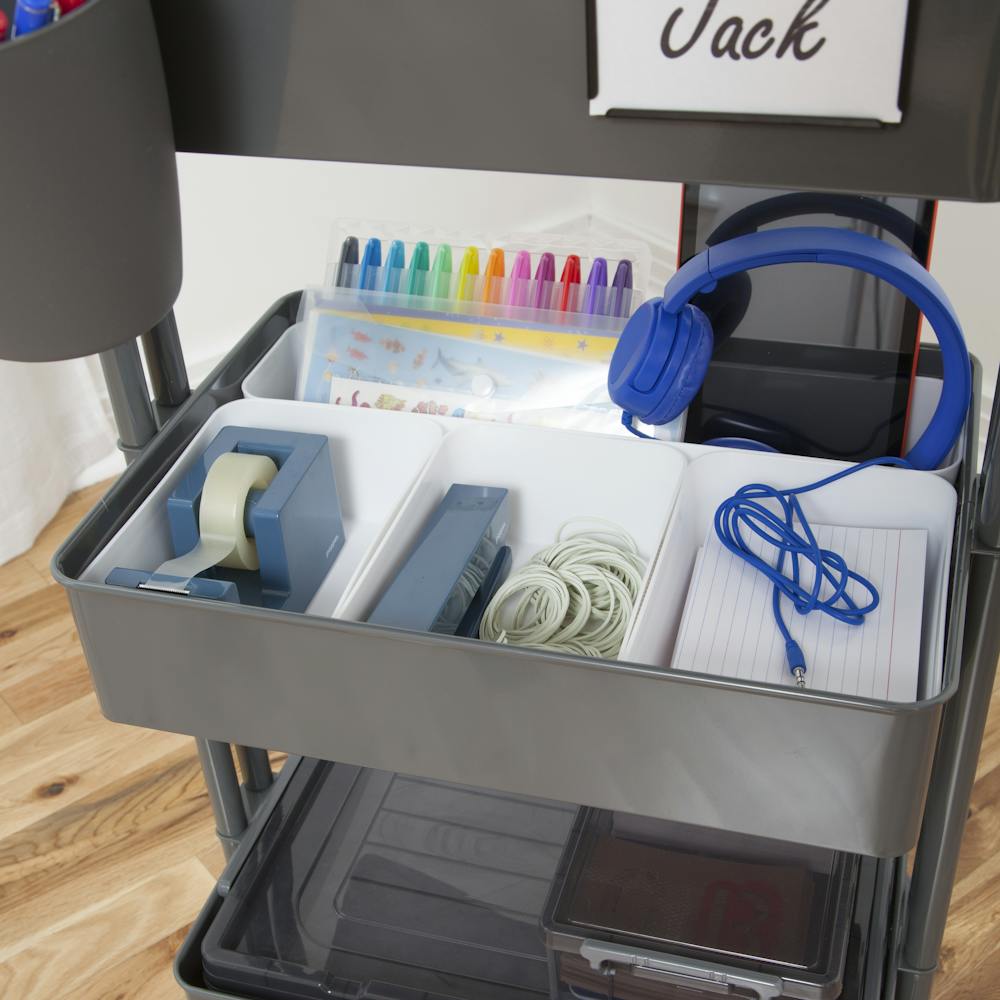 Color-Coded Files
Planning out each day and week is a necessity. Brie uses color-coded folders to organize each day's assignments. She prints out each day's work and puts it in a labeled folder. "It helps when kids can easily see what they need." This system also works well for college kids. They can use color-coded files for each class.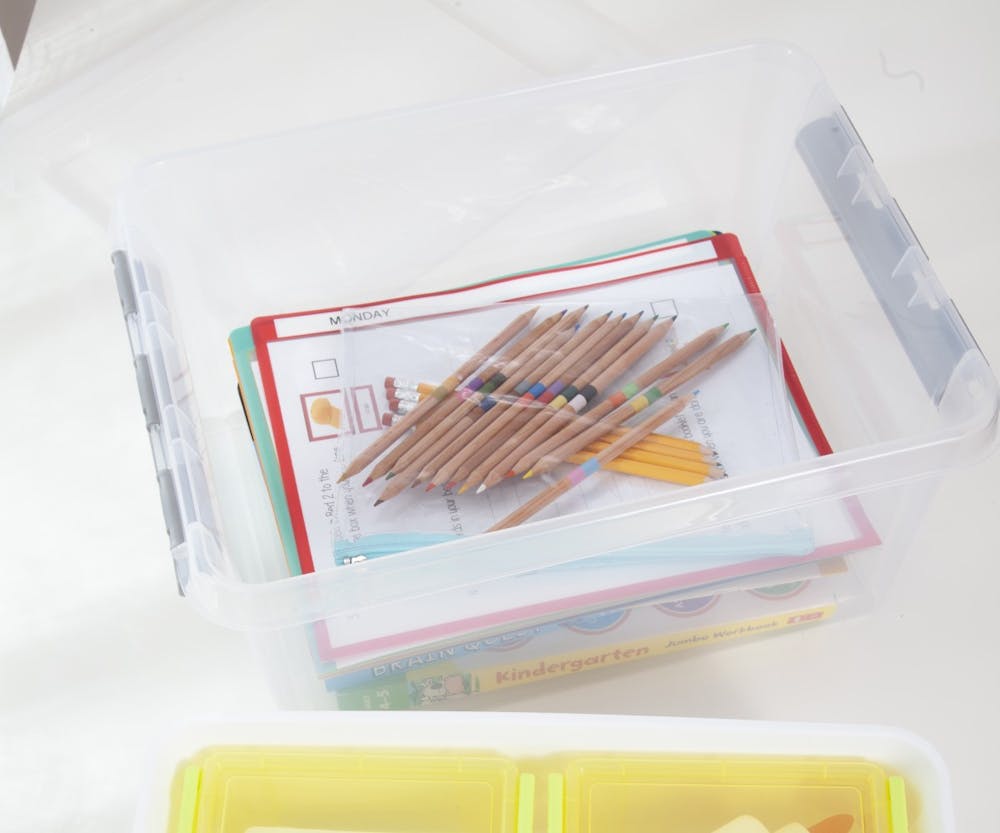 Stay Charged
With everyone using the computer or tablet, it's important to keep devices charged. Brie customized the pegboard attachment on her daughter's cart with bins to hold chargers and devices. Staying charged is as easy as wheeling the cart near an outlet and plugging in. You can also set up a charging station on a counter using a multi-port charger that can quick-charge multiple devices at once. College students may also find a power bank that can revive a tablet or cell phone useful if they find themselves studying outside of their apartment, dorm room or home.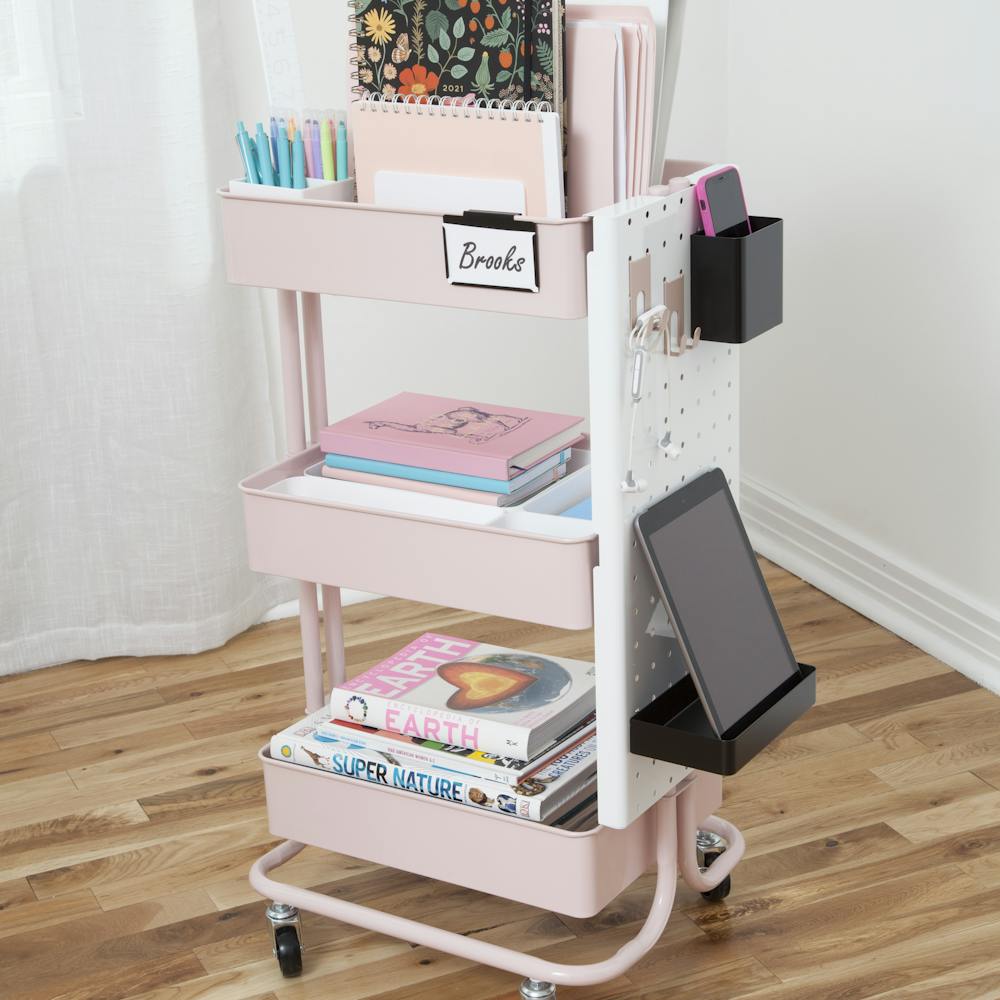 All in all, take in a deep breath and have fun. As Brie says, "I've discovered I'm really thankful for this time with my daughter. And while doing learning at home is a challenge, there are daily rewards."
For more ideas and products for at-home learning, click here.