For blogger Ashley TerKeurst Hodges, the last eighteen months have been quite hectic: a cross-country move, the purchase of a new house, the birth of a baby. "Lately, life has been such an adventure in the best way, but it has also been absolute chaos at times!" she admits. Amid all these changes she has (understandably) had little time to devote to organization, but upon moving into her new home she decided it was time for her to tidy up a bit and finally have her own office space. "Working from home is amazing for flexibility and freedom, but it can be difficult to set boundaries and stay organized," she adds. "Without a dedicated space to store things I could never find important papers or products, and it was so frustrating."
Before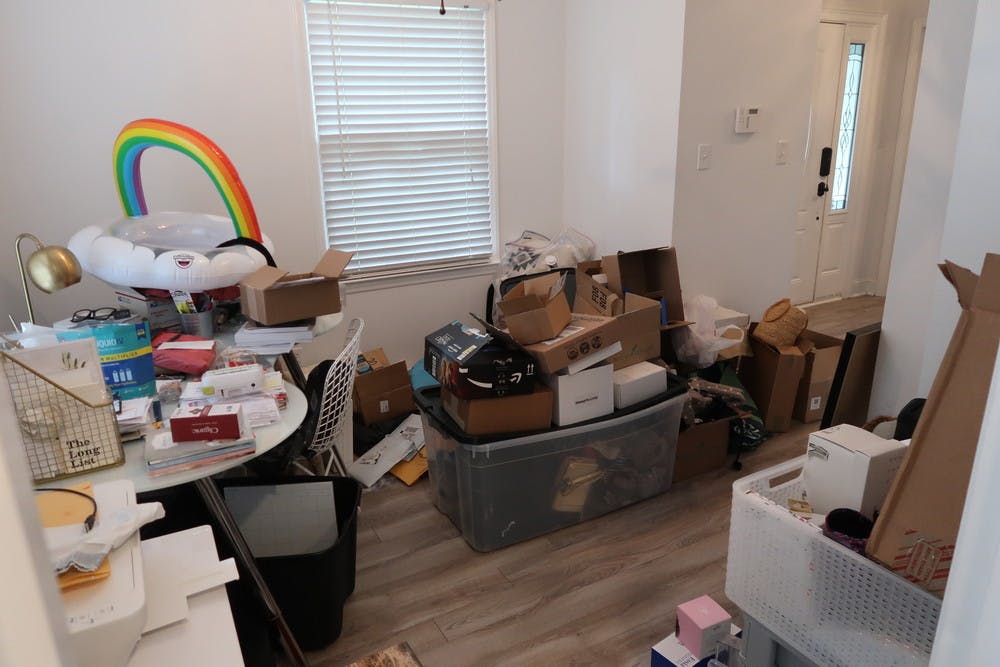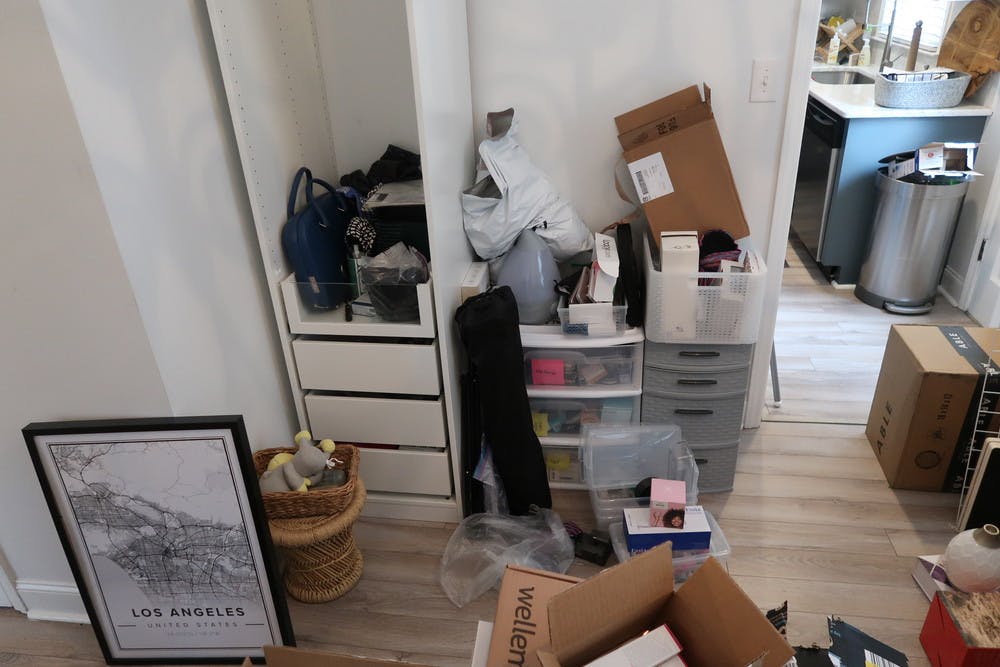 Needing a little help, Ashley reached out to the organizers at NEAT Method. "They brought in a team to cut through the clutter, create personalized systems, pick out the best organizational products, and plan the perfect layout," she explains. She also perused Pinterest in search of beautiful, inspiring office ideas. "I was really inspired by warm, neutral tones, natural elements, and metallic accents!" she adds.
As a big fan of The Container Store, Ashley insisted on Elfa custom shelves. "All you have to do is go into The Container Store and design exactly what you need: from the look of the shelving to the different pieces like drawers, hanging space, etc." she says. "You can see it in person and make the perfect plan to fit the dimensions of your space!" With a brand-new Elfa design and a great team of installers and organizers, she was ready to go at last!
Watch the space transformation in the video below:
After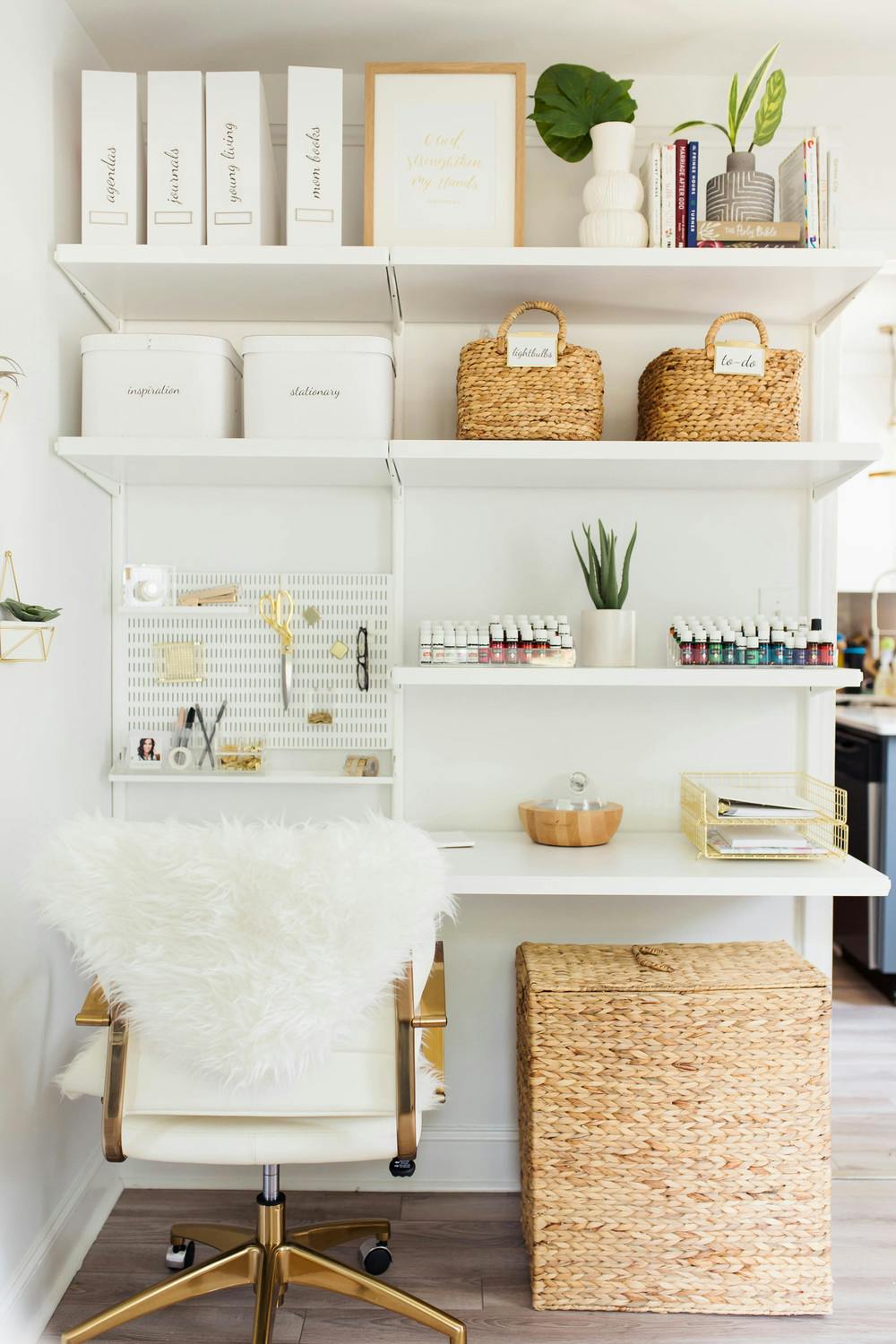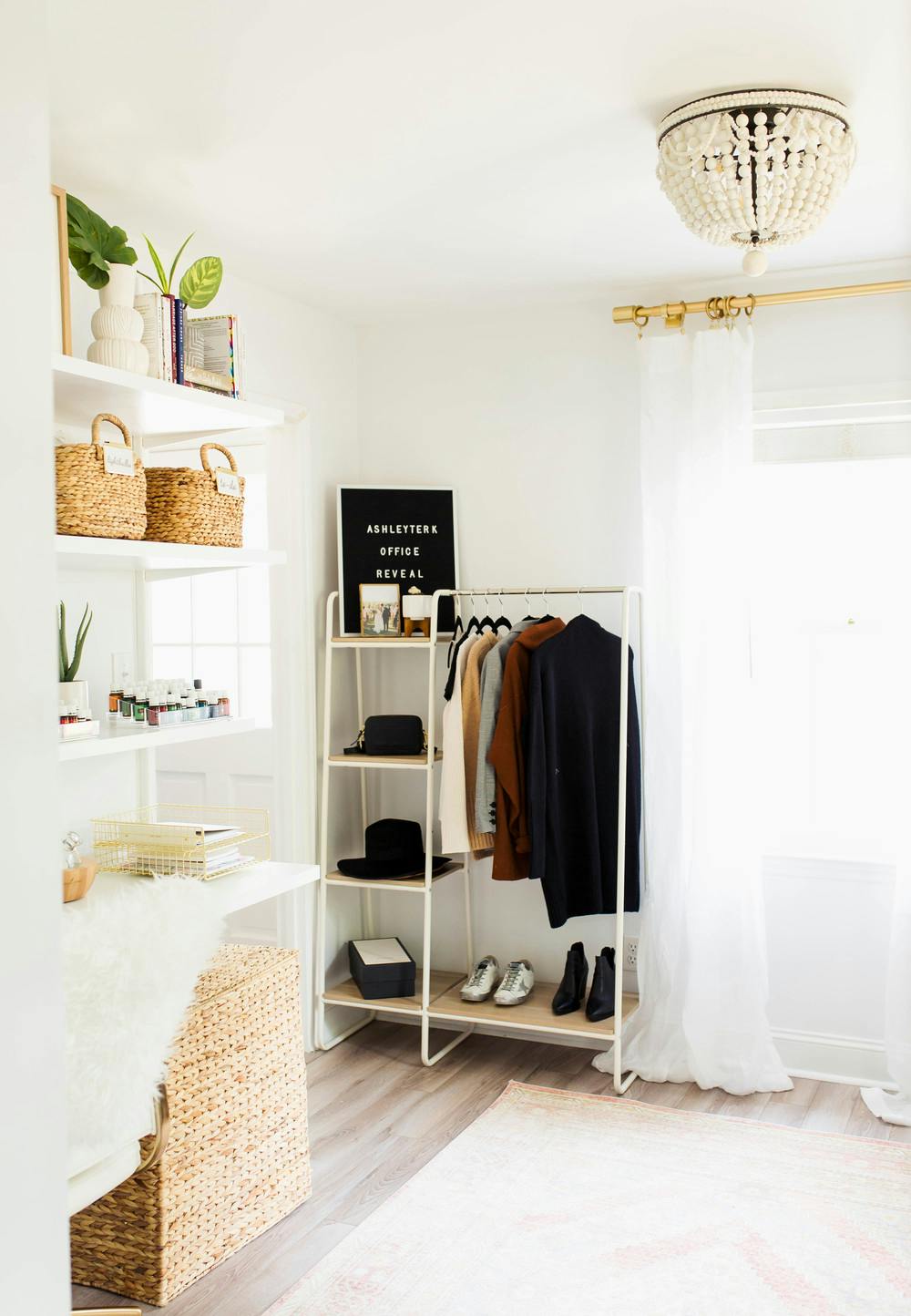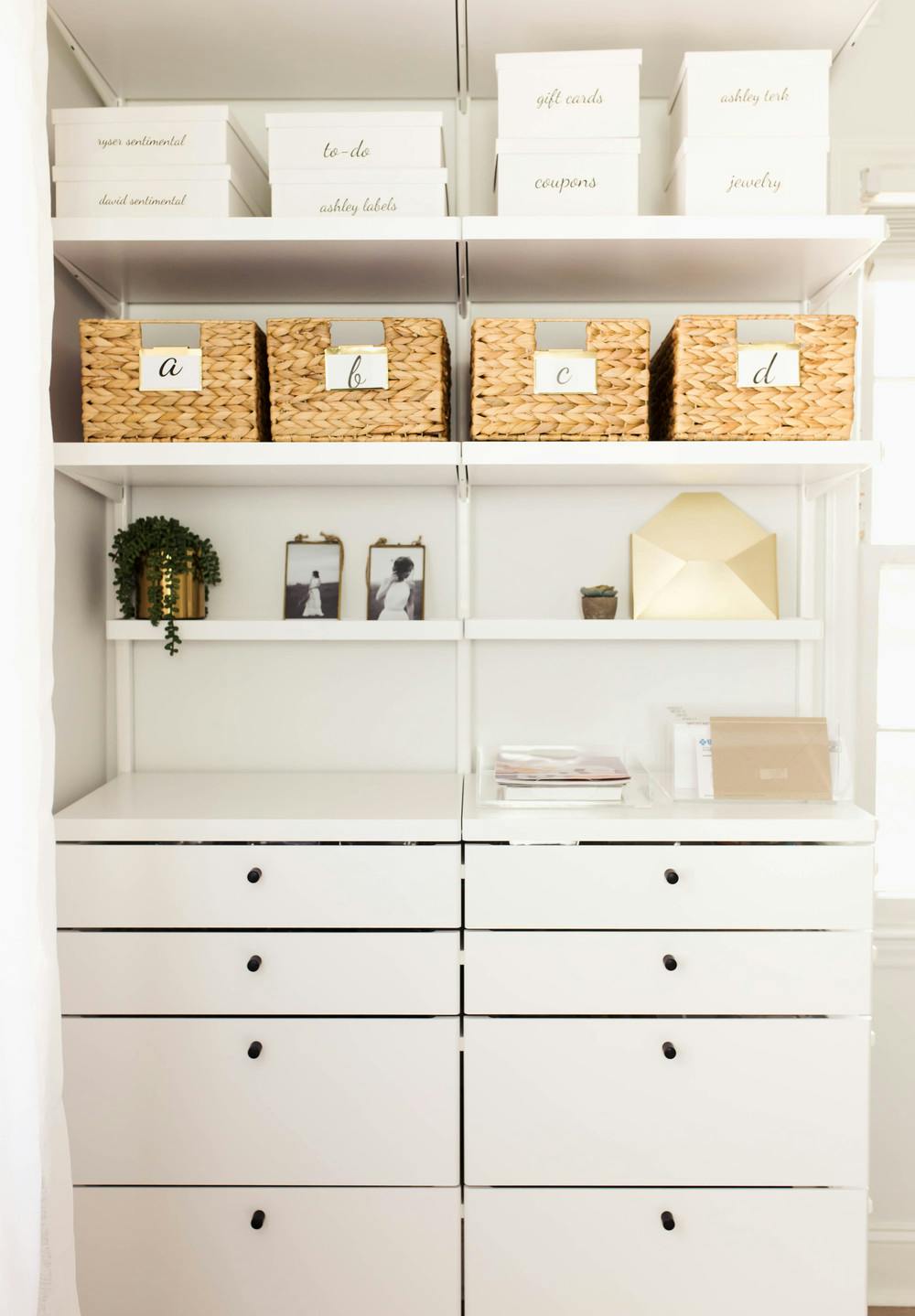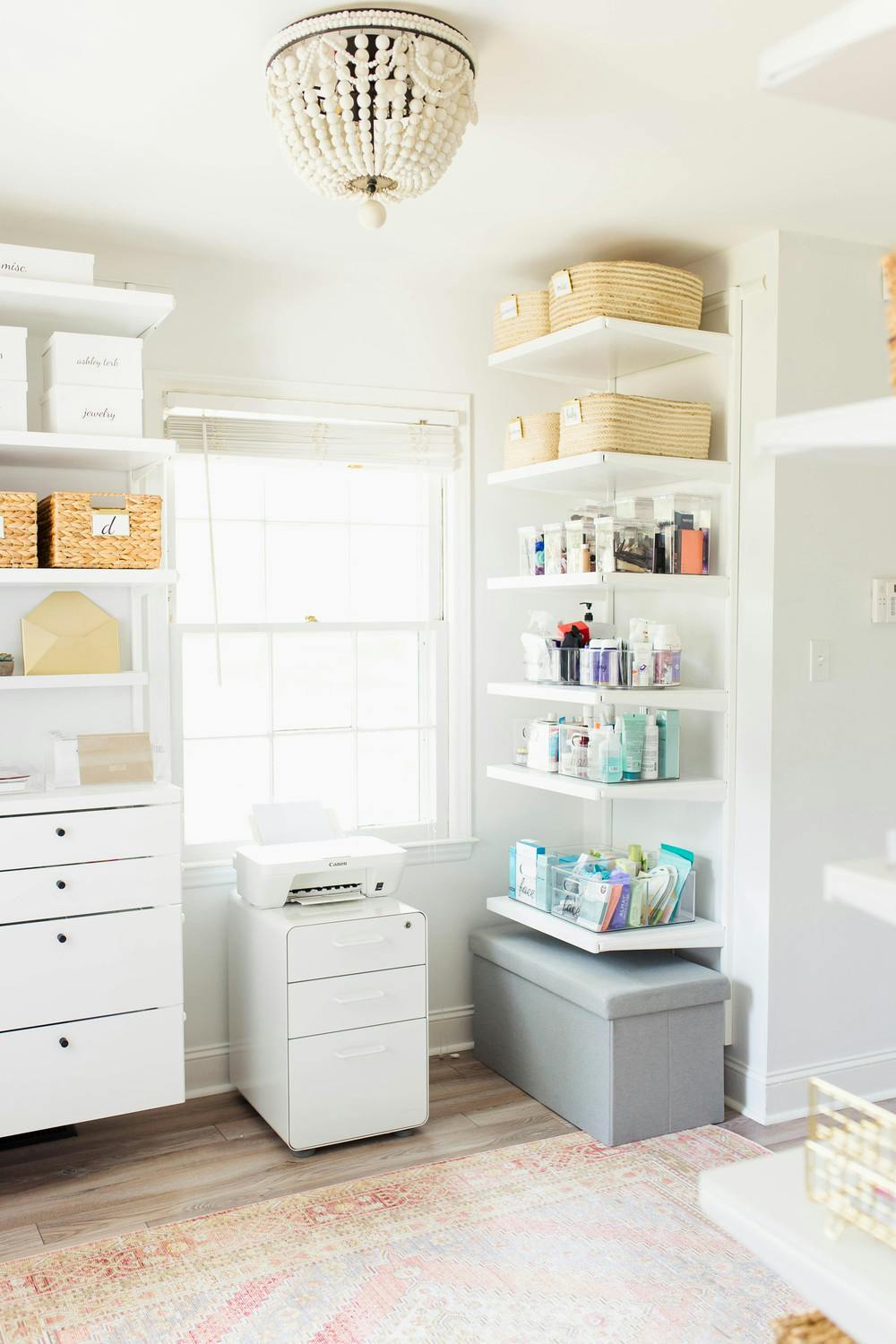 By utilizing White Elfa Décor components, Ashley now has a beautiful office fully-equipped for all her needs. The desk area features an Elfa Utility Board for easy office supply storage, as well as an assortment of Russell + Hazel Acrylic office accessories. To store paperwork and other items, she has a combination of Water Hyacinth Braided Weave Bins, Oskar Boxes, and Stockholm Magazine Holders. Her Essential Oils are organized in our 40-Bottle Acrylic Nail Polish Risers, and a Rectangular Water Hyacinth Hamper is neatly tucked underneath the desk.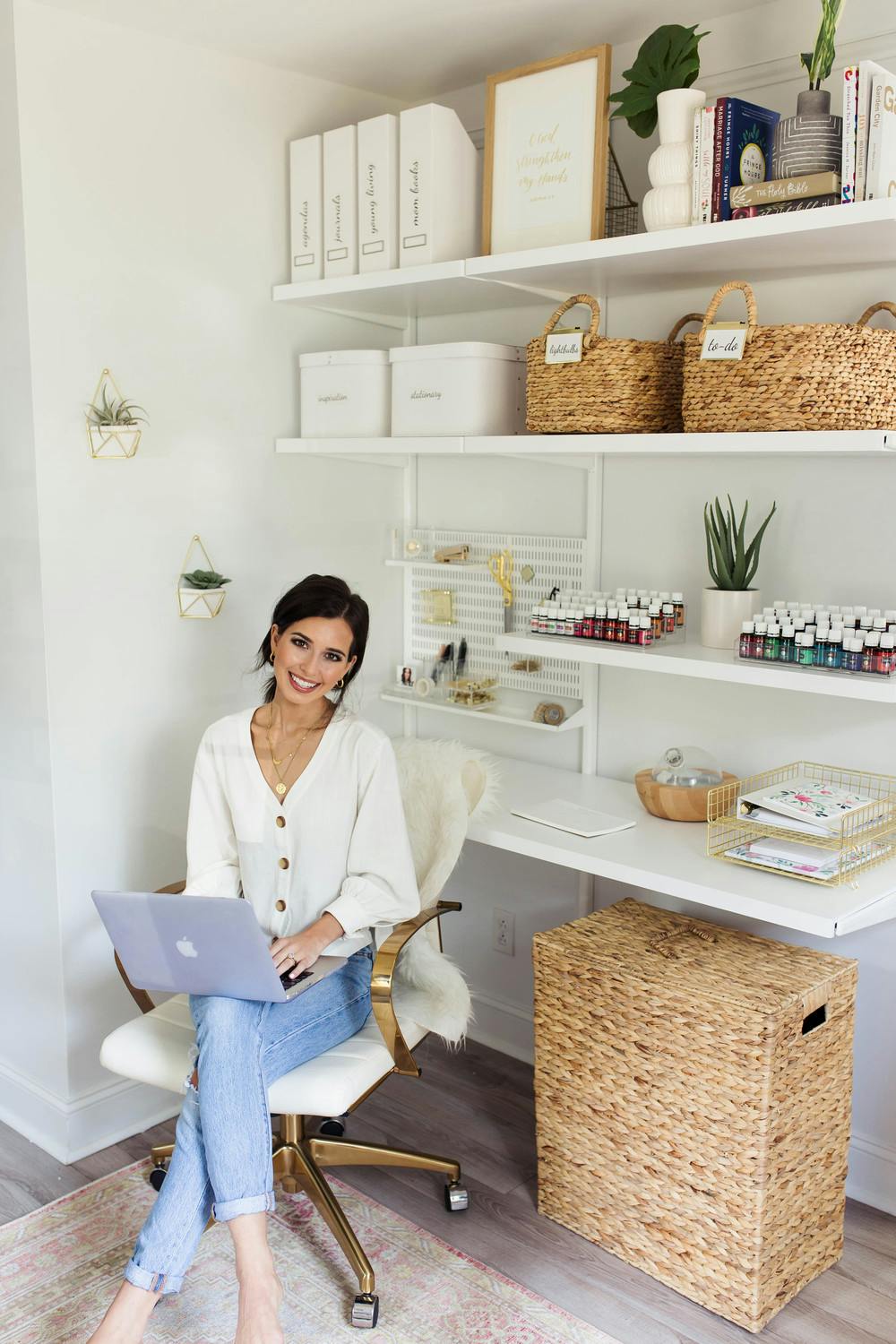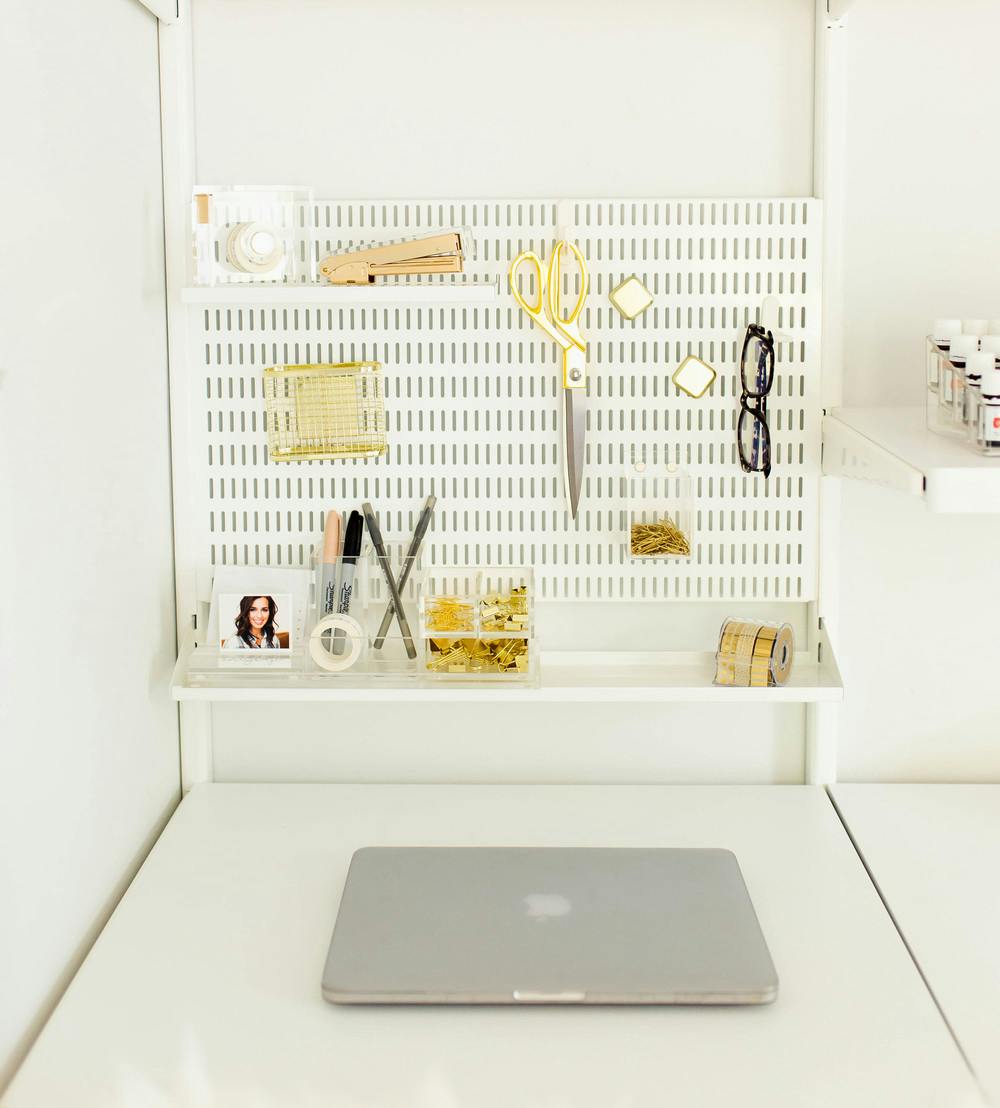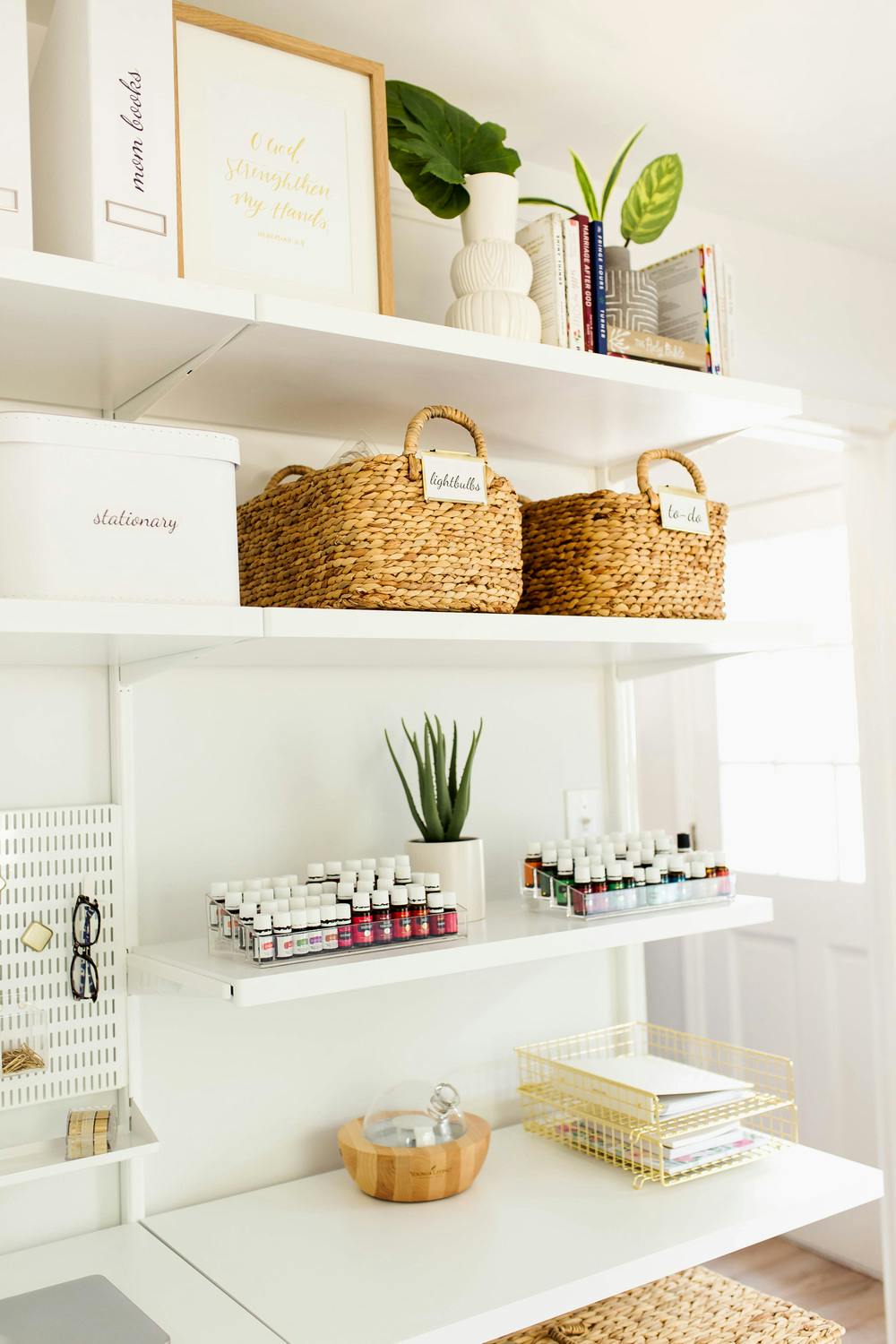 The opposite wall area (used for storing stationary, cards, keepsakes, and other items) also features White Elfa Décor Shelves, as well as drawers, Water Hyacinth Bins, Large Premium Acrylic Paper Tray, and a 5-Section Premium Acrylic Collator. Next to the Elfa shelves, a Poppin White 3-Drawer Stow Locking Filing Cabinet serves as a printer stand.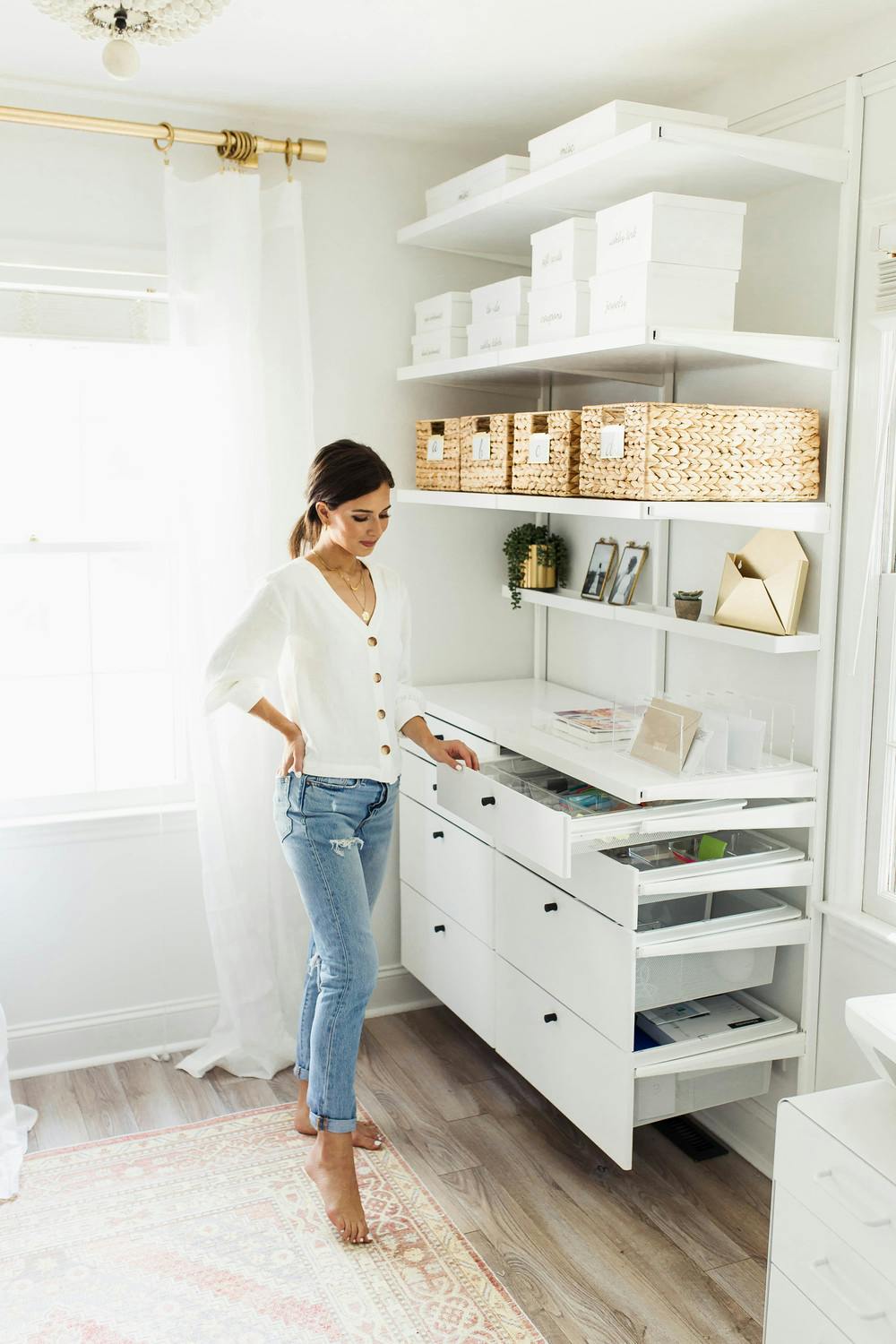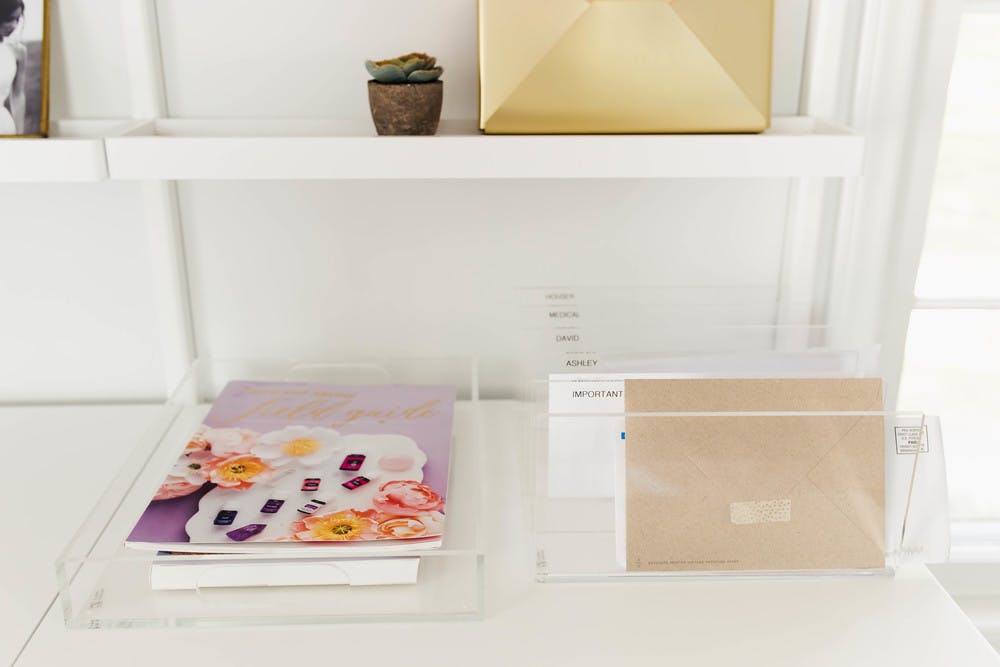 On the adjoining wall is another Elfa shelving unit, and this is where Ashley keeps many of her cosmetics and giveaway products. Resting on the upper shelves are our attractive Light Brown Laguna Cotton Fabric Storage Bins, complete with Gold Bin Clip Label Holders so she can quickly identify each bin's contents at a glance. The shelves below sport an assortment of our exclusive products from The Home Edit--Pantry Canisters, Organizer Bins, and Divided Lazy Susans--that provide her easy access to whichever items she needs.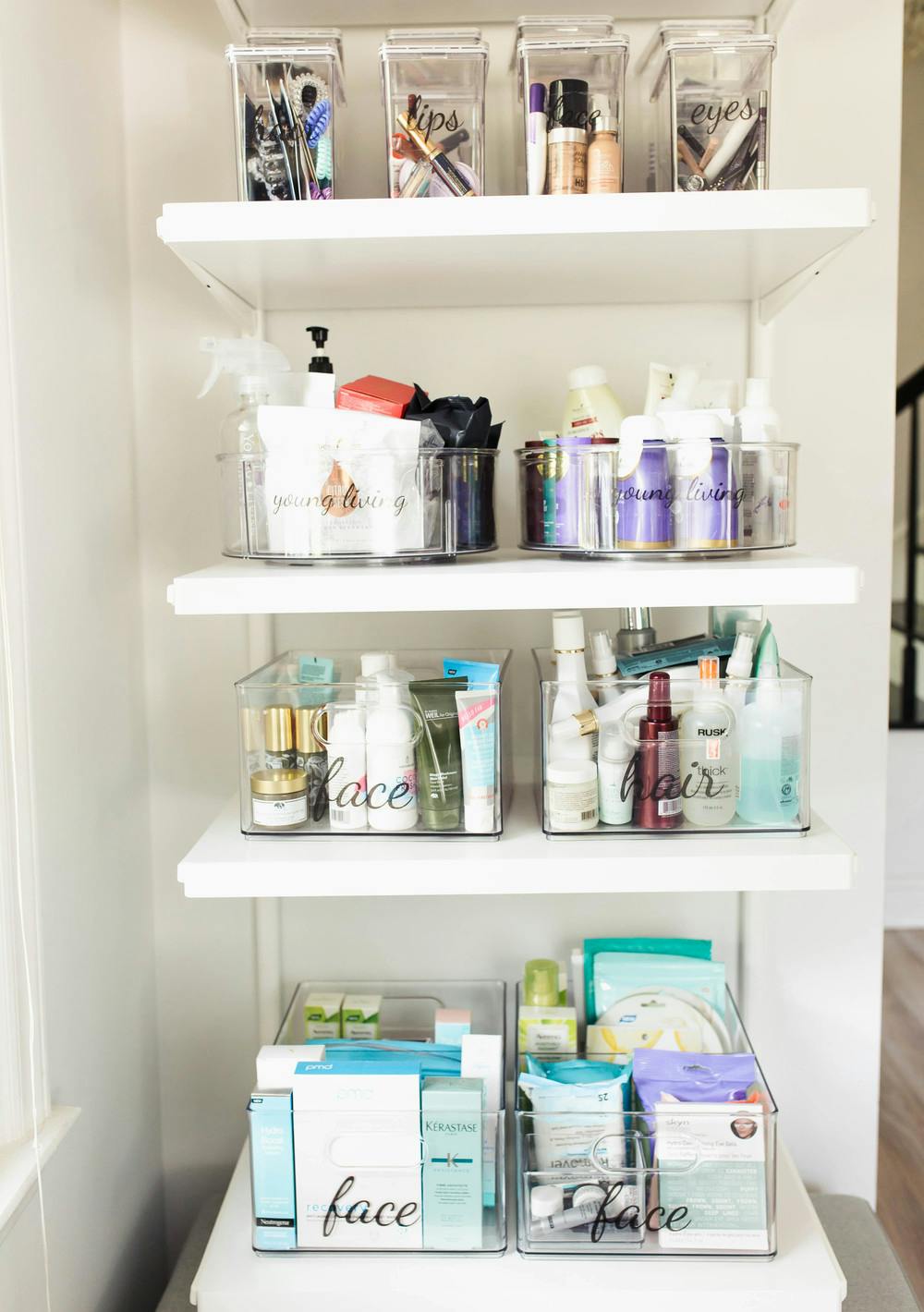 When the room was completed, it looked like a completely different space, and Ashley was ecstatic! Everything was in its proper place, and her house finally felt even more like a home. "I wanted the space to feel bright but also welcoming, and I LOVE the way it turned out so much!" she exclaims. "The Elfa system really is life-changing!"
(Check out more photos on Ashley's blog here.)